So, you've been following along here at stanceiseverything.com, or spotted a car with a stance you like and want to know how to get it that way? Well here is a crash course on the most standard lowering practices for cars and trucks.
Why?
There are two main reasons a person chooses  to lowers their car.
1. Performance, stock suspension set ups often leave quite a lot to be desired in regards to handling. They are engineered to appeal to an extremely large consumer base.
While stock suspension set ups are great at what they are designed for, suspending the car from the ground and providing a comfortable ride, they don't meet the needs of most car  enthusiasts.
2.  Appearance, Stock cars often have a distracting amount of wheel gap often much more than necessary for the size of factory equipment wheels or practical after market ones. Lowering  a car can often further enhance the  sporty lines of a vehicle or hide awkward lines of one.
Are you prepared to be low?
Before you lower your car you ask yourself a few questions
How low do you want to go?
How are the roads in your area?
How much do you want to pay?
Do you want or need your setup to be height adjustable?
A  quick note on struts/shocks
Struts/Shocks: These do not control the height of the vehicle but greatly affect the  ride  quality. Some may argue that you do not need to replace your shocks/struts when lowering your vehicle but a good rule of thumb is if you go lower than 1" you should replace your struts with ones designed specifically for lowered applications.
The reality is that lower your car is the more stress you put on your stock struts. The easiest way is to do it once and do it right and replace your struts at the same time you lower your vehicle.
Lowering Options
Cutting/Heating: These  two methods ar by far the cheapest ways to lower your vehicle. They are also the most dangerous and uncomfortable. This method was used for years by the cheap, and those with cars with a small after market. However these days with message boards, kijjij, craigslist, and ebay there isn't really any reason for someone to still use these methods.
Lowering springs: These are the most affordable non adjustable method to lower your car. Lowering springs are springs that are shorter than standard equipment springs but have a  higher spring rate to make up for their size. This allows the spring to suspend the vehicles weight just at a lower height.
Linear springs have the same rate throughout its entire deflection (the degree to which a structural element is displaced under a load). This means that a linear spring with a 300lb would take 900 pounds of load to compress three inches. Linear springs are more often used in track applications where the conditions they are being used on are more consistent then day to day environments.
Progressive springs are a little more complicated to explain. A progressive spring does not have the same rate throughout deflection, the rates differ from the top of the coil to the bottom. They rates generally increase at the bottom of the spring. Progressive springs are most commonly used for street applications as it allows comfortable ride while preventing bottoming out (the springs reaching the end of their usable compression).
Lowering springs offer from .5" – 2.5" drops depending on application.
Pros: Price, Easy, Readily available
Cons: No adjustable ride height, not low enough for some.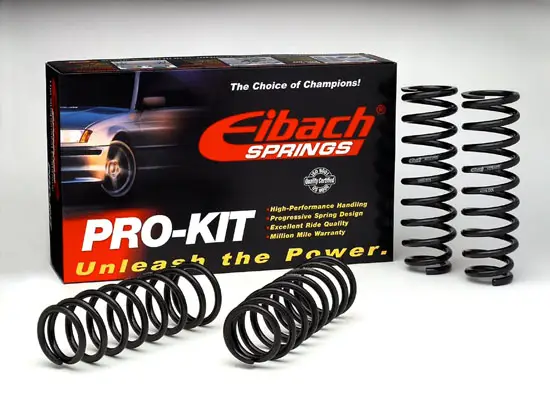 Coilover sleeves: These are the cheapest way to lower your car as much or as little as you want. The usually come with linear springs but now some are being speced with progressive springs.
Coil over sleeves consist of an adjustable collar and sleeve that slide over your strut. You use the collar to adjust the compression of the spring which adjusts the height (since they are mostly linear the spring rate stays the same under compression).
Pros: Easiest way to have height adjustable suspension set up, setups can often be adapted to be used in applications they are not sold for
Cons: Price, Quality can be questionable of lower priced  kits, Can seize in winter climates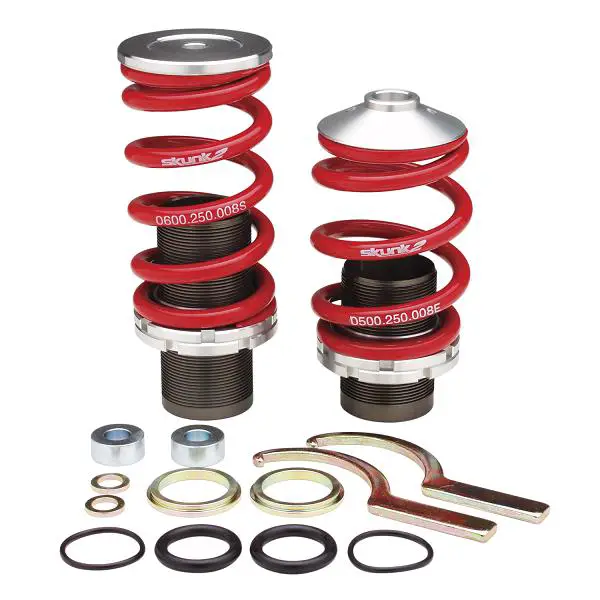 True coilover's: These are essentially the same as coilover sleeves except for the fact that the shocks themselves have a threaded body in which the collar is threaded onto for adjustments. True coil over's will not rotate on the strut under aggressive use and are therefore more commonly used on the track where vehicles are pushed to their limits.
Pros: Adjustable Quality, Great for track applications
Cons: Price, not readily available for all vehicles
Coil-over's (both types) offer drops from .5" – 3" depending on application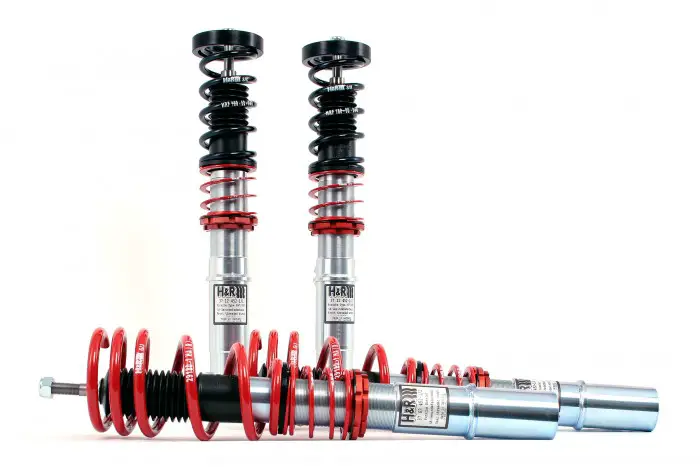 Drop Spindles: These are for trucks only.  Drop spindles are a way to lower your truck without changing the suspension geometry at all. What occurs is that the spindle is mounted higher (so closer to the top of the fender) which effective lowers the ride height of the vehicle.
Drop Spindles offer a  1-2" drop depending on application.
Pros: Shock changes not necessary
Cons: Offer only a mild drop (2" on a truck is not a drastic difference in stance)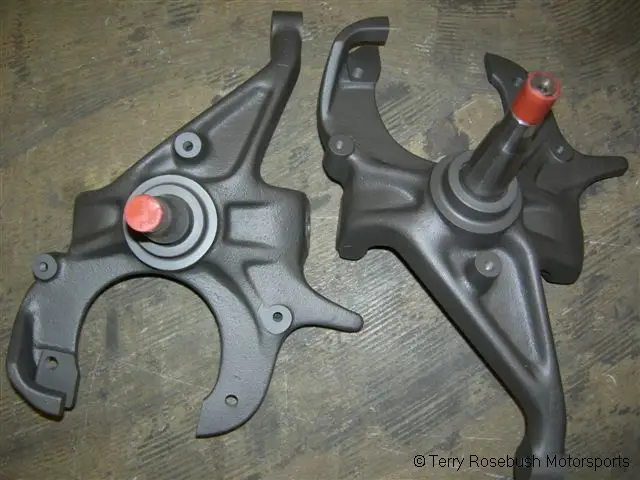 Blocks: This is a leaf spring only application, blocks increase the distance between the leaf spring and the axle.
If the axle is installed above the leaf spring the block is installed between the axle and spring.  This raises the (relative to the distance from the floor of the vehicle) which lowers the ride height of the vehicle.
If the axle is below the leaf spring the block installed between the axle and spring will raise the ride height of the vehicle.
Blocks offer drops from 1"-5"
Pros: Easy to install
Cons: Can be dangerous depending on the size of block used (never stack blocks!)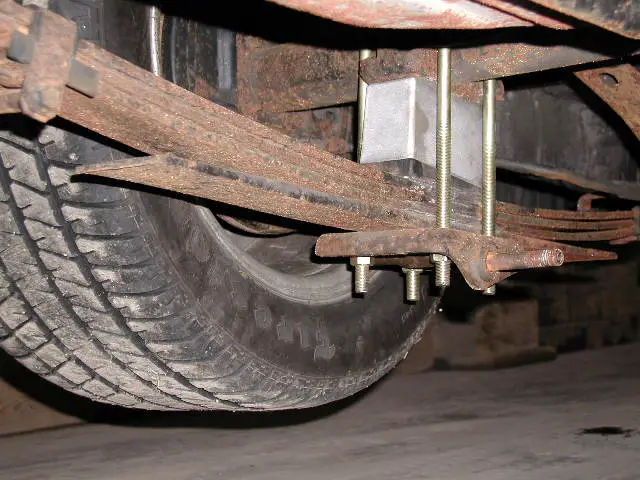 Lowering/De-arched Leaf springs
This is another truck specific option a de arched spring suspends the vehicle lower to the ground that a standard spring.
Pros: Ease of install
Cons: Spring rate does not tend to increase, can flatten over time which makes the vehicle lower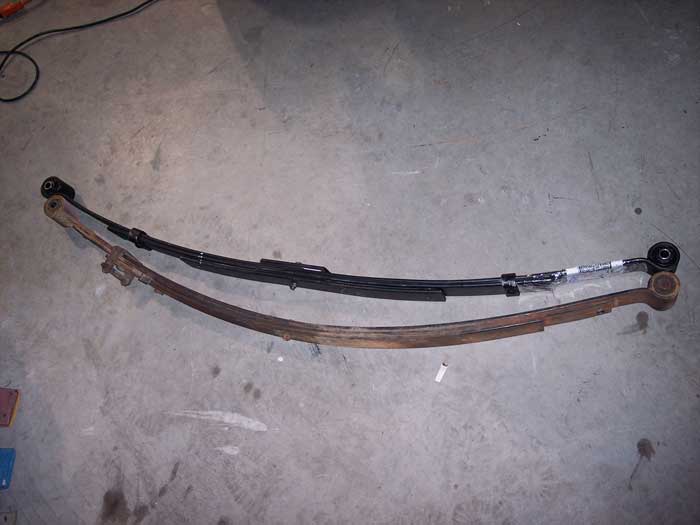 Air  Ride: This is another form  of adjustable suspension but it differs from coil overs in  the fact that it can be adjusted  on  the fly. An air ride works using the following components:  a compressor, air tank, and airbags/struts.
The compressor generates air which is stored in a tank. The user can then adjust the ride height of the vehicle via cabin mounted switches which control the amount of air contained in the bags or struts. The more air pressure the higher the ride height the less air the lower.
Airbags offer drops from 1-unlimited
Pros: On the fly adjustments possible, more compact than hydraulic set ups, can drag, can hop some
Cons: Can be complicated, price, can be punctured leak etc
Hydraulics: Hydraulic suspension is another form of on the fly adjustable suspension. Hydraulics work similar to air bag systems but instead of compressors, air, and air tanks they use batteries, pumps, and hydraulic fluid to adjust the ride height.
Hydraulics offer drops from 1-unlimited"
Pros: On the fly adjustments are possible, speed, can hop higher
Cons: Fluid leaks are a mess, price, and stress on vehicle if you hop
Camber?
Camber is the amount your wheel angles on its vertical axis.  Two wheels that look like this / \ have (extreme) negative camber where as two wheels that look like this \ / have (extreme) positive camber.
Most cars come with some degree of negative camber from the factory as it is beneficial to handling. Lowering a vehicle in most cases (straight axle applications are exempt) increases the negative camber. These increases are to be expected and are positive to up to a point.
After this point camber kits are used to correct the  amount of negative camber while maintaining desired ride  height.  This helps maintain a better tire to road contact patch which increases traction and tire life.
Which setup is right for me?
Well this depends on how you answered these questions, how much money you have to spend and what your ultimate goal is. Whatever option you chose remember that with each ride height change it is strongly recommended that you get an alignment. Not only will this allow you to take full advantage of your suspension modification but it will help save your tires.