My first encounter with Miro's Camaro was unfinished, cut up, and aired out sitting inside Cyrious Garageworks, and even in that very unfinished state it was obvious something incredible was in the works.
Just over a week ago I had my most recent encounter with the car, and that's when it dawned on me that it's highly unlikely any other car on the street today embodies the mantra that stance is everything better than the 1970 Z28 now known as World War Z.
Without taking anything away from the build, if this car didn't sit the way it does it could be considered by critics to be "just another" LS V8 swapped Camaro.
The low ride height, header laying park height, custom flares, and wide wheels wrapped in equally wide rubber, are what make this car instantly recognizable and at the same time so polarizing.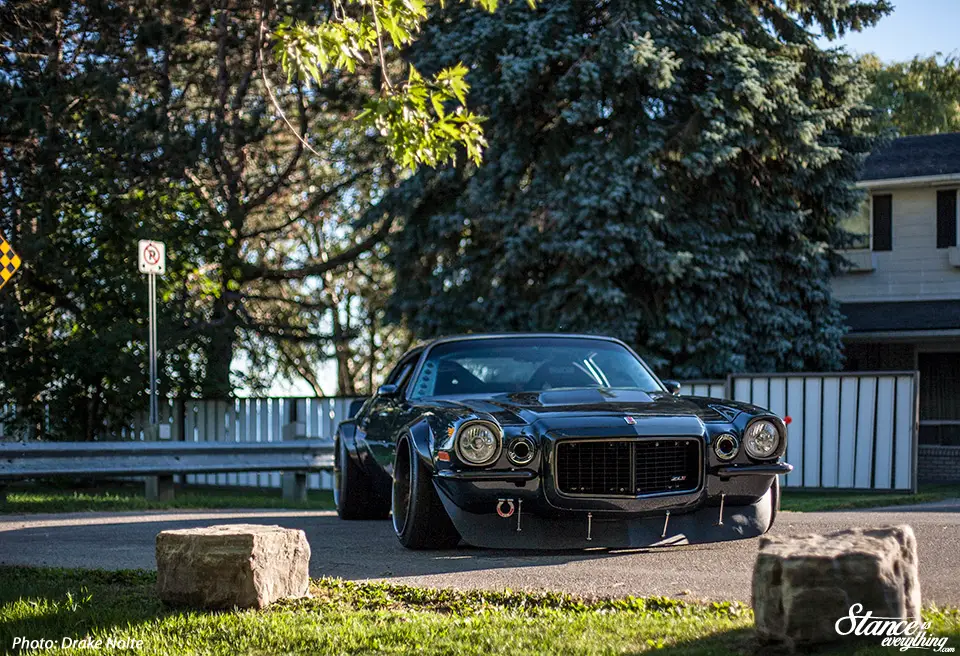 Like his Charger (which is currently setting the internet ablaze) this car's stance splits the jury, those who like it really like it, while those that don't can hardly contain their negative comments.
Miro has received his fair share of criticism aimed at World War Z, much of it from fellow second gen Camaro owners who won't accept anything that isn't on Weld wheels, tubbed, and trimmed headliner to floor in tweed.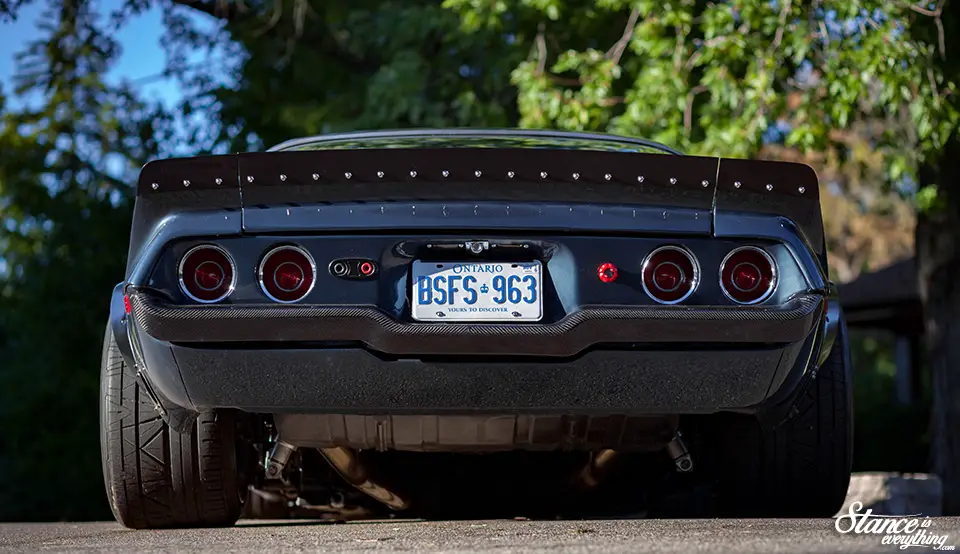 Miro doesn't believe in playing things safe or conservative, so when it came time to rebuild his Camaro he damn sure wasn't going to follow a formula popularized decades ago.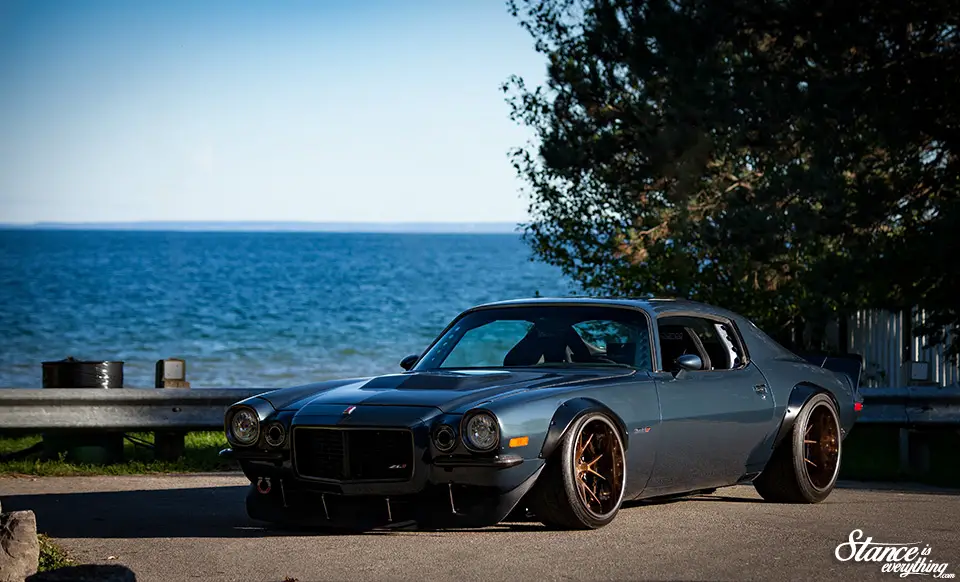 No, I'm not trying to paint all Camaro owners with the same thick brush.
I acknowledge that there have been some significant second generation Camros built before Miro's, however few, if any, have combined the best elements of show, drag, pro street, and pro touring as flawlessly as World War Z and more importantly without compromise.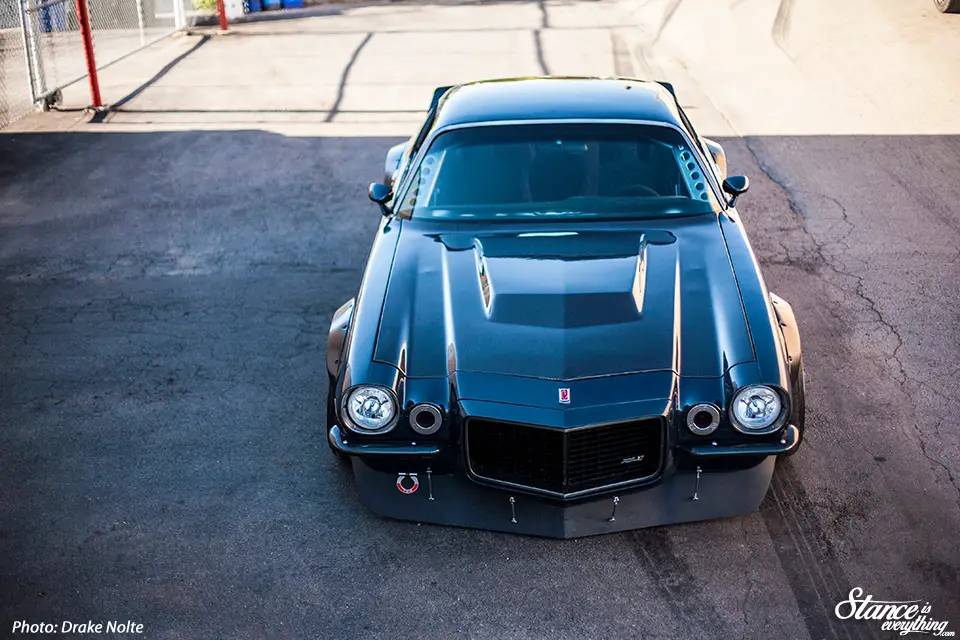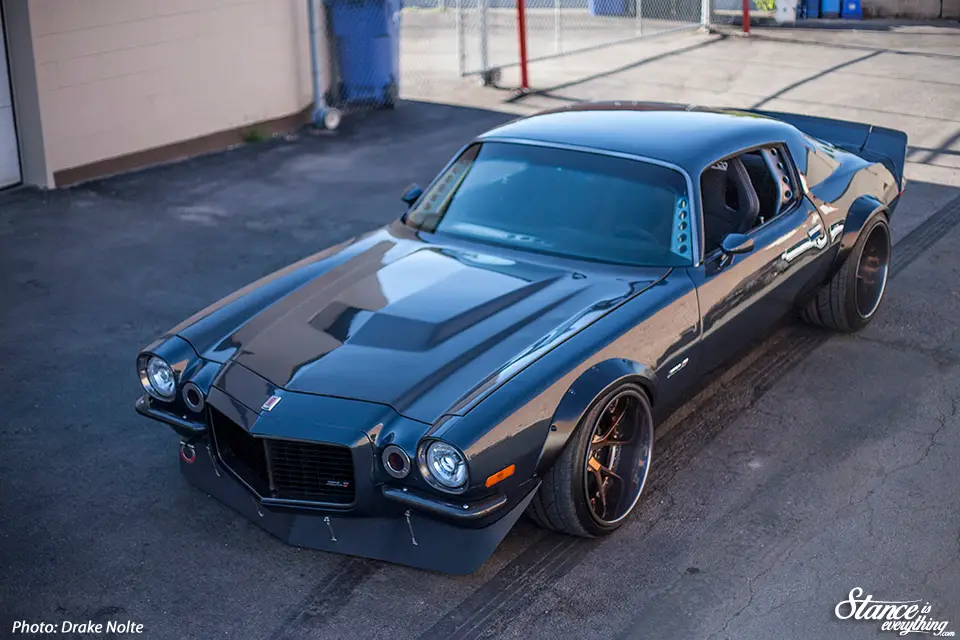 Well… admittedly there is some compromise in this car but not at the sake of build quality, performance, or handling. No, the compromise only comes when you try to put over 800 wheel horsepower to the ground on street rubber.
At this point the massive Nitto tires wave the white flag and concede to defeat going up in a cloud of rubber filled smoke.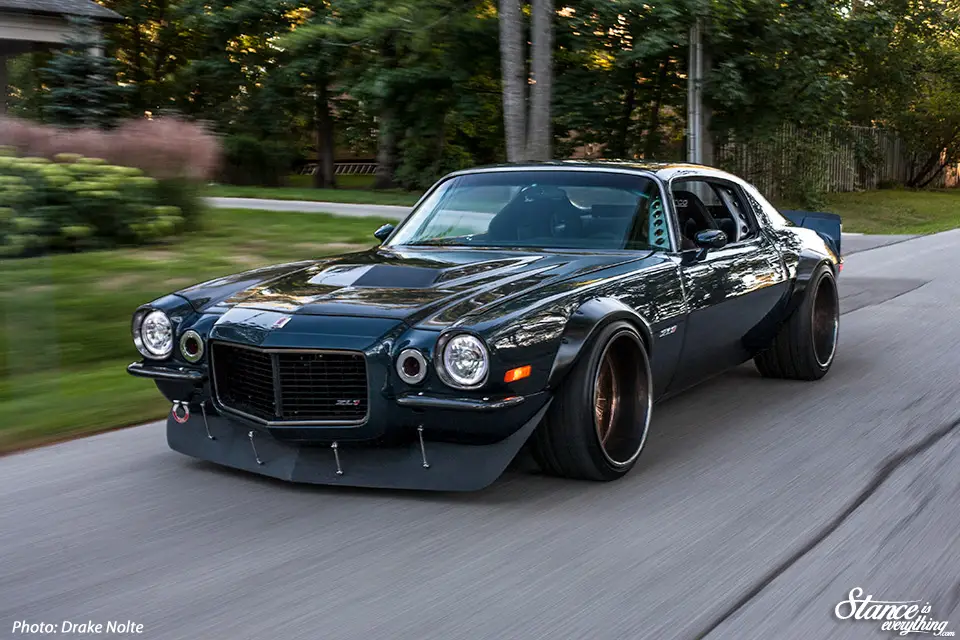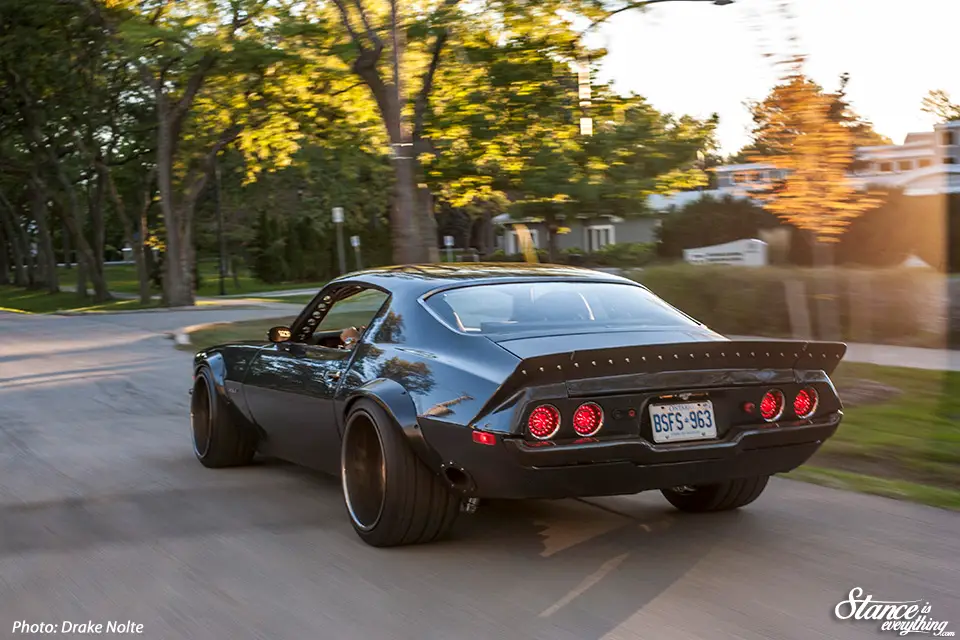 From outside watching World War Z squat ever so slightly before taking off sideways towards the horizon is, in a word, intimidating.
The Flowmaster race mufflers do their best to reduce the noise, but when the hammer is down people can't help but react, some with an enthusiastic thumbs up while others literally jump at the sound.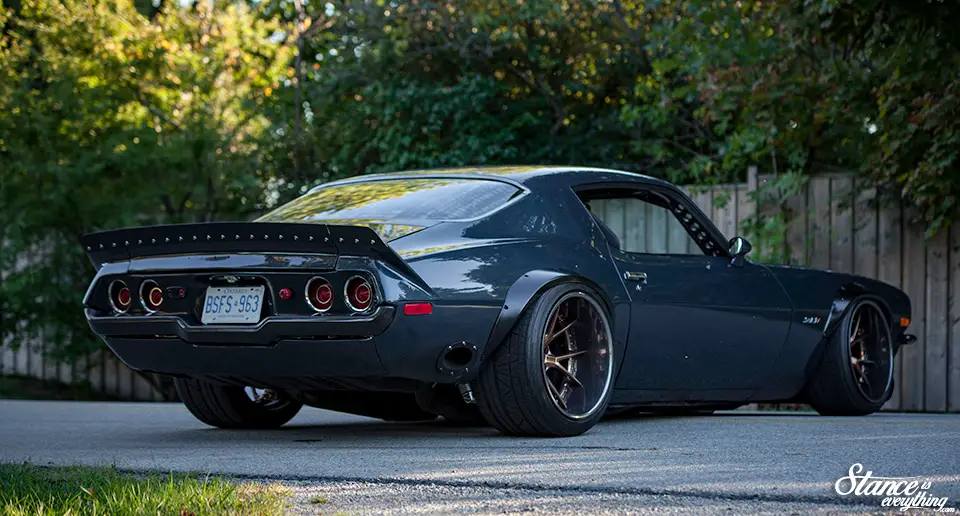 In contrast the experience inside the car is surprisingly civilized, and while the speedometer climbs quickly the driver and passenger can actually have a comfortable conversation, albeit slightly louder than you usually would.
The downright serene environment inside the car is no accident and is a direct result of the aforementioned no compromise approach Oakville Ontario's Cyrious Garageworks took when building this car.
At the direction of Miro –who's non negotiables were as wide as possible, as low as possible and as fast as possible– the Cyrious Garageworks crew cut no corners (metal however wasn't as safe) when building this car.
Riding shotgun I was able to observe that the car maintains its composure under hard cornering, and hard acceleration while providing a ride that doesn't rattle fillings out of your teeth, and with moderate supervision it goes exactly where you point it when you have your foot in it.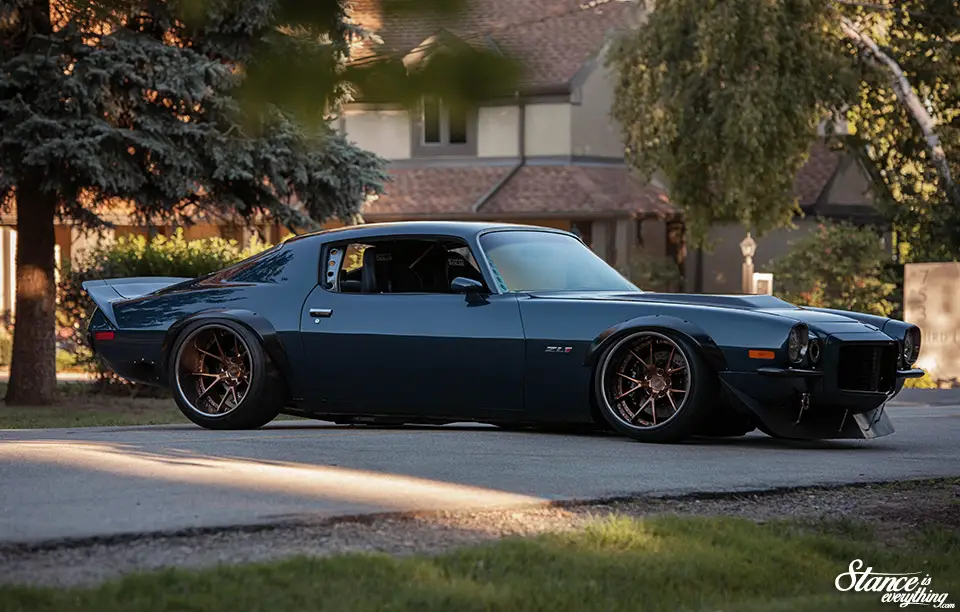 The car's capability under a myriad of situations, while riding low enough that the headers wear battle scars, is a result of the height sensor controlled Ridetech Shockwave Stage 2 suspension complimented by an assortment of Hotchkis accessories.
I'm sure the guys at Cyrious, who have a long history of Motorsports involvement, also threw some trade secret alignment tricks at the car when it was up on the rack.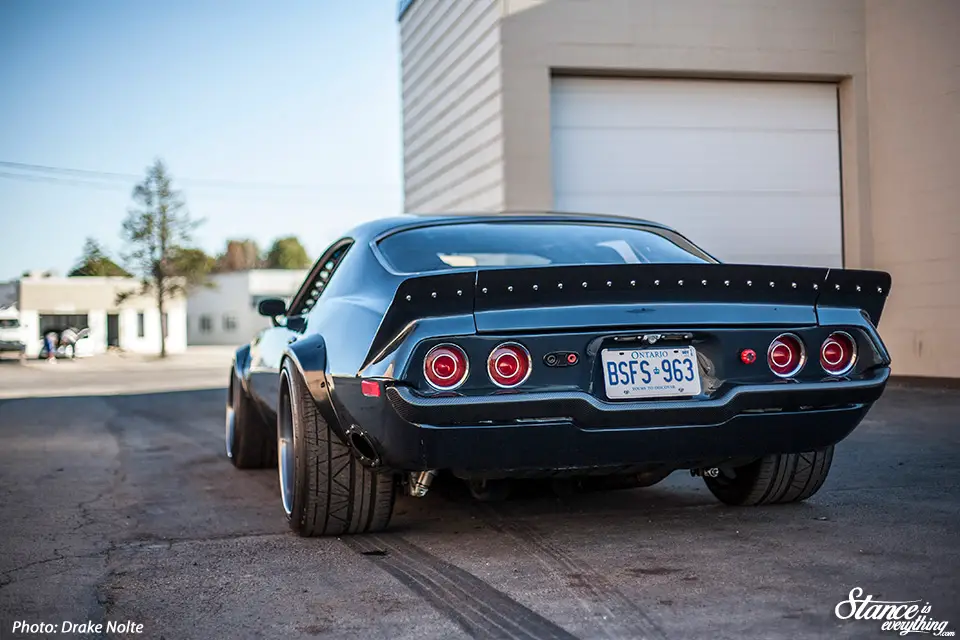 Given its aggressive exterior one could easily imagine World War Z with a fairly spartan interior, but a refined ride deserves a refined interior and the fit and finish of this Camaro's living quarters are far beyond what Chevrolet engineers originally shipped the car with.
Aside from the bead rolled aluminum used for the door skins the interior is entirely alcantara and leather, including a custom made center console that houses an iPad serving as the source unit for a fairly hidden contemporary in-car entertainment system.
The high-tech additions don't stop with the audio, the analog gauge cluster has been binned and replaced with a Racepak IQ3 dashpack.
A significant amount of Dynmatt runs through the car keeping the road noise at the minimum, and the only real evidence that you're in a car from the 70s is found when you open or close the door which takes a firm hand.
As already mentioned the motor in the car is an LS but it's no truck motor. The potent 6.2 litre superchaged LSA is backed up by a Tremac T56 'Tranizilla' six speed transmission and Auburn posi equipped center section flanked by Strange 31 spline axles.
When swapping the motor Cyrious Garage took care to position it for not only the best ground and hood clearances, but ideal over all weight balance front to rear.
The motor was a tight squeeze, which meant a couple of components ended up a little snug under the hood, but it wasn't anything the team couldn't handle even when tasked to work around carbon fiber inner fenders.
No you're eyes don't deceive you that is nitrous plumbing, a blown LS wasn't quite enough for Miro who went down to The Racer's Edge and asked Harry for half of the Brian O'Conner special.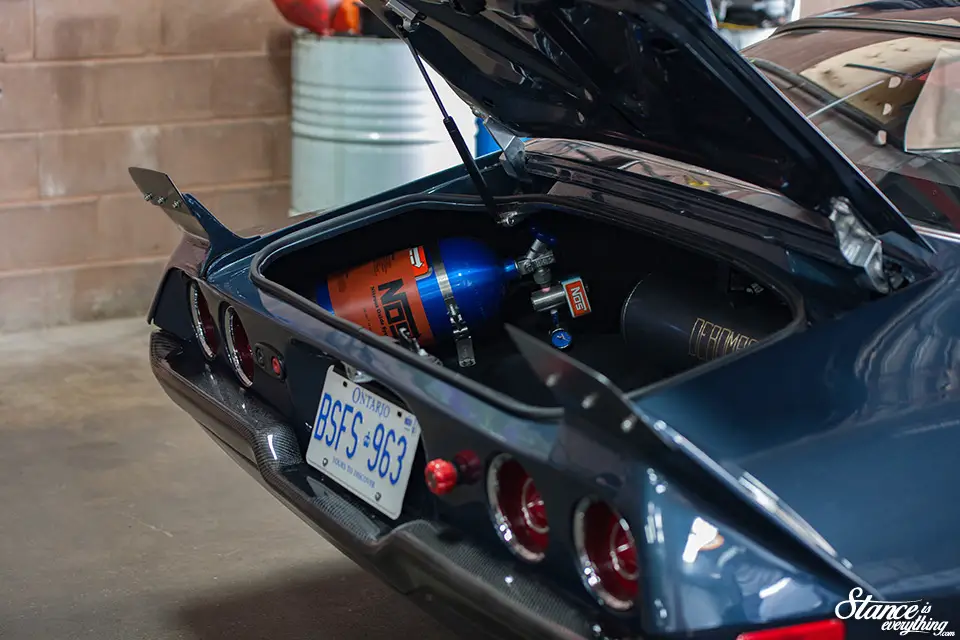 All said and done the car as been dyno tuned at 826whp, which equates to a 10.3 second quarter-mile at 135 miles an hour, for those of you who judge a car by its most recent time slip.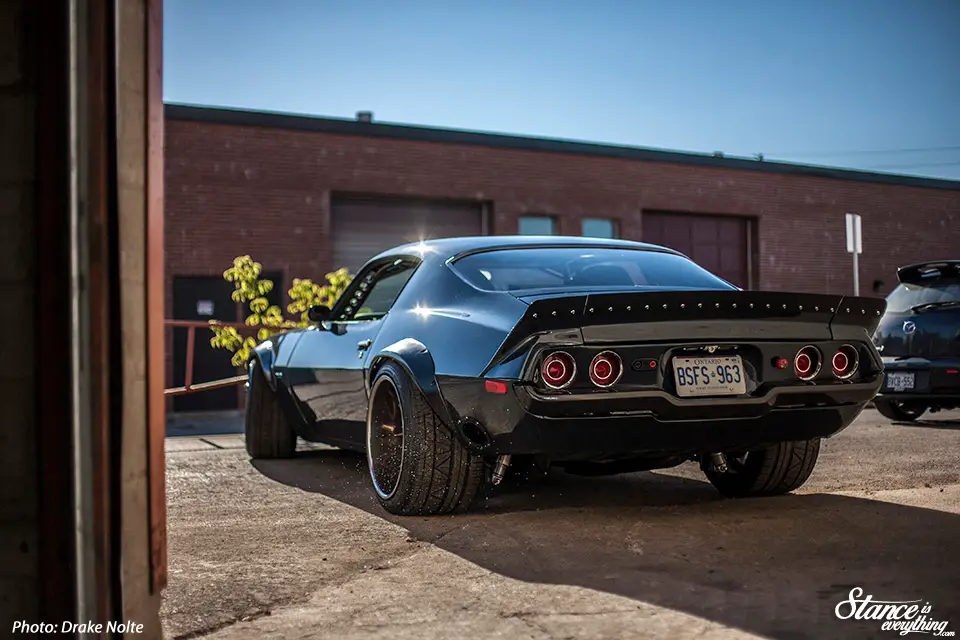 A ten second quarter-mile also justifies the cage Cyrious Garage managed to tuck up inside the car almost completely out of sight, save for the dimple die garnishes they wanted you to see.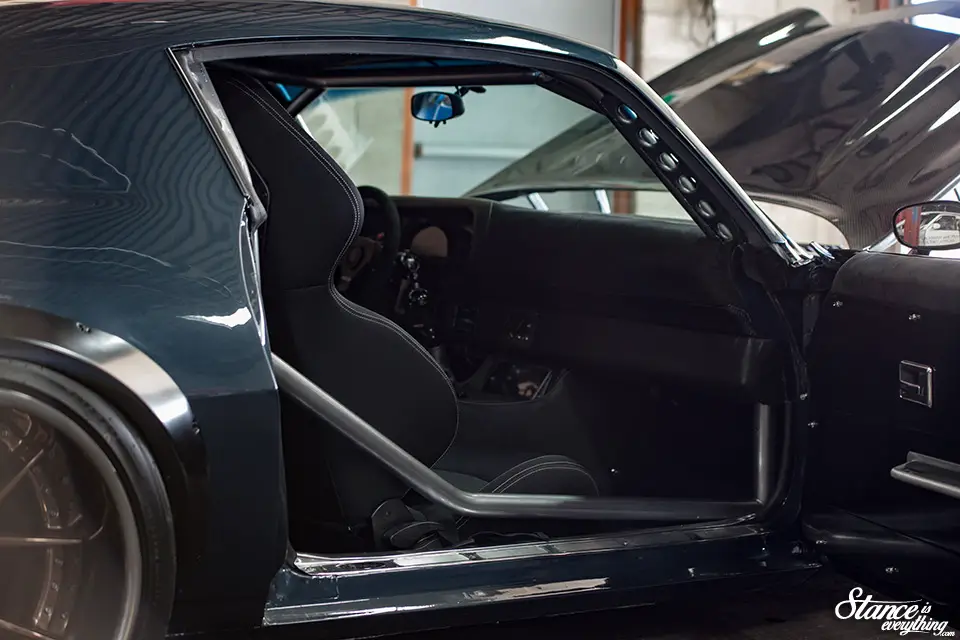 If there's any part of this car that goes unnoticed it's the small details Cyrious has inserted throughout.
The blame for people missing the little hidden embellishments falls on the the huge 19 by 12.5 and 19 by 13.5 RSV Forged that make a powerful statement sitting under the Cyrious Garageworks constructed flares.
The specs of these wheels, which are wrapped in 295/30 and 325/25 tires required a lot of "sacrilegious" cutting but I'm happy to the report that at ride height, or park height, the car looks sorted.
Refinished by 242 Customs World War Z now wears a unique shade of blue that changes ever so slightly under different temperatures of light.
Paint and flares are not the only body modifications to be found on this Camaro, the car sports custom carbon fiber bumpers front and rear along with a custom air dam and ZL1 style rear spoiler extension affixed with the same wheel hardware that holds together the RSV wheels.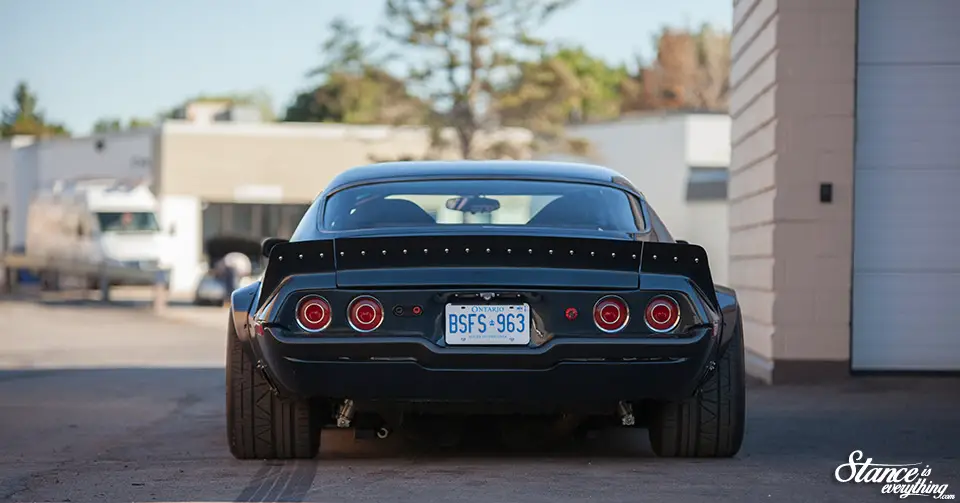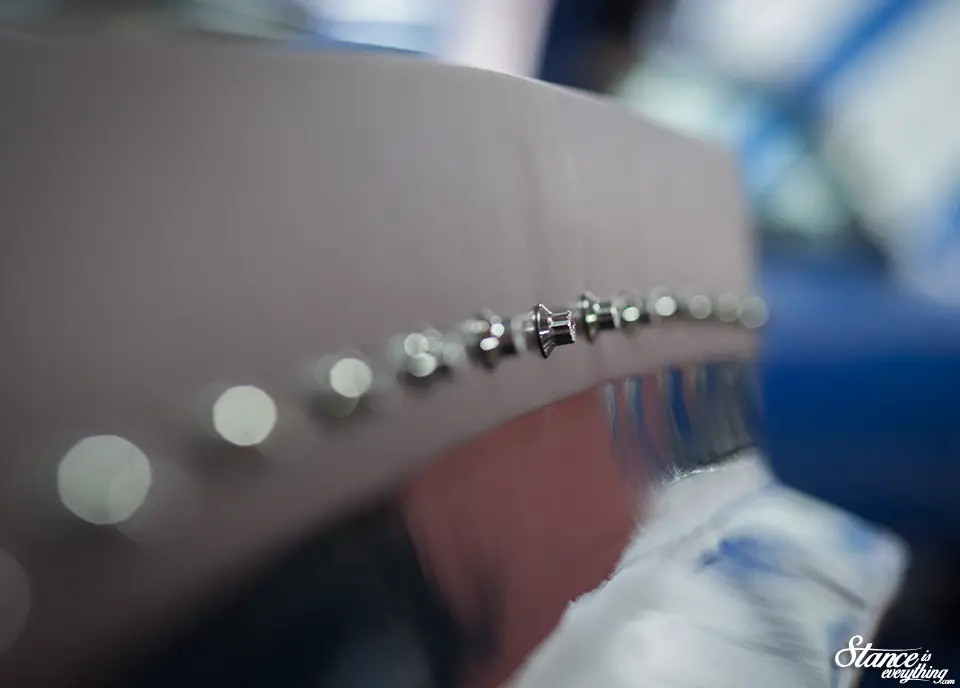 Quite naturally this car turns a lot of heads, and to date I've never shot a car that had more people wander over to take a look, or take a snapshot of their own.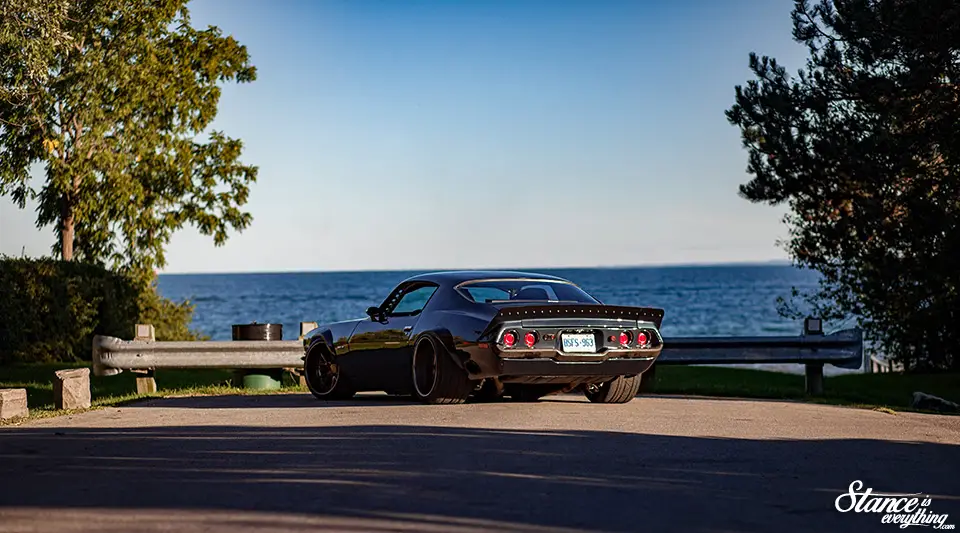 Miro is of course always happy to talk about the car, even to those that don't like it, because it is exactly the car he wanted and when push comes to shove quite frankly this isn't a car you want to shove.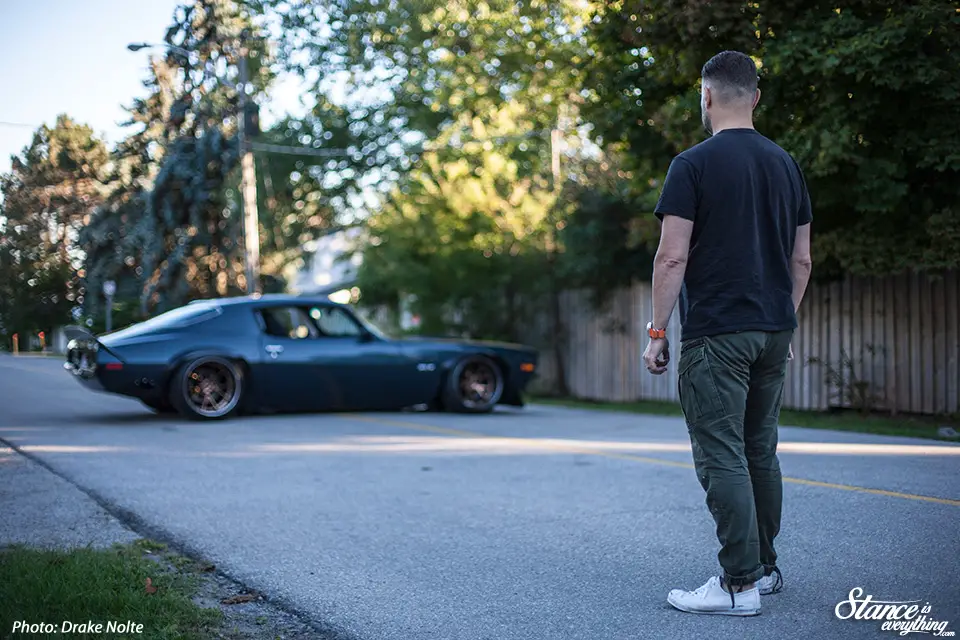 With his Charger on deck, and a Mustang to follow its safe to say Miro and Cyrious Garageworks are not quite done flipping the muscle car scene on its head and personally I can't wait to see the results.