Imagine for a second what it would be like to live in a place where all aftermarket parts come from abroad and wind up costing up to 20% more than the list price before the shipping service takes their cut.
Then imagine that the roads you travel are more often than not in such a state of disrepair that even stock height vehicles have trouble getting from point A to point B without being ravaged by potholes large enough to fit a ZAZ 965.
What you are imagining is probably still just a little shy of the reality enthusiasts from Ukraine and the surrounding area face day in and day out.
Regardless of these almost insurmountable odds these eastern European stance enthusiasts (who more often than not are brought together by LowerAndWider.com) are as dedicated as they come, with Andrew (aka Suhar) being no exception.
Suhar picked up his 'rex for the equivalent of $9000 US dollars a few years ago and in addition to standard daily duties he used it to chase down fellow countrymen JDR at local track and autocross events.
As his desire to go fast grew Suhar knew that a dedicated track car was in order so he picked up an AE86 and relegated the CRX to street use.
After noting a distinct lack of clean street prepped CRXs in his area Suhar realized that his recently weekend retired track toy was only a few subtle modifications away from becoming a stand out daily driver.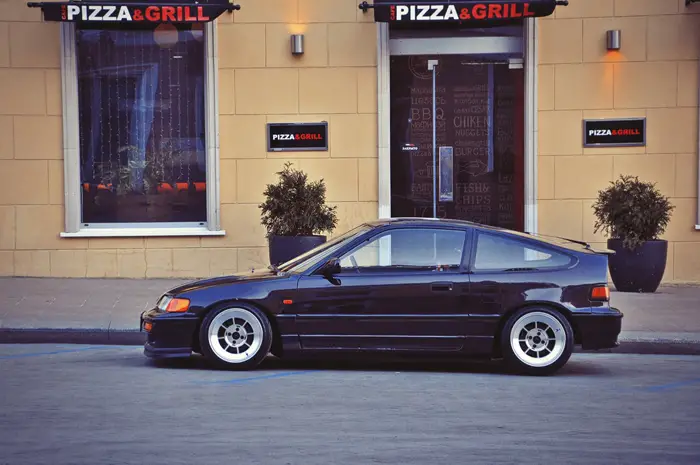 The coils already fit to the car provided a great starting point and were soon treated to a complete rebuild. While the suspension was on the bench, and the car on jack stands, all of the  bushings were replaced with custom units that far surpassed OEM specifications.
All four corners gained further adjustment capability thanks to a combination of camber arms (Skunk2 up front, Blox out back), and toe arms (Blox once again).
When combined the upgraded suspension pieces keep the car suspended just out of harms way and give Suhar the ability to align his car based on its current ride height and whichever set of wheels are currently affixed to the car. Be it his winter set of Black Racing ProN1 wheels, or his current set of summer wheels which are 15×8 ET+10 Rota Shakotans wrapped in 195/45 Yokohama S.Drive tires.
Plans to go more aggressive after the winter chill passes are already in the works.
Modifications retained from this cars track days include a custom carbon fiber roof skin (sans moon-roof), Rotora brakes (drilled and slotted rotors/ceramic pads), Goodrich stainless steel lines, a Bimarco Futura bucket seat, 4 point harness, and a Sparco Safari wheel.
Considering how rare clean and unmolested CRXs are becoming in North America it is nice to see that at least one is in good hands over in Europe.
Hopefully this car is good inspiration for those of you who face similar issues to those in Eastern Europe to keep plugging away at your builds.
Modification List
Exterior
US amber bumper lights, turn signals and repeaters
Custom Carbon Fiber roof with removed sunglass
Home Depot front lip
Interior
Bimarco Futura bucket seat
Sparco Safari steering wheel
4-point harness
Oil pressure gauge
Suspension:
Custom rebuild FK automotive coilovers
Custom reinforced bushings
Custom caster adjustment (-4 degree)
Skunk2 front camber arms (-4:30)
Blox rear camber arms (-6:30)
Blox rear toe arms
Brakes
Rotora drilled&slotted brake rotors
Rotora H2 Ceramiс brake pads
"Goodridge" Stainless Steel brake lines
Bomz front & rear, upper & lower bars + harness bar
Engine
D15Z5
Exhaust manifold
Custom exhaust
Custom tail pipe
Custom reinforced engine mounts
Short shifter
Wheels & tires
Black Racing ProN1 15×7 (winter)
Rota SHAKOTAN 15×8 ET +10 (summer)
195/45 Yokohama S.Drive
Thanks to Andrew (Suhar) for the opportunity to feature his car and Xima for snapping the photos.
One final thanks to JDR for always keeping me up to date with what is going on in Ukraine and the surrounding area.