When discussing aggressively fit Mazda 3 hatchbacks* three cars instantly spring to mind: Kevin Nigel's titanium gray 05 that was on SSR Vienna Kreis wheels, Rocky's fender flared conversation starter, and the subject of today's feature the always clean Safron Yellow example owned by Yevgeniy Kovalchuk.
Yevgeniy, better known as JDR on the forums, has already received a number of kudos for his cars 2010 look, and his 2011 makeover is about to turn just as many heads as before, if not more.
Since debuting his cars second lower and wider makeover in 2010 JDR has been an inspiration to a number of Mazda 3 enthusiasts around the globe including myself. Ever since photos of his car on 17×9 Enkei RPF-1s  appeared online it's been regarded as one of the cleanest Mazda 3 examples done to date and was rightfully showcased on multiple online outlets including Speed Hunters.
That look was 15 wheels in the making and after a journey like that most wouldn't be rushing to change setups so soon however JDR's mind couldn't stop thinking of new ideas and for 2011 he decided to switch things up once again.
JDR opted to stick with the Enkei brand for his new set of rollers but go up a diameter with custom painted and hand polished 18×8.5 and 18×9.5 RPF-1 Type-RC wheels. He was able to get these wheels to fit with their effective offsets of 37 up front and 35 out rear by relying on his previously rolled fenders and stretched 205/40 and 215/40 Falken rubber.
The ride height on his Mazda is handled by a set of KW manufactured AP coil overs that initially were not quite to the level JDR expected. Because parts are not as easy to come by in the Ukraine as they are in North America the most feasible way for JDR to get where he wanted to be was modification.
After a few tear downs and rebuilds JDR was able to satisfy his quest for 'more lows' by removing the helper springs up front and shortening the springs in the rear, and to squeeze out just a little bit more visual low he made a custom lip that is just slightly beefier than the standard Garage Vary Mazda 3 lip.
Those familiar with Mazda 3s will notice that JDR's car isn't a factory Mazda color and lacks badging in the rear but a few of the other exterior details that can be easily over looked include shaved side moldings, a shaved rear bumper, oem rear bumper flares, a custom grill, and blacked out headlight bezels.
On the inside JDRs car has a custom suede headliner and plaid accenting, along with a MOMO wheel, Razo shift knob, Saebelt Clubman harness and Bimarco Futura bucket racing seat.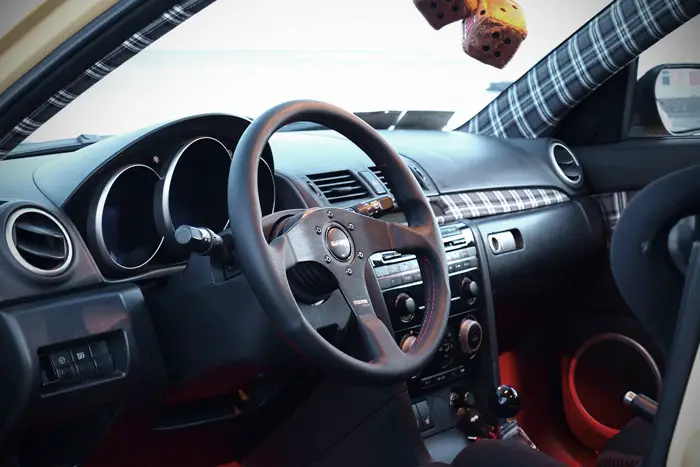 Under the hood a few of the performance modifications done to the car include a Simota CF short ram intake, HKS Hi-power exhaust, and a FL-6 speed gear box.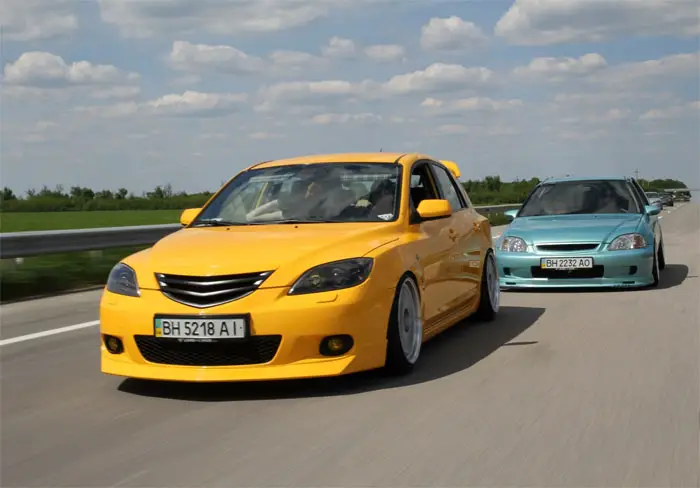 While I think JDR's car looks stellar as it sits he has already let me know that further modification is to come, I can only hope that when the car is done it's next round of revisions that JDR shares the pictures with me so that I can share them with you revision here on Stance Is Everything.
Full modification list
Exterior:
-Lotus Saffron Yellow paint
-Custom GV style front lip
-Custom GV style fron grille
-AutoExe rear wing (replica)
-Mazda Genuine Accessories rear bumper flares
-Shaved trunk
-Shaved mouldings
-Shaved rear bumper
-Yellow fog lights and high beam reflectors
-Red out tail lights
-Black headlight bezels
Interior:
-Custom plaid upholstery
-MOMO Tuner steering wheel
-RAZO Rally RA102 Black shift knob
-Sabelt Clubman 4-point harness
-Bimarco Futura bucket seat
-Aluminium pedal pads
Wheels & tires:
-Enkei RPF1 Type-RC 8.5×18 ET42 (ET37 efffective) front
-Enkei RPF1 Type-RC 9.5×18 ET45 (ET35 effective) rear
-Falken Ziex ZE-912 205/40-18 front
-Falken Ziex ZE-912 215/40-18 rear
-Drag Neo Chrome forged lug nuts
Brakes:
-Rotora drilled and slotted brake rotors
-Rotora H2 Ceramic brake pads
-Techna-Fit SS brake lines
Suspension:
-ap coilovers (by KW) (with removed helper springs and cut rear springs)
-Kakumei front strut brace
-Kakumei rear trunk brace
-BMW solid rubber front arm bushings (modified)
-Progress 22mm adjustable sway bar
-Hardrace rear sway bar links
-Extended 50mm wheel studs
-5mm/10mm wheel spacers
Engine, transmission:
-Mazda3 FL 6-speed gearbox
-HKS Hi-Power catback exhaust
-Kool-Vue (Simota) Carbon Fiber Short-Ram intake
-Hardrace Pro N1 reinforced engine mount
-Corksport PU rear engine mount inserts
Photo Credit: Lait
*I'm not counting speed3's for this article 😉