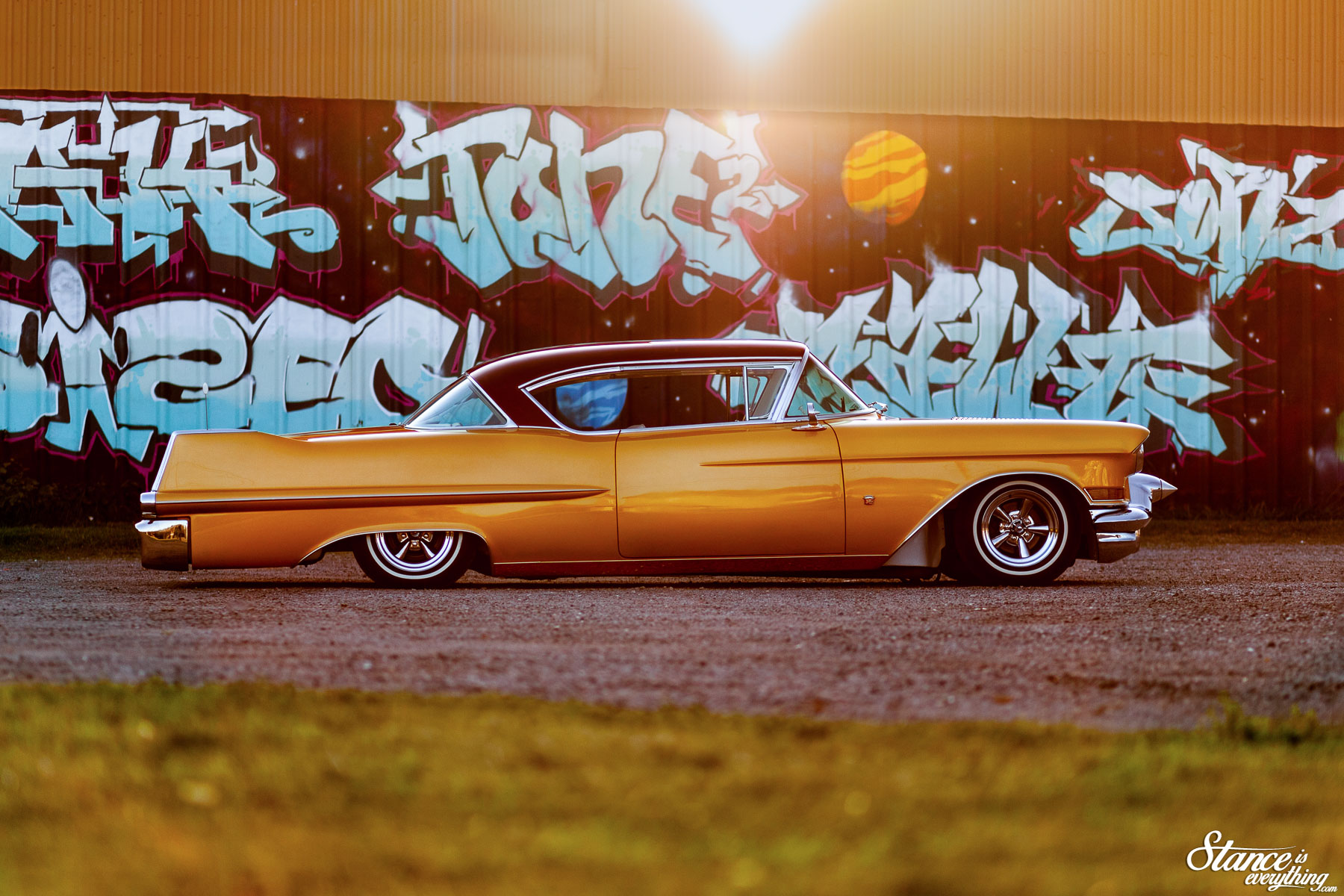 The first time I came across Fred Bottcher's 59 Gold Cadillac was a few years ago at the Jalopy Jam Up.
Low and clean I obviously snapped a photo of it and stuck it in the coverage along with a cheeky little caption underneath about the figurine he's got in the back. See cool car, photography cool car, post cool car it's something I do all the time.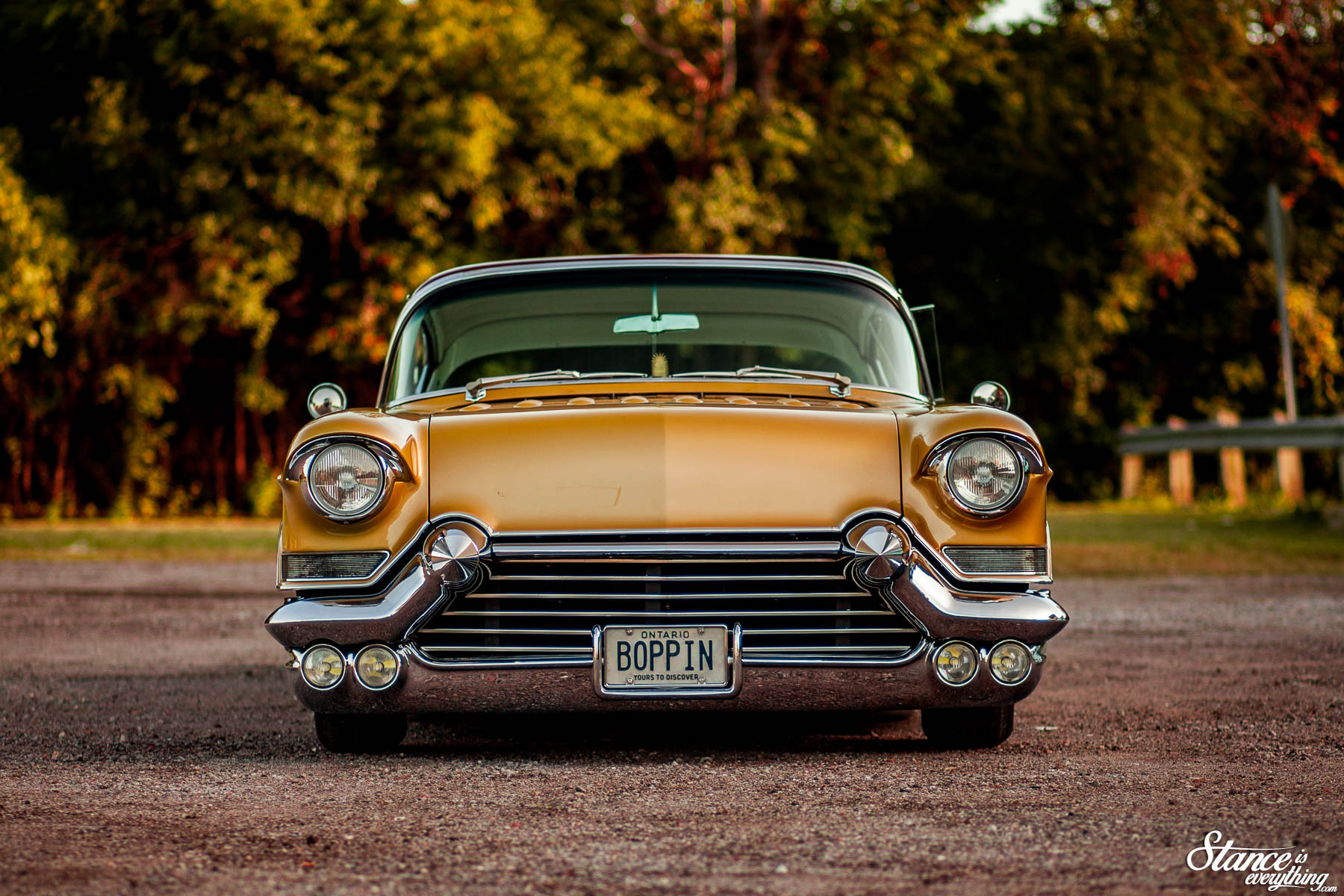 Little did I know at the time Fred and his wife Jil would be someone I'd soon start to see pretty consistently. Fred is a man who's nowhere and everywhere all at once. If there's cars around chances are Fred is already there or on his way.
I've seen the car all over Ontario; at the Jam Up, Autofest, Northern Showdown, and simple weeknight cruise ins.
Heck one winter Fred even flew the car to California simply to be able to cruise it when the weather here was too damn crappy here in Ontario.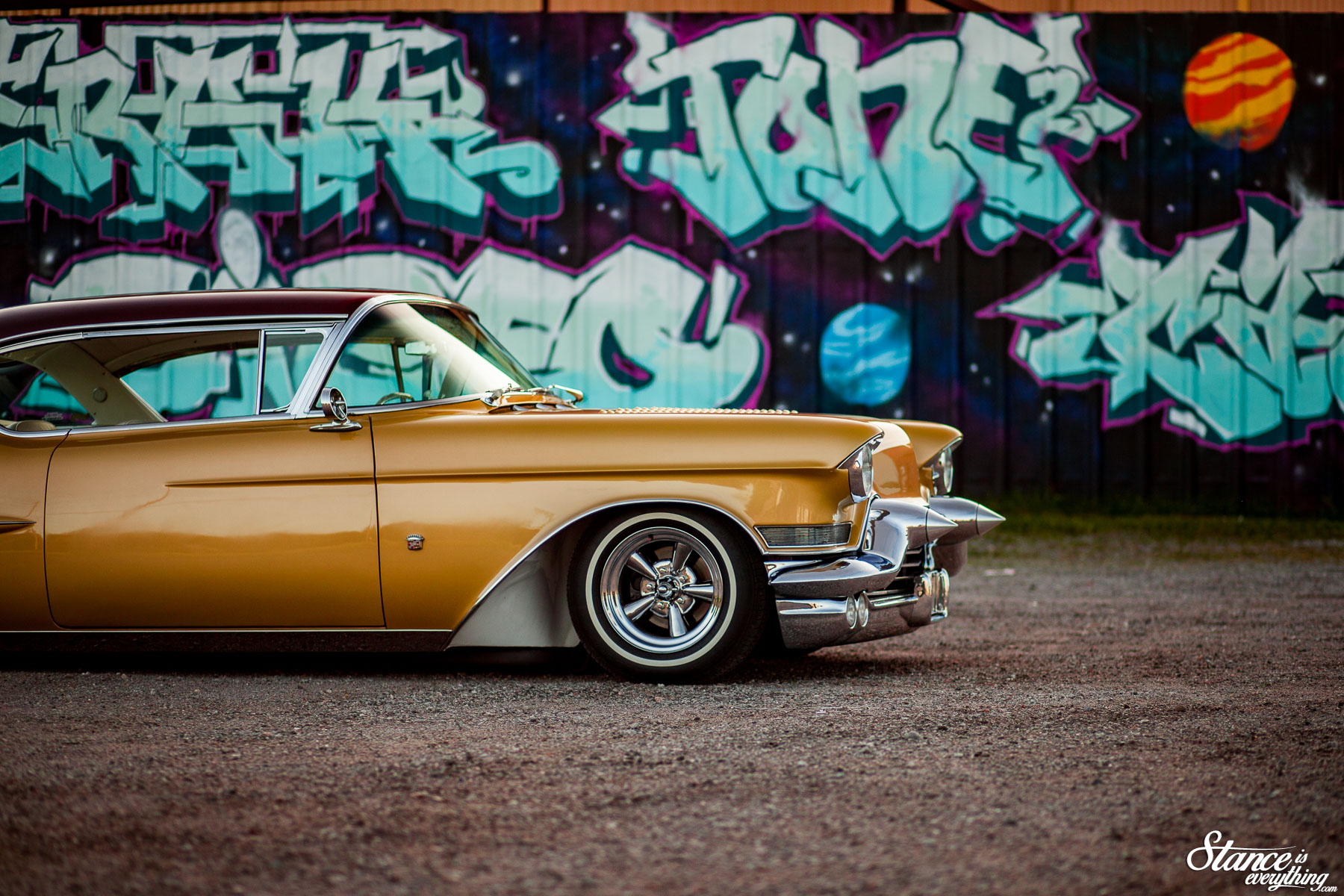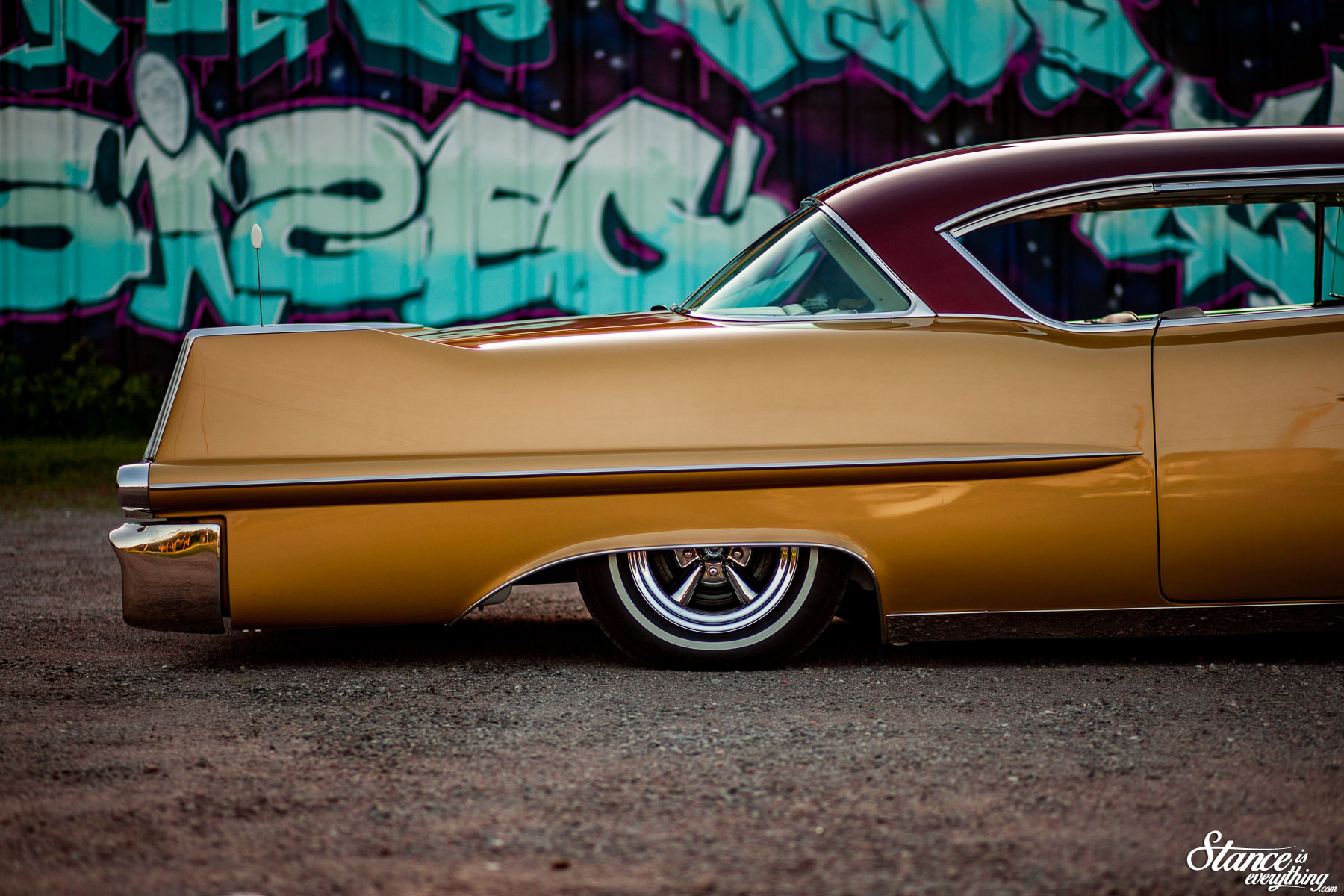 When it comes to custom cars –building, appreciating, and enjoying– I'd say that few people locally "get it" more than Fred.
He's also equally happy just cruising with no destination as he is at any event. Fred built his car, to his standards and he's going to enjoy it at any setting he deems suitable.
Lucky for us he figures pretty much any venue is suitable.
Even out in the sunny state of California Fred mentioned people were a bit taken a back at how willing he was to actually drive his car.
Media makes California out to be a much smaller state than it is. Going to the event son his hit list often required Fred to drive his Cadillac severl hours through grueling California traffic.
But Fred, having built this car to be a proper cruiser, wasn't ever deterred. Put the key in the ignition and hit the gas. Cars are meant to be driven.
Fred's the type that if there's something he wants to do, he's going to do it. And if all the details are not filled in, heck he'll figure them out along the way.
That's part of the fun of it all, isn't it? Know this little bit of information Makes what Fred's done to his Cadillac make a whole lot more sense.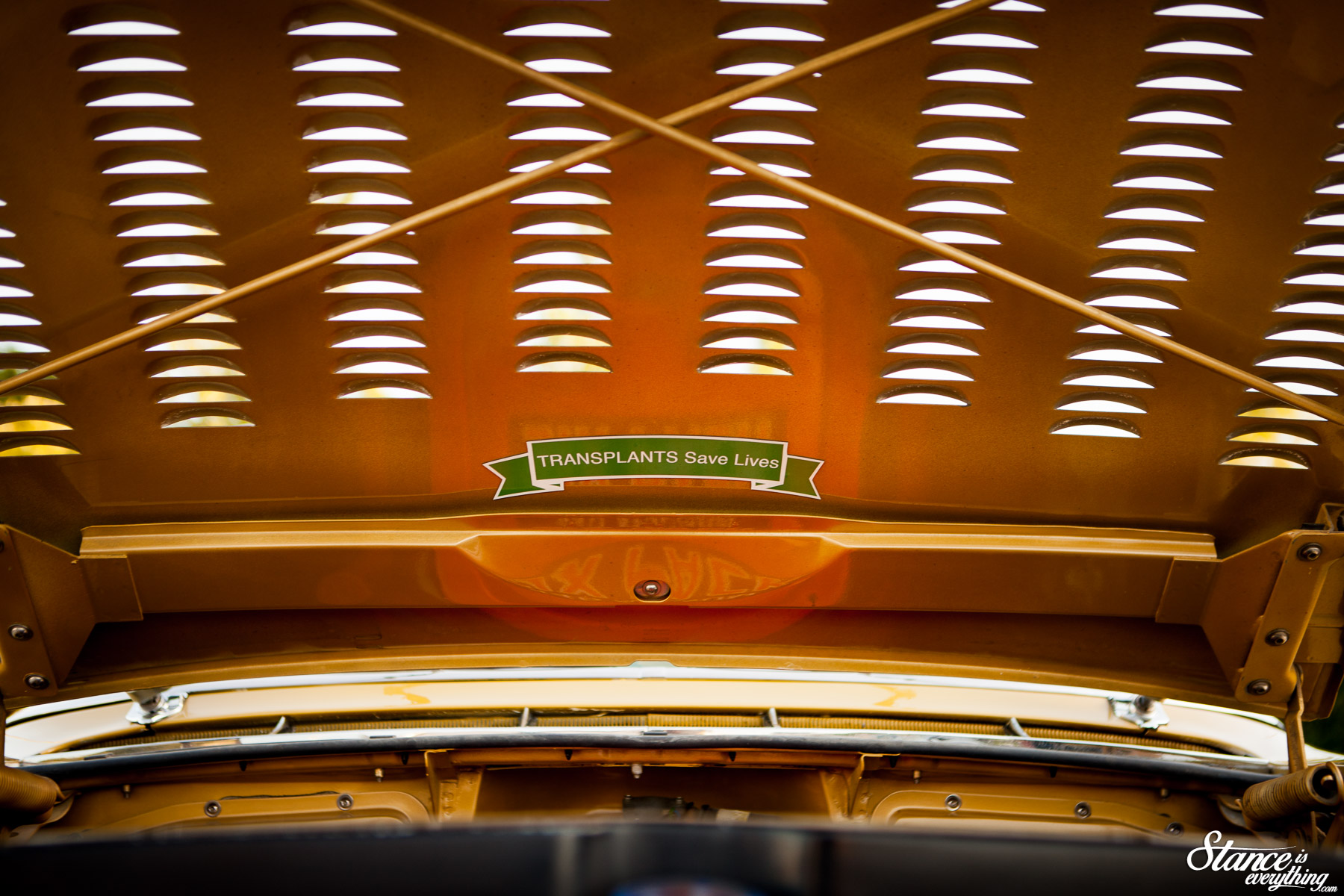 First things first, the more observant of you have probably already noticed that this '57 Cadillac has quite a few Mopar parts. The seats are from a 1964 Chrysler, as is the steering wheel, which is amazingly new old stock.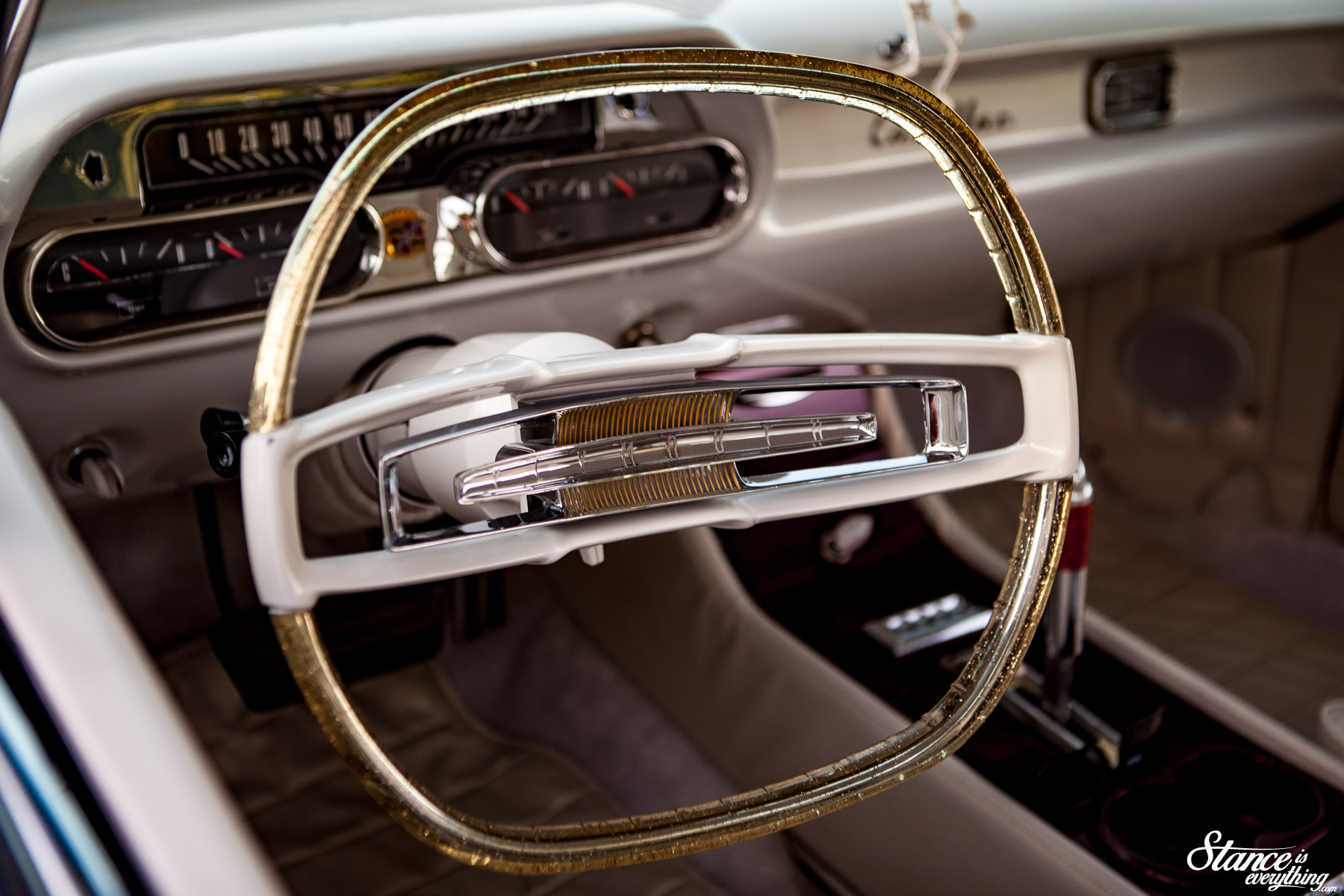 By some ridiculously awesome coincidence that steering wheel faded to the color it is today which matches the car's Futurua Yellow Volkswagen Gold Paint damn near perfectly.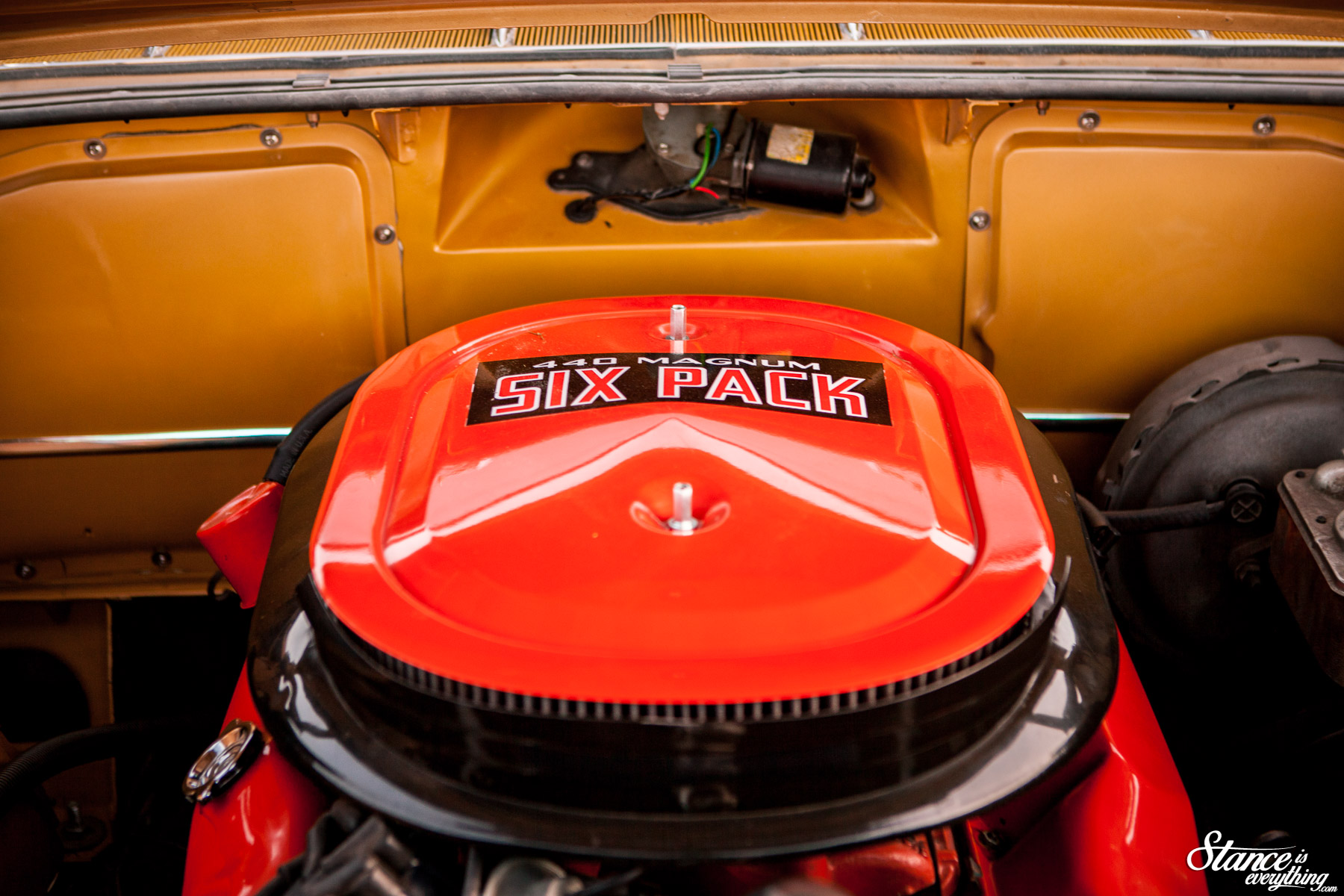 The car's also got a  Mopar 440 Six Pack under the hood. Basically the holy grail of Mopar motors. But, Fred wanted some power, so he got some power.
Remember there are no rules when it comes to building a custom.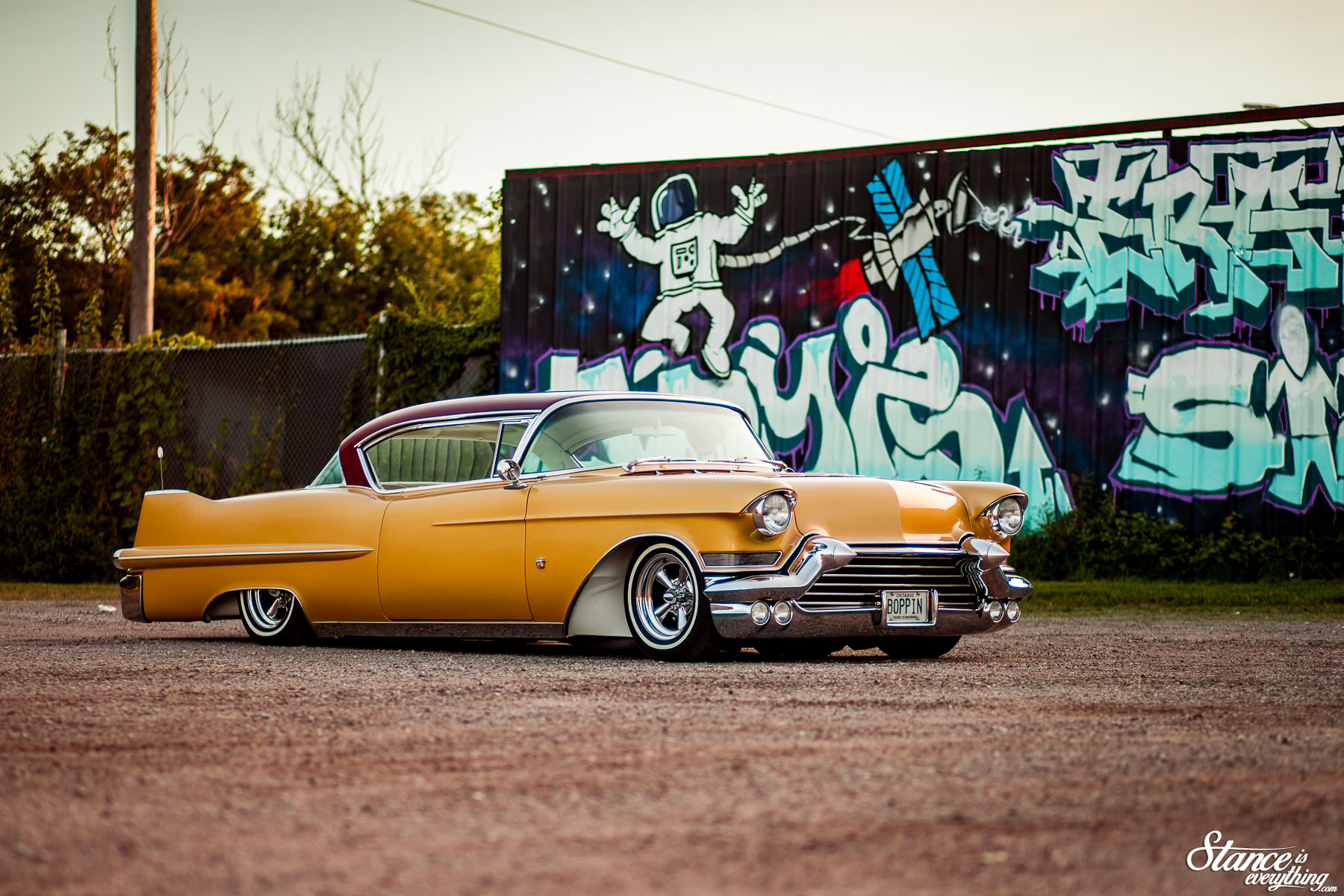 An '82 Camaro clip replaces the Cadillac front end, and a tidy two pump hydraulic set up rides in place of the factory springs. Fred clipped the car in such a way that the cradle actually sits under the oil pan.
This means that Fred can drive the car pretty much flat on the ground if he so pleases. The Astro Supremes, which are authentic N.O.S. models, are the perfect choice of wheel for a car with a proper good flaked roof.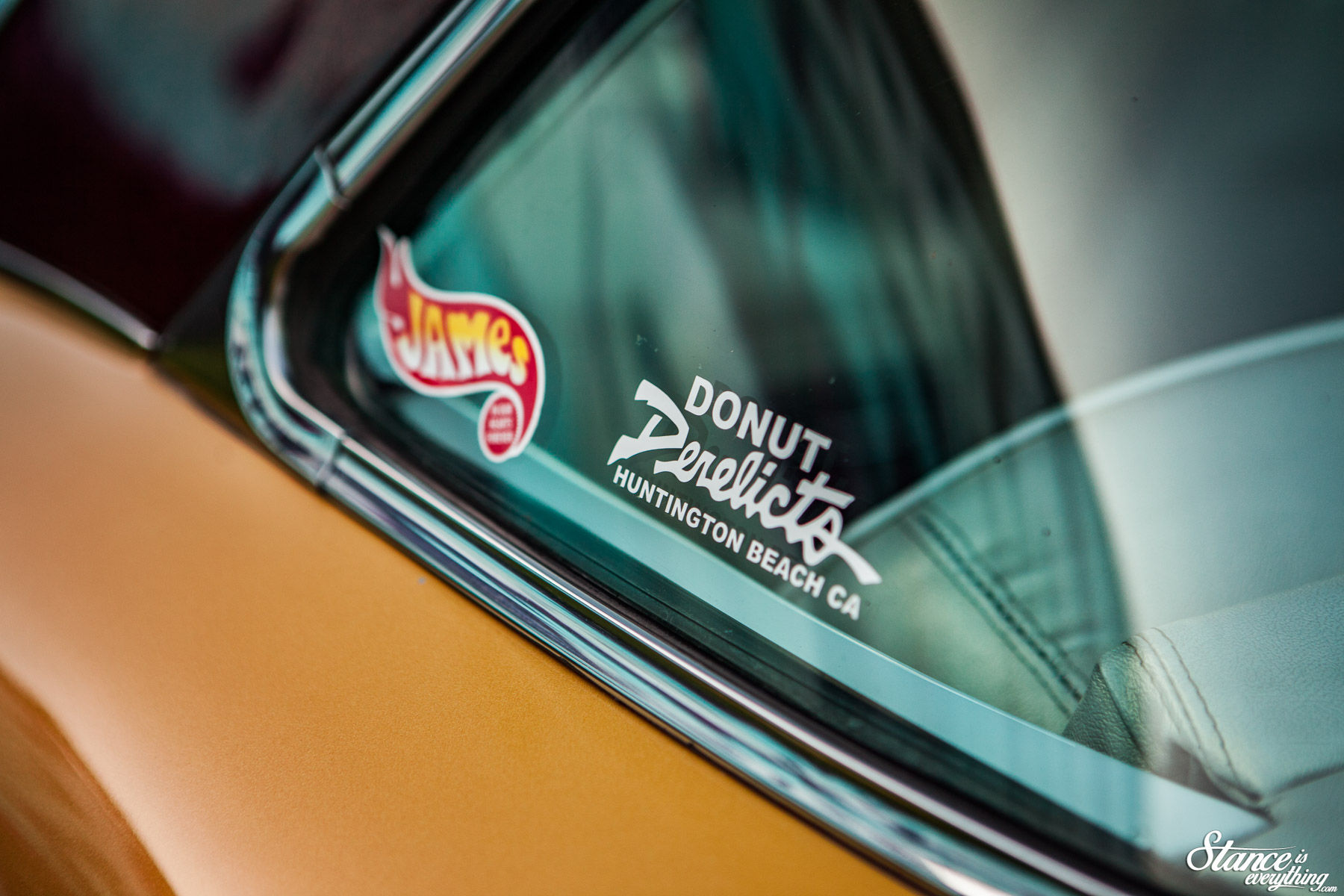 Fred's owned this car about as long as I've walked this earth and this look is the cars second, and final rendition. Previously it was teal, after stock of course, and he originally took it off the road to do a pro street styled build.
Somewhere along the line the urge to build a Kustom bit and after eleven years of construction here we are.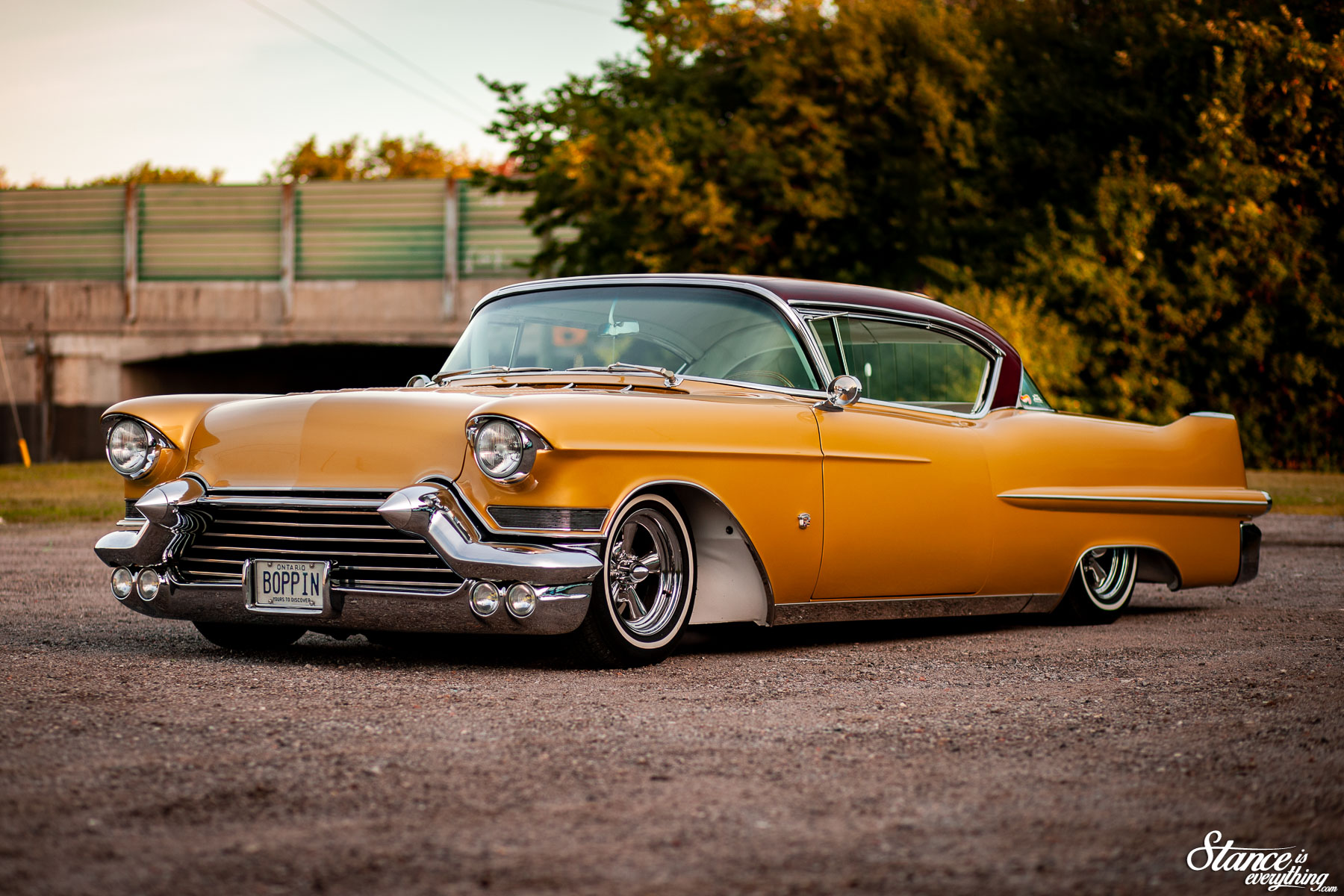 After absolutely drooling over the car for years I'm glad Fred and I were able to connect to do this shoot. To be honest I don't think it will be the last time I take photos of the car because Fred live's just down the street from me and the beers are always cold in his garage.