This year is the only year I've used a calendar to plan out the events I would attend, and one of the first events I marked off was The Jalopy Jam Up.
Last year's event had perhaps the worst weather of any show I've been too and it was still one of the most enjoyable to attend, so this year I had my fingers crossed for the better part of the summer hoping for good weather.
The day of the event the weather forecast was fantastic and the The Jalopy Jam Up, a show that showed worlds of potential in 2014, blew away all expectations in 2015.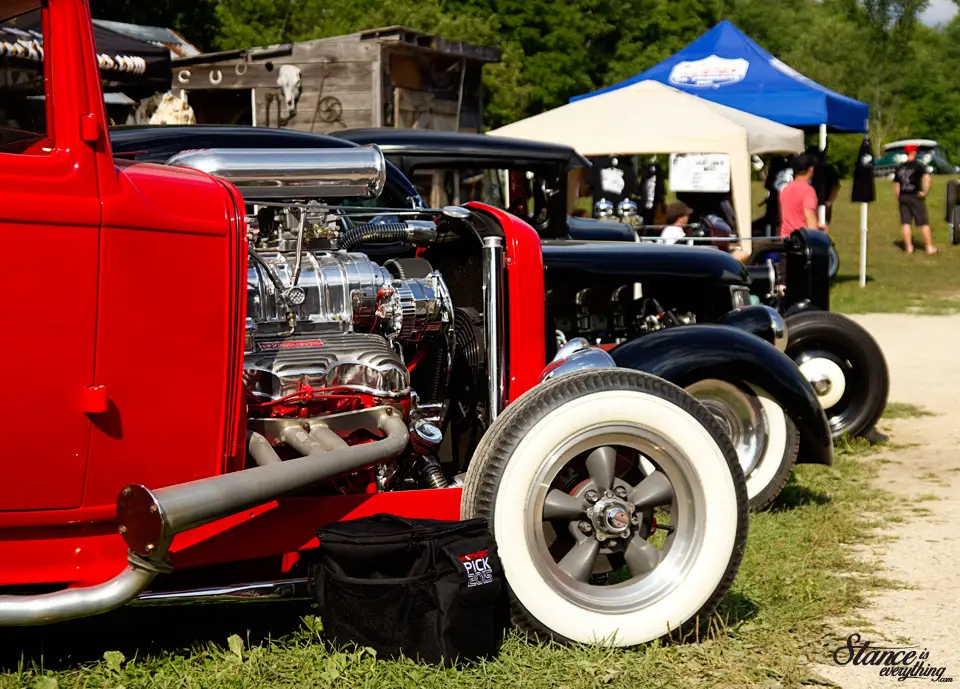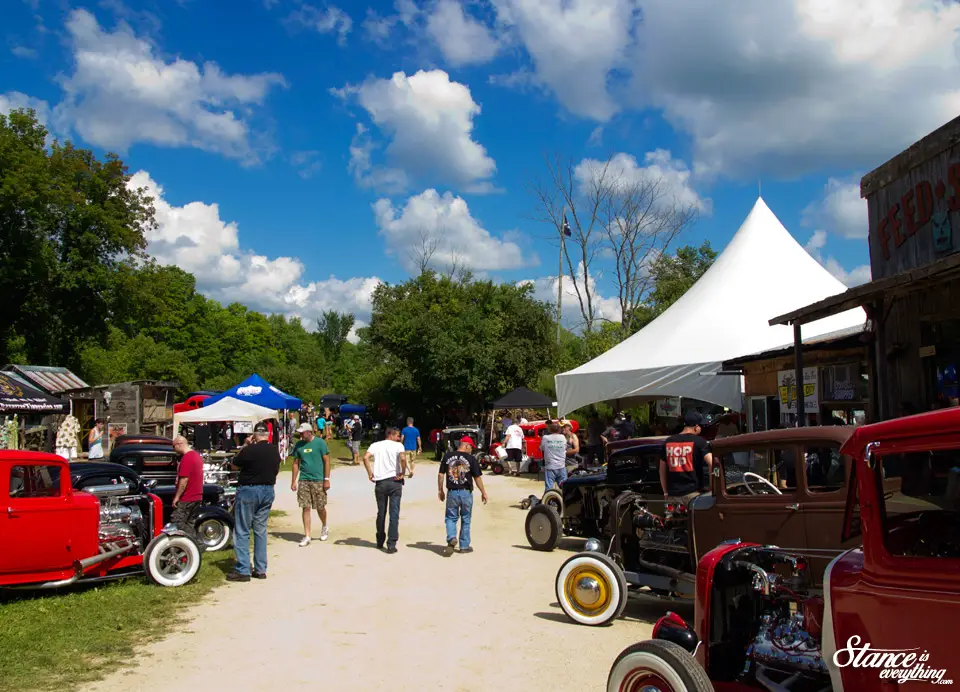 Once again held at the one of a kind Frontier Ghost Town in the City Of Durham the Jam Up played host to not only some of the best traditional Hot Rods from Ontario but a few out of province, and even out of country cars as well.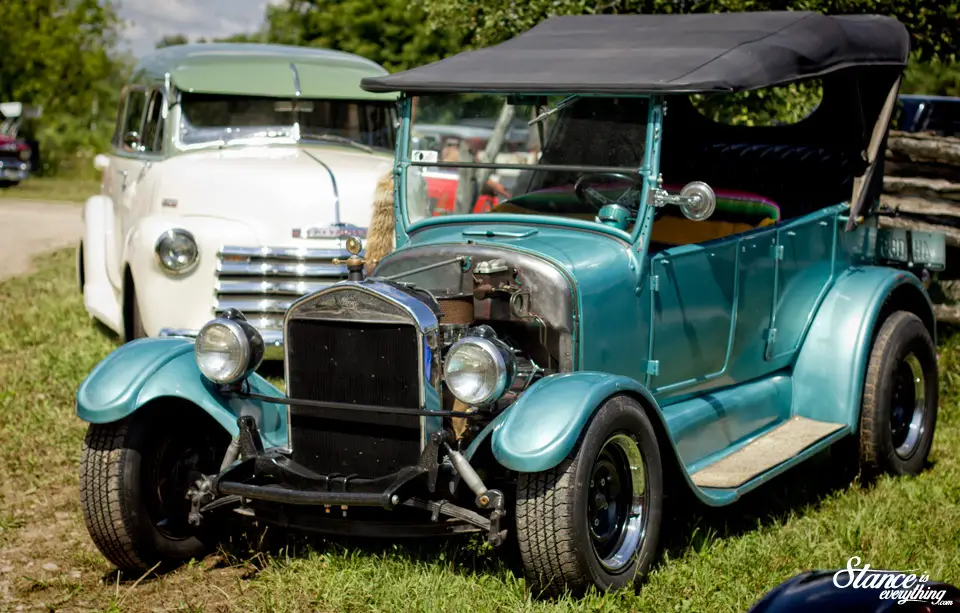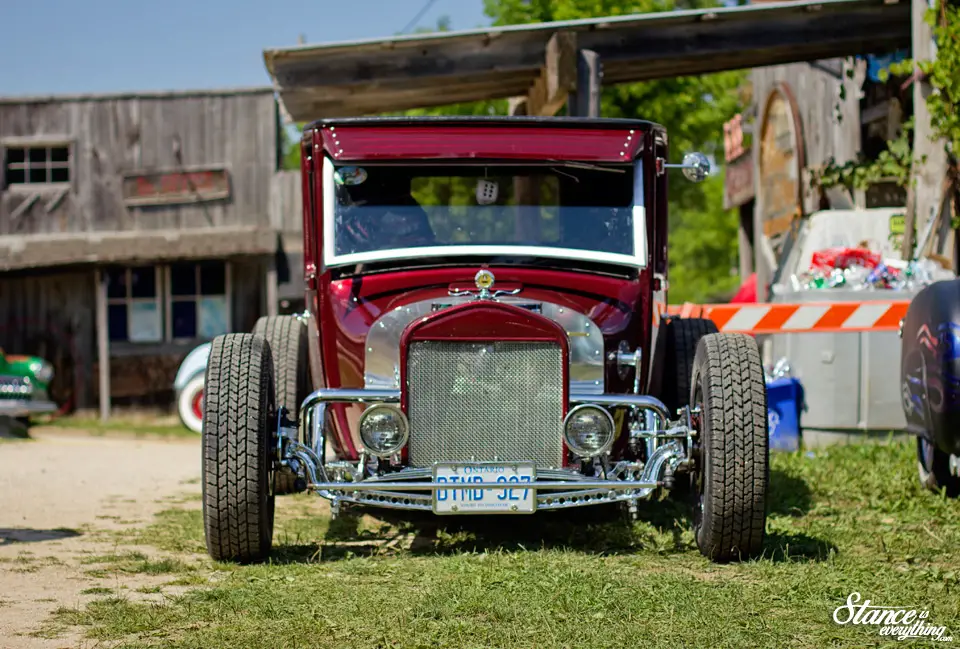 But the show wasn't just Hot Rods (even though that could have been enough) there was a large number of era correct kustoms, sleds, and bikes scattered throughout the grounds between the various wooden buildings of the venue.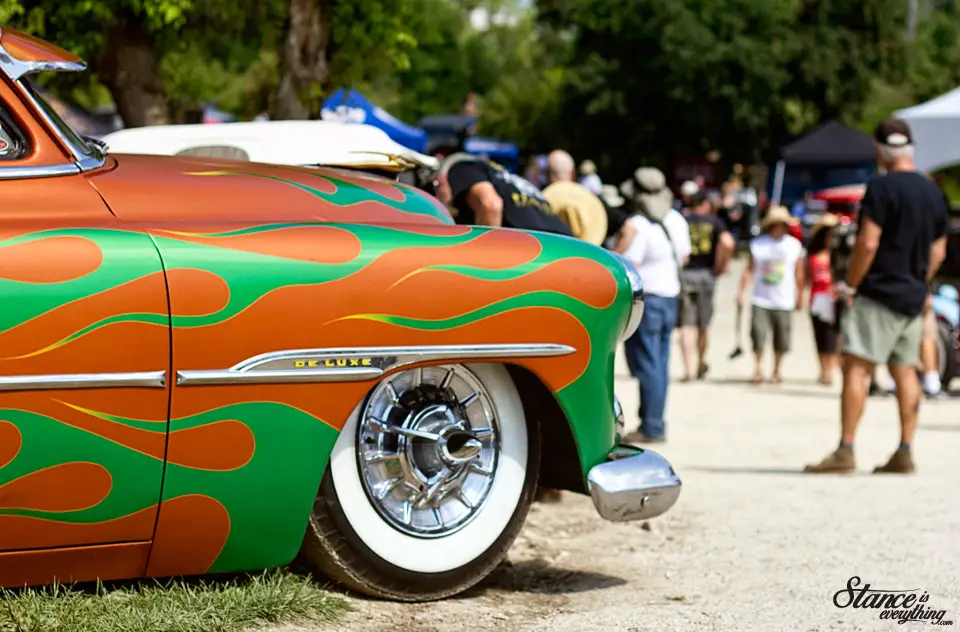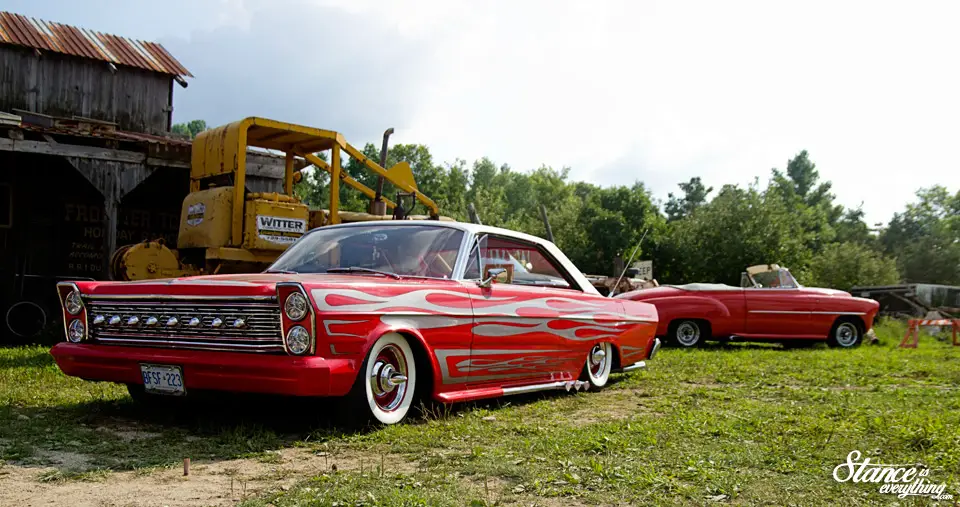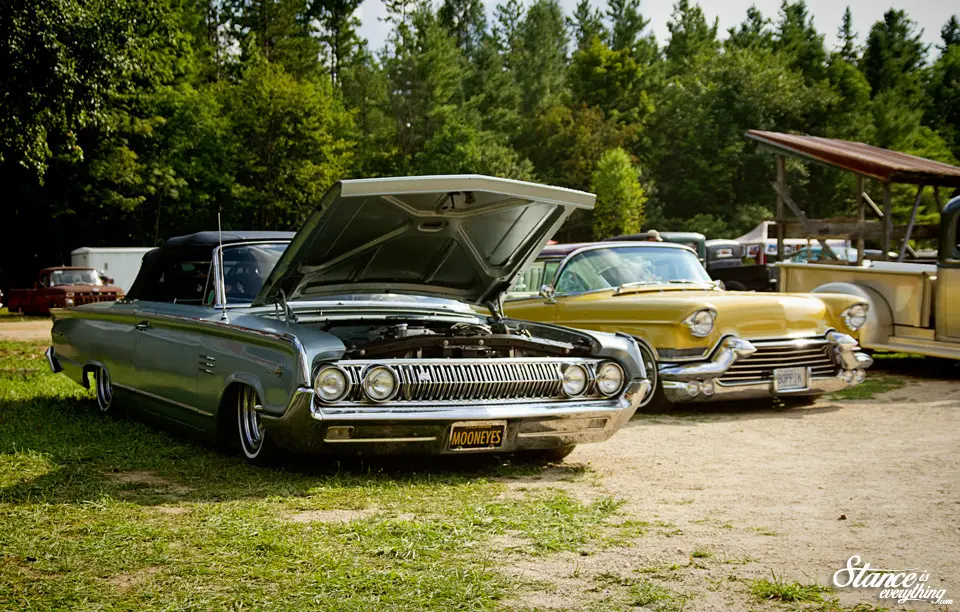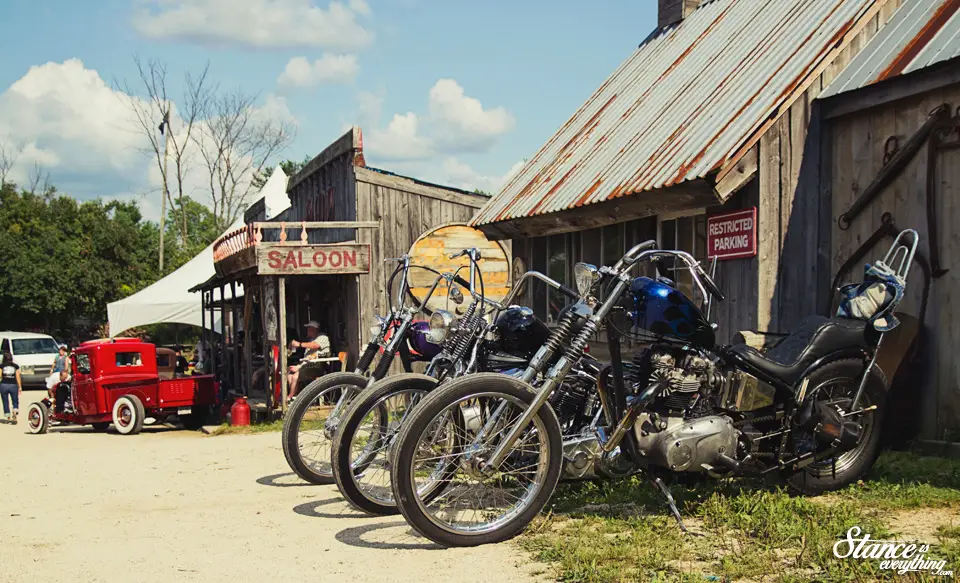 The laid back vibe, and friendly atmosphere of this event mirrored that of the E.L.T.A. Summer Bash the week before and I must admit after attending these events back to back I wondered why I attend any other type of show.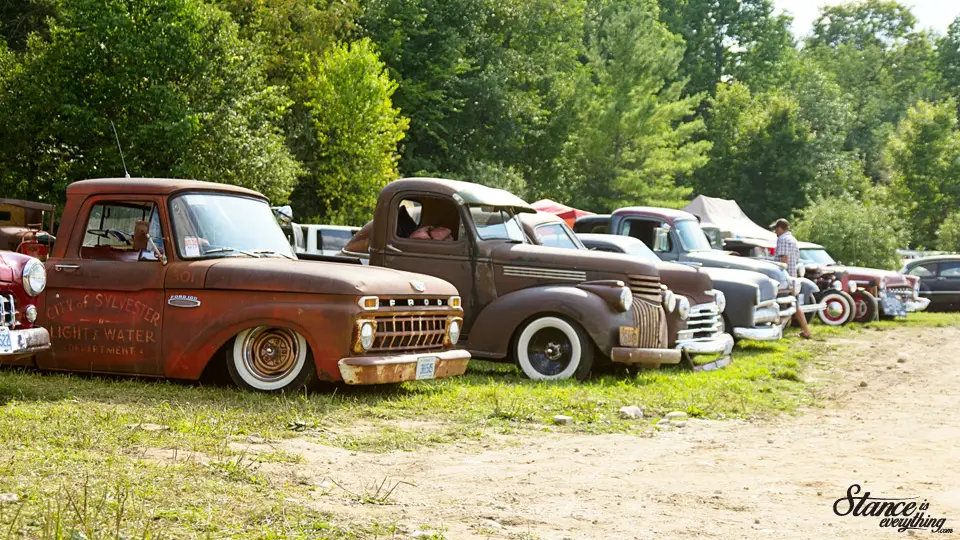 Events like these really make you aware of the intangible element that exists in hot rod culture that people worry may be dying.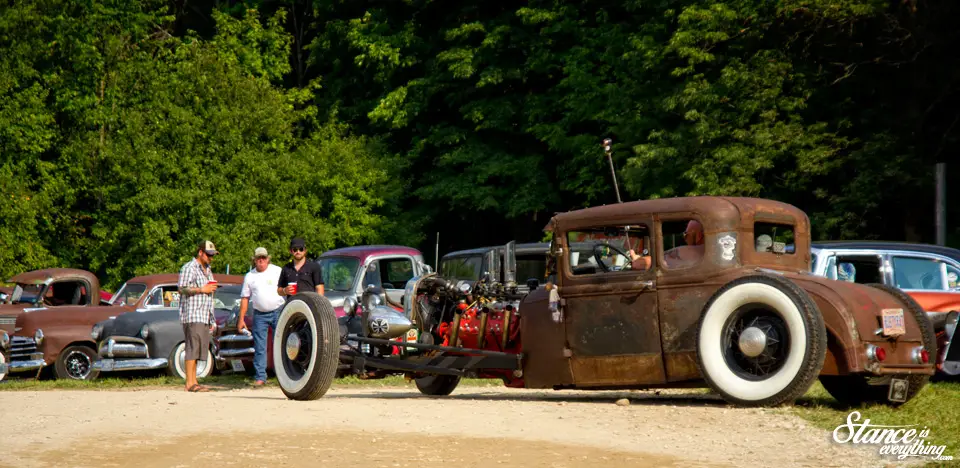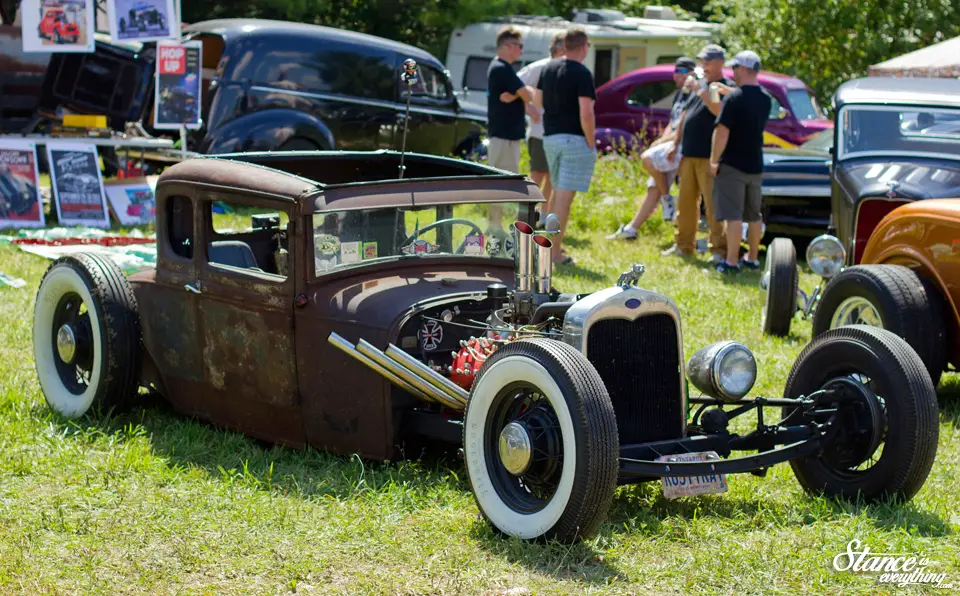 However being at the Jam Up you can't help but feel that Hot Rodding is still very much alive and that each person in attendance is doing everything within their power to ensure that it doesn't go anywhere.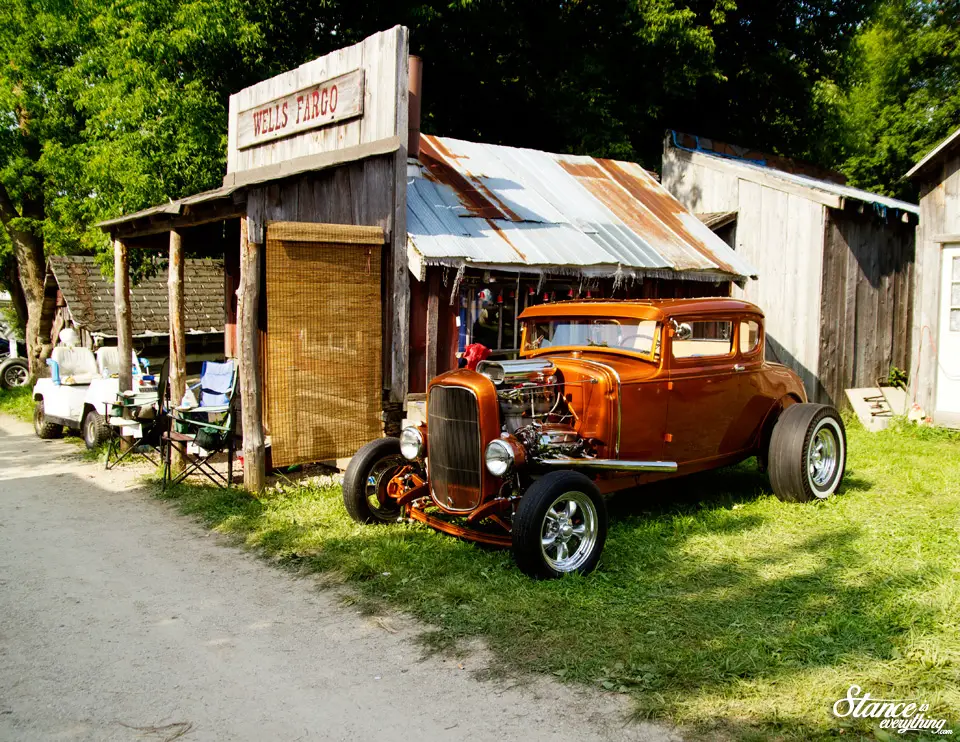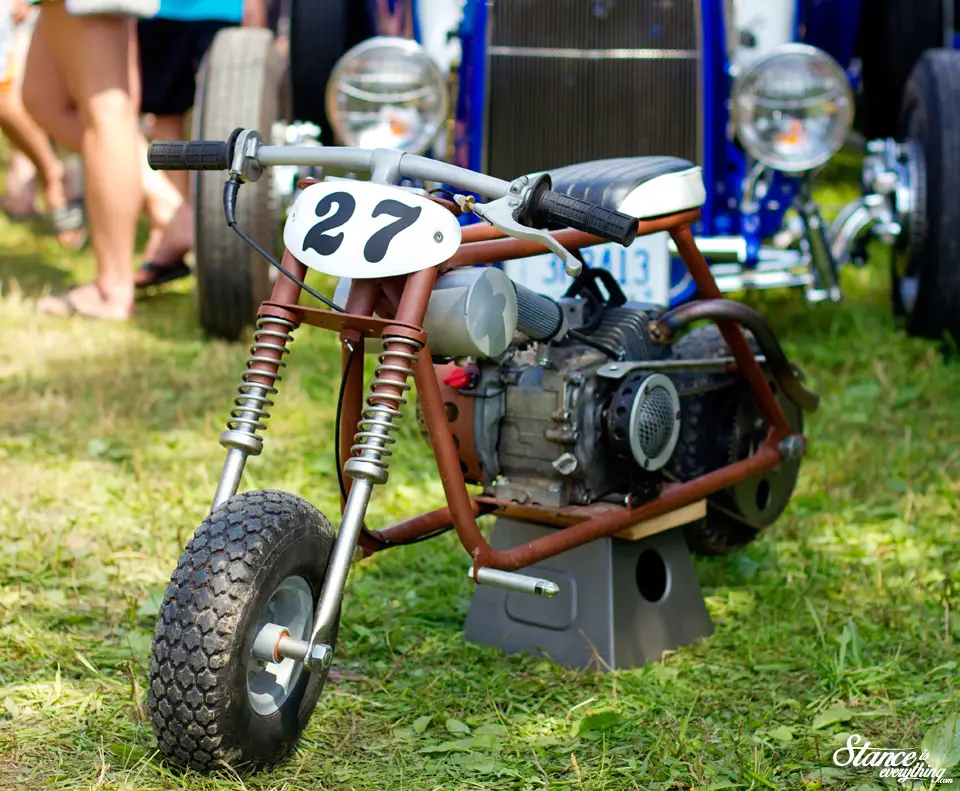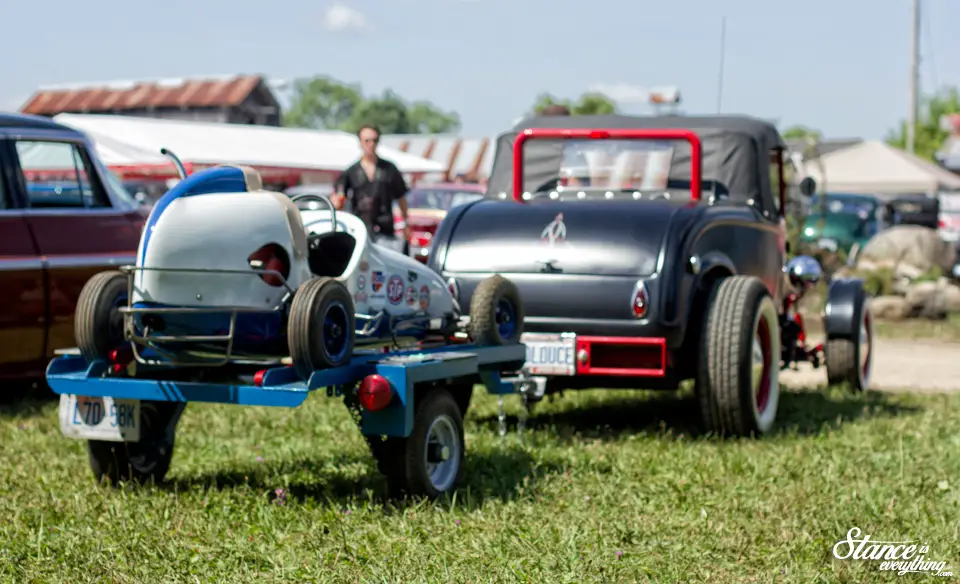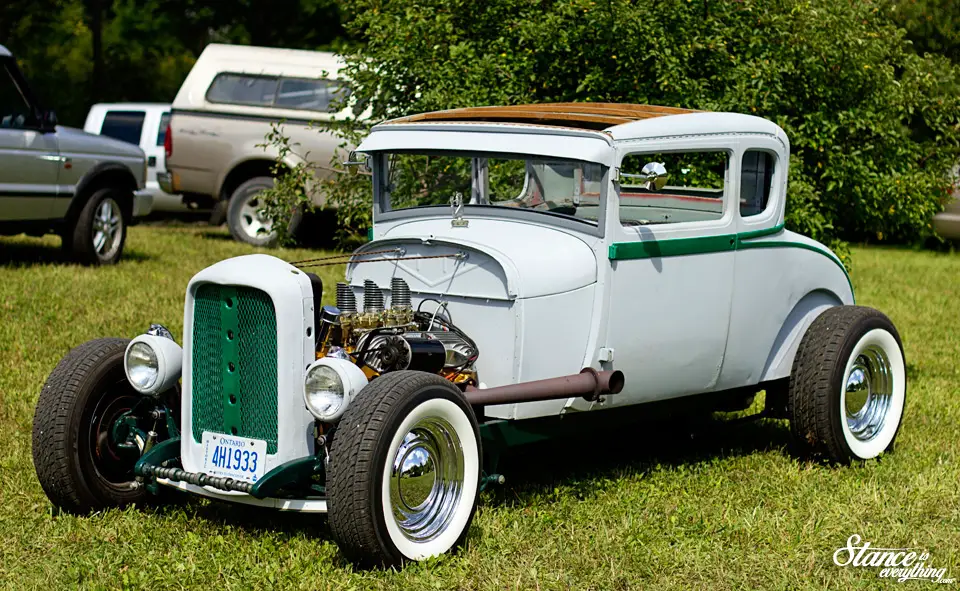 While I'm glad to be growing up in the era I am I can't help but look at these cars and think what it must have been like when everything was a lot simpler and to the point.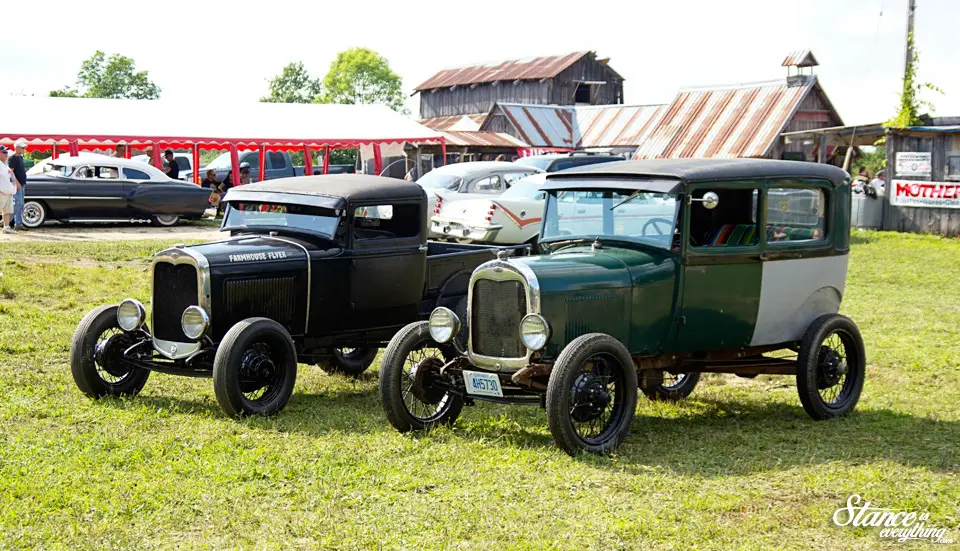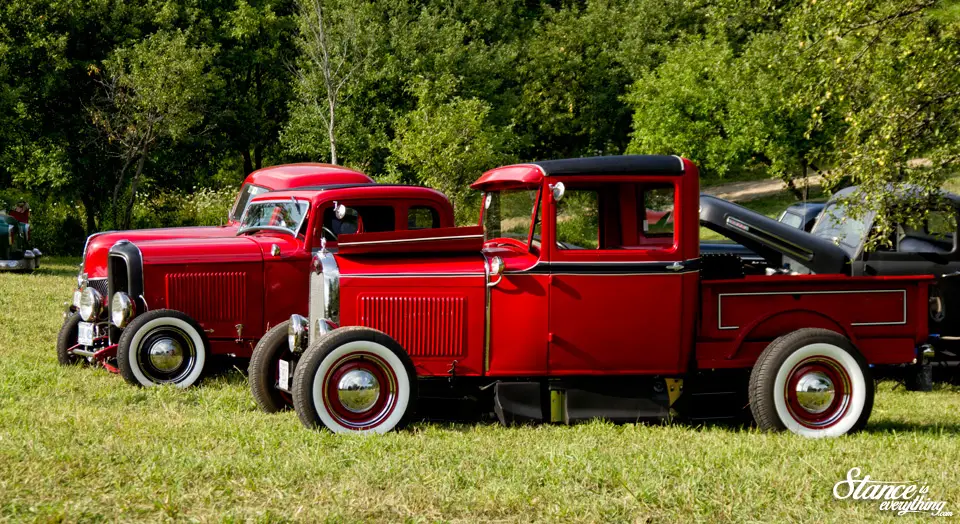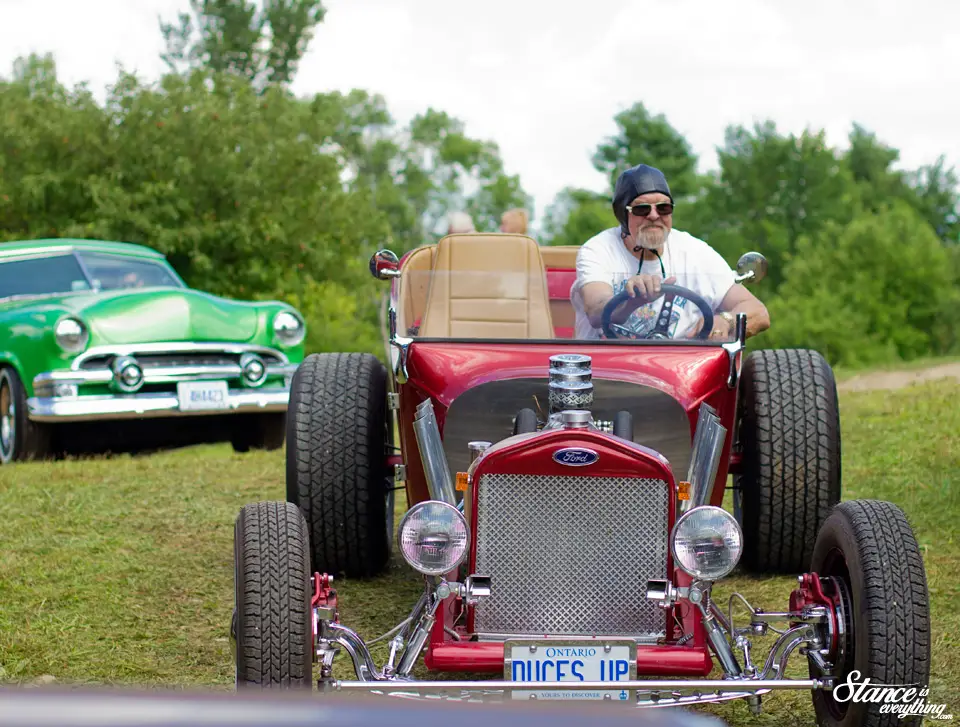 Small car stripped, big motor, grab your friend (or if you're lucky brave girlfriend) and go out for drive, wind in your hair, bugs in your face.
Sounds like a great time doesn't it?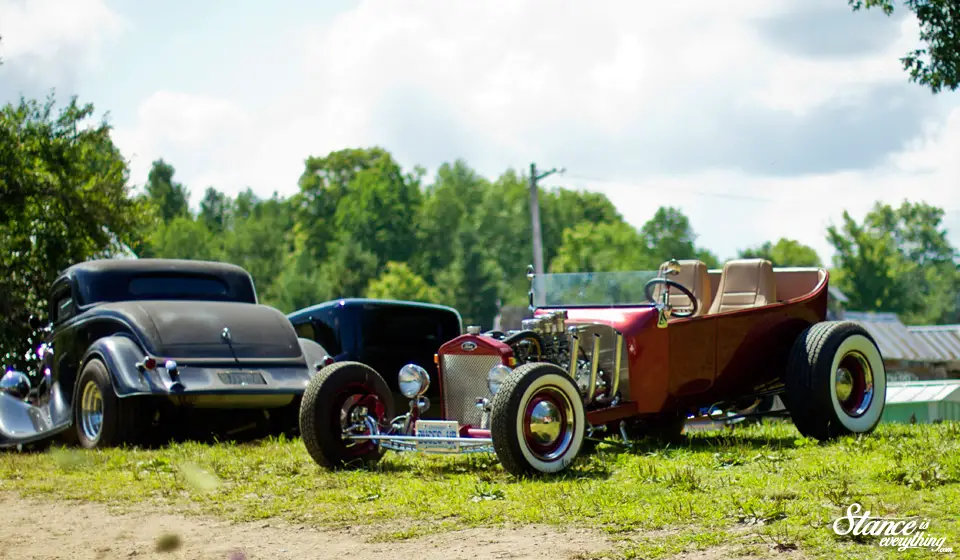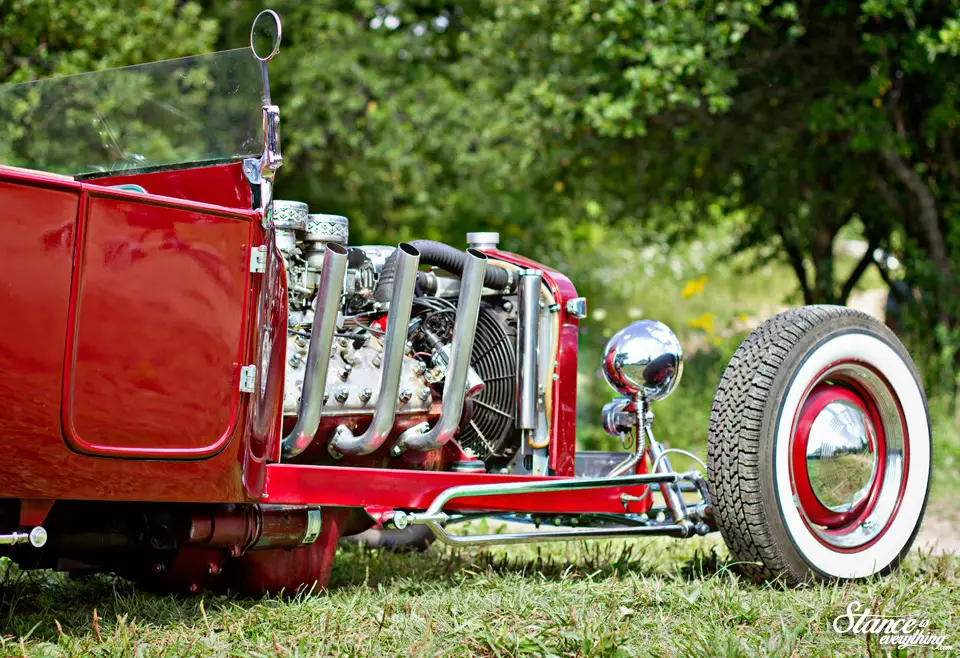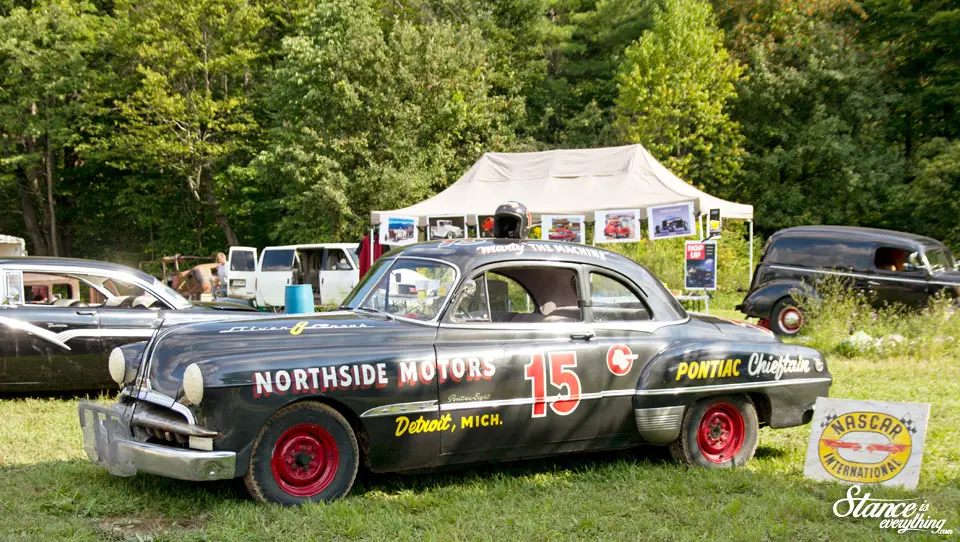 So many of these cars are rolling, working, time capsules that just accumulate more value and character as time goes by.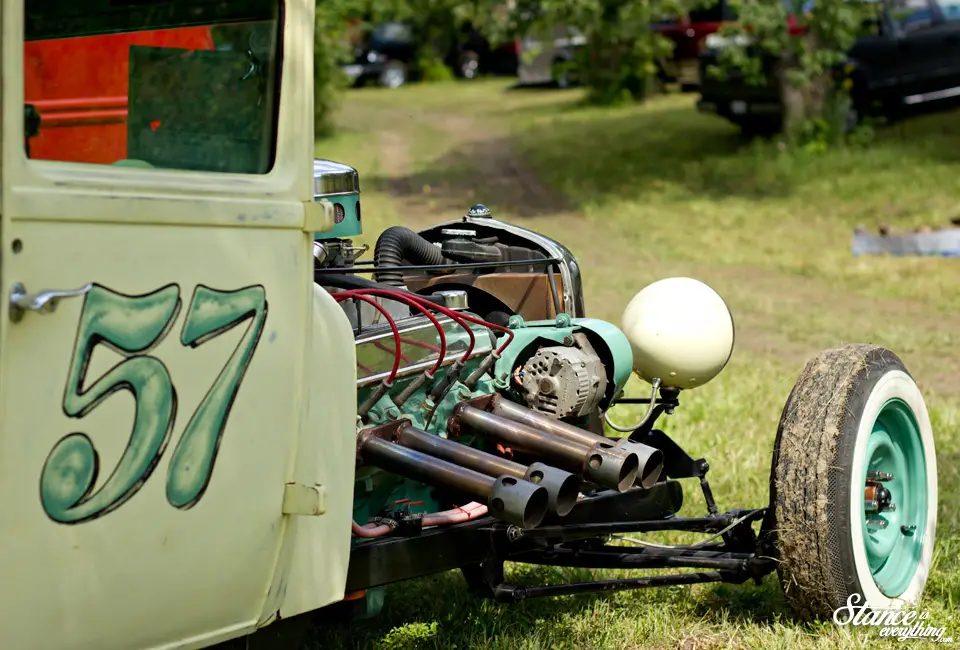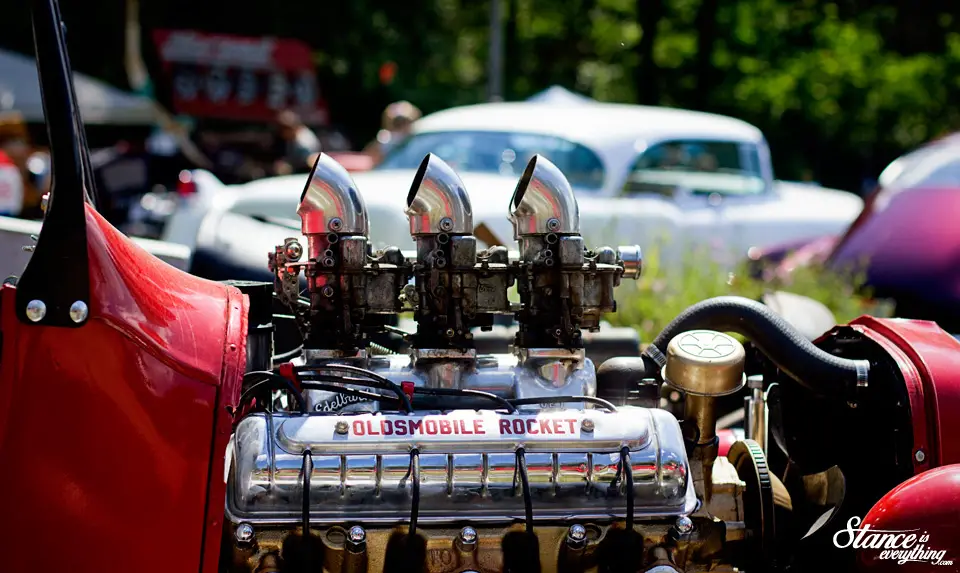 Not all of the builds were original of course, many of them were built recently but done exactly how they were done back then with the era correct charm and detail that makes you take a closer look.
As I wandered the venue, accompanied by wife and son, I took in as many details as I could collecting inspiration for my project that I hope to one day bring to the show.
Though I must admit it will probably have to part in the area reserved for not so traditional builds.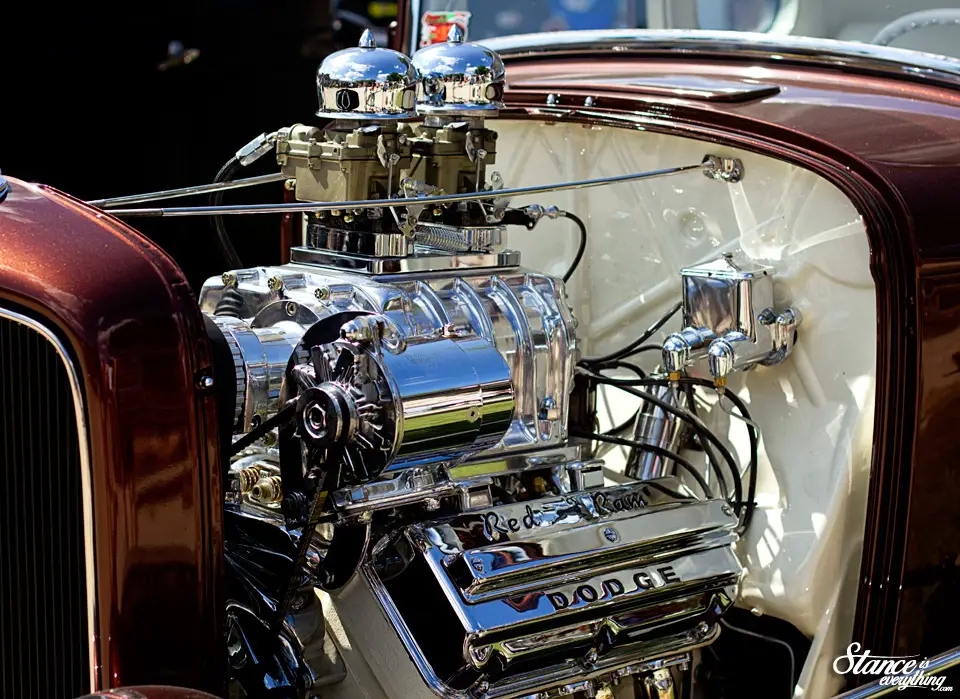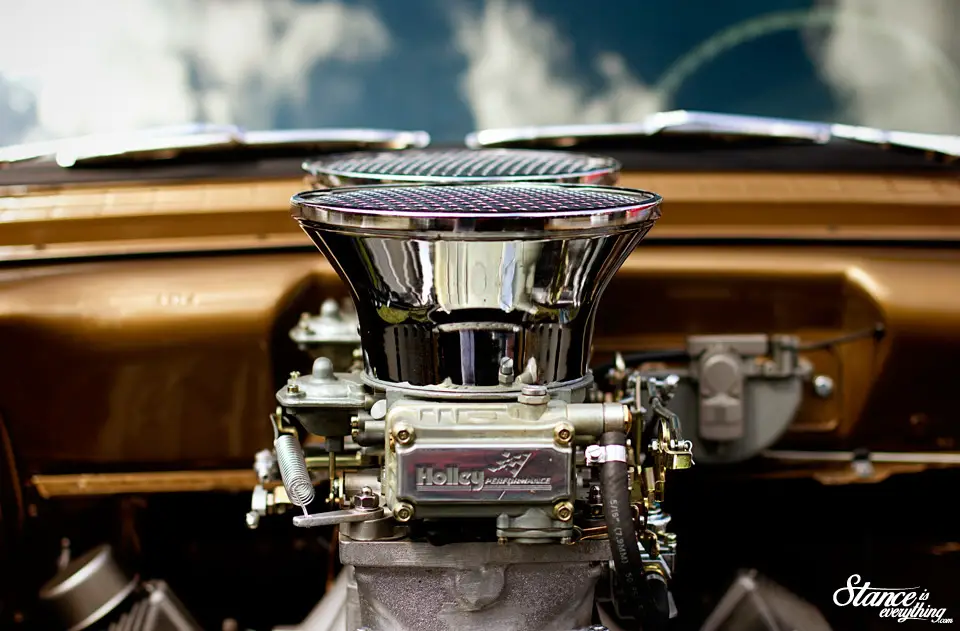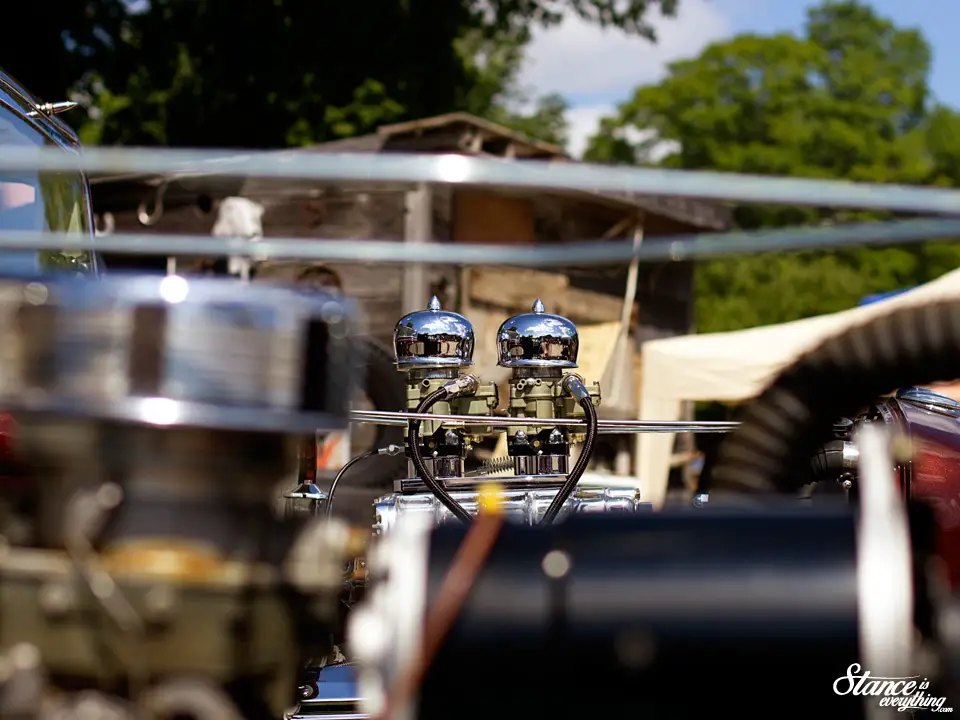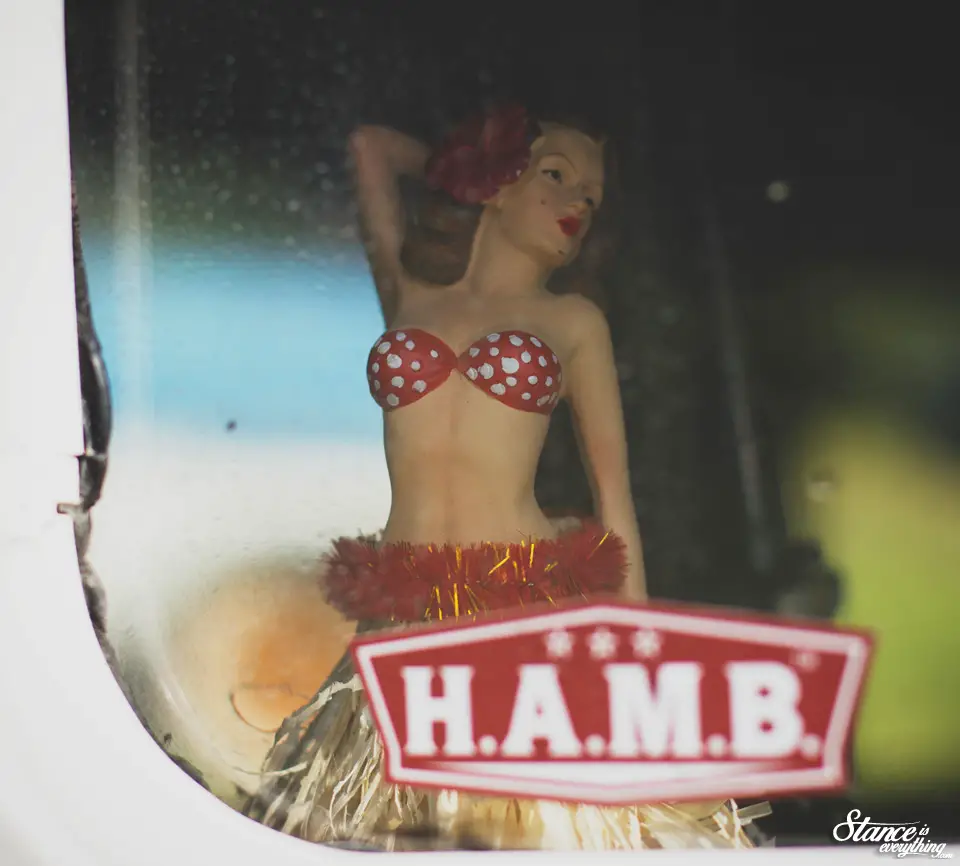 Picking favourites at an event like this is near impossible but a car I instantly fell in love with was this gold Cadillac. Low on Astro Surpemes with thin whites and a flaked roof? Perfect.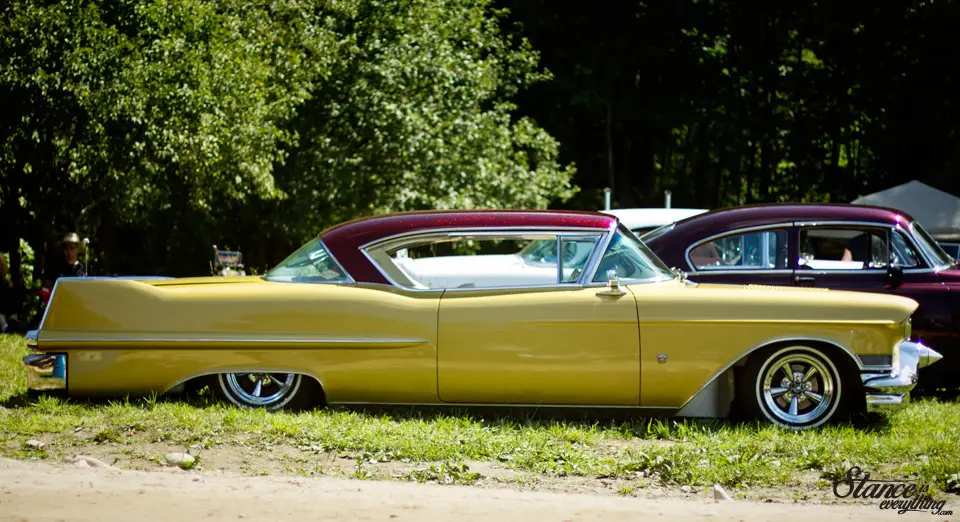 Also perfect was the body work and the paint cleanliness. The inside of the wheel wells, which were bright white, were cleaner than my car is most of the year.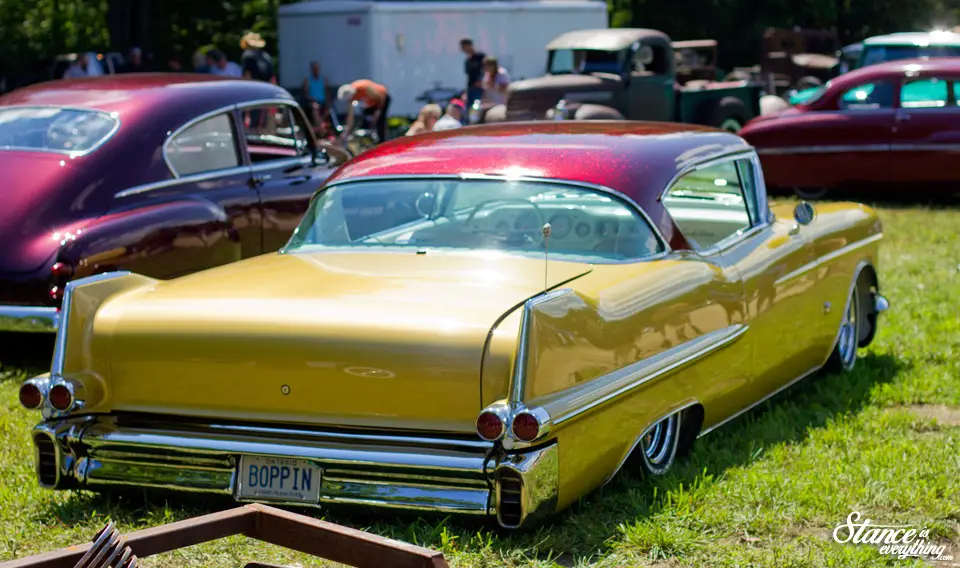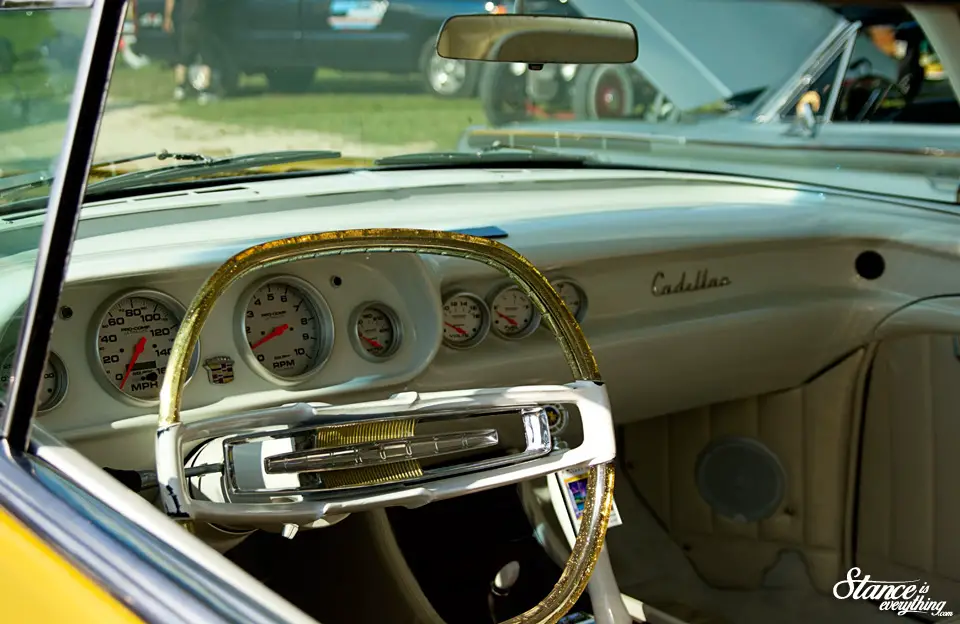 I still have not seen as many kustoms as I'd like but I'll argue that it doesn't really get better than this.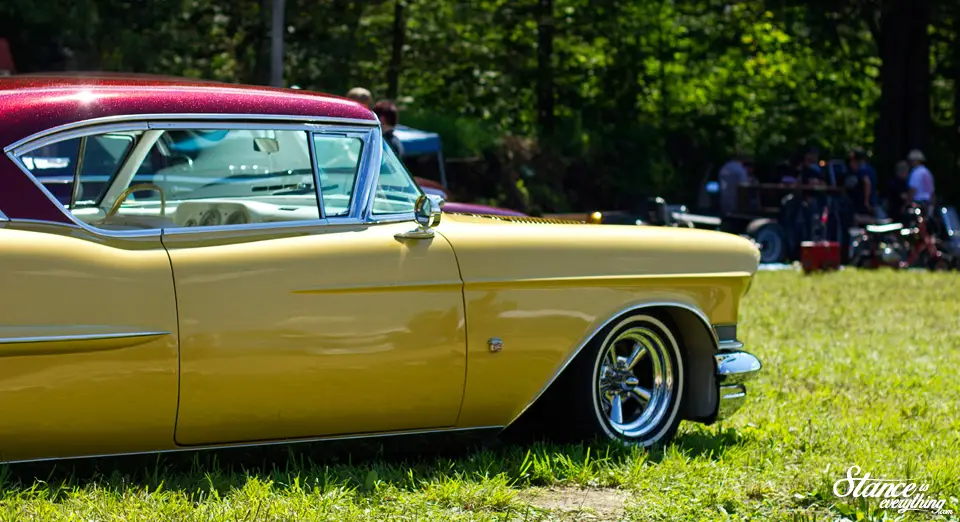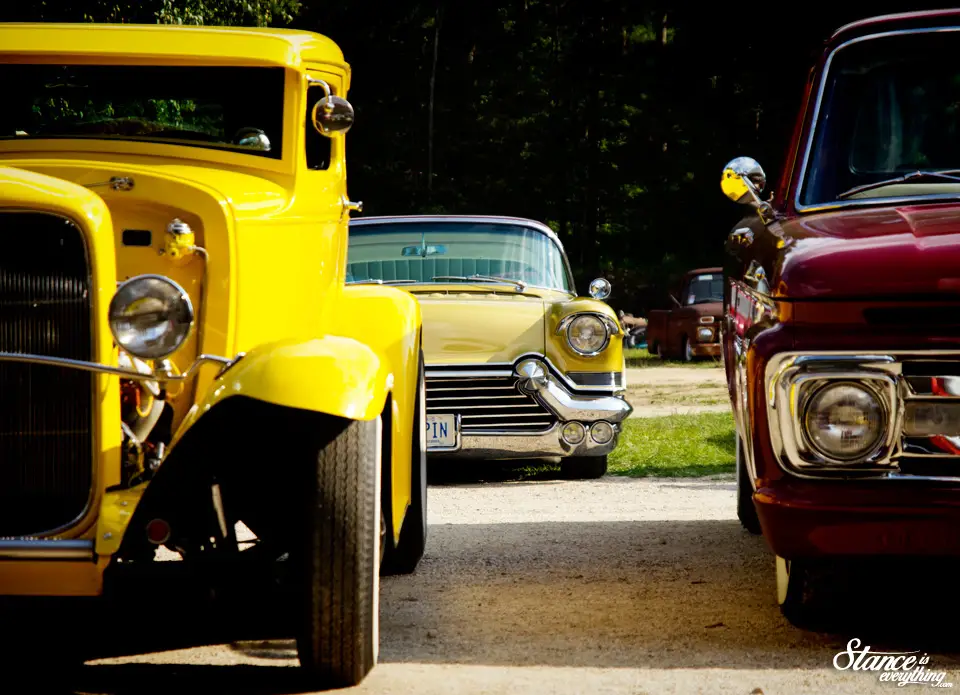 One car I'm still kicking myself over not taking more photos of was this killer Kustom Mercury seen rolling out below.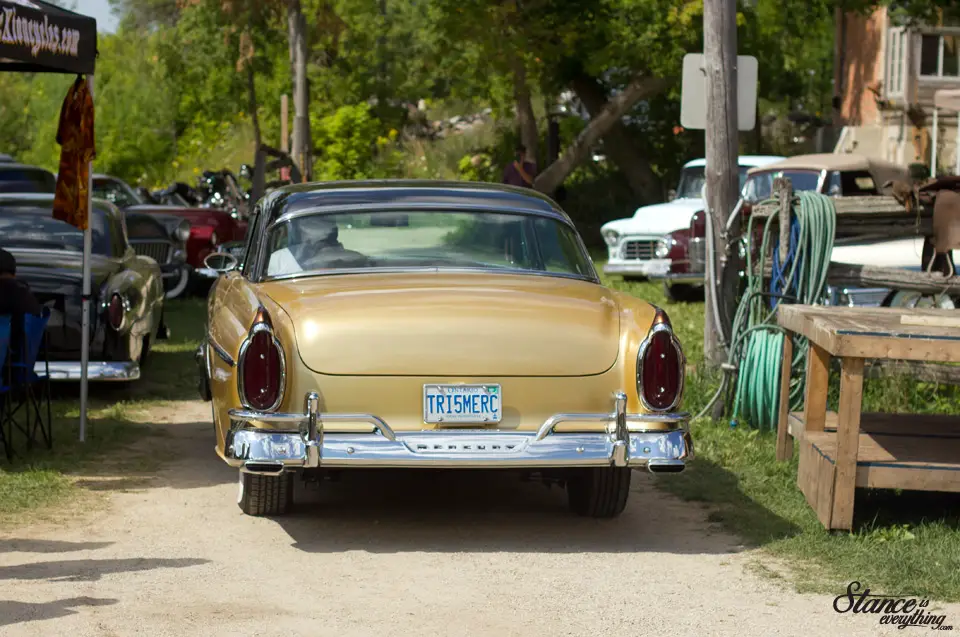 Heavily modified both inside and out I hope I get to see this car again. Not only to take more pictures but also to ask about this statue sitting in the centre console.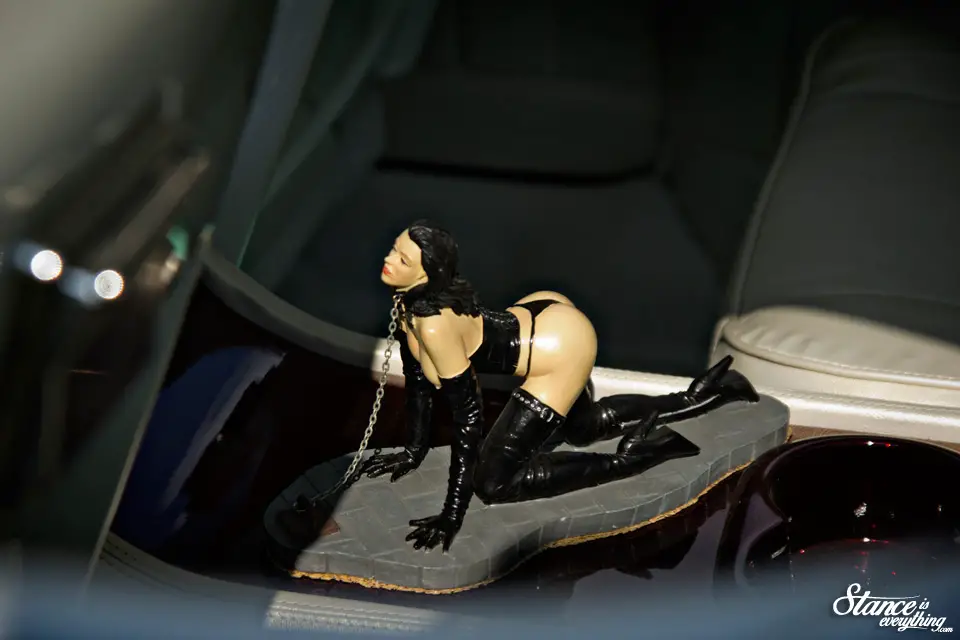 Cliff Waller, the new owner of Mother's Worry–the Hemi Powered 1930 Ford I posted not too long ago– brought it out the Jam Up before hauling it back to his native Texas.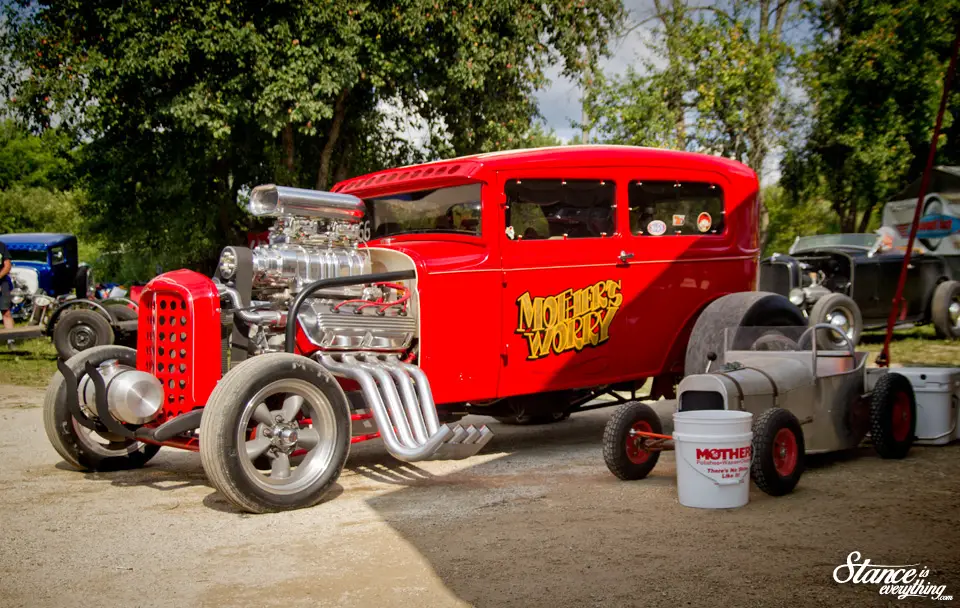 Beside it was his second Canadian acquisition, a small gravity powered custom-built Hot Rod that my son Ash absolutely loved.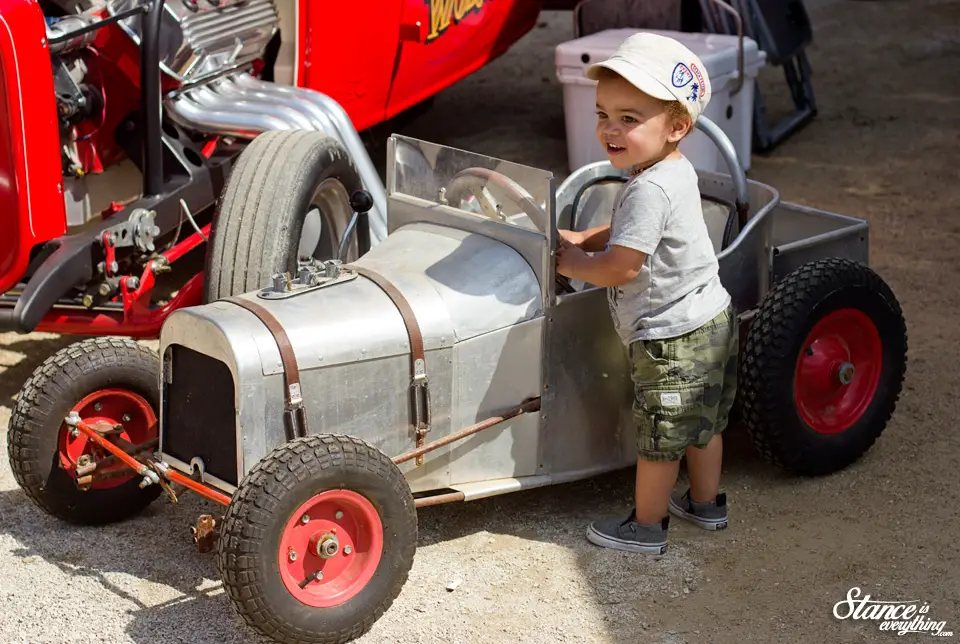 As I expanded my loop around the grounds I found myself in the swap meet area of the show where some people no doubt walked away with a few incredible deals.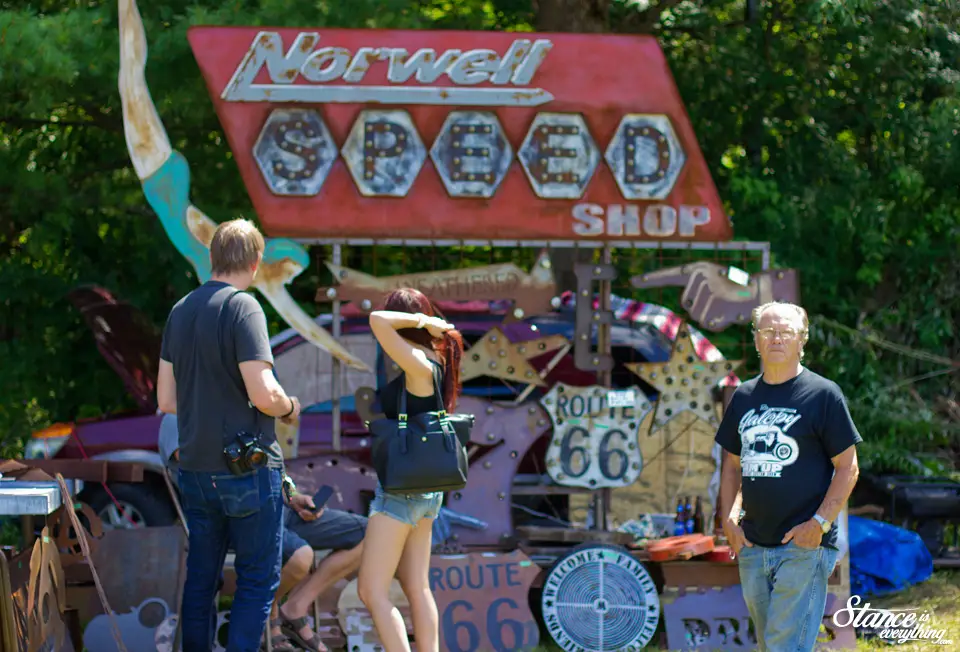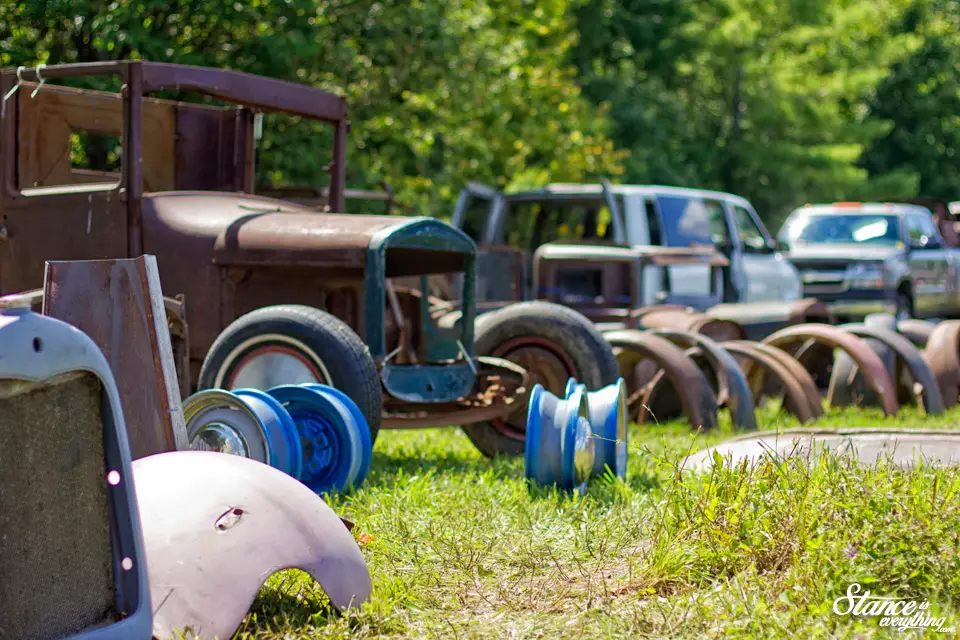 It was there I ran into a few friends as well, My friend Keith of the previously featured Binbrook Speed & Custom shop, who brought out a his 90 inch death trap and project '26 Ford roadster.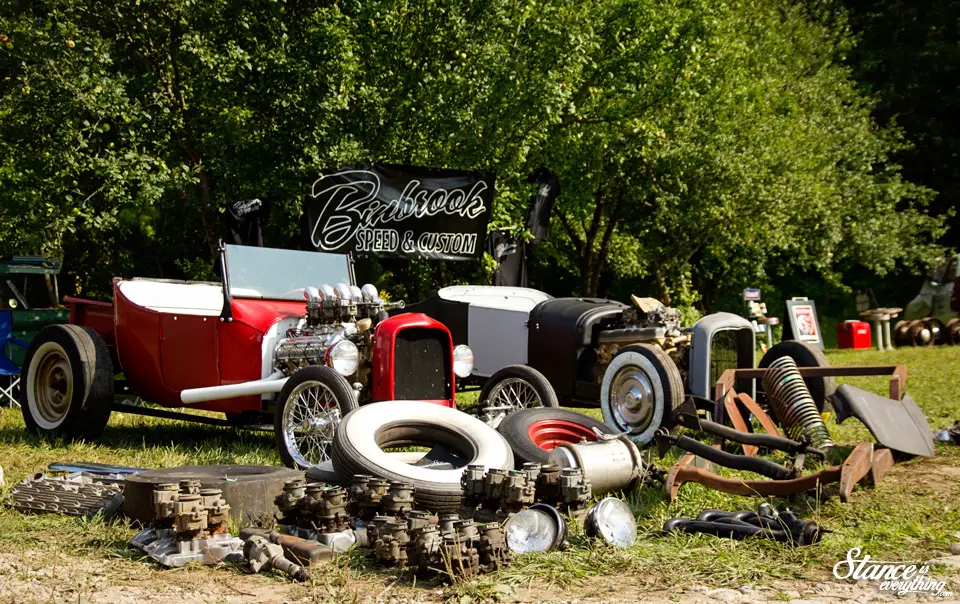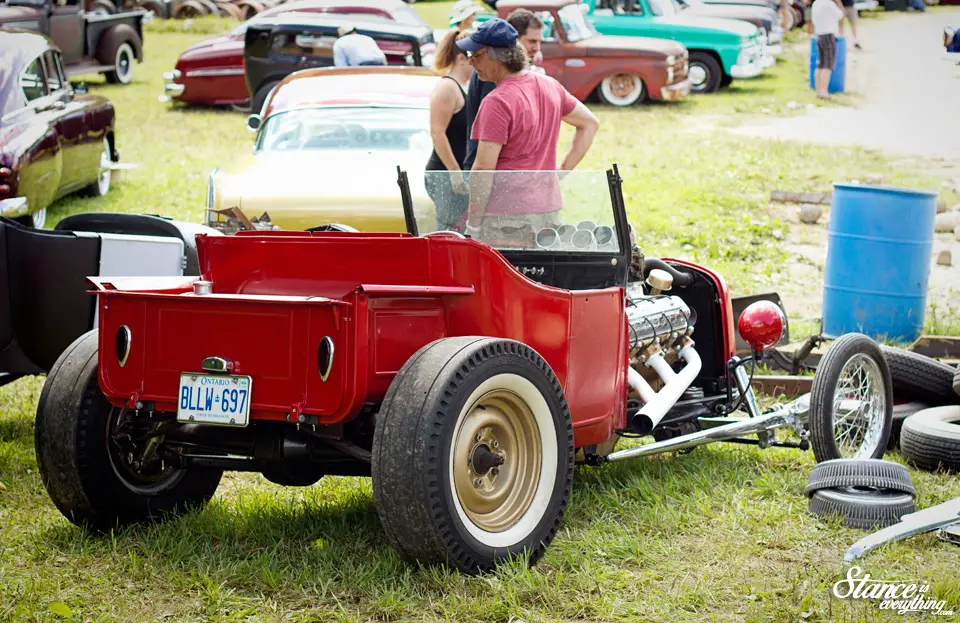 And my friend Jay of Distorted Vision, both old riding buddies who are now well on their way to becoming very well-known hot rod builders in Ontario.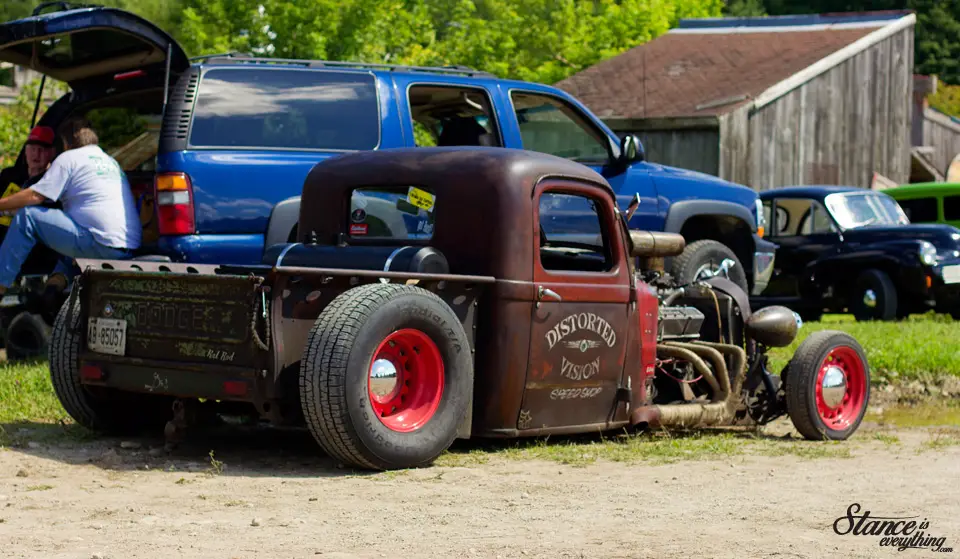 The grass was also where I spotted a few builds I'd seen at other venues, Pat's immaculate '51 Chevy that I spotted at Vanfest was there.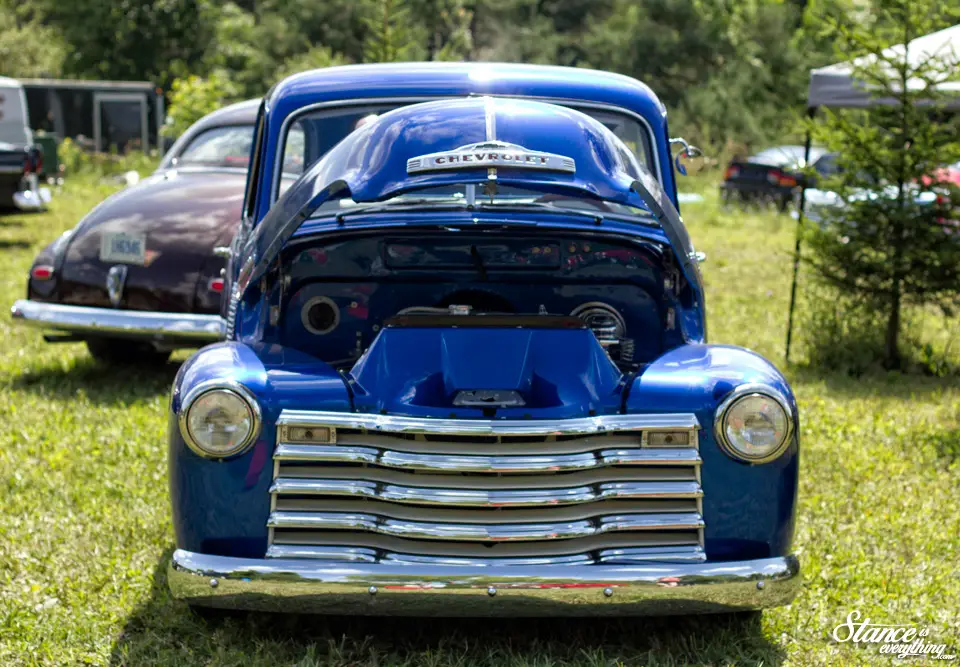 And Kevin Crowhurst's (Air Assisted) bagged Ford pick up.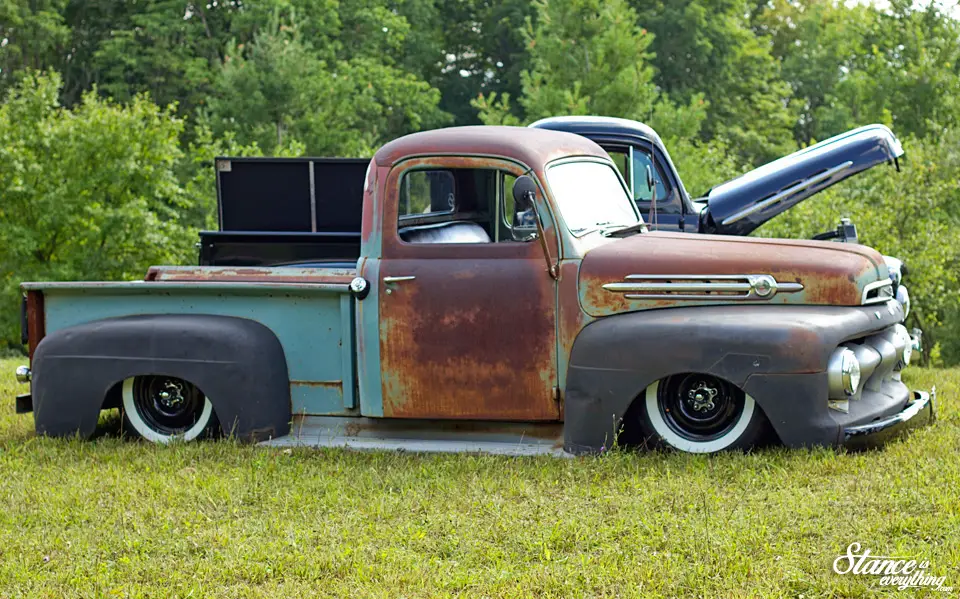 The owner of this Ford is still elbows deep in his build but with a cab, motor, and suspension it was more than complete enough to bring out and display.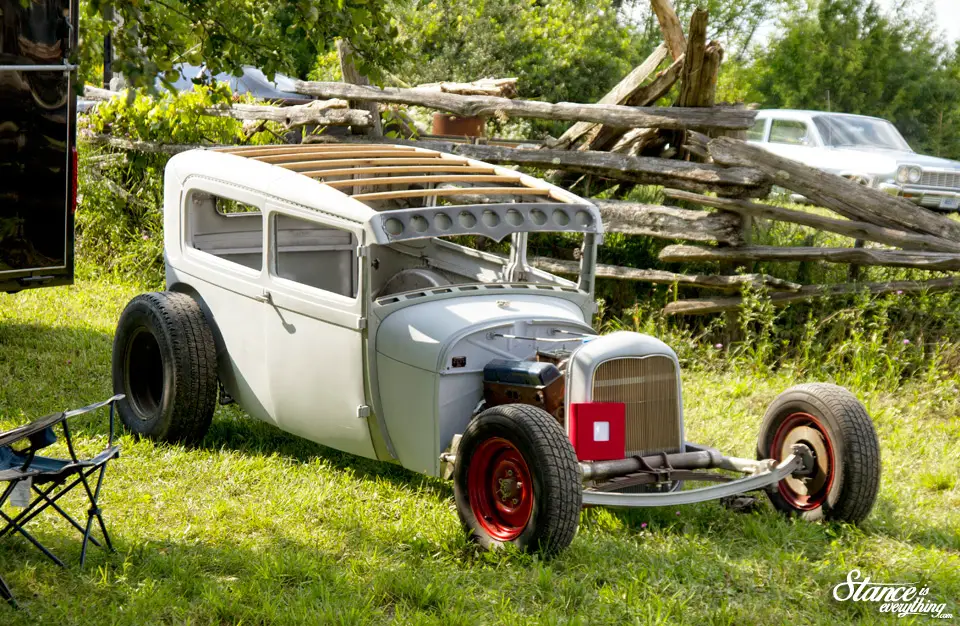 While the show is aimed towards a very specific sub set of car modification builds outside that criteria are not turned away and they too are found in the grass. The car below might take a few more modern approaches but it's no less impressive than the other cars a the venue.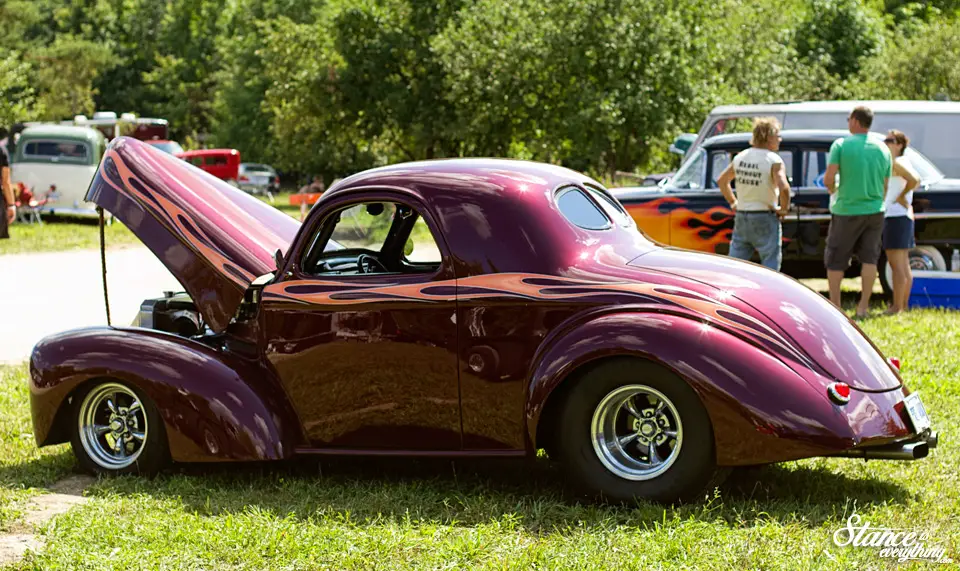 This 'catch all' parking lot is where I came across an extremely unusual, and extremely large, hot rod of sorts.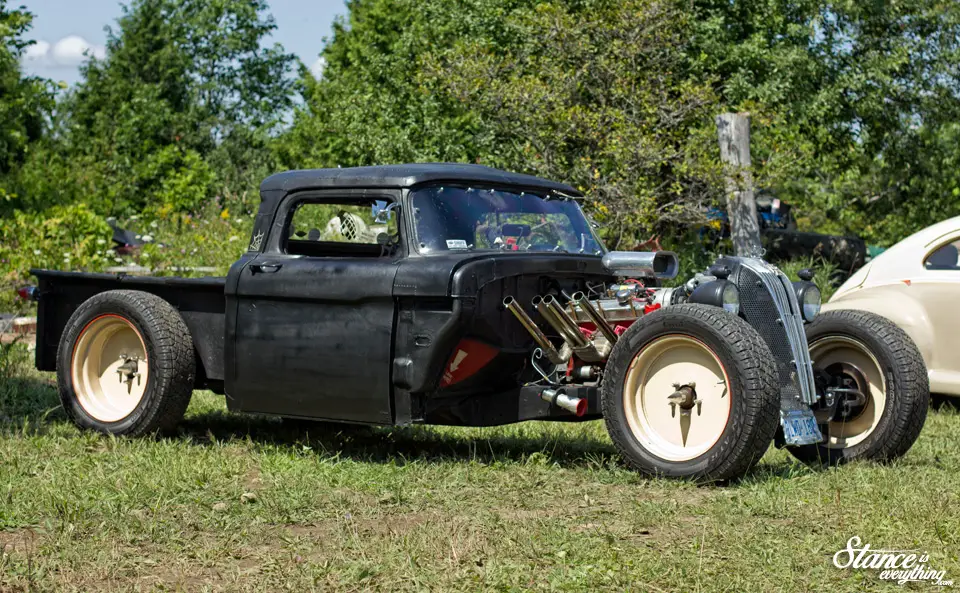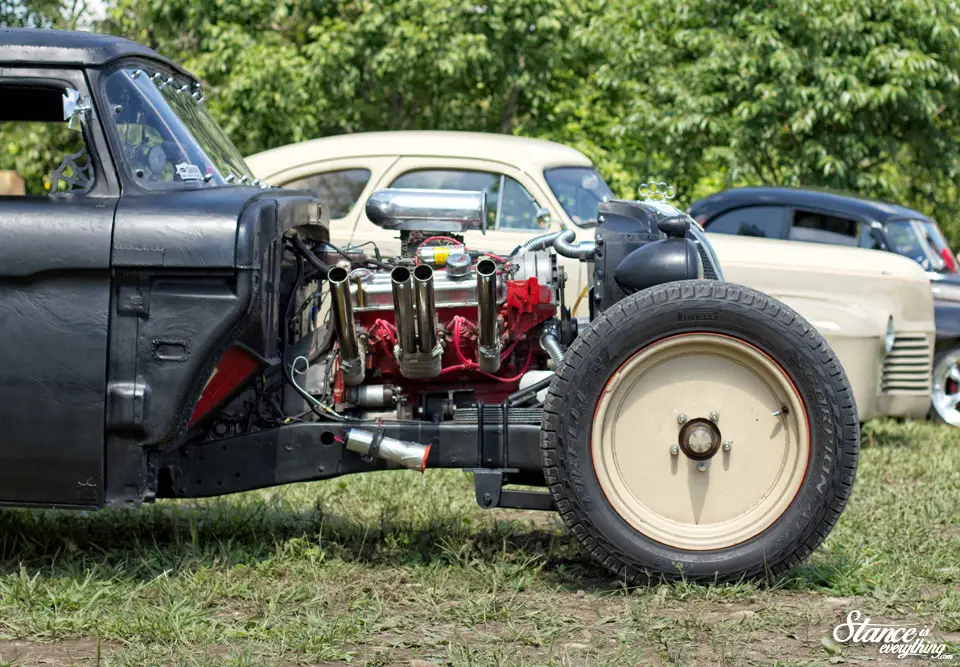 Andy McJannett and I started at it for a while trying to figure out where the parts came from and at best we could guess that the cab was perhaps from a Chevy C10. Being widened and chopped though who's to say for sure?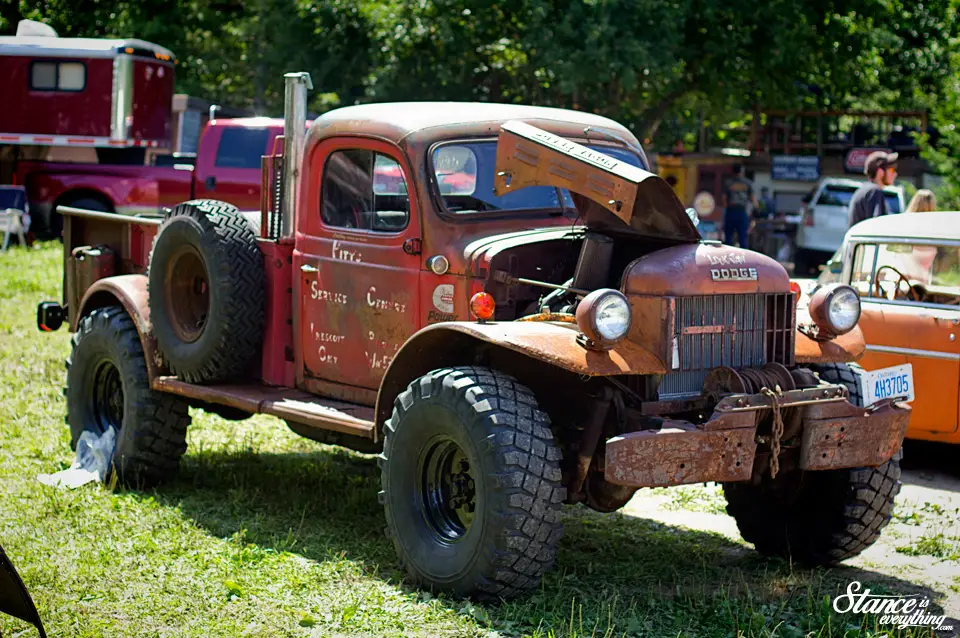 Rivalling Frankenstien's monster in sheer size was the Dodge Power Wagon above, I didn't give it a thorough once over but I feel like there might a more modern chassis lurking underneath the vintage body.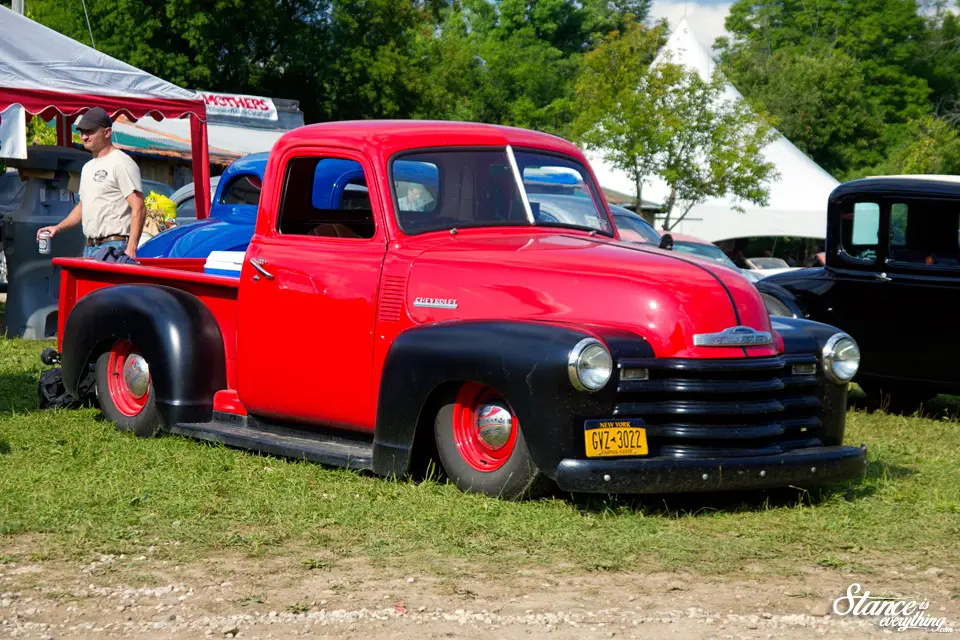 Keeping a keen eye for any Advanced Design trucks to draw inspiration from I took a long glance at this black and red chevy. The two tone isn't exactly how I'd do it but the ride height and wheel set up is right!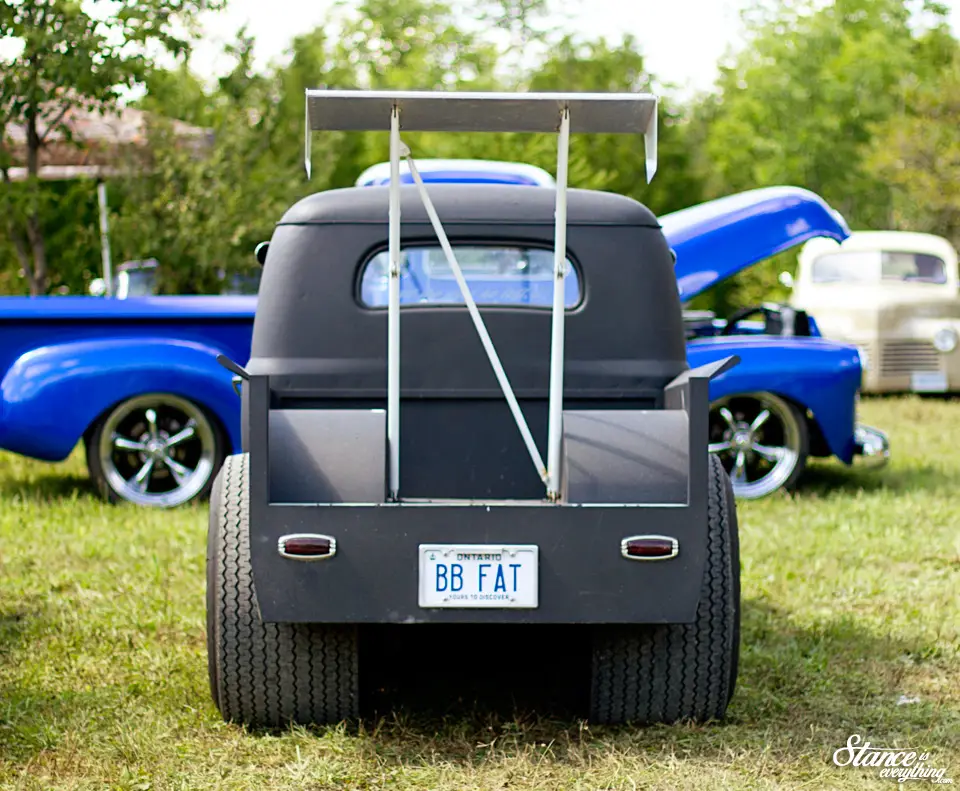 I also saw the drag prepped Austin that was at the E.L.T.A. summer bash. This angle really emphasizes just how big the rear wheel and tire set up is, I reckon wheelie bars are somewhere on the list of future modifications.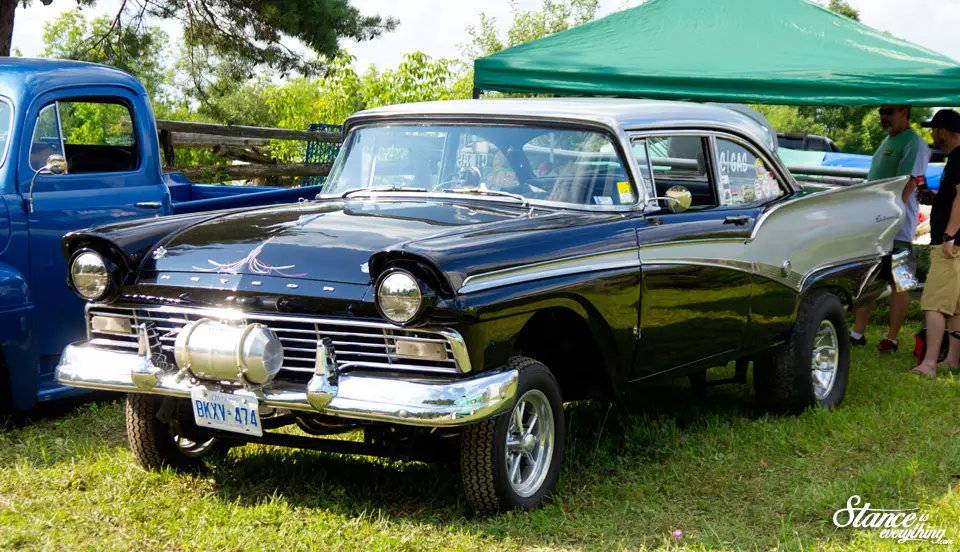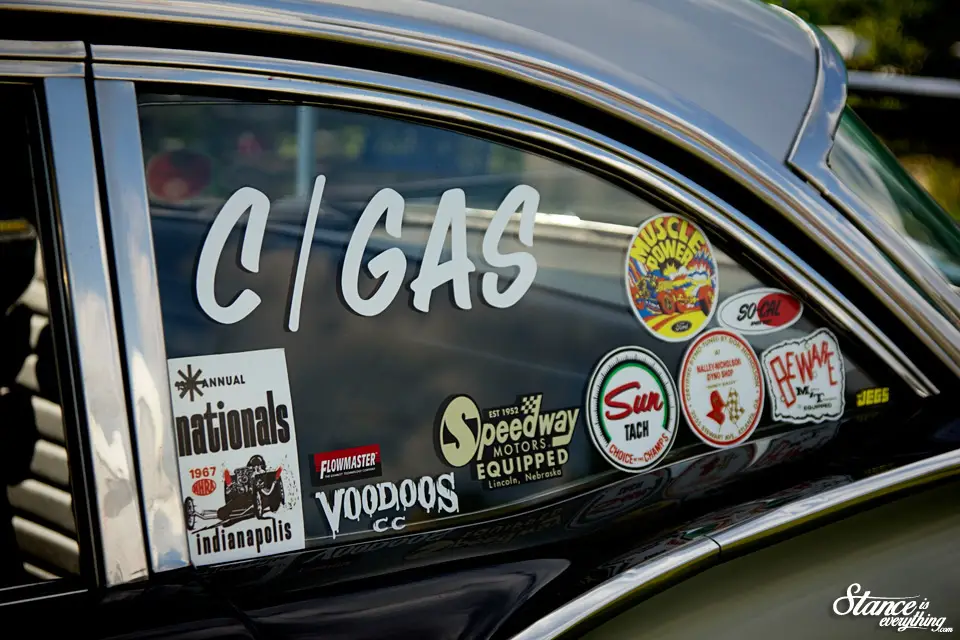 Coming across my second Ford gasser in as many weeks reminded me that I really need to carve out some time to check out an Ontario Nostalgic Drag Racing Event. Apparently watching vintage cars hit up the 1/4 mile is unlike anything else.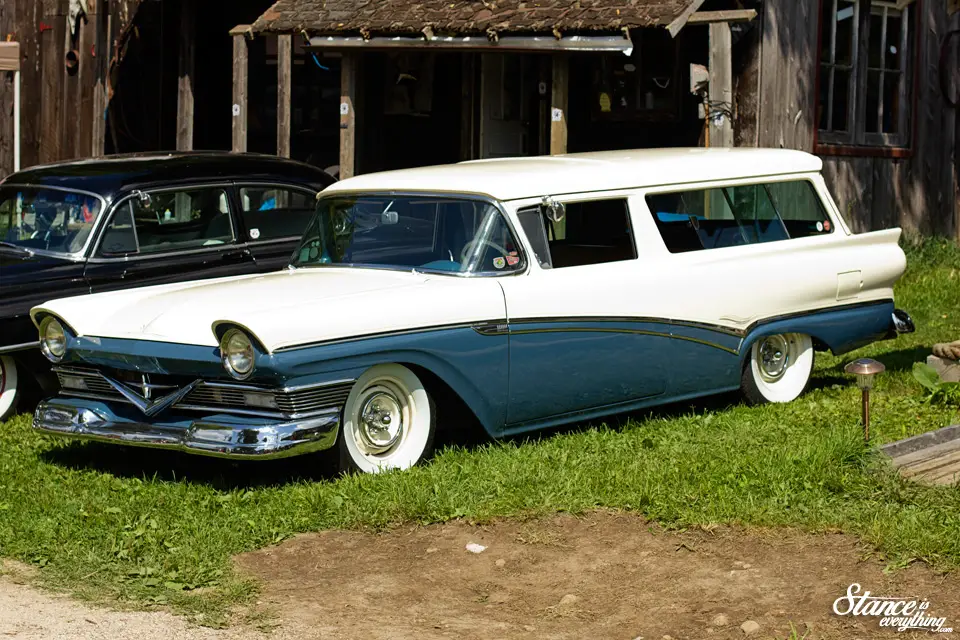 I was glad to see this two tone Meteor wagon from last year make the trip back this year. It's such a great looking wagon and the kind of thing that would be perfect for some long extended trips around Canada.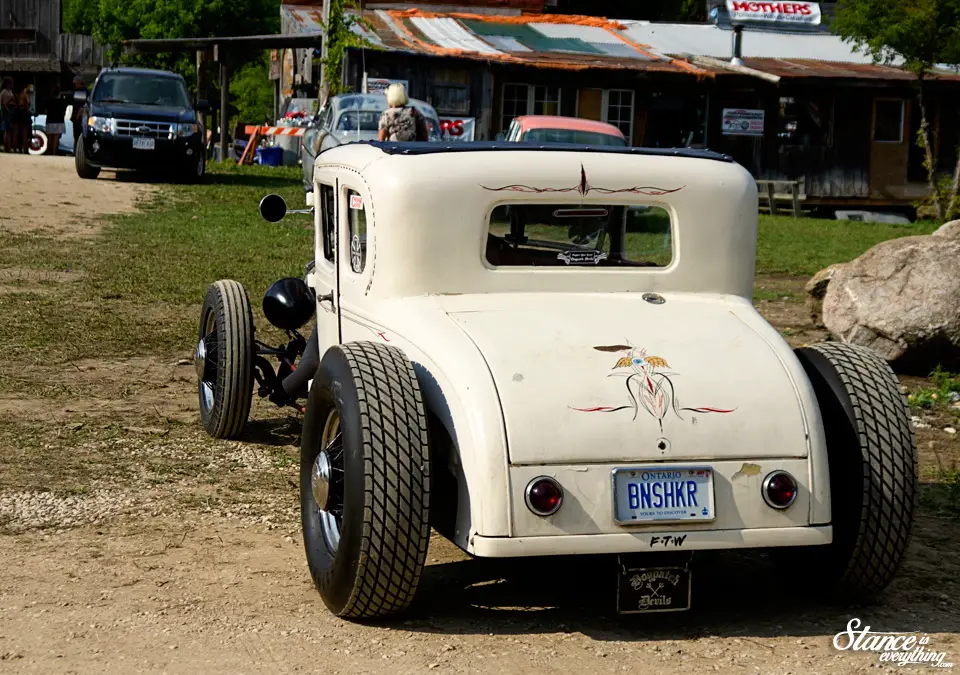 I also remember the car above from last year, pinstriping and patina like that is hard to forget.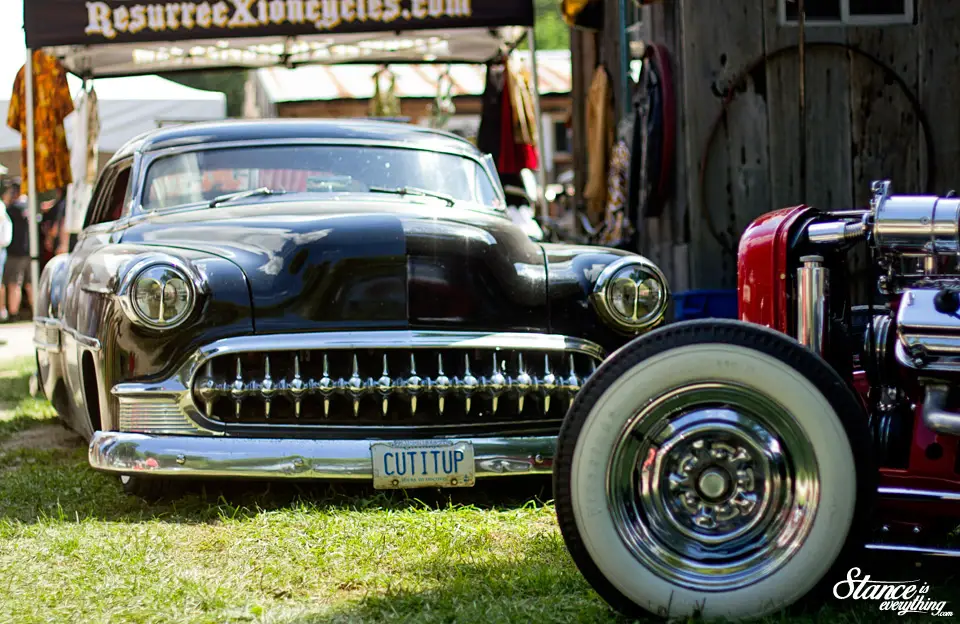 The chrome teeth on the sled above have sure swallowed a lot of miles, I'm pretty sure I've seen it at almost every classic event I've ever attended as Lead Kings Canada members are known to get around.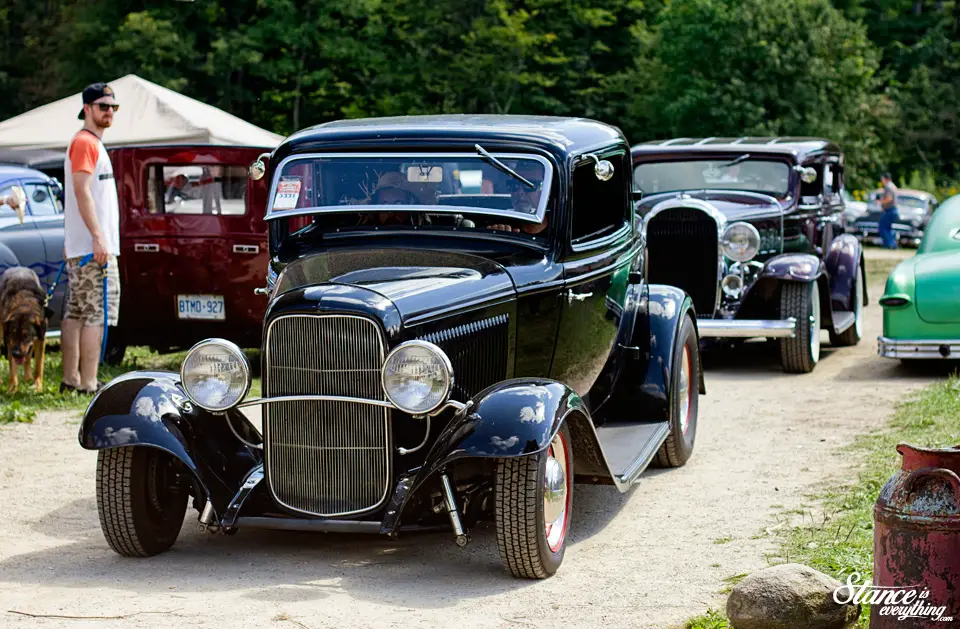 As the weather went from hot to scorching I decided to follow one convoy of cars out as another came in for the evening festivities. One things for certain though I'll be back next year!