I've been to a lot of events, from elaborate corporate events like SEMA to small intimate BBQs and nearly everything in between I've seen my fair share of automotive gatherings. I don't say this to brag or boast, but rather to give proper weight to the next sentence:
I've never been to an event quite like the E.L.T.A. Summer Bash.
Located in London Ontario the Summer Bash isn't a show, or a meet, it is more of a come one come all party for those who love cars.
Historically information about this show has travelled by word of mouth but this year a flyer was circulated on-line advertising that the event ran from 5pm to late.
Clocking in at two hours from my front door I set out early so that I could use the natural summer evening light as much as possible.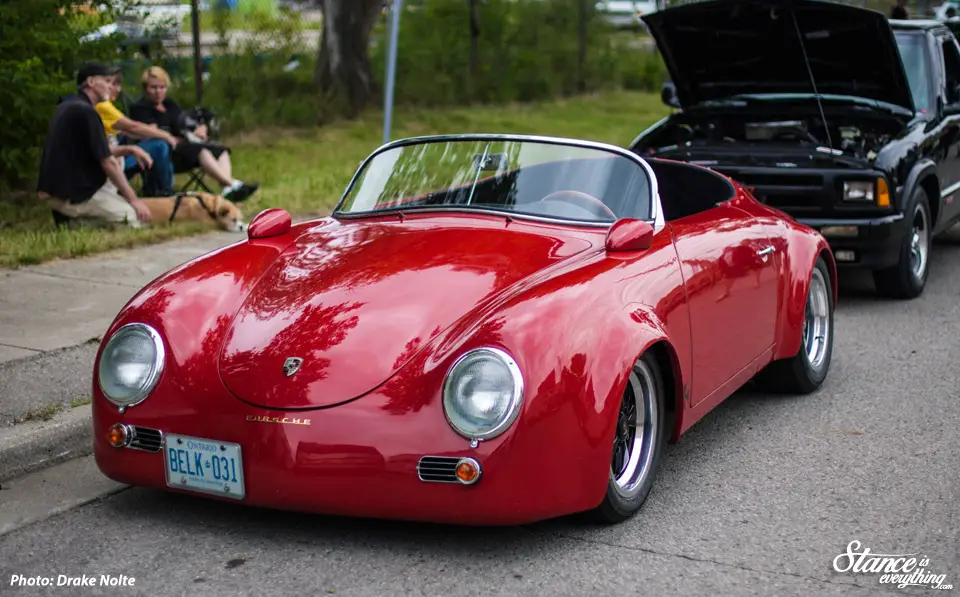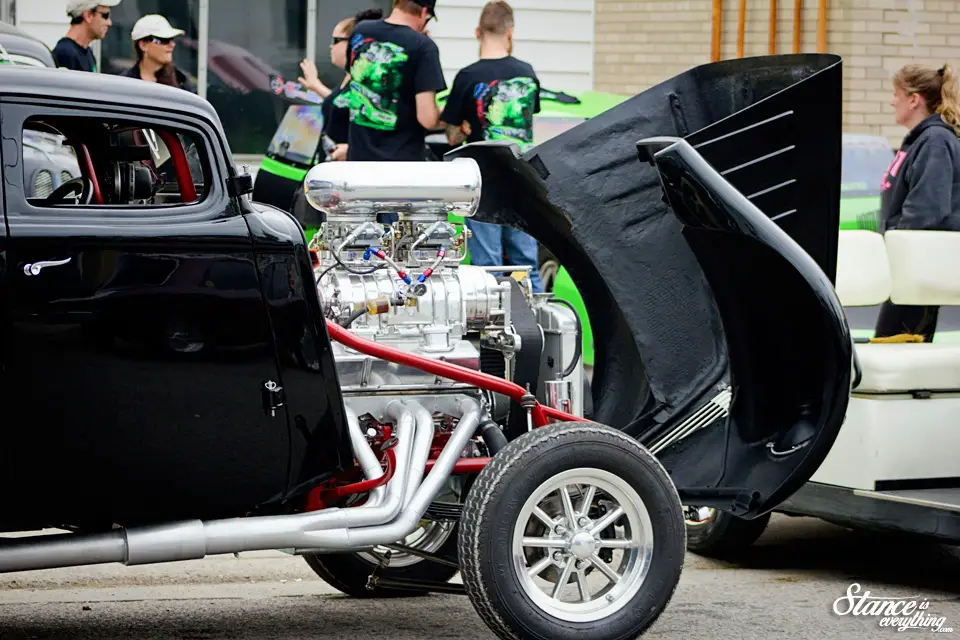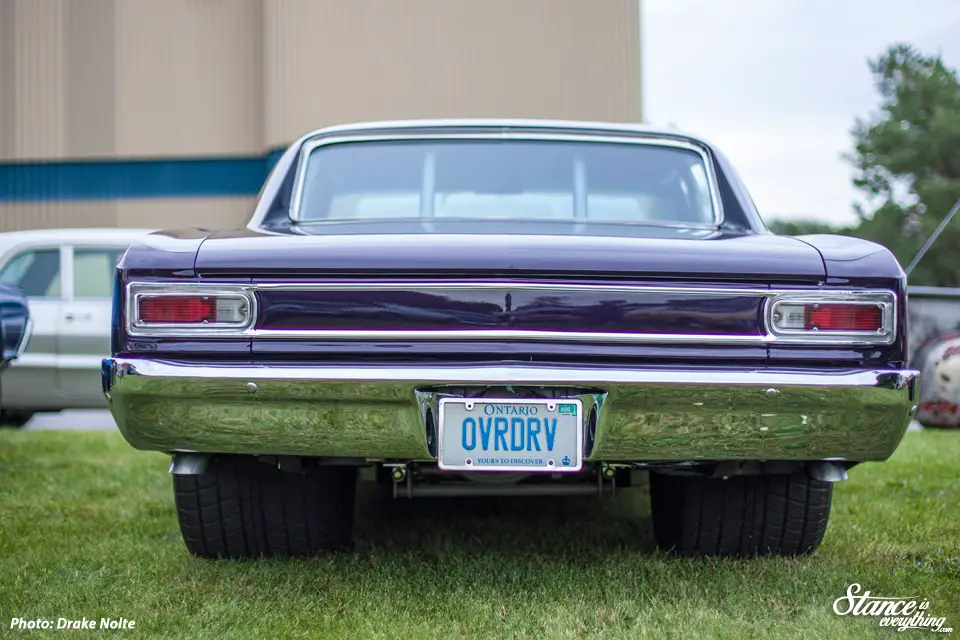 Arriving promptly at 5pm I was greeted to cars and people as far as the eye could see. I was in awe and my head was on a swivel.
A Camaro here, A Ford hot rod there and wait, what the heck was that, a street legal drag prepared Austin?
As I ventured further down Dundas street I continued to come across car after car I'd never seen at any other event in Ontario.
One car that stopped me dead in my tracks was this '59 El Camino that I would have assumed drove all the way from California if not for the Ontario license plates.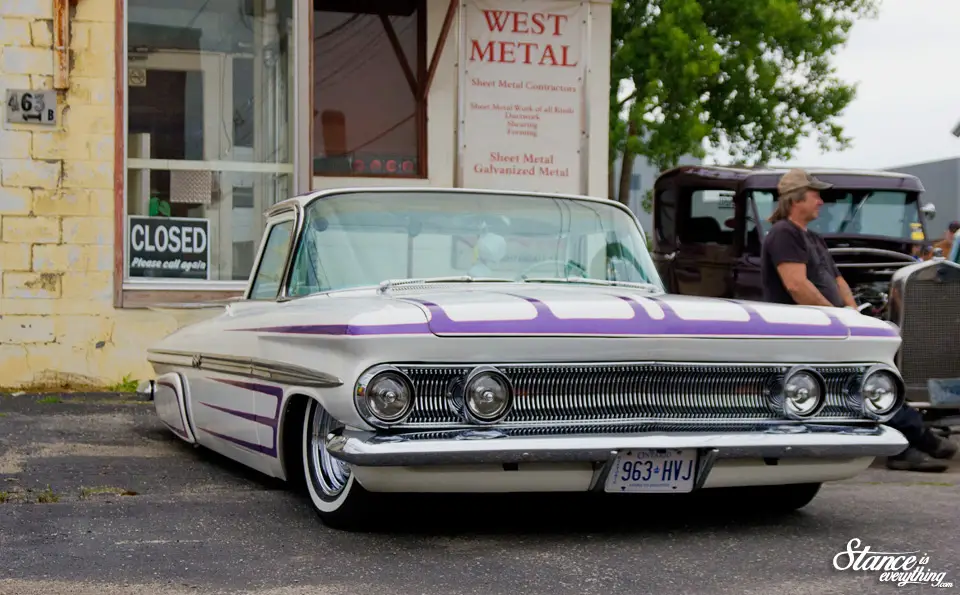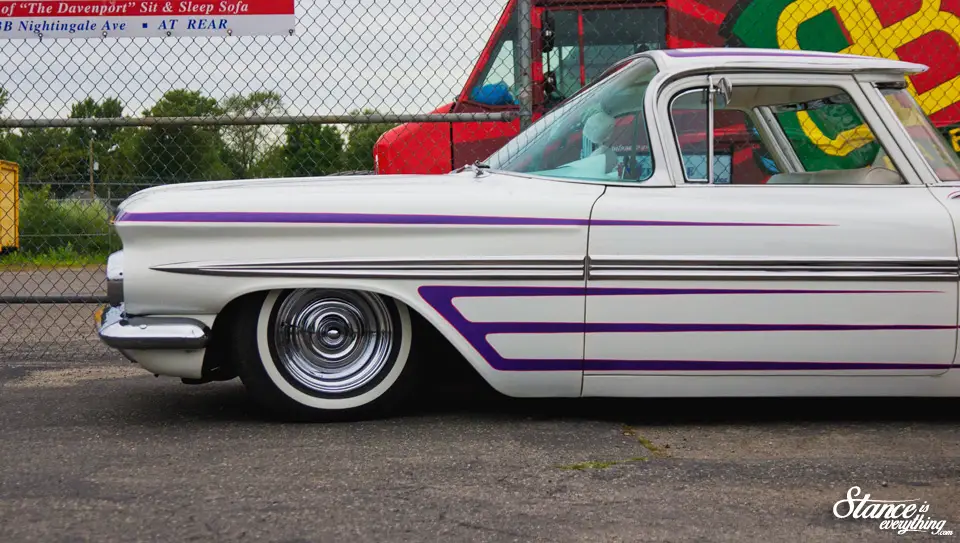 Clearly right up my alley, and absolutely stunning from every angle, I took a lot of photos of this car just in case I never see it again.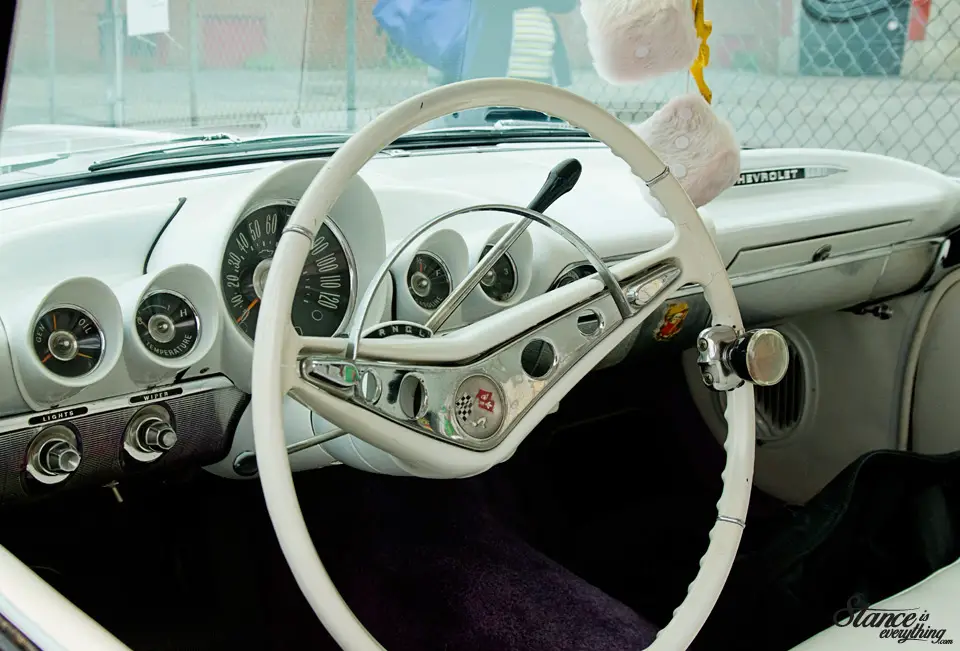 As I looked around and took in the variety of vehicles I did manage to spot one familiar car, John Woolley's Ratso Italiano, which made sense because it is at John's instance I made it to this show at all.
Greeted by a big smile and firm handshake it was clear John was happy I finally took his word and came to the bash.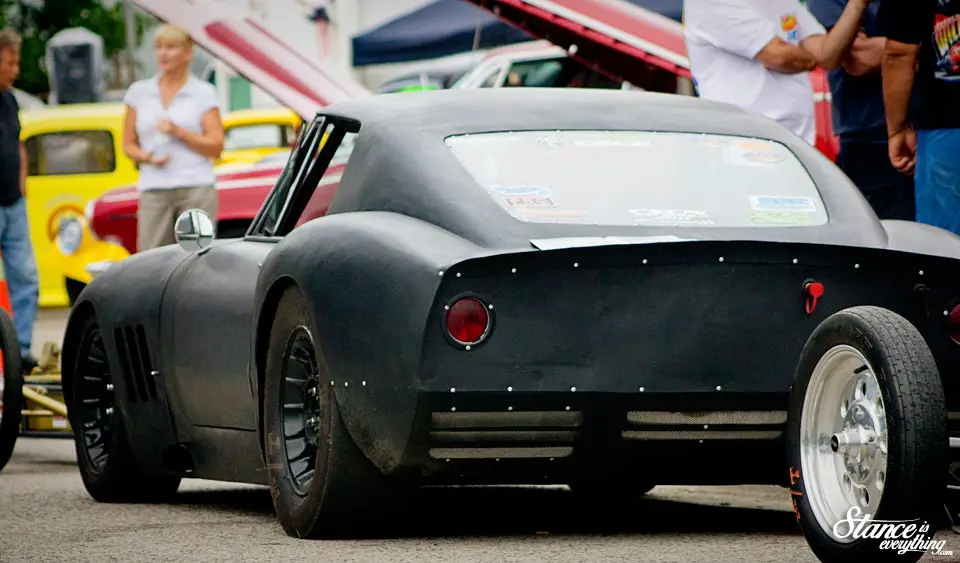 The flabbergasted look on my face must have been obvious because he began to briefly fill me on back story of the E.L.T.A.
Alternatively known as The Disciples of Speed the E.L.T.A. is an East London Ontario drag racing club that dates back to a time when drag racing clubs were called timing associations, hence the name E.L.T.A: East London Timing Association.
Once John introduced me to club President Mark Rogerson the positive vibe of the entire evening began to make a lot of sense.
Mark is one of the nicest people you'll ever meet and very genuinely welcomed me to the show and offered to get provide anything I needed during my stay, including an ice-cold beer onthe house.
The friendly humble, kind-hearted nature Mark displayed proved to be a common thread throughout every member of the club.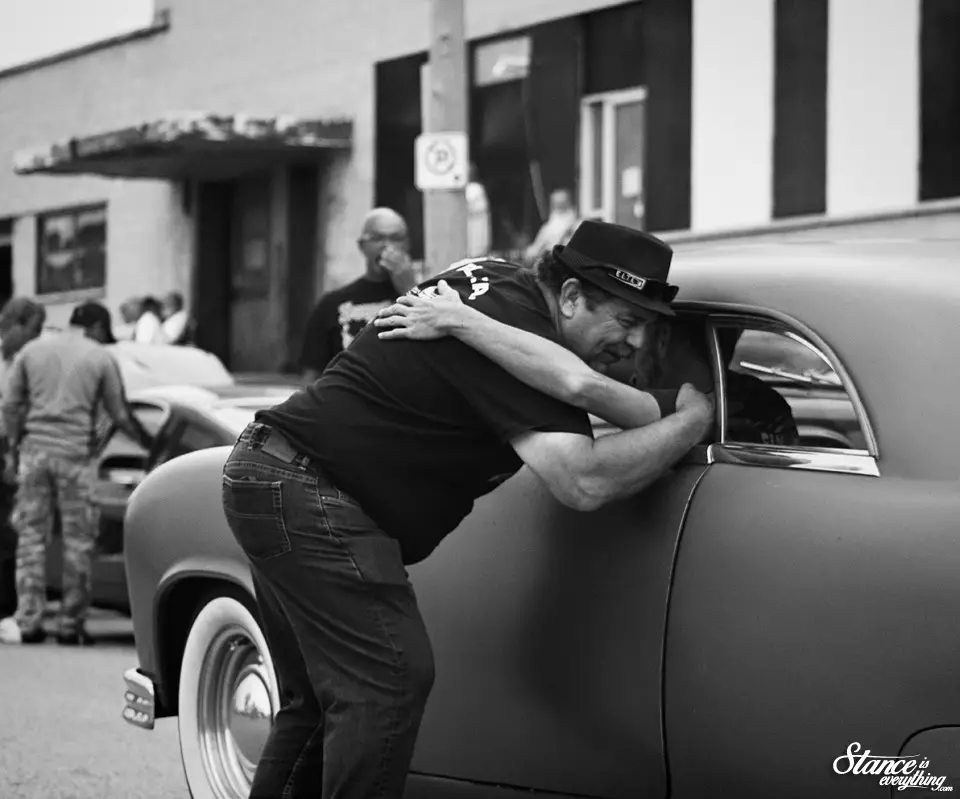 Each E.L.T.A. member was approachable and as new people came and went they were (at minimum) given a handshake and a sincere thank you for attending.
It's obviously the E.LT.A's hospitality that keeps people coming back, but one thing that keeps the bash around year after year is a very simple rule.
No goofs.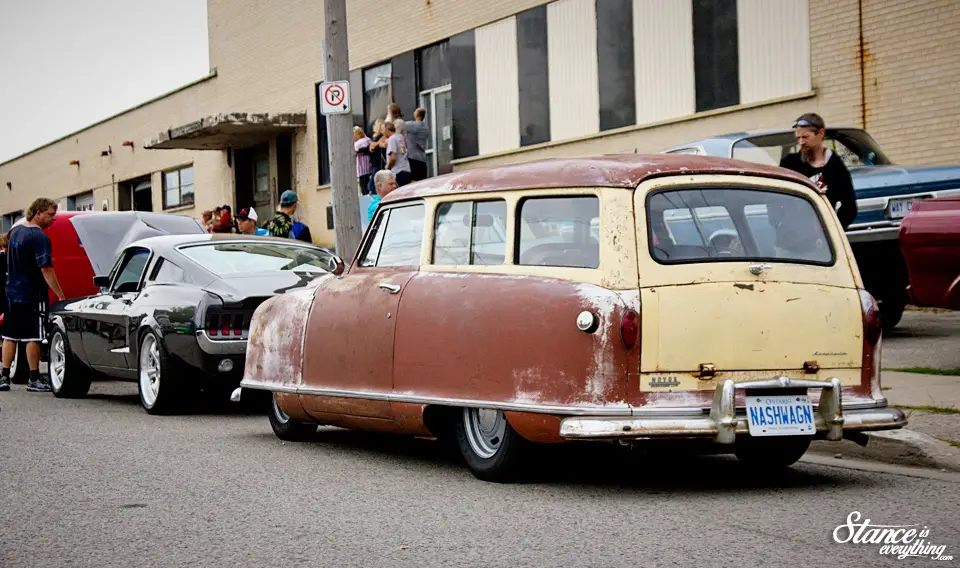 What's a goof? Well in short a goof is the person who is ruining your favourite local cruise-in, show, and race event with their inappropriate attention seeking actions.
No, goofs are not welcome and any goofs that do make their way in are quickly escorted back out.
This no goofs rule and laid back mantra creates an almost indescribable atmosphere that can't really be captured via photograph no matter how hard Drake and I tried.
However what we can capture are the cars and there was literally something for everyone.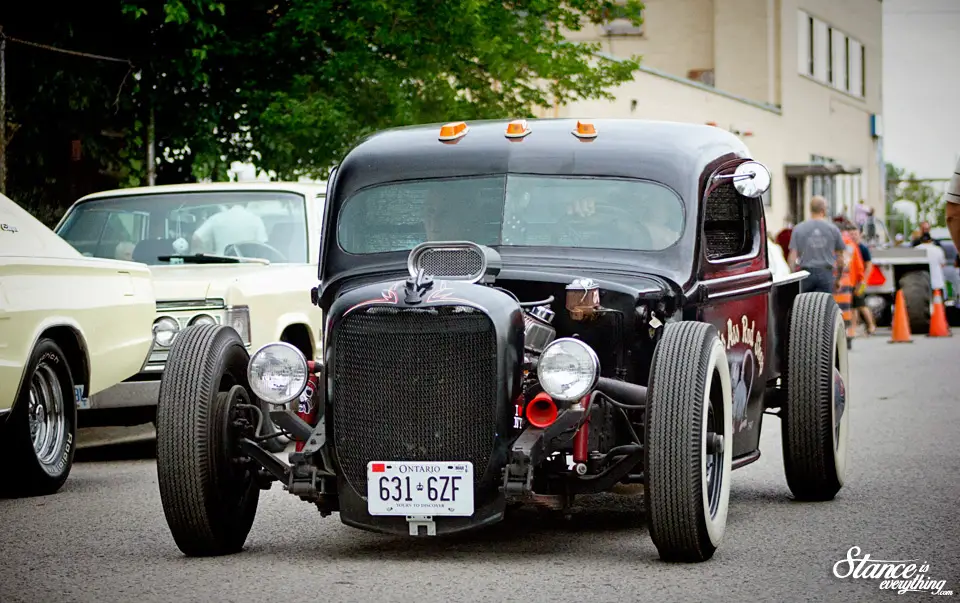 You want trucks? Sure, what variety are you after? Minitruck?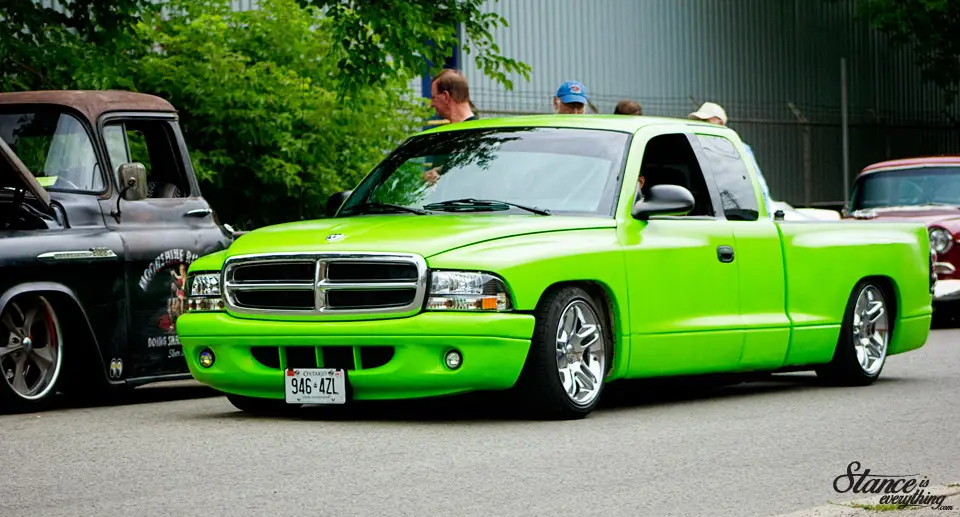 Classic?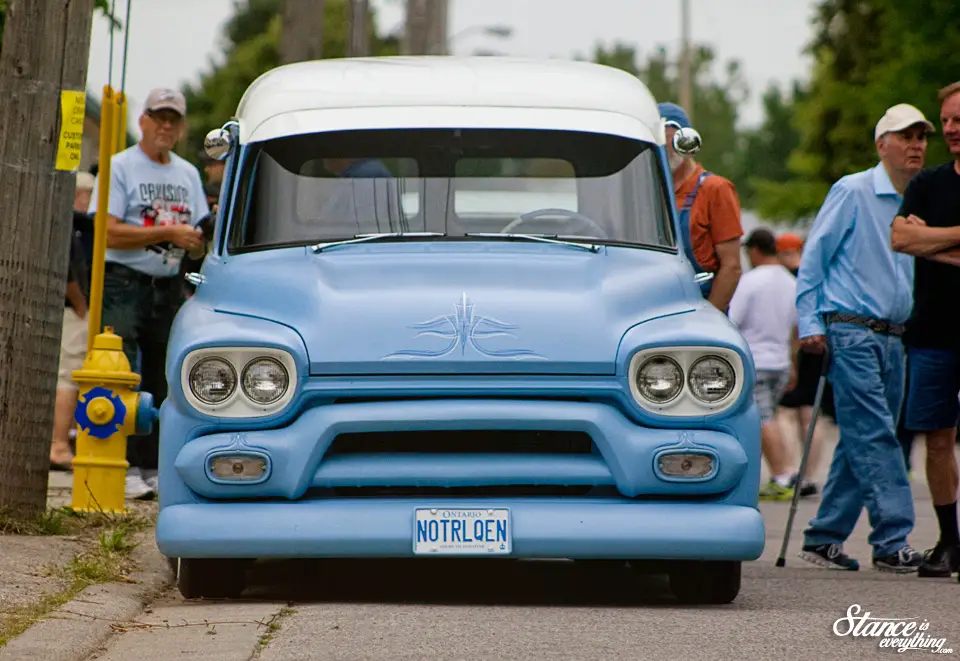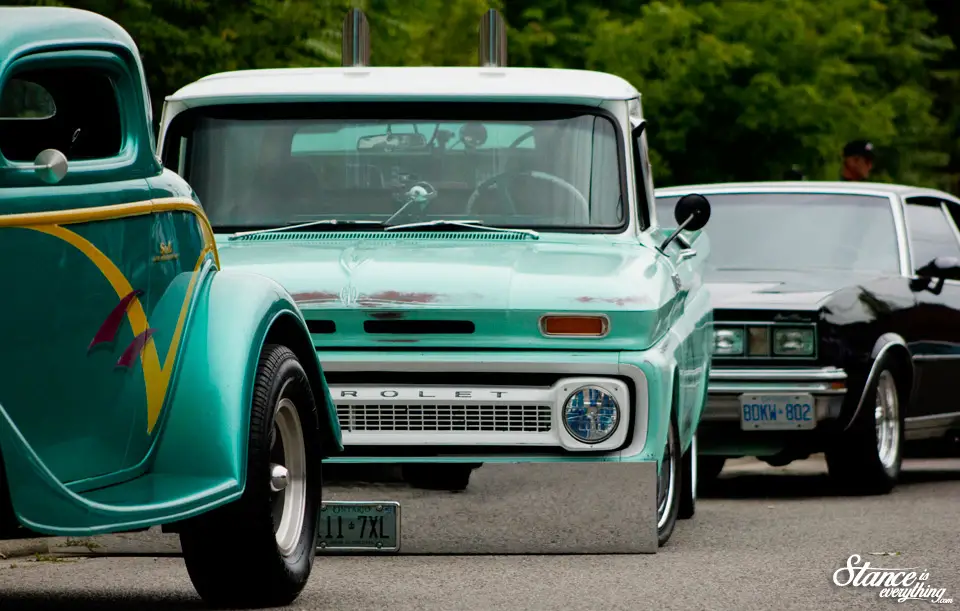 Street Machine?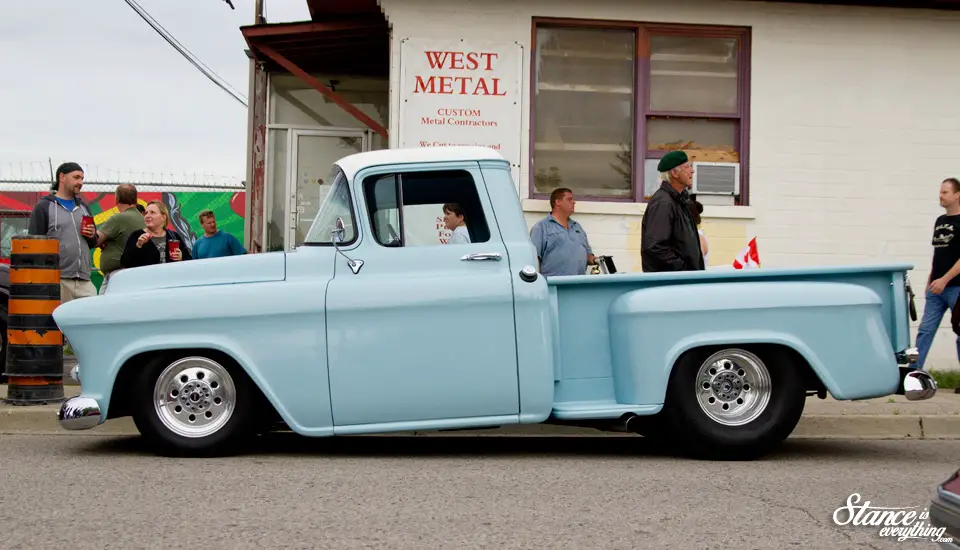 Or perhaps something in between?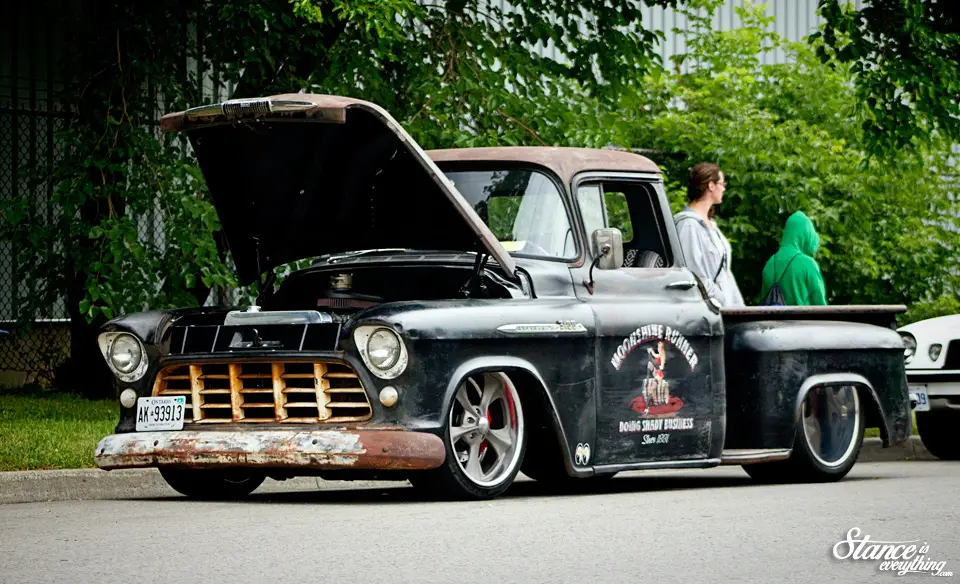 The '57 above I actually saw on the highway and erroneously assumed it was bagged. The truck is static however and sits on a Webber chassis.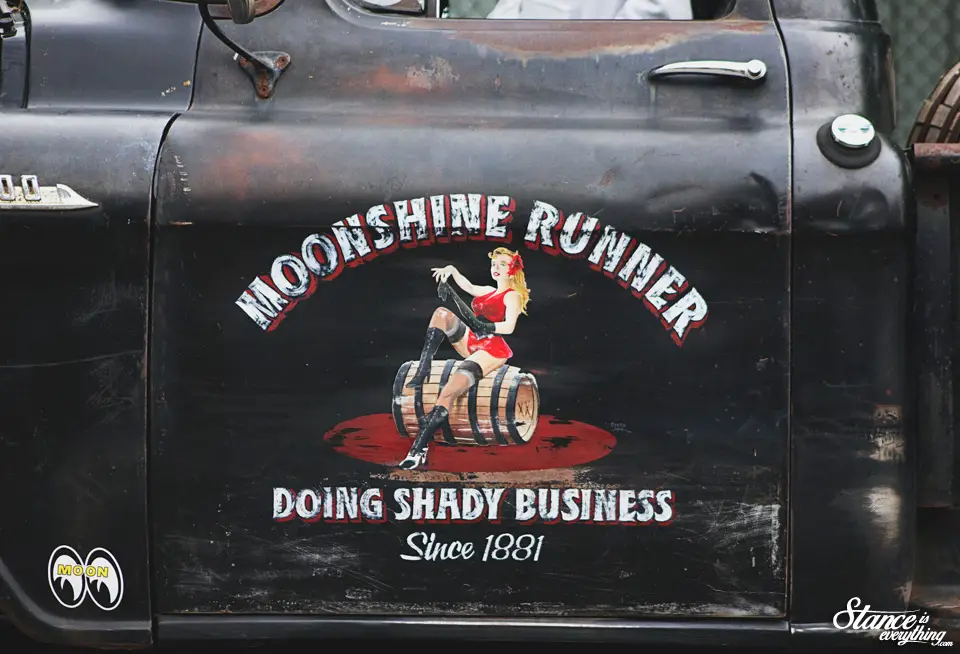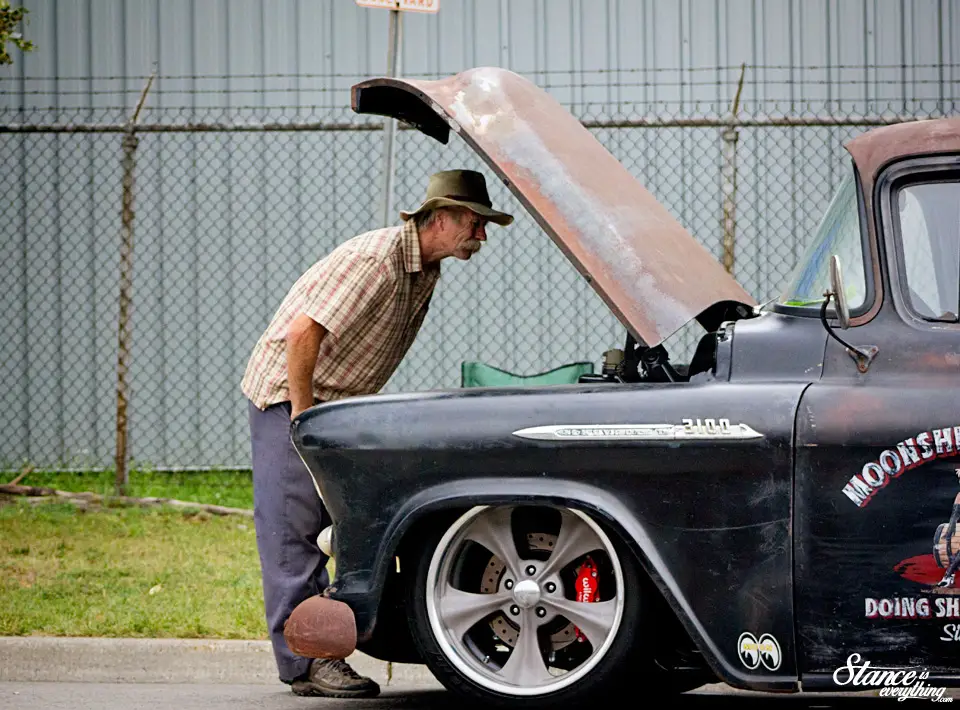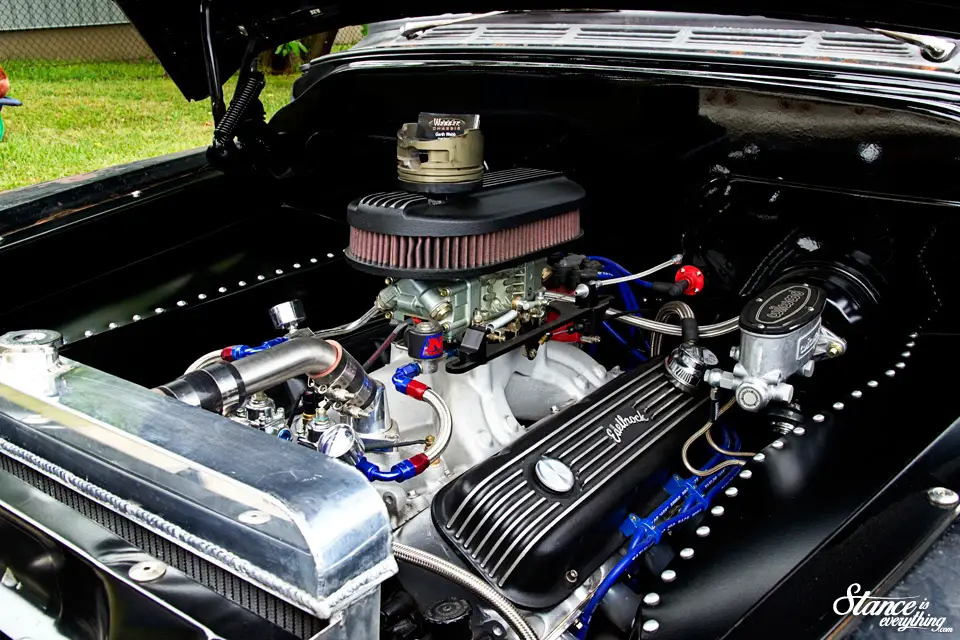 Did you notice the Nitrous Express components under the hood? That's there because sneakily hidden under the barrel is the fuel tank and matching NX Bottle.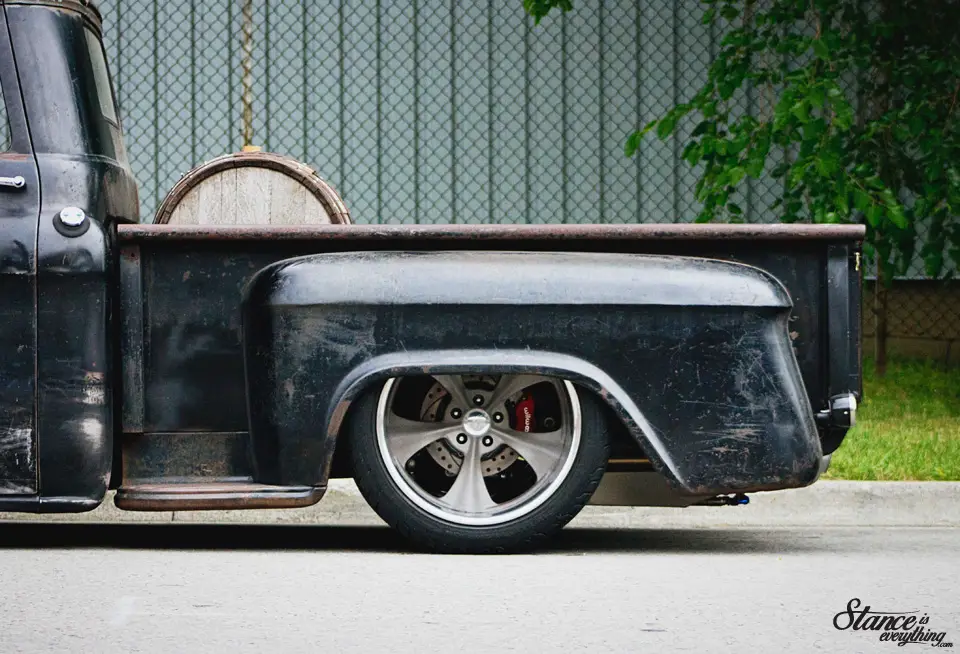 There was absolute no shortage of low vehicles either.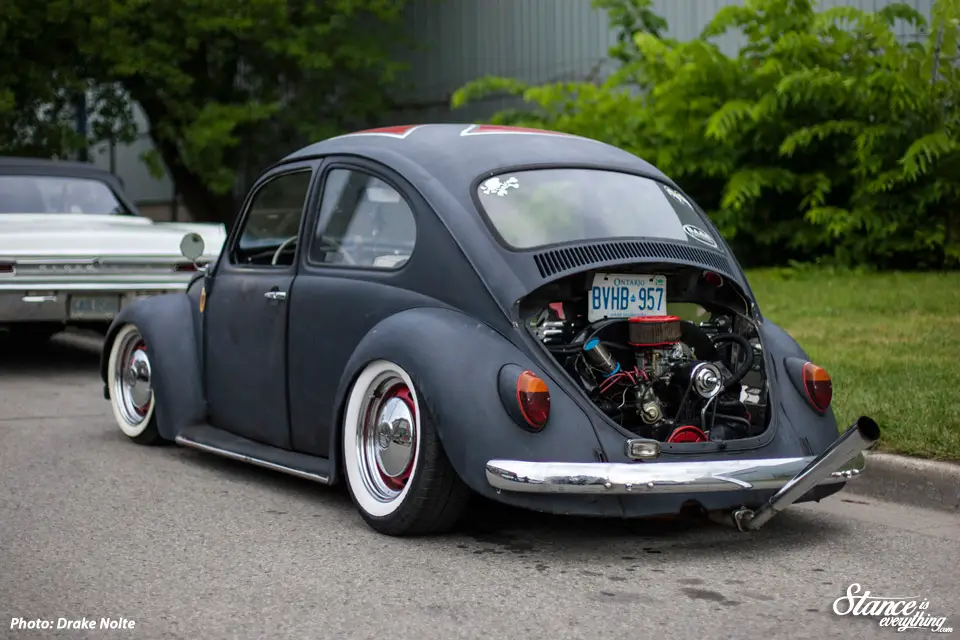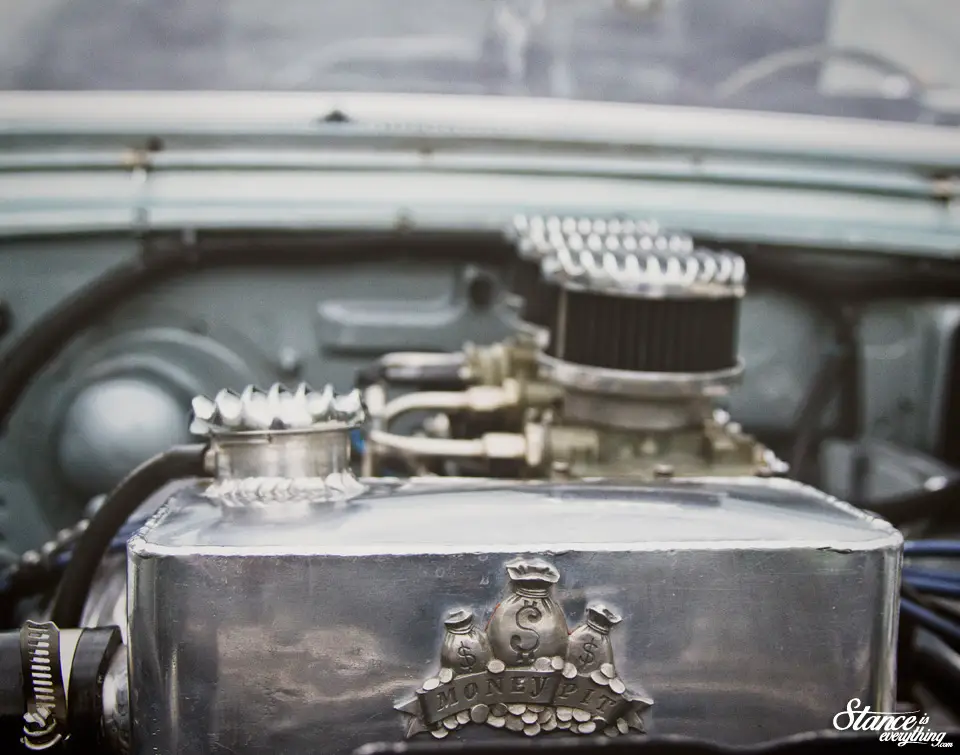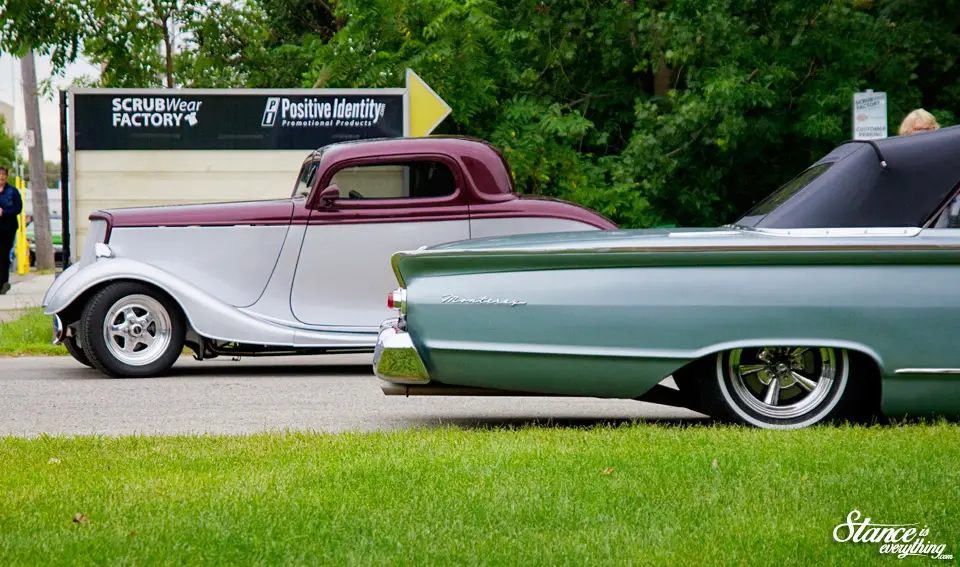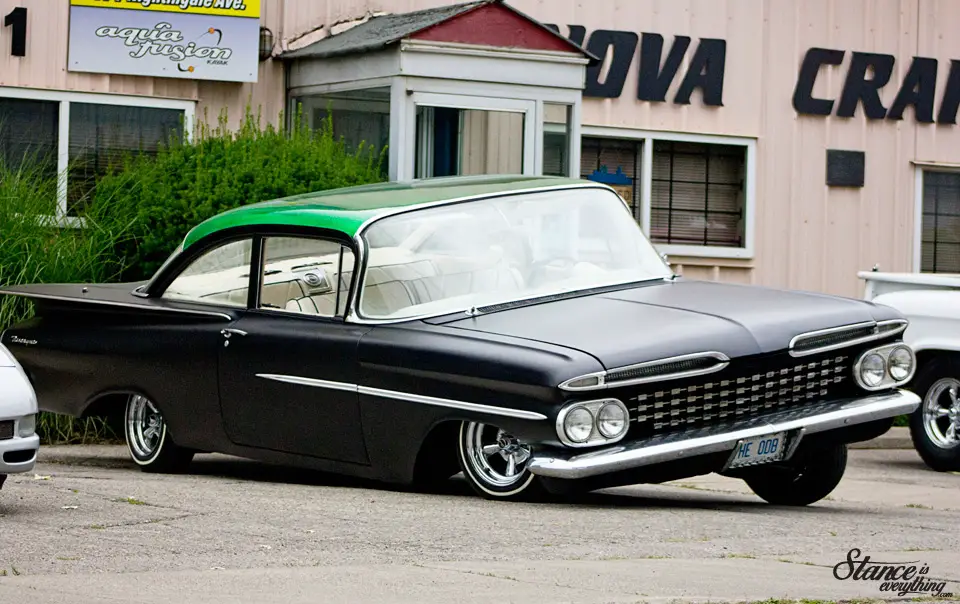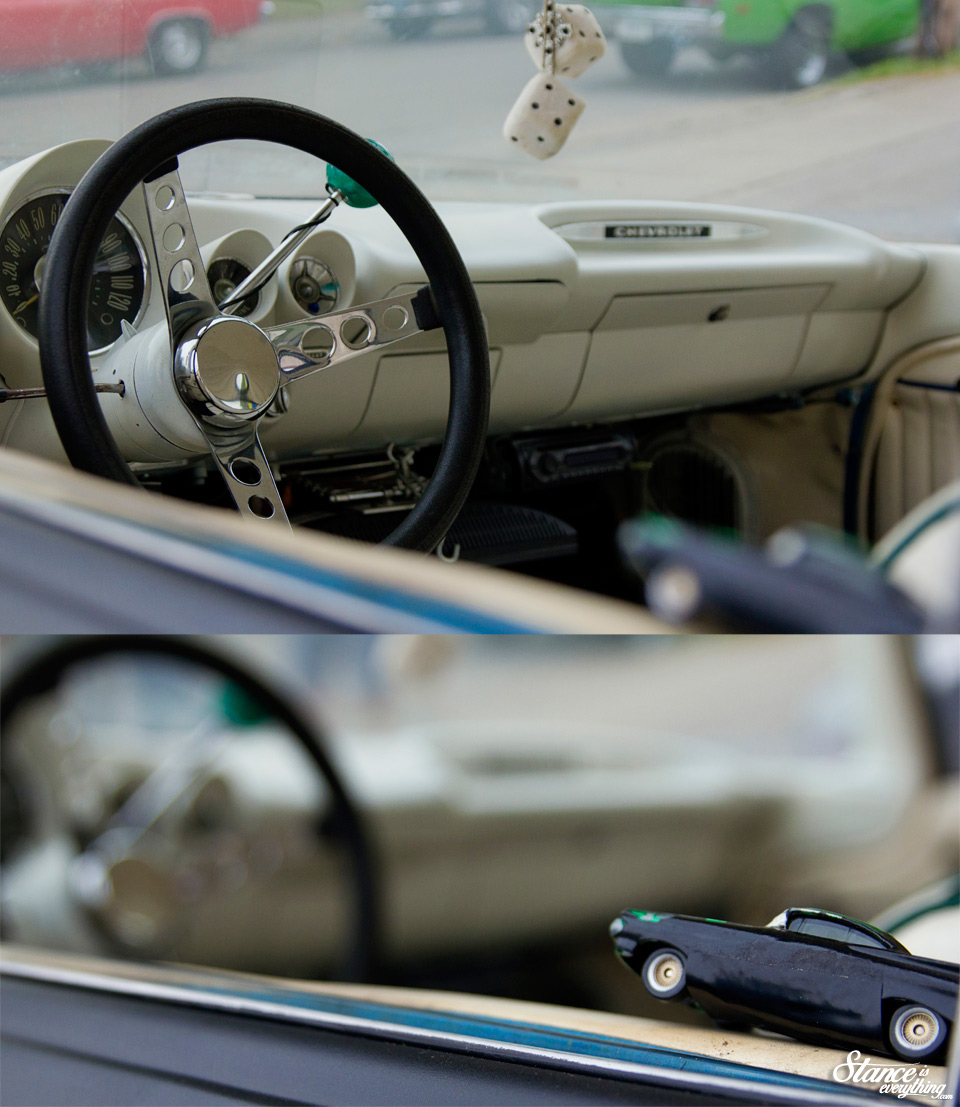 One of my favourite street sweepers belonged to Matt of 519 Kustomz. Matt's fabrication skills are through the roof and now that he has a classic Dodge to wrench on I suspect things are going to get really crazy.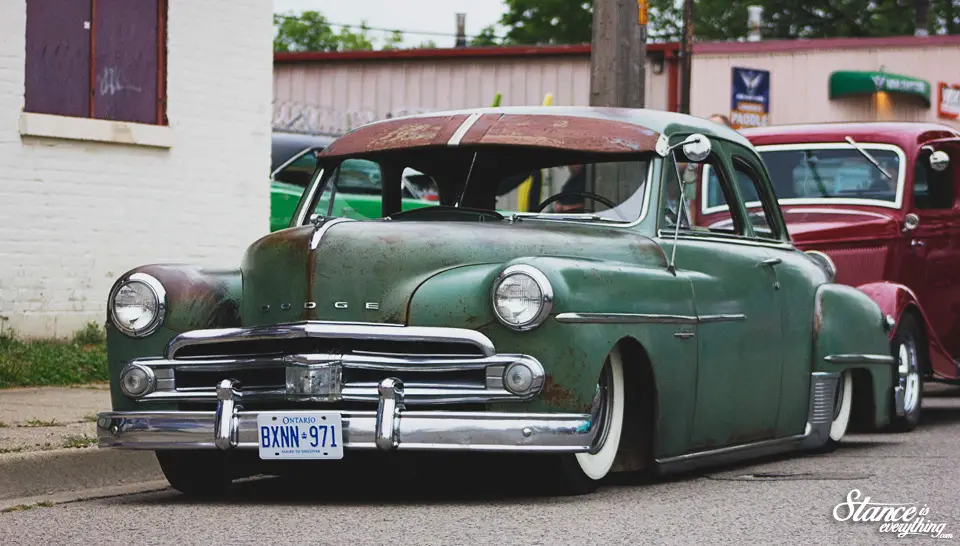 In almost impossibly good shape he's already wasted no time putting it on the ground and dressing up the original six cylinder so that it looks just as cool as the ornate factory interior.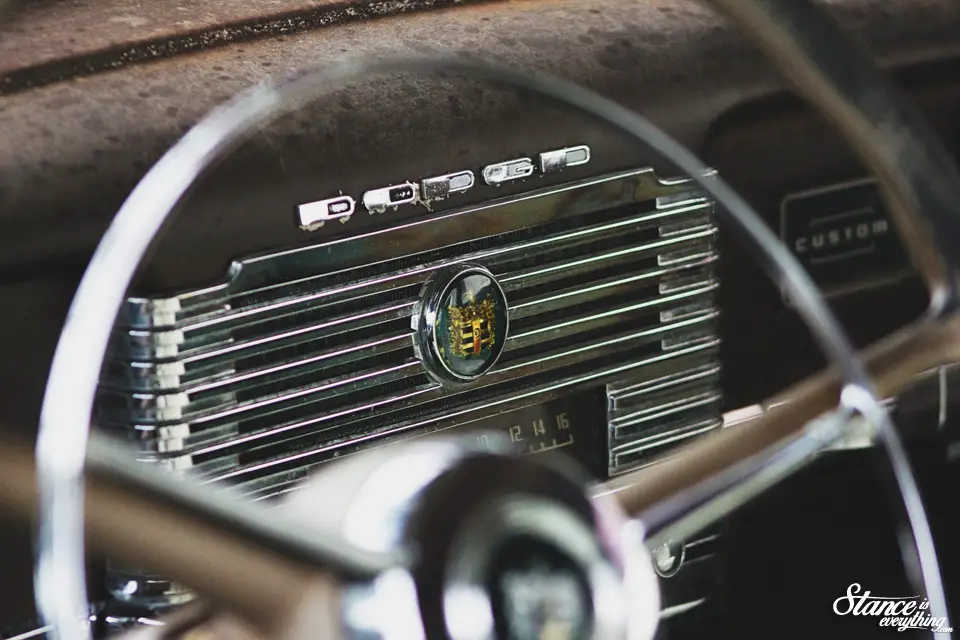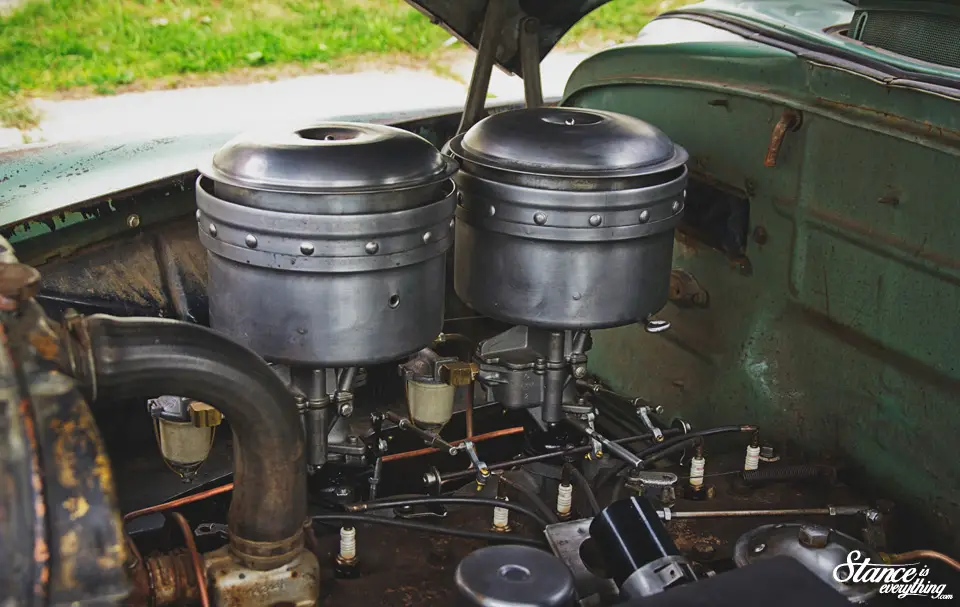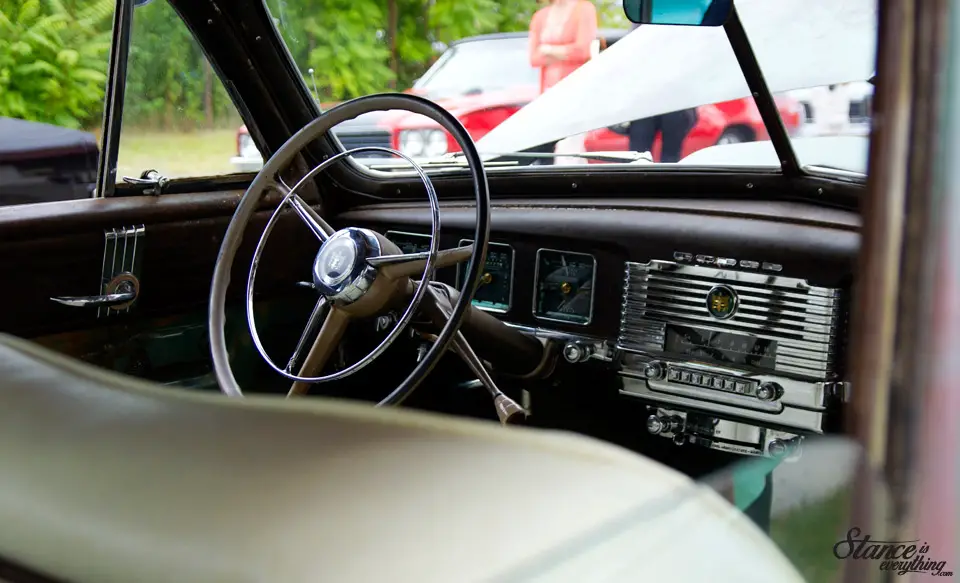 The black Caddy below is easily one of the longest and lowest cars Drake or I had ever seen.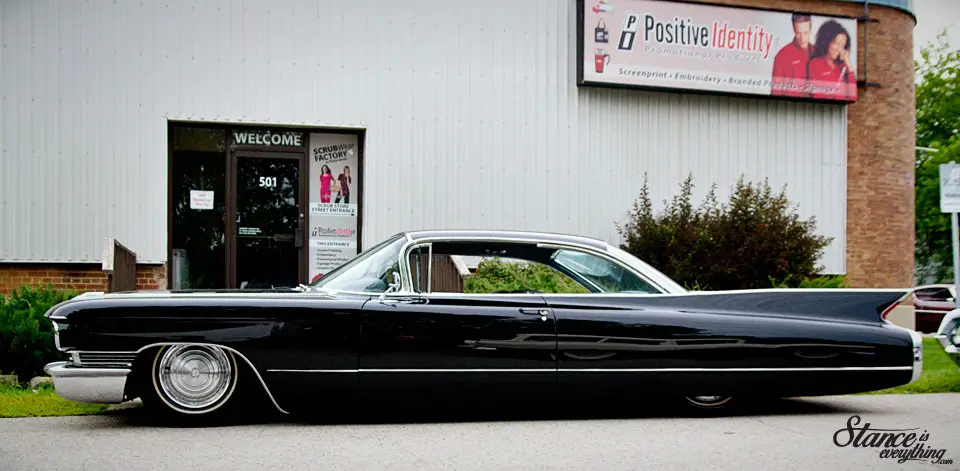 Sitting on the ground with hubs and whites is all big Caddys like this seem to need in order to steal a show.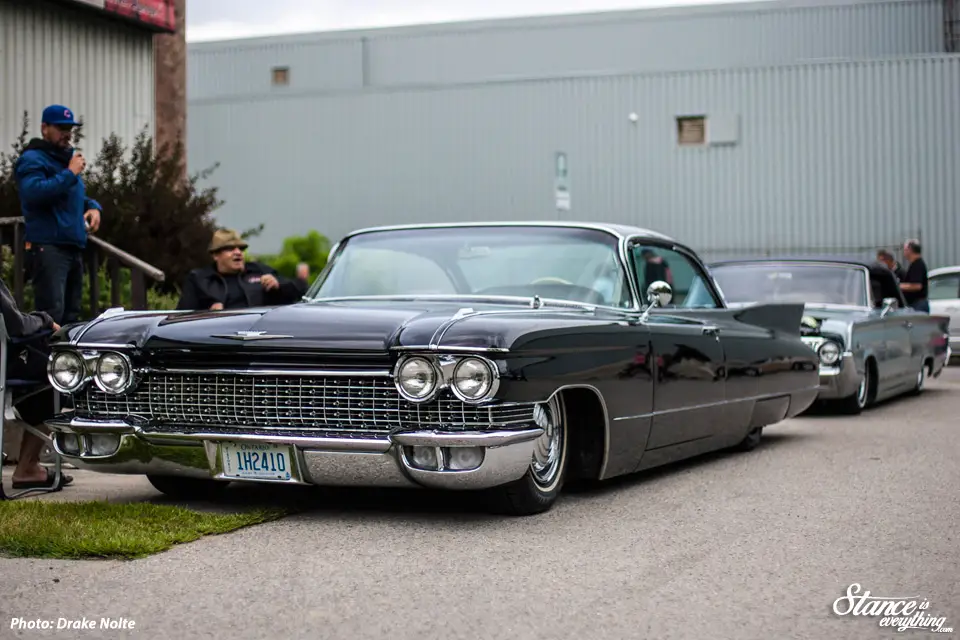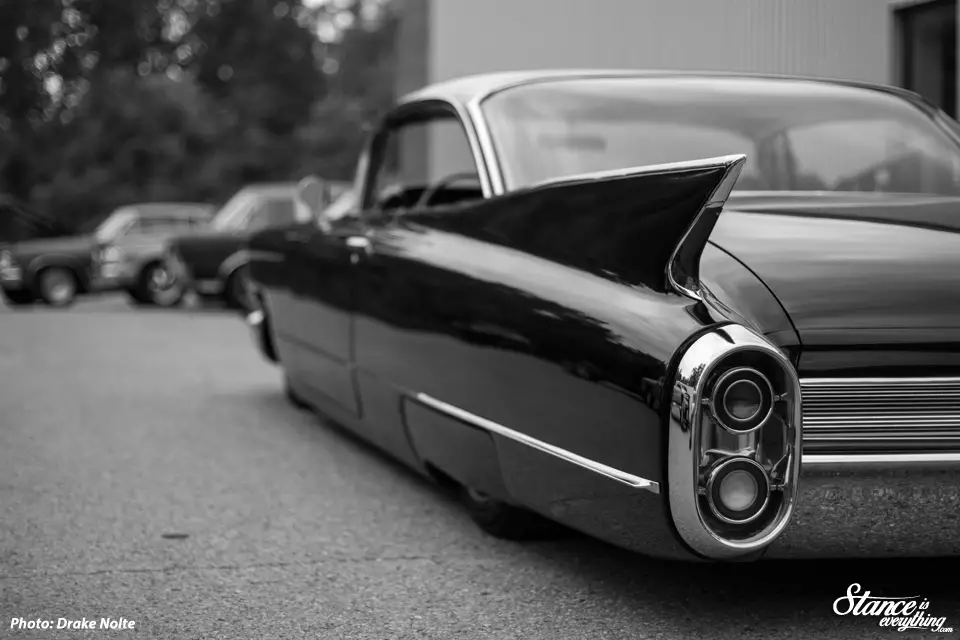 Significantly shorter, but no less awesome, was this '53 Bel Air which is actually one of the few cars I had seen previously at Northern Showdown.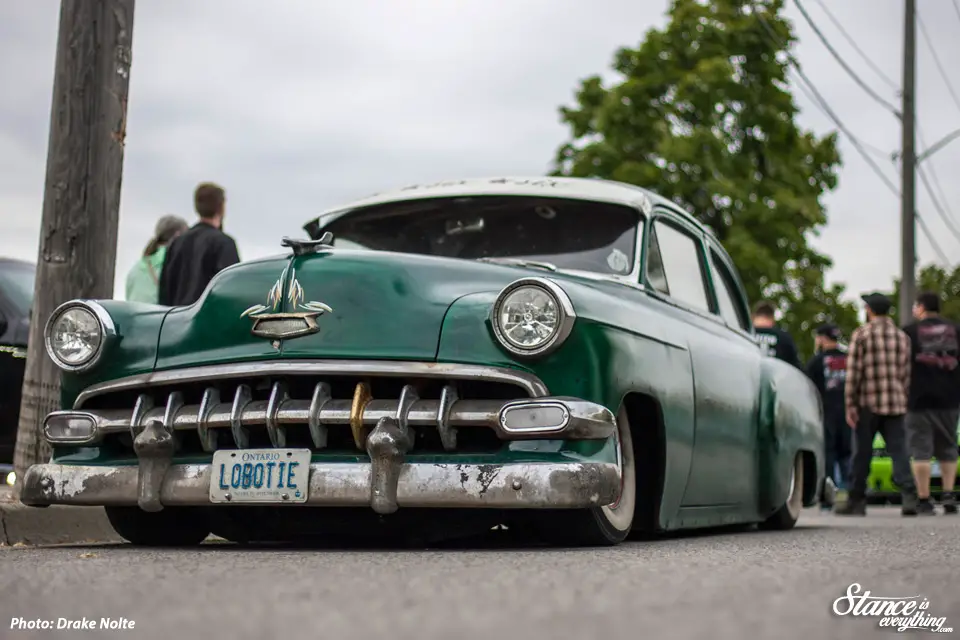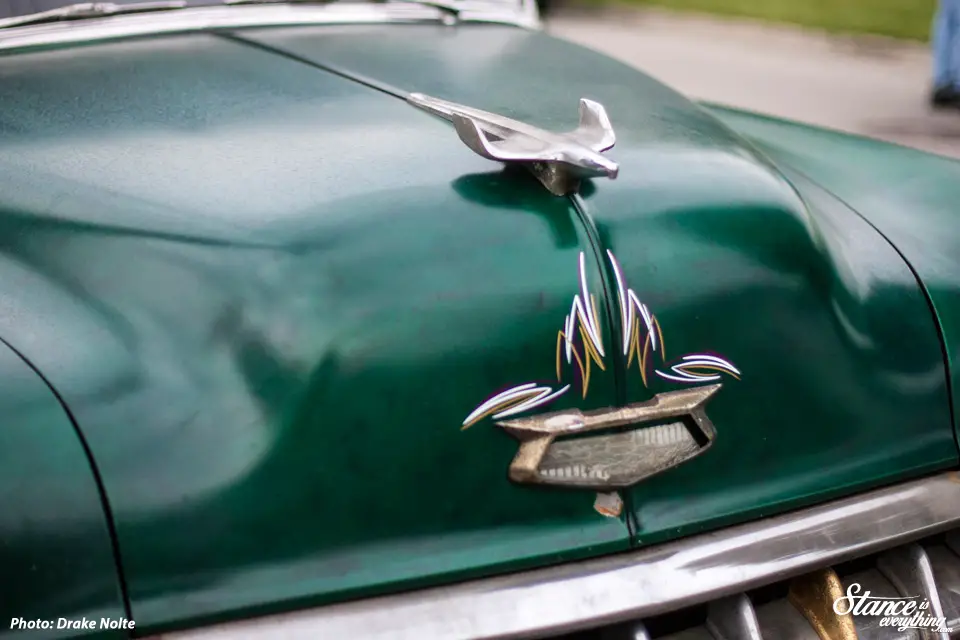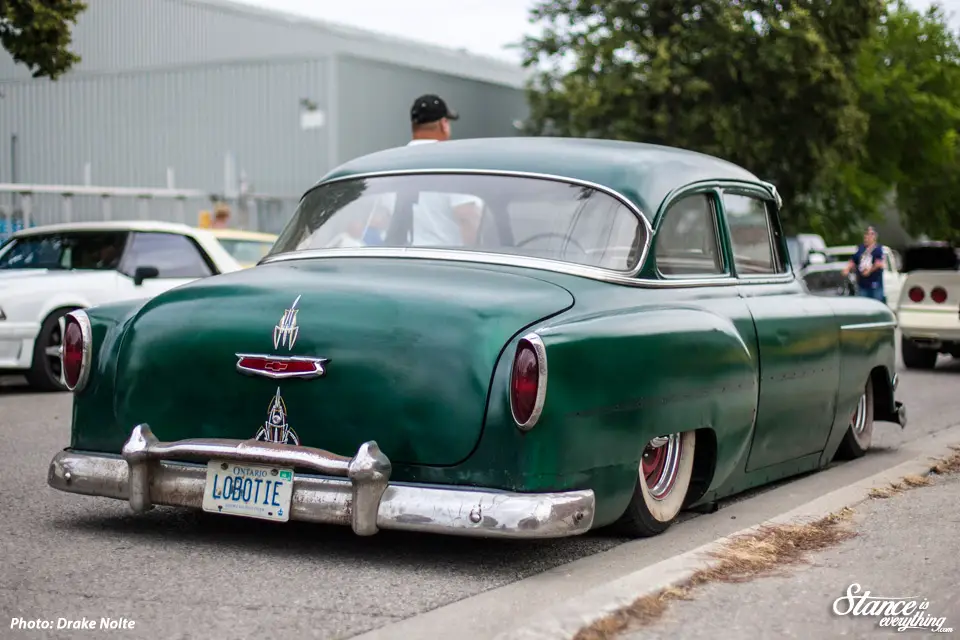 As a club with a rich drag racing history there were several different types of 1/4 mile sprinters in attendance.
Both strip and dirt, two-wheeled and four.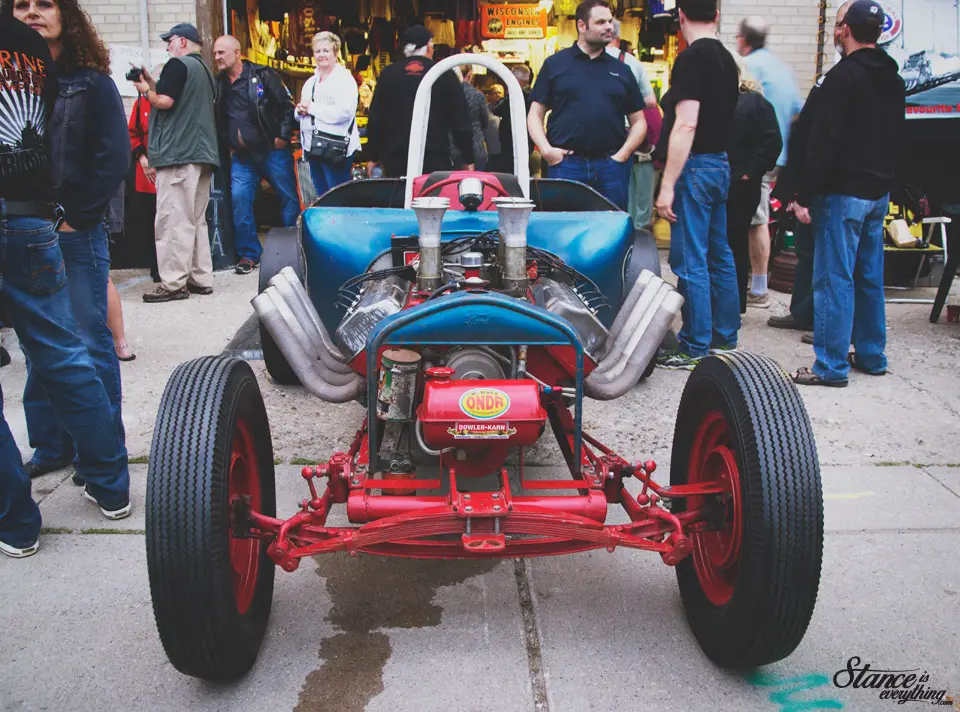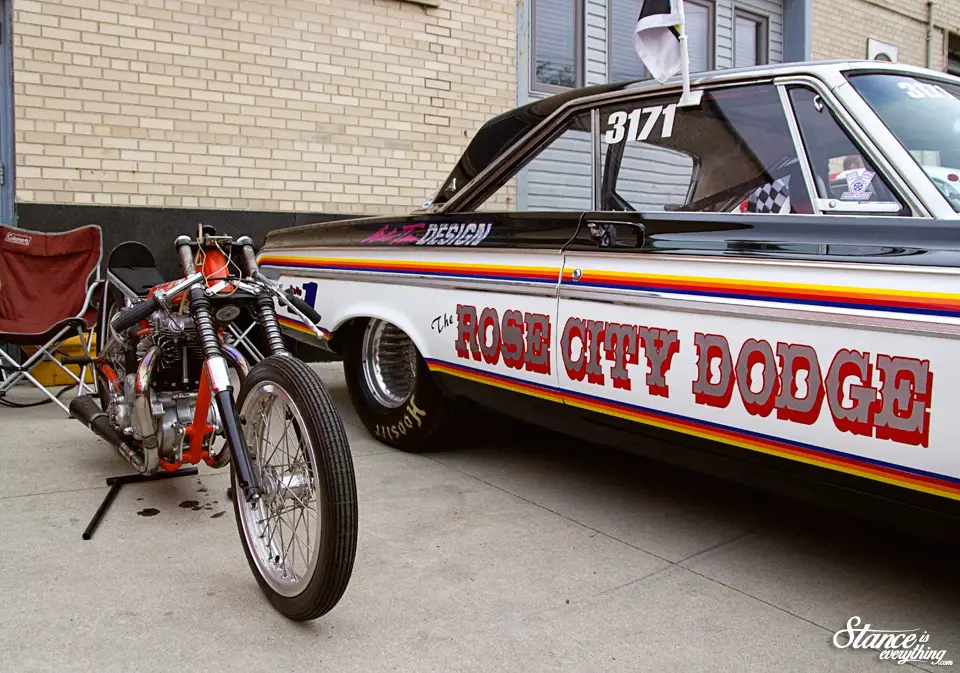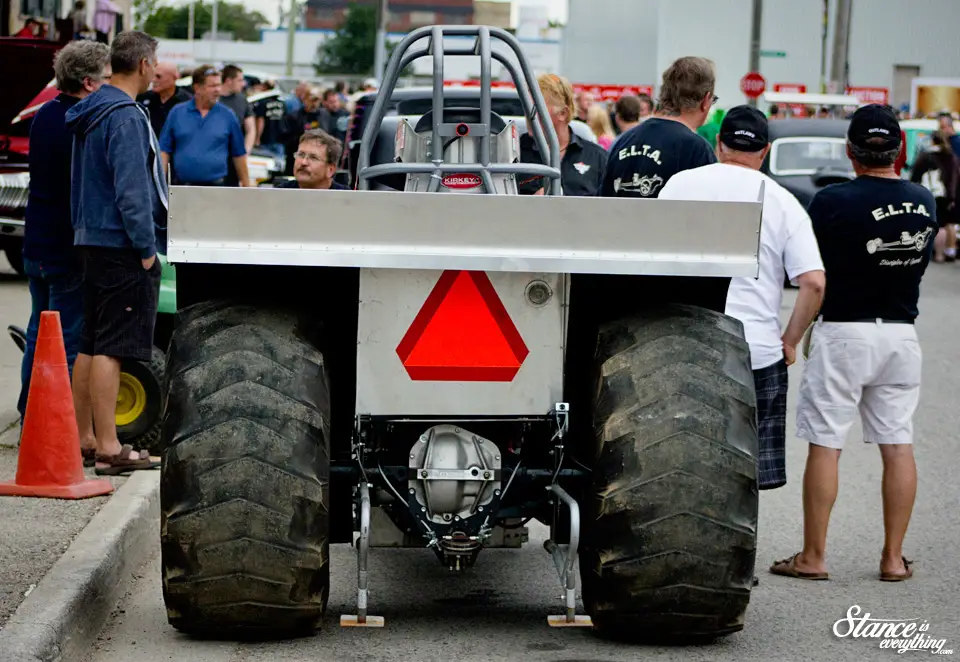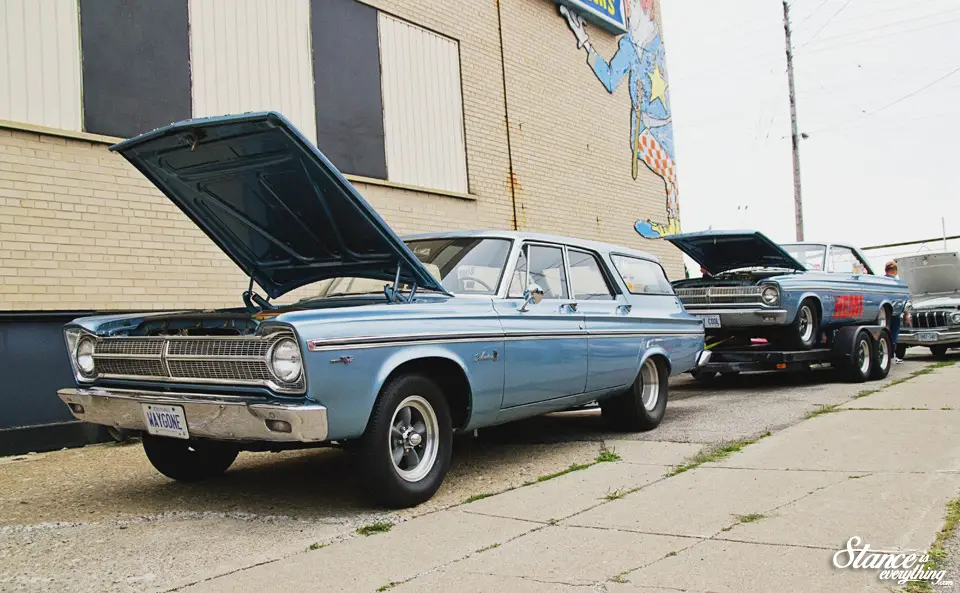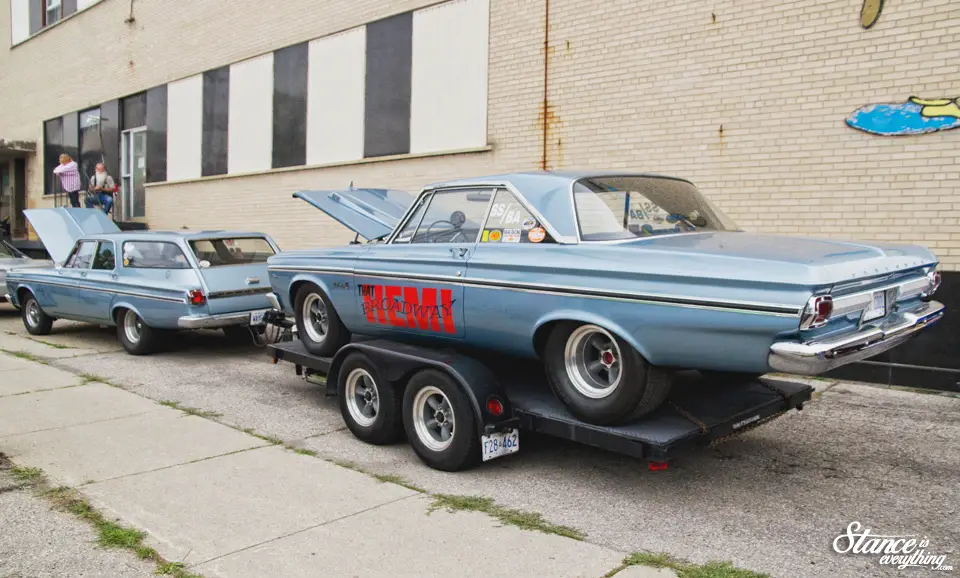 An exceptional example of a pristine vintage racer was Bob Dixon's 57 Ford Gasser. Posted up front it was the altered gasser stance of this car that really drew me in.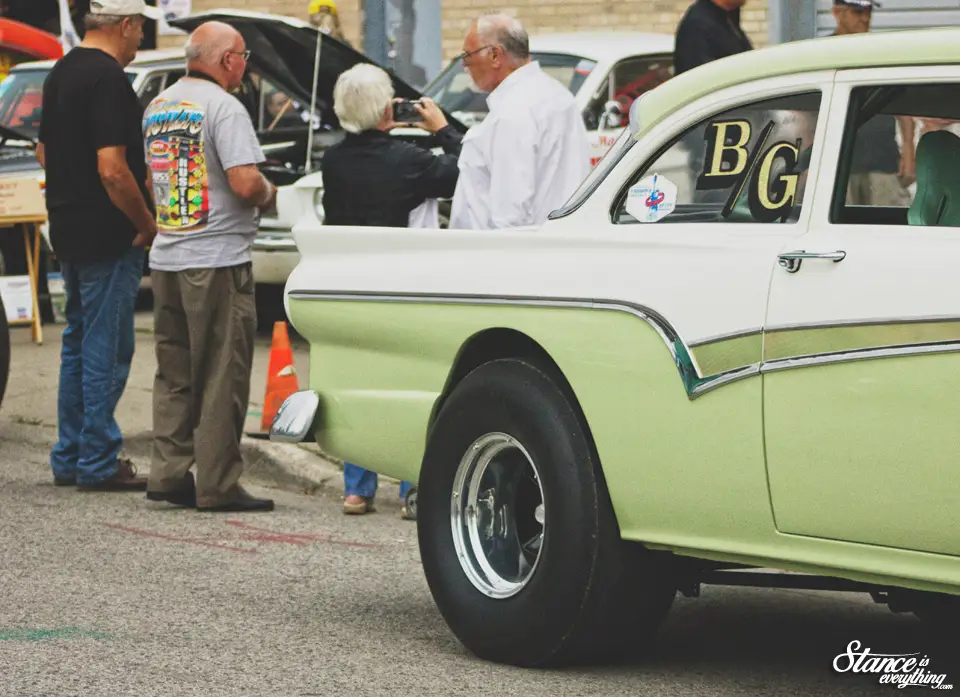 A storied race car that still competes, this car is no slouch and would have no trouble showing more than a few modern-day cars its tail lights.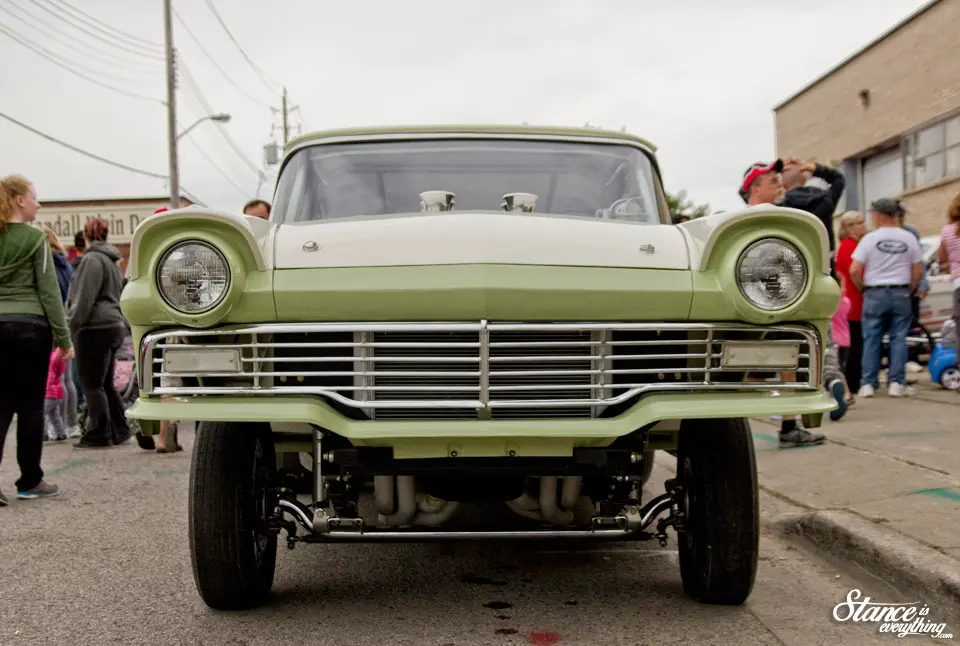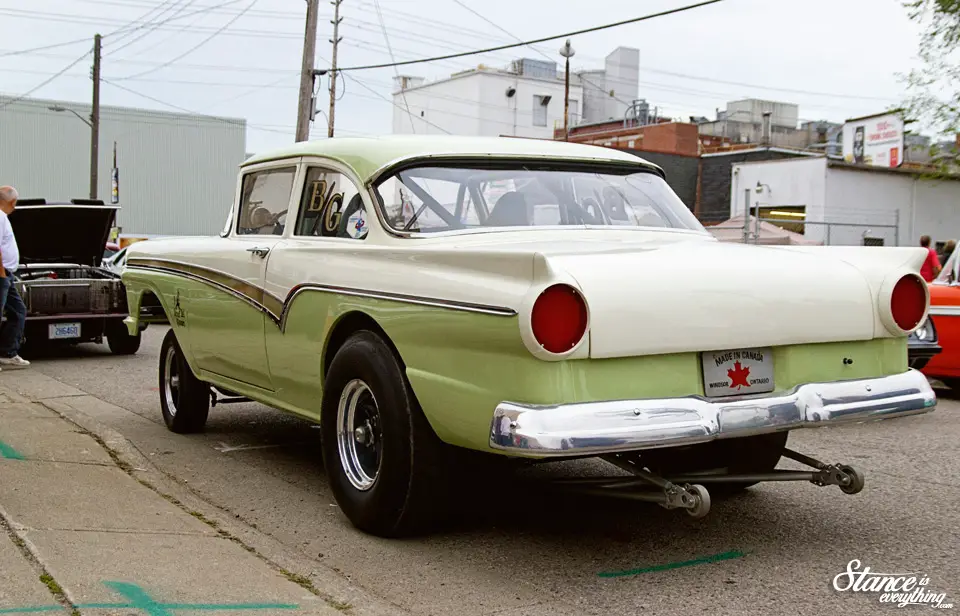 As dusk transitioned to night these vehicles began to roar to life for the 'cackle-fest'.
A bit of an idle to warm up and then a few blasts of throttle from each car generated quite the crowd, of which I found myself within.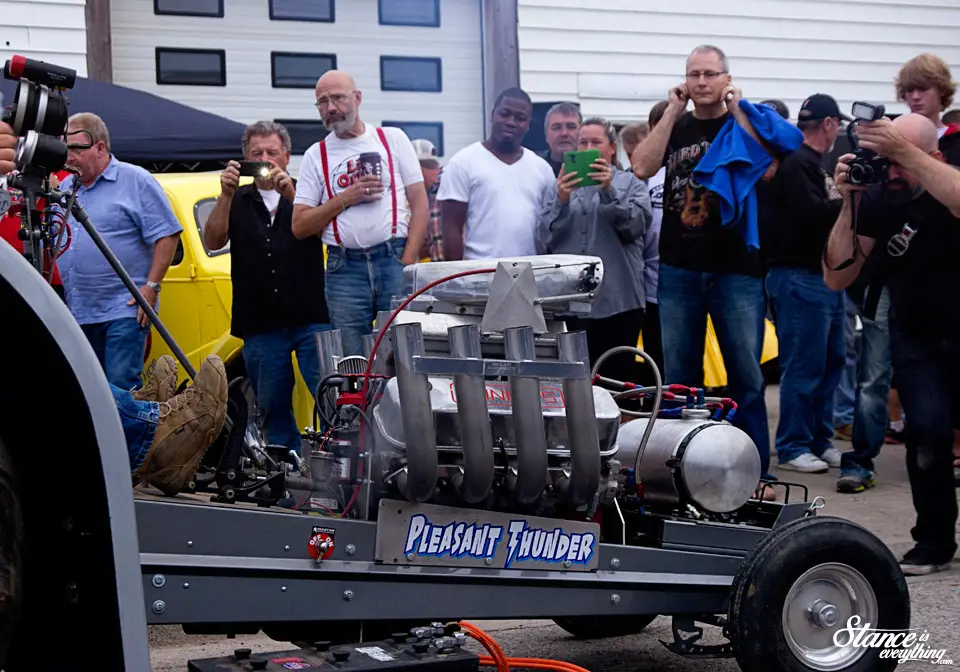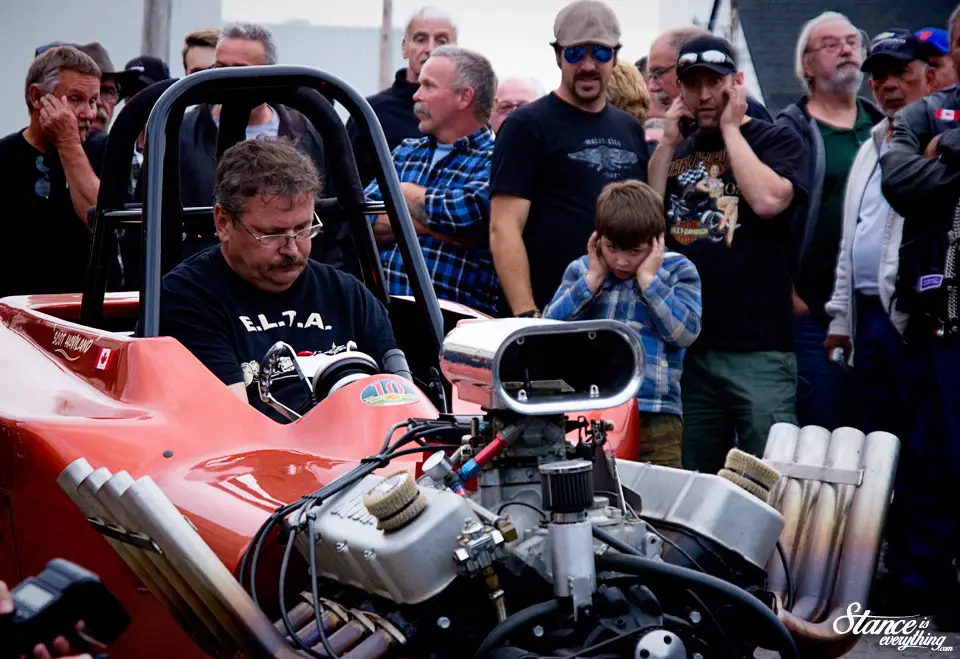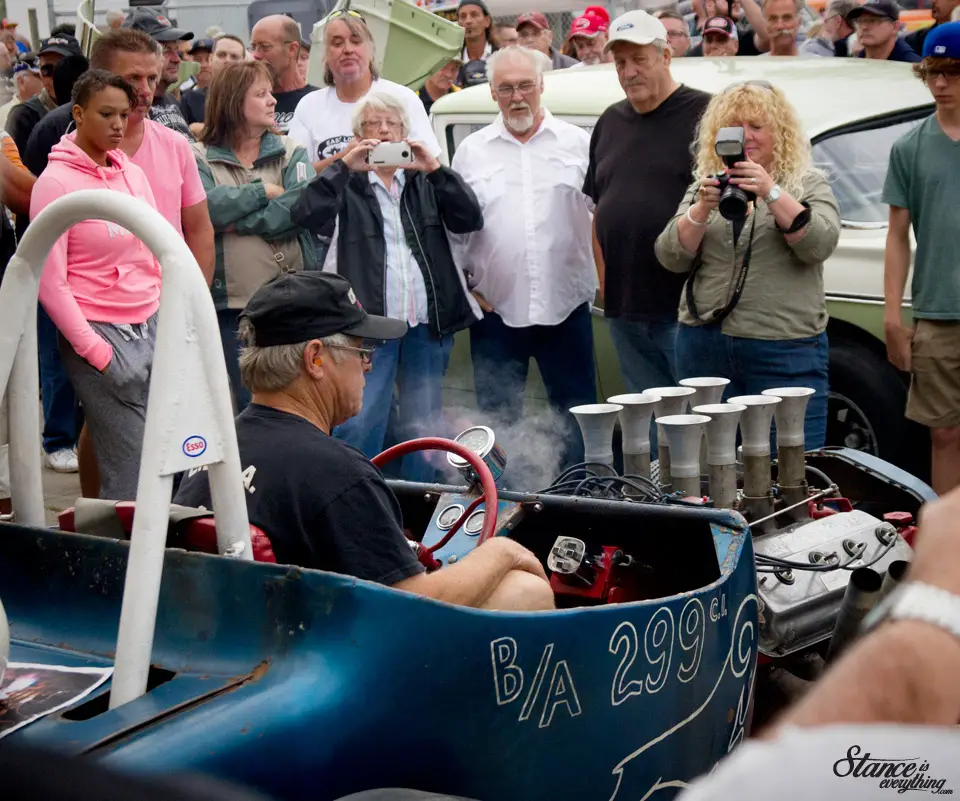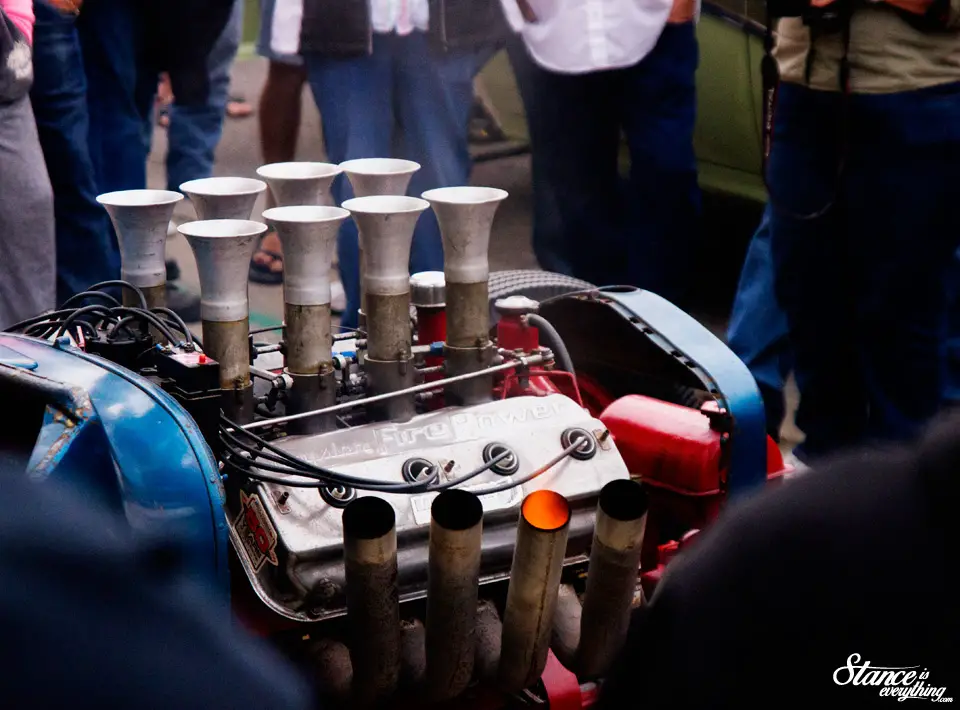 My ears certainly disagreed with my choices the next day but at the time, totally worth it.
Seeking a bit of quiet to determine if I could still hear I decided to follow the cardboard More Cars sign and venture inside the E.L.T.A. storage garage and club house.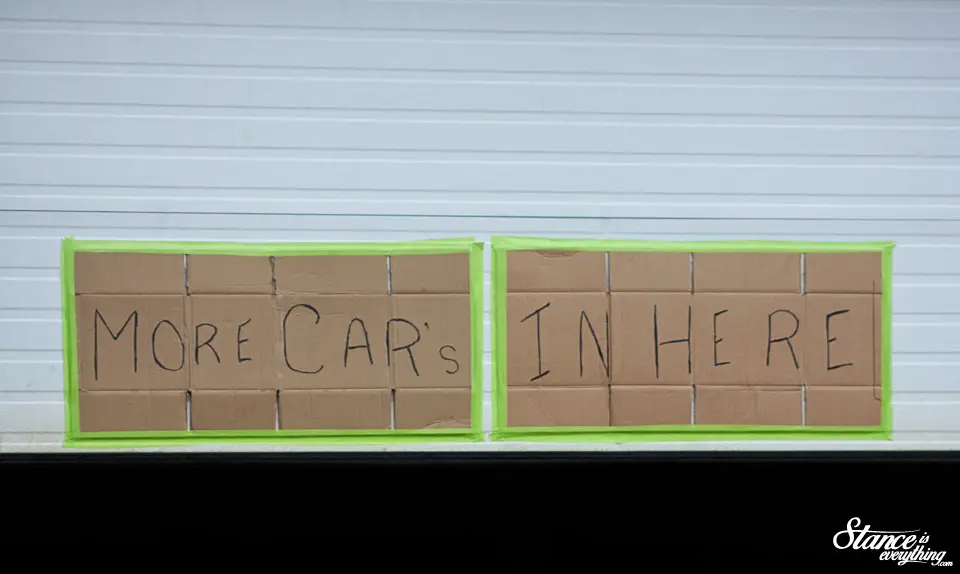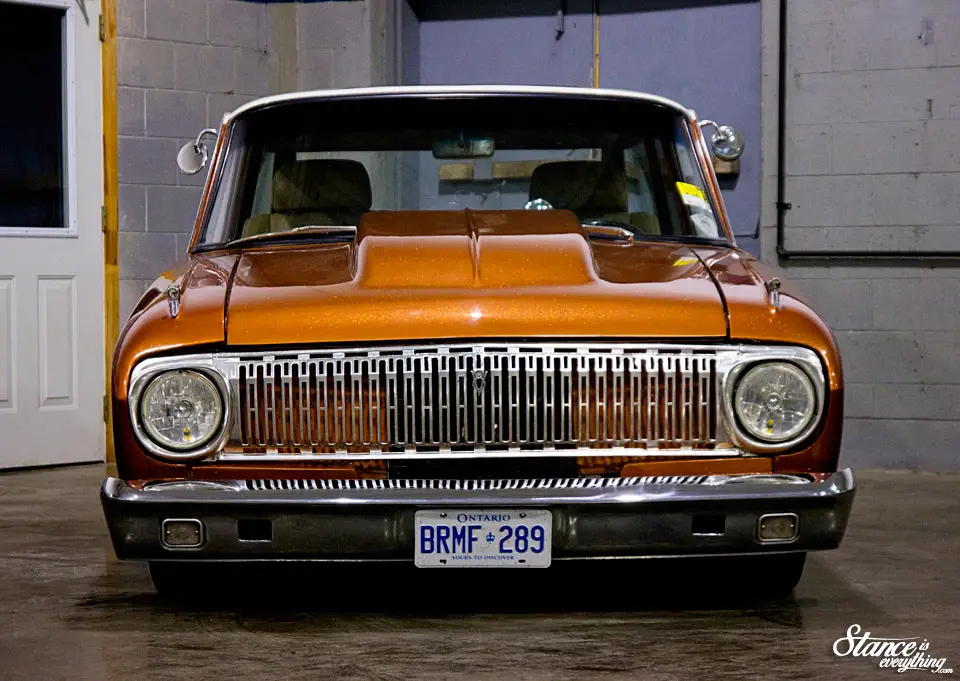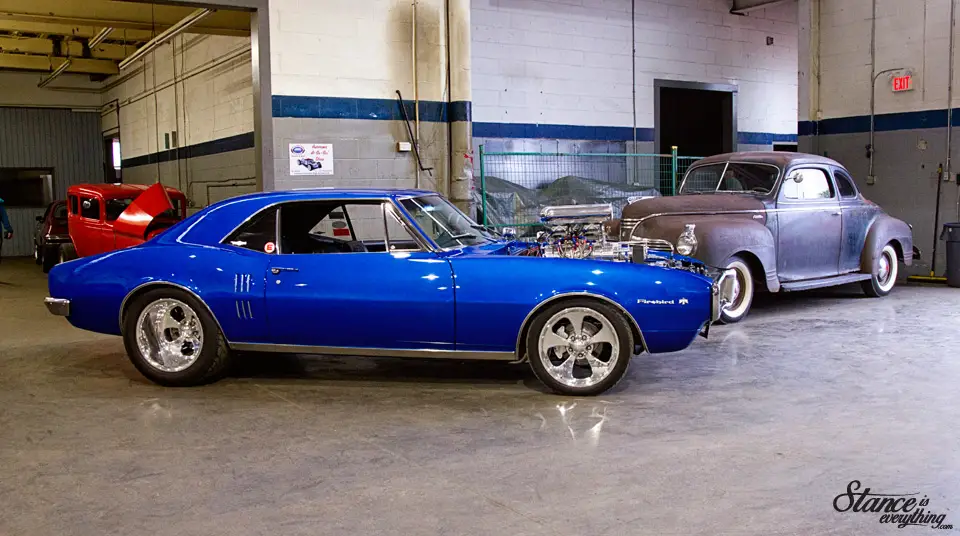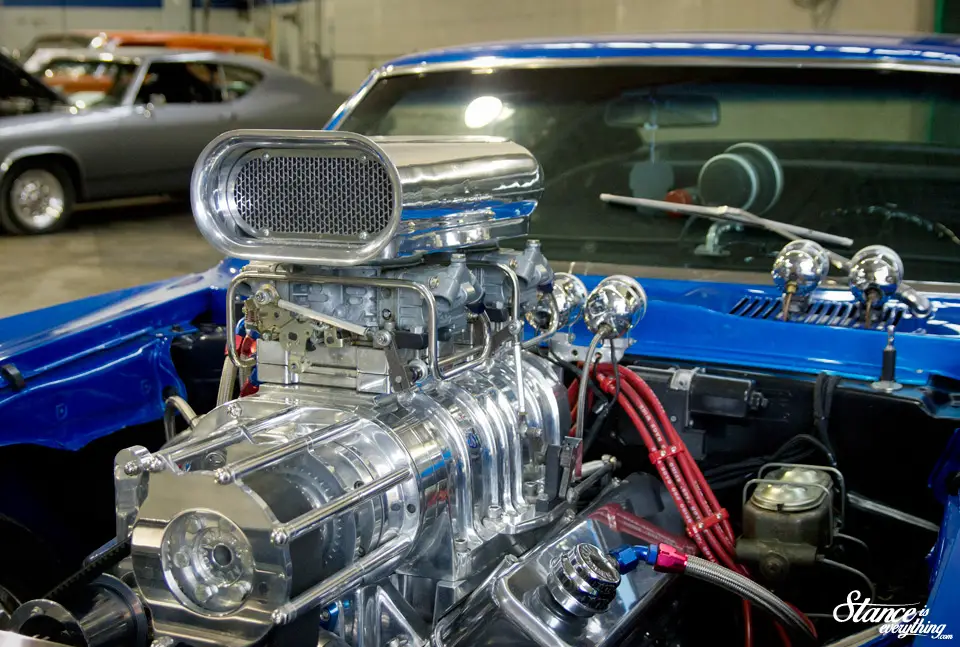 Inside was where I could find president Mark Rogerson's prize '55 Chevy 210 Sedan.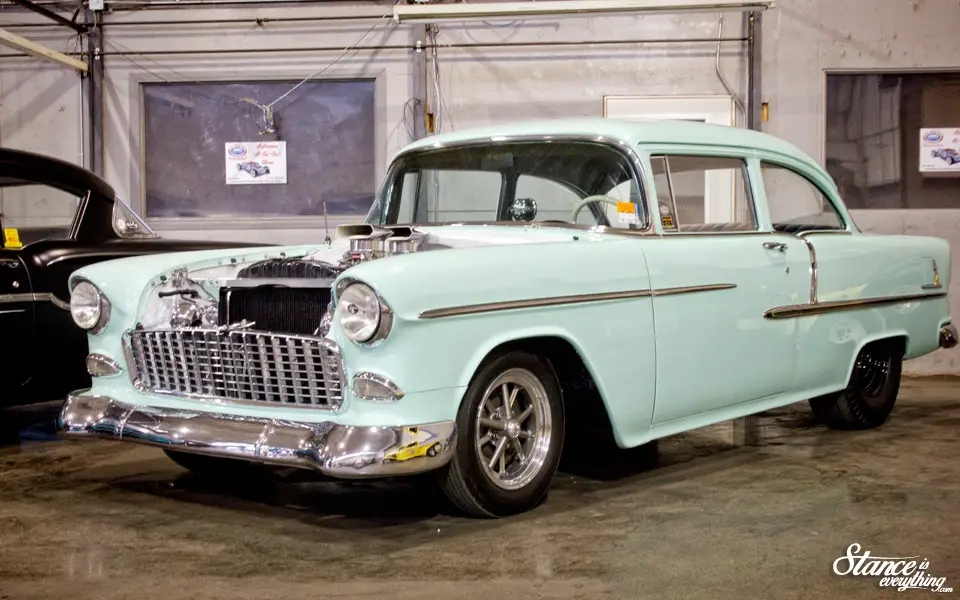 Mark has had this car 35 years and while he's given it a few updates he's kept it fairly true to the vision he had when he first purchased it.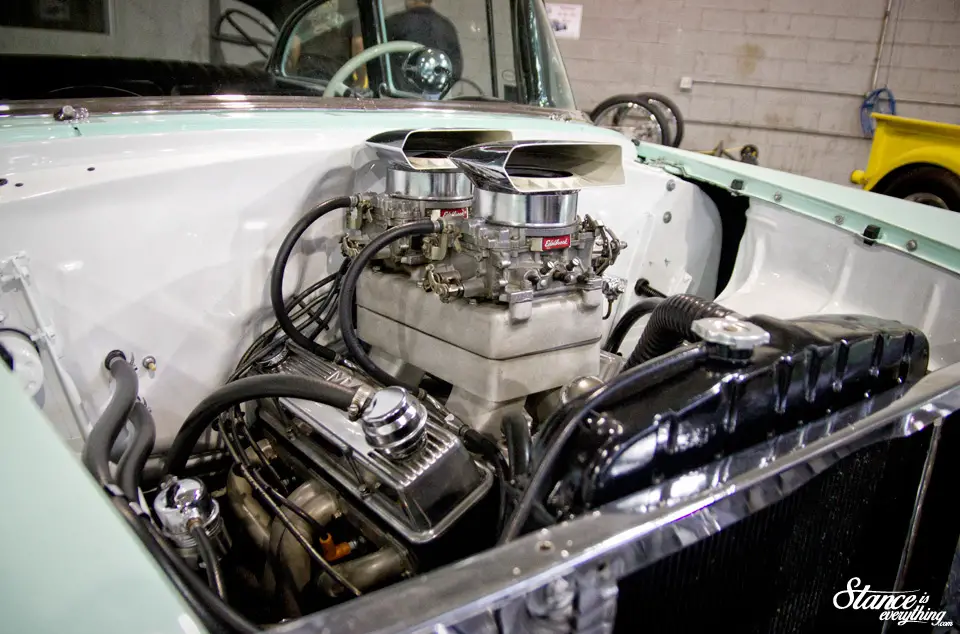 His engine bay is so spotless that I was surprised to learn that he hasn't had a hood on the car since 1979.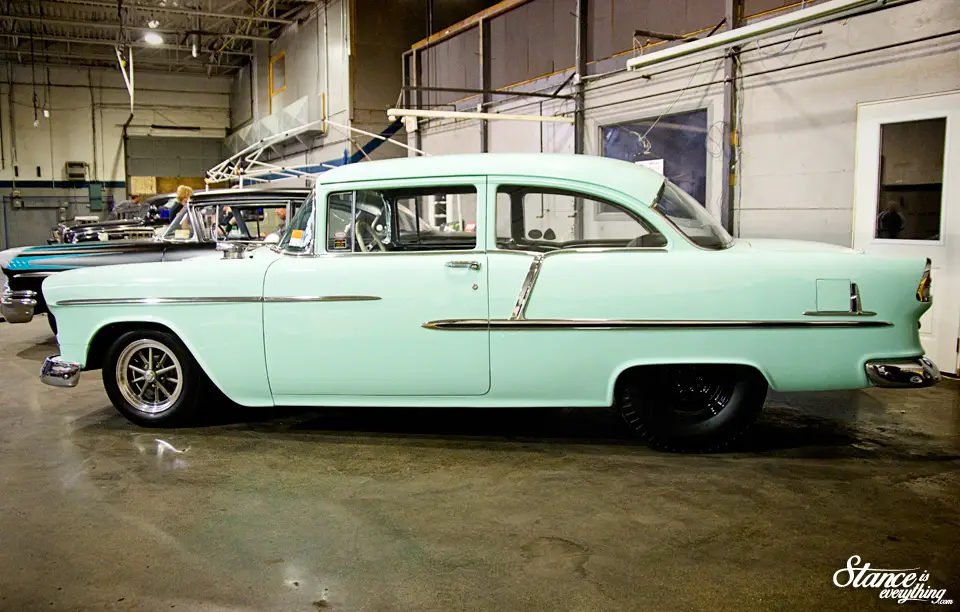 The car is currently featured over at Canadian Hot Rods and the feature is certainly worth a read.
The E.L.T.A. club house itself is packed with so much memorabilia that I don't think any number of photos would truly do it justice. It's arguably one of the largest collections of Ontario hot rod history anywhere.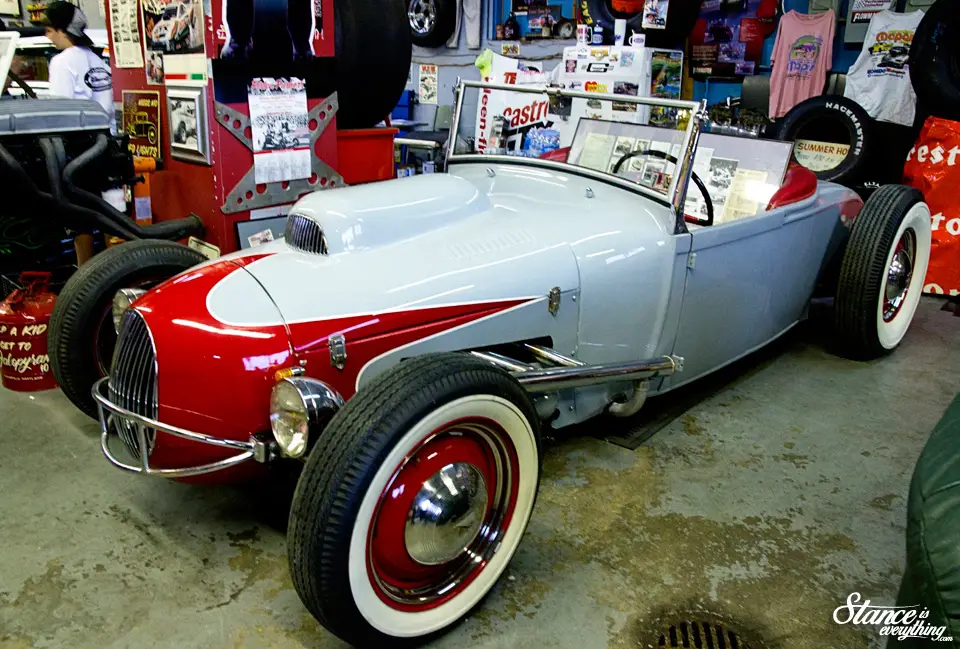 Intermixed between the people and history was a really cool Mustang build from across the border.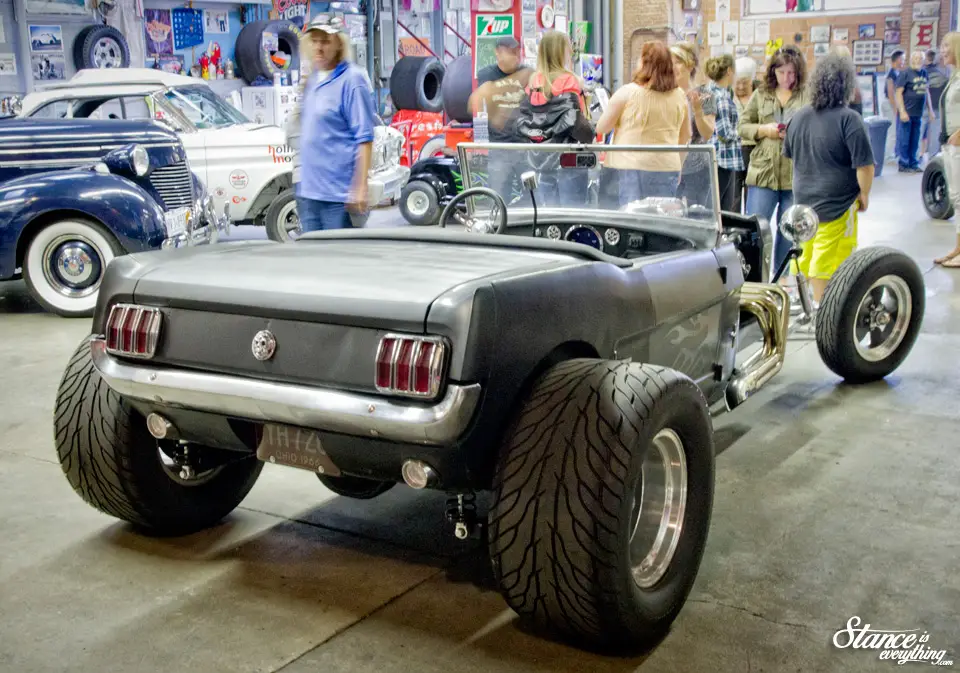 Perhaps offensive to Mustang purists, this wild horse was a great example of completely outside the box thinking. I'm sure there's a story behind it's creation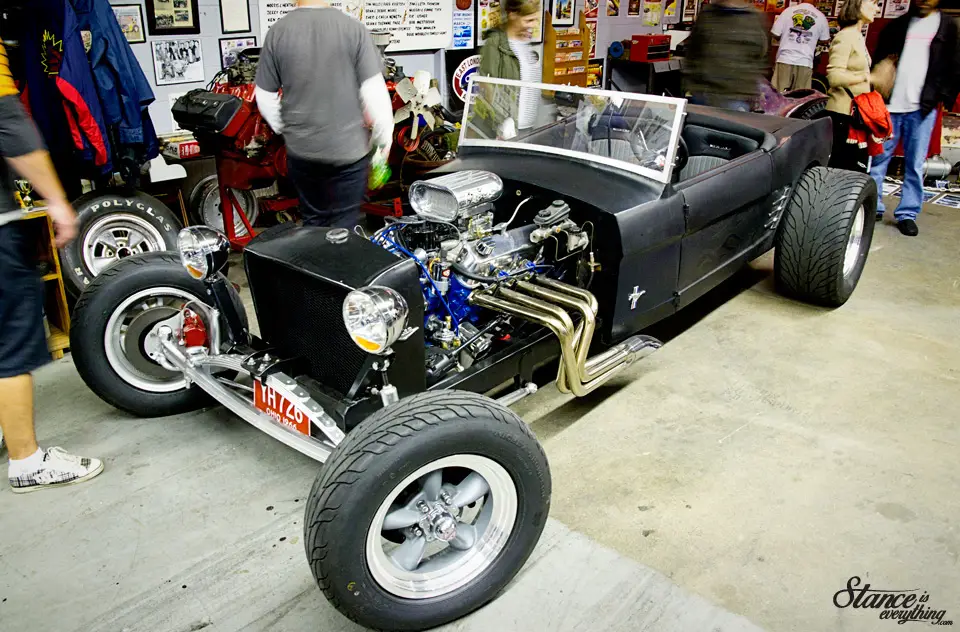 When I stepped back outside the good times were still rolling and there was a steady stream of people rolling in and out.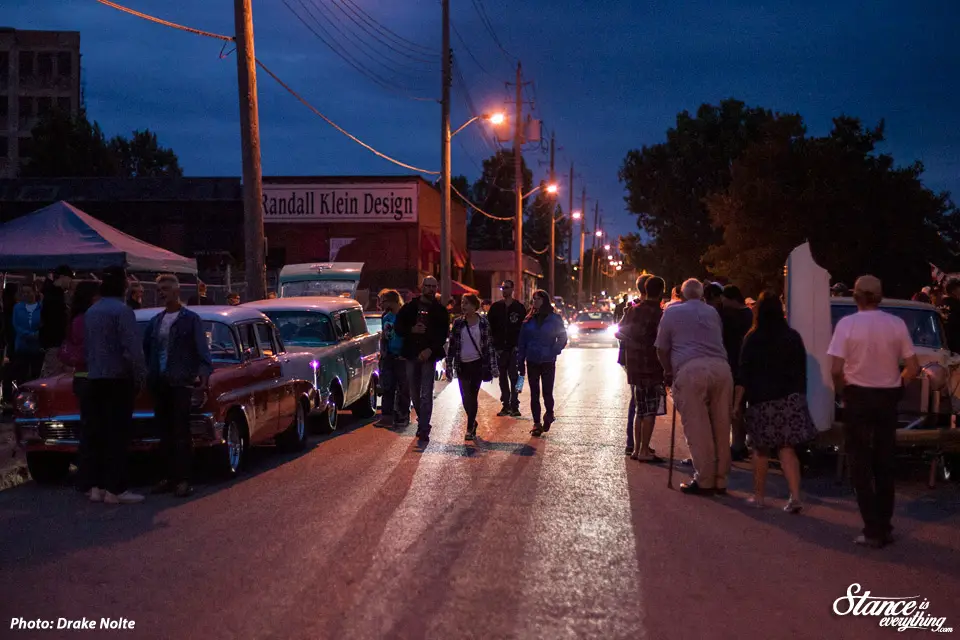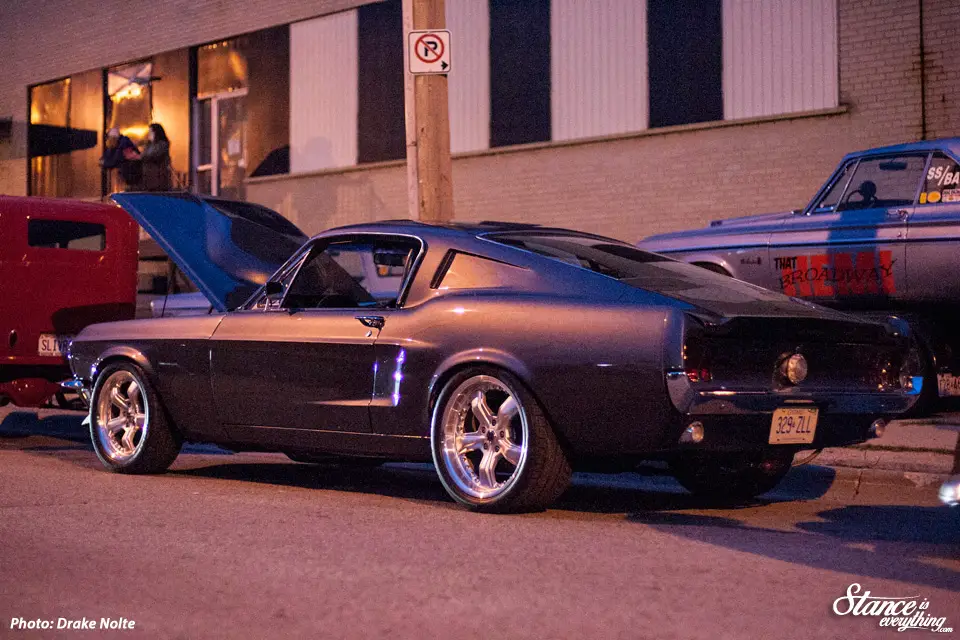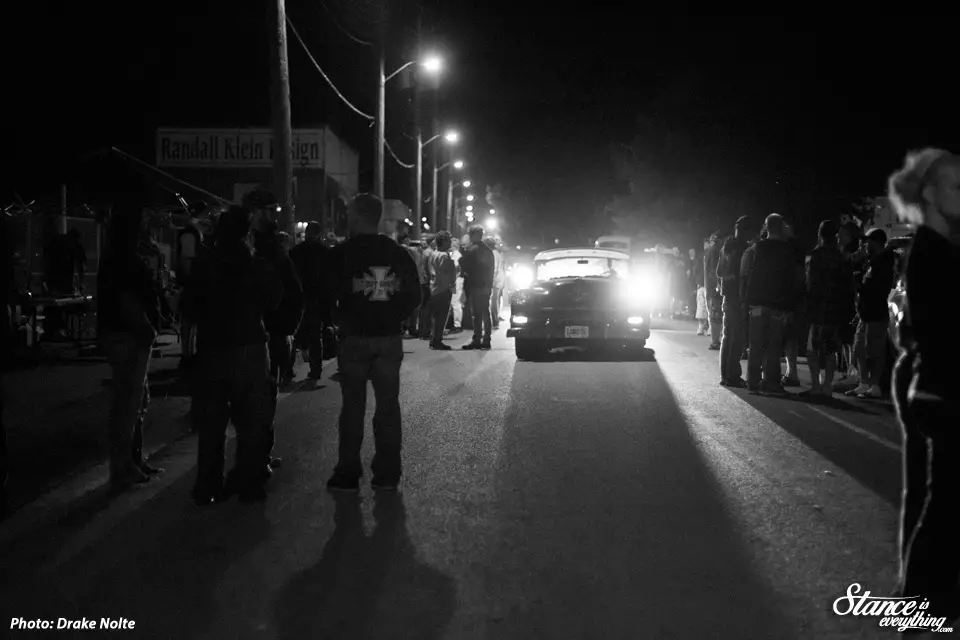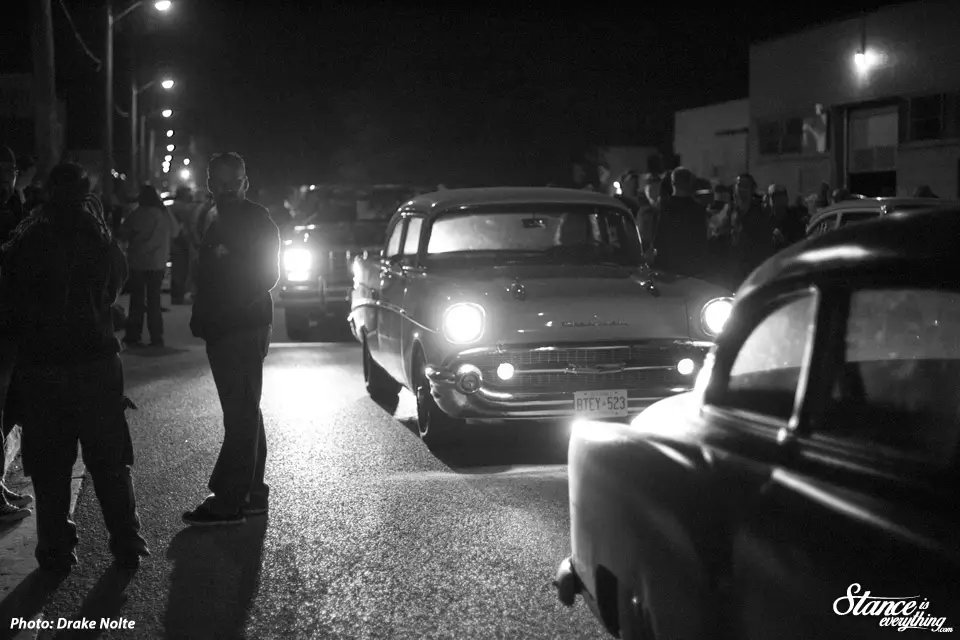 Watching people come and go was almost like watching a scene from American Graffiti in the flesh.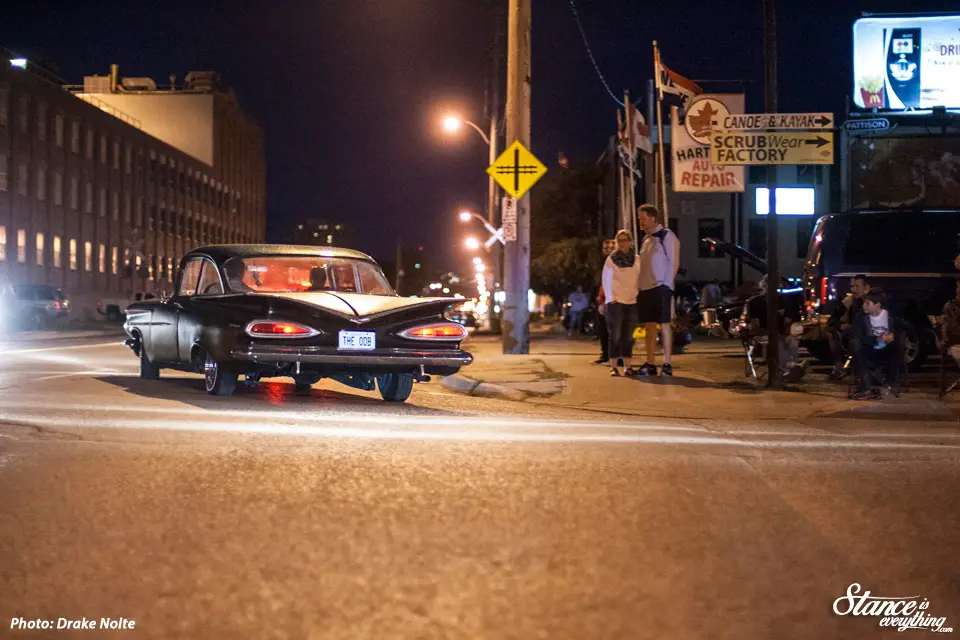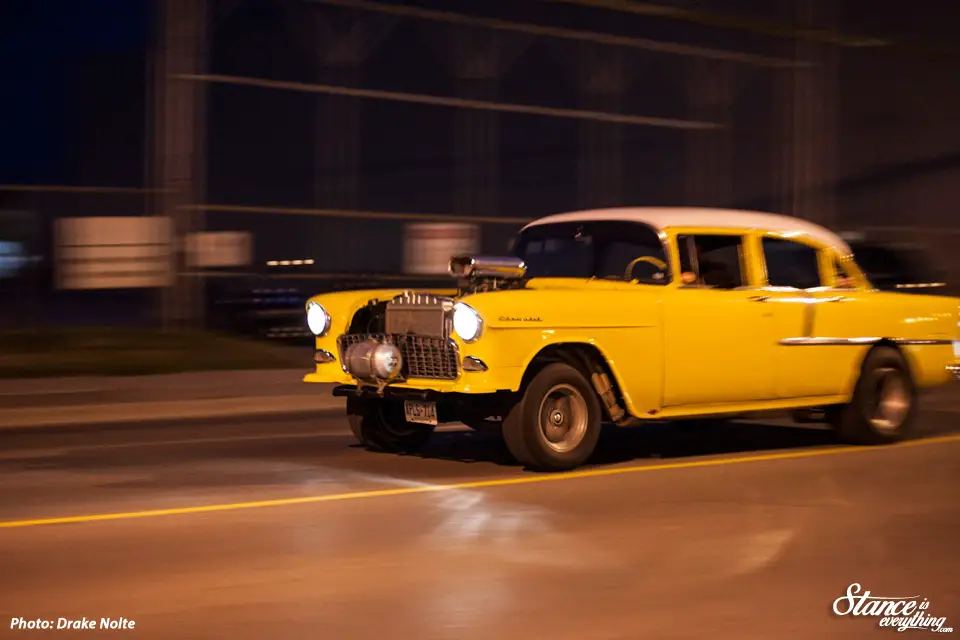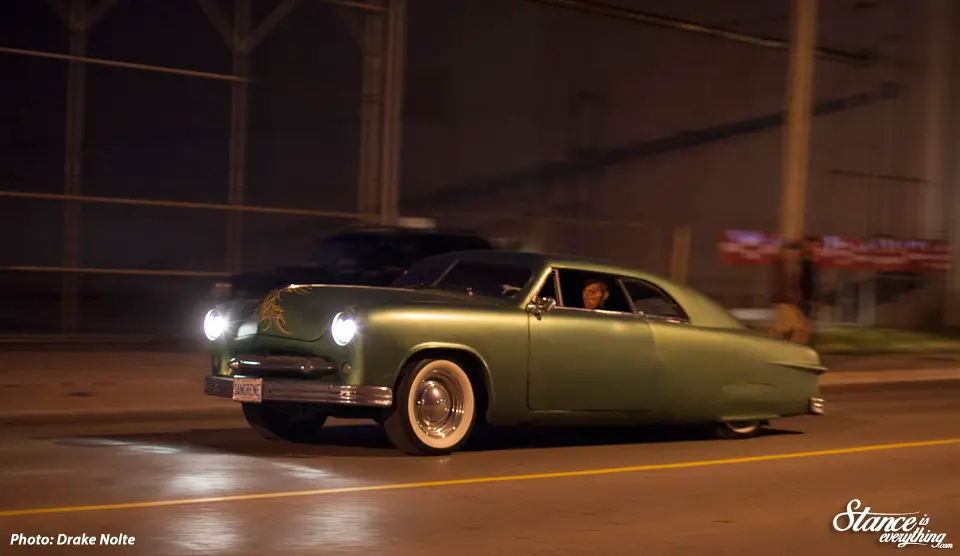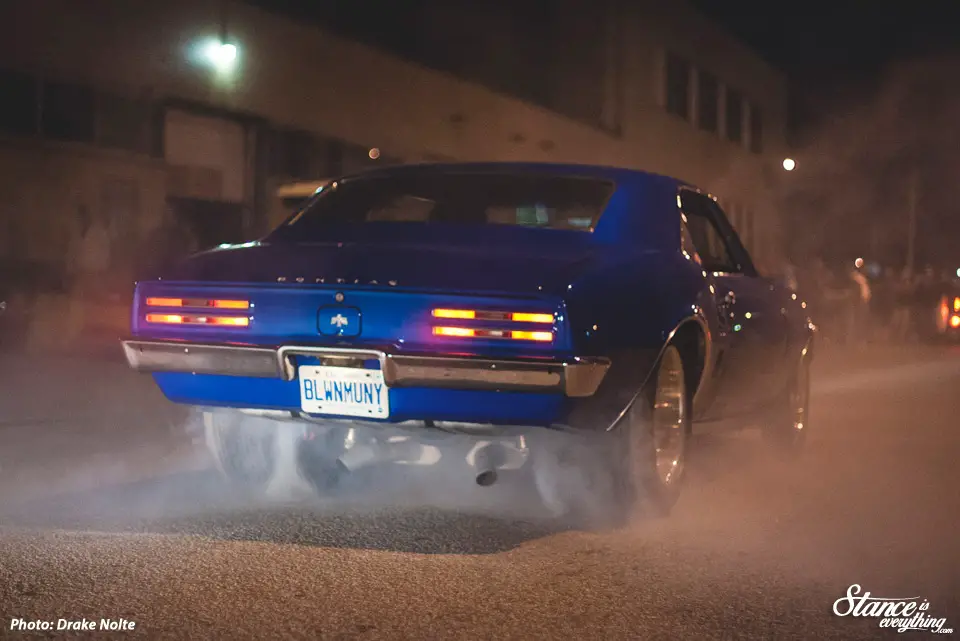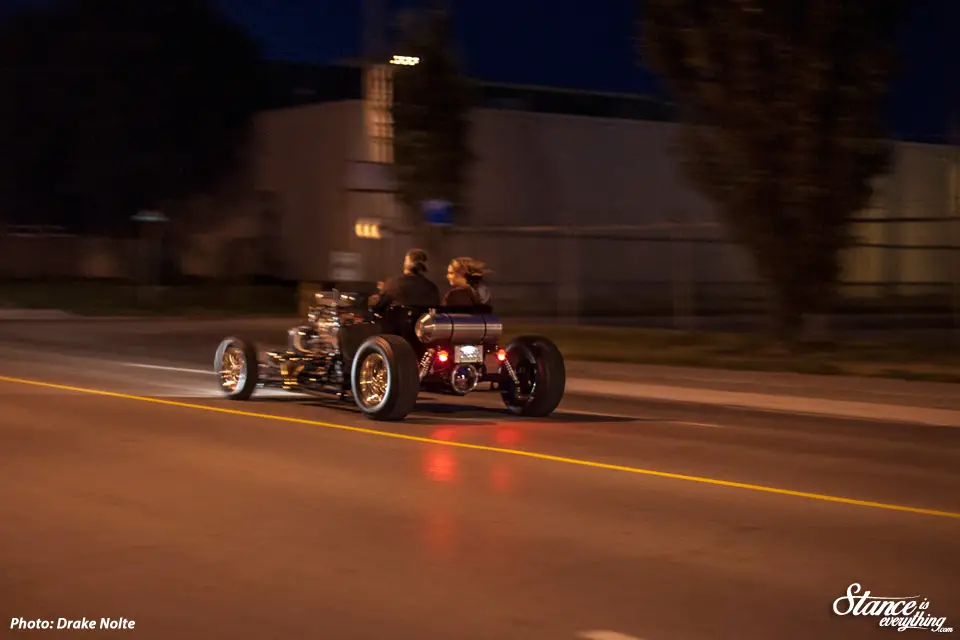 Heck I even got to see my first flame thrower in person!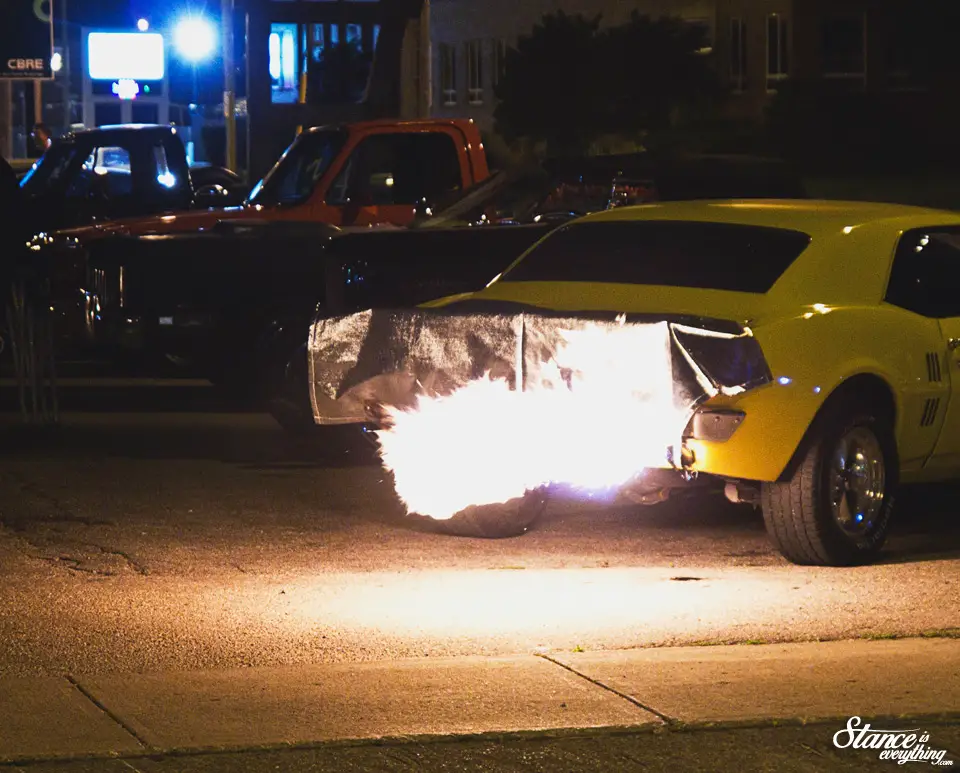 With a long drive ahead of me I regretfully had to leave once the band started turning the volume knob to eleven, but I've already made plans to rectify that next year.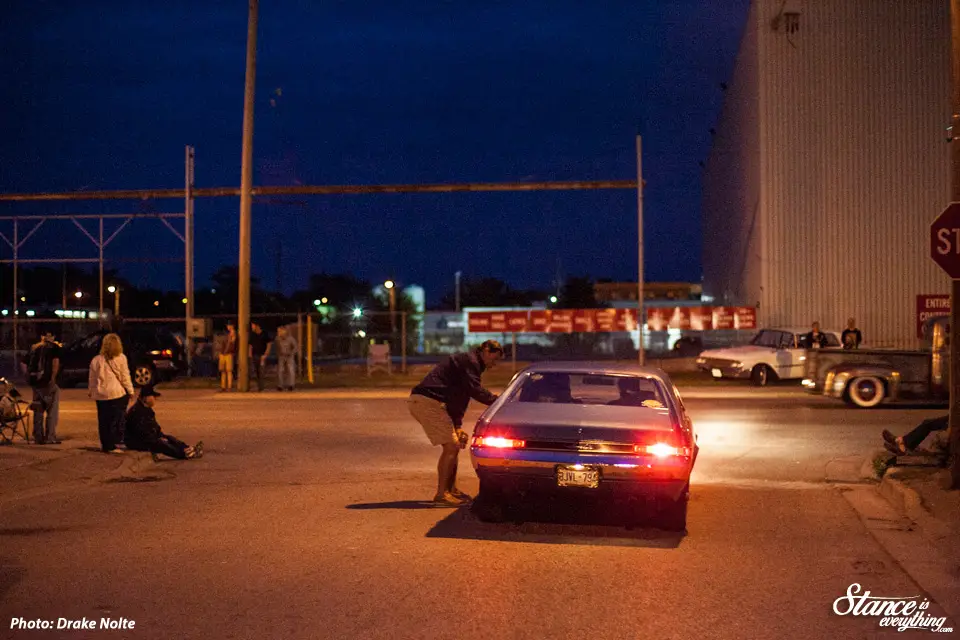 Now that I've experienced this show once I won't be missing it again.