G35s's have definitely become a popular chassis for those looking to go down and out while retaining the ability to go fast and get wild.
Shortly after finishing his car, for the first time, Cung got hooked on stance and fitment and decided to take his car back to the garage for a complete ground up make over.
Now, post op, Cung is ready to showoff his 'Shrek' Green creation to the world.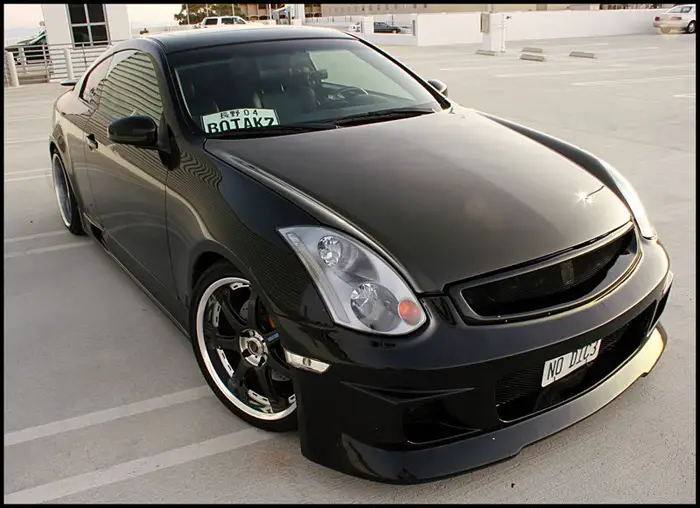 This G's transformation started to take shape when Cung removed his previous Tein S tech spring/shock setup and bolted on a set of Megan Racing street coilovers. This new suspension brought his car down to a much more appealing ride height and improved the cars handling to boot.
The cars original color, black, will always be timeless however while the car was in the shop having the K2 front bumper, Chargspeed rear bumper, and Impul side skirts installed Cung decided to paint the car a slightly more eye catching color.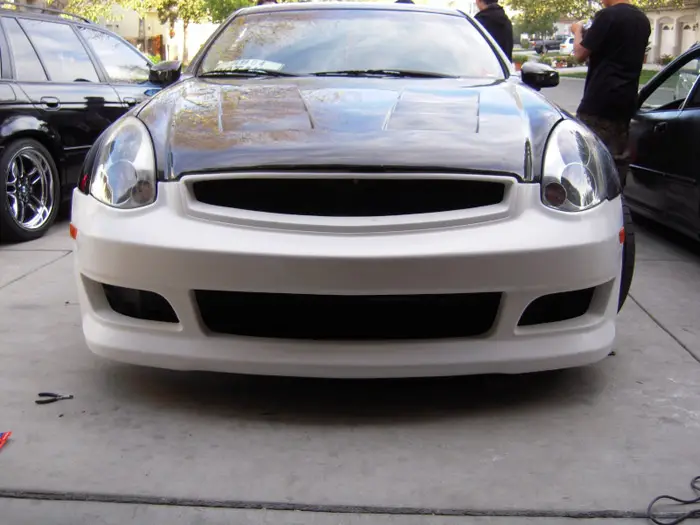 After browsing through the body shops collection of paint chips Cung settled on the bright green paint color you see today which is 'Signal Green' and comes from the Porsche color chart.
This color, though very bright, doesn't come off looking gaudy and contrasts very well with the black roof Strafe Speed carbon fiber trunk, and Seibon 'Top Secret' carbon fiber hood.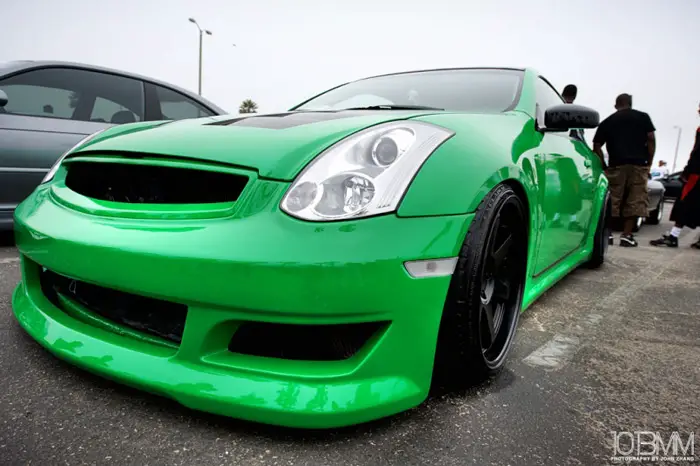 With the car sporting a new paint job and low ride height Cung knew that he needed wheels to match, so he fit 19″ Varrstoens ES 2.2 rims (19×9.5+0 215/35/19 and 19×10.5+0 245/40/19) underneath the fenders with a little help in the camber department thanks to SPC front upper control arms and a matching SPC rear camber/toe kit.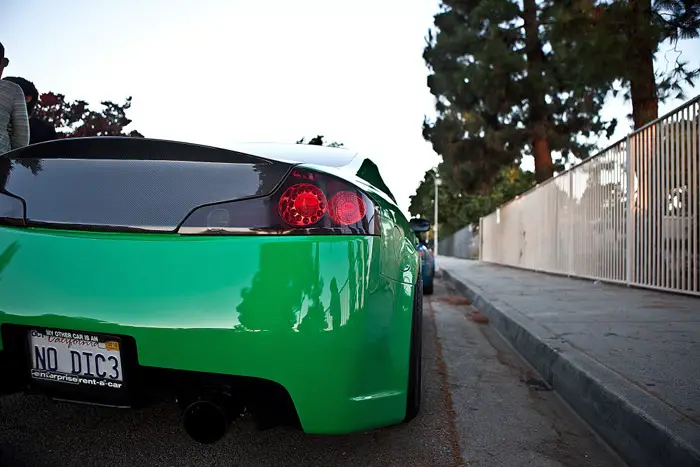 While working on all four corners Cung also installed EBC slotted and drilled rotors which were a wise choice because in addition to a few standard bolt on mods and an Injen cold air intake Cung has also installed a 100 shot Zex nitrous system.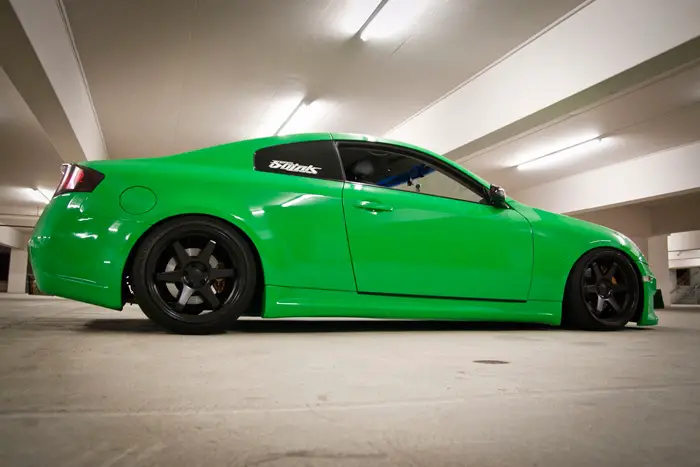 While the Zex system gives Cung an instant boost in power he still isn't quite satisfied with his cars overall performance.
Forced induction is now next on the to do list as Cung currently has a Vortech supercharger teasing him from a box in his garage, until then the motor sings via an -X02 Stainless Steel Catback Exhaust with Megan Racing resonated test pipes.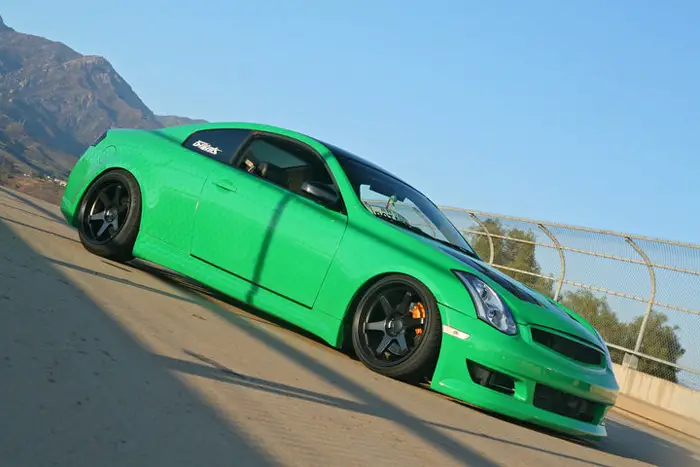 Inside of the car Cung has installed a Spraco Racing fighter seat with matching Spraco harness as well as a very extensive I.C.E. setup which culminates around a very attractive looking custom fiberglass enclosure containing two JL w6v2 Subs and his Zex bottle.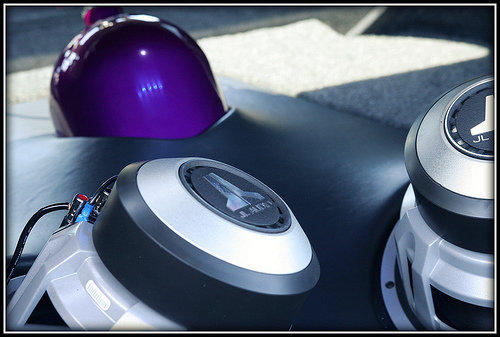 Cung first debuted his cars new "Shrek" skin at the HellaFlush5 meet in Hungington Beach, CA and has continued to show it off at the Nisei car show in Little Tokyo.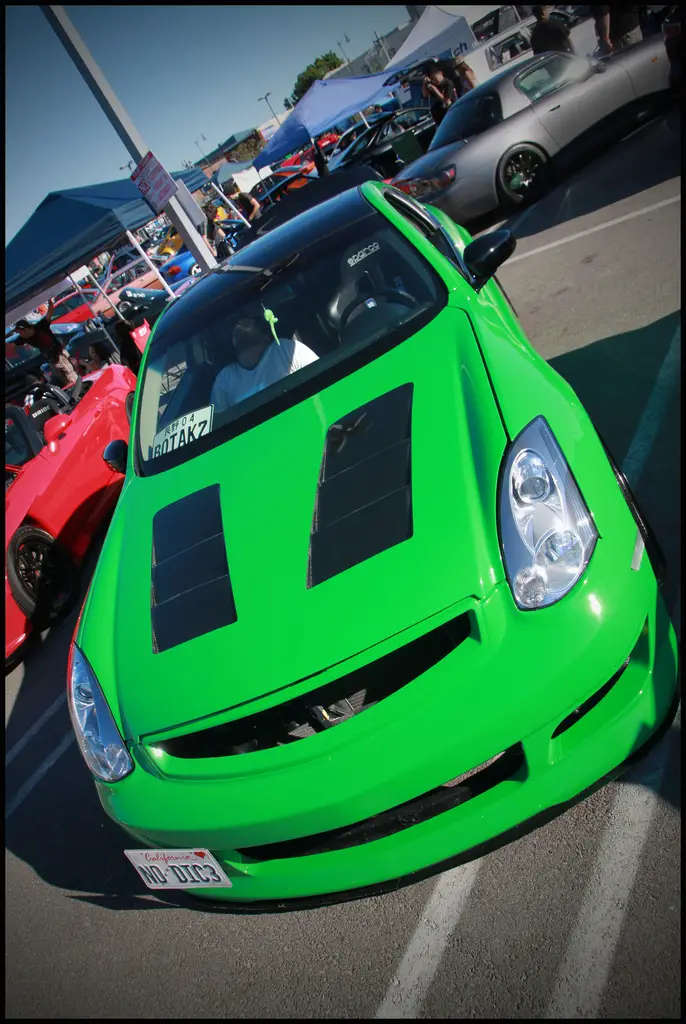 With it's new stance, eye catching paint, and soon more power don't be surprised if you start to see this car popping up more and more on the internet.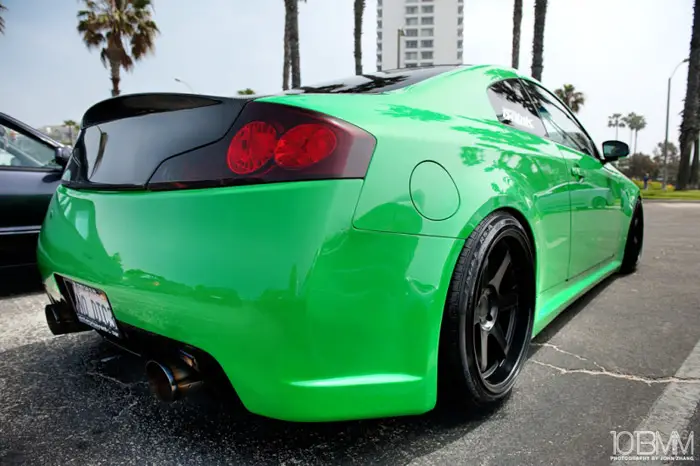 Great build Cung and good luck with the future plans for the car, I know you have plenty.
Exterior
-Porsche Signal Green Custom Paint Job
-Hyper Black Painted Roof, Mirrors and Moldings
-4000K HID Foglights
-K2 Front Bumper
-Impul Side Skirts
-Chargespeed Rear Bumper
-BlueBat Rear Tail lamp Overlay
-Mc Culloch 8000k HID Bulbs
-JDM Clear Corners
-Window Tint
-Strafe Speed Carbon Fiber Trunk
-Seibon 'Top Secret' Carbon Fiber Hood
-LED's all over car
-Vanity Plate
-Upgraded to '06 Projectors
-OEM Nissan Clearcorners
Suspension & ETC
-Varrstoens 'ES 2.2' Rims 19×9.5+0 and 19×10.5+0
-Megan Racing Street Edition Coilovers
-SPC Front Upper Control Arm
-SPC Rear Camber/Toe Kit
-EBC Front/Rear Slotted & Drilled Rotors
Exhaust
-X02 Stainless Steel Catback Exhaust
-Megan Racing Resonated Test Pipes
Engine
-Injen Cold Air Intake, tapped.
-Zex Nitrous, 100 wet shot
-Zex Bottle warmer w/ built-in thermostat
-Zex Purge Kit
-Motordyne ½" Plenum Spacer
-Iridium plugs, 1 step colder
-Rare JDM Harness Cover
Interior
-Sparco Racing Fighter Seat
-Sparco Harness
In-Car-Entertainment
-JDM Double DIN Kit with A/C Controls
-Pioneer AVIC D3 Head Unit
-PAC-SWIPS Control Interface
-iPOD Interface
-Two JL Audio 10W6v2 Subwoofers
-Rockford Fosgate T600 Amplifier
-Rockford Fosgate T400 Amplier
-Infinity Kappa Series 60.9 Component Speakers
-Custom Subwoofer and Nitrous Trunk Enclosure
Future Plans:
-Upgrade Bride Zetas III
-Vortech Supercharger
Additional Photos: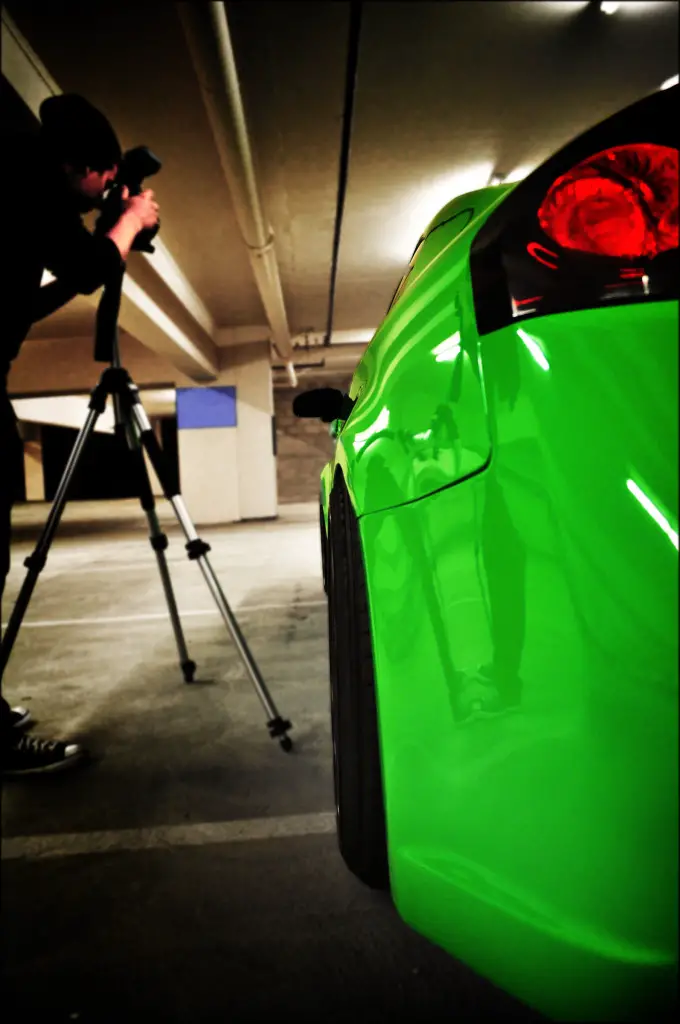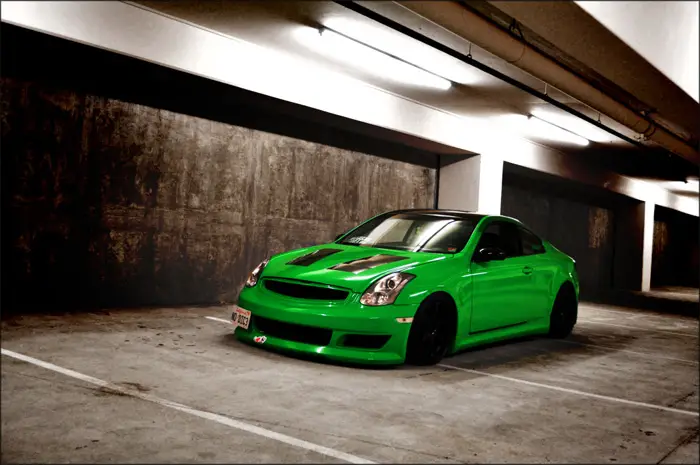 Thanks again Cung for submitting the photos and information on your ride.