As enthusiasts we've all got first car memories that we hold dear. Some of us began our journey with unfit vehicles we coaxed into road worthiness with months of tireless work, while others were lucky enough acquire hand me down vehicles that have been in the family since new.
The last scenario describes Guillaume and his GTI, a car that his mother first purchased in 2004.
When it came time for him to drive home his first car he side stepped used car dealerships and their unethical, slick talking, salespeople and purchased an auto mobile whose history was not a mystery to him from the very person that brought him into this world.
For two years Guillaume managed to keep the car stock while he used it as a daily driver, that was until he purchased the first suspension set-up for the car and things predictably escalated from that point forward.
Guilliame's mother did an excellent job of keeping the car in great shape which translates into the car looking much younger than the 235,000km the odometer reads. Not wanting to disturb the unmolested factory paint Guillaume kept the exterior modifications minimal and OEM plus.
Twentieth anniversary headlights replaced the standard ones the car was fitted with and a matching twentieth anniversary lip package seals the deal. Motor wise OEM wouldn't do and Guillame spent a little bit more time for a greater return.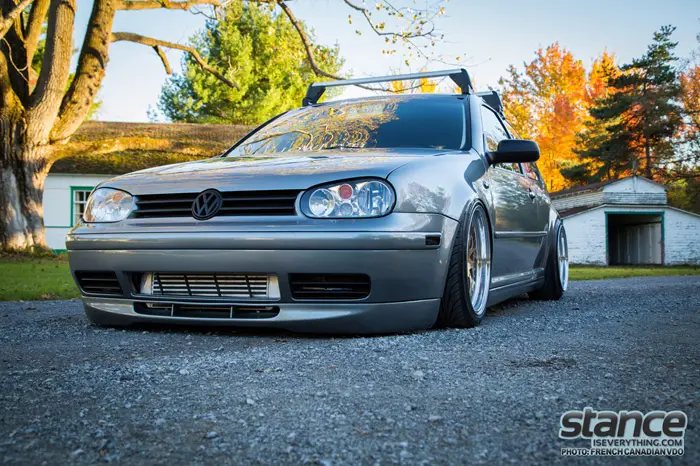 A front mount intercooler went behind the bumper and a Forge 3″ inlet was installed a long with a Forge 007 diverter valve and 3″ custom down pipe. Continuing through to the rear bumper is 2.5″ exhaust piping mated to a stainless steel Magnaflow muffler.
Not content with stopping just yet Guillaume upgraded the car to stage 2+ by adding a k04 turbo, Audi TT injectors, and 3 inch MAF. Keeping shifts short and precise is an after market clutch and pressure plate combo matched with a lightweight flywheel and short shifter.
With the Silverstone Grey GTI now significantly more fun to drive Guillaume shifted his attention to suspension of the car. While the motor upgrades made taking the long way around terrible roads more enjoyable Guilliuame was eventually lured away from the static life by the versatility of air suspension.
This year he took the plunge and made the switch to an Air Lift Performance suspension set-up.
Now he can ride at the height he rocked when he was on coil-overs, and park a heck of a lot lower.
Filling the fenders at 0psi and above are step lipped 17×8.5/9.5 JLine SDMs12 wheels that are finished in gold chrome.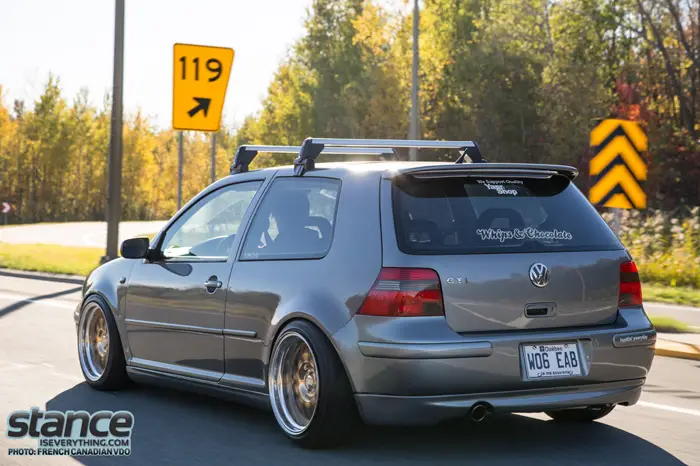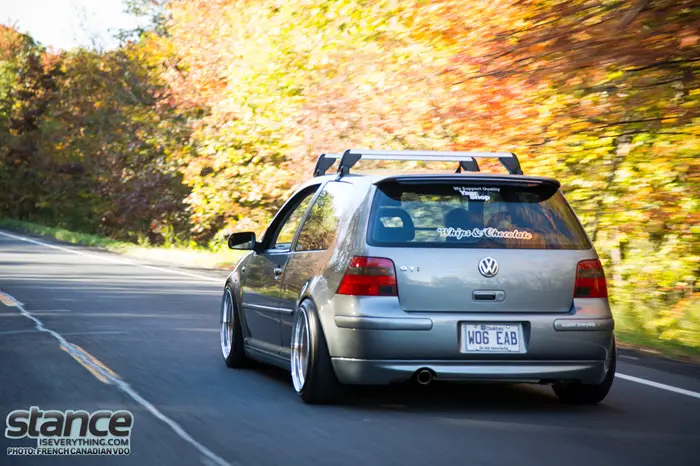 A built not bought project Guilliaume admits that this car has pretty well taken all the money out of his wallet but quite frankly he wouldn't have it anyway.
In the owners own words this car is his true passion and he doesn't plan on getting rid of it any time soon.
Motor/Turbo
Front mount intercooler
Forge 3″ inlet
Forge 007 diverter valve
Audi TT coil-pack
short ram intake
42 draft design oil catch can
Full Stage 2+

k04 turbo
Audi TT injectors
MAF 3inch
3″ VR6 MAF Housing
Exhaust
3″ custom down pipe
Custom 2.25″ catback
Stainless Magnaflow muffler
Transmission
aftermarket clutch/pressure plate and lightweight flywheel
Exterior
OEM 20th anniversary lip package
OEM 20th anniversary headlights
Suspension
Airlift Performance Suspension
Autopilot v2 Management
Notched Frame
Removed front sway bar
Wheels
Jline SDMsl2 (17×8.5/17×9.5)