There are some people who make building a car a very public spectacle. I'm not talking about those who share their builds in order to benefit others and get help along the way, I'm talking about people who tease endlessly and boisterously make claims that their project is going to 'kill the game' and 'set the standard'.
Then there are enthusiasts who humbly put together cars outside of the public eye, and when the car is complete they don't shy away from the spotlight but at the same time they don't beg for it, or worse expect it.
Ken falls in the latter category. He's been quietly building this car for the past two years and while he's always down to talk about it –and any other car for that matter– he does so in only the humblest manner.
Born in Japan, but a Canadian resident from ten on, Ken has been a car enthusiast for most of his life.
Much like myself his passion for cars was instilled in him by his father who, despite not owning the most exotic of vehicles, thoroughly enjoyed the cars he did have and drove them in a manner we will just call 'spiritedly'.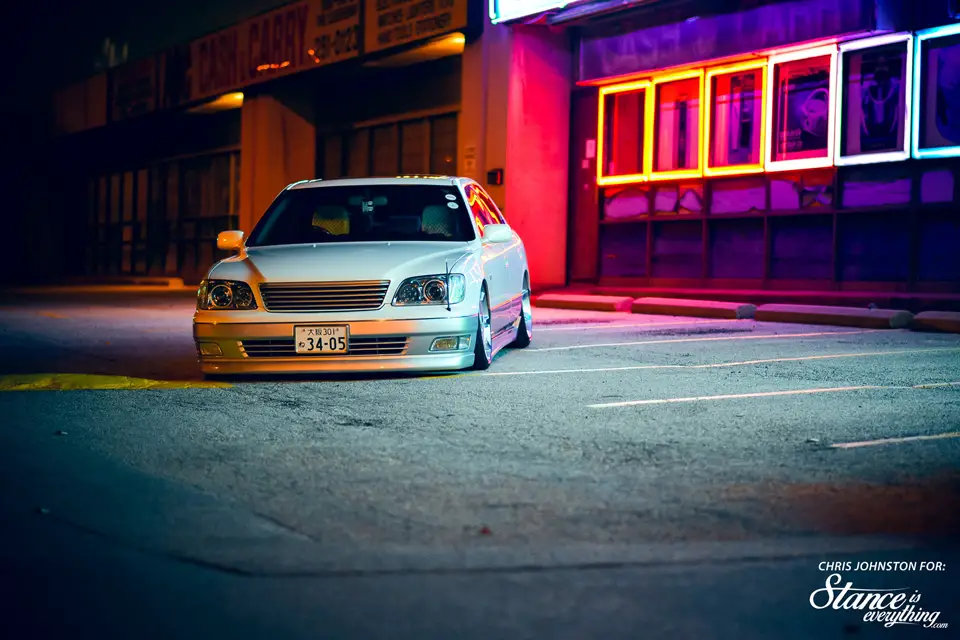 Once his family moved to Canada Ken's passion shifted from four wheels to two, and for eight years he honed his flatland BMX skills to the point where he became a semi pro rider for SE Bikes Canada.
However once Ken got his licence and entered university memories of Japan, and his dad driving the Shuto kosuku, came flooding back and the 20″ was parked for an extended period of time.
Prior to the Celsior Ken owned a Civic EF, a BA Prelude, an EK Civic, very briefly a Nissan Altima and then finally a 2004 Acura TSX. After such a wide assortment of front wheel drive Japanese cars Ken felt the allure of a big body rear wheel drive sedan and decided to shift gears.
After being disappointed with the local high mileage and rust riddled Infiniti Q45 and Lexus LS400 selection a friend suggested he look abroad. Soon after looking at what his home country had to offer a 1997.5 UCF20 "eR" (euro tuned) model was on its way from Japan with less than 50,000km on the odometer and Ken's name on the ownership.
Rolling off the Right Drive container bone stock Ken's original plans were the infamous "wheels and a drop" we have all at one point tried to limit ourselves to.
One ride in his friends bagged Honda Accord and that all changed, UAS Aerosport bags were then fit over BC coilovers paired with Accuair Switchspeed management.
Drawn to unique modifications over go fast parts Ken took an approach similar to a traditional hot rodder when piecing the rest of the car together.
Where a traditional 'rodder would attend local swap meets hunting for that special era correct part Ken spent his time on Yahoo Auctions and Up Garage looking for just the right period correct accessories.
His treasure hunting skills are clearly well-developed because the interior of this car is one of the most unique ever featured on Stance Is Everything.
Garson DAD accessories exist throughout including but not limited to; dash mat, cup holders, rear seat console, cushions, slippers, and pillows.
For the classic VIP touch a Garson DAD table has been installed up front and Jaguar table has been retrofitted for the rear.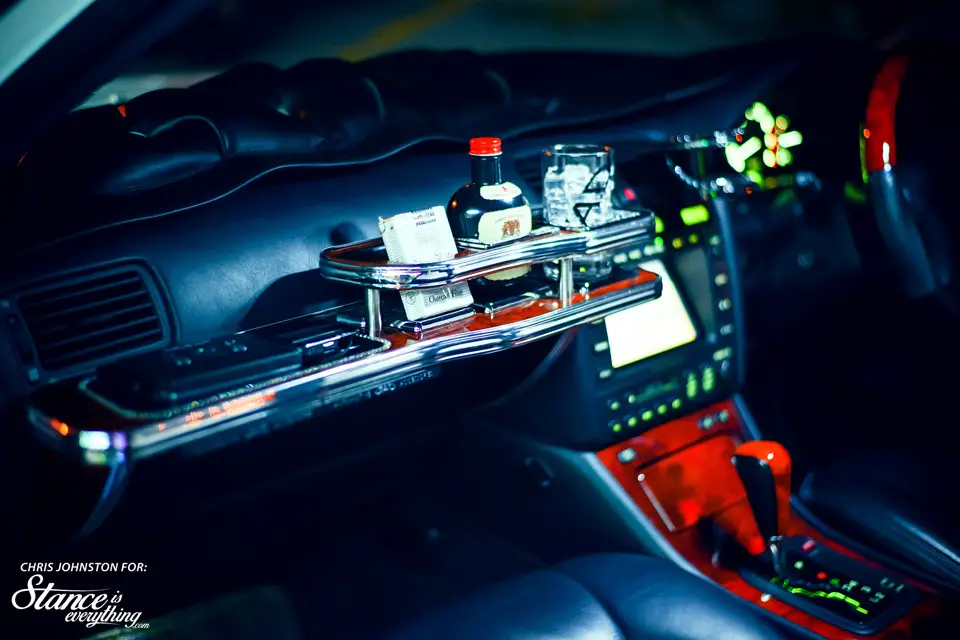 Putting the car over the top is Ken's use of accessories from the OEM Toyota catalog. Did you know that rear ottomans were a factory option for this car? Neither did I, but Ken has them in addition to illuminated Celsior door sills and a factory accessory seat hanger.
The lace seat covers are also, almost unbelievably, a rare factory option as well.
Despite the fact that he literally steps on them every time he drives Ken also paid mind to the cars pedals.
Lorinser pieces cover the dead, gas, brake pedals and a Pittura unit covers the foot actuated e brake.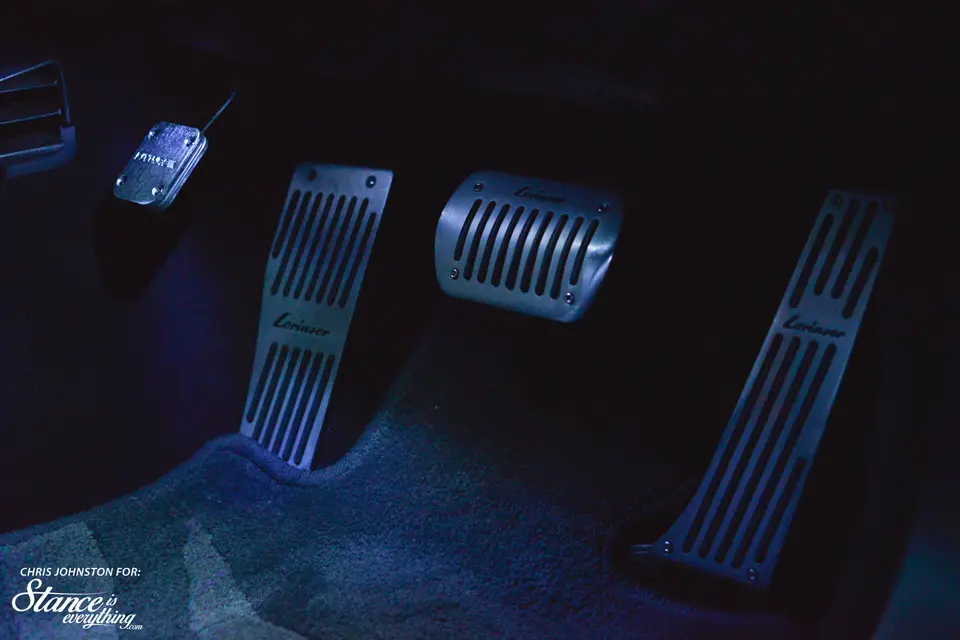 On the outside of the car Ken maintained the factory two-tone but updated it a bit with a Silkblaze front lip.
An Aimgain front grill removes the Toyota emblem and really lets the front end speak for itself.
TOM's side skirts join the party along with a TOM's rear bumper. A parking pole has also been installed to truly complete the imported from Japan look.
Ken admits he's a bit of a wheel fanatic with his last car seeing ten sets, and this one on its fourth already.
With every set of wheels Ken has paid careful attention not to go too aggressive despite the numbers game going on in some parts of the VIP and LS400/Celsior communities.
Opting not to run the risk of distorting the factory body lines, or worse creating the dreaded bacon fender, Ken only selects wheels that will play nice with his flawless bodywork.
Looking at how well the current 19 x8.5 +26 and 19×9.5 +34 Autocouture Crescent wheels fit it's impossible to argue with his selection criteria, even when he does admit that he is looking to make the set square at some point in the future.
With the suspension, wheels, bumpers, and interior all upgraded the last thing to do on Ken's list was upgrade the factory lighting.
Previously being a local retrofit source these lighting upgrades came easy and in no time flat HID projectors were fit into the factory housings along with extremely bright angel eyes paired with LED RGB demon eyes.
The front turn signals are now also LED units as are the rear tail lights which have the ability to dance when given the right beat.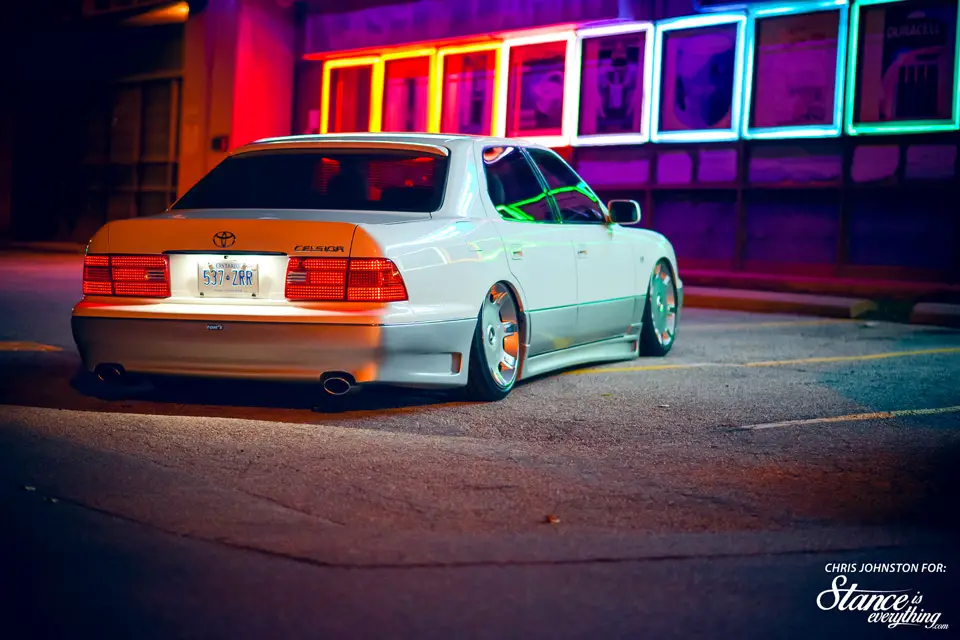 Never one to stop collecting, or tinkering Ken is looking to get a new front lip for the car before this season is done in addition to the aforementioned pair of slightly more aggressive wheels.
However of late the itch to work on a Toyota Century has made itself known. Will this car soon make way for another iconic VIP platform? Only time will tell!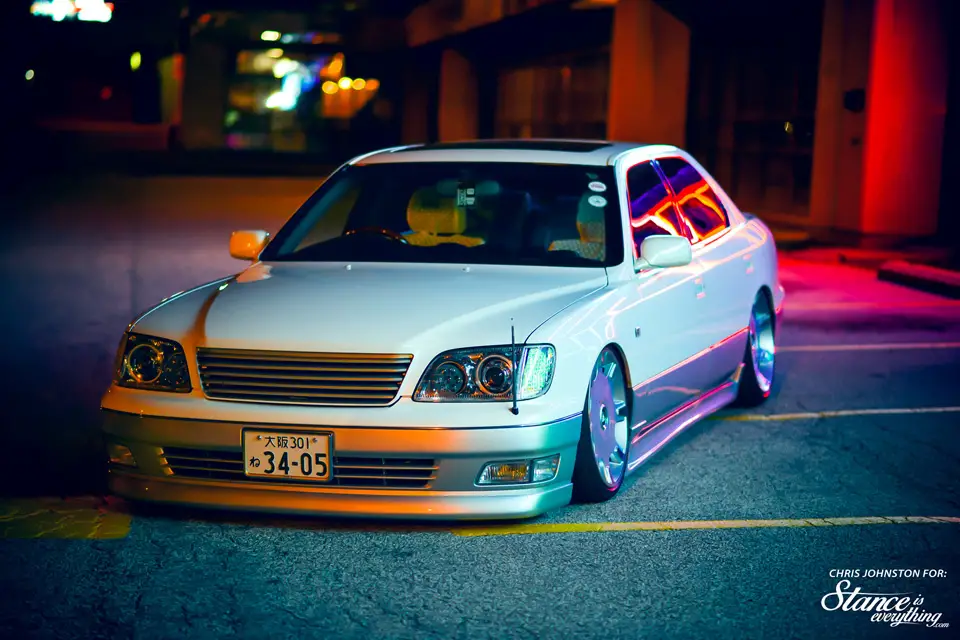 Modification List
Suspension:
BC Racing Coilovers & UAS Aero Sport bags
Megan rear camber kit
Accuair Switchspeed management
Accuair VU4 manifold
Air Zenith OB2 compressors
Air Zenith 5 gallon tank
SMC water traps
Zaetech Digigauge
Zaetech TouchBox
Lighting:
Custom retrofitted projector head lights with angel eyes & RGB LED demon eyes
Custom retrofitted LED front turn signal
Custom retrofitted LED tail lights with dancing mode
Philips licence plate LEDs
OEM Toyota Celsior front corner bumper pole
Exterior:
Aimgain front grille
Silkblaze front lip
TOM's side skirts
TOM's rear bumper
Roof spoiler
Interior:
Garson DAD Dash mat
Garson DAD Cup holder
Garson DAD Front table
Garson DAD Potato holders
Garson DAD Rear seat console
Garson DAD Opera lights
Garson DAD Blanket
Garson DAD Cushion
Garson DAD Slippers
Garson DAD Trunk box
Garson DAD Floor mats
Retrofitted Jaguar rear tables
OEM Toyota Celsior lace seat covers
OEM Toyota Celsior seat hanger
OEM Toyota rear ottomans
Illuminating Celsior door sills
Silkblaze sport steering wheel
Lorinser gas / brake / dead pedal covers
Pittura parking brake pedal cover
Wheels:
Autocouture Crescent wheels 19 x8.5 +26 / 19×9.5 +34 with 235/35/19 & 245/35/19
***stock front & rear fenders with no roll / shave / pull***