In the year since I acquired Project Why Wait? I've learned a lot about owning and building a project vehicle, and perhaps the most important lesson I've learned is that you can't really force a project and expect it to be an enjoyable experience. As eager as I was to make significant progress over the summer, I have often had to remind myself that I started down this path in part because I didn't want to feel the same pressure to "get it done before XYZ" that comes with modifying a daily driver.
However, there's a bit of a balance, sure the truck doesn't have to be ready for a particular date but if shop visits spread too far apart there's the potential of the whole thing dying on the vine. My 'perfect world' schedule was to make it out to the shop twice a month but things didn't quite work out that way in reality.
Days I was free it would rain, days I was booked or out-of-town the weather would be beautiful, call it bad luck or Mother Nature having a laugh I quickly had to learn to work around the weather instead of trying to work against it.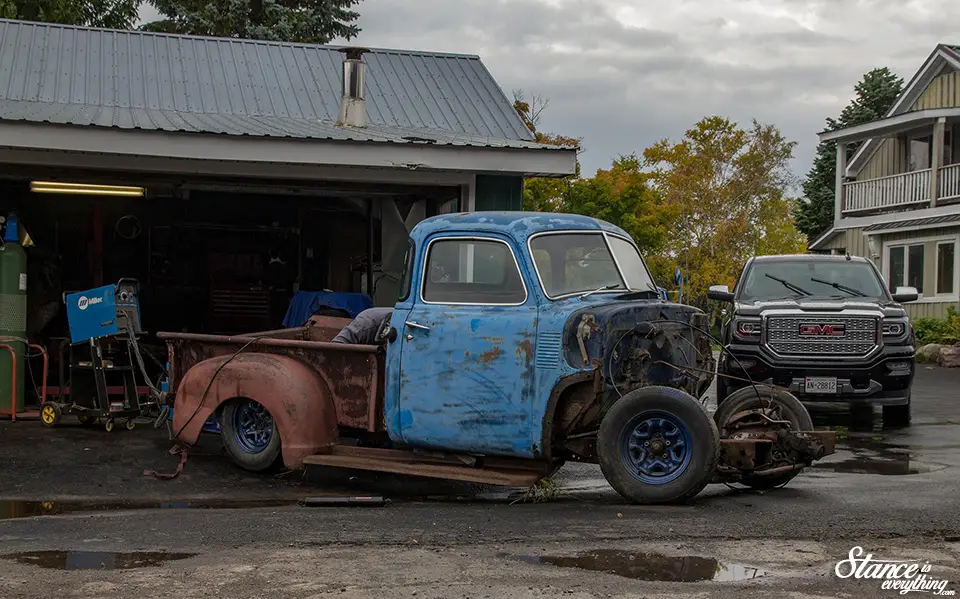 Since the bays at Taylor'd are currently filled with other projects when ill weather was in the forecast Blair and I would tuck the truck as close to the shop as possible so I could grab a few measurements and stay productive between showers.
On one of these days I had an hour between downpours to quickly think up a solution for mounting the rear part of the bed to the chassis.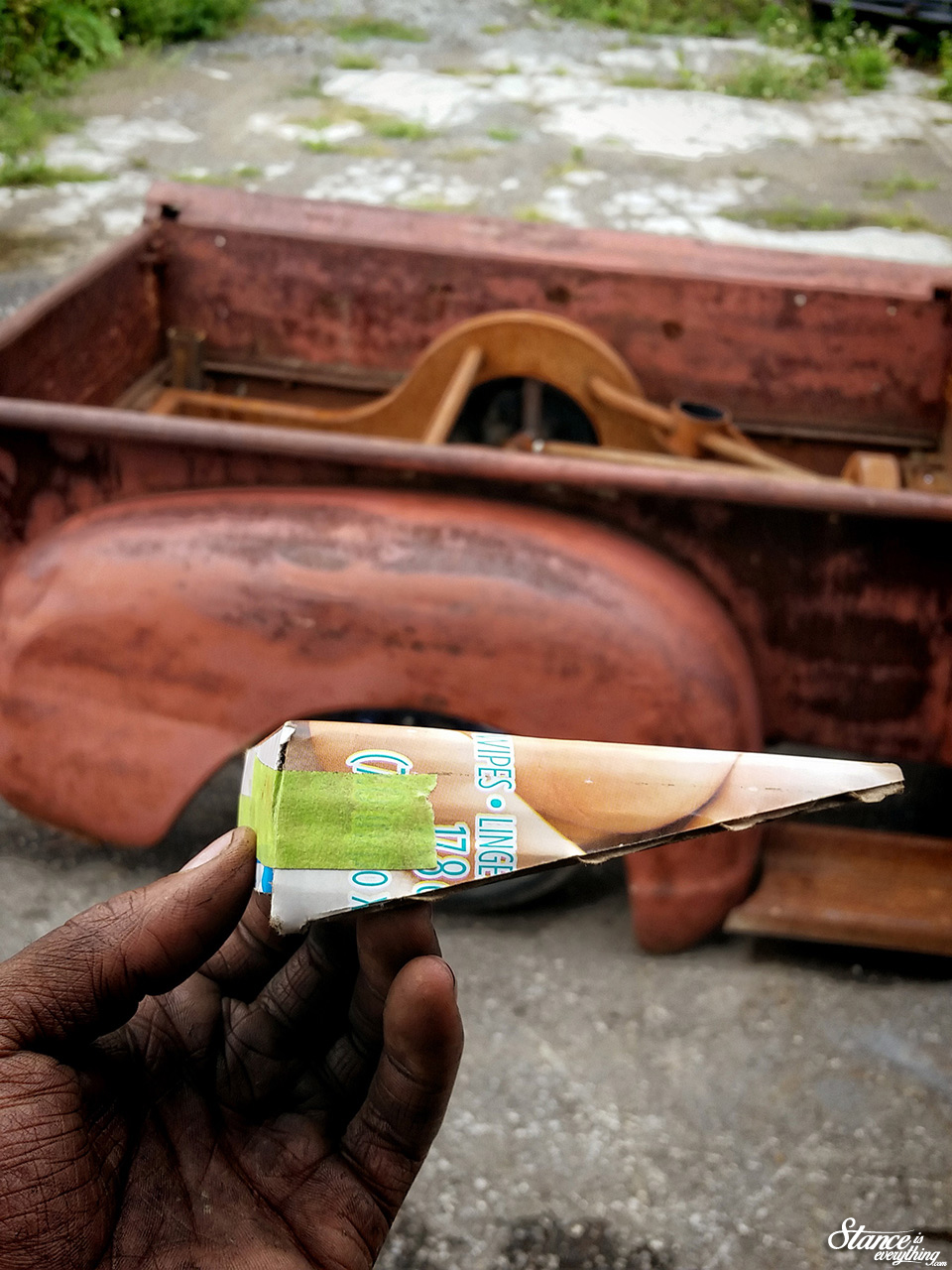 After using a jack, a few jack stands, and a ratchet strap to square things up we got the bed to sit about where it needed to be and I whipped up a quick cardboard mock-up of a simple mount that could be attached to the frame.
It's nothing elaborate but, in my opinion, much more appealing than a simple right angle bracket. This small piece also gave me a chance to try my hand at TIG welding for the first time.
I've welded before, but that was over ten years ago and only MIG, so for my first time holding a TIG whip I think I did a decent job. The beads are not the most consistent looking but have good penetration and survived the vice and hammer test.
I cleaned the ends up with the bench grinder and a few weeks later Blair and I dodged showers once more to weld the mounts to the frame.
As you can see these mounts will use the factory bed supports, as a bolt goes through the mount on the bed into the one of the frame.
If it looks like things are a bit off in the photo above don't worry, I'm not that bad with tape measure, the bed was just scooted over to the side so Blair had space to work.
That same day we got our hustle on and took care of the rear shock mounts which ended up being a pretty straight forward process. Using generic bolt on shock studs from Speedway Motors, I plasma cut a small hole in the frame and link bars before Blair again TIG welded the mounts into place.
Now motivated by what we had accomplished, and the dark storm clouds you see in the back of the opening photo, we quickly downed some liquid motivation before zapping on the fuel cell mount I had MIG welded together a few weeks prior.
The fuel cell is a 30x9x12 RCI unit from Performance Improvements that fits between my rear frame rails damn near perfectly. The mount is again nothing fancy, but does a great job of serving its purpose without calling attention to itself.
Flush with the bottom of the frame the fuel tank is mounted low enough to fit under the bed floor but high enough from the ground that it will clear anything that could puncture it.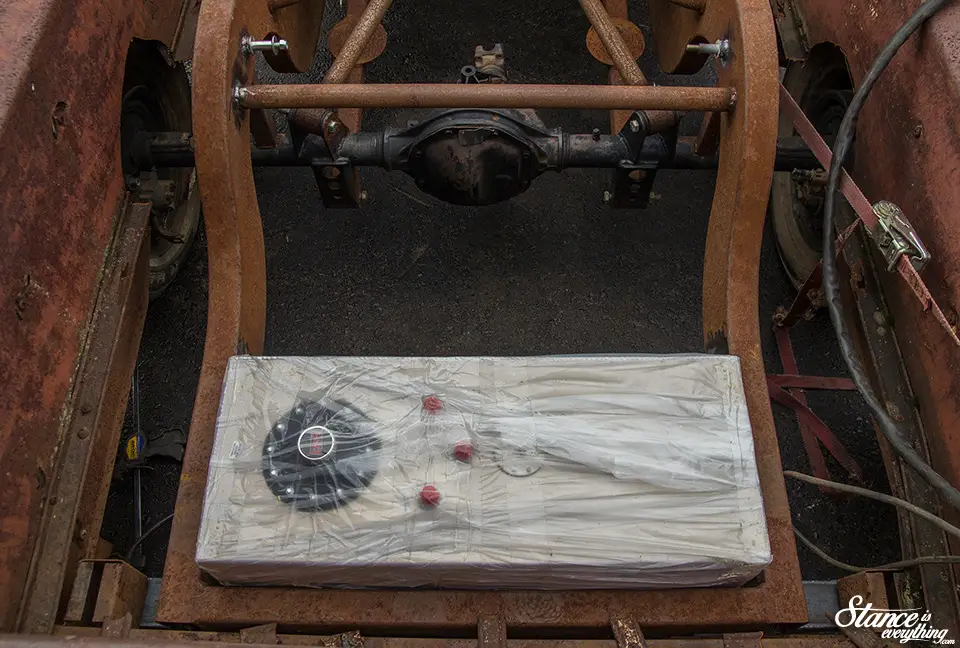 I'm pretty happy with how it looks positioned, I mean the fuel cell is pretty utilitarian, but looks great where it is.
I've got some creative strapping solutions that I can't wait to try, and of course I still need to figure out where exactly I need to put the external fuel pump but that will come later as I start assembling the chassis.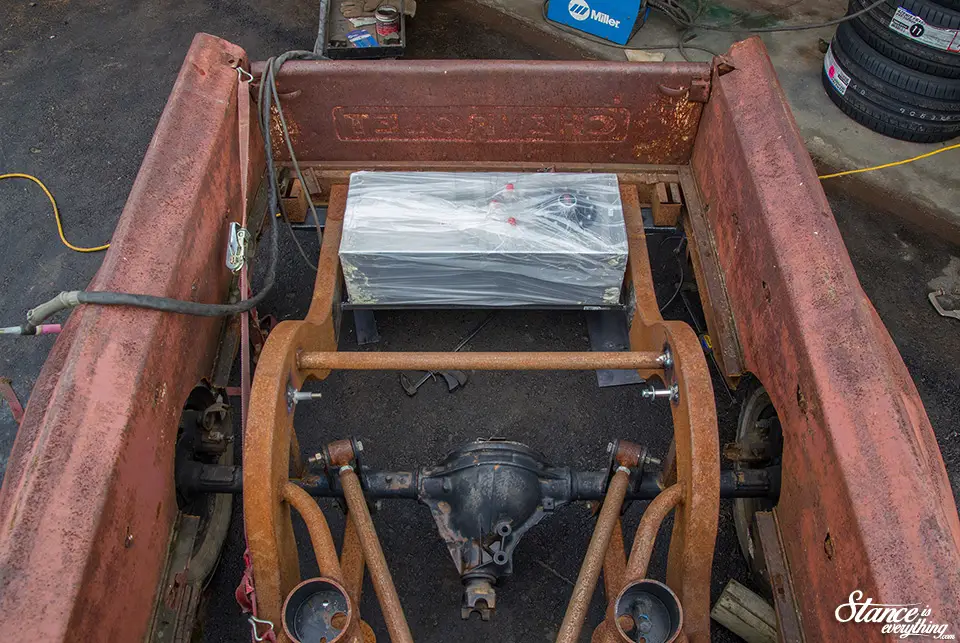 With the rear of the truck as buttoned up as it needs to be before the chassis gets blasted and painted we moved on to the front of the truck which needs shock relocation and mounts.
Since shock mounts were on back order we measured a set destined for another vehicle and a local water jet company cut the individual pieces out of 5/16″ thick flat steel plate so we could weld our own.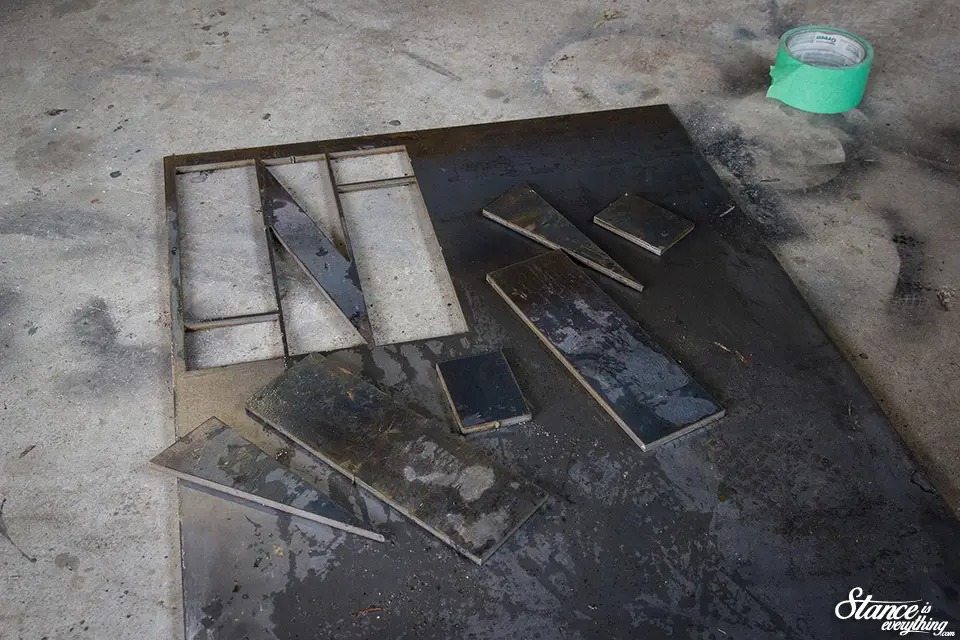 Again I took this as an opportunity to gain some more welding practical knowledge this time picking up the MIG and laying down some welds on the inside of the mount.
These welds are of course totally redundant since Blair welded the other side with the TIG, but, to me there's no sense in going through this project without picking up a few new skills so I'm eager to weld anything I can get my hands on.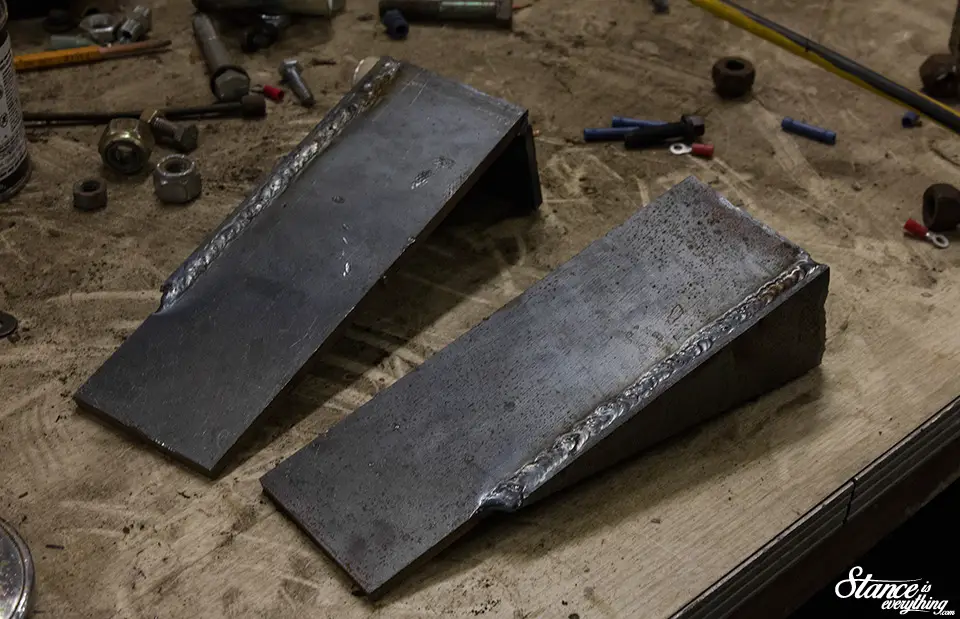 That is about where we sit for now, and on the next visit to the shop we will finish the front suspension before taking the truck apart and sending the frame off to the Stripping Technologies for a lot of love. Once it comes back it will be in my garage over the winter where I will be building it up before it goes back to the shop and reunites with the sheet metal.
Oh wait one more thing, the photo below should sum up my plans for the six cylinder, which is not to use it, it was pulled and will likely find its way into something else one day, but my truck is no longer its home.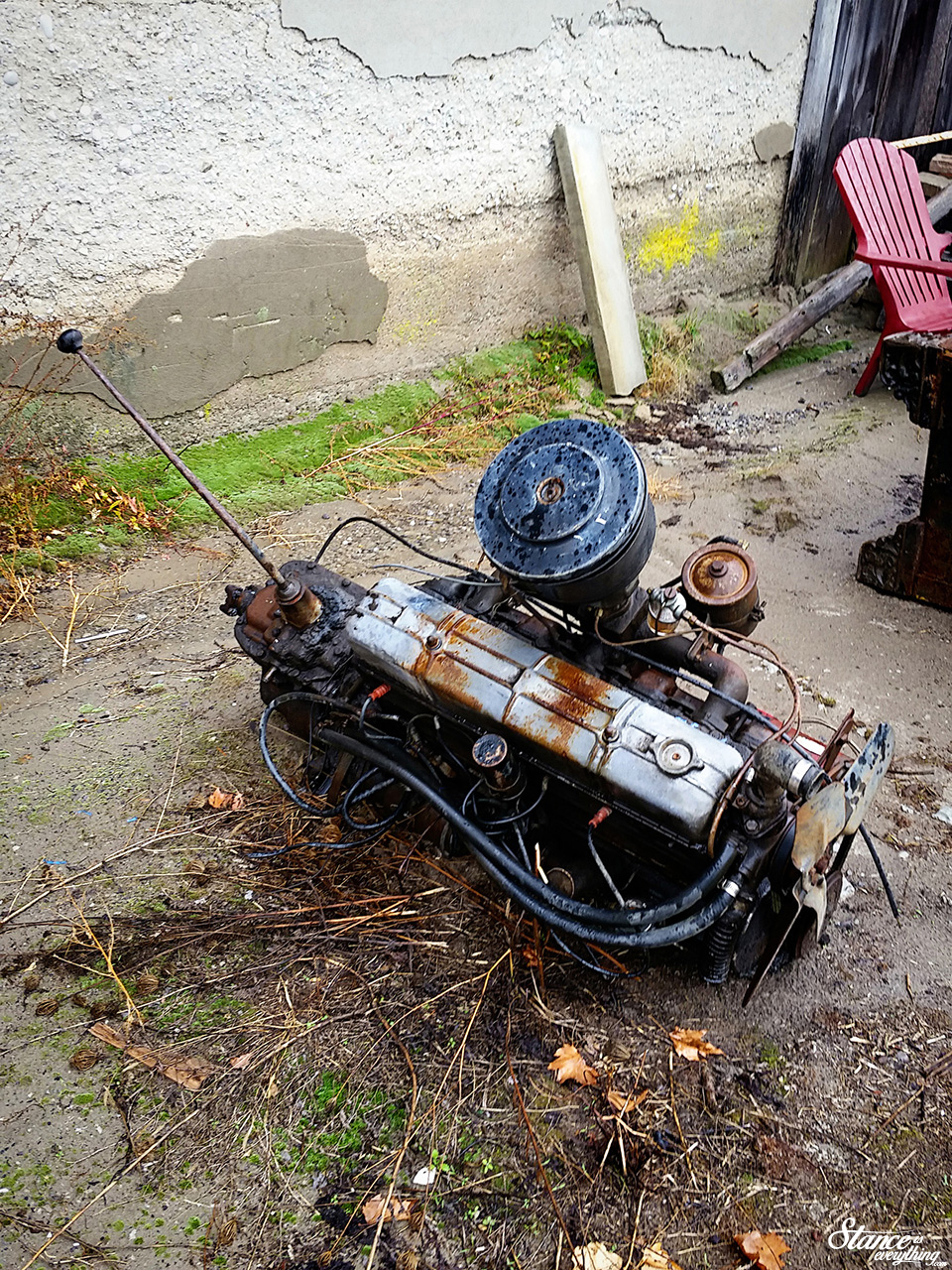 As for what's replacing it, well, you'll have to wait until a later update or pick up the latest issue of Performance Improvements' Performance In Motion magazine.