For an event dedicated to a genre of automotive modification that many assumed would be a quick flash in the pan, Fitted Lifestyle has evolved into quite the show.
Expanded far beyond its original parking lot roots Fitted remains the most well supported and longest running aggressive fitment showcase in Ontario.
Operating as a well oiled machine, the curated competitor/exhibitor field at Fitted always carries with it a certain level of diversity. Because of the varied show field Fitted is an event that remains on my calendar year after year, even when life dictates I can only stay for a few hours.
That was the case for this years show, I had a prior engagement later in the afternoon, but I did still manage to fire as many shots as possible between conversations with people I have not seen since last season.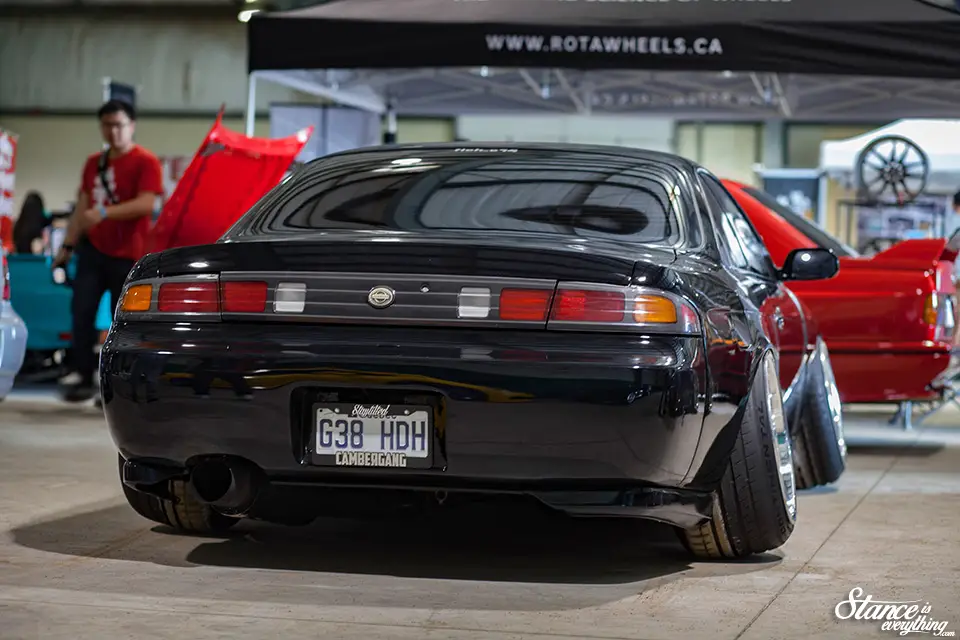 The aggressive fitment community has become synonymous with builds that seemingly exist only to cause a reaction. With each passing year the number of cars that are built, or at least temporarily set up, to cause a stir increases.
But that seems to have become part of what the aggressive fitment community is all about. Think things have gone too far? Well to prove you wrong, or just plain provoke you someone is going to take things further.
To the most casual observer this might seem unusual, offensive and a waste of time. But often the cars are a few spanner turns, or the replacement of a control arm or two away from a more traditional set up.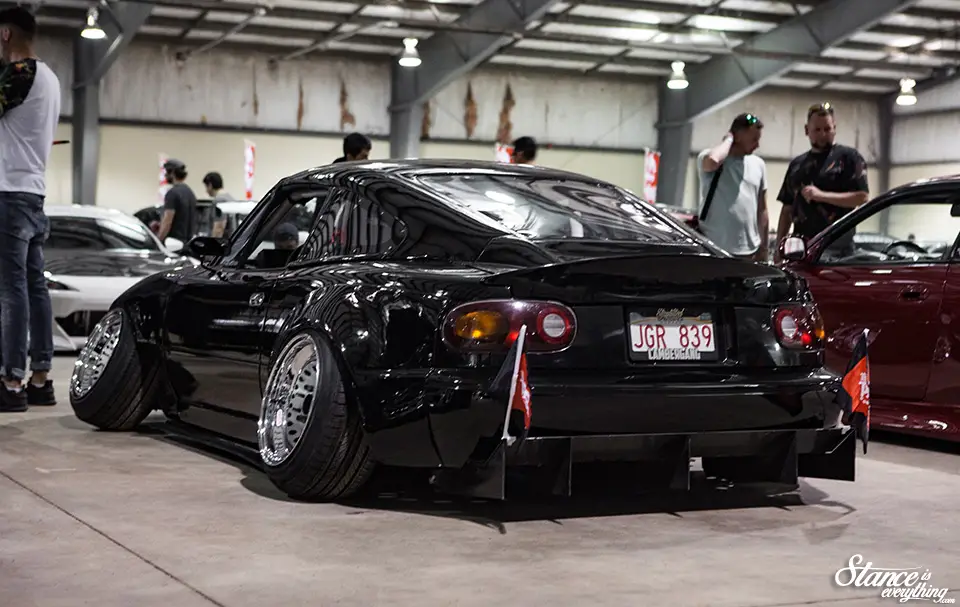 The owners just happen to enjoy seeing just how far they can push the limits of drive-ability, and how many keyboard smashing, temper tantrum throwing, reactions they can evoke.
That is the case with the Miata above, that, normally set up, appeals to a much wider set of people.
The civic above, if I recall correctly, spent most of the event last year pushing around the gravel in the parking lot. This year it was accepted as part of the main event.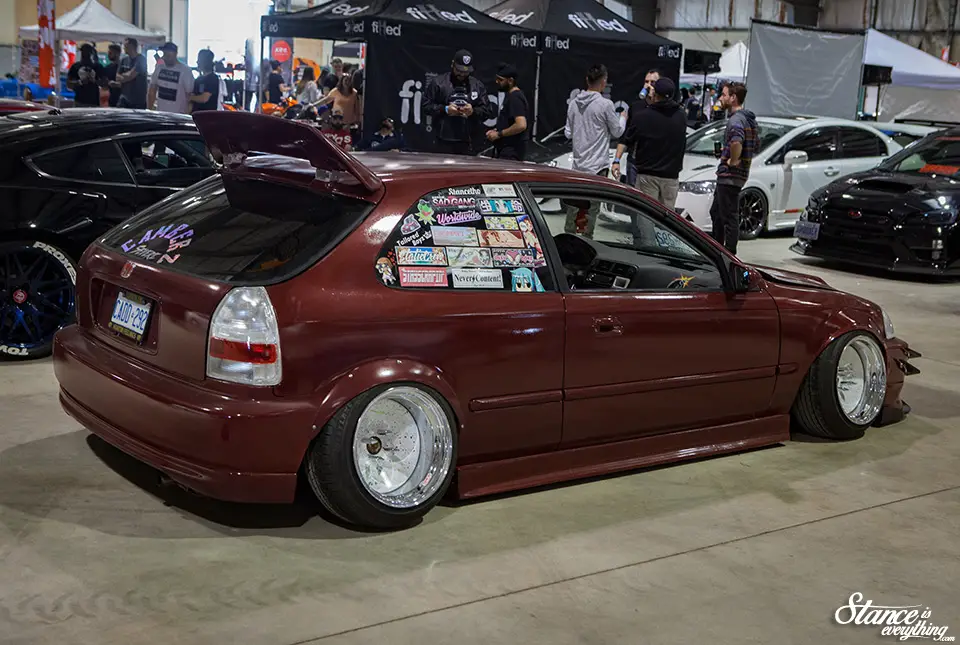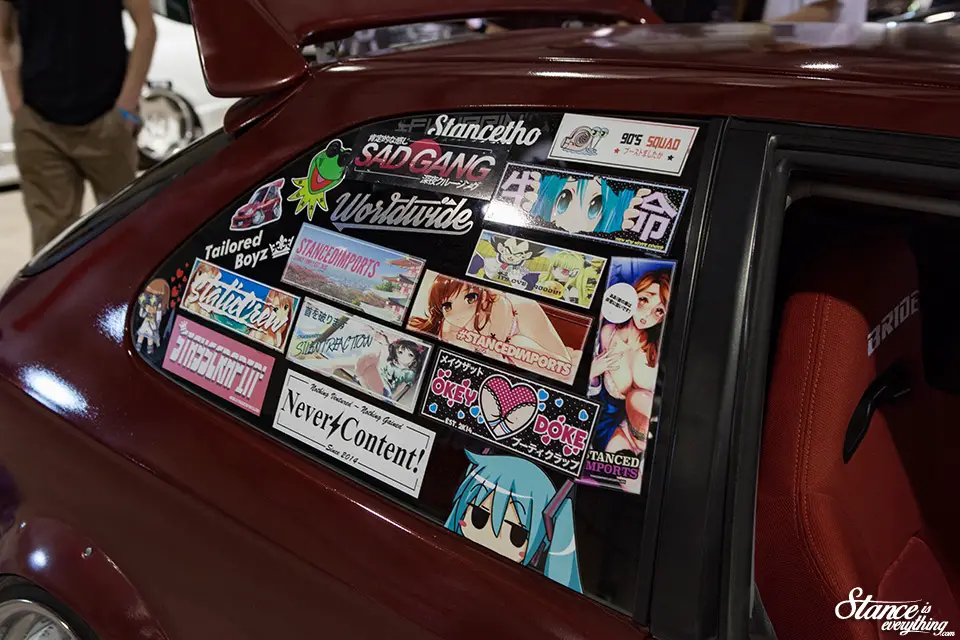 Static, this Civic employs the DGAF in your face aesthetic often seen on cars from Japan. The car might look un-driveable but it gets spotted bouncing around 400 series highways fairly regularly throughout the summer.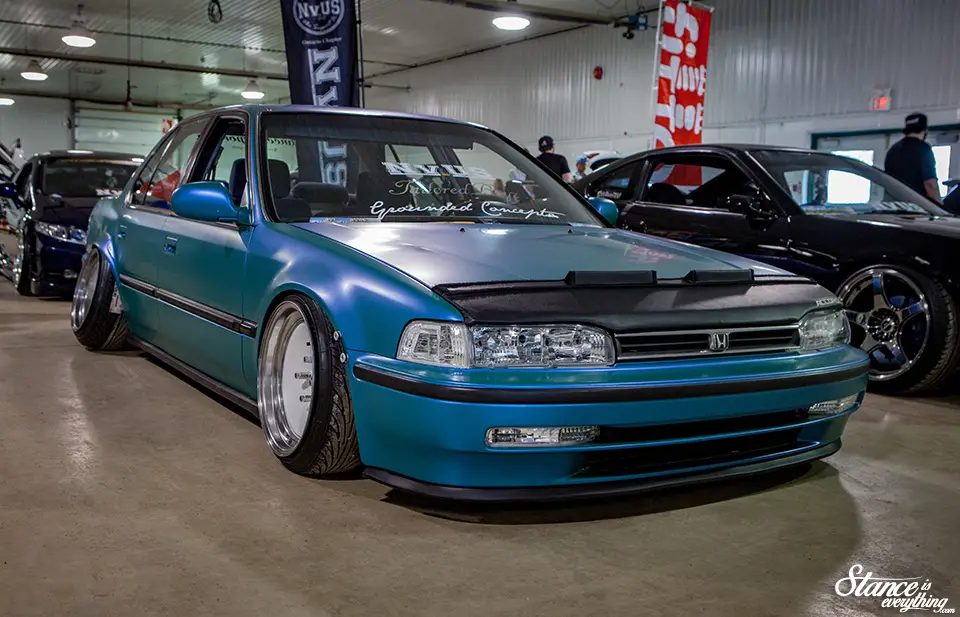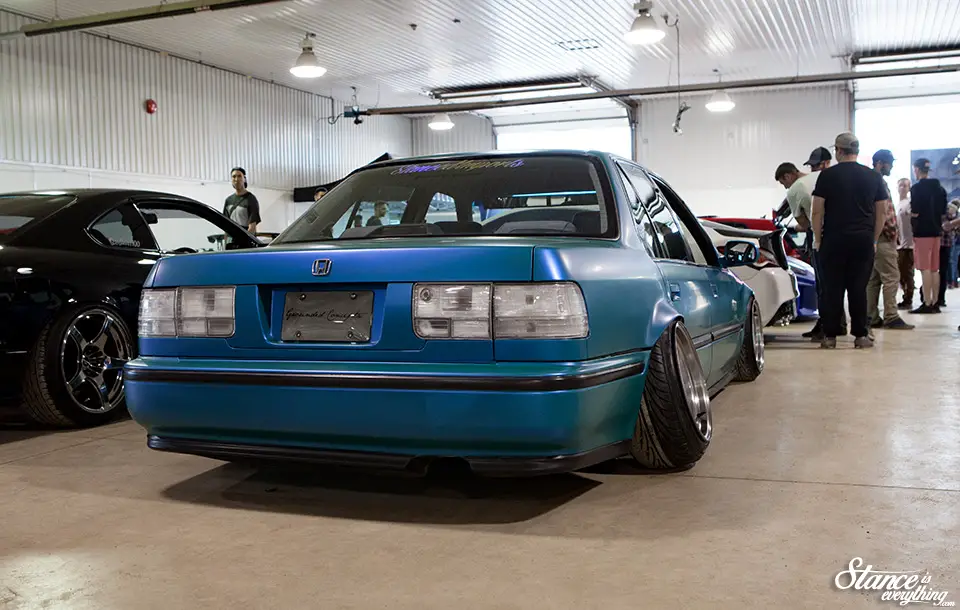 The CB Accord above attracted me from a far simply because this chassis is now seldom seen around Ontario thanks to rust and mother nature.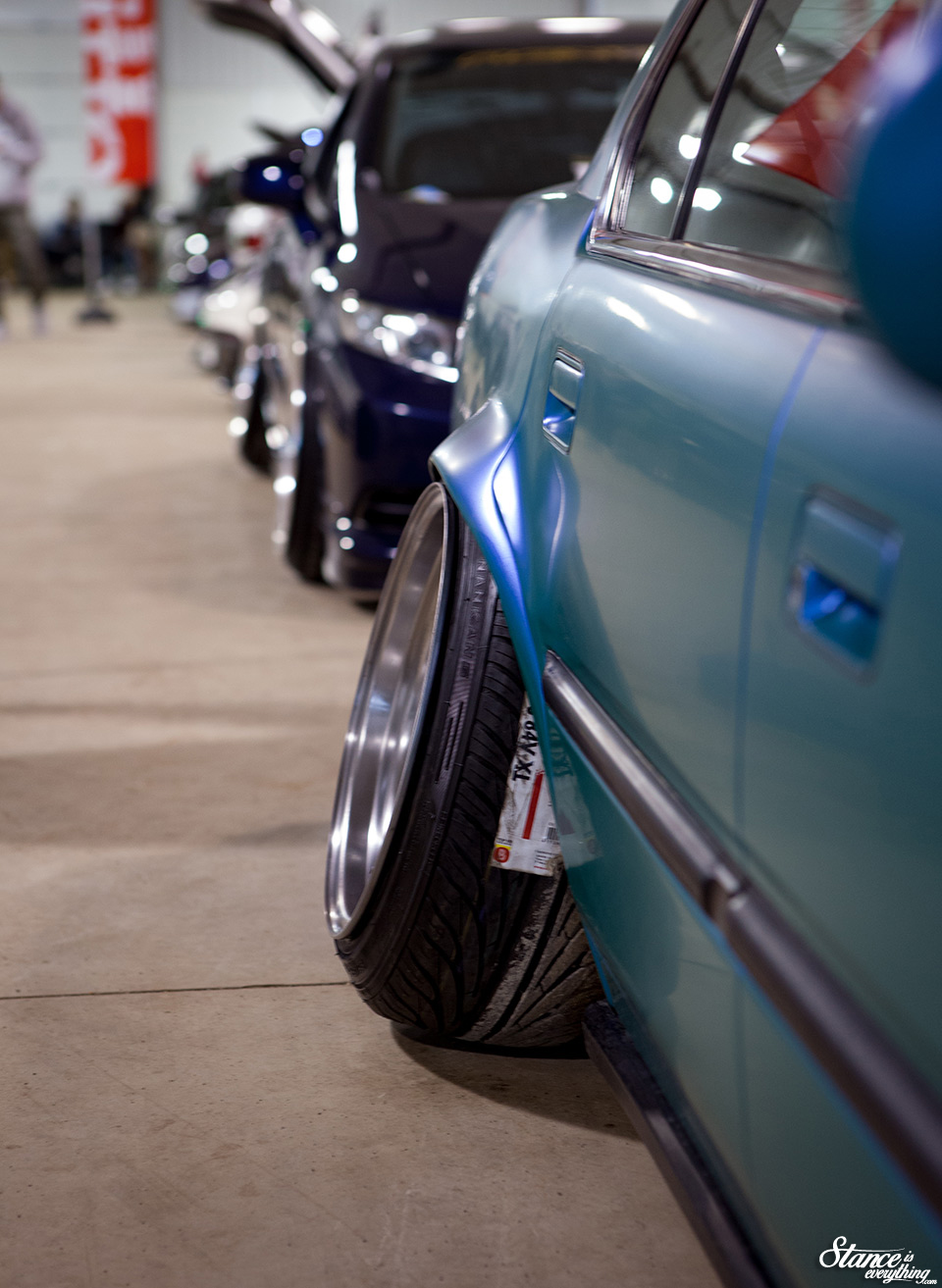 Our climate is particularly vicious toward quarter panels, and usually the area you see above is completely rotted away.
Here the quarters remain and have been pushed outwards (along with the door) to accommodate extremely wide wheels.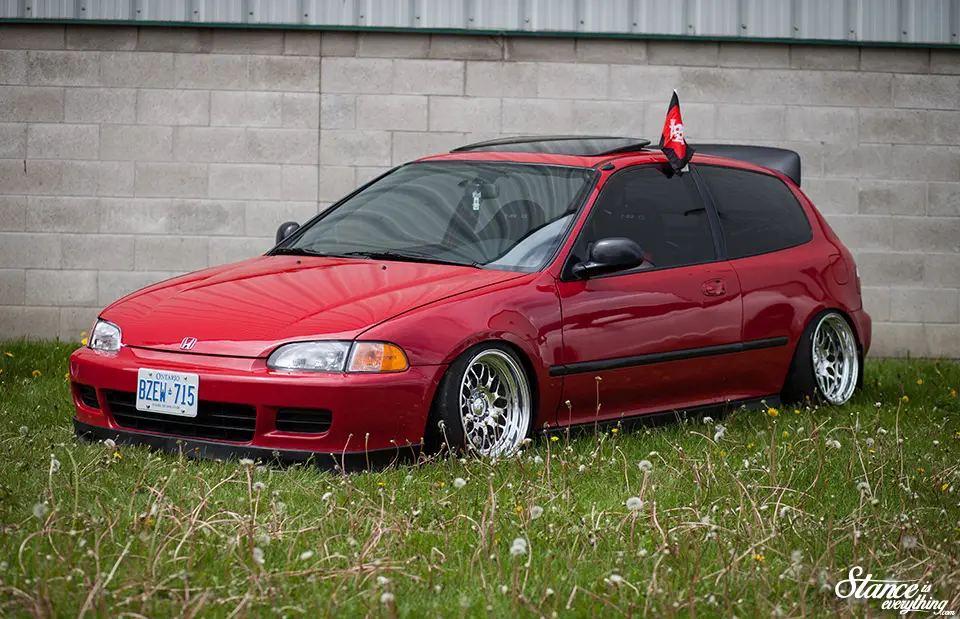 If you prefer your Hondas a little more conservative you will probably enjoy the eg above. It's simple yet eye-catching, and if you look extra close you can see racing buckets and an X brace inside.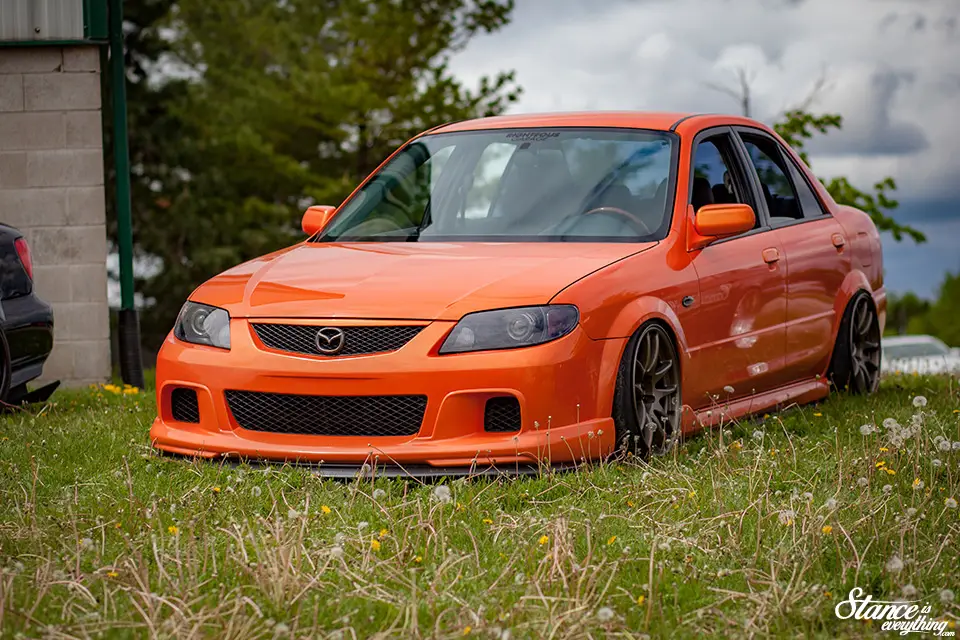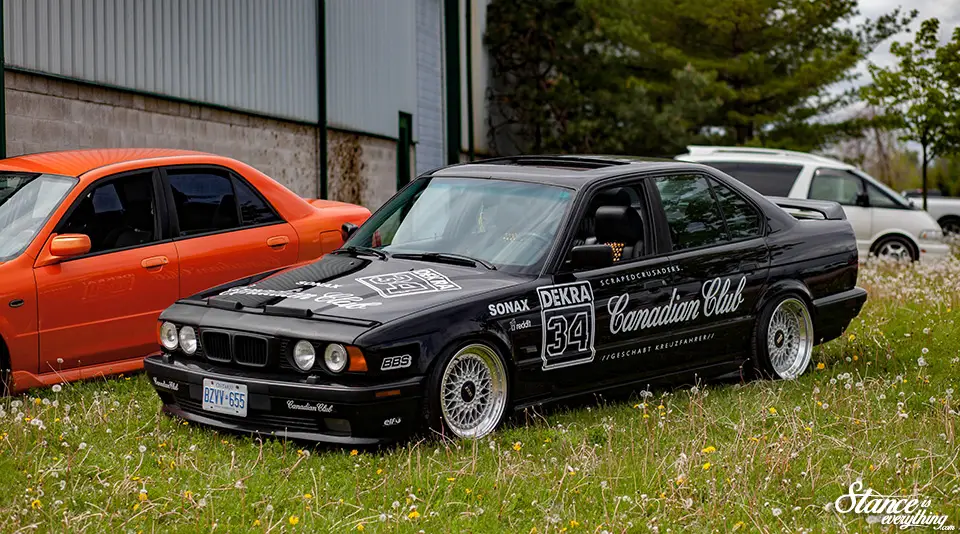 Gray (Stillsteezy.com), and Gill (scrapedcrusaders.com), could also be found parked among the dandelions showing off their respective cars.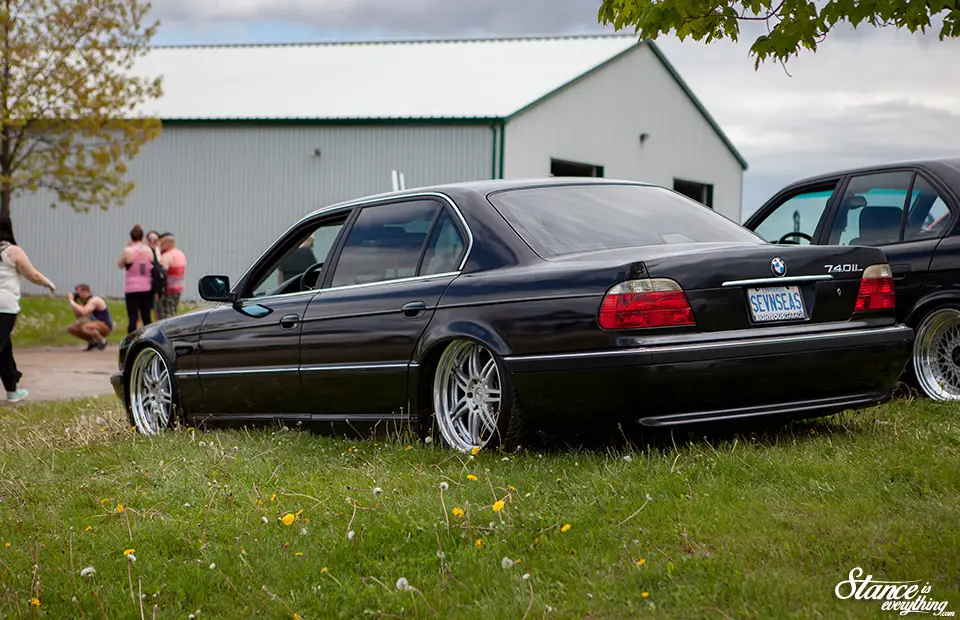 Gill was later joined by a seven series with the most appropriate vanity plate I have ever seen.
Parked beside Gray's Mazdaspeed was this wild Subaru wagon from Quebec.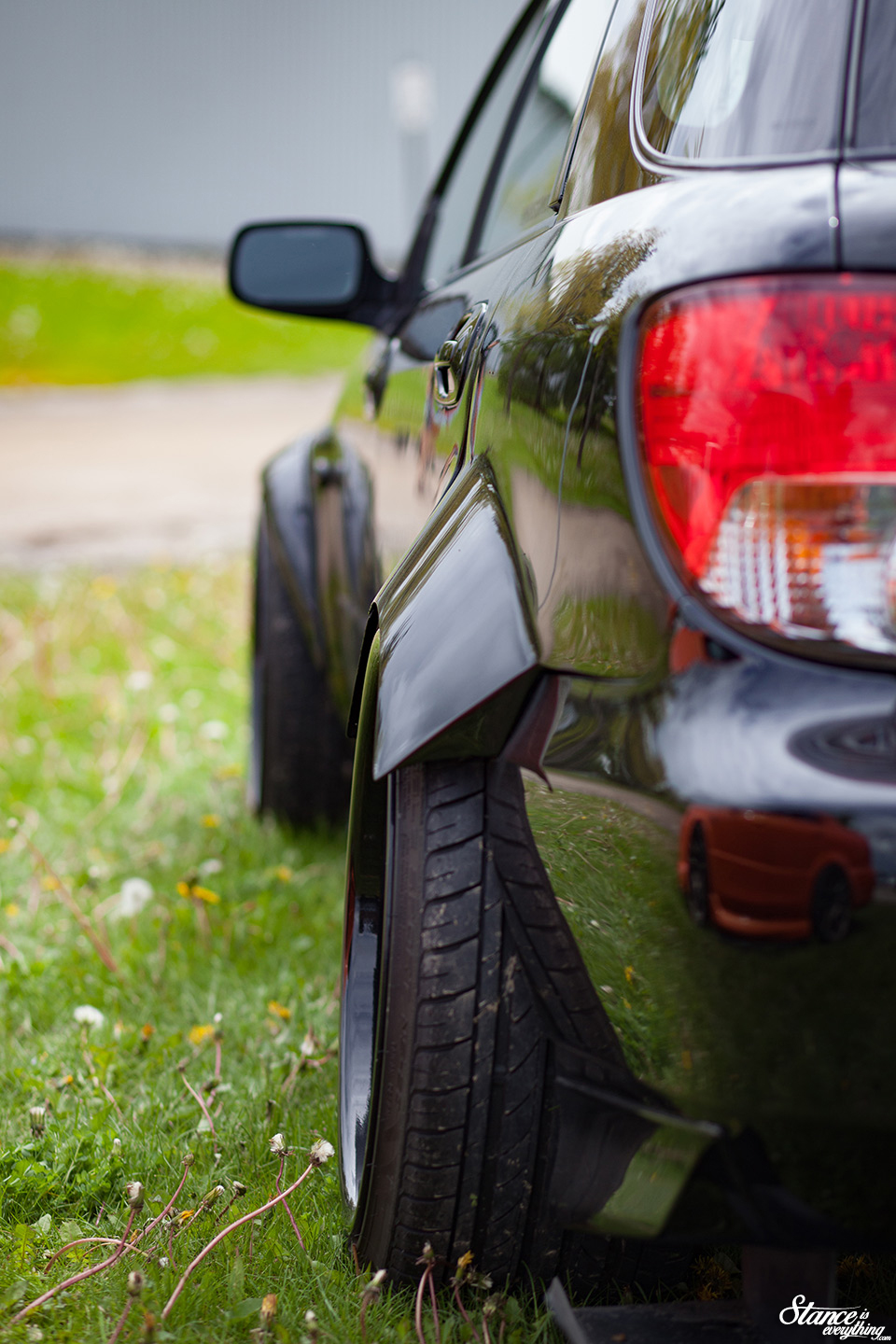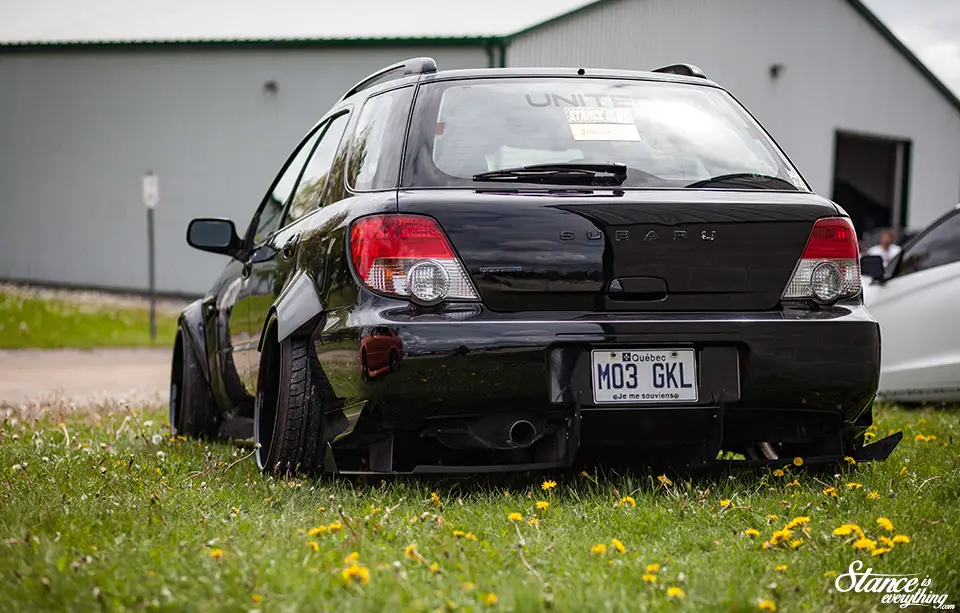 With wide Work VS-KF wheels all around this car has molded custom flares in the rear, and bolt on ones in the front. In any color other than black I probably wouldn't like this car as much, but the deep black paint really suits it.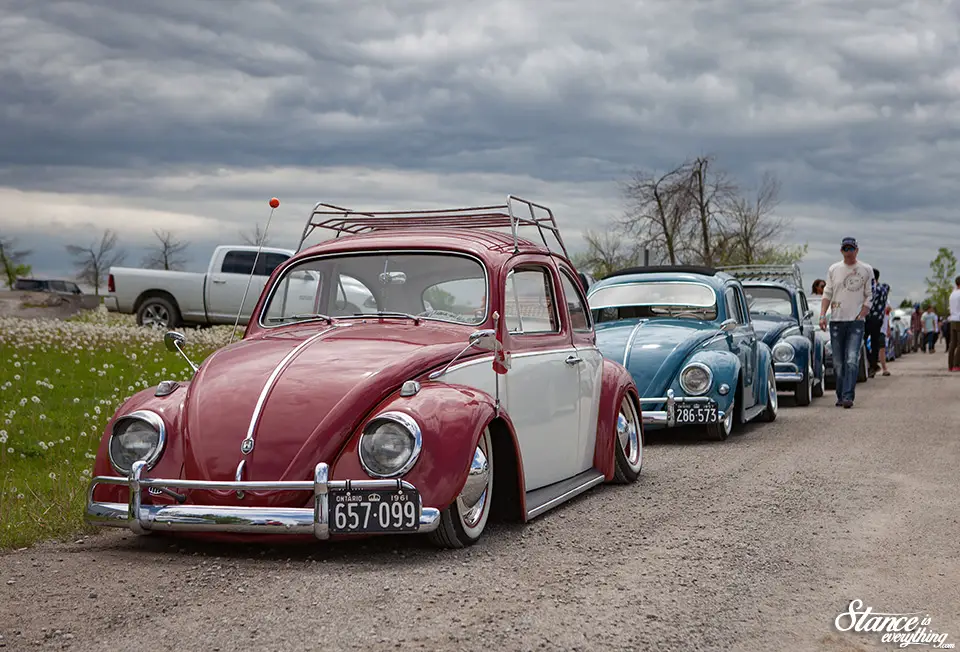 Before we step back inside here's a look at a trio of beetles that rolled in near the middle of the day. 2017 actually marks the first year in recent memory where no beetles were found on the show floor.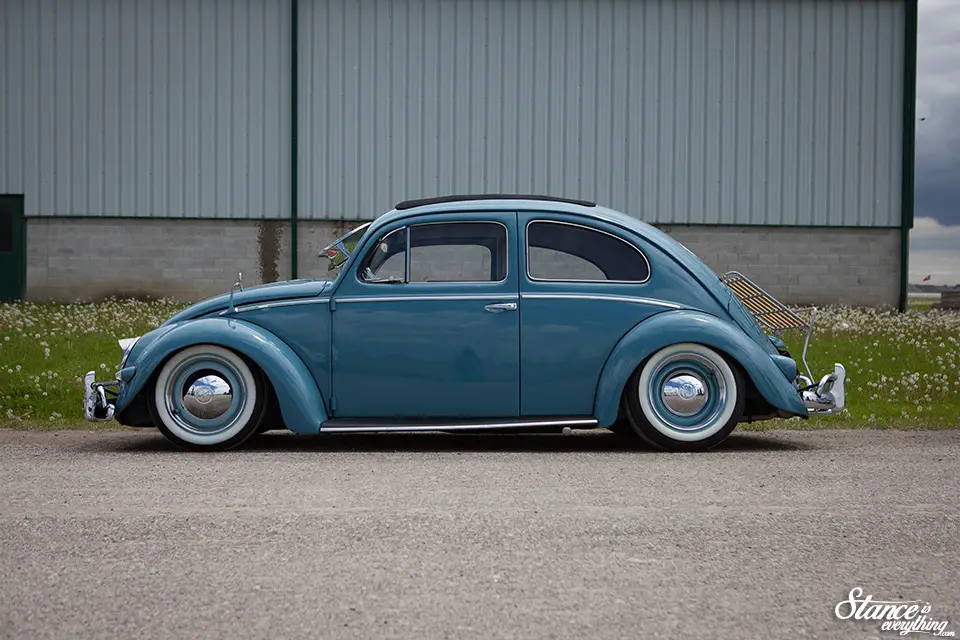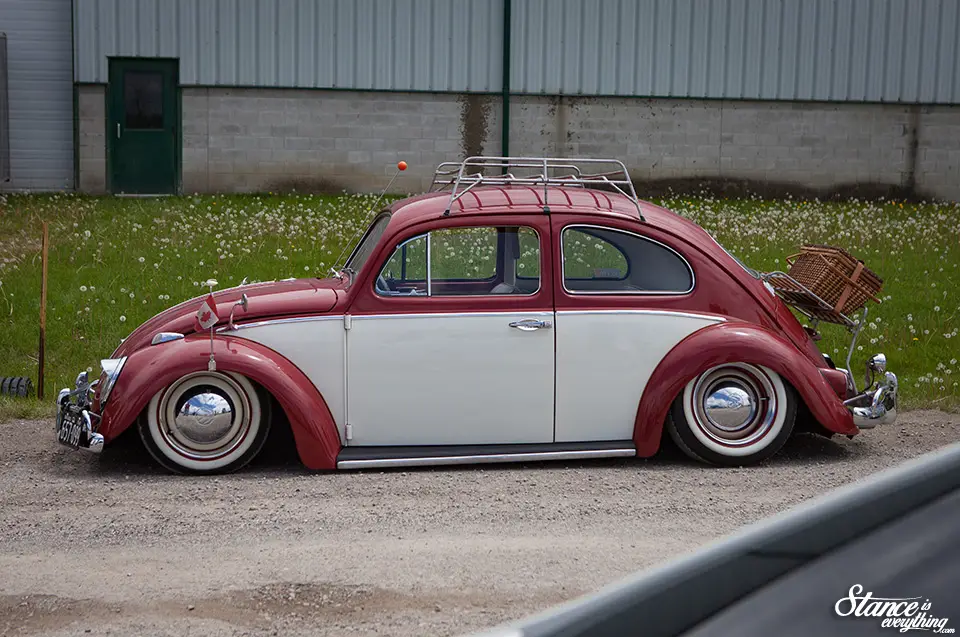 That's OK though because I think everyone at the show stepped out to take a look at these cars.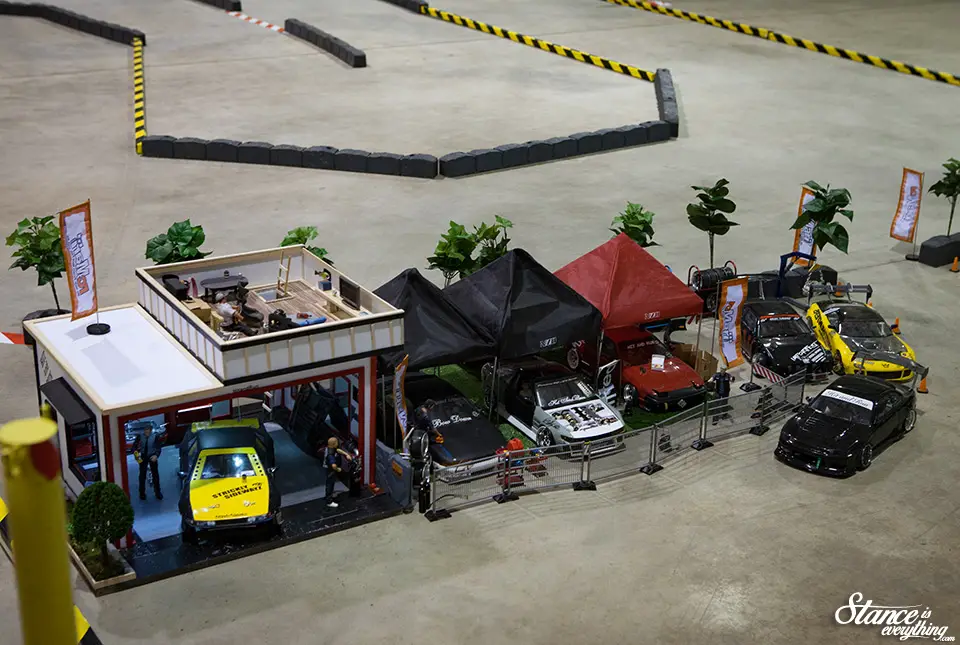 Stepping back inside Fitted has, for the last few years, held space open for RC drifting.
The area allocated has always been more than just a few cones and duct tape affixed to the ground. Strictly Sidewayz does a great job setting up the drift area and the scale cars are always worth a look.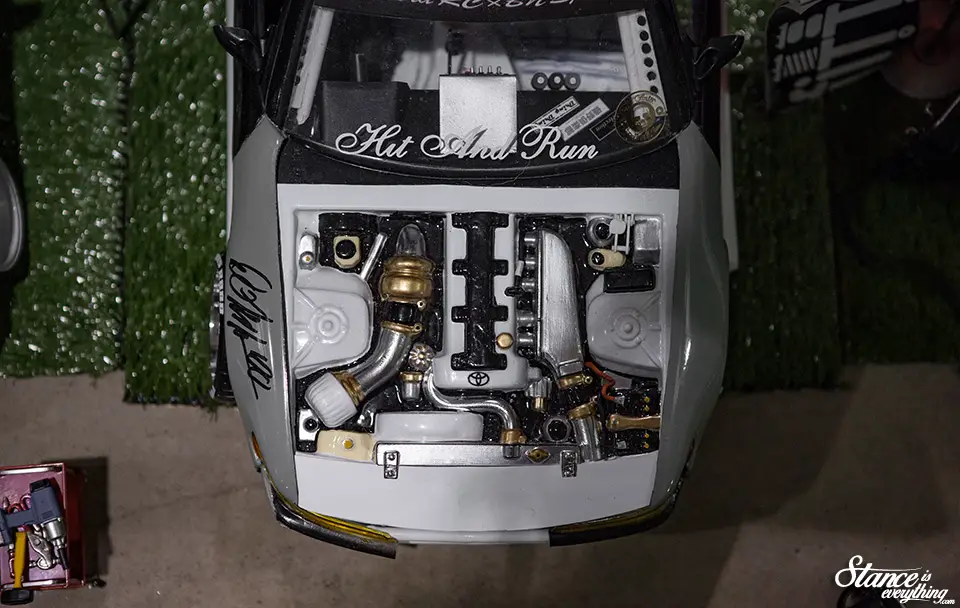 It's crazy how accurate the details are on this RC. From the switches in the dash, to radiator and mounts, there's even a positive lead hanging off the battery.
Then you look at the work cart and start to wonder where exactly one gets scale air tools.
Taking some post apoplectic Mad Max influences the 370 above looks like it's ready for war. Again the detail work here is tremendous and everything has been weathered to match the motif.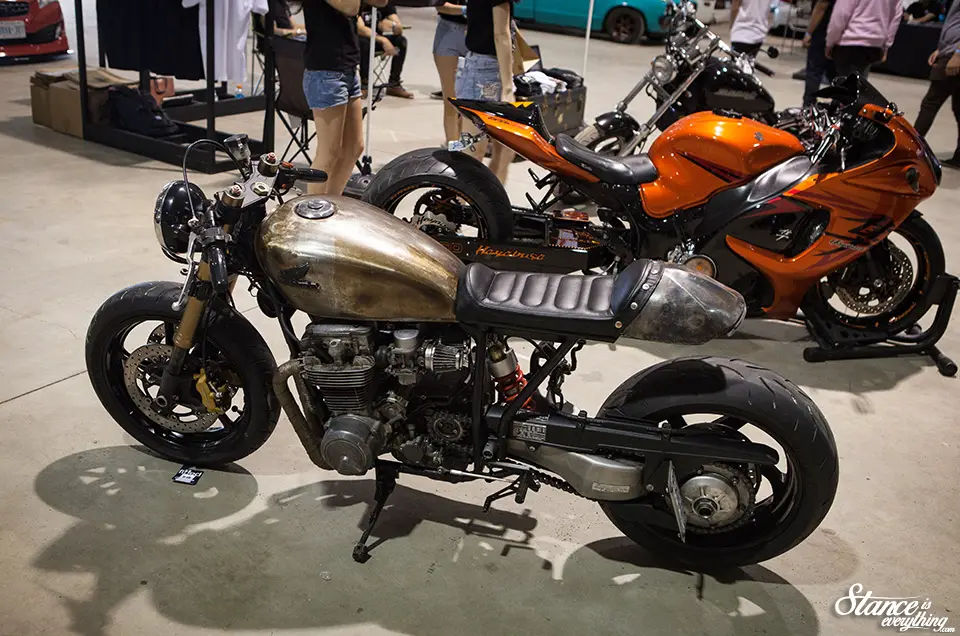 Like R/C drifting custom motorcycles have also become a Fitted staple. This makes sense because I think a lot of the organizational staff are now into vintage motorcycles.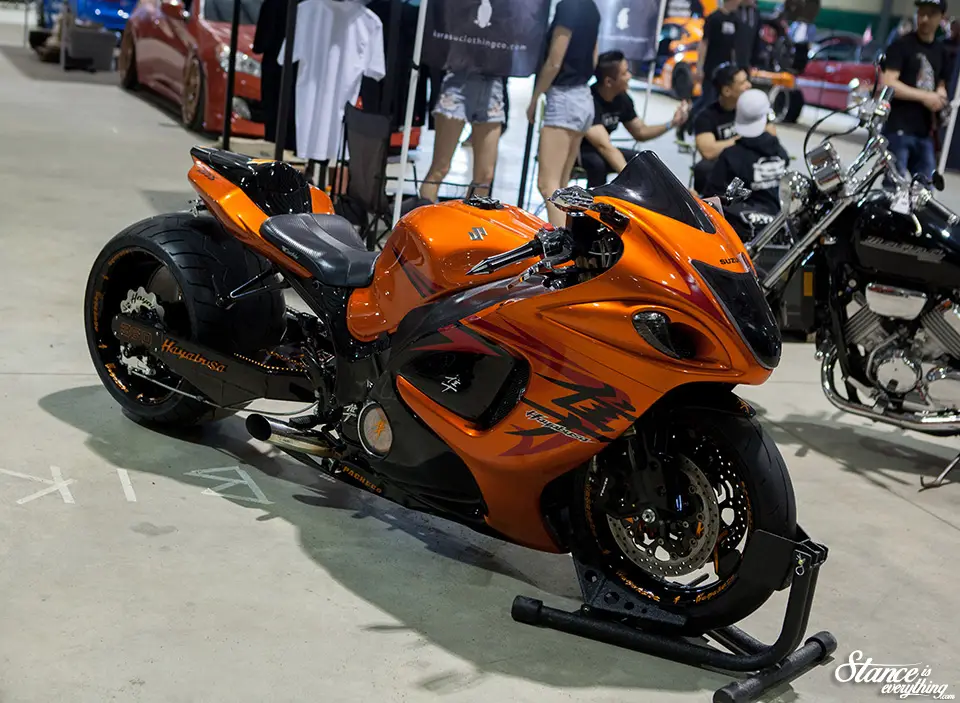 I'm not a motorcycle guy by any means but Haybusas seem to be a bike that people consistently modify.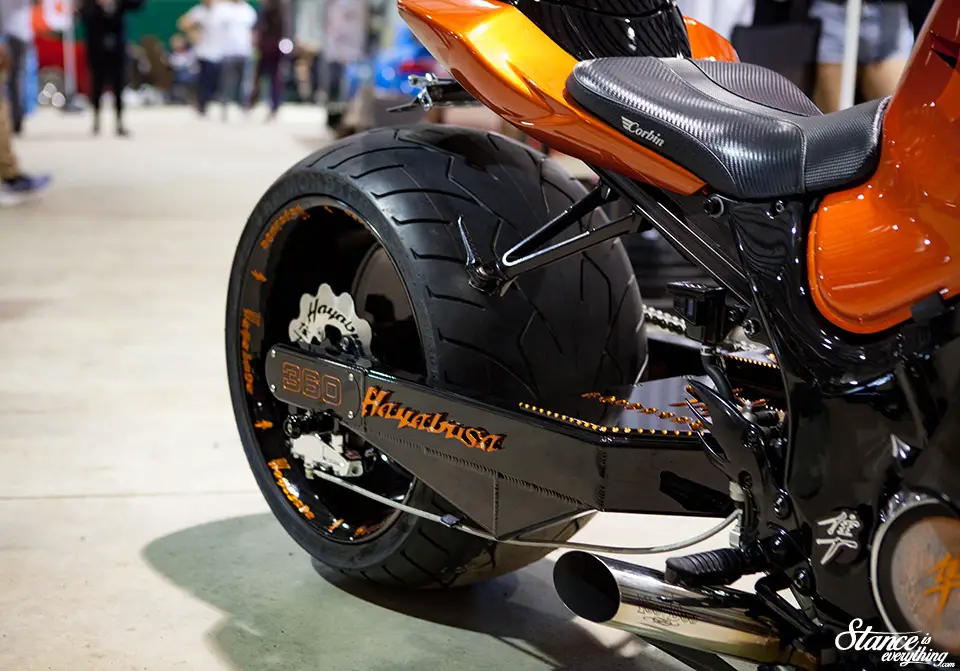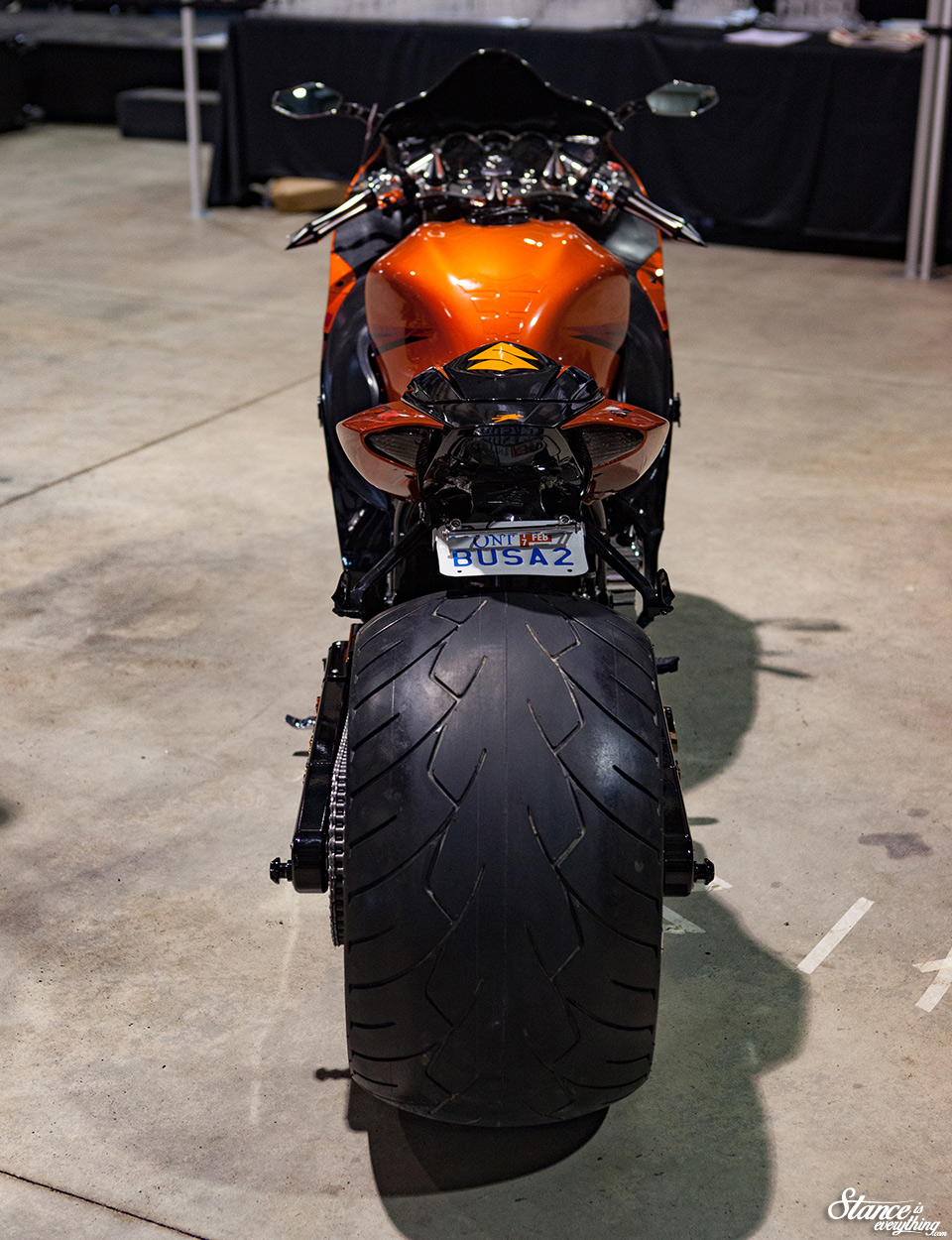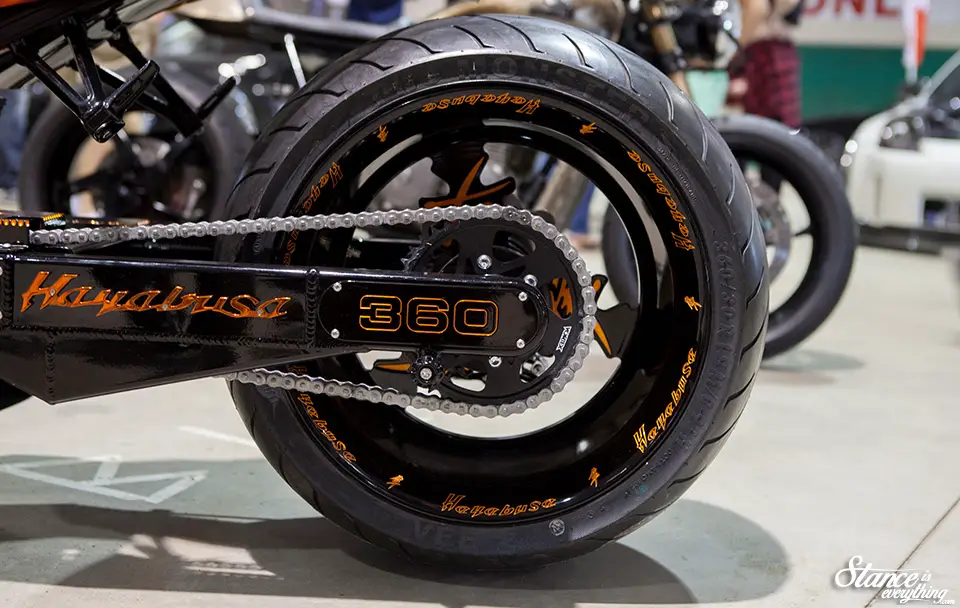 The most obvious modifications on this bike are the extended swing arm and ultra wide rear wheel. Any of the riders reading this want to hazard a guess at how this bike handles now given its modifications?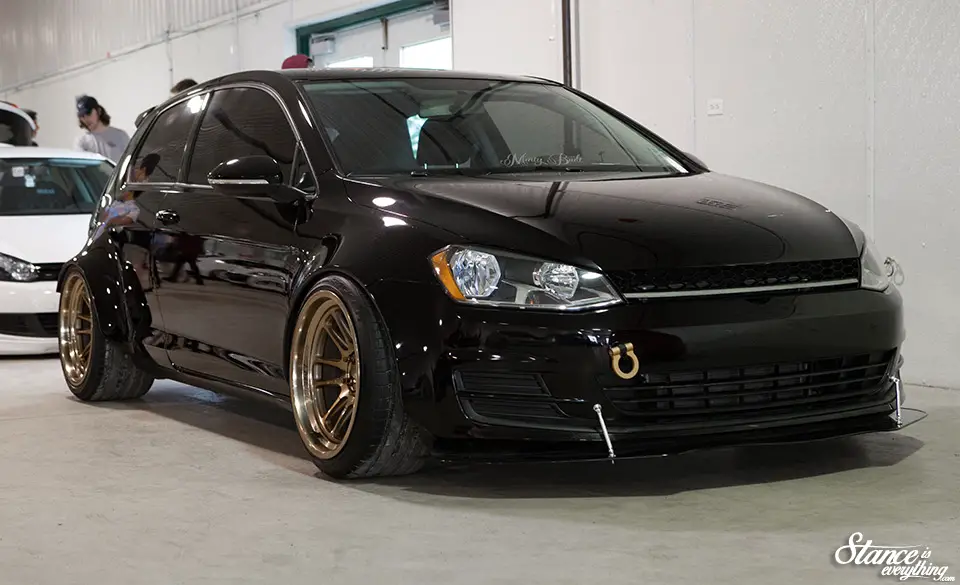 On the topic of wide wheels and rubber this Golf debuted at Motorama blue with bolted on Clinched universal flares.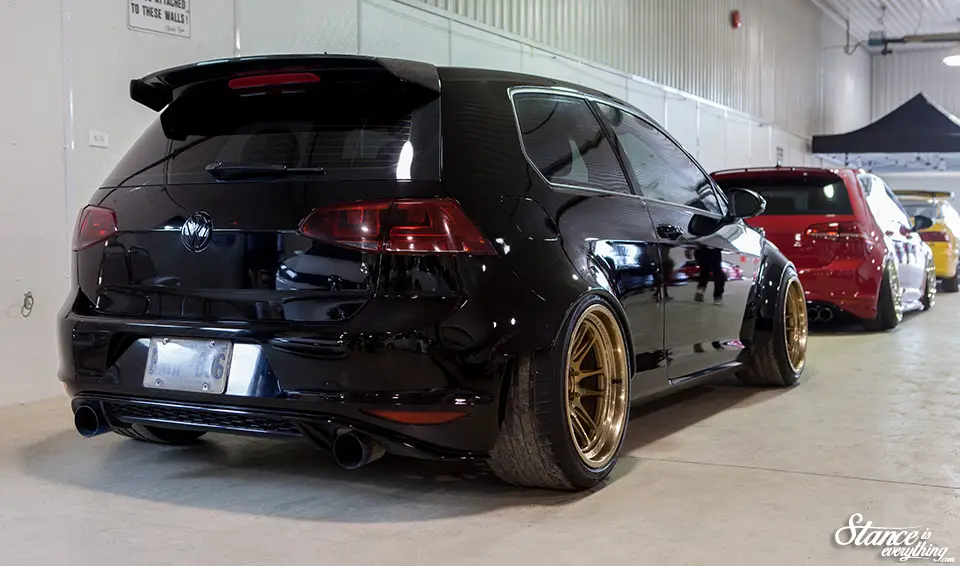 Now it's black and said flares have been permanently molded to the car. Molding the flares and painting the car shows follow through on the original idea and I'm curious to see if there are plans to widen the rear bumper to match.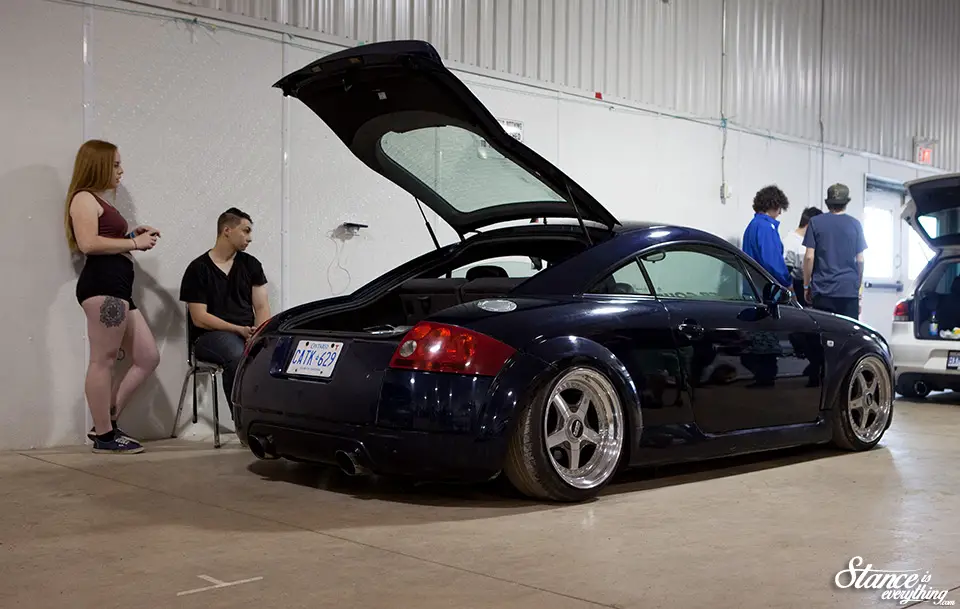 BBS RF wheels are, in my opinion, vastly under appreciated. I've yet to see them not suit the car they've been bolted to.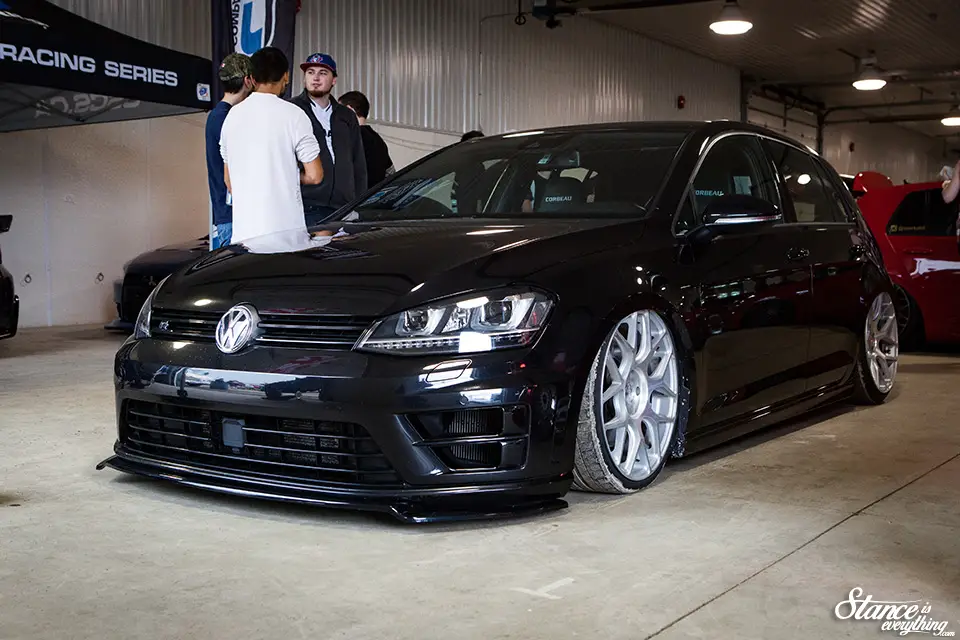 Call me old-fashioned but the cars with measured restraint are starting to stand out more than the extreme ones.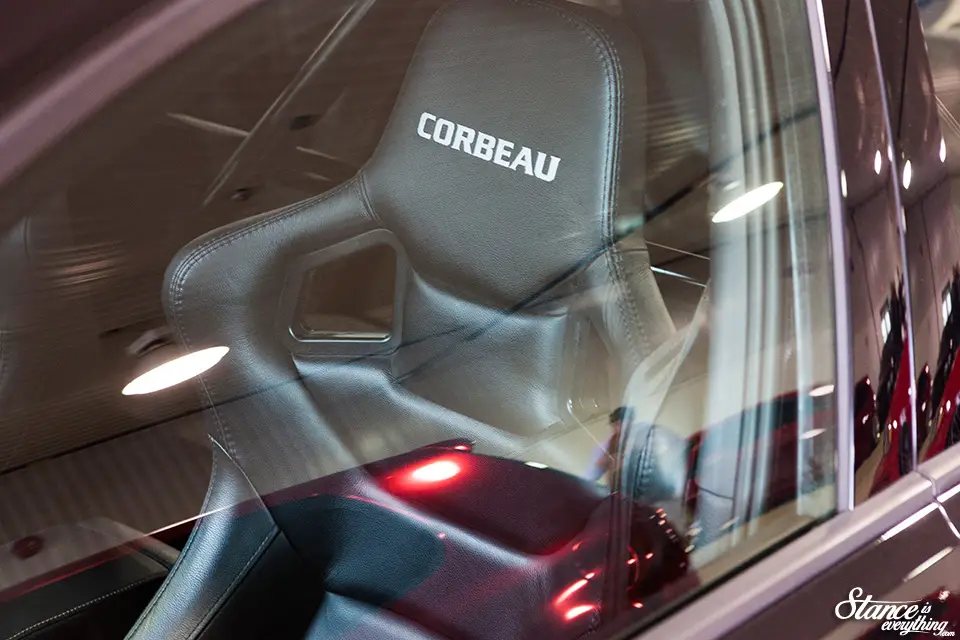 I really dug this Volksagen Golf R, simple at first glance the half cage and Corbeu seats hiding inside make me curious about what, if anything, is going on under the hood.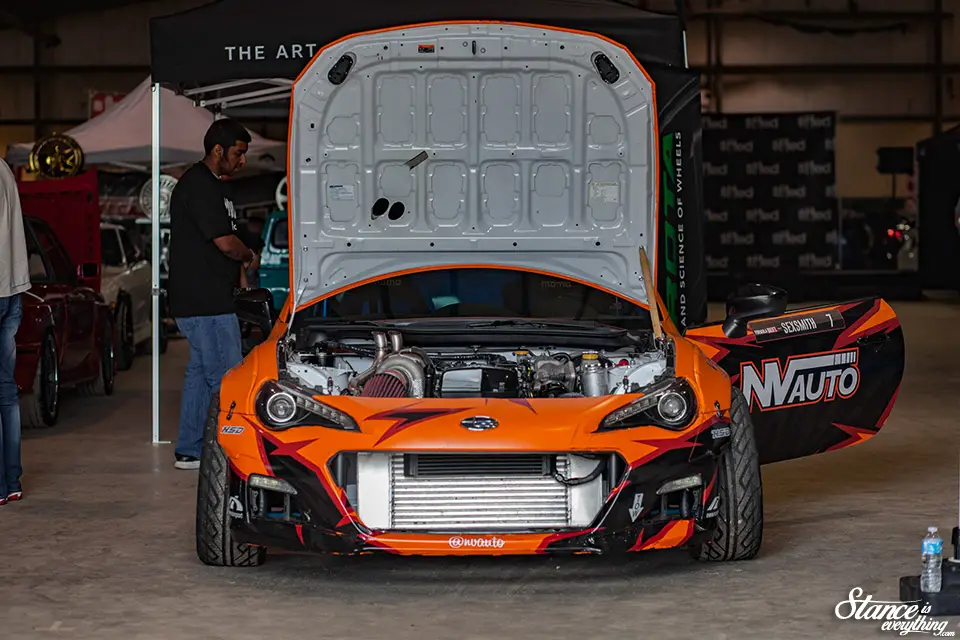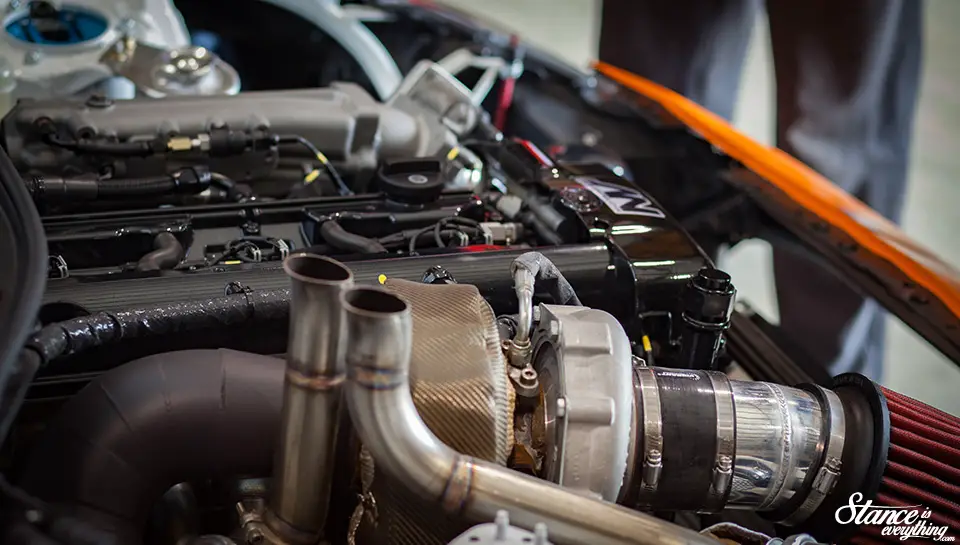 Unlike the Golf R, that kept its secrets close to chest, the latest NV Auto competition build kept nothing to itself, sitting in the Rota Canada booth all day with the hood open.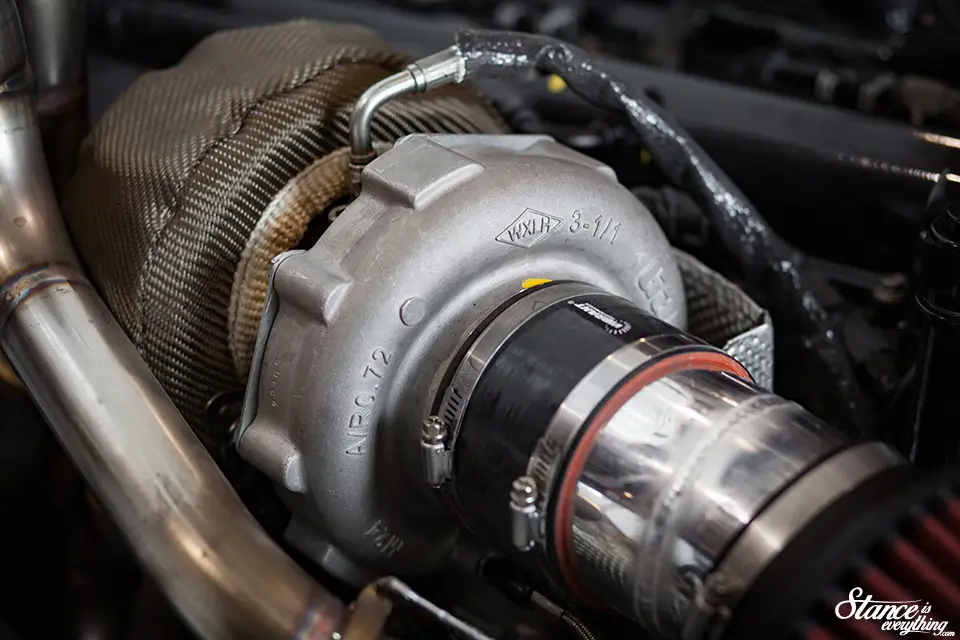 The big turbo 2jz is permanently on loan from their former WRX competition car as they campaign this more traditional platform state side in Formula Drift Pro 2 for 2017.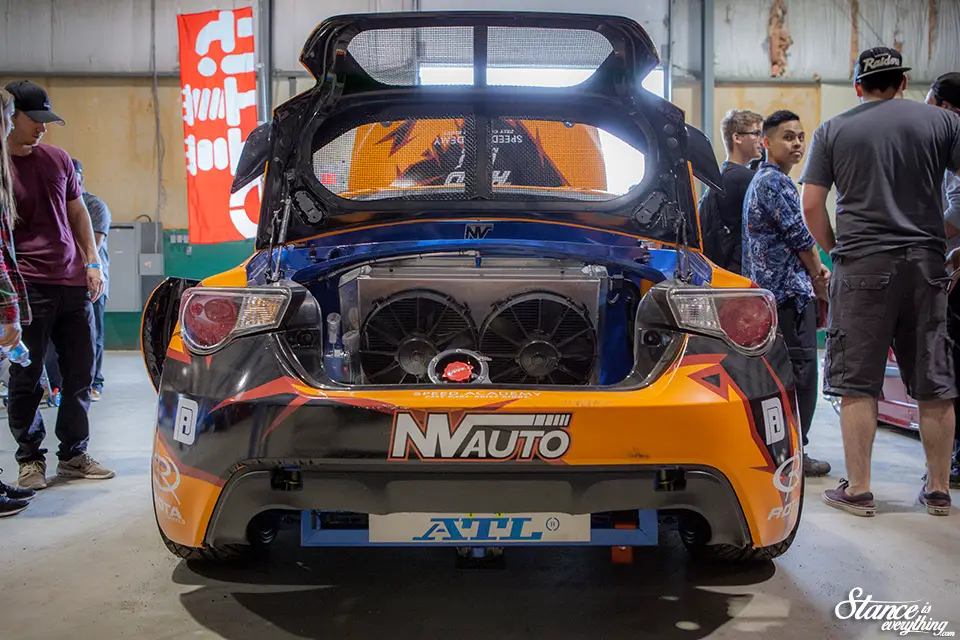 Also in the Rota Canada booth was Datsun 620 truck.
I'm told the truck gets slid at local drift events and I know it has had a motor swap. Sadly I'm drawing a complete blank on what was swapped in.
I did however get a bit of contact info that could allow me a closer look at the truck later.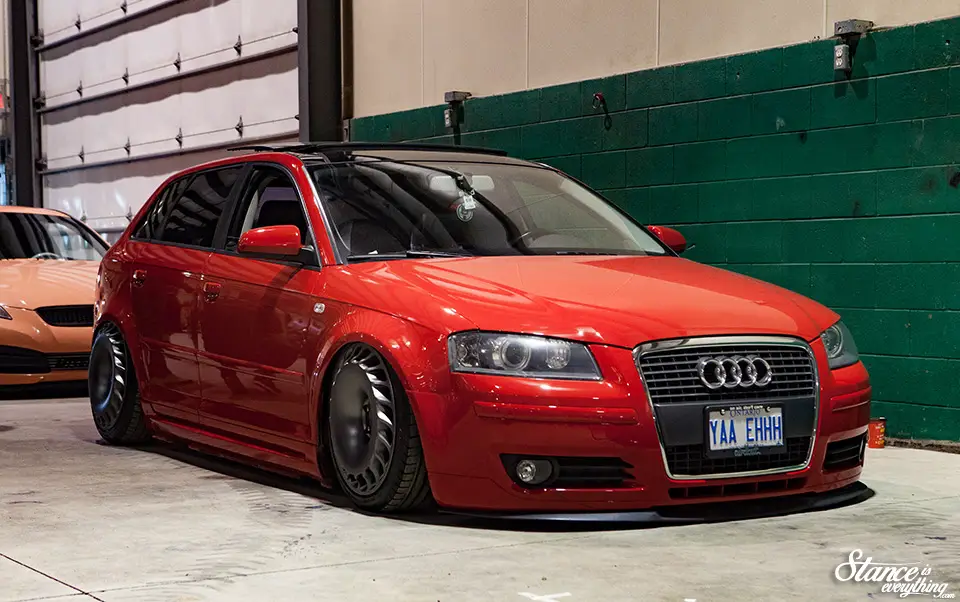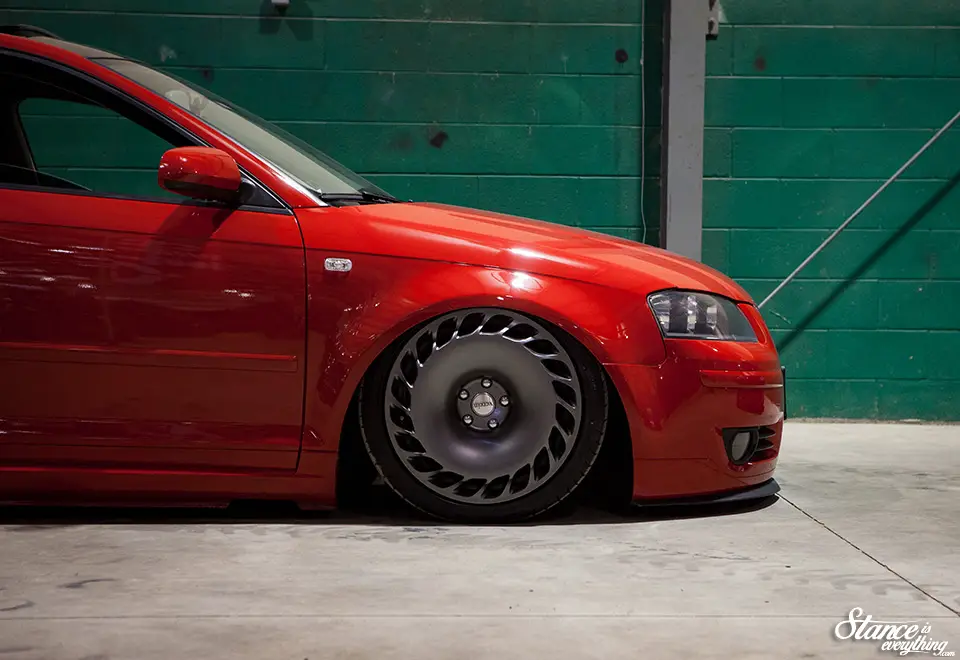 The A3 you see above is no stranger to this site, I've posted it here a few times when it was in the hands of a different owner.  After a bit of a rough go near the end of that owners time with the car, the new owner gave the car the TLC it deserved to get it to this point.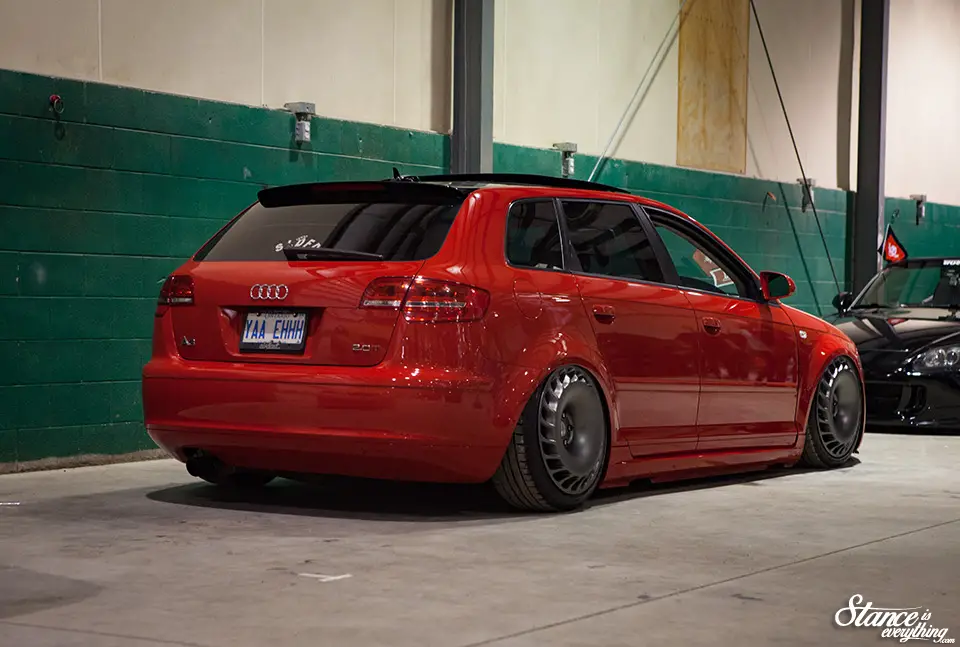 Now tucking Verein Sport wheels the car looks, in my opinion, phenomenal.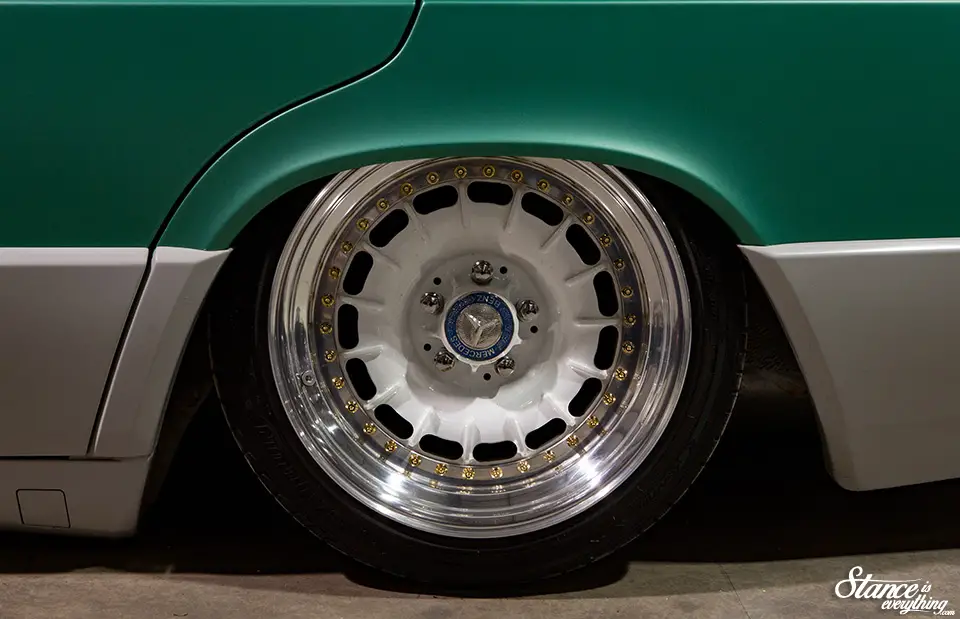 Unique wheel wise the custom splits found on the green 190e below take the cake.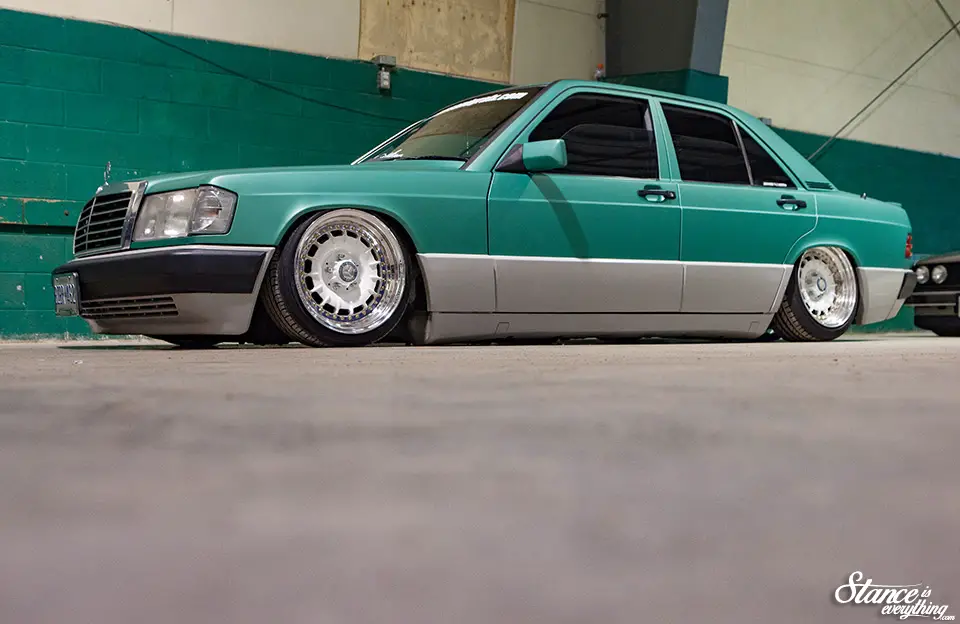 Tucked under green fenders, split by grey two lower body cladding, the white faces and gold bolts really bring the whole car together.
For those curious the wheels were done by Jason Bos a local machinist that is building a pretty wild car himself.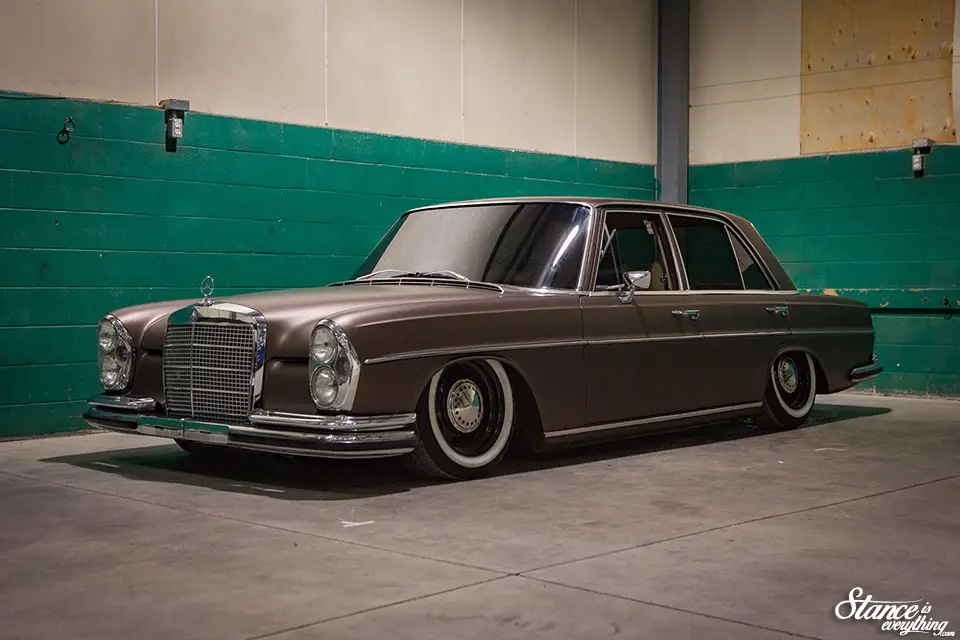 Parked adjacent to the 190 was this event older Benz. Dumped on air, and wearing Dodge diplomat police car hub caps this car was one of my absolute favorites at the show.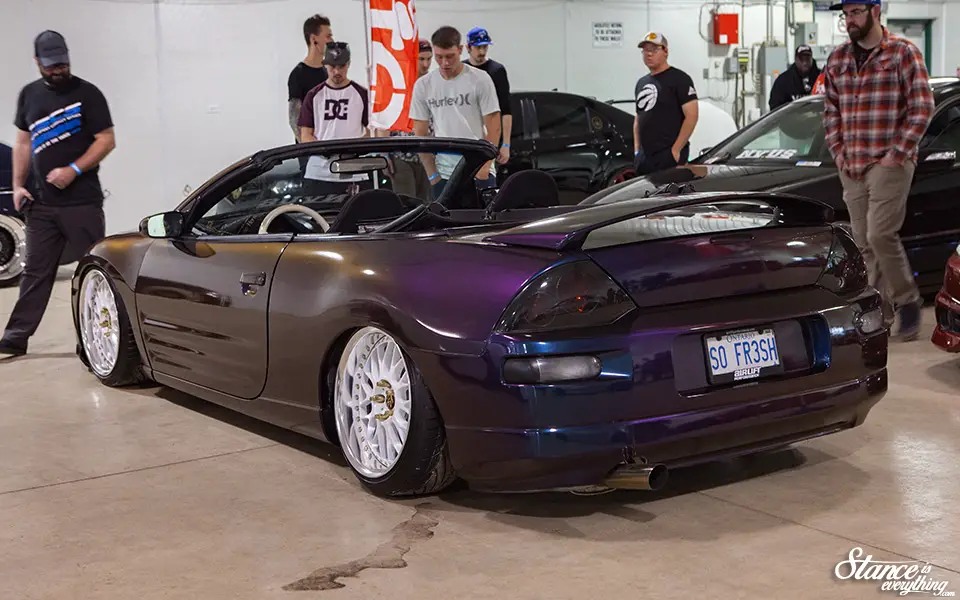 I'm going to admit something here, 2 Fast 2 Furious absolutely ruined this generation of eclipse for me. Rome's car in that movie is so bad that I usually ignore all of them whole sale, however, this one was hard to ignore.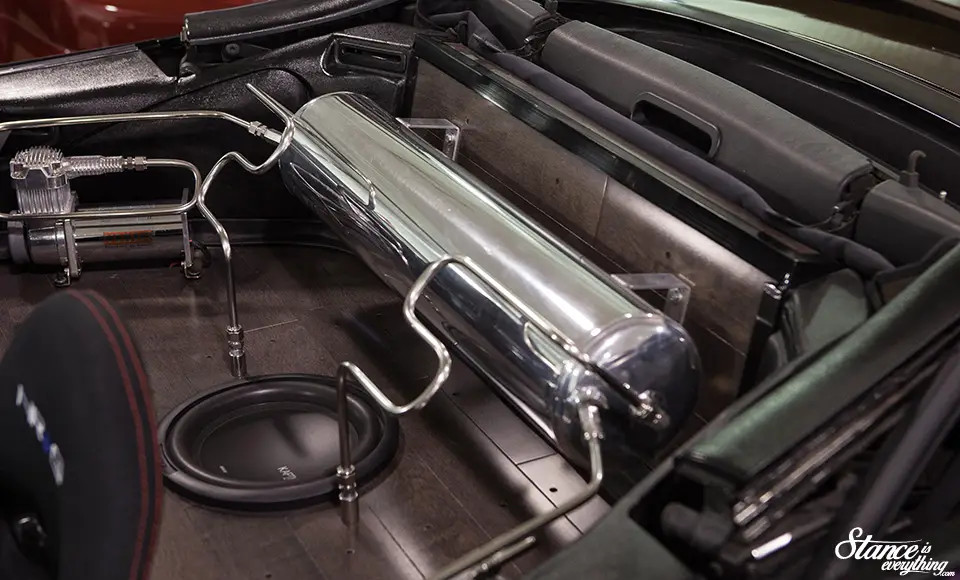 It was actually the prominent air set up, more than the wrap or wheels that had me giving this car a once over. Built by Grounded Conceptz it is a pretty tidy car throughout.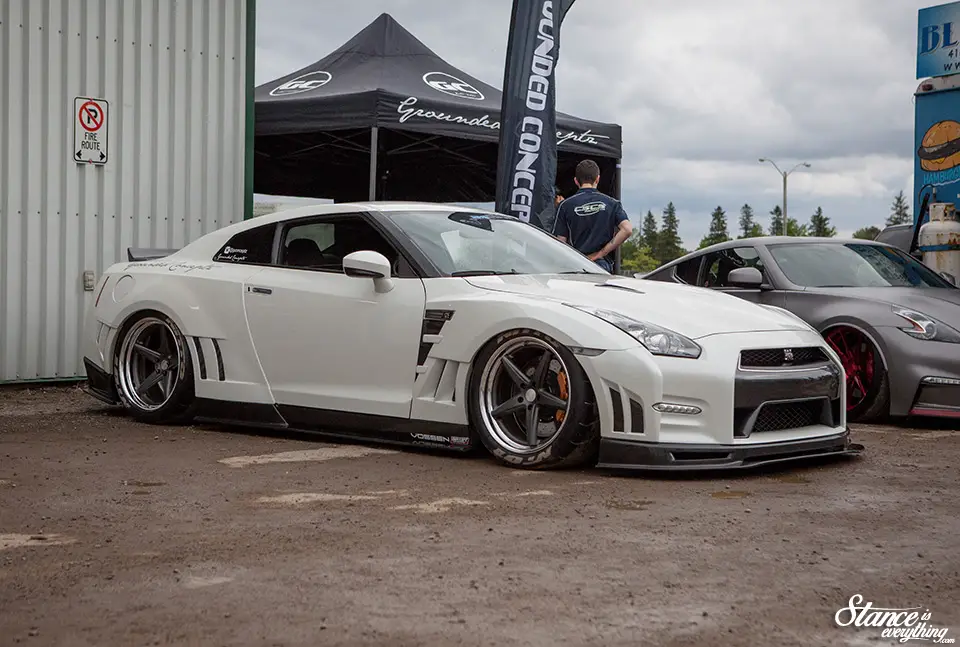 Grounded also brought out their Skipper equipped GTR that rides on Vossen/Work wheels. I tried to shoot this car last year but it never materialized. Maybe I'll start barking up that tree again later this year…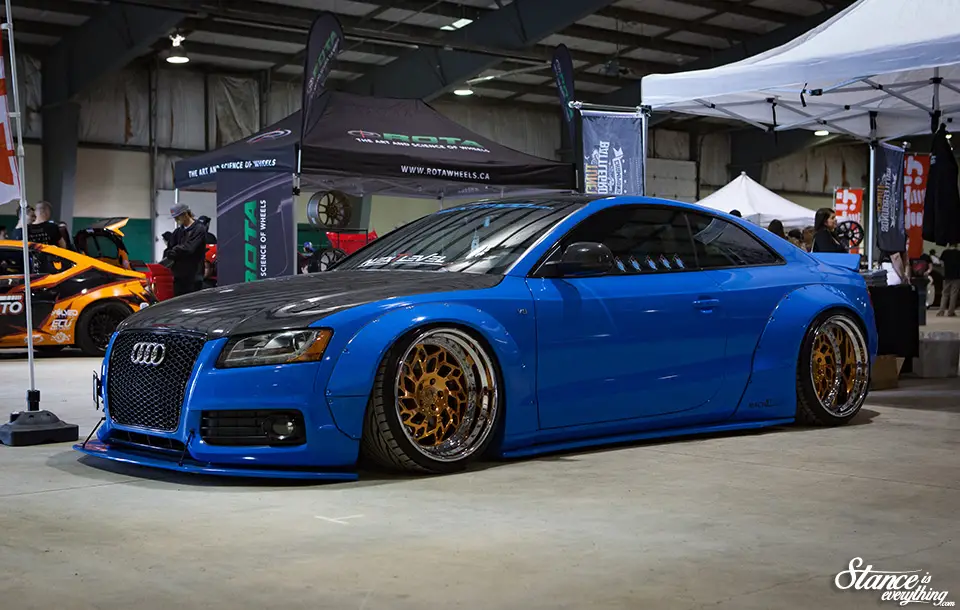 As I start to bring this coverage to a close I'm going to highlight a few of the award winners from Fitted 2017. The first is Performance Auto and Sound Magazines tuner battlegrounds winner for Fitted 2017, a Liberty Walk equipped Audi S5 that is part of Next Level.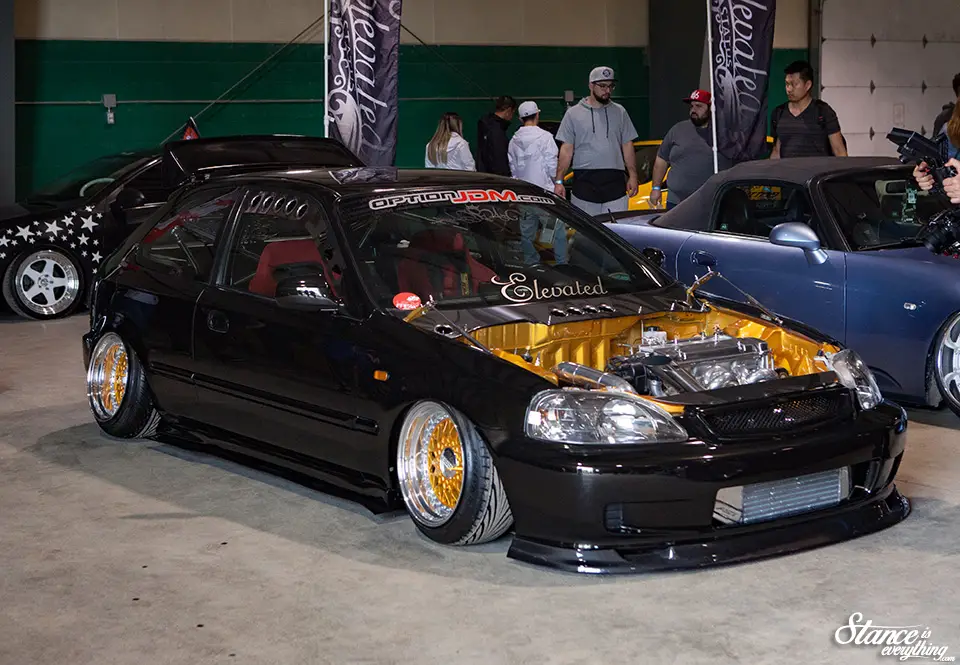 Brian might have spent time getting his car to sit even lower aired out this year, but it was engine bay that netted him an award this time around. The Red hatch at the start of this post actually took home best hatch back this year.
Luigi, also part of Next Level, took home the best of show at Fitted 2017.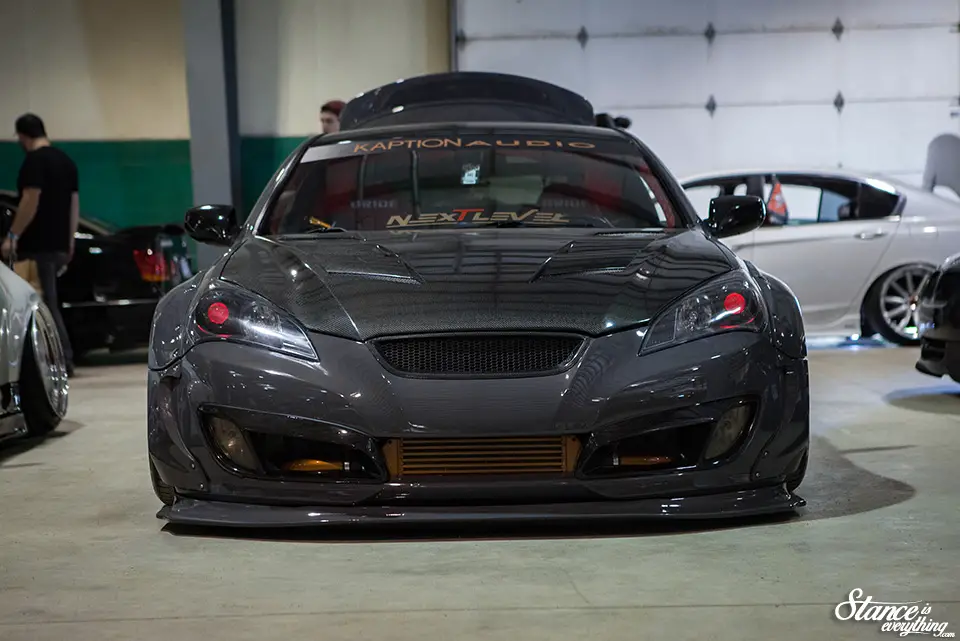 His Genesis is really the complete package, and I imagine it is going to keep winning award after award as the season progresses.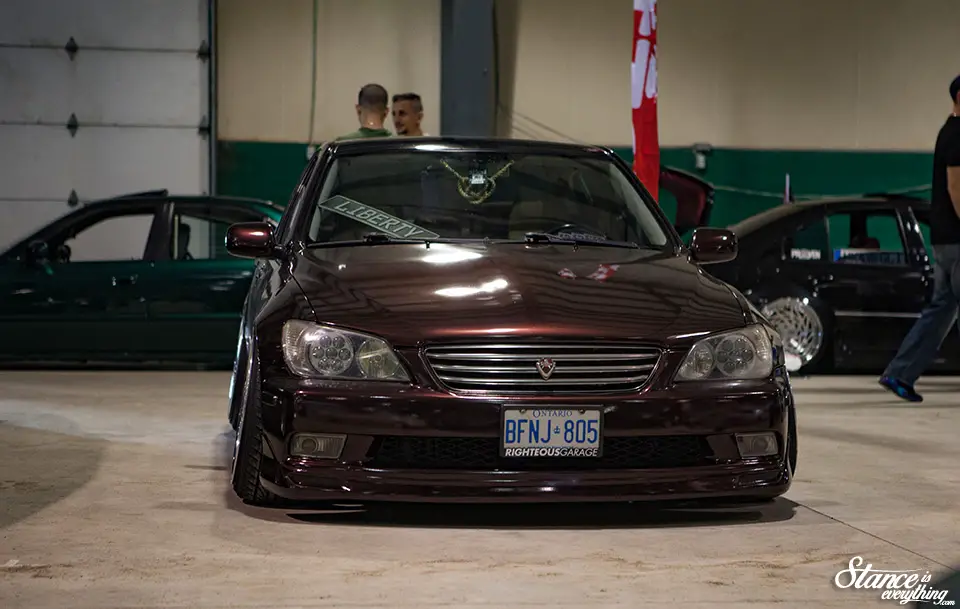 For 2017 PASMAG (Performance Auto And Sound) had an editors pick award for the event and for the inaugural award they choose Aidan's IS300.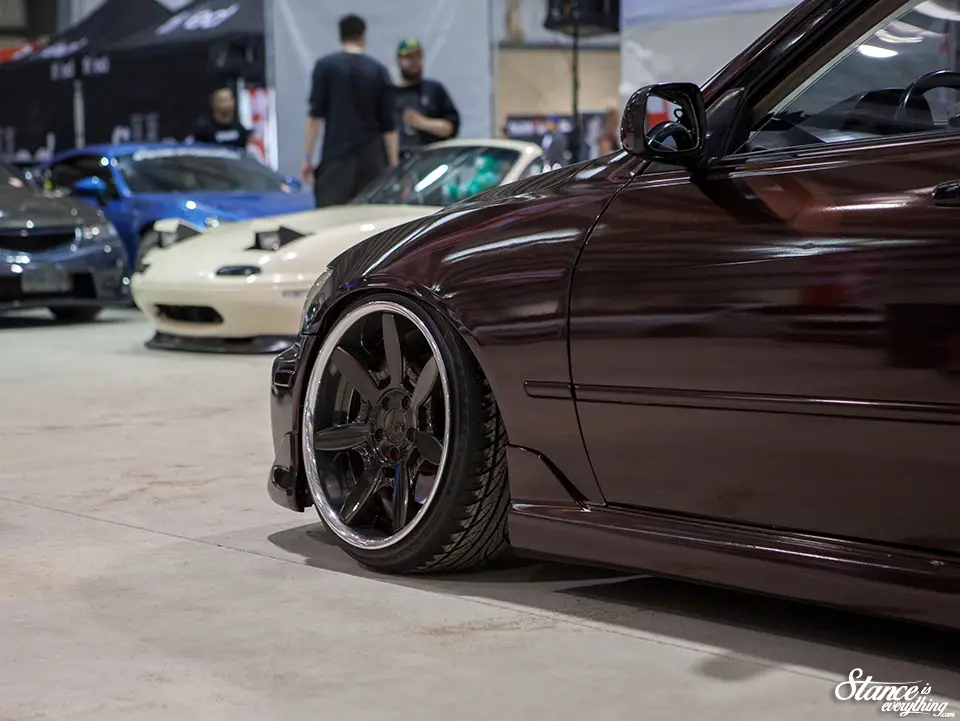 Dubbed "the unicorn" by myself and others Aidan had the car completely redone for 2017. Wrap Works took care of the exterior finish while Righteous Garage made sure that the car could ride at a height befitting of a VIP car.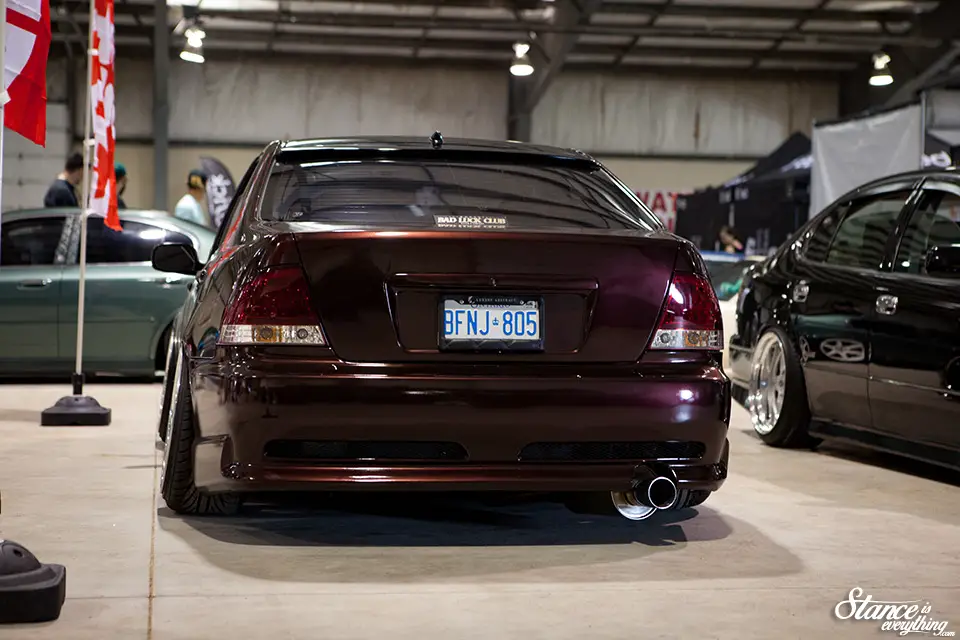 The new red wine red color and oem lip kit really give the car the VIP feel that Aidan was always shooting for. After being under the knife for so long its nice to see the car back out where it belongs.
Congrats to Aidan on a well deserved trophy and hopefully the Unicorn makes a few more appearances this year!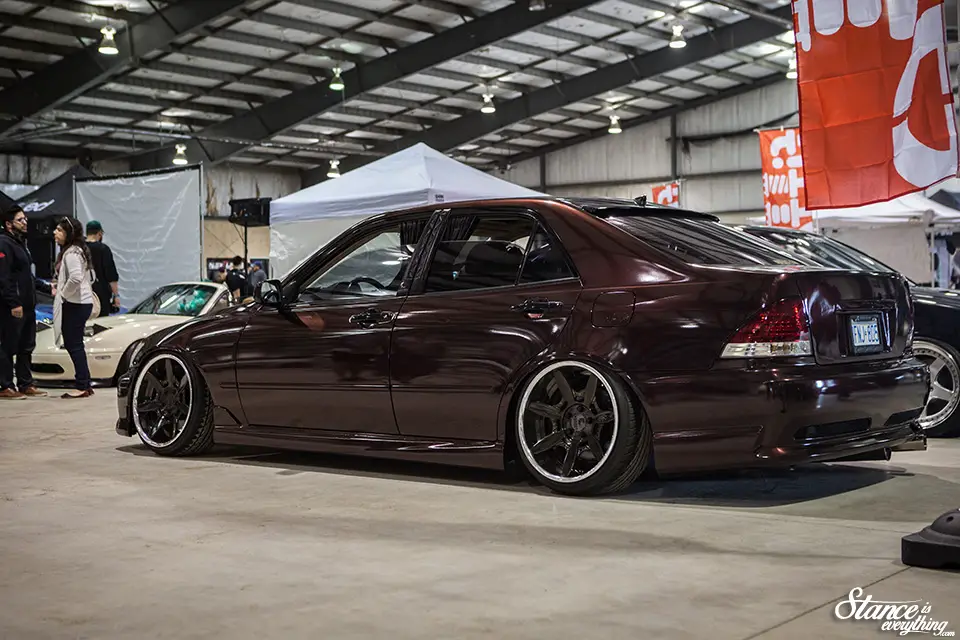 I might not have been at fitted long but I did take a lot of photos so instead of extending this coverage another hundred words here's a few more of the cars that were on display in no particular order.