SEMA 2018. At this point I've been writing about the show almost daily for nearly three weeks straight. Contributing to the coverage over at Speedhunters has kept me busy to say the least.
Working the show, for a publication beside my own, vastly changed my experience in comparison to previous years. Solo, I had no boundaries and tried to cover as much of the show as possible. Dare I say I tried to cover all of it, an impossible task but I tried.
As part of a team, covering the show was much easier on my body (in the moment) but much harder on my brain later (writing) as I had to pump out the vehicles on a fixed timeline. Different is good though and I welcome change.
Of course, being at the show for someone else means that coverage here on Stance Is Everything had to wait until my freelance obligations were met.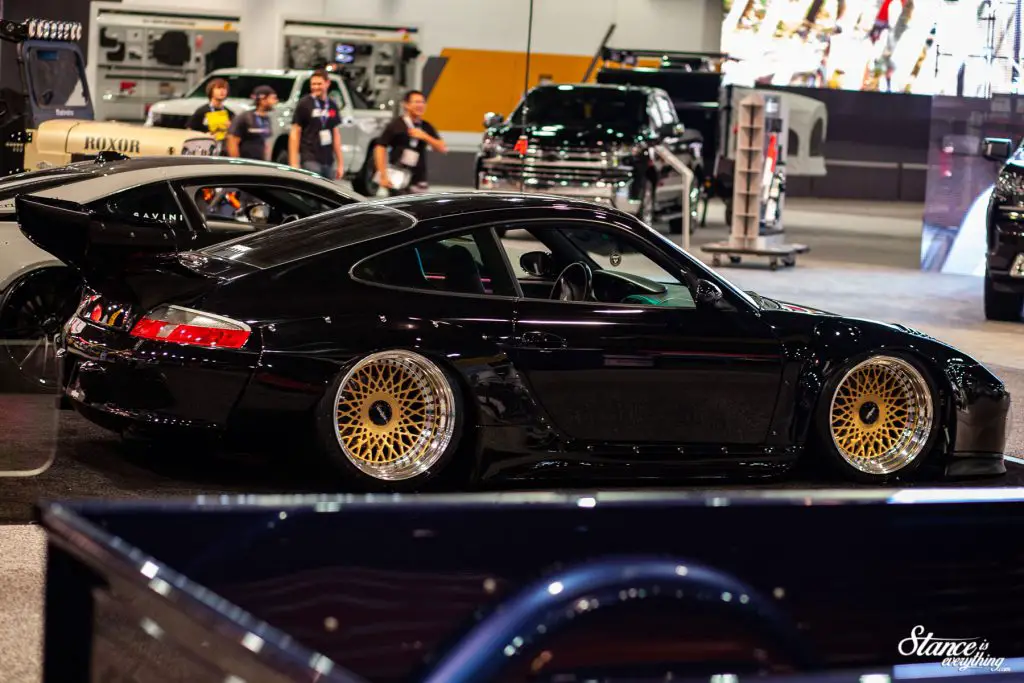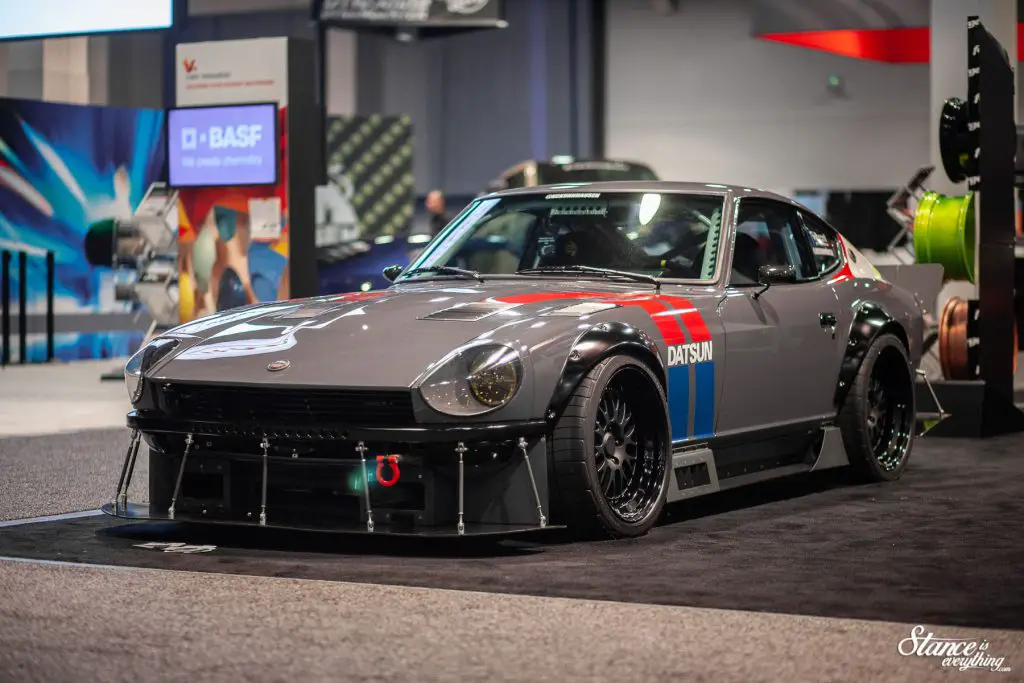 But now that they are I'm free to start rolling some coverage out here. I won't go too long, because the show was three weeks ago already, but I'll probably follow up with another gallery next week as I look back through my photos.
SEMA 2018, in my humble opinion, was an outstanding year. Through my eyes, as someone who hadn't attended since 2014, the quality was through the roof.
At every turn there seemed to be a crazy motor swap, chassis swap, or some other variety of insanity to capture my attention.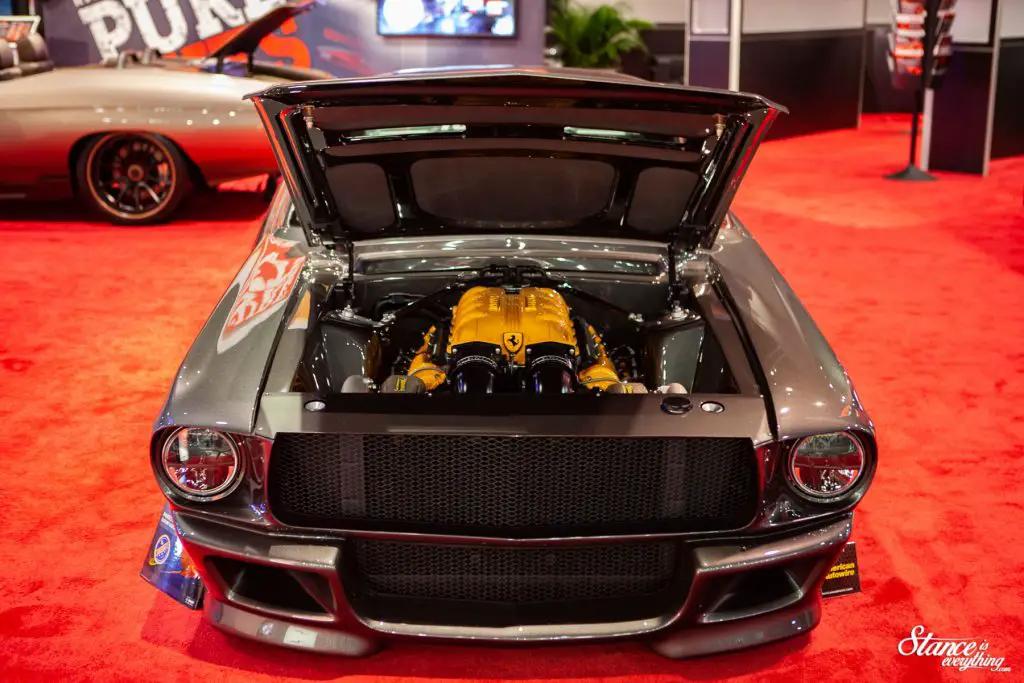 Obviously one of my favorites in this regard was the Corupptt Mustang. A twin turbo Ferrari powered Mustang is crazy enough, but this one is also bagged, chopped, and can be raised, lowered, and started all through an iPad.
It's insane in every way, and yet so, so perfect. I've been following this build on instagram for quite some time now and I am eagerly looking forward to when he starts taking the car on shake down runs.
The builder Tony is pretty upfront about the fact that the cars got a bit of a way to go yet before it's where he wants it, but that will come in time. Despite many people doubting him the car does in fact run, as evident by the video above.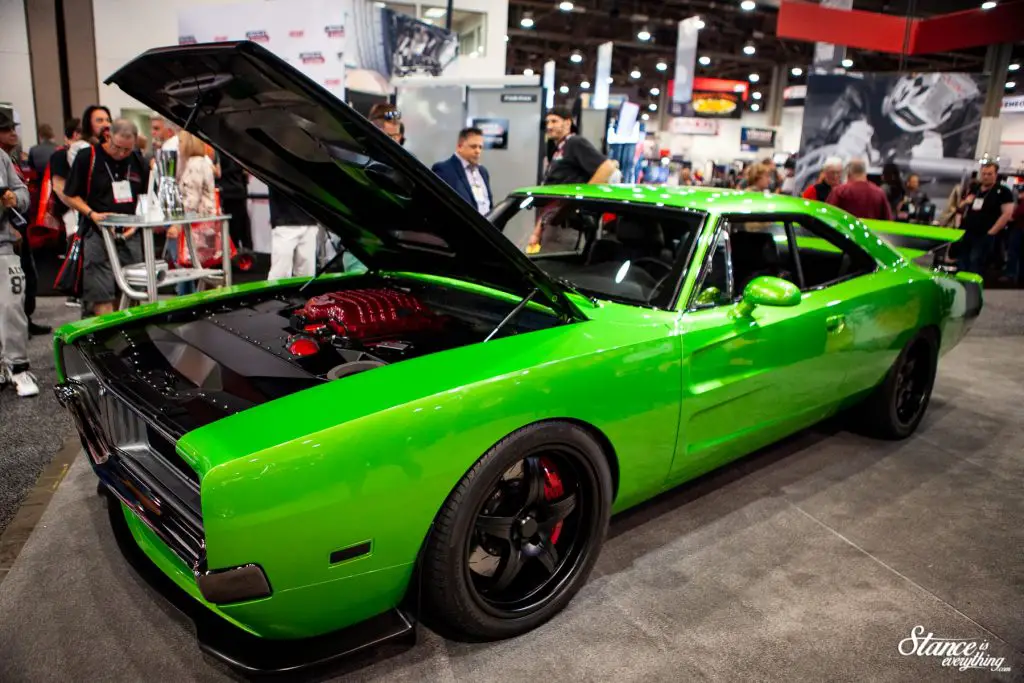 If relatively subtle is more your style, how about this classic Charger body over a modern Hellcat chassis? Built by Cleveland Power and Performance this green monster sat in the Kooks Headers booth.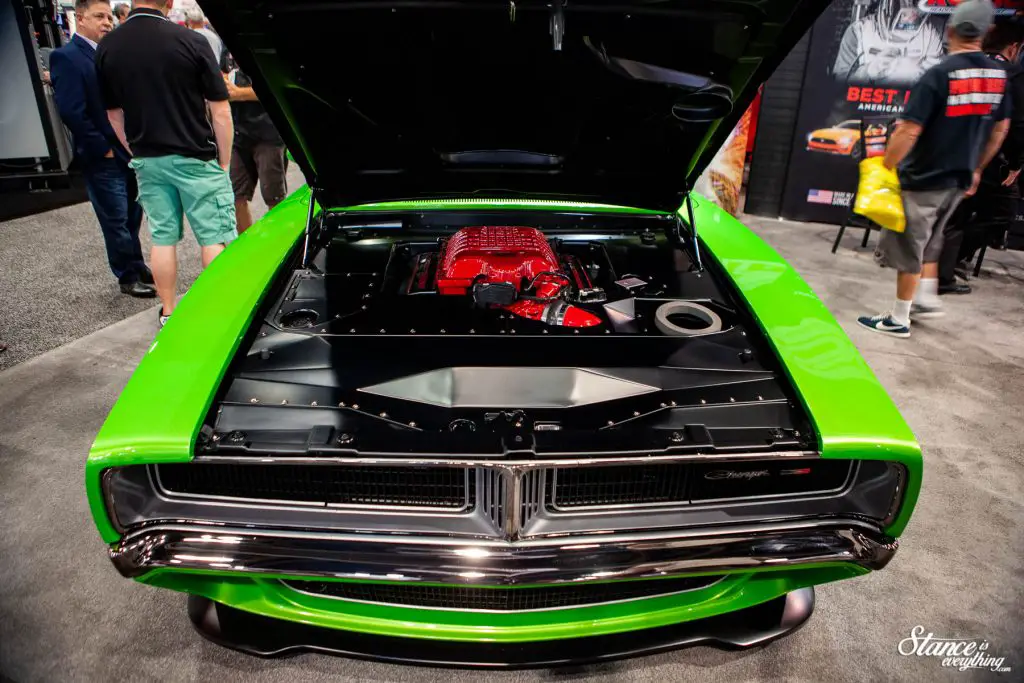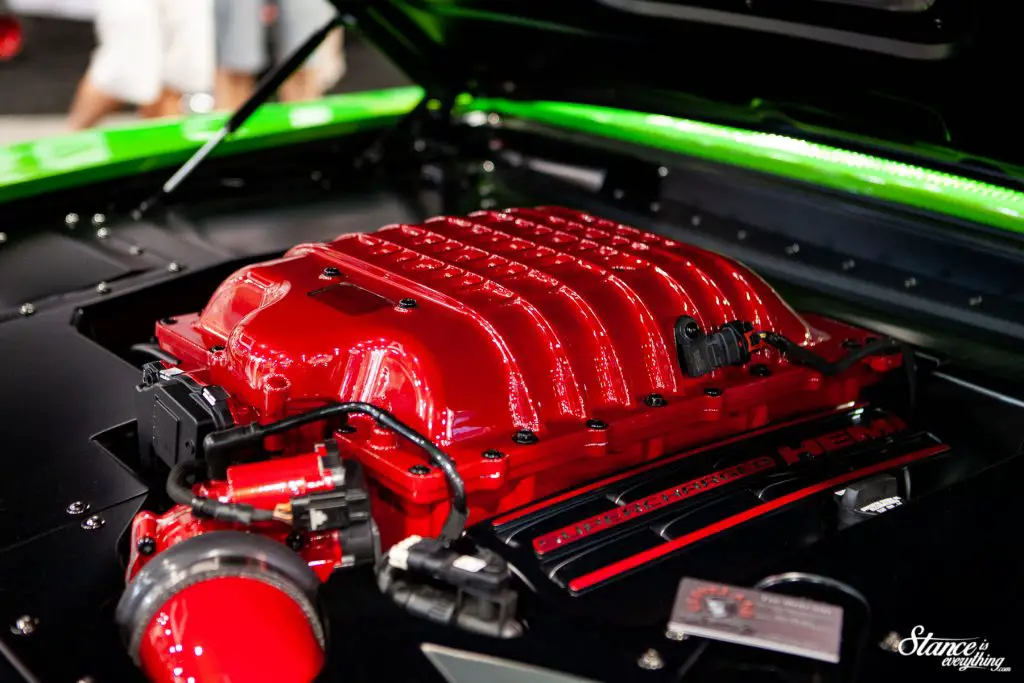 Known as project Reverence this build is heavily documented on their website. Totally worth a look if you want to see what makes this car so special.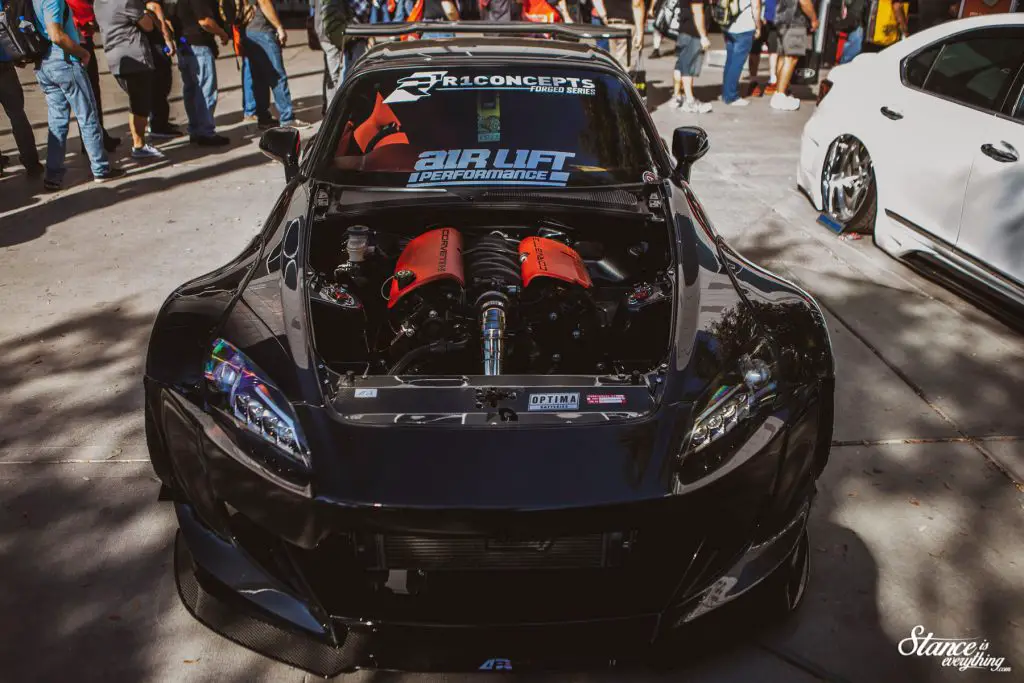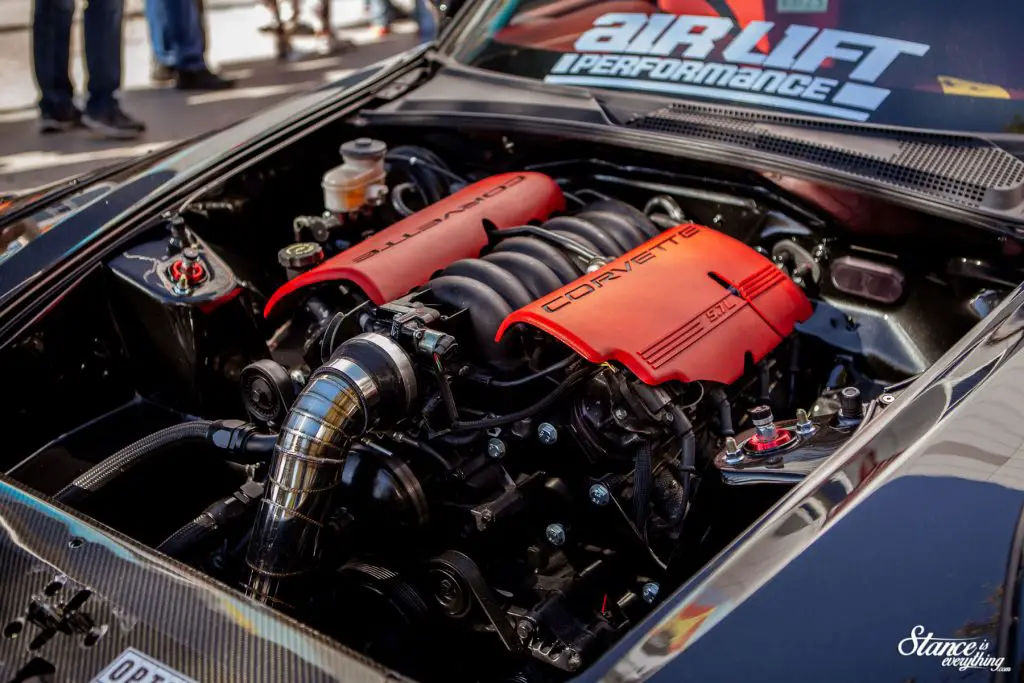 This LS powered S2000 was one of the more talked about motor swaps of the show. The builders did a great job shoe-horning the Chevy v8 into the tidied up S2000 engine bay.
The overall package, with the flares, diffuser, wing, and stance, might be a little over the top for some but this is SEMA after all. Over the top is often the name of the game.
CATuned sent me right back to e30 fanaticism with their #e30grape project. MTech I, bags, and a supercharged S52. I'm not going to lie after writing a quick spotlight on this I tried to find my old e30 on Kijiji…. for Ash of course.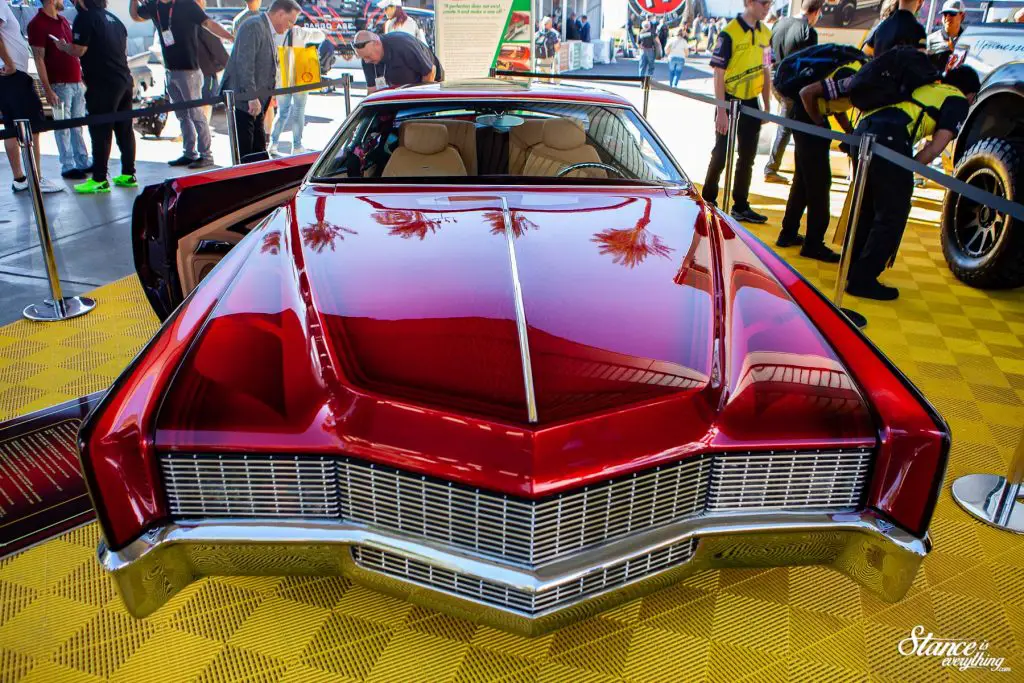 I unfortunately returned from SEMA with a lower than usual amount of minitruck and lowrider photos. Weird I know, and I'll try and make it up for it in the near future.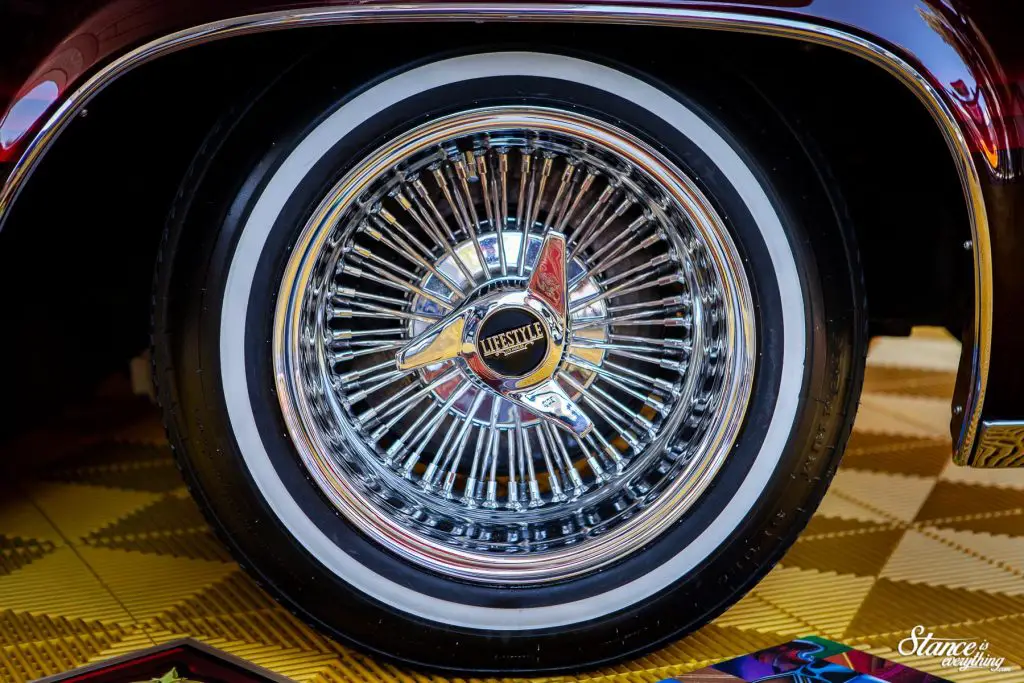 I did however take a number of photos of Joe Ray (Lowrider OG, literally) Cadillac Elderado.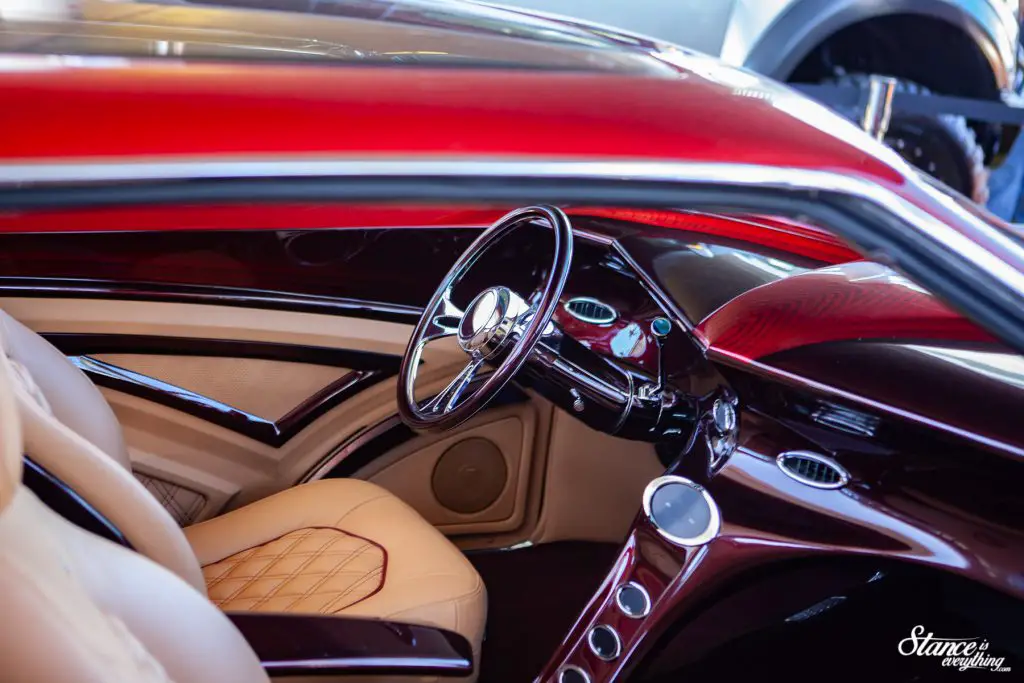 Saying this car was clean is a complete understatement. It was spotless, thanks to Joe nearly constantly giving the car a wipe down.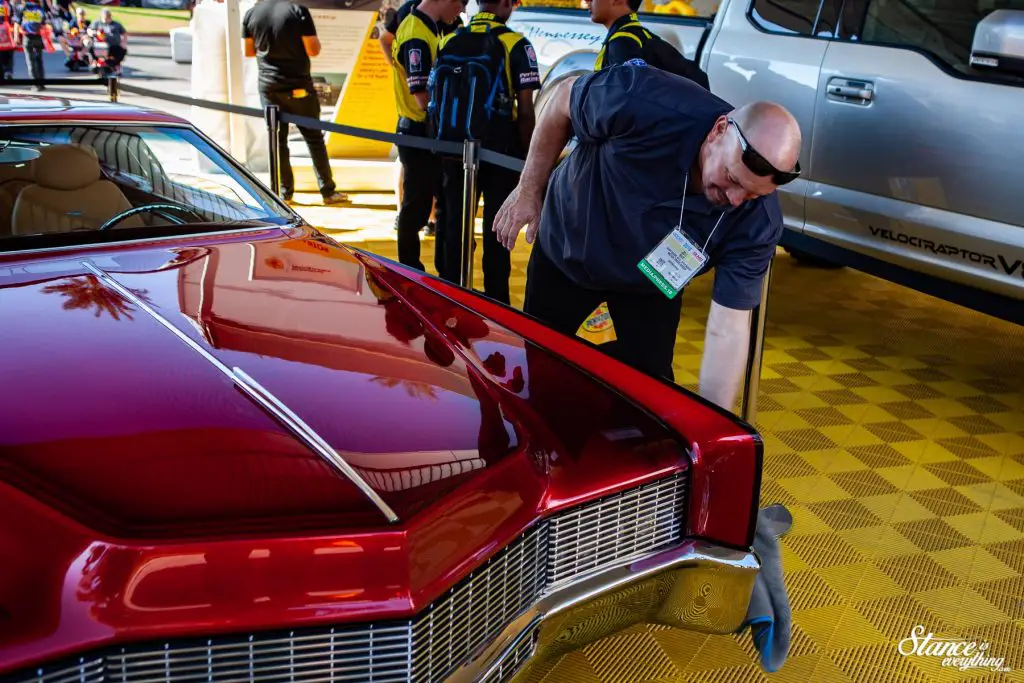 There's an insane amount of custom work done to this car, including a conversion to rear wheel drive from factory front wheel drive.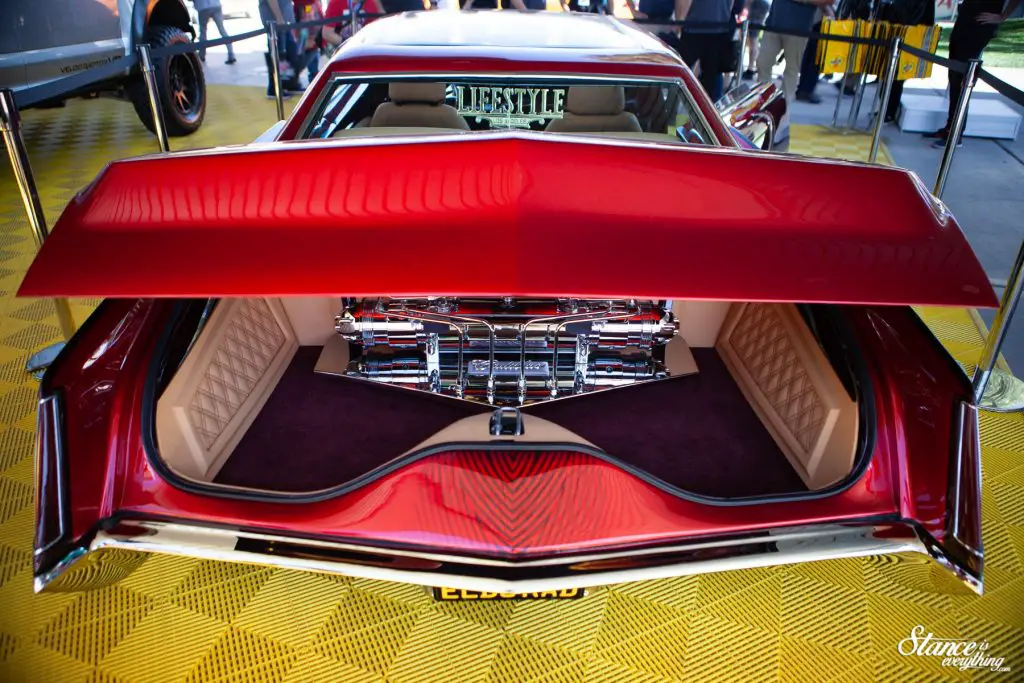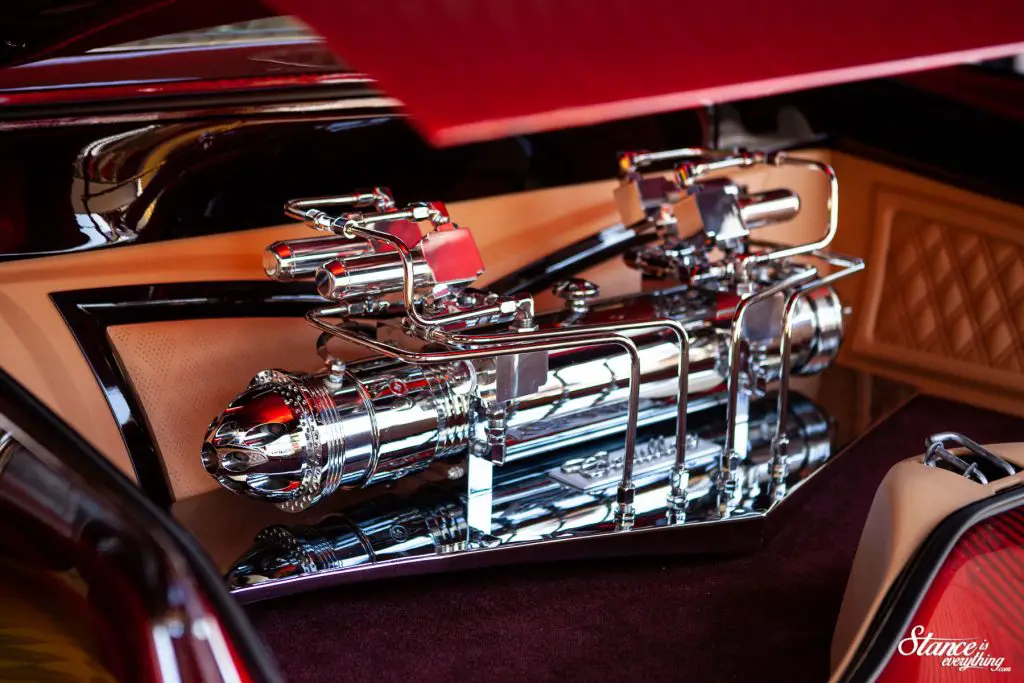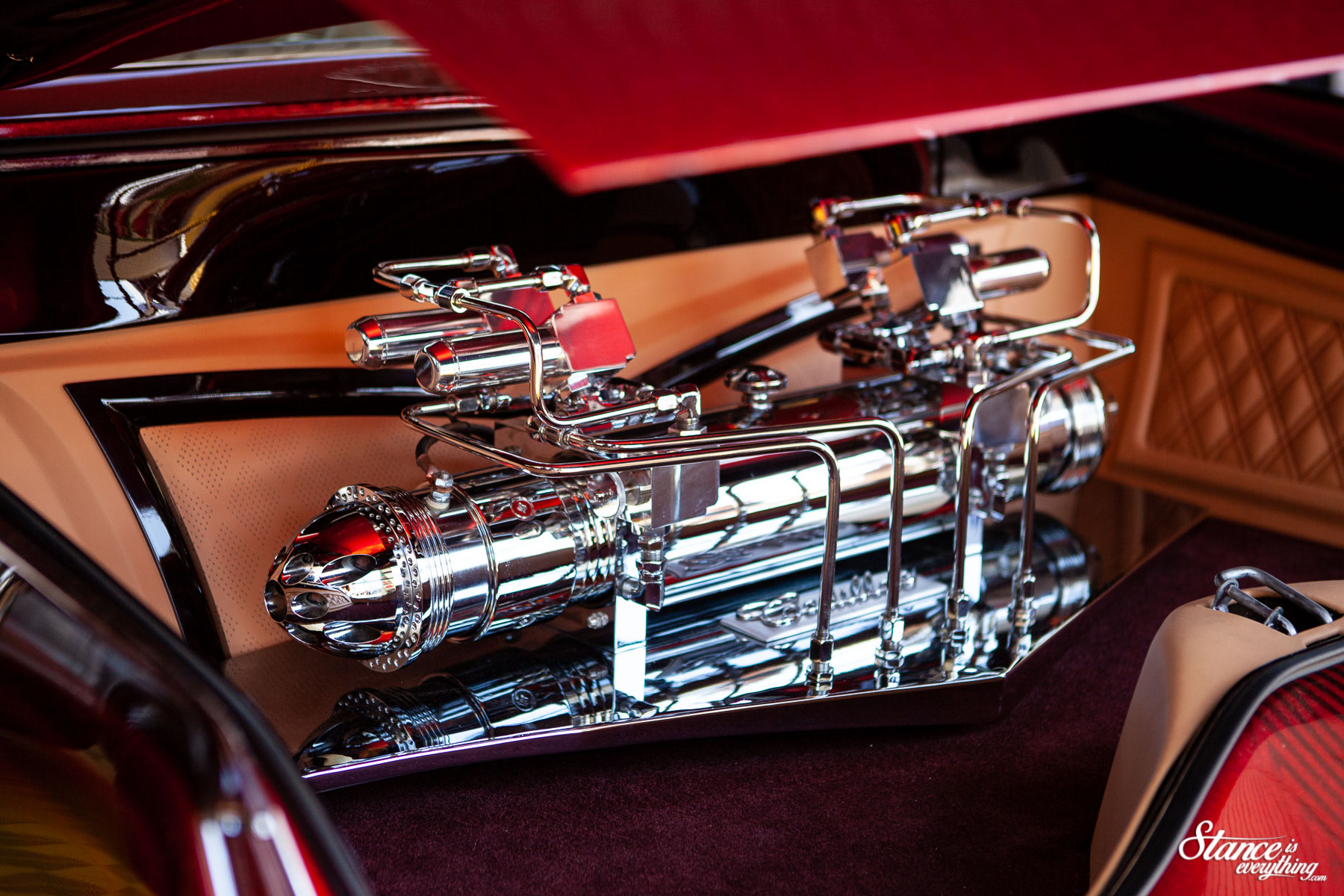 I can't even being to fathom that man hours that have gone into this one.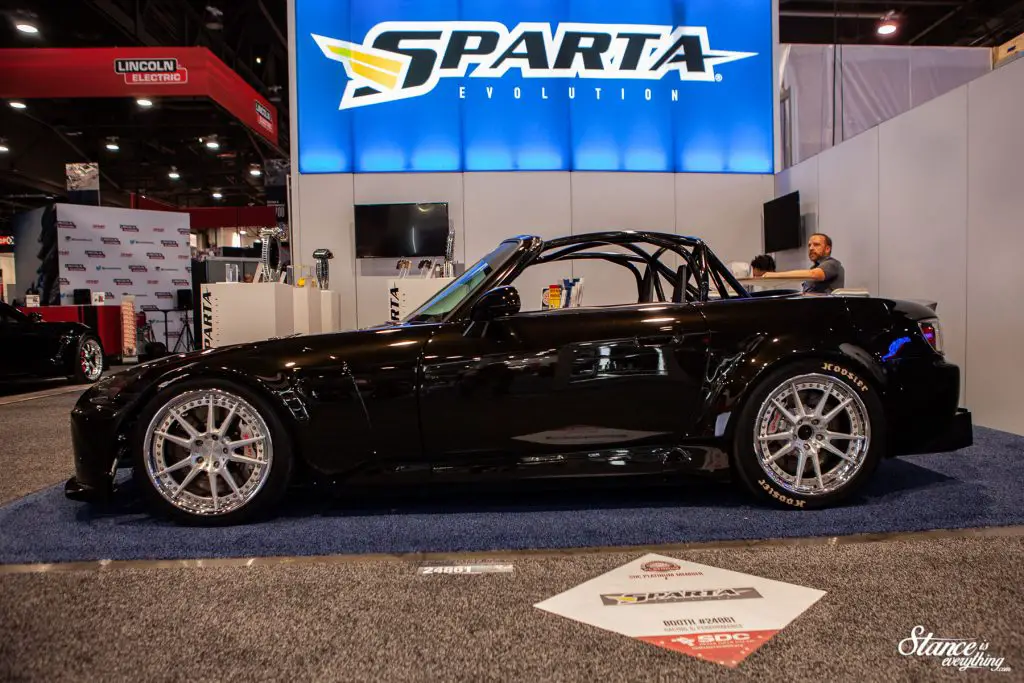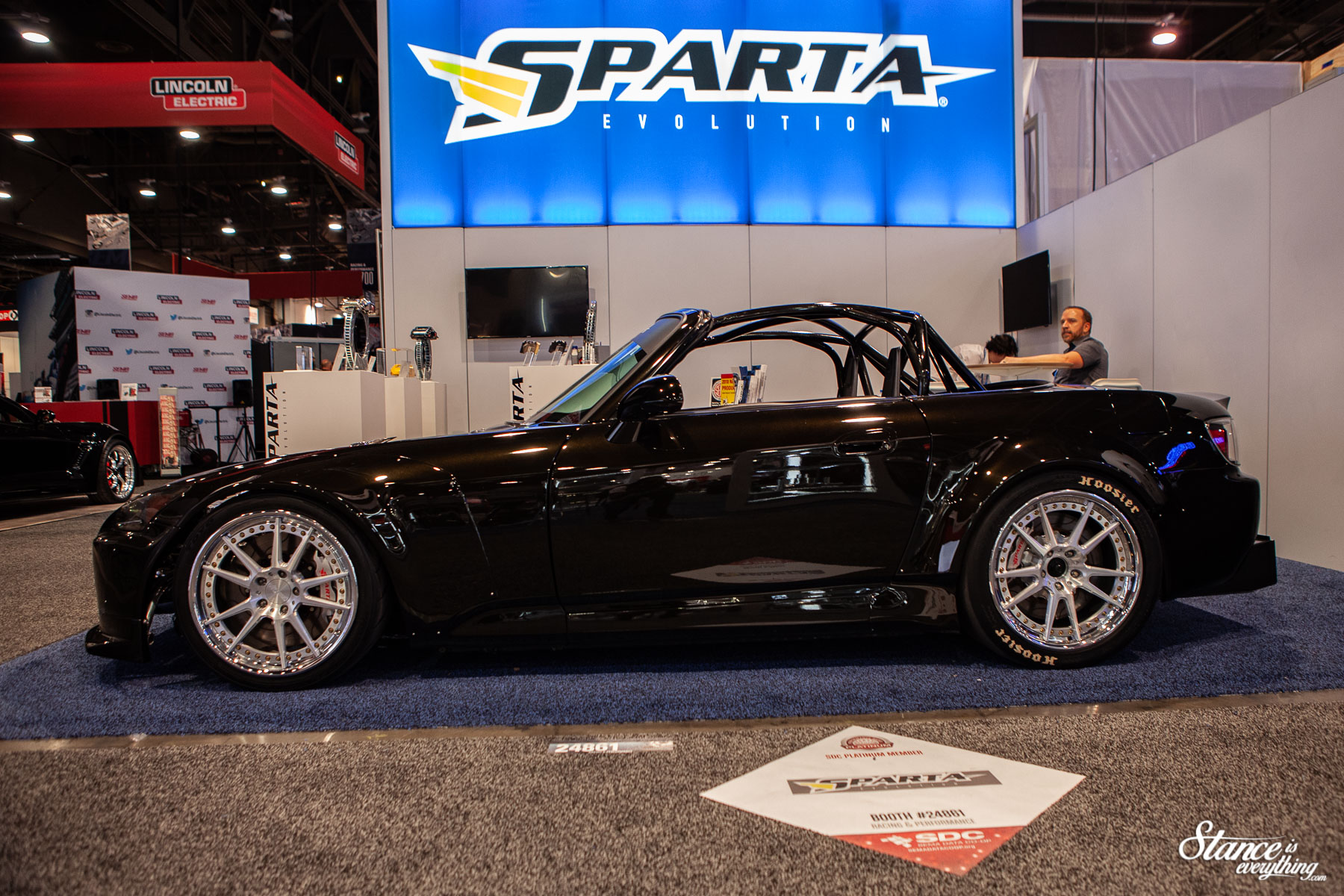 In the Sparta brakes booth this banger of an s2000 could be found. A clean car from the outside it's the motor that stopped everyone in their tracks.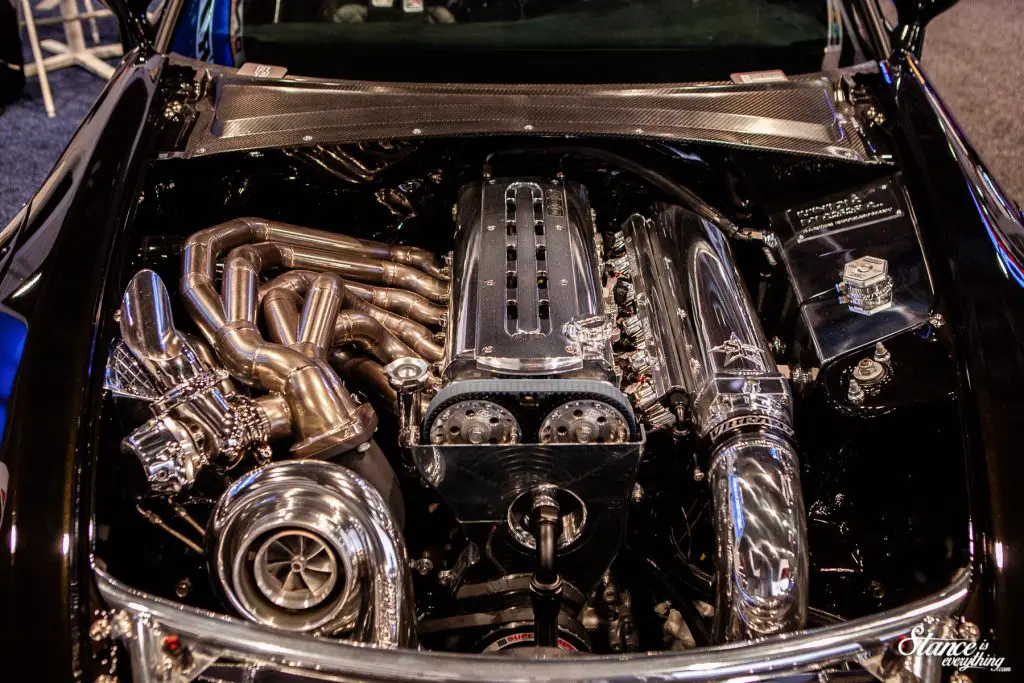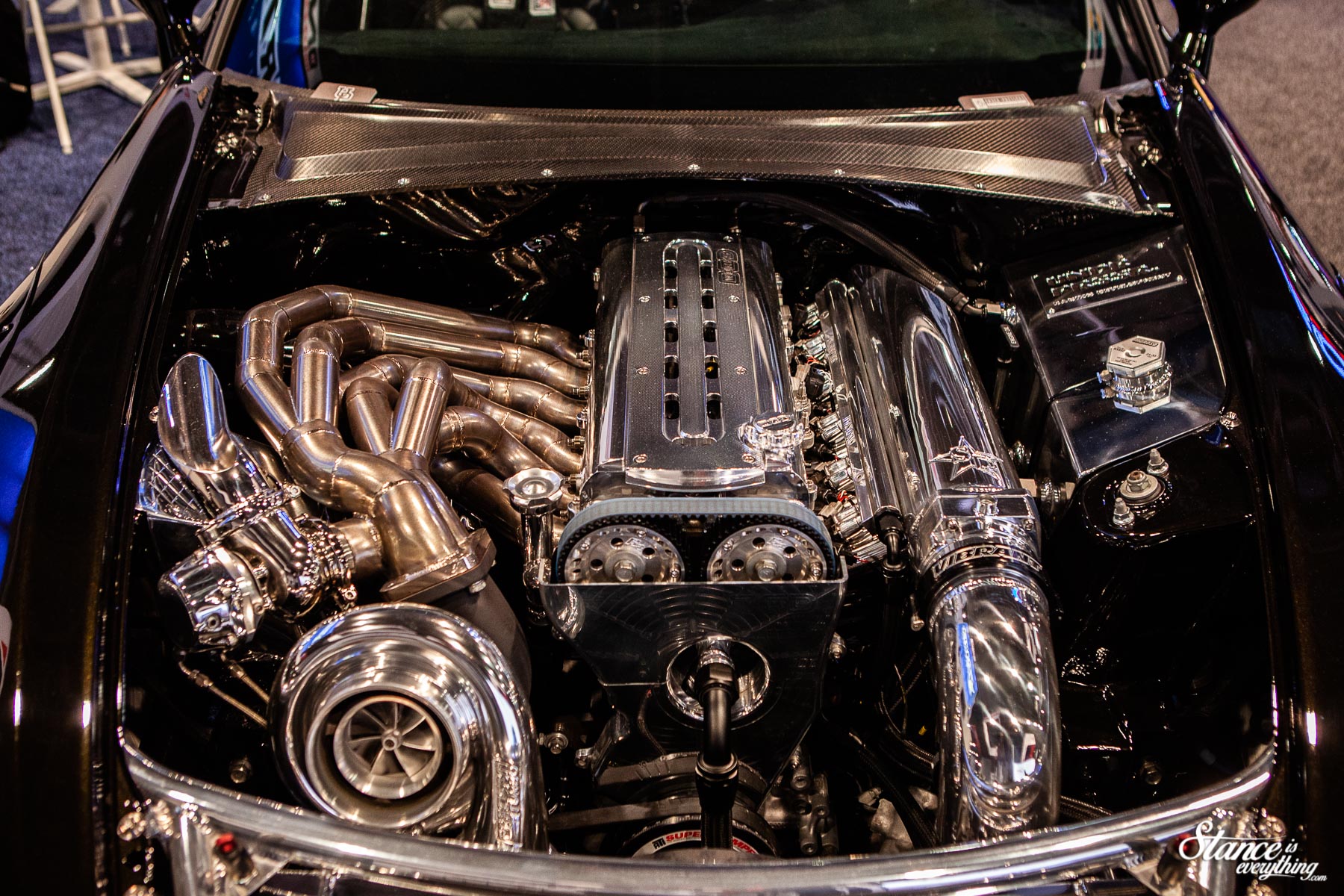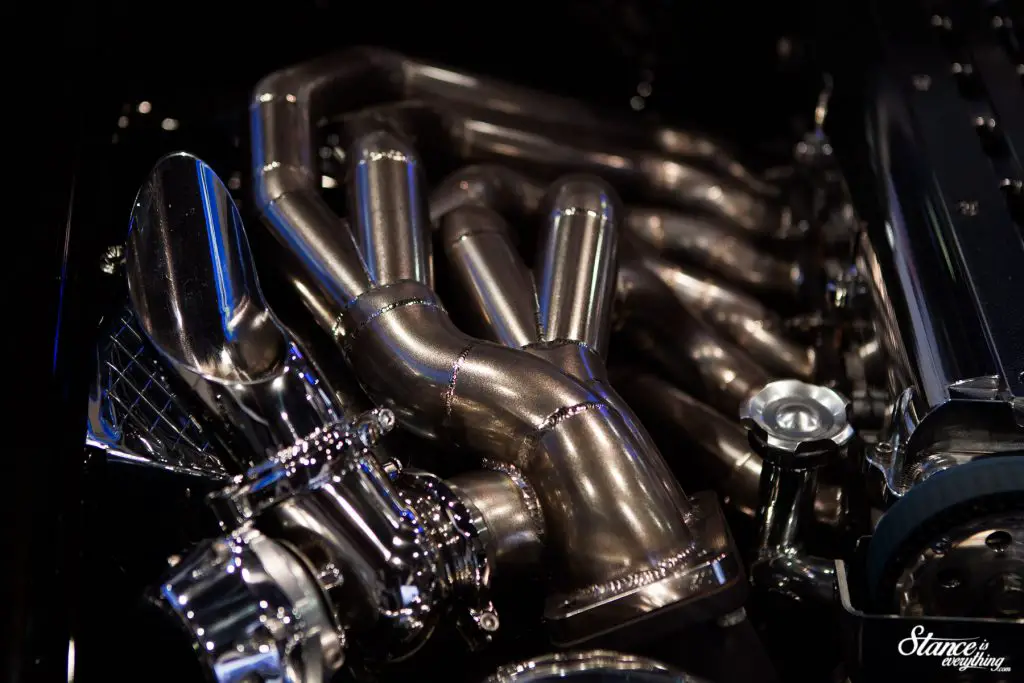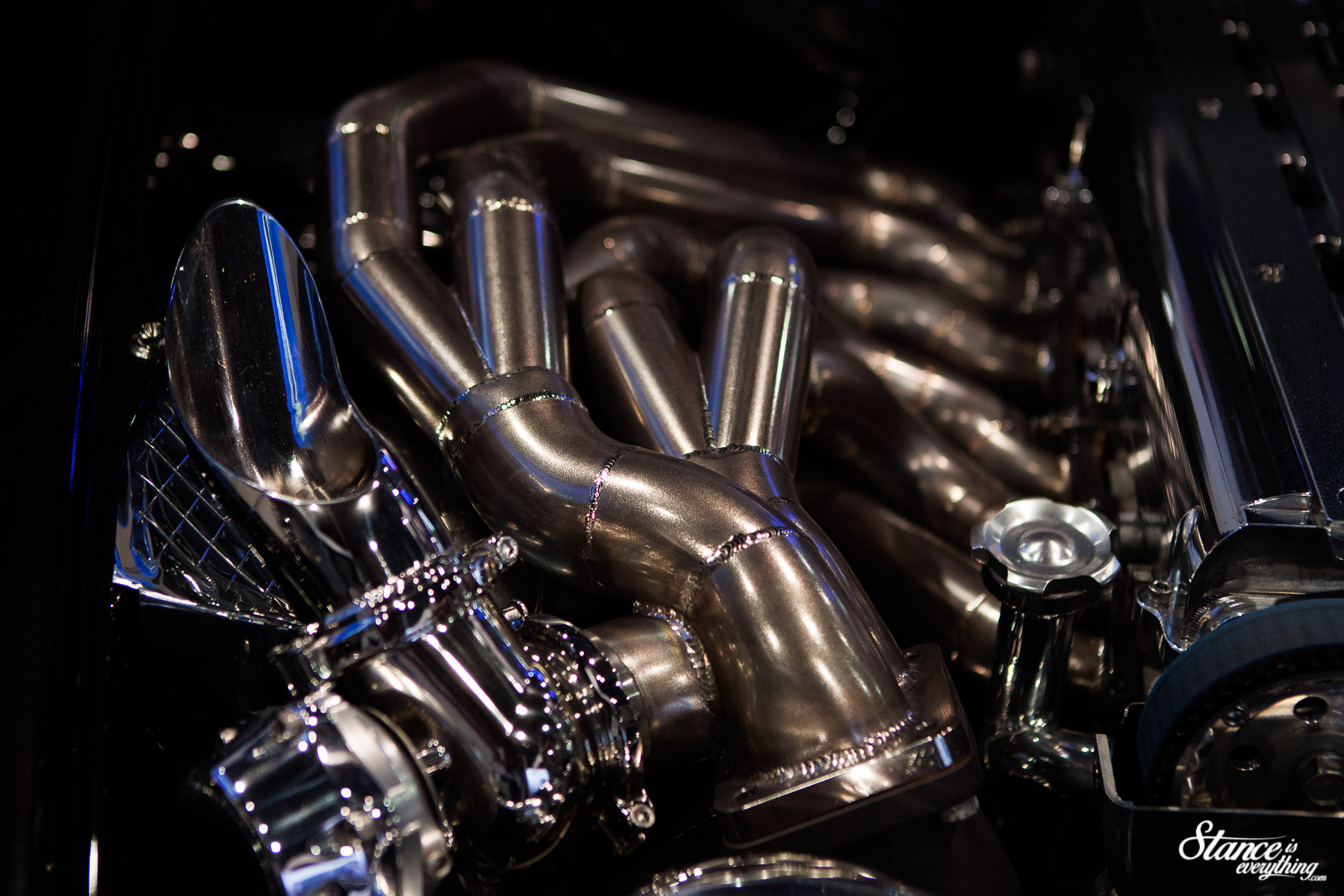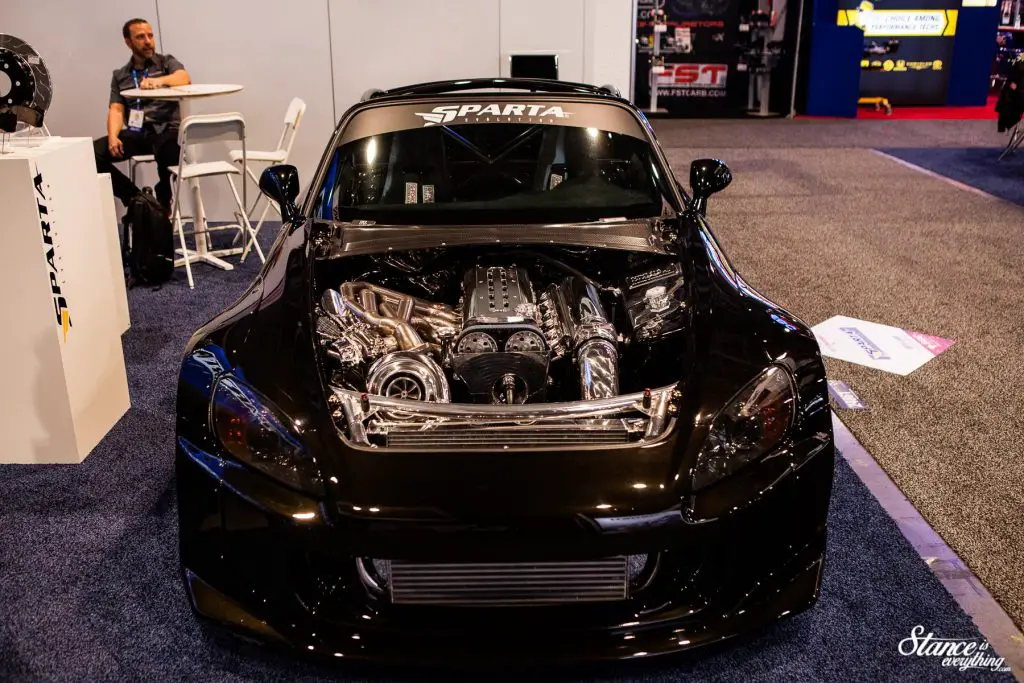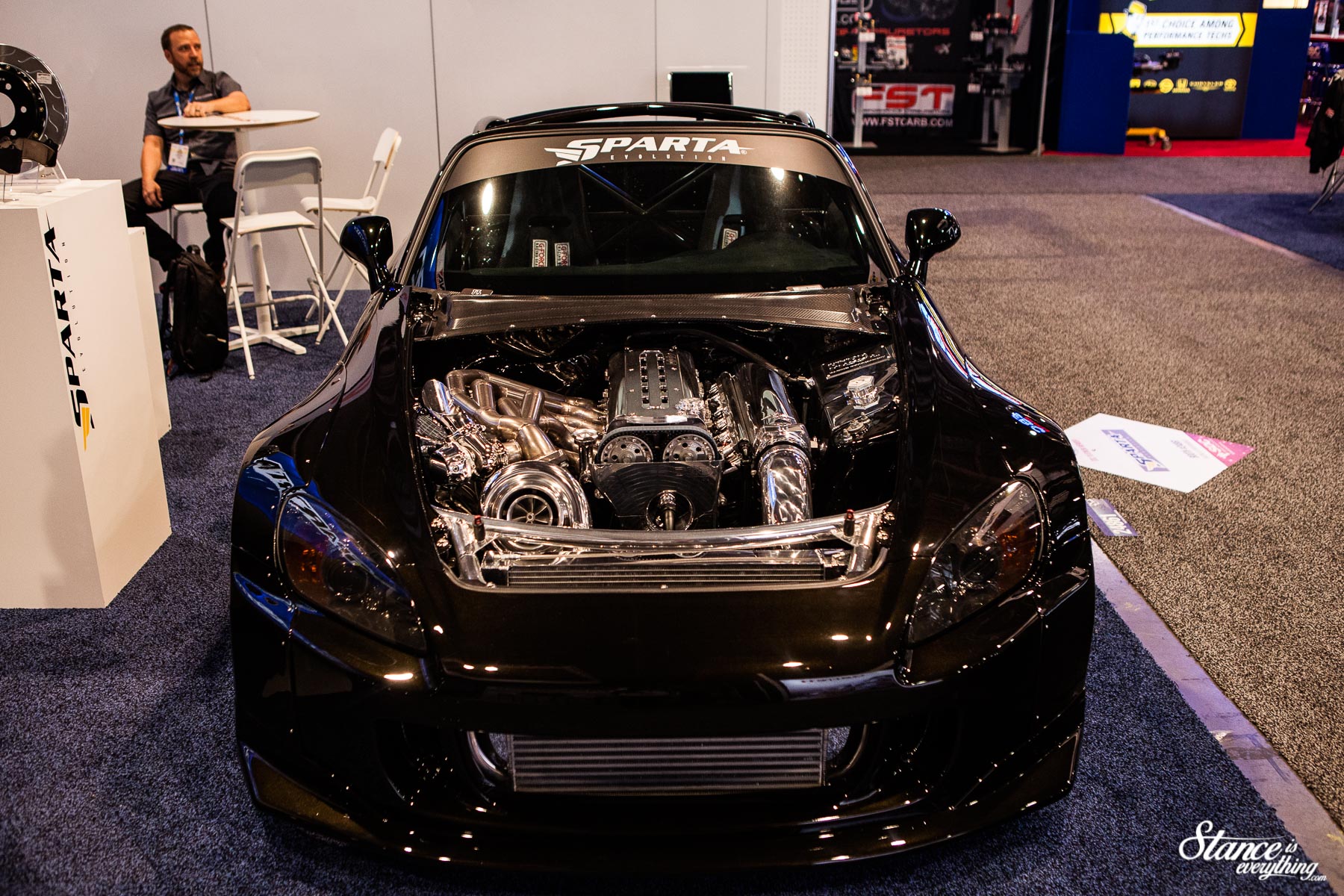 The F20/22 has been ditched in this car for a big single turbo 2JZ. The fabrication work was truly a site to behold.
It also had an interesting pair of carbon fiber seats that weighed just 3lbs each.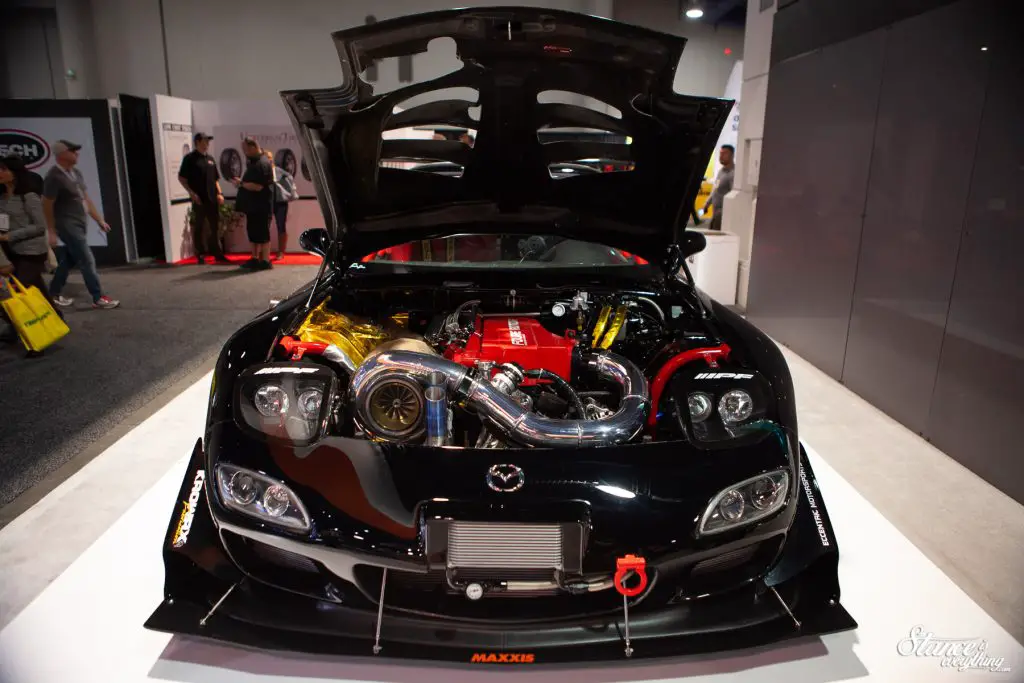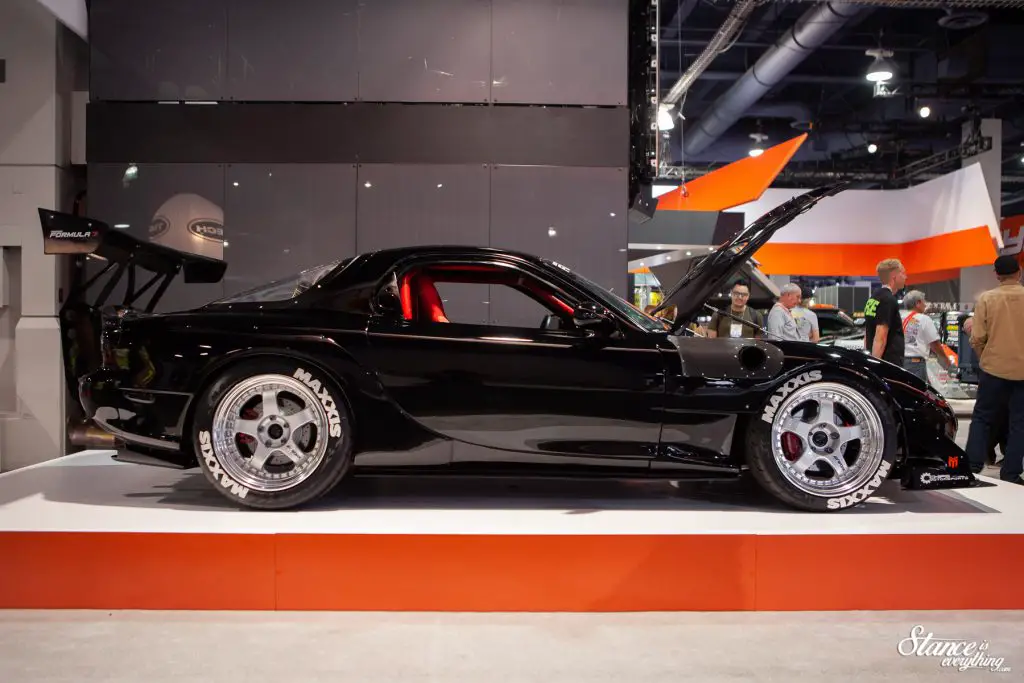 While I appreciate an LS FD as much as the next man it was pretty crazy to see a four rotor RX-7 in person.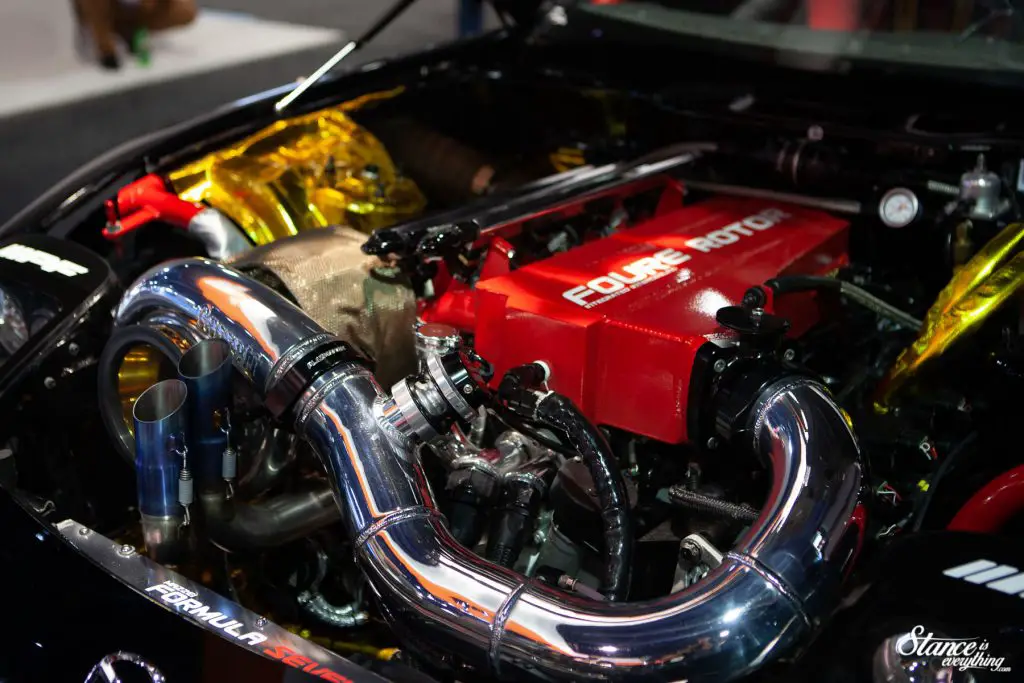 I suppose the only thing better than seeing it would have been hearing it.
For now the video above will have to do.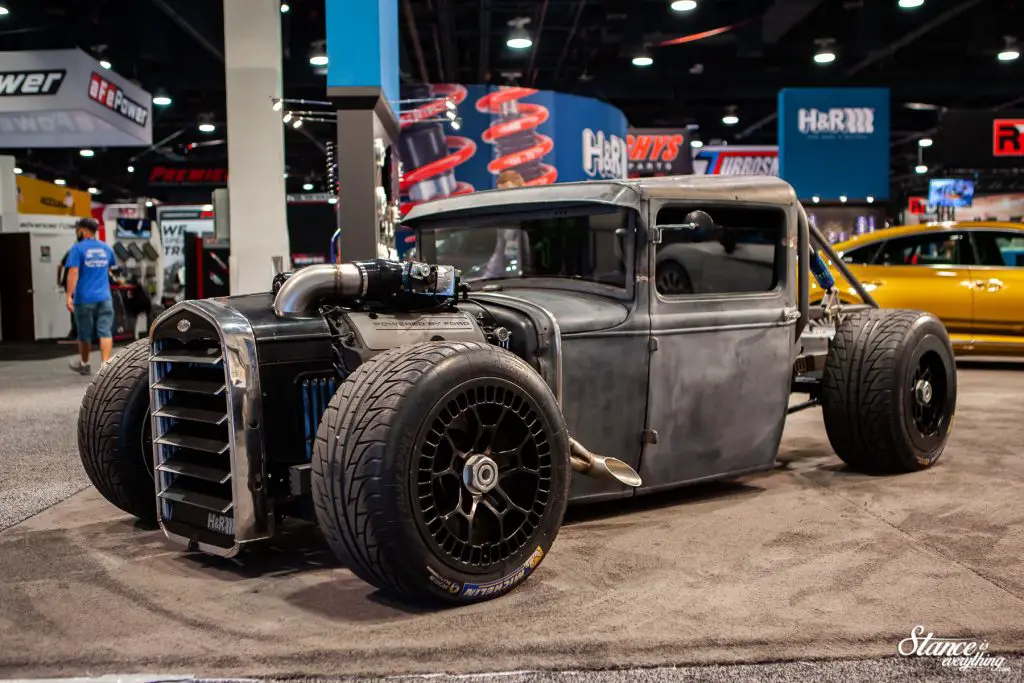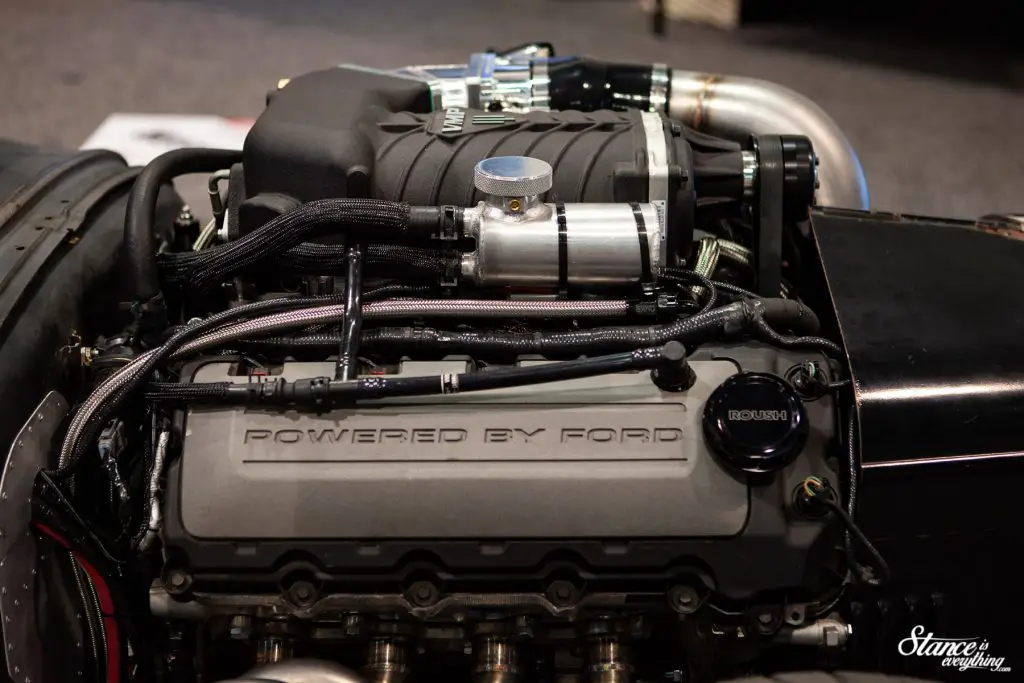 Mike Burroughs from Stance Works debuted his latest project, a Coyote powered Model A with a custom chassis designed and fabricated by Mike himself.
This is the first Burroughs built project I got to see in person, and it was pretty wild.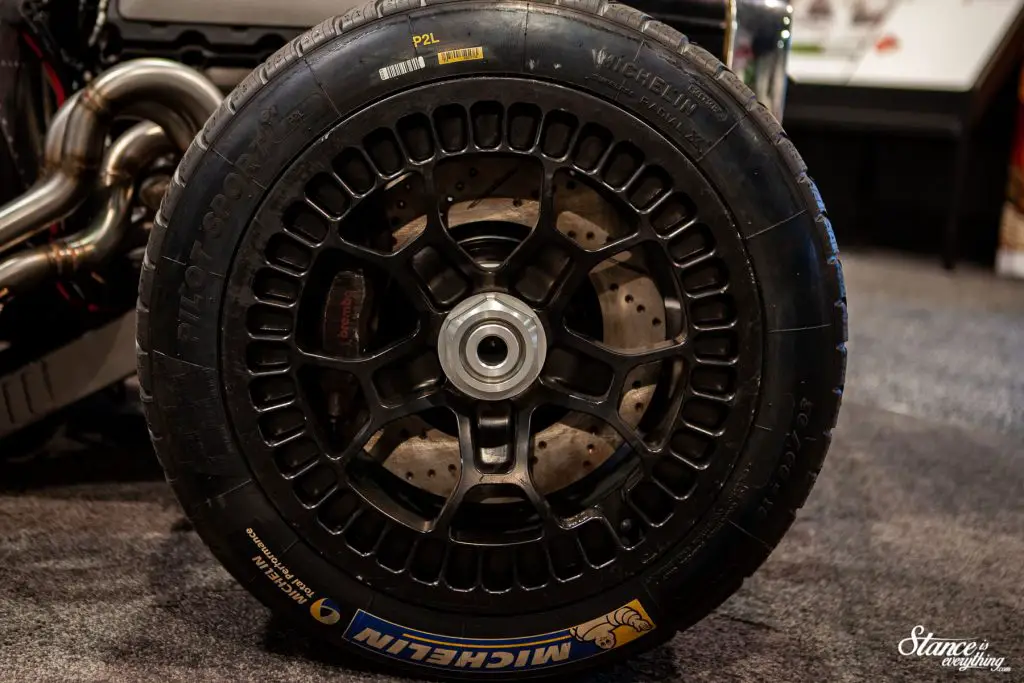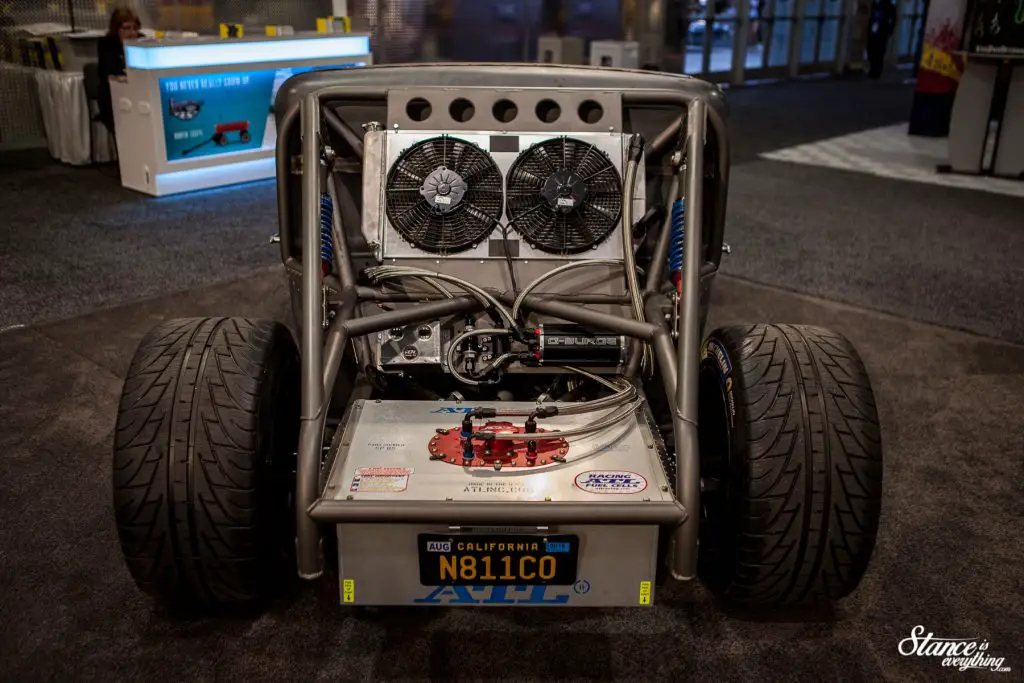 Typical of Mike's style it's not traditional in anyway shape or form, but I can dig the aesthetic. Though I'm curious what kind of bed he might put back on it in the future.
Parked among tire mounting machines, in one of the lesser traveled halls, I stumbled upon this RWB Porsche.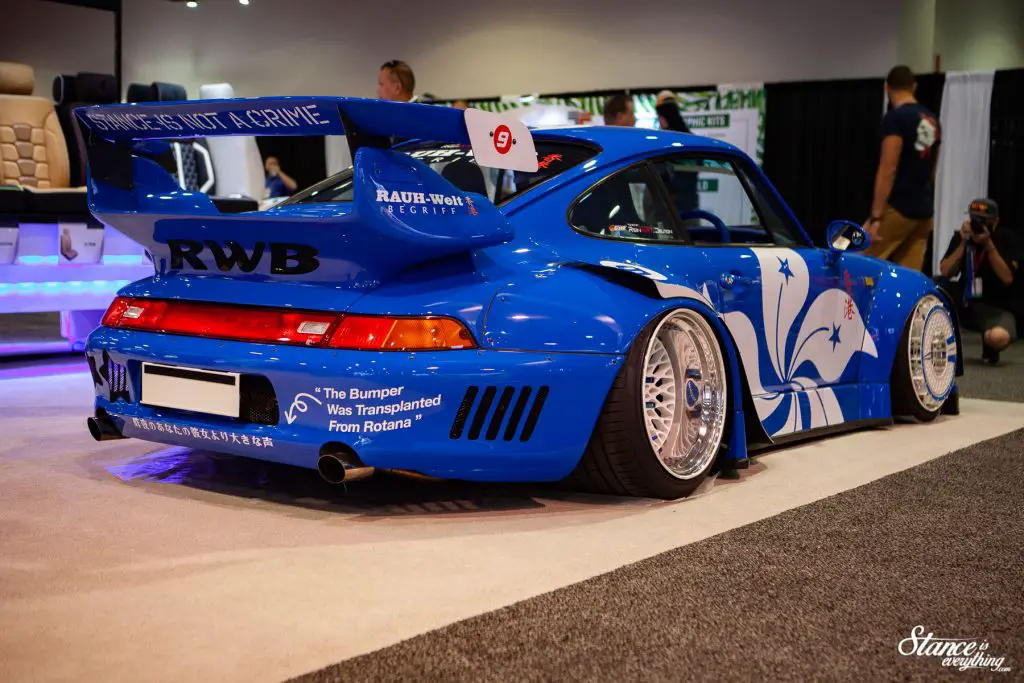 There's so many RWBs these days that it's hard to know exactly which one this is but I can tell you it's pretty damn bright and features blue and white everywhere.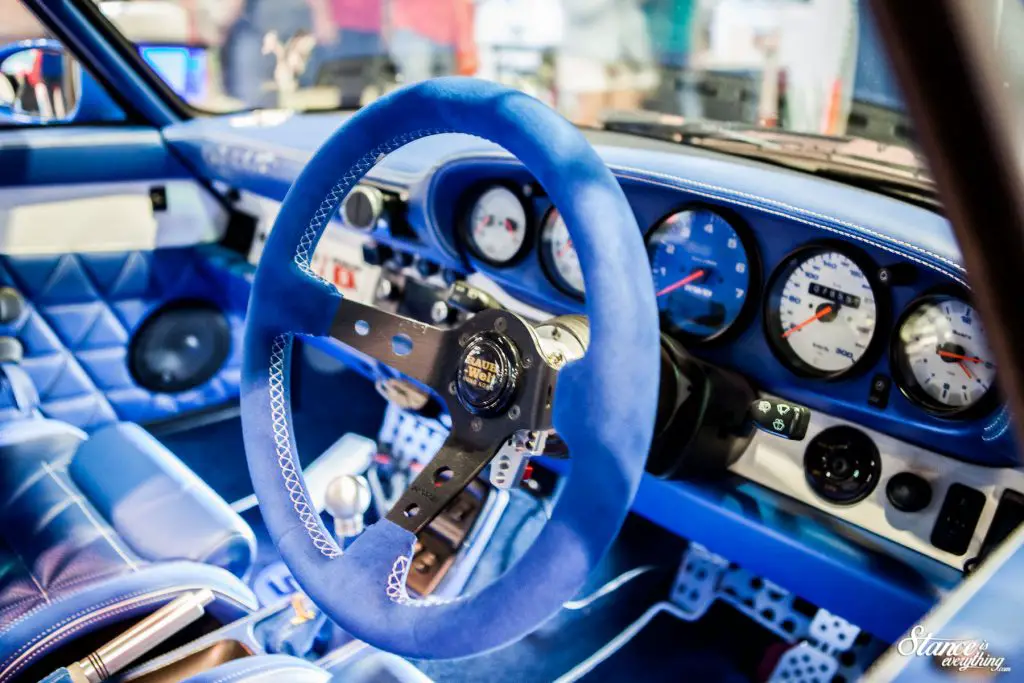 I'm not totally finished with SEMA for this year but I'm close. Enjoy a few more photos below, and you can probably expect a final over flow gallery next week.