Volkswagen drivers are serious when it comes to stance. They have been doing it for a long time, and arguably do it the best. Therefore, anytime a pack of proper VW's scrape down the street together, it's a rolling lesson in stance 101. I hope that Northern Jersey and area residents have their pens and paper at the ready, because when Star Status is in town they put on a clinic wherever they go.
MKIII GTI – Ramon
The MKIII GTI is a popular platform among the VW crowd, and no VW crew would truly be complete without one. That's why Star Status has this beautiful example in their fold. Ramon's MKIII is heavily modified, but never looks over done which is proof of a keen eye to detail.
The body is set off by a JOM badge-less grill, vr6 chin spoiler, fk long turn signals, clear red hella tails, french headlights and chrome mirror caps.
Motor wise, the perpetually loved vr6 has been hopped up with a MarkIV headgasket, Autotech 262 cams, Schrick VGI intake manifold, Giac cam file chip, Secondary Air delete, and a Suitcase muffler delete. To help put all this new found power to the ground, a stage 1 clutch has also been installed.
Inside this dub, and behind a leather wrapped dash, sit a pair of r32 seats, which are complimented by matching leather wrapped door panels with Bentley diamond stitched inserts. The leather continues to flow over the A-pillars, glove box and center console. Finishing off the interior, a suede Bentley diamond stitched headliner was installed alongside a Weichers polished 4 point cage, should this car ever have the misfortune of ending up upside down.
The chances of this car rolling are, thankfully, pretty slim since it squats down in the weeds on a bagyard "bomber" air setup that tucks the 17×7.5 and 17×8 MAE crown jewels perfectly into the wheel wells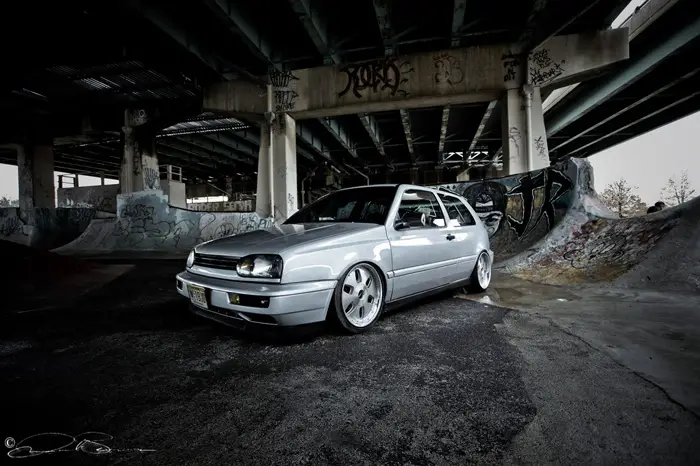 Download high res – 371kb
Black MKIII Cabrio – Danny (Mouth)
The second Star Status car is Danny's MKIII Cabrio, and it's a serious bit of machinery. The boser hood hints that this car has a little bit of attitude, but I think few would expect that come spring time, underneath that hood and behind the badge-less grill an all black super charged 2.9L vr6 with a Shrick manifold, will sit in the red, shaved bay (which matches the red diamond stitched interior) for anyone ready for a little fun.
Additionally little birdie informed me that by the time spring rolls around Danny's current 3 piece OZ Pegasus 16×7.5″ wide wheels will be history in favor of a deeper and wider set of wheels. The new set of wheels should be the icing on the cake for this mean little Cabrio.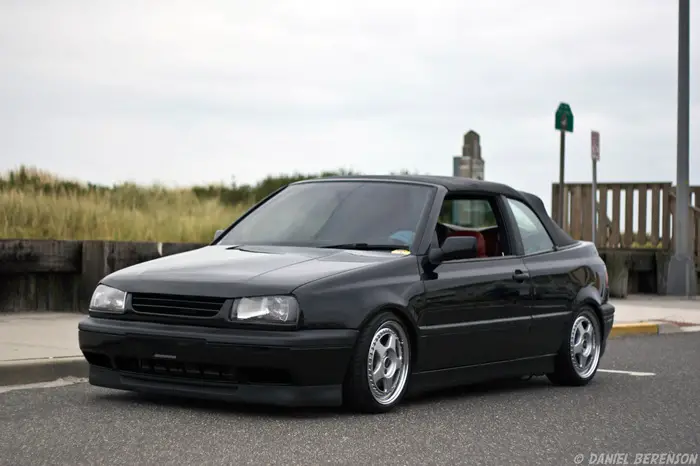 Download high res – 302kb
UG MKV GTI – Sal
If Danny's Cabrio wasn't an indication that Star Status doesn't believe that riding low always means riding slow, this GTI should be.
Sal's GTI has been boosted up and beyond factory specs with a GT3071R turbo upgrade while the ride height's been adjusted with a set of FK silverline plus coil overs.
With such a potent motor and suspension setup this car needed a pair of wheels to pull everything together and the HRE 449r 18×8's do exactly that.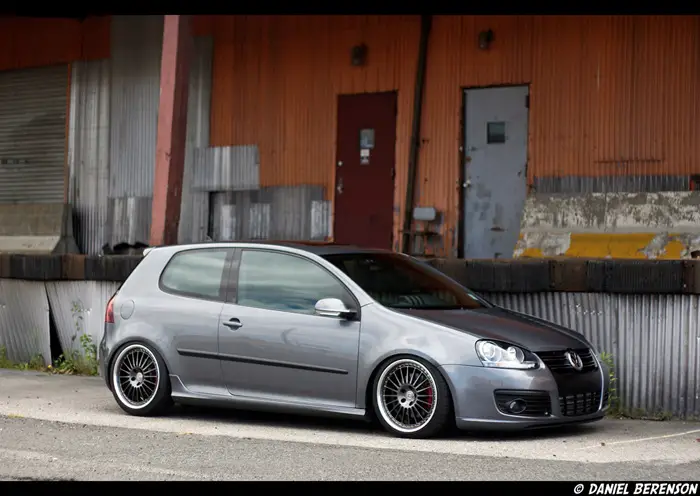 Download high res – 359kb
The Star Status Black Rabbits
Star Status likes to double their fun, and does so by having two sets of identical body, identical color cars in their flock.
The first Star Status pair is a duo of black MKV GTI's that drive home the point that often nothing looks cleaner, or meaner than a slammed, clean, black, car.
Furby
Furby's rabbit keeps the mod list short but very sweet, this car has; B&G coils, Radinox lipped Th-line rims (17×8 and 17×8.5), blacked out headlights, and amber turn signals.
Each of Furby's modifications compliment the one before it, and create an extremely clean enviable ride.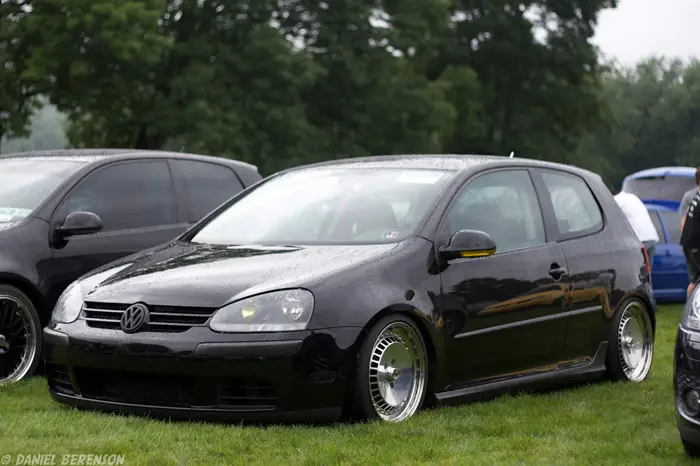 Download high res – 361kb
Matt
Matt is from the same school of thought as Furby, and as such, his rabbit also has a tight list of well thought out modifications which play off one another to create a portrait of stance perfection.
This black beauty is hammered down onto polished Benz six slots with an air ride setup and has an cutout free oem votex rear, a badge-less grill, and projector headlights.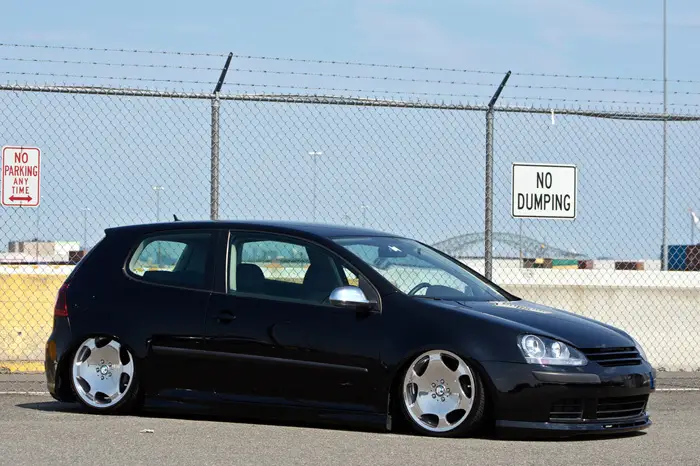 Download high res – 438kb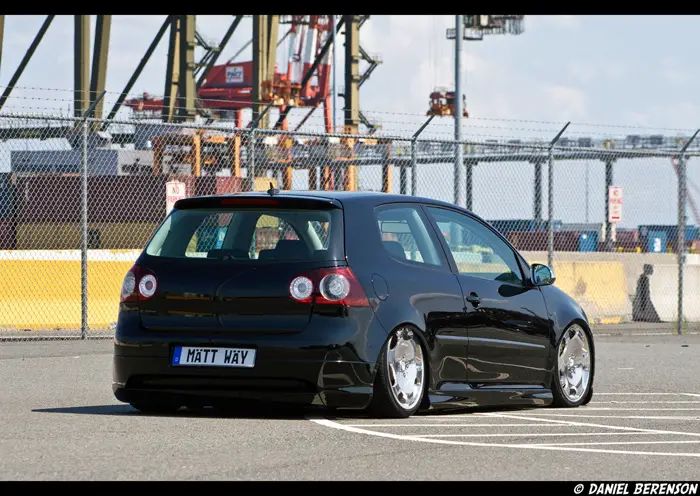 Download high res – 504kb
The Star Status Yellow GTI's
Yellow is a hard color to pull off correctly. It takes a certain type of finesse to modify a yellow car knowing that one misstep can cause an endless amount of big bird references to take flight.
With two yellow cars in their collective, it's safe to say that Star Status knows how to keep things tasteful when it comes to dealing with yellow rides.
Before Star Status, I would have been hard pressed to post two modified yellow cars in one post, but the decision is basically made for me when the yellow cars look as clean and proper as these. If all yellow cars looked as clean as thisStance Is Everything would be 90% yellow cars.
Paige
The first Star Status GTI was featured in the Girls with hot rides Theme Tuesday and upon seeing it again I remembered just why I liked this car so much.
The female touch behind this build knew that the factory body needed a little bit of help, so a badge-less grill was installed, half of the door cups were shaved, and the hatch was smoothed out entirely.
Once the body was all squared away, a set of RH wheels were installed and an air ride kit brought the body down to ground level.
A lot of guys in the game could take lessons from Paige on what it takes to build a clean, slammed, ride.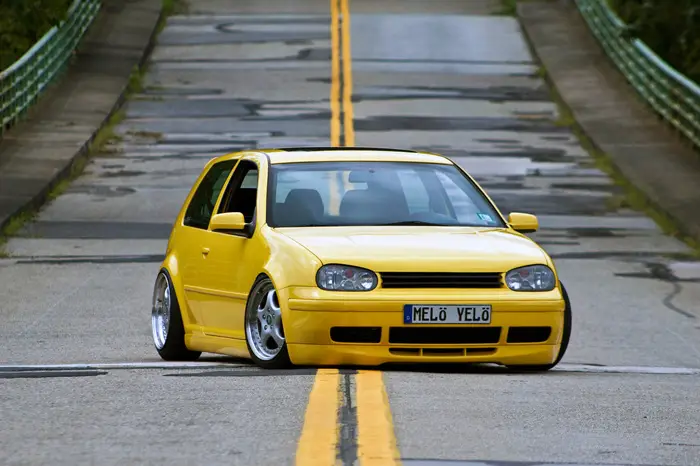 Download high res – 382kb
Ahmet
Ahmet's GTI starts out with the same Imola Yellow paint as Paige's, and truly upholds the clean look that Star Status is known for. This GTI has an oem votex body kit (Super rare!) and smoked golf tails. Ahmet installed these taillights as something for slower cars to watch fade into the distance as his APR stage 3 plus turbo kit propels his car into the night.
Not about to leave the under hood area untouched, this car has received a flawless Star Status quality shaved engine bay as well. Inside a set of cloth r seats were installed.
Finally Ahmet's car achieves it's immaculate stance and fitment by sitting super low on Brown AC Schnitzer Type 1s at 17×8 upfront and 17x9s out back.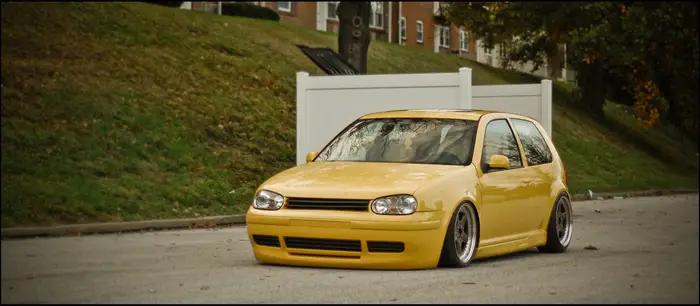 Download high res – 382kb
MKIV – DTek
Another Star Status black beauty DTeks MKIV is a head turner. The paint on this car is so deep that it's easy to overlook the shaved hood notch, bumper notch, side markers and hatch. But what's not hard to miss is the crushed red velvet that covers the headliner and pillars. This deep red provides a perfect contrast to that flawless black paint.
Under hood the motor breathes better thanks to an intake, turbo inlet pipe, down pipe and exhaust. While an aftermarket chip has been added to remove the restrictive factory ECU settings for a final power push.
The UV airbags on H&R struts bring this Golfs fenders down closer to the polished lips of the 18×8 and 18×9.5 J line 5SL2 rims and if anyone says that black face chrome lip rims are played out the need to look at this car again. When done right this look is tough to beat.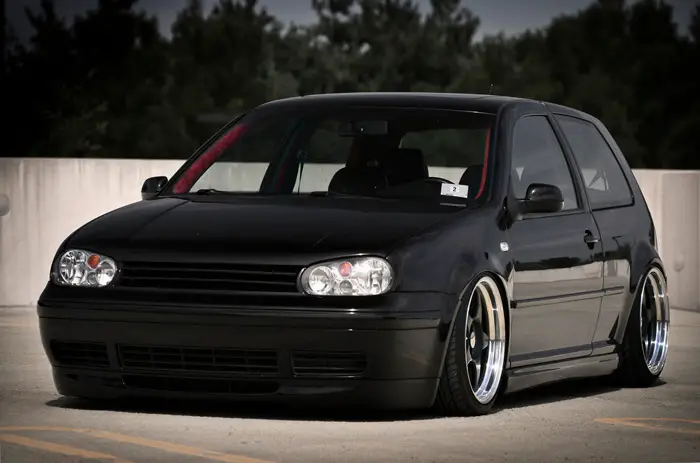 Download high res – 240kb
MKV GTI – Dan
Last but not least in Star Status is Dan's flawless red GTI. The body of this car has been fitted with euro R32 tails, and a no-cutout euro R32 rear bumper. Inside the engine bay, it packs an extra punch with a stage 2+ tune and bolt ons.
Inside this vw, the front and rear seats have been wrapped in black leather and alcantara to keep the occupants in place during high speed maneuvers, and since Star Status believes in the complete package, the door cards were also done to match.
Star Status is clearly a fan of air ride set ups, and this car is more of the same since it sports a bag over coil setup that allows the lips of these 17×8 and 17×9 polished faced RS rims to sit flush with the fenders when fully aired out.
With these wheels sitting so perfectly in the wells, you just know that a lot of time and measurements went into this final stance.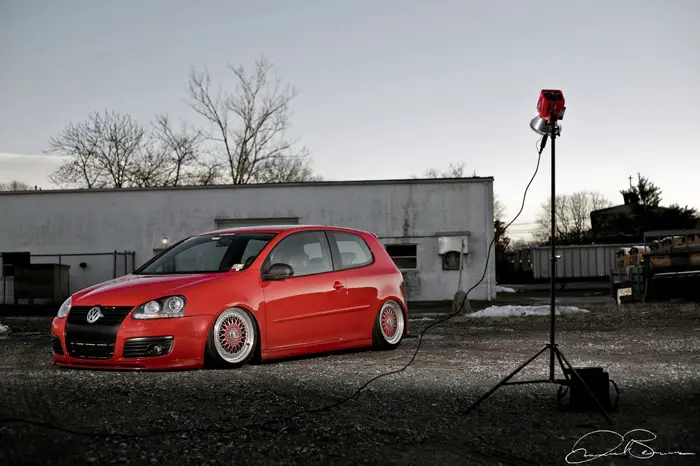 Download high res – 317kb
I'm no fortune teller but I can see Star Status making waves in the euro tuning scene for years to come. The nine cars you see above are just a few of the cars in the crew.
I'm very happy to have been able to showcase some of their amazing lineup of cars here on Stance Is Everything, and look forward to posting more.
Thanks to Daniel Berenson for being the liaison between myself and Star Status and for splitting photo duty with his friends Ahmet Baran and D Tek.
If you would like to see more of their work photo work their flickr accounts are:
flickr.com/photos/ahmetthejerk
flickr.com/photos/dbson
flickr.com/photos/dtek