Hyundai surprised a lot of people when they released the Genesis being a company with no prior sports car platform to speak of unless you make the stretch to include the Tiburon.
In 2009 it was tough to say how the car would do in regards to initial sales and aftermarket acceptance/support, however about a year or so after initial release it's fairly safe to say that the Genesis has been well received.
Andrew along with the crew at Next Mod figured that the Genesis would be the perfect car to mod for the 2010 track/show season and together built the car getting the spotlight today.
Starting with GT platform the turbo 2.0 motor was allowed to breathe and exhale better thanks to a Grimmspeed intake manifold spacer, AEM cold air intake, Ultimate Racing 3″ downpipe, secondary cat delete, and HKS catback exhaust.
Other performance modifications include a a recently added inter cooler, Torsen LSD, RRM lightweight crank pulley, and a PowerAxel PowerX ecu re flash, and to add a little show with all that go the motor received silicone hoses and a custom paint treatment.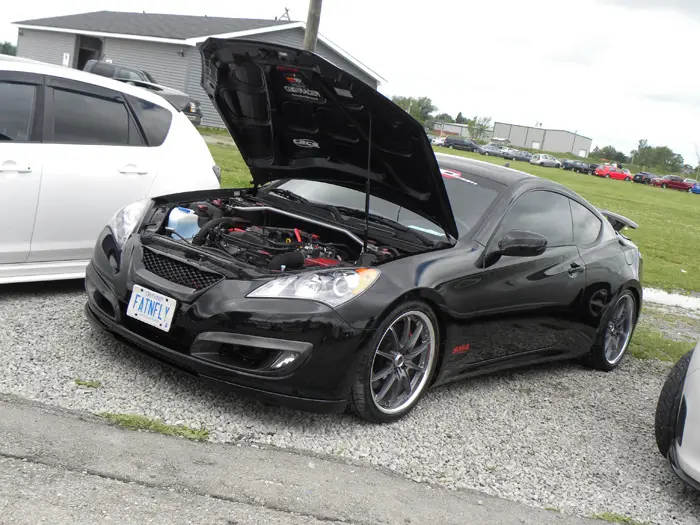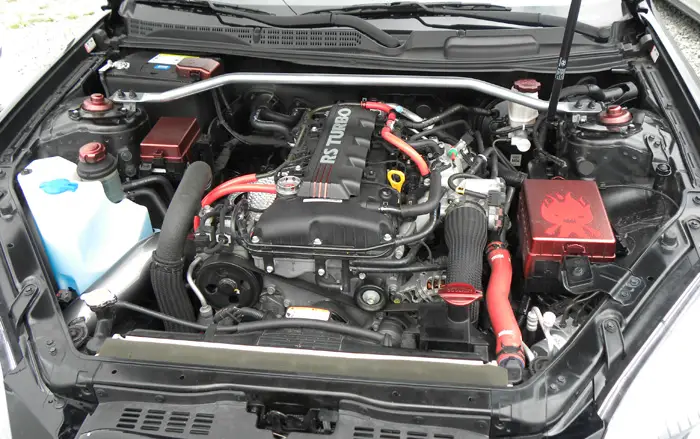 Andrew can brake a little later for corners in his Hyundai thanks to KPR stainless steel brake lines and a Brembro big brake it, and the SMA coil overs along side a strut bar help keep the car planted during high speed maneuvers.
The running gear on this Genny are genuine 19″ Volk GT-F wheels with Bridgestone Potenza RE 760 sport tires in 245/35/19s up front and giant 275 30's in the rear.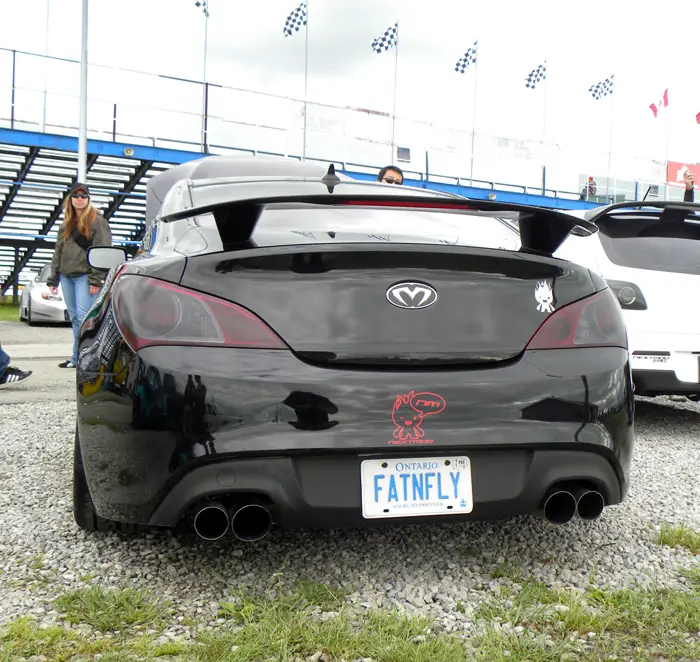 As the Genesis is fairly unique looking car Andrew decided to keep the body fairly simple choosing to only add a Canadian spec spoiler, M&S badges, M& S grill, tinted headlights, CF fog surrounds, and a Bliss front lip.
Even though Andrew's kept himself quite busy putting in work on his Genesis he has also found the time to start the www.ontariogenesisclub.ca for he and his fellow Ontario based enthusiasts.
Andrews full modification list is below and he would like to thank:
Huge thanks goes out to Peter Pang and his company NextMod, Jay at Performance Improvements in Guelph,  Arvin Ko at PowerAxel, Point Zero, my friends at Gencoupe.com, Gencoupe.ca,  ontariogenesisclub.ca and Guelphsfinest.ca, and finally my family for having to put up with me as I work on my build, especially  to my Dad for letting me use his shop and his beer fridge!!
Engine/Performance
Engine/PERFORMANCE
KPR Stainless steel brake lines
TIC Short throw shifter and bushings
KPR Stainless steel Clutch line
Brembo big brake package
Torsen LSD
Grimmspeed intake manifold spacer
RRM lightweight crank pulley
AEM cold air intake
HKS Catback exhaust
Ultimate Racing 3″ downpipe and secondary cat delete
Ultimate Racing Intercooler
Ultimate Racing O2 Housing and High flo primary cat
Power Axel PowerX ecu reflash
SMA adjustable coilovers
Front strut tower bar
Custom engine paint
Hella horns
Vibrant silicone hose kit
Red silicone radiator hoses
HKS oil cap
HKS radiator Cap
Interior/ICE
Blox LP460 weight shift knob
Racing pedals
Stainless steel "Genesis" door sills
Power Axel UniNav
RRM CF A piller/guage pod
AEM Wideband
Autometer Boostguage
LED interior lighting
Red/Black interior theme
Complete Infinity sound system
JBL 8 chn Amp
10″ Infinity sub
2 10" JL w6 Subs
2 PG 200.1 Amps
2 farad Tsunami Cap
Exterior
Canadian Spoiler
Tinted windows
M&S Type A grill
M&S badging
Custom tinted tail lights
VIS CF foglight surrounds
Custom Painted Rear diffusor
Bliss front lip
19" Volk racing GT-F rims
Bridgestone Potenza RE-760 sport, 245/35 F, 275/30 R
Racing Composite Lug nuts
8000k HID headlamps
3000K Ignited HID foglights