Cruising through the streets of Yorkville I watch as Aidan carefully navigates his way past potholes and any parts of the road eager to damage his Crimson Inc Linea Sport rims and Version Select body parts.
Riding in the plush passenger seat I look past the Junction Produce curtains, and through the dark tints, at the reflection staring back at me and it's at this moment I understand why the VIP style and culture are so appealing.
I say culture because as I would learn from my VIP tour guide those who pursue this rolling act of elegance completely immerse themselves in what it is to be VIP.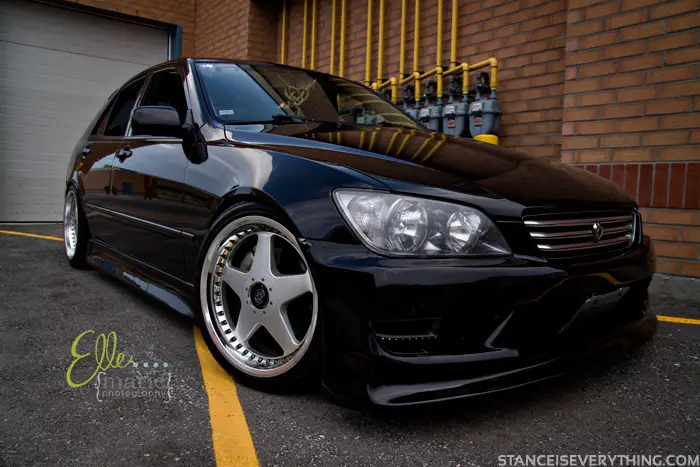 Similar to the notion 'not the bright watch, but the right watch' the VIP culture is based around a certain caliber of parts and accessories not the sheer amount, which is why Aidan has spent the last year or so carefully selecting which parts to put on his IS300.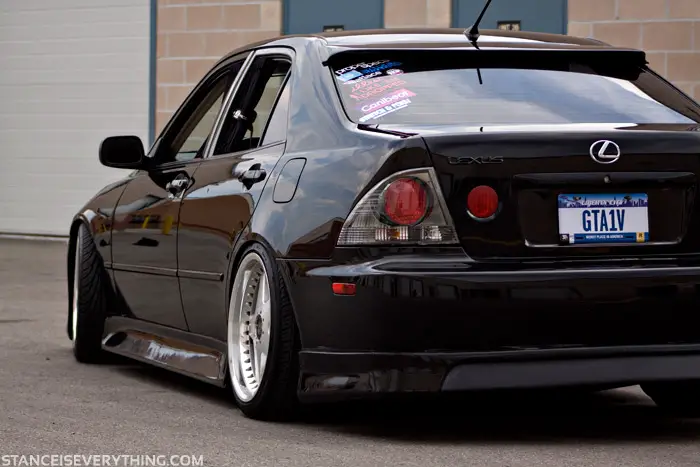 Looking from the inside out Aidan's interior is complimented by a number of accessories that could just as easily be found in an upscale home as oppose to a car interior.
His authentic, custom made, Dolce & Gabanna pillows provide a lounge like experience for the rear passengers, while his VIP head rest coat hanger is the perfect place to hang your jacket while enjoying the surprisingly comfortable ride.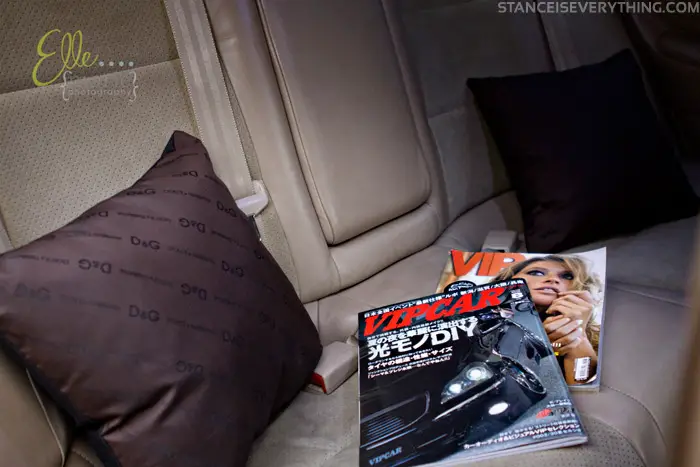 From the rear view mirror  hang both a Junction Produce Gold Kitsuna, and black Fusa which proudly display the fact that the style cues for this ride are deeply based upon the framework that has been laid down over seas.
For that extra little bit of luxury a Garson D.A.D key hole crystal is placed where the cigarette lighter would normally be found.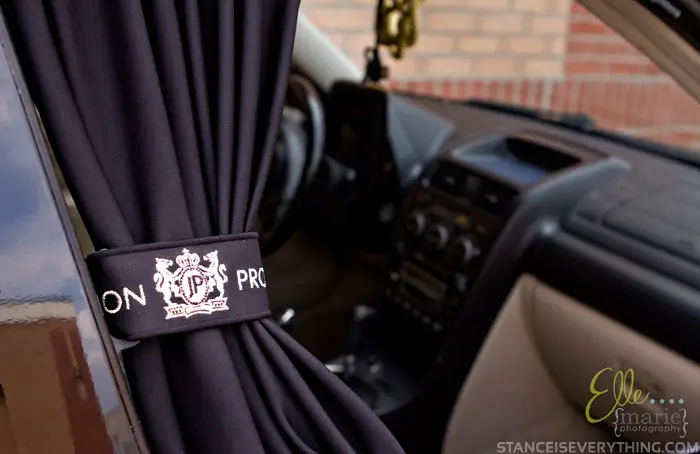 The front of the car has a Version Select bumper which Aidan has installed fog light blanks to house the custom FlashTech led strips which shine brightly in a color that matches his 6000k HID bulbs.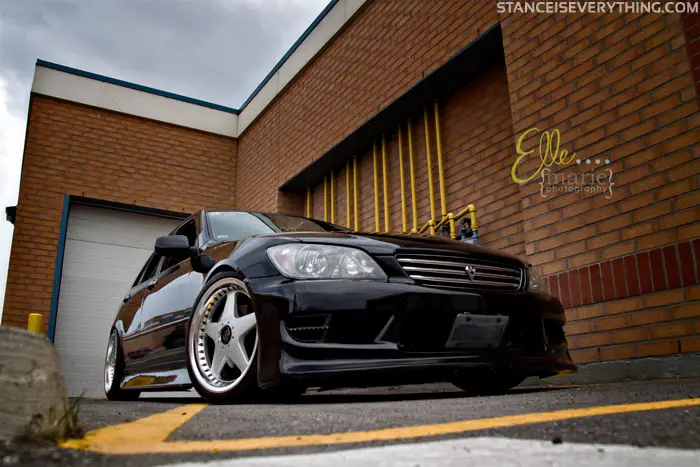 Finishing up the front end a chrome JDM Altezza Z-Edition grill sits between the OEM 2002 dark chrome headlights.
Around the back of the car Aidan chose to keep things simple and classy by adding a 2005 OEM Lexus RX330 antenna, a Nextmod TRD replica rear lip, and Kaminari roof spoiler, as well as dark chrome taillights to match the headlights up front.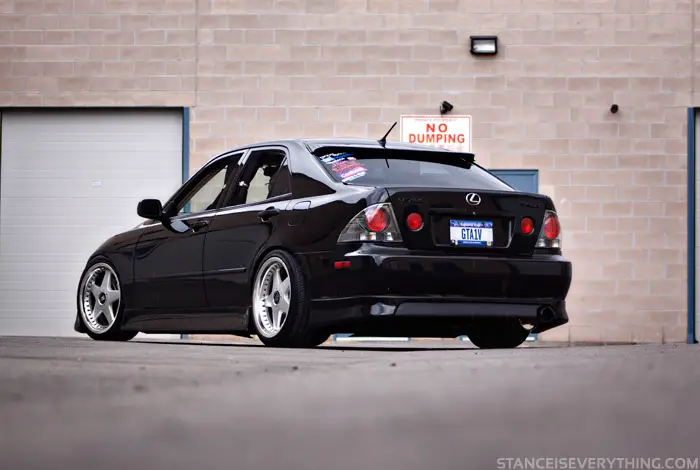 What really sets off this car off, and what I noticed most in the passing reflection, is the stance which Aidan took  his time to carefully craft.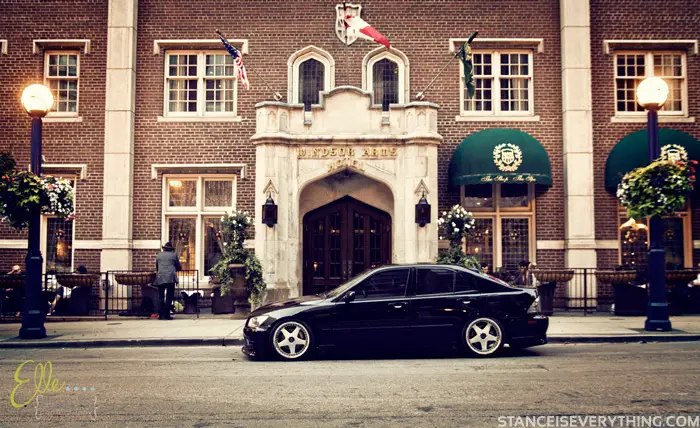 When viewing the side profile of Aidan's car its nearly impossible to miss the Version Select side skirts which emphasize the healthy drop provided by Tein, Altezza spec, CS Version 1 (Gold Version) coil overs.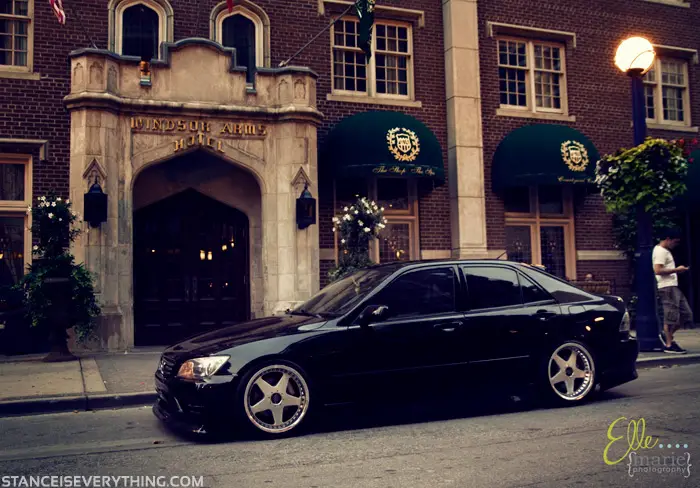 The car sits on Crimson Inc. Linea Sport rims (produced by SSR) which are 18×8 et +21 up front and 18×9 et+25 out rear with the front wheels being fitted with 215/40's while the rear has 225/40 tires.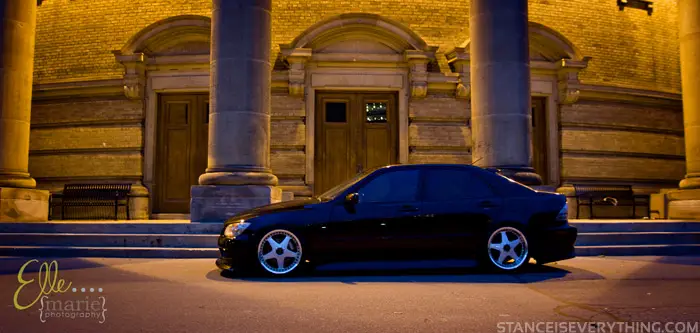 SPC camber kits have been installed on all four corners resulting in -1.5 degrees of camber in the front and -3.5 in the rear, combined with the rolled flat and 10mm pulled fenders rubbing is kept to a minimum.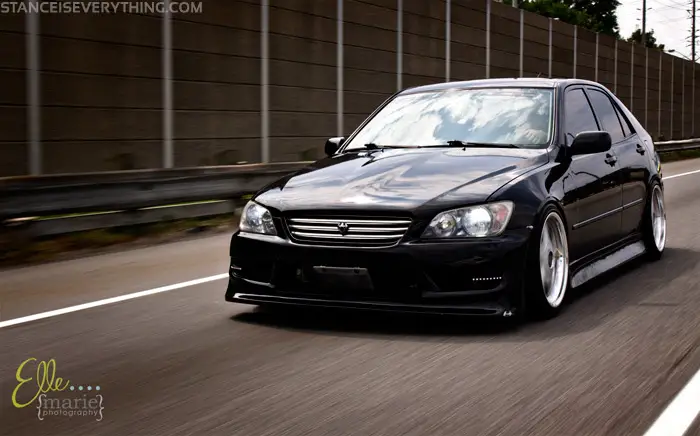 The final sum of all these parts is a stance that looks impressive up close but really sets in the more you back away from the car.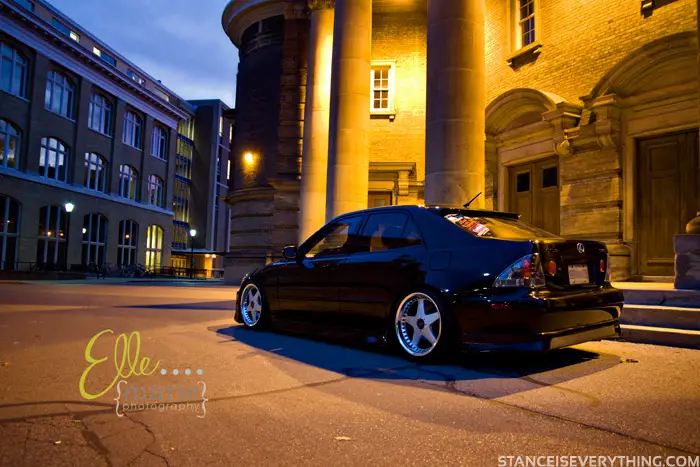 The wheels fill the wells perfectly and the camber flows exceptionally well with the lines of the body.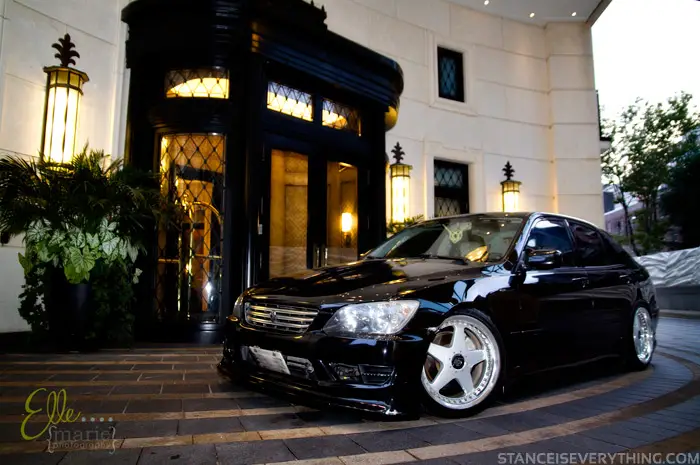 While this car might be done for this season talking with Aidan I know that he isn't anywhere near finished with this ride and plans to go around the car again over the winter as next season he has a 'Baddest VIP" crown to defend.

Can't wait to see what's in store for 2010 and enjoy the rest of the pictures and complete modification list below.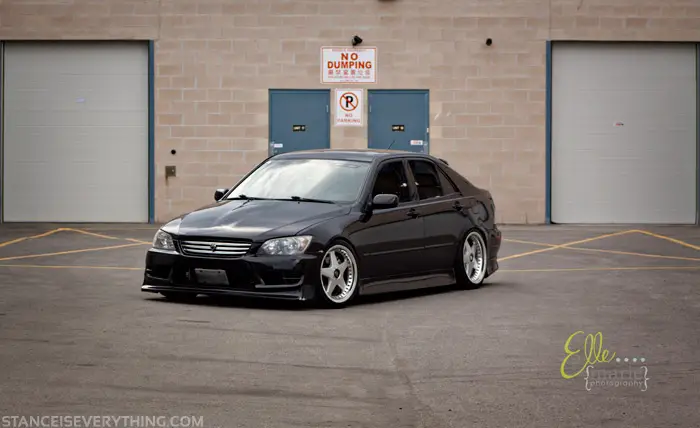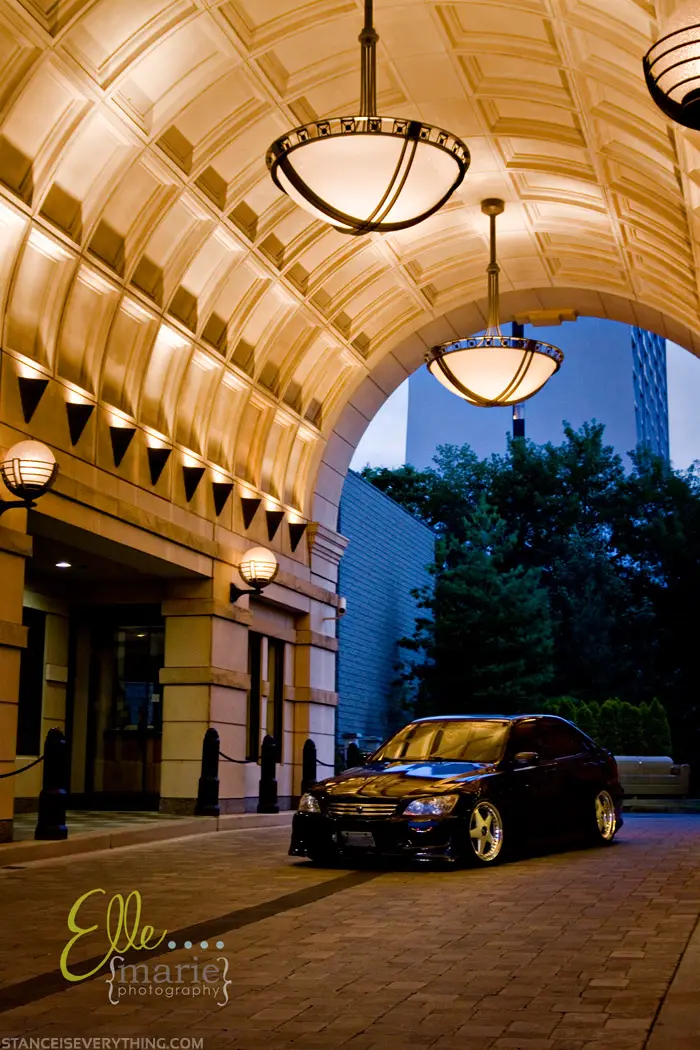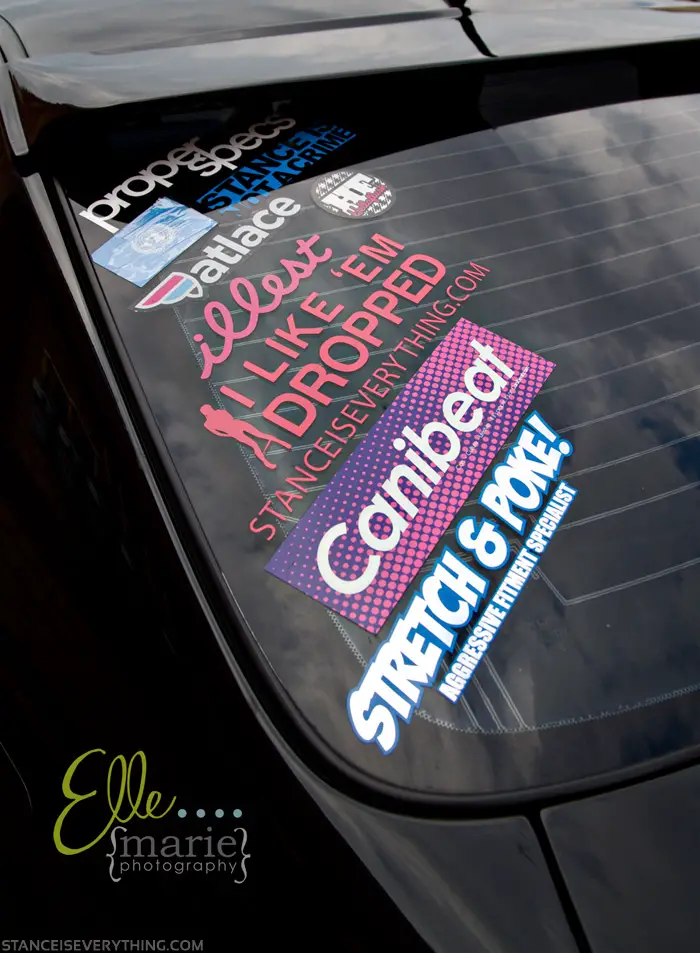 Engine Mods:
Fujitsubo Power Getter Exhaust (made for Altezza, Customized midpipe to fit IS300)
K&N drop In Filter
Exterior:
Origin Labs. (Version Select) Front Bumper and Side Skirts
TRD Nextmod Replica rear lip
Kaminari Roof Spoiler
OEM Fog Deletes with Custom FlashTech LED Strip (Colour matched to 6000K HID)
6000K HID Bulbs
2002 OEM Dark Chrome Headlights
JDM Altezza Dark Chrome Tail Lights
JDM Altezza Chrome Z-Edition Grill
2005 OEM Lexus RX330 Antenna
Interior:
Junction Produce Medium Black Fusa
Junction Produce Gold Kitsuna
Junction Produce Curtains (Front and Back)
Custom Authentic Dolce & Gabanna VIP Pillows
VIP Head Rest Coat Hanger
Garson D.A.D. Key Hole Crystal mounted on the Cigarette Lighter
SK Performance LED dome light, map light, and trunk light
Stance:
Tein CS Version 1 (Gold Version) Coils (made for Altezza)
Crimson Inc. (Produced by SSR) Linea Sport Rims
Front: 18×8 +21 (including Ichiba 15mm Spacer)
Rear: 18×9 +25 (including Ichiba 10mm Spacer)
215/40/18 Nankang NSII Front
225/40/18 Sonny Tire Rear
All Fenders Rolled flat and Pulled 10mm
SPC front and rear Camber Kits
Camber: -1.5 front and -3.5 rear
Thanks/Shout Outs:
My Girlfriend for support and finely selecting all the parts on the car.

Big shout out to VIP Style Cars Crew for accepting the new little VIP brother to the family and helping me get more VIP parts; Yudi, Brett, Sharad, Ben, and Sic Ryde (not to mention the help in getting me into Importfest).

Sharad from SK Performance for the sick, super bright, LED lighting!

Virgel for helping put most of the car together
Sam from Formula Import and Peter from Nextmod for the rear lip and getting me my first JP part

Dave from Stretch and Poke for his support as I am there helping in the background for the meets 😉 (people stay tuned for the announcement of S&P3)

And of course Dave and Lyndsey for putting this feature together. You know I'm rocking the Stance is Everything Stickers all year round 🙂

If I forgot anyone, sorry, but you are all in my mind and thanks to you all.
Thanks Aidan for allowing me to feature your car and educating me on VIP.
Photo Credit: Elle Marie Photography