Remember those days when you were in elementary school staring at the clock waiting for the bell to ring so you could rush home and do something far more exciting? That's exactly how I felt the day I got to shoot Pfaff Tunning's project 964.
Having followed the build on their fanpage and seen pictures of it completed only a few weeks prior I was really eager to not only to see the car in the metal but also be one of the first to d a dedicated shoot of it.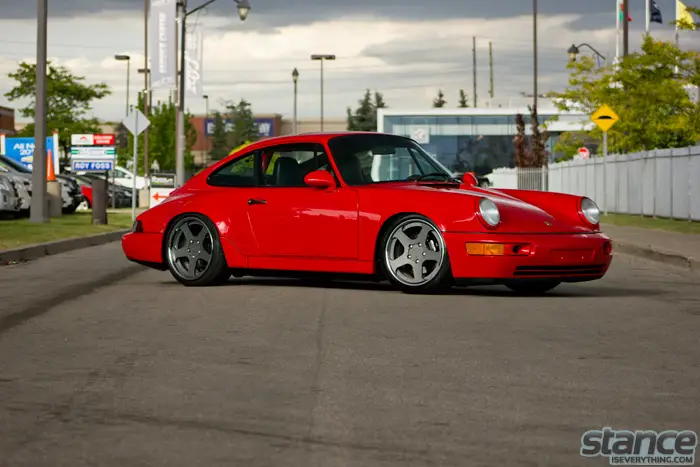 Through the window of my office the weather looked great right up until the clock began to creep closer to 5, that's when dark clouds rolled in and the sky opened up.
By the time I was free of my cubicle it was raining quite hard, and on my walk back to my car I treated to a puddle water shower set in motion by a passing transport truck.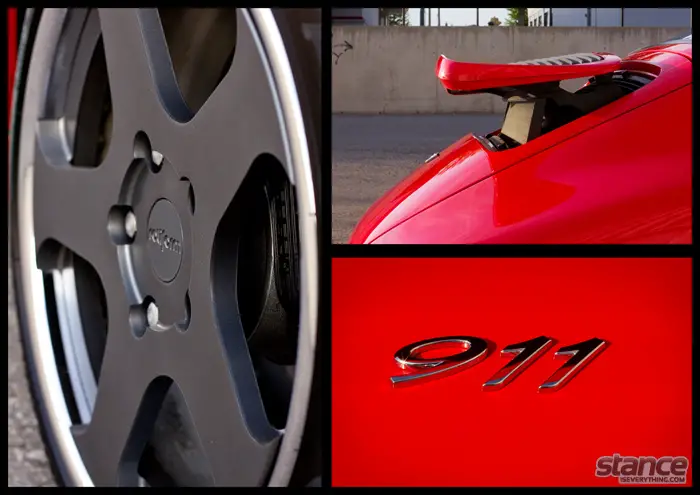 Despite now being less than dry my excitement wasn't dampened in the slightest because looking in the distance I could see the sun emerging once again through the clouds, and after a quick battle with the 401 I found myself at the Pfaff tuning facility greeted by Erik Morrison, lead Tuning Consultant at Pfaff, who was just as excited to show me the car as I was to see it.
After a brief tour we grabbed a few chamois (in case of more rain) a set out for a drive to no place in particular. As we hunted for a suitable location to shoot the car Erik explained the build in greater detail than Facebook updates allowed.
When the 911 you see today arrived at the Pfaff tuning shop it was in fairly decent shape but beginning to show it's age both aesthetically and mechanically so almost immediately after Pfaff took possession work began.
The drive train was temporarily removed from it's home to be resealed, and refreshed, and while it was out the engine bay was cleaned and detailed.
Using the opportunity provided by most of the panels being off the car -in preparation for a body shop visit- maintenance work and upgrades were done including the addition of H&R suspension components including coilovers that provide such a nice ride they make my car feel like piloting a rickety tool chest.
Once back on all fours it was rolled over to the painters where any panels that were too damaged by the tests of time were replaced with more favorable units sourced from vehicles located further south than Toronto.
Pfaff's meticulous attention to detail lead to two drivers doors being deemed unfit before a third suitable replacement was found and paint was sprayed.
After the car was back at Pfaff headquarters wearing a new coat of BASF paint, a color matched Das Sport Half cage was installed along with RS door panels.
The final piece to the puzzle was the footwork provided by Rotiform who -with help from Erik- speced out three piece 18″ NUE wheels in sizing that suits the car sitting still but also keep clear of the quarters and fenders in corners.
The finished 964 project is a great example of the work Pfaff is capable of, and shows that they are just as at home customizing timeless classics as they are modern exotics, and a true testament to the final product came midway through the shoot when a passer by stopped to admire the car and ask a few questions about it's history.
Seeing a fellow enthusiast appreciate the car is really what makes all the time, money, and effort, behind a build worth it.
Well that and enjoying it on the open road of course.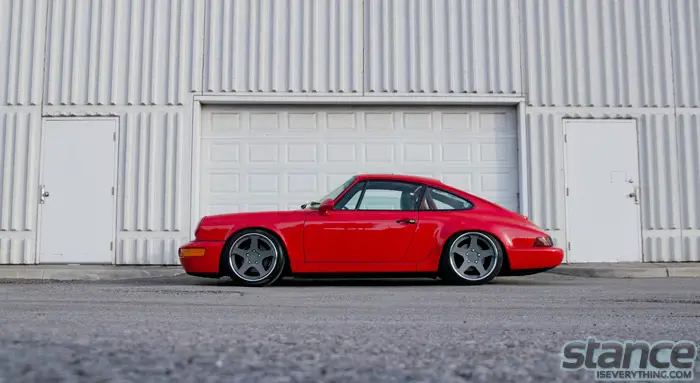 Modification List
Exterior
Disassemble of all exterior trim, glass and pieces for complete refinish in factory Gaurds Red
New exterior seals and trim all put together during refinish
Das Sport half cage painted Guards Red
993 mirrors
Performance Modifications
Front brake cooling duct modifications
Complete rebuild of all 4 calipers with refinish in gloss black
H&R coilovers
H&R adjustable sway bars
Interior Modifications
RS door panels
Porsche floor mats
Wheels/Tires
18" Rotiform NUE wheels
Pirelli Pzero tires