When it was announced that Pat Cyr was Scion Canada's choice  to campaign the FR-S for the 2013 season I think that the entire province of Ontario unanimously said 'Hell Yeah'. Scion Canada couldn't have picked a better person, or driver, to represent their brand and I don't think I am the only one who  feels Pat receiving support like this was long over due.
During the conversation in which he invited me to come check out the car I could tell by the excitement in his voice that what he was building after hours at Cyrious Garageworks was something special.
Arriving to the shop, about a week later, I was greeted briefly by Pat's brother Dan who was feverishly cutting the cars sponsor stickers in preparation for it's delivery back to Scion Canada the next morning.
At which point it would be shot by local photographer Ste Ho before being trailered to the Montreal Auto show. Before all that however it was my chance to see the car and I couldn't wait.
From beneath the pile of vinyl in which he was buried Dan pointed me towards the door leading to the garage and when I stepped through I found Pat giving his creation one final wipe down.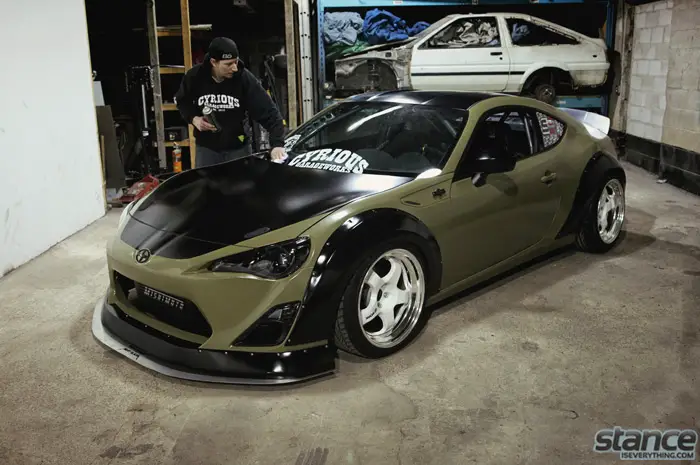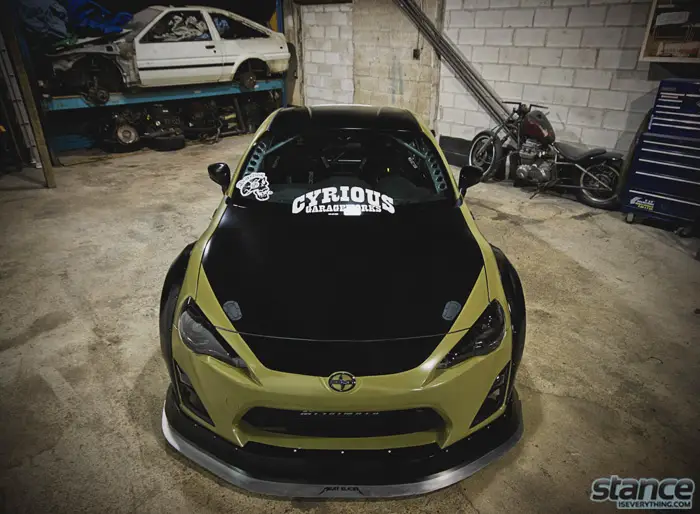 Based on his verbal description I knew this car was going to be different than any FR-S I had seen previously, and as I circled the car (no doubt dragging my jaw on the ground as I went) Pat explained how he transformed another red Scion FR-S into his Scion FR-S.
At SEMA Pat gave every FR-S, BRZ, and 86 there a careful once over and fairly quickly one build began to blur into another. People were either playing it too careful, too similar, or too over the top, and nothing seemed just right. Pat knew his car had to be different than the rest yet still stay true to the race heritage in which the FR-S was bred so he looked elsewhere for inspiration.
When he saw the Ford Mustang RTR with its aggressive flares, low stance, and huge splitter, Pat knew he found what he was looking for and the gears in his head began to turn.
Once back home in Mississauga, and hundreds of miles away from the glitz, glam, and allure of Vegas, Pat kicked his build into high gear.
Local rendering expert Matthew Law was brought in and with his help Pat's thoughts transformed into 3D renderings that were used by 20hz Audio to construct the over fenders.
Currently a one of one set Pat spent countless hours preparing the pieces for the car. They were sanded, filled, primed, drilled, then sanded, filled, and primed again until they not only fit the car perfectly but were baby's bottom smooth in preparation for high gloss black paint.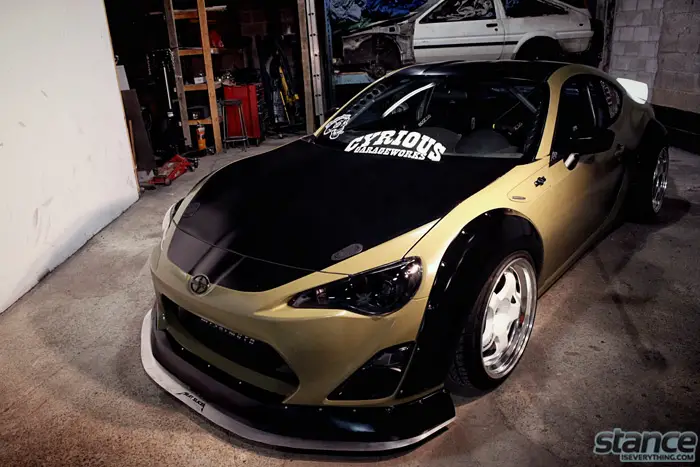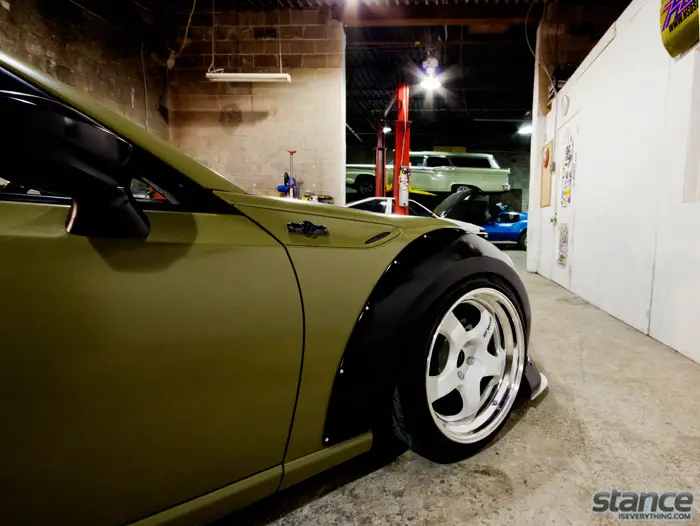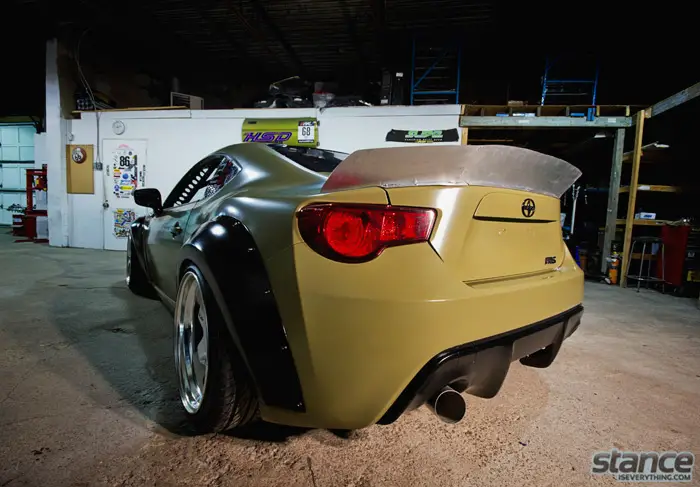 Once the over fenders were test fit Pat focused his attention on the front bumper where he felt an off the shelf lip simply wouldn't do. Everything currently on the market was either too plain, too flashy, or just simply not to his taste so Pat's only solution was to build something himself.
After a trip to Home Depot, for a few sheets of pink foam, Pat got to work crafting a fitting addition to the front of his car and when the pink dust settled he created a mold for the lip currently affixed to the bumper.
Capping off his custom creation is the knife edged splitter affectionately known as the Meat Slicer.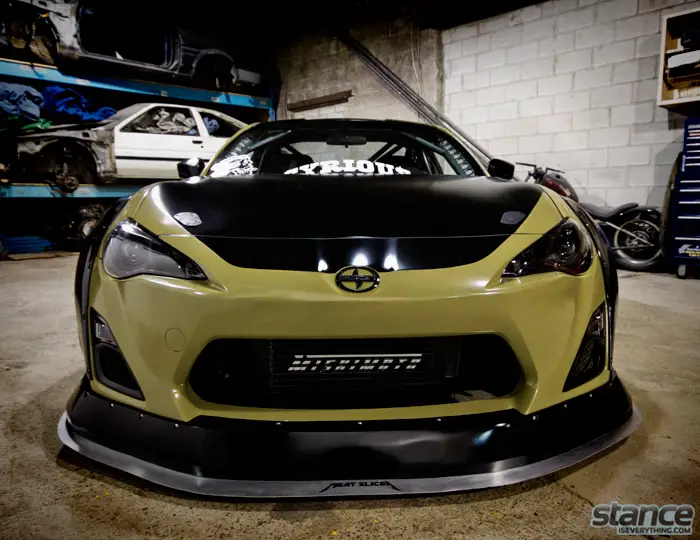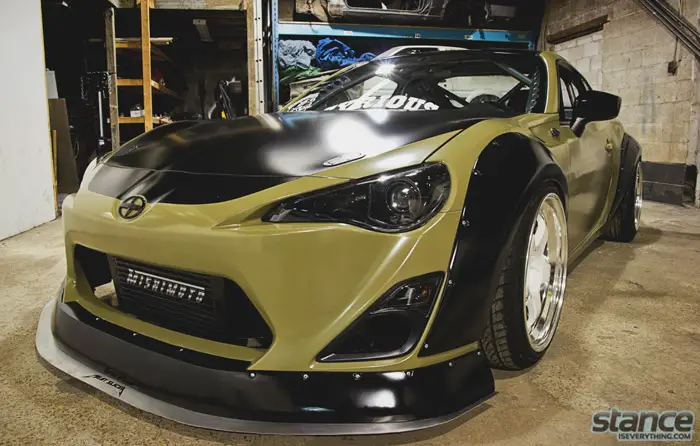 When it came to the rear of the car Pat explaiend that he didn't want to slap a shopping cart handle on the back like everyone else, but at the same time didn't want something too par for the course.
The Nascar inspired trunk spoiler he settled on is one of the more unique pieces of an already unique build and balances out the splitter up front to a tee.
It, like the lip, is a Cyr original and was virtually still warm from being cut and tig-welded by Pat earlier that same day.
Inside Pat gutted the car completely only opting to only retain the factory dash. A  dash that he was able to keep almost entirely intact thanks to careful routing of the a-pillar bars through the now vacant speaker openings. This is small detail, that will probably go overlooked by many, speaks to the amount of thought and care Pat has put into this build.
The rest of cockpit is fairly simple and to the point, the stout Cyrious Garageworks cage protects Pat and whoever the lucky passenger is, and Spraco Sprint V's keeps occupants firmly in place as the car slides around the track.
Relaying vital information back to Pat is the factory FR-S cluster along with a trio of AEM gauges.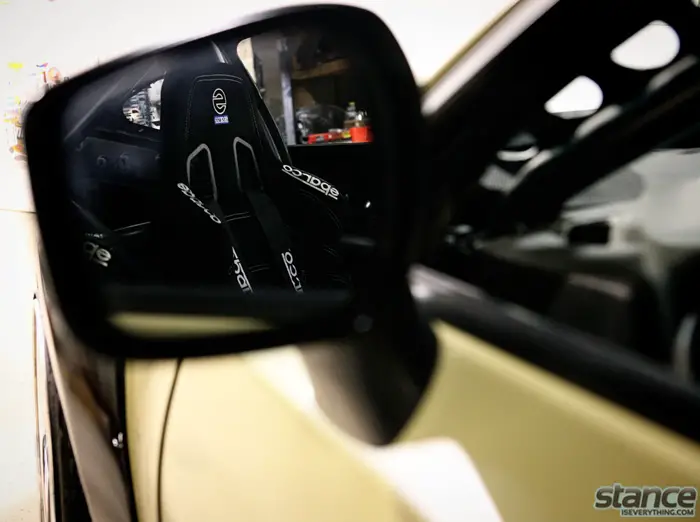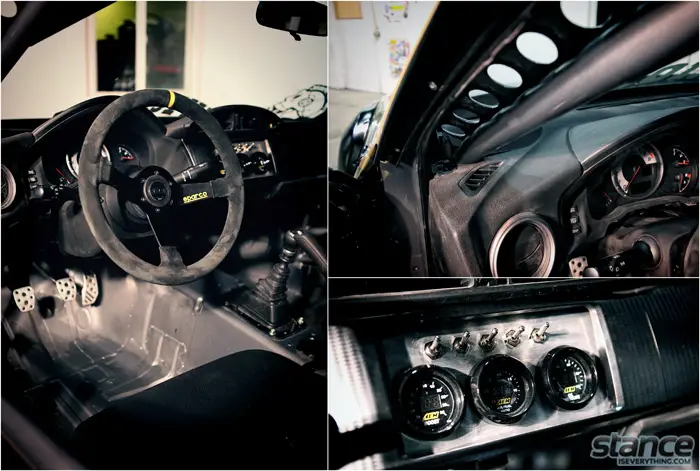 Aesthetically complete the car wears Pat's now signature green hue, and in keeping things the same HSD remains on board for the suspension. Wheel wise the Work Meisters currently on the car are not the 18×9.5 +12/18×10 +15 225/40 and 245/40 set-up Pat plans to run.
His final wheel choice remains a mystery as does what is going to lie in the currently vacant engine bay. Joking aside (yes that means he is not putting in a 4A-GE) Pat's been keeping his motor plans fairly tight to his chest and though he did tell me what will eventually be under the hood I'm not about to be the one who spoils the surprise.
Pat plans to document the rest of the build in it's entirety on the Cyrious Garageworks fanpage so those of you eager for answers I suggest you start there.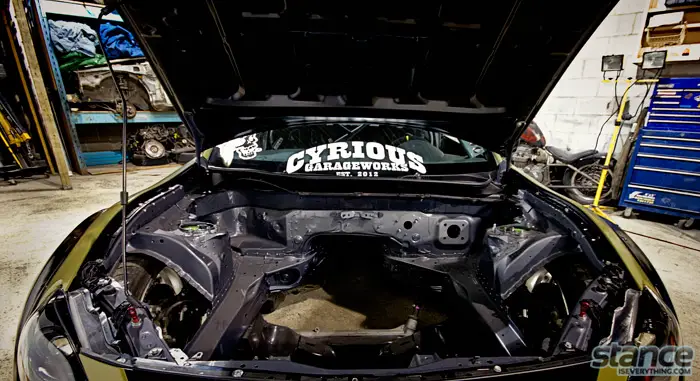 You can watch Pat compete in DMCC for 2013 and in addition to Scion Canada he is currently receiving support from Scion Racing, ENEOS Canada, JRP, HSD, Mishimoto Automotive, Ferrea Racing Components, Vibrant Performance, Garret Turbo, and Sparco.
Thanks go to Pat for giving me the opportunity to be one of the first people to take photos of his awesome car and I couldn't think of a better feature to kick off 2013.