For years air suspension has had a reputation for being a sub par alternative to coil overs when it comes to building a vehicle where form shouldn't hamper function.
This is of course an archaic mindset because like all other suspension systems on the market today air ride has evolved immensely since it's inception making nearly every negative "well my friend had air and…" statement a moot point.
One of the companies consistently leading the charge when it comes to air suspension systems capable of running neck and neck, or sometimes seconds quicker, than their static counterparts is Air Lift Company.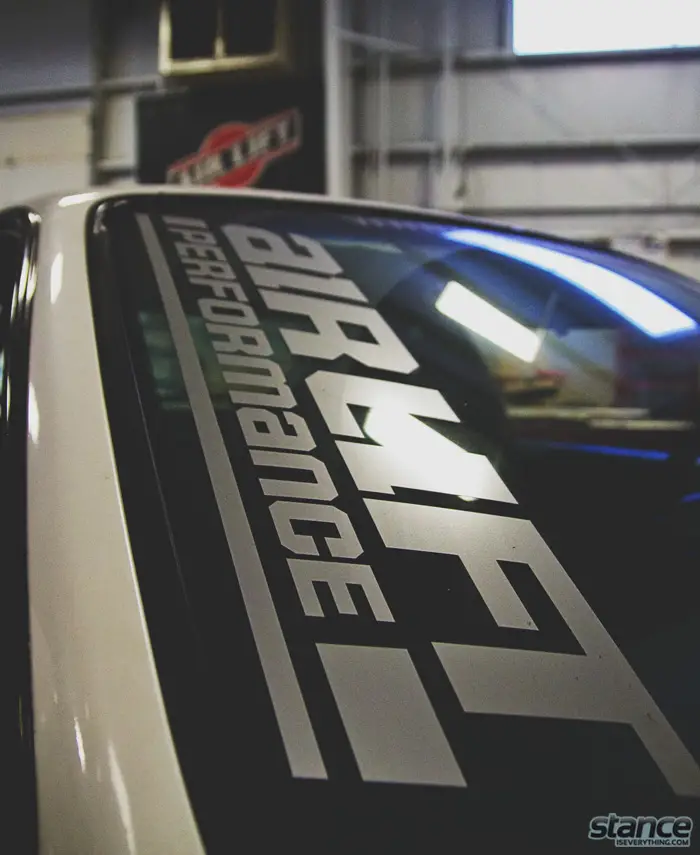 With 64 years of accumulated real world experience behind their product Air Lift components are some of the most robust, comfortable, capable, and reliable on the market.
Stance Is Everything is proud to announce a partnership with Air Lift Companies performance division (Air Lift Performance) for 2013 and recently a perk of that partnership was the opportunity to check out the Air Lift factory not once, but twice.
On my second visit to the facility in Lansing Michigan (about two hours from the Canadian border) I brought my trusty T2i while eastern regional sales manager Tom Mahar showed me around.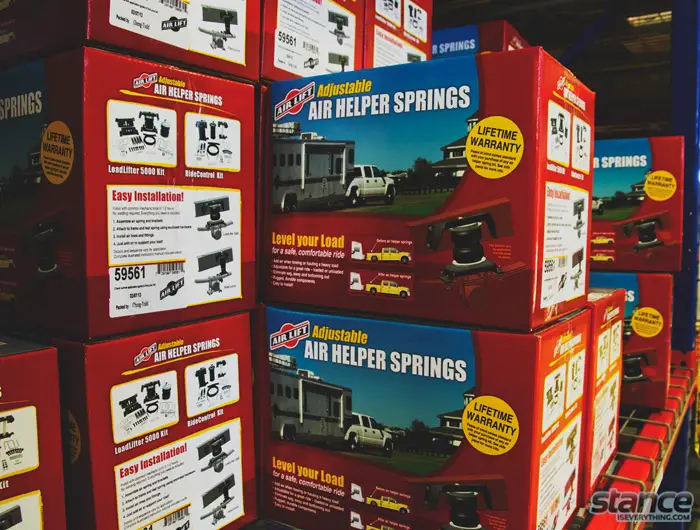 After peeling my eyes away from the various flavours of bagged vehicles in the parking lot I turned my attention to the Air Lift facility which was, much, much, larger than I expected.
Air Lift prides themselves on producing 80% of their suspension products in house and this level of production necessitates a large facility.
When assembly –100% of which is done on site – and shipping/receiving are factored in it's easy to see why after just two years the 50,000 square foot facility needed a 20,000 square foot addition built onto the back of it to keep up with demands.
The sheer size of the facility wasn't it's only impressive attribute, it was also incredibly clean and organized.
I've been to (and worked in) a few factories in my day but Air Lift's was easily the cleanest I've set foot in to date.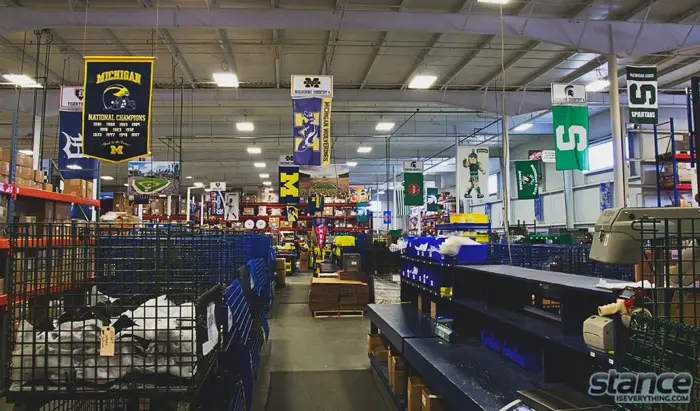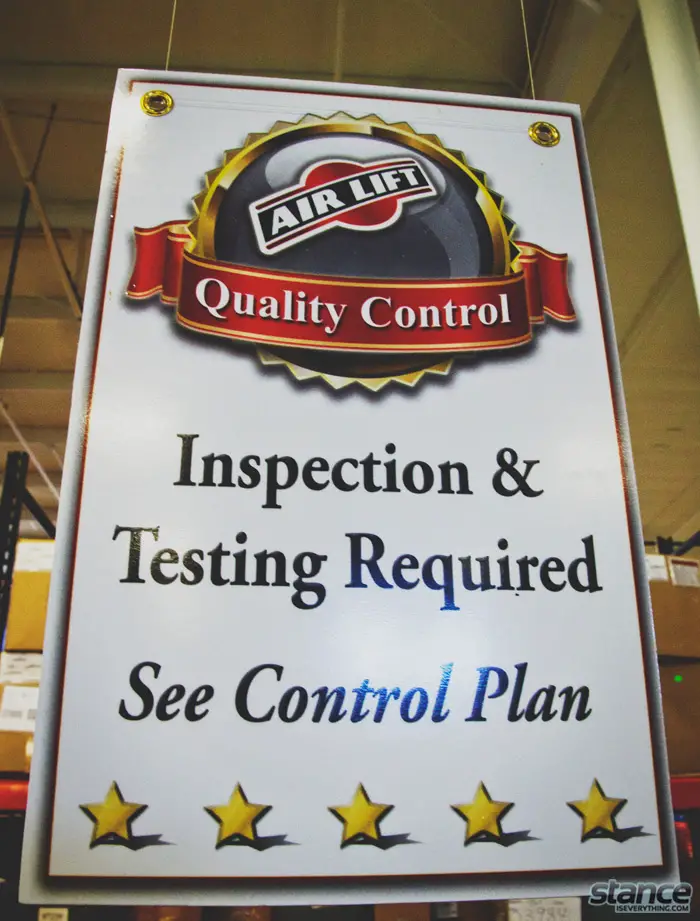 Tom explained that a growing part of the companies overall business is fleet work –that is providing compact air systems for buses, ambulances, and the like– and servicing industries such as these requires Air Lift to meet a bevy of standards other air suspension manufacturers don't necessarily have to.
This includes stringent regulations when  it comes to facility cleanliness and safety.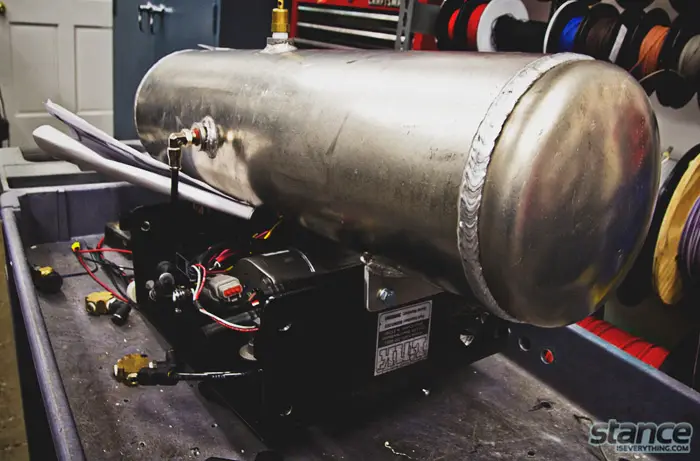 Despite the very formal approach the company must take in regards to safety and organization the factory floor is far from a dull assembly line filled with blue coverall clad employees repetitively pulling levers, waiting for the air horn to free them from another work day.
The employees personalities shine through on the factory floor where they have forgone generic work station designations like "sector 7-G" in favour of more fitting ones like Hockey Town and Wolverine Country .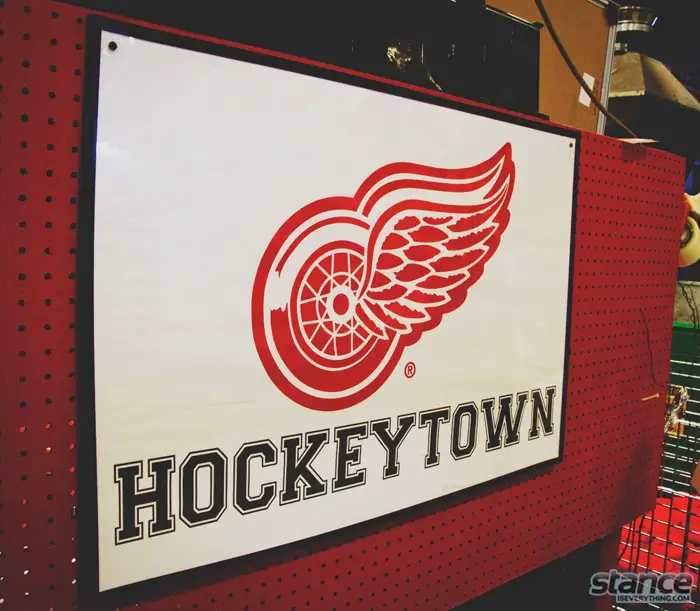 Throughout the factory tour we got a chance to interact with a number of employees who while incredibly focused on their job, seemed to be enjoying every minute of it.
(Of course one could argue that when your job entails making components that put vehicles of all shapes, sizes, and forms on the ground how couldn't you like what you do?)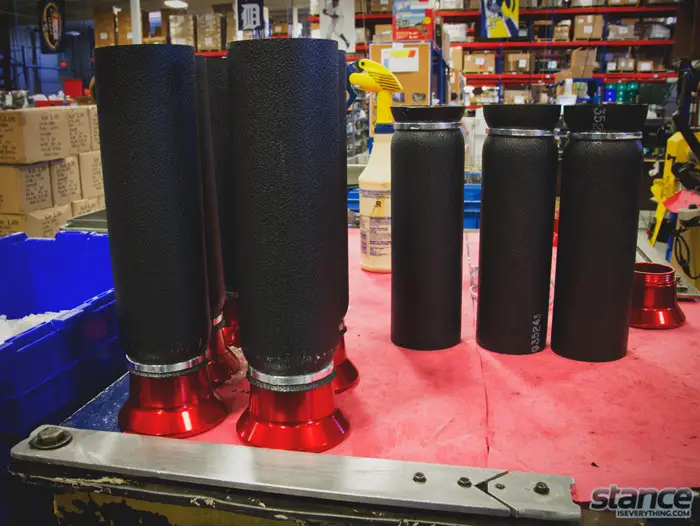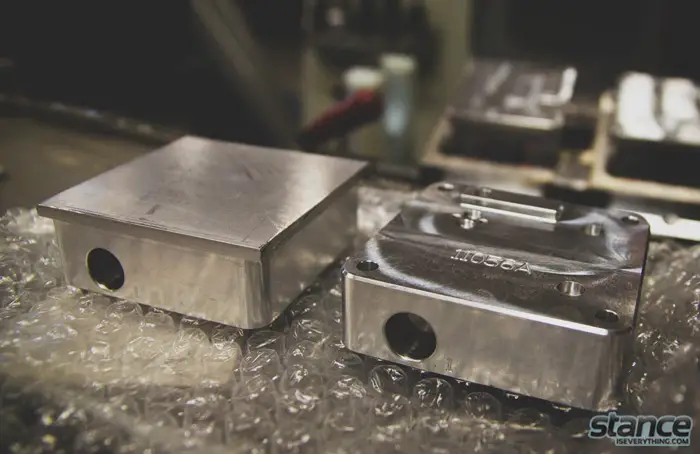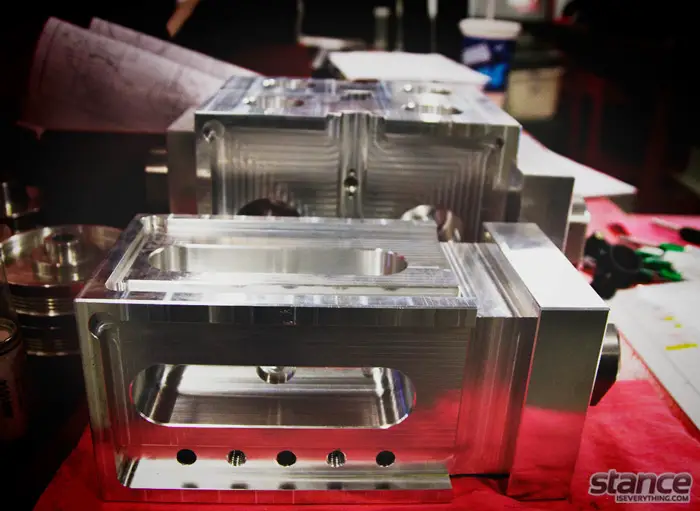 In addition to manufacturing and  final assembly, testing and product development is also handled at the Lansing Michigan facility.
Each and every Air Lift Product that leaves through the shipping door does so only after it has been tested on various durability rigs that simulate a minimum of 100, 000 miles.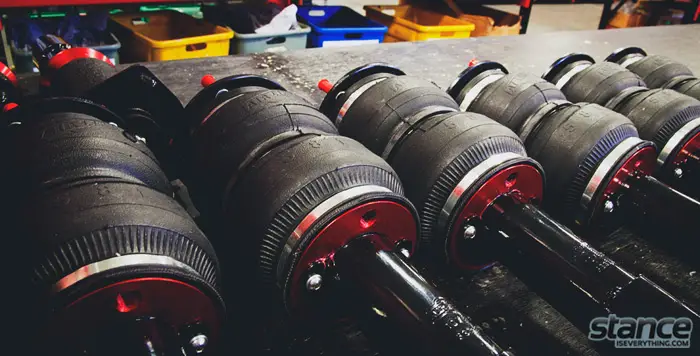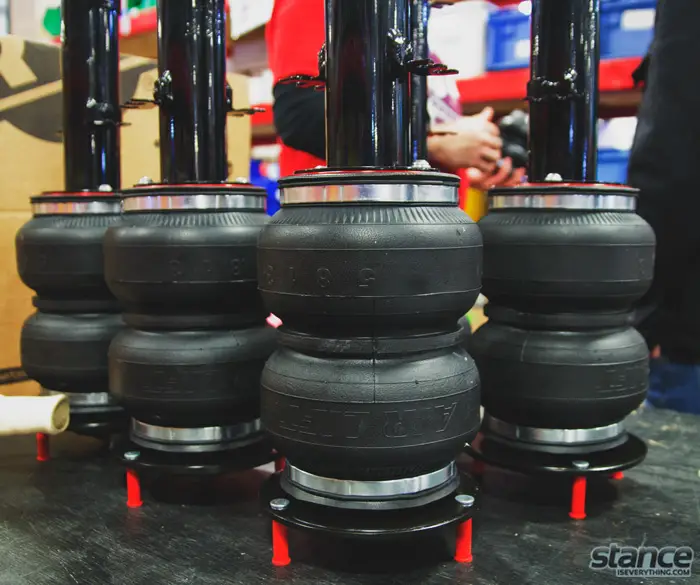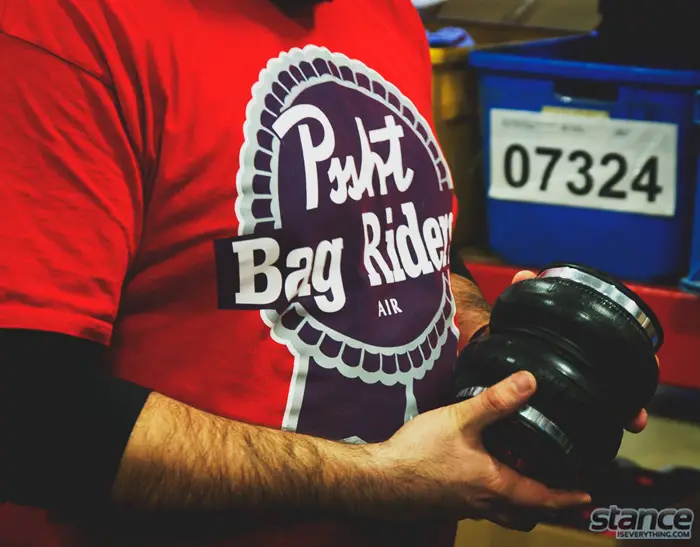 Components are not just fair weather tested either, they are both hot and cold cycled to ensure that they will survive everything mother nature has in store for them along with a certain degree of user error.
Once bench testing is complete the performance products are then put through their paces at the Gingerman Raceway (the local race track) where they are scrutinized against the latest and greatest coil over offerings to see how they stack up and where they can be improved.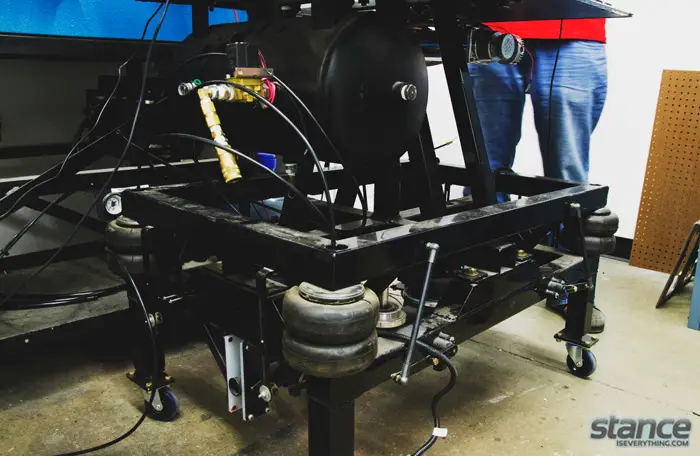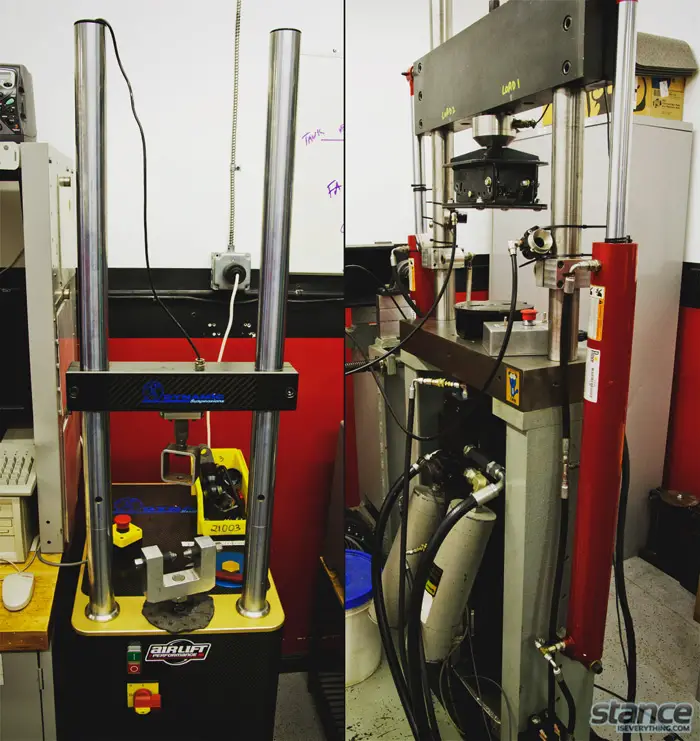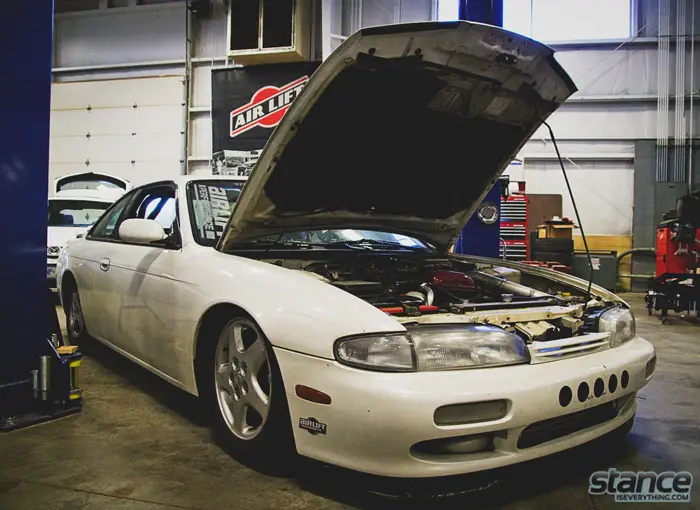 The goal of the performance division (which is made up of extremely capable and qualified suspension engineers) isn't to just create a system that can get low and handle day to day driving.
The end game is to create an all in one system capable of clearing speed bumps one day, bending corners on the track the next, and sitting as low as possible on the show floor the day following that.
Air Lift Performance is currently on a manic schedule of producing two new kits every month, in addition to constantly improving their management systems, so don't be surprised if a kit is released for your application in the very near future.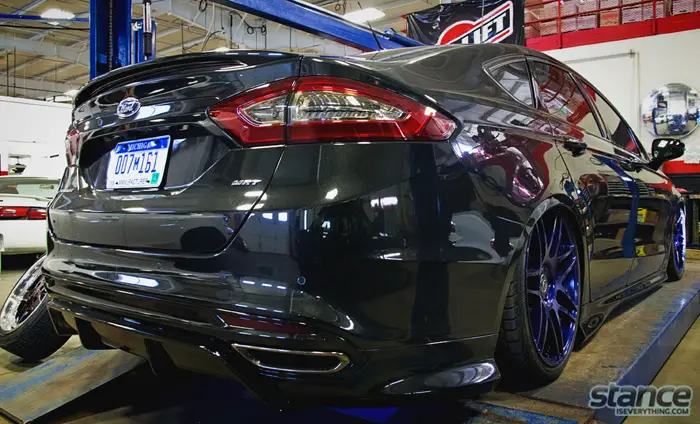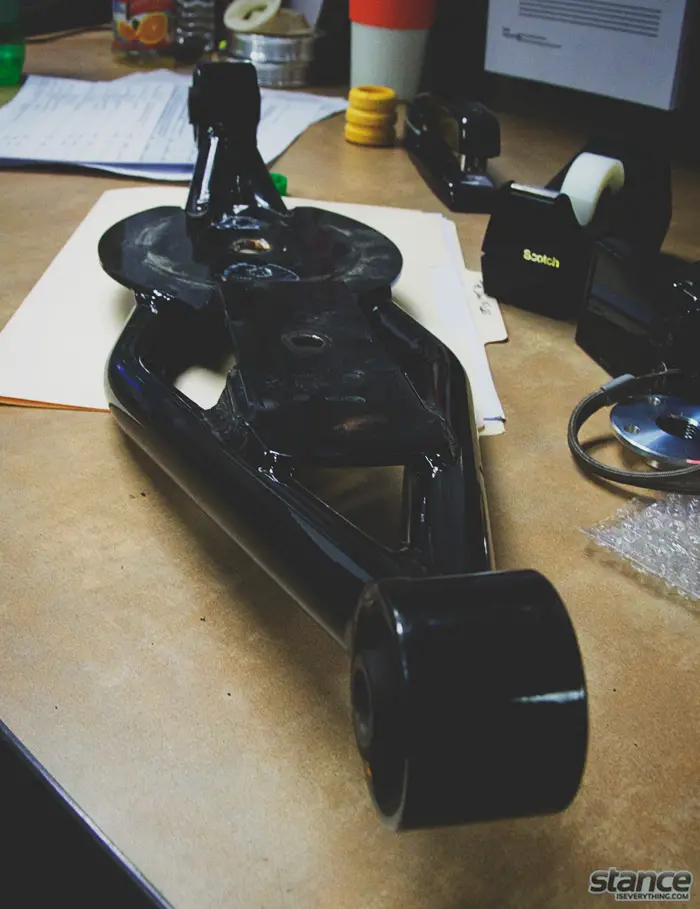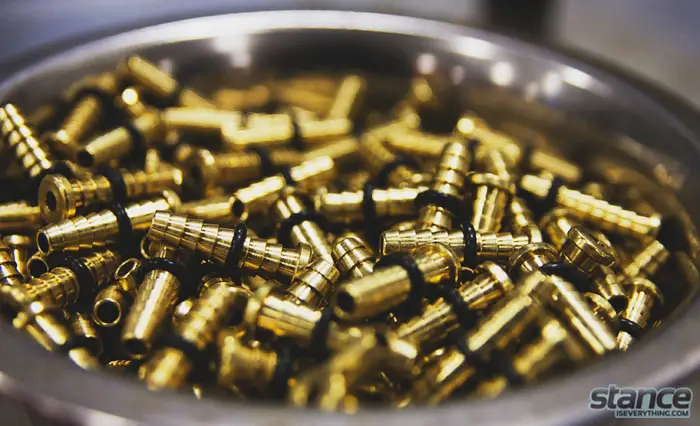 Getting the chance to take a walk around the factory was awesome and Stance Is Everything is really looking forward to working with Air Lift Performance for 2013.
Stay tuned for more posts about my recent switch to "the dark side" thanks to Air Lift Performance.