Lowriding is one part of the enthusiast lifestyle that is often incredibly misunderstood. To many, even other enthusiasts, painting intricate designs with copious amounts of flake on the frame and underside of an American classic is as silly as… well, building a car that can hop up and down at the carefully timed flip of a switch.
But if you think about it building a show quality lowrider is not unlike building a show quality drift car. Both are meant to be used in a ways a normal car never would and both might as well look damn good while doing it.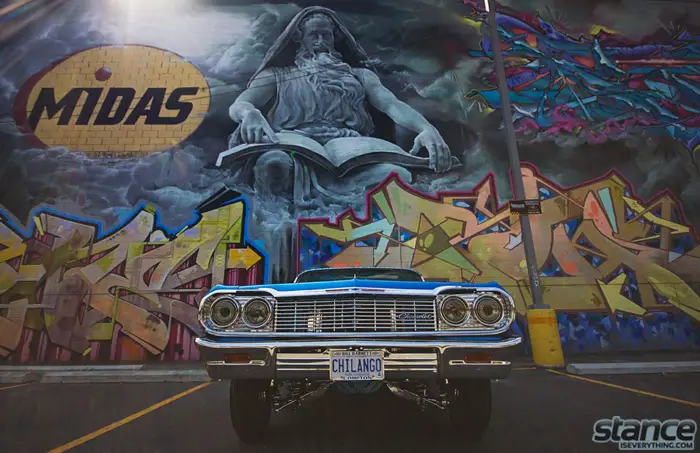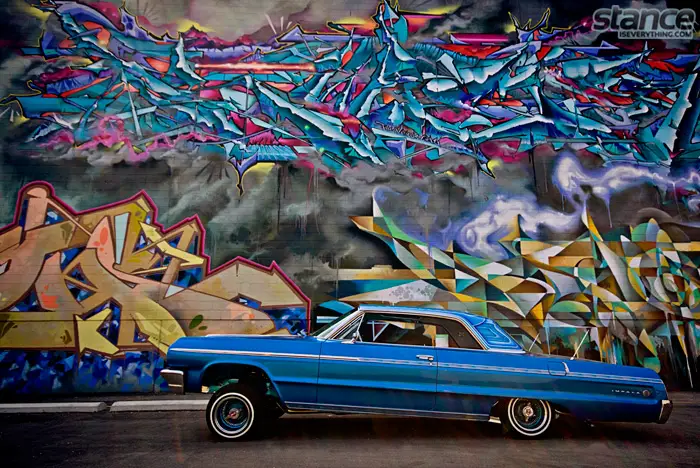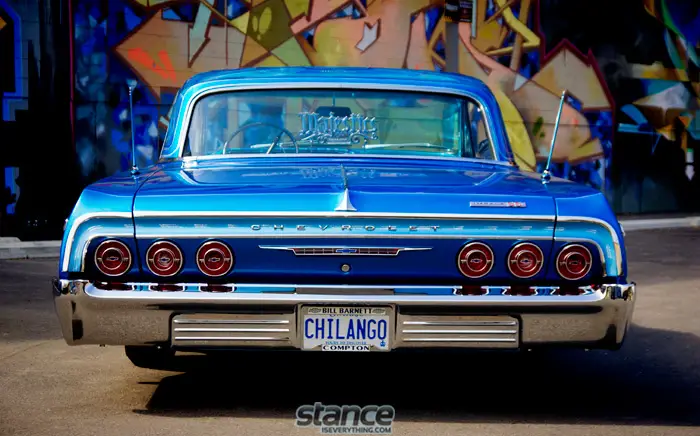 Everyone remembers the first time they saw a lowrider. For myself it was via late 90s hip hop, stand out videos predominantly showcasing the cars, include Still D.R.E. and Front 2 Back. Though with the cultures of hip hop and lowriding being so intertwined it's almost more common to find hip hop videos of that era with lowriders present than without.
Growing up in Mexico City, Ruben's exposure to lowriding came through print. His father might have been a Volkswagen guy but the second Ruben read a glossy feature on an Impala in Lowrider magazine he knew four pumps, twelve batteries, and hundred spokes were in his future.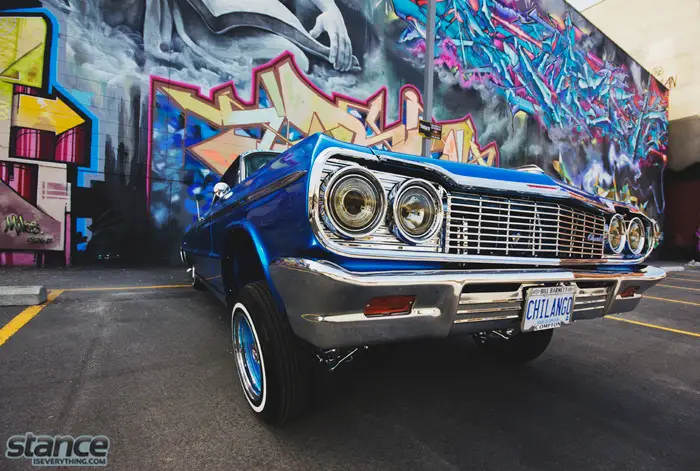 Leap forward to present day and Ruben is now the proud owner of one of the best built Lowriders in the country; The Chilango (slang in Mexio for city slicker) 64.
Predictably the car you see here wasn't built in a day, or even a year, it's the culmination of a ten year project that started shortly after Ruben found himself here in Canada.
Purchased in 2001 the car spent a few years as a daily driver before he took it off the road to give it a mild restoration. Being the owner and operator of his own business a few years rolled by as he got sidetracked making ends meet.
During that time of on and off work Ruben met Jeff from Switches N' Thangs and with Jeff's encouragement and a loving wife's approval Ruben decided make his '64 worthy of the pages of the magazine that initially got him hooked.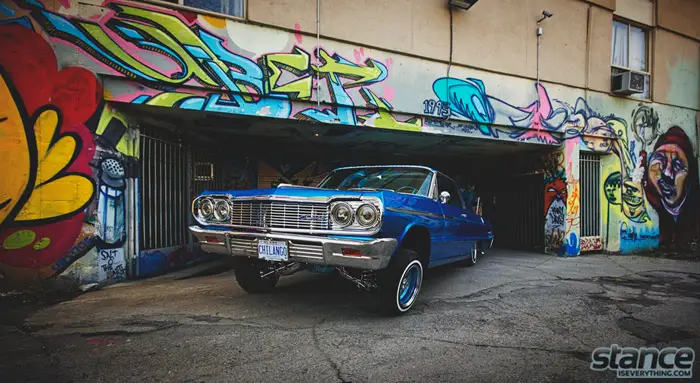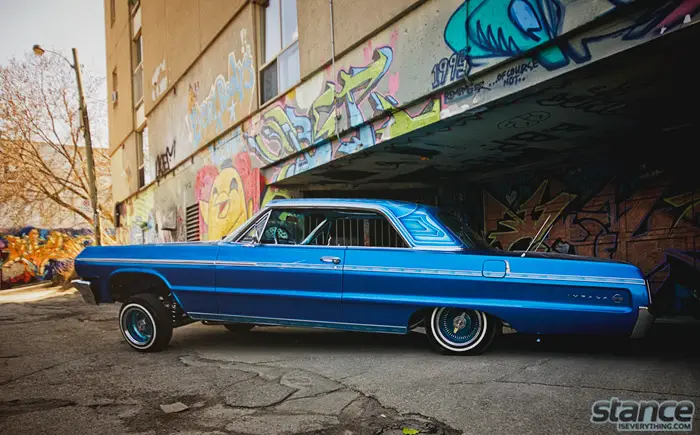 From that point frame off was the only way to go and so the frame and body were split. The body went to Detroit where Fonz laid down the blue base coat before Kandy N Krome was flown in from California to do all the detailing and flake.
The number of hours in the paint and firewall alone rivals the build time of many previously feature vehicles here on Stance Is Everything. That's not a knock on those vehicles in the least, it's just the easiest way to put into perspective just how detailed this work actually is.
I could take a thousand photos and never quite do the paint work justice.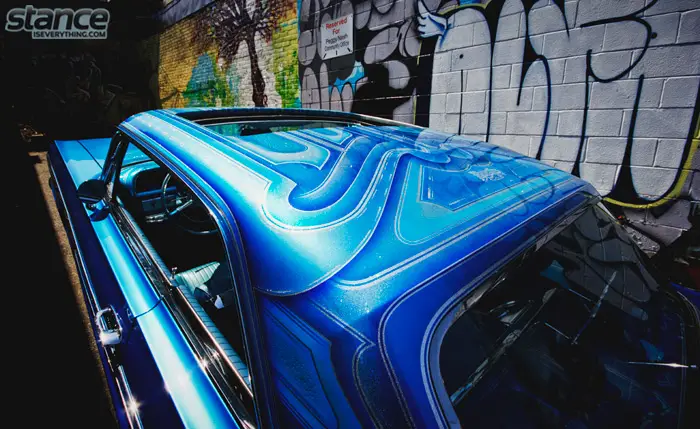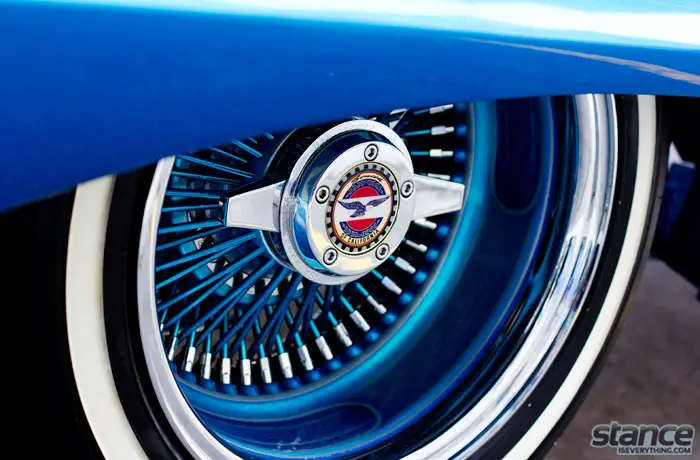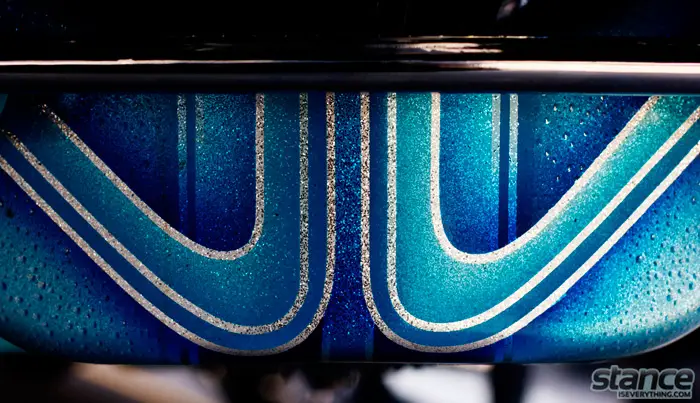 While Kandy N Krome was doing his magic with paint Jeff did his with a welder and grinder. First he "belly-split" the frame –a technique in which the cross member is pie cut and the frame slightly widened- – before it was fully wrapped to withstand the rigors of hopping.
Though this is a detailed build through and through Ruben wanted to be able to hop it now and again without if falling into a state of disrepair.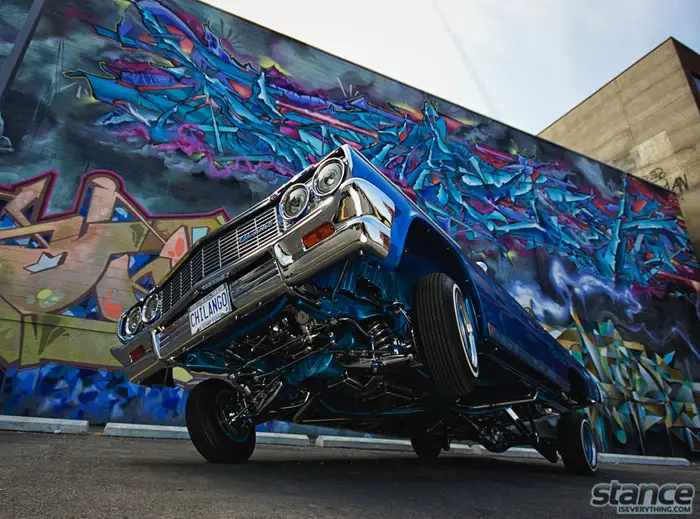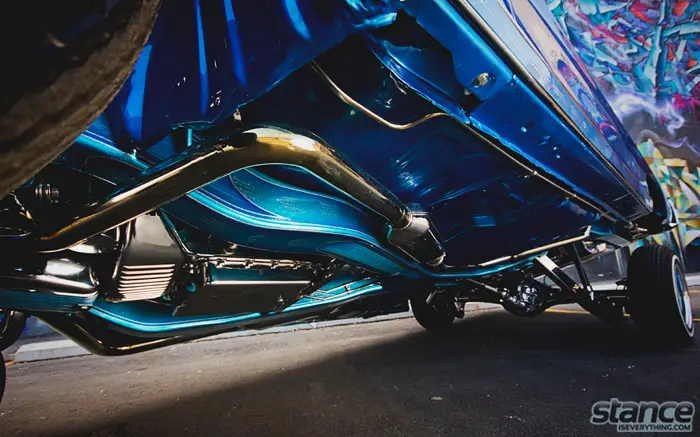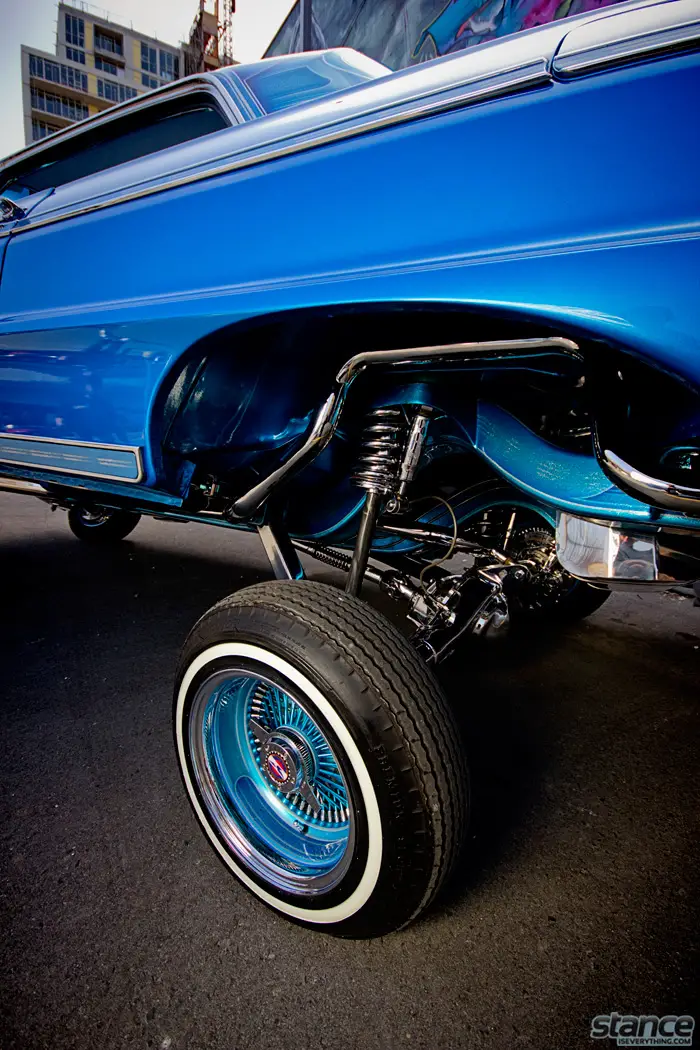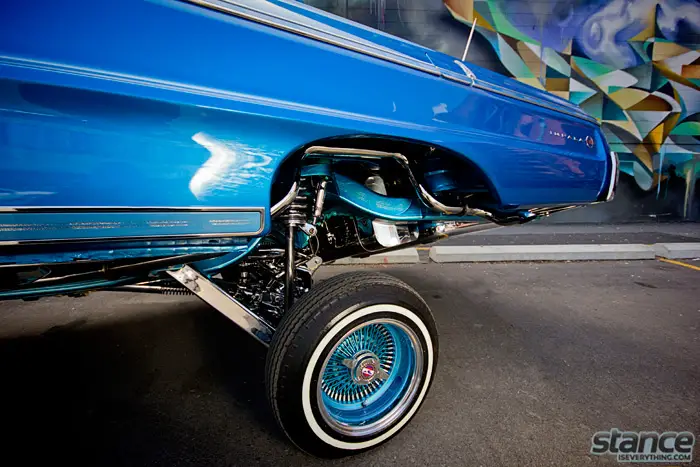 Once the fabrication work was complete the frame was painted to match the body so when the car was parked on 3 people wouldn't have any shortage of things to ogle over.
Such a detailed under carriage would of course be marred by factory finished components so everything on this car, both inside and out, was either chrome plated by Metal Coaters or hand polished by Ruben himself including the 700R4 transmission which is supported by a chrome plated cross member with Chevy bow tie.
Inside the dash and speaker covers are flaked and patterned and a blue Dakota Digital setup provides read outs.
The rest of the interior is a combination of new old stock and refurbished items, and the car is now equipped with every power option that was available in 64.
Watching the vent windows move at the press of a button made me wonder how many Impala's left the factory with this option and how many continue to work today.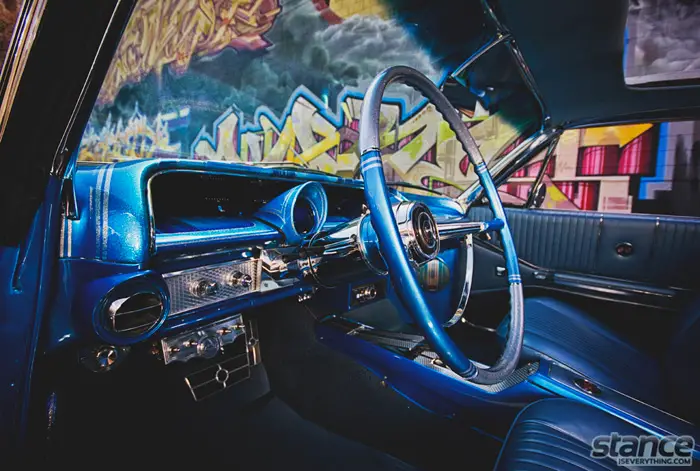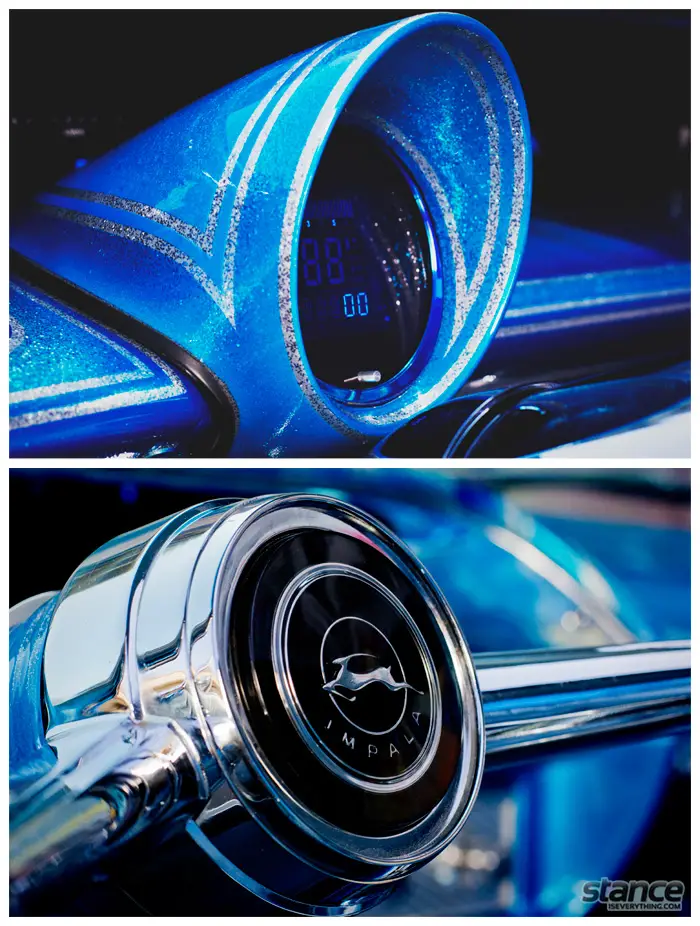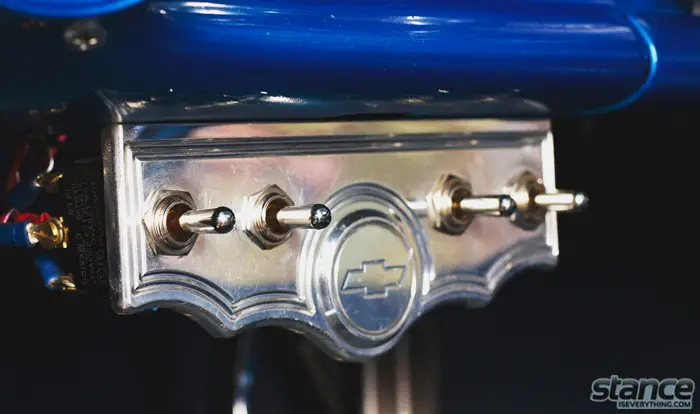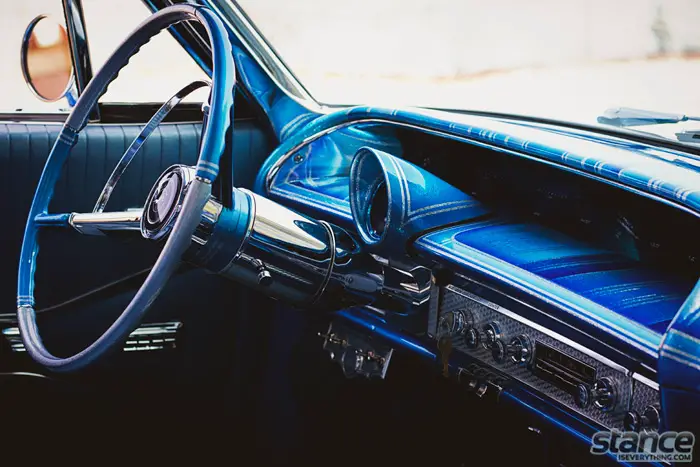 The trunk interior is of course again patterned and flaked and full of the prerequisite 4 pumps and 12 batteries. Pumps of choice for Switches 'N Thangs are two piston Black Magic units done to match the blue exterior.
The six blue batteries are forward of the Focal Amps and subs capable of pounding out classic West Coast rap with utmost clarity.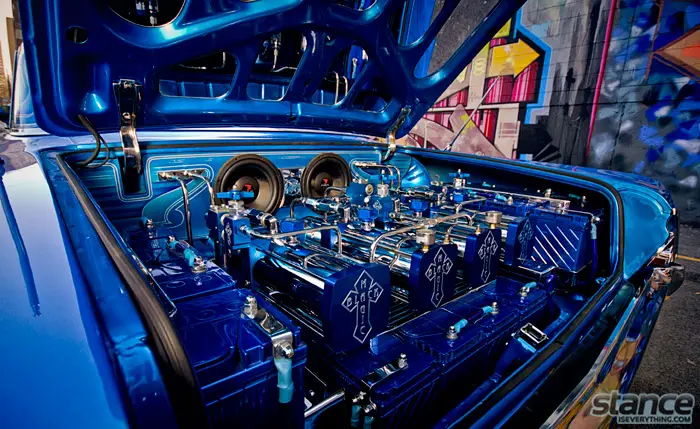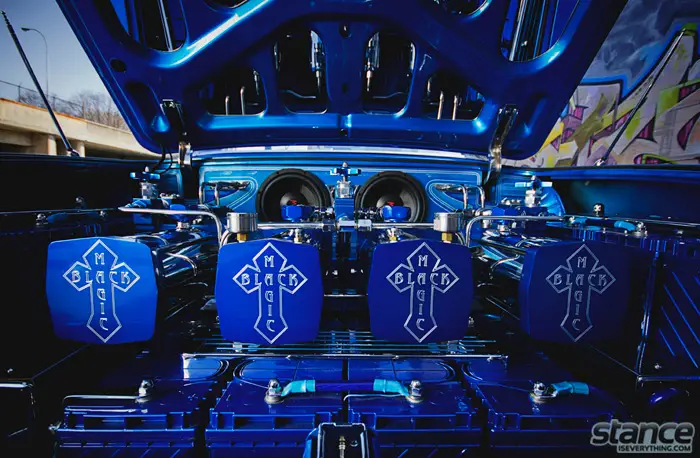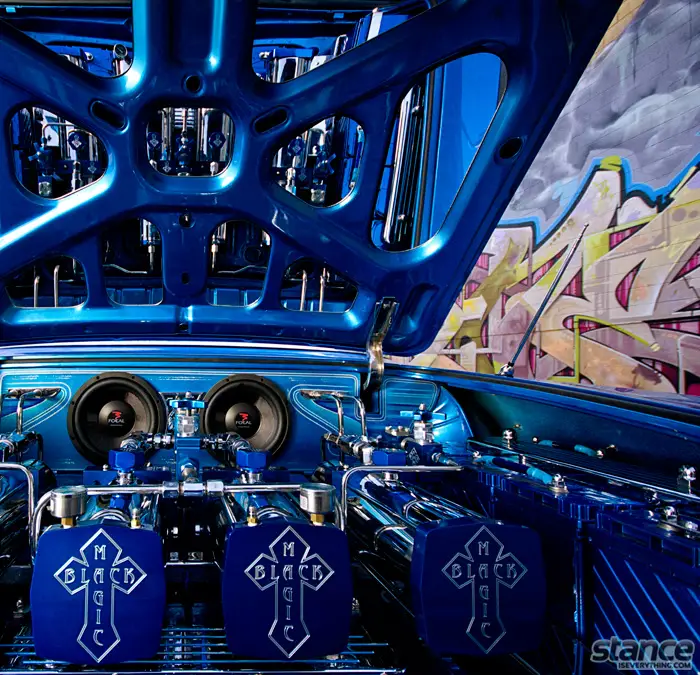 If you follow the exhaust which exits just behind the 13″ Zenish 100 spokes up to the front you will find a fresh Gm 350 crate motor topped with a Lingenfelter TPI intake.
The motor, which sounded plenty healthy when I was ridin' in the car, has been tuned by Sasha Anis of SG Racing/Onpoint Dyno fame.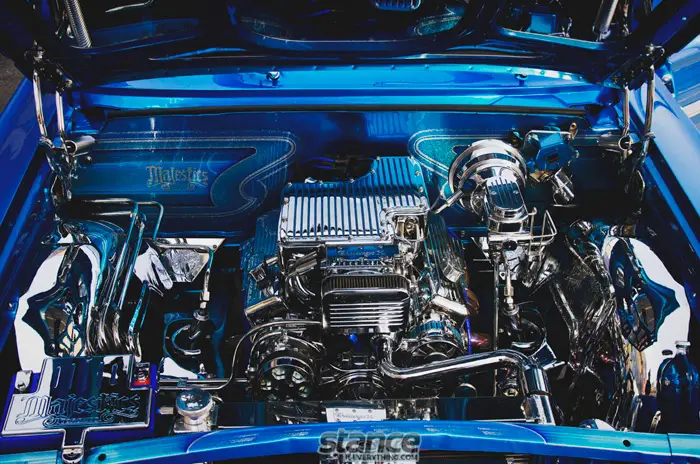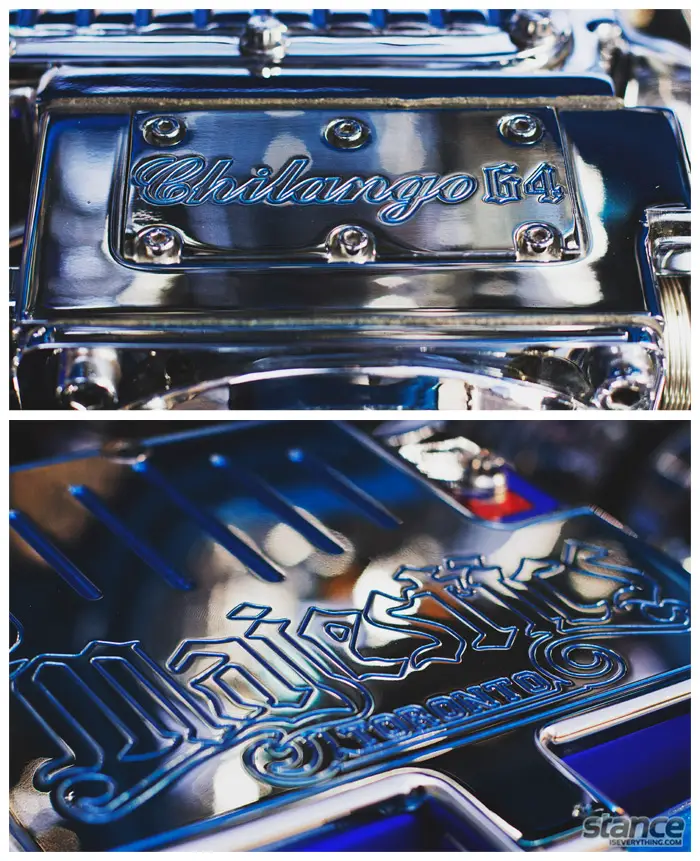 While it looks like a show car, and in many respects is a show car, Ruben has no intent of only having it sit around on stands looking pretty.
He plans to drive this car when the weather is just right so keep an eye out for it in the streets of Toronto and don't be surprised if you see it in a magazine or two in the not so distant future.