Previously best known for their commuter cars and soccer mom moving compact sport utility vehicles, Hyundai placed their bets on quite the roll of dice when they released the Genesis line of vehicles in 2008.
Faced with a seriously uphill battle convincing the general public –never mind enthusiasts– that they could produce a luxury car, and a sports coupe, they had to come out of the gate swinging to grab any sort of market hold.
Now six years later they've managed to not only prove that they are in fact capable of doing both, but also convinced a number of enthusiasts to get behind the wheel of the other car with an H on it's grill.
Being co-owner of a Hyundai Dealership Guillaume was an early adopter of the platform, and the car brought to you today, by SIE partner French Canadian VDO, is actually Guillaume's second Genesis sedan, and third Genesis overall.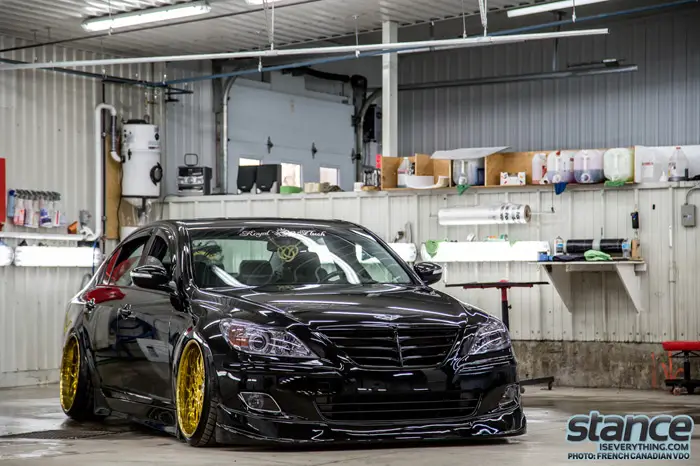 A fan of traditional VIP styling Guillaume sought to keep this car fairly refined yet still markedly different than factory form.
The Extreme Dimensions body kit the car wears today –which was molded from a one off version built for an '09 SEMA car– needed quite a bit of customization to fit in a way that would look appropriate on a VIP influenced project.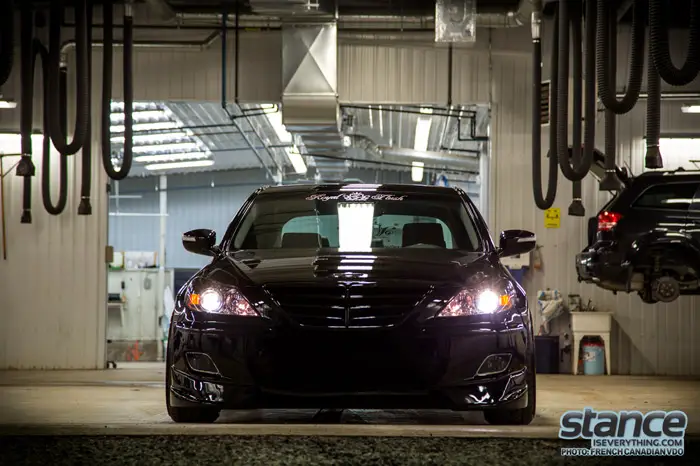 After spending countless hours stressing over panel gaps Guillaume wasn't exactly keen on the idea of an errant curb destroying his hard work, so he put the car on bags instead of coils.
Still a relatively new chassis Guillaume didn't have the luxury of a bolt on kit and instead went with a UAS bag set-up over SMA coils.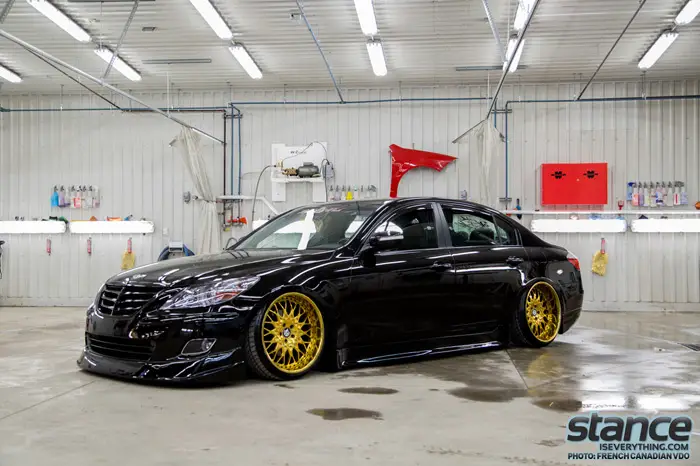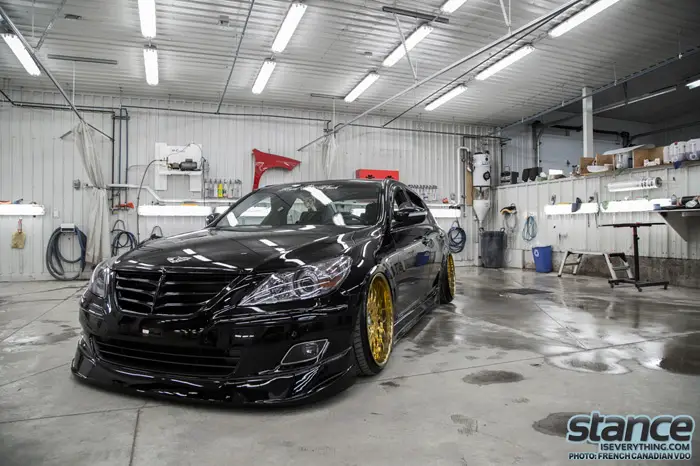 As with most bag over coil configurations simply replacing the coil with an air spring wasn't enough to put the car where he wanted, and Guillaume had to call in the services of his friend Martin Paul to fabricate custom top plates and rear bag brackets.
Giving the car the ability to rise up from the new lows  provided by Martin's modifications is a completely self contained Airrex digital system.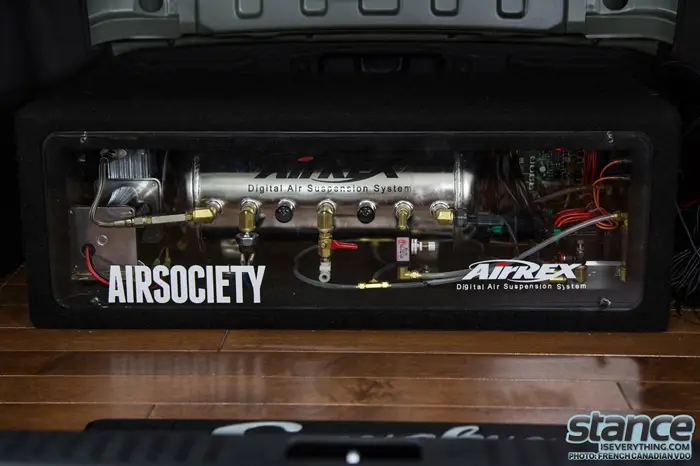 The wheels, which I must admit are simply stunning in person, are VIP Modular x110s finished fittingly in an option called Dubai Gold.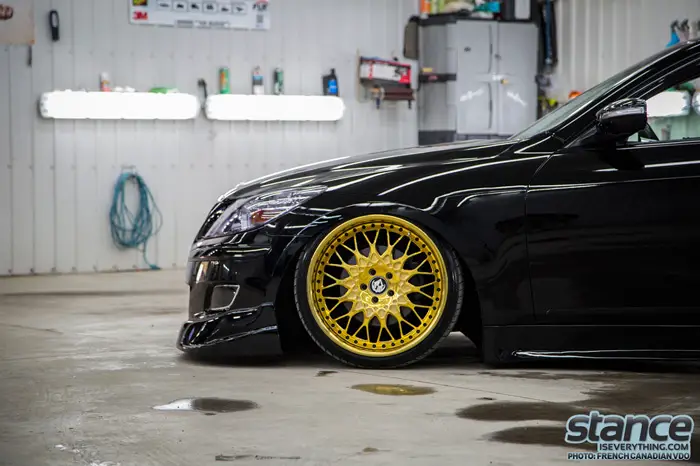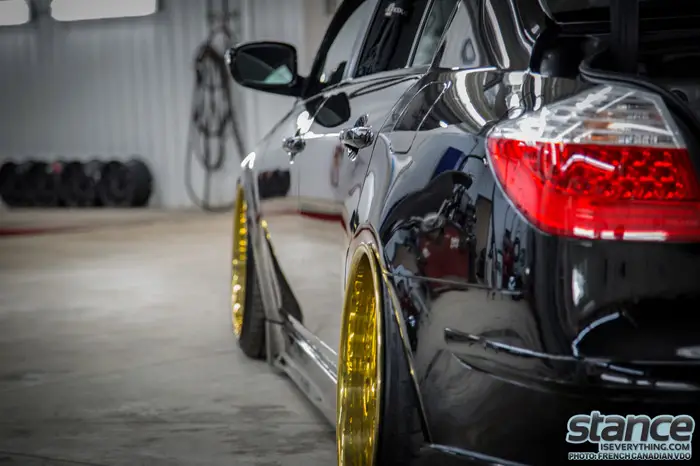 The aforementioned Genesis sedan Guillaume owned before this one equipped him with the knowledge necessary to order wheels that fit between tire and quarter panel out back while being flush up front.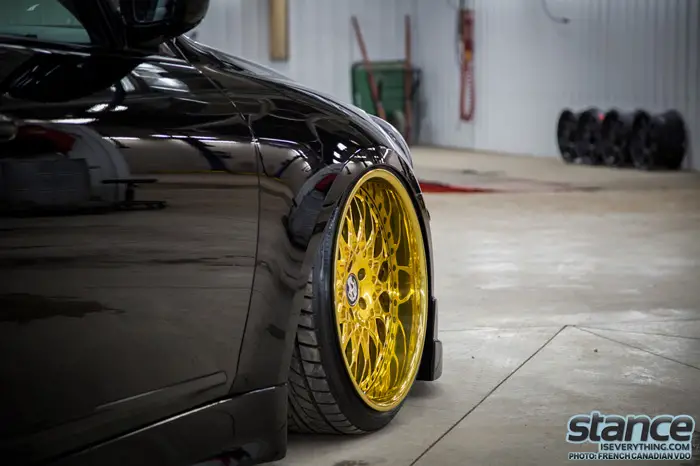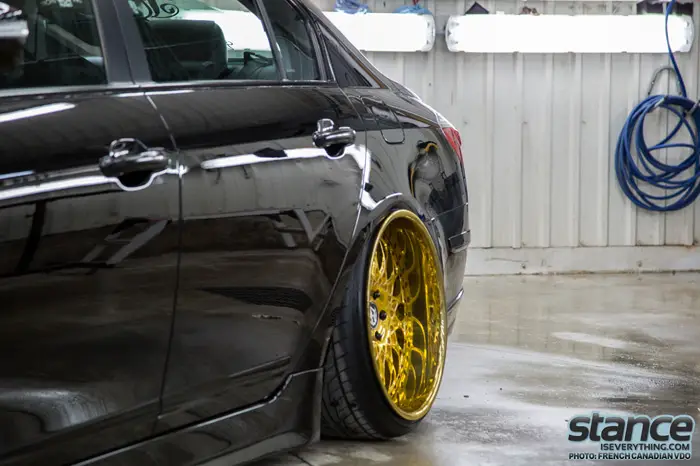 A VIP influenced luxury sedan simply wouldn't be complete without interior additions and as such the prerequisite table, glasses, and Junction Produce rear view mirror garnishes found their way inside the car.
These accessories do a great job of adding to the cars air of class and luxury.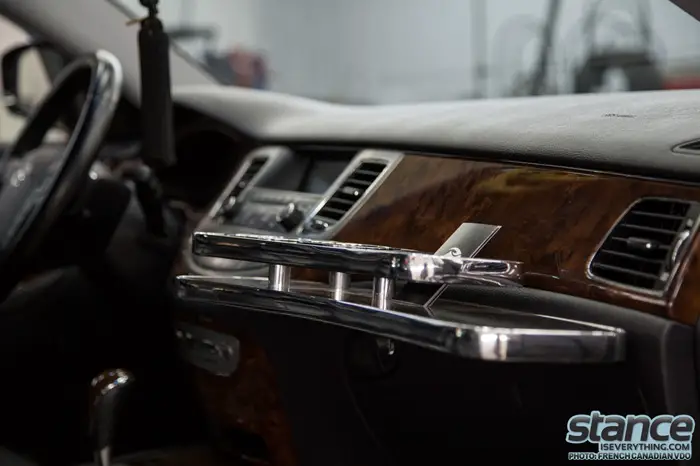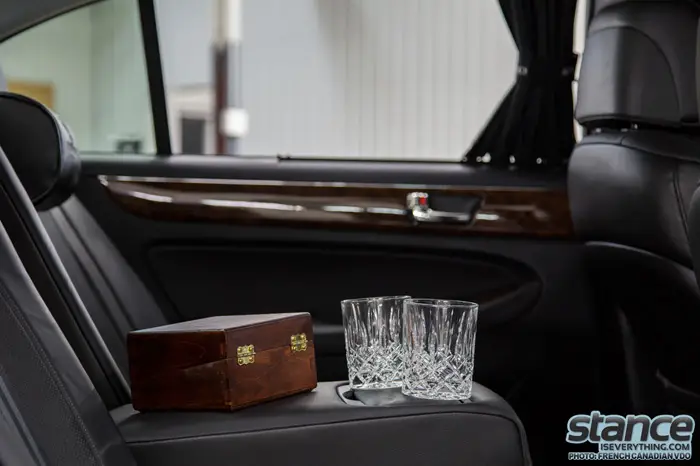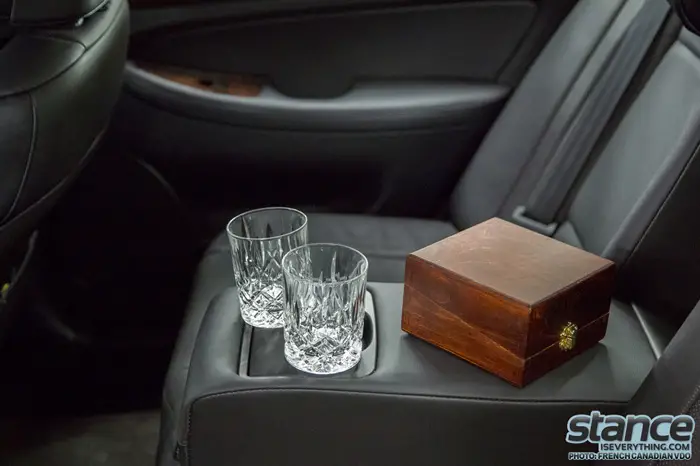 Despite being one if (if not the only) Canadian 09-11 Genesis sedans modified to this level Guillaume recently decided to part ways with the vehicle and move on to something else.
Given his employment another Hyundai is expected but he's not exactly sure which model at this point in time.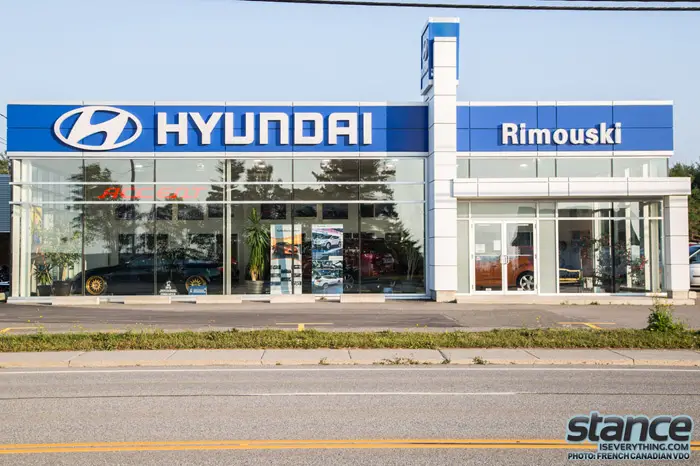 However since he's already got a set Dampfhammer Wheels on the way I don't imagine he will remain indecisive for too much longer.