As enthusiasts at some point we've all put pencil to paper and sketched the car that's been driving through our minds. For some, perhaps most, those illustrations are best left unseen, but for others they grow to become works of art worthy of hanging on the walls of man caves, offices, and garages all around the globe.
For today's Theme Tuesday we will look at the work of ten very talented automotive artists whose work just so happens to be available for purchase, conveniently at a time you might be asked 'so what's on your Christmas list?'
The Motor City influenced art work of Detroit native Chris Piscetilli has been featured on this site before, but only recently did I notice that he's got some of it up for sale.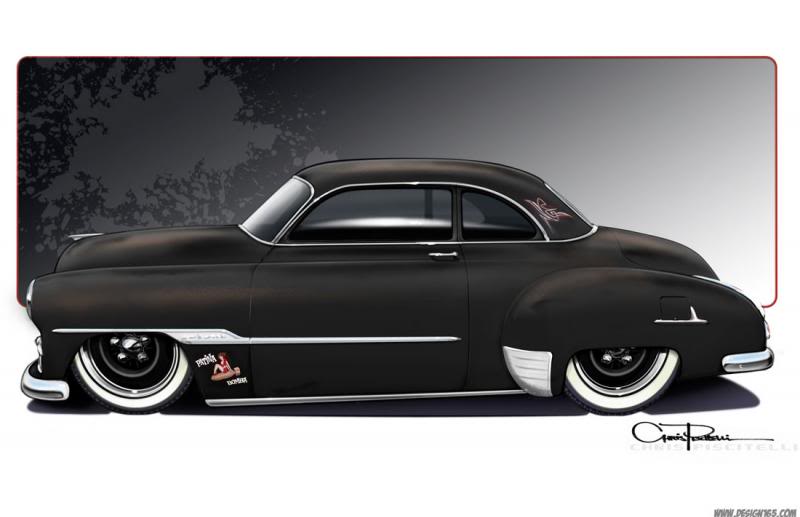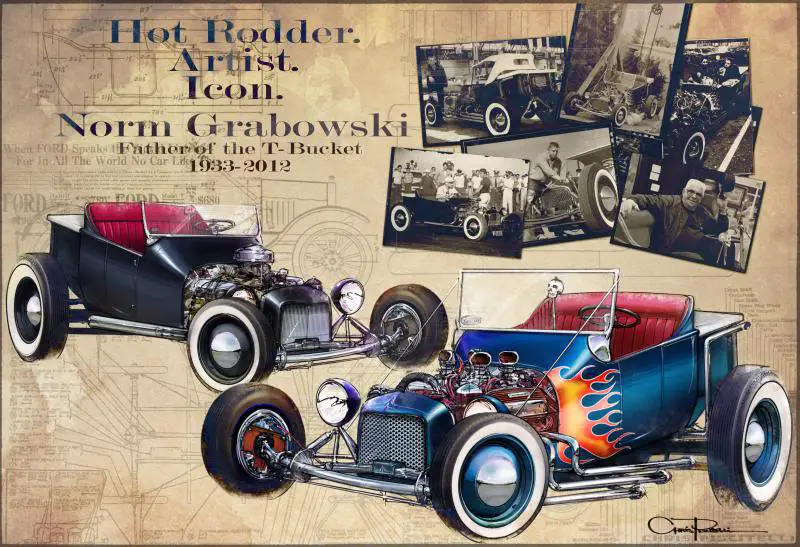 Ranging from sketches to pinstripe-esque pieces, Chris' work would be at home in any office or garage, personally I'm a big fan of his blueprint series which outlines the drastic changes done to even the most subtle of traditional kustoms.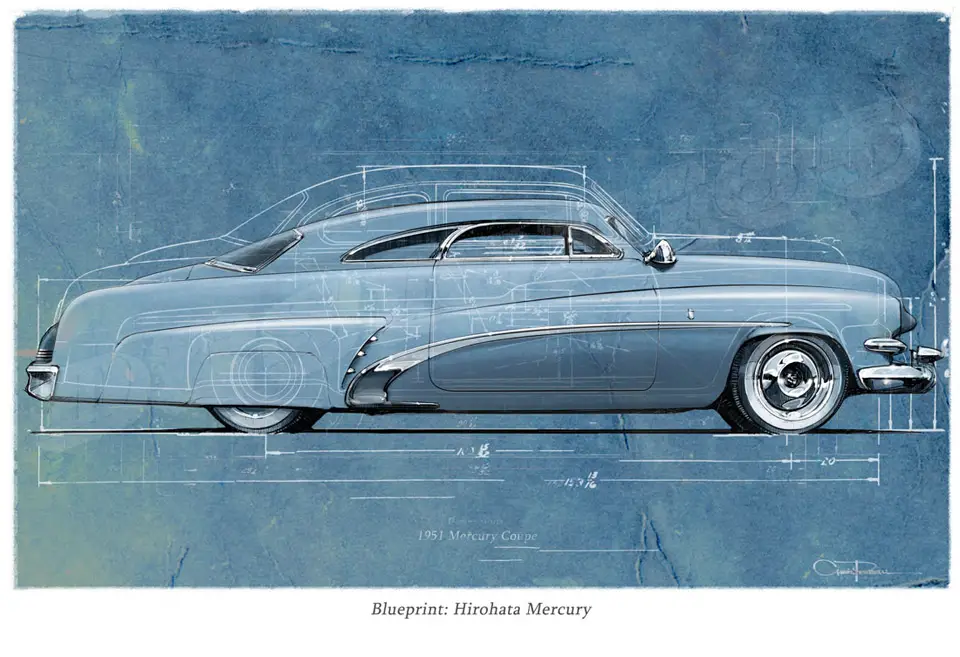 Chris Piscitelli's work is available at: Design165.com.
I've been following Dennis since around the 'blog boom' of 2009 (or was it 2008, memory is  not what it used to be) and I've always been impressed by his work. Extremely talented at drawing stylized renditions of iconic Japanese cars lately Dennis seems to be touching all corners of the scene.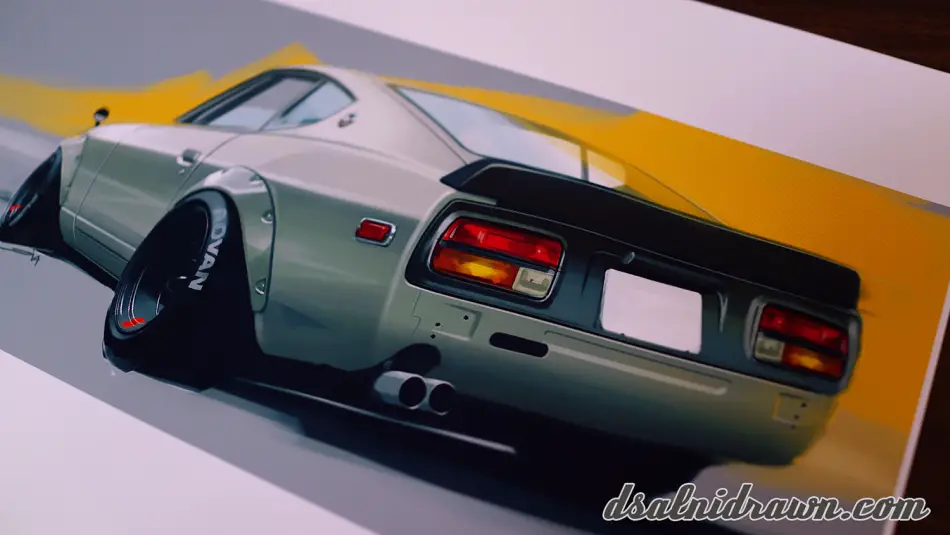 With styles ranging from crisp marker and pen drawings, to work more akin to water-color paintings, Dennis has pieces your significant other just might let you hang outside of the 'man cave'.
Dennis' work is available at : dsalnidrawn.com
At home doing anything from livery to cartoon illustrations, Othniel Baxter is a very talented artist out of Washington DC, who's exceptional use of vibrant color and clean typography managed to fly under my radar until early last week.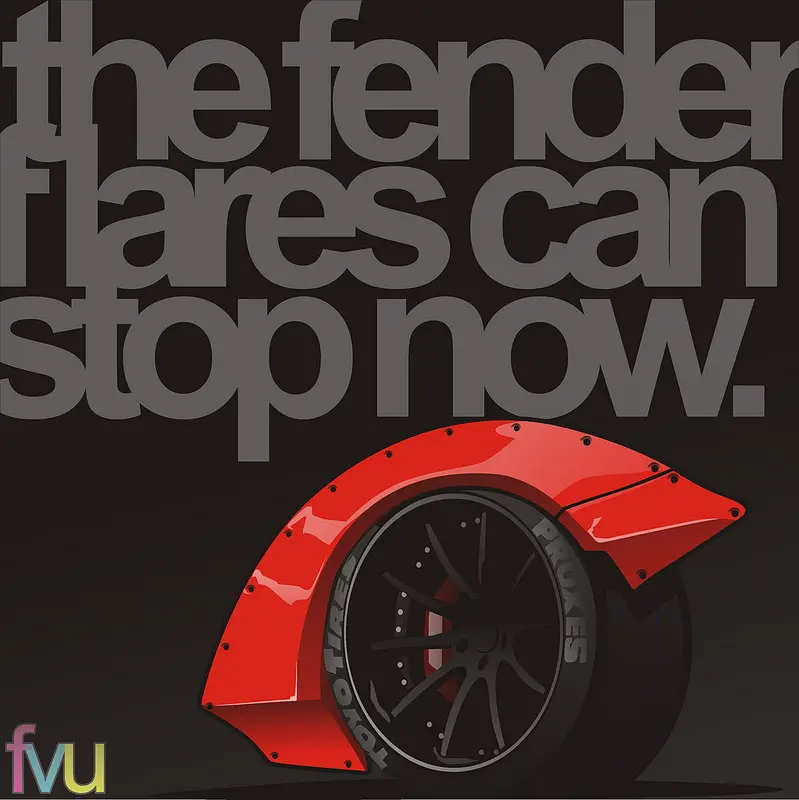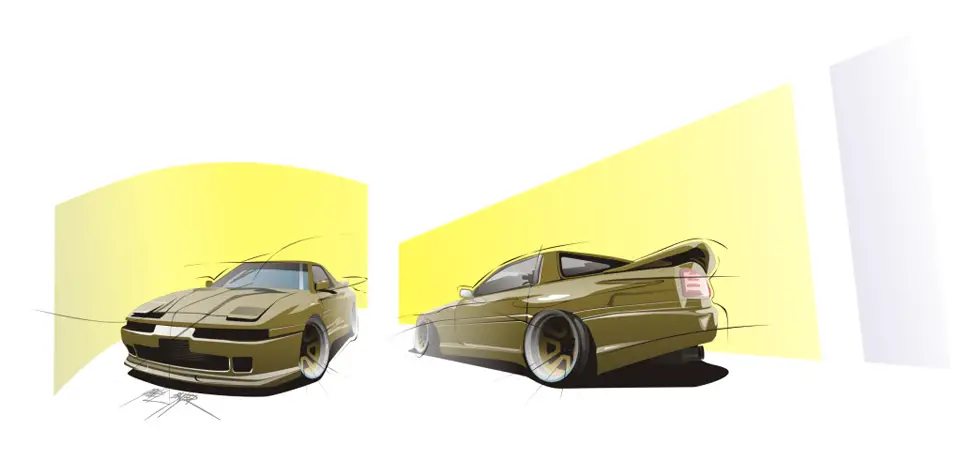 His work seems to center predominately around vehicles from the 80s to now but he occasionally throws in a classic just to keep things interesting. If you're looking for a splash of color on your walls Othniel is a good look.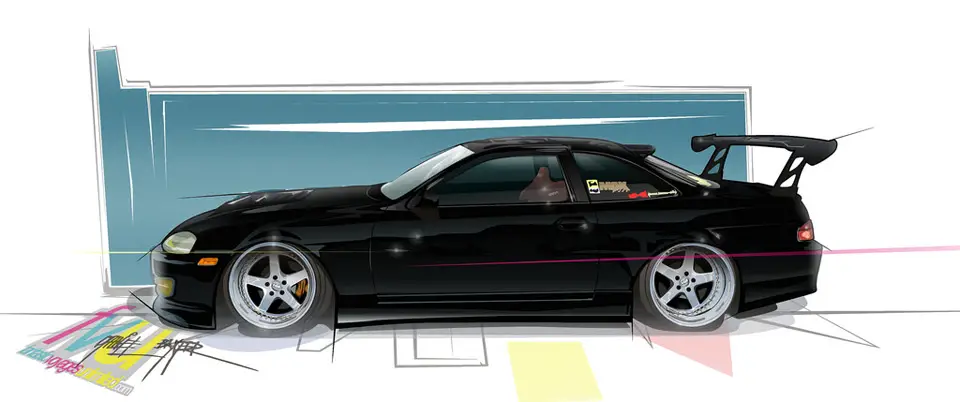 Othniel Baxter's work is available at: fantasticvoyagesunlimited.com
Doug Breuninger
Doug is the automotive designer and concept artist for Galpin Auto Sports (Gas) who spends his free time doing absolutely insane hand drawn/painted pieces on Post-It notes.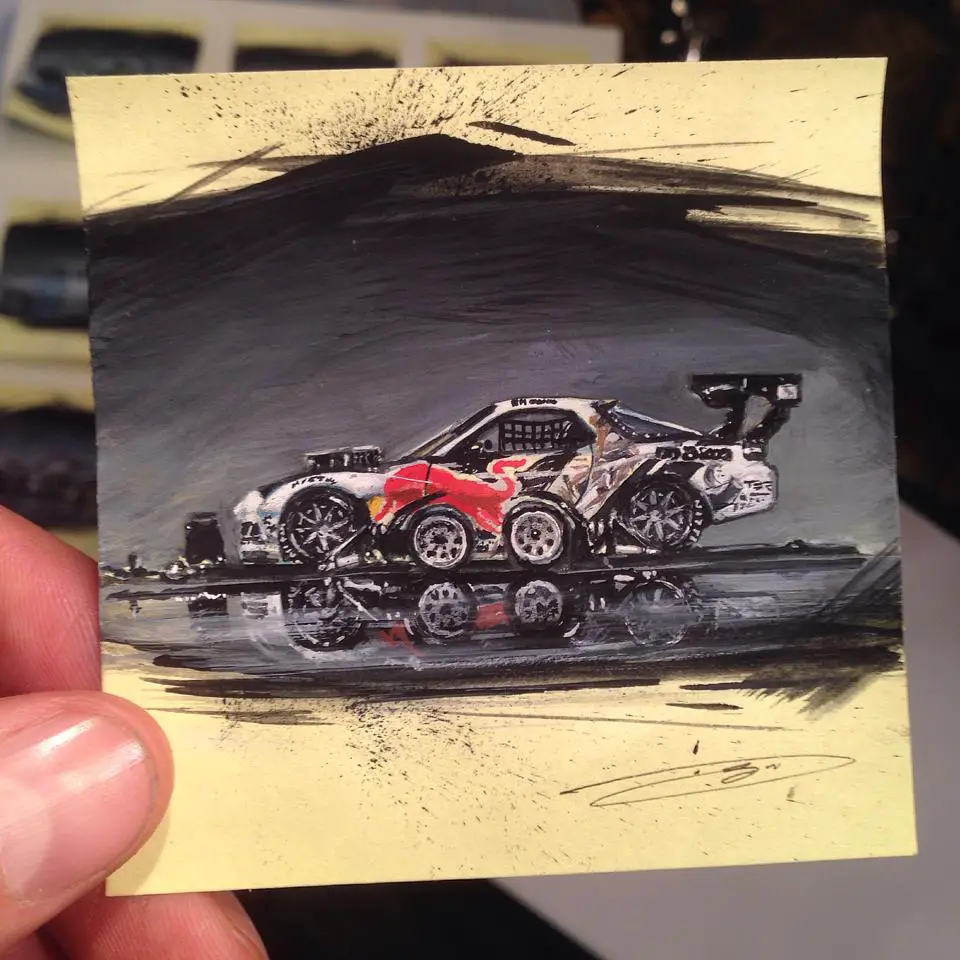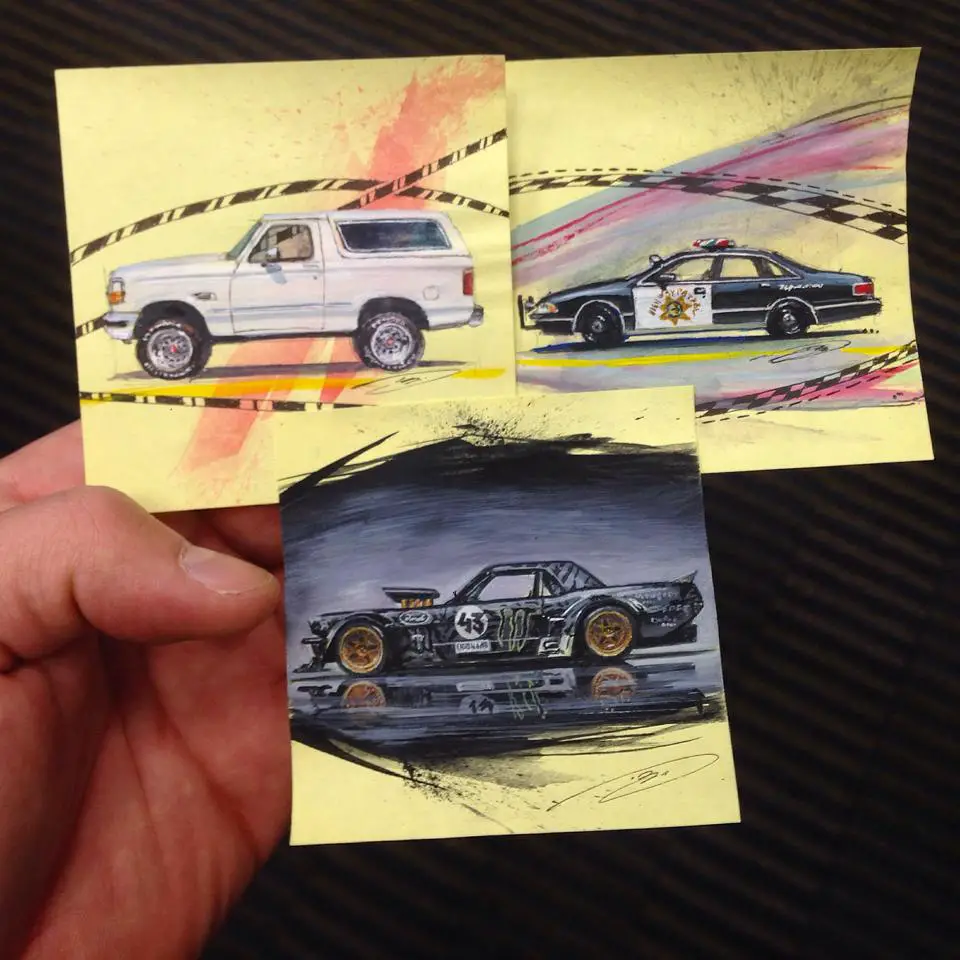 While he often does the internet hot cars of the minute, Doug isn't afraid to draw anything with wheels and given the level of detail he manages to squeeze into 3″ square it only makes sense that his full size work is also outstanding.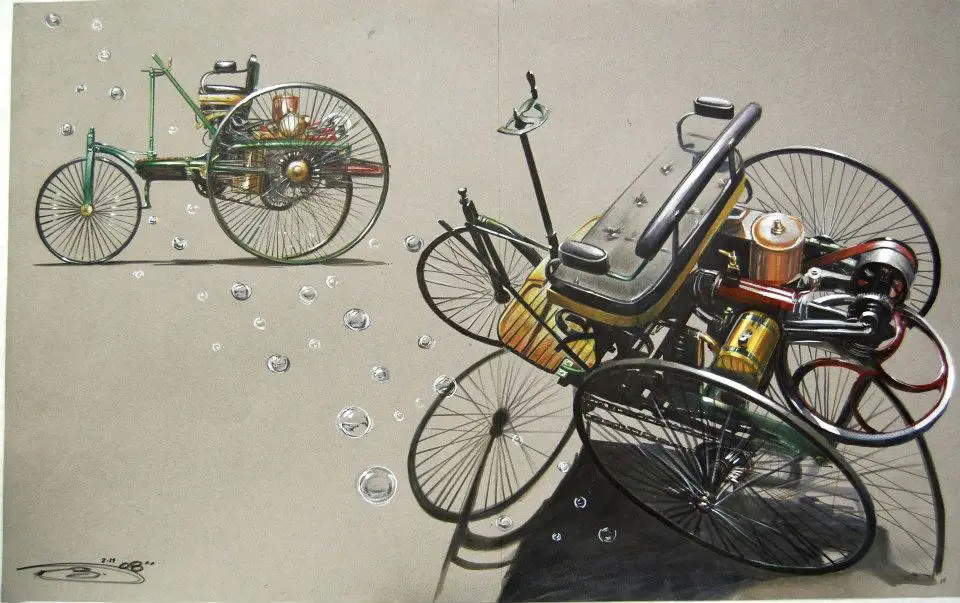 Doug can be reached via his Facebook Fanpage.
Of the people listed today Michale Irvine is one of the few whose work I've had the pleasure of viewing first hand.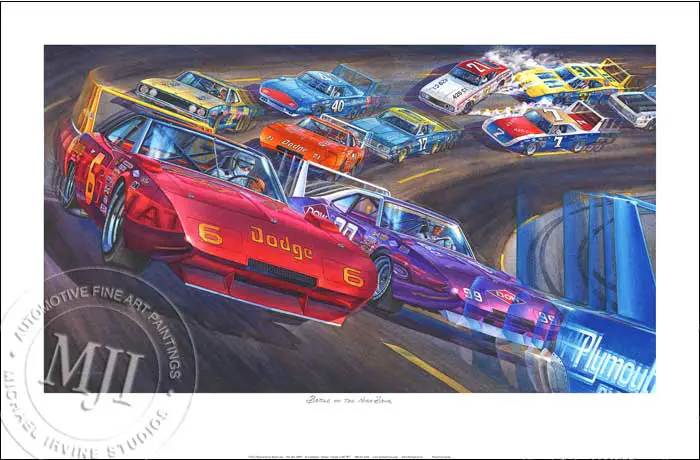 Packed with detail Michael's art often meticulously re-creates scenes he's come across first hand, or in some cases famous ones from movies, with astounding, almost photographic, accuracy.
Michael Irvine's work is available at: michaelirvine.com
Jeff Norwell; the driving force behind The Jalopy Jam Up, Ontario's own pre-1964 Traditional Hot Rod and Custom Car Show, also happens to be one of the areas most well renown artists.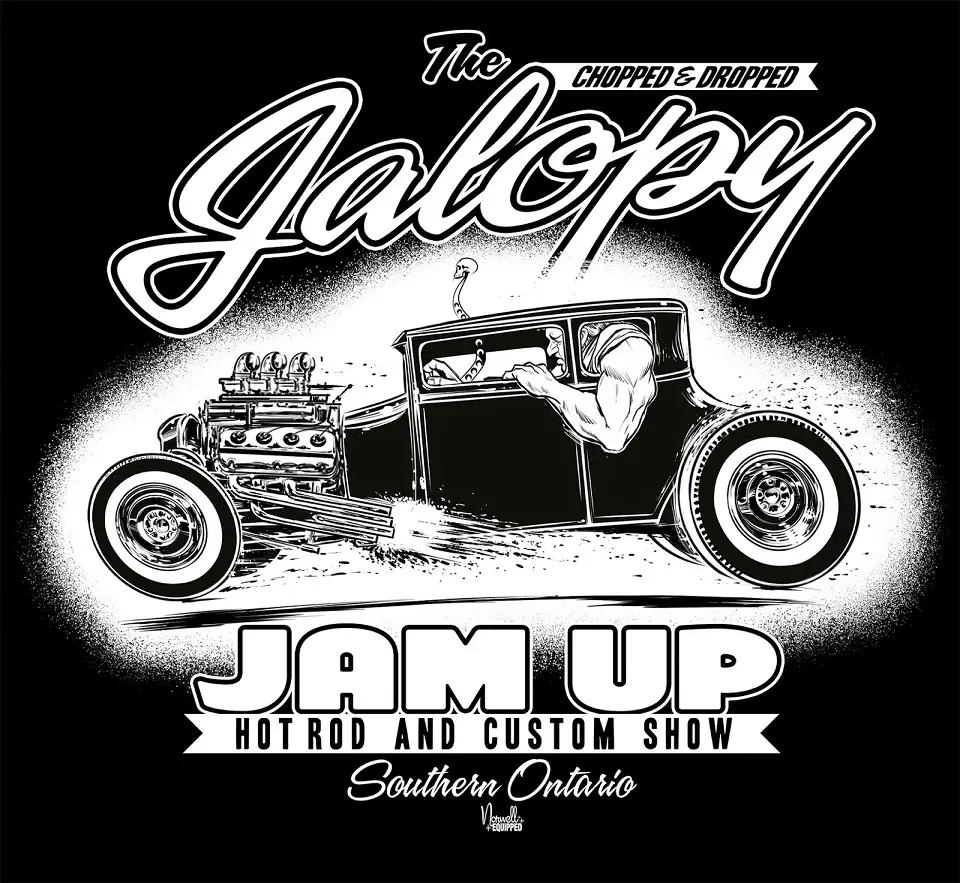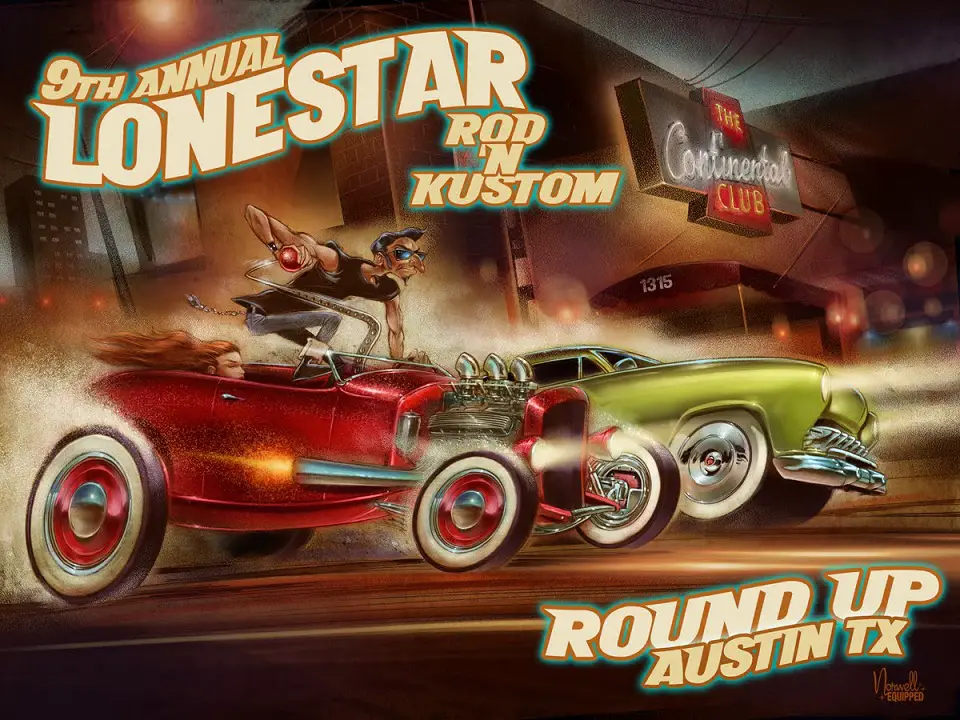 Hot Rods are often the subject of his pen, but as his extremely varied portfolio illustrates Jeff is quite talented at drawing or painting pretty well anything.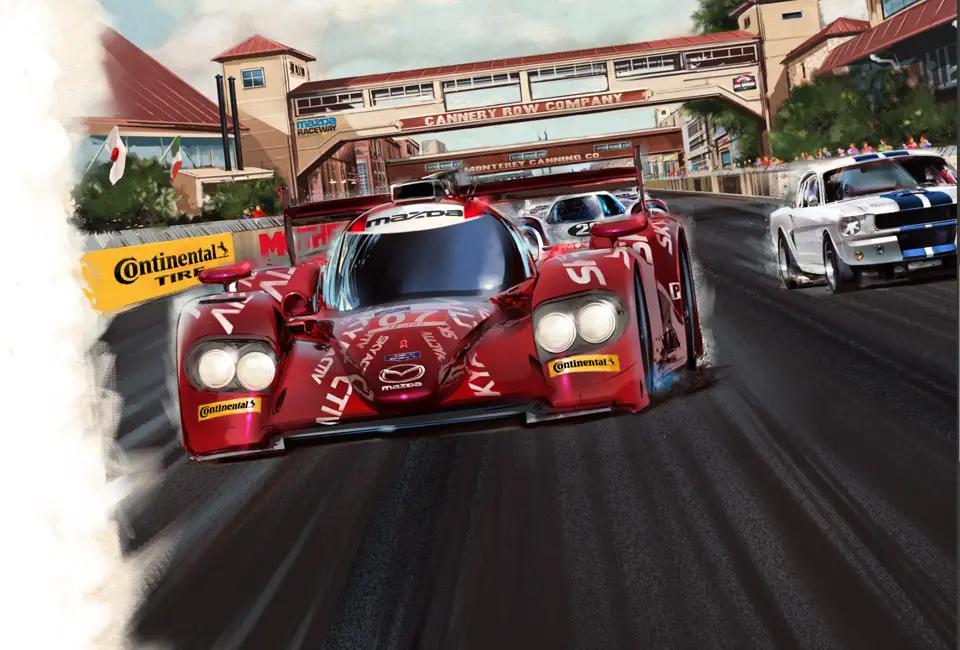 Jeff's work can be viewed at Jeffnorwell.com, Drawnandquarted, and is available for purchase via [email protected]
Chris Hoare is a multitalented Ontario based enthusiast who, somewhat recently, put down his camera and shifted his efforts towards automotive illustration.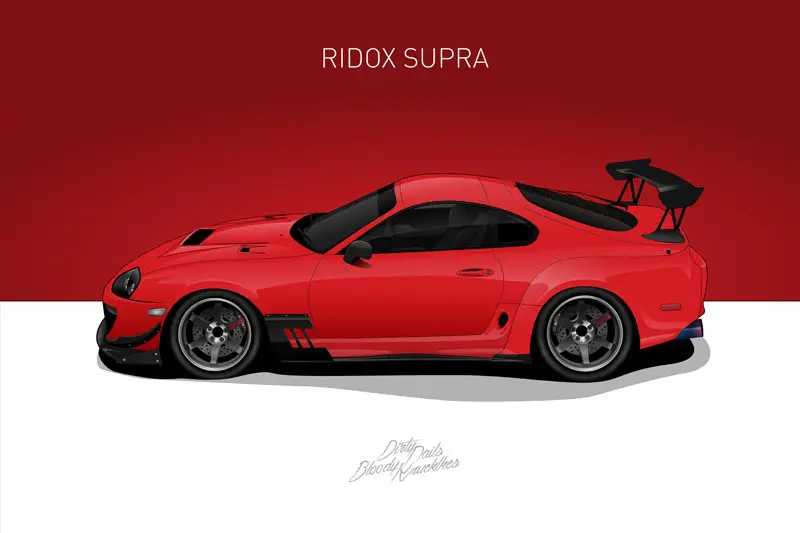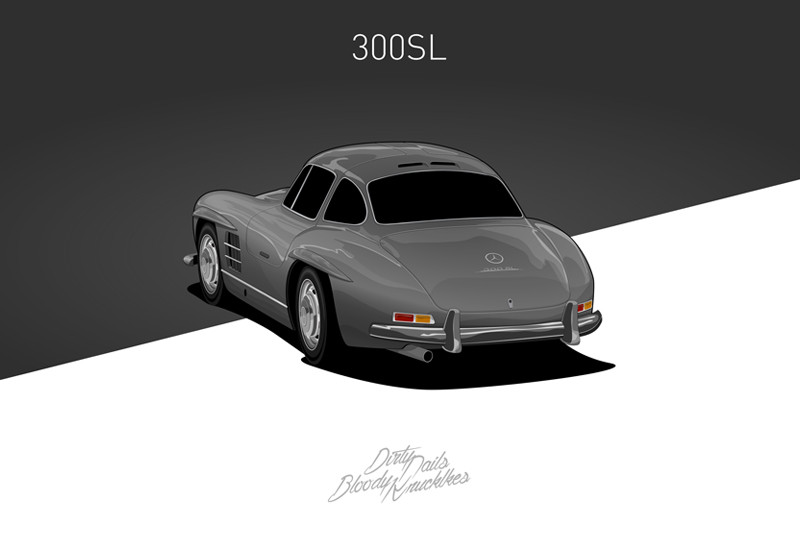 In almost no time Chris has amassed a huge back catalog of great work on a variety of subjects. His work also appears on a variety of mediums including t-shirts, and most recently camera cases. Being a local Chris and I hope to collaborate in 2015 so look forward to seeing more of Chris in this space soon.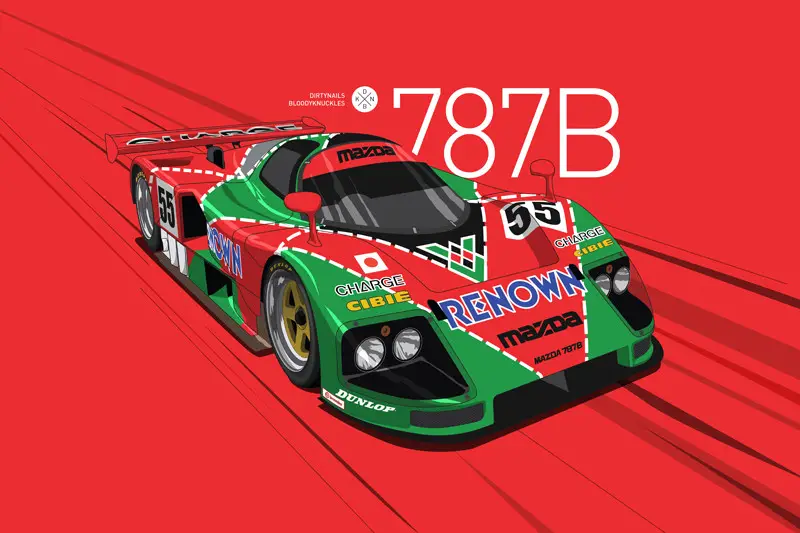 Chris Hoare's work is available at: dirtynailsbloodknuckles.com
Ben Mckee is the first of two AZ based artists on this list and a suggestion of BagBarn.ca owner Steve Woodward.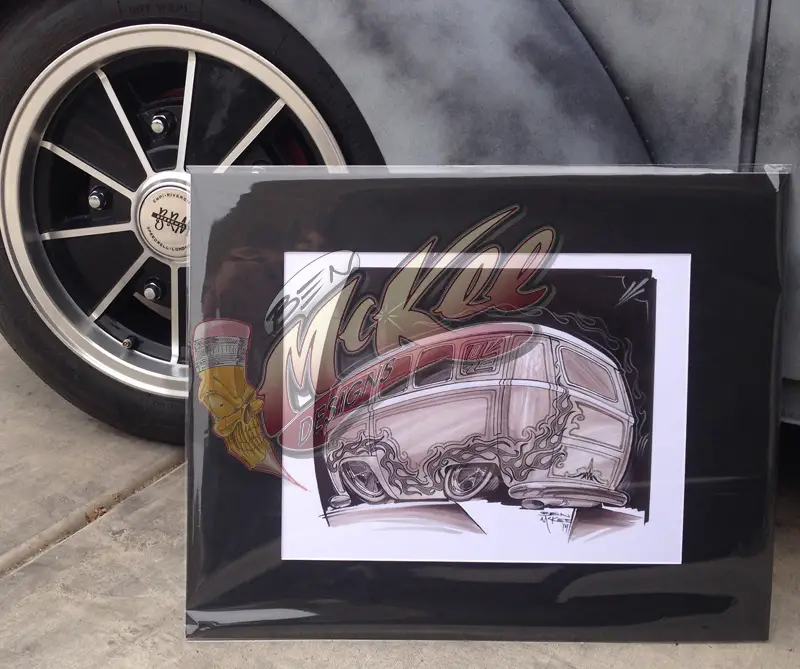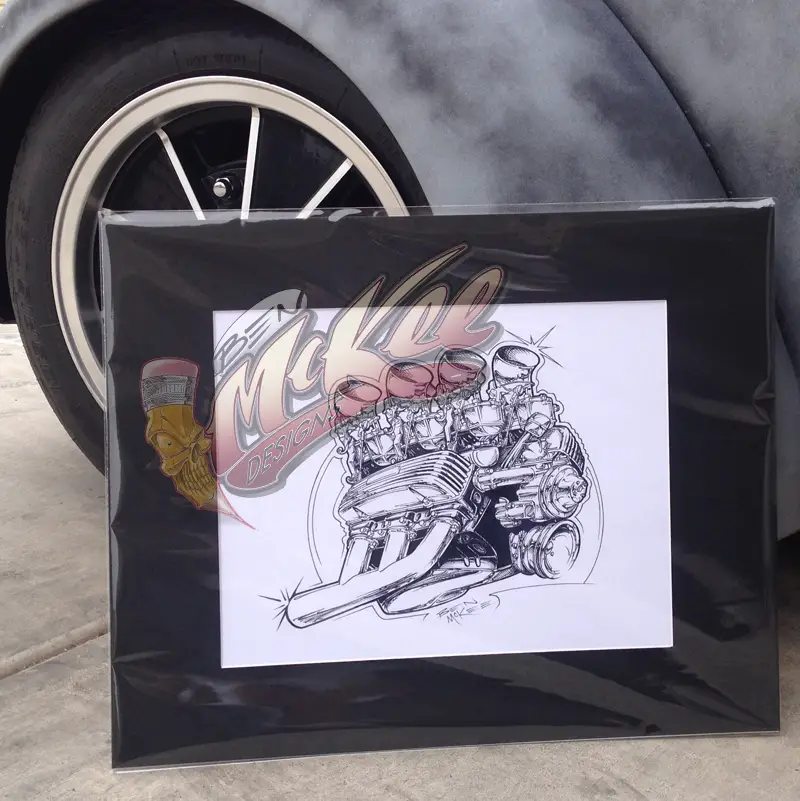 Using either pen, marker, colored pencil, or paint to bring his art to life Ben is as comfortable illustrating a 50s gasser, as he is an air-cooled Beetle which means his catalog has a little something for everyone.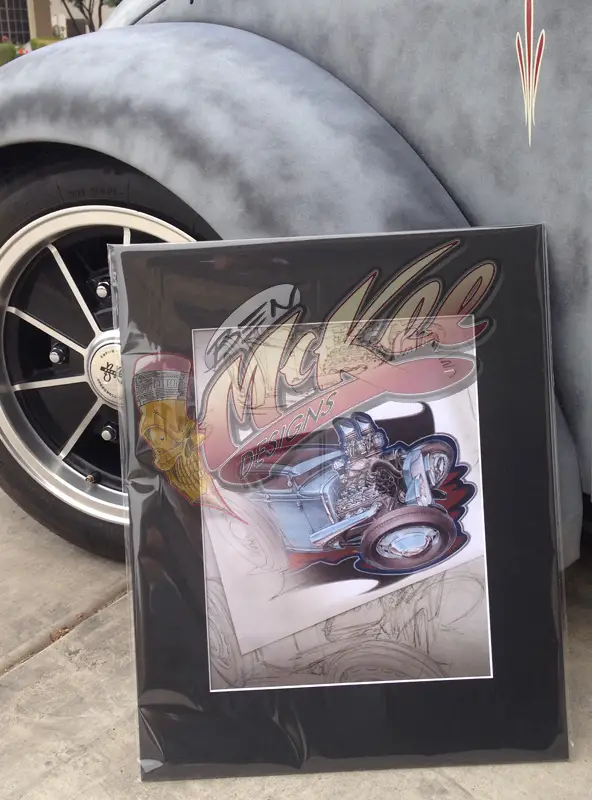 Ben Mckee's work is available at: benmckeedesigns.com
Brian Stupski was a suggestion from fellow AZ native Keith Charvonia, and while his name initially didn't ring any bells upon loading problemchildkustoms.com I realized that Brian's work is quite familiar and he's rendered a few of my all time favorite cars, most notably the Talledega GPT).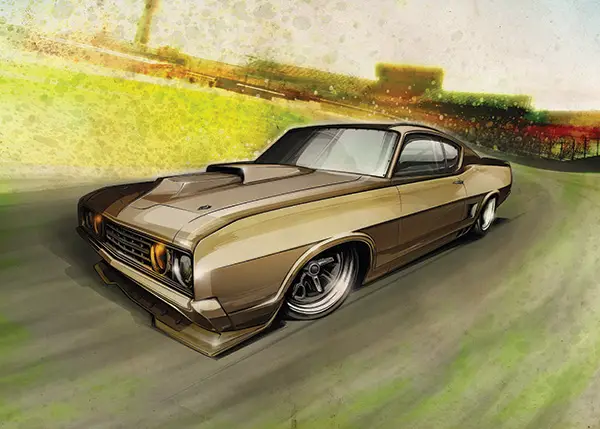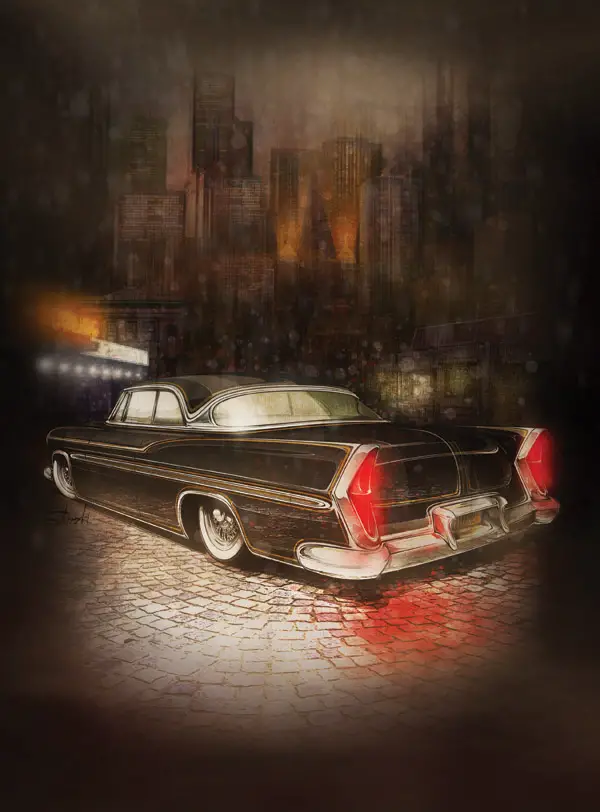 This list of people Brian has done commissioned work for is both lengthy and impressive, but his work would be no less captivating if it was only seen at your local swap meet or flea market. His balance of style and technical accuracy is truly unique and he offers a unique subscription package that delivers new work your door every month.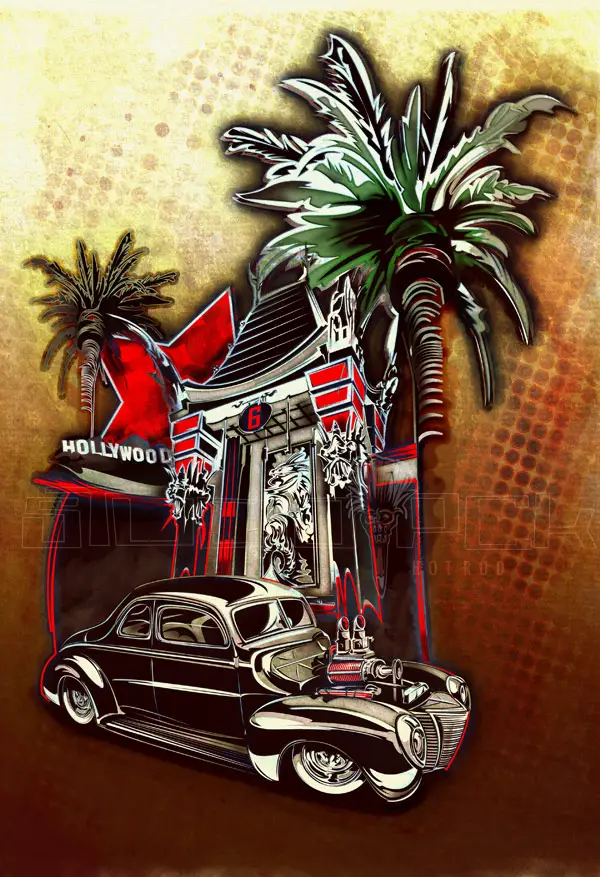 Brian Stupski's work is avail bile at: problemchildkustoms.com
Bright, loud, and powerful there's simply no mistaking the work of Max Grundy, blending robots, hot rods, women, and explosions like really only he can Max's work is world renown.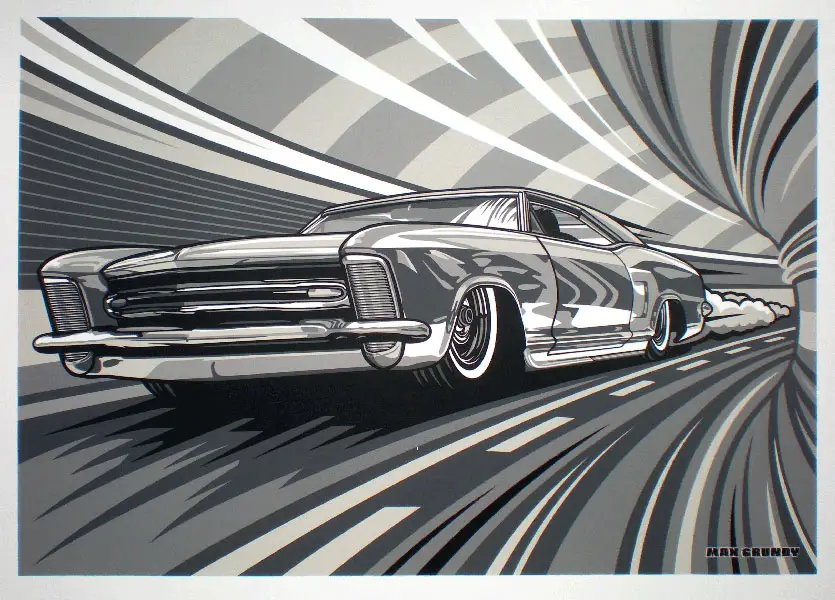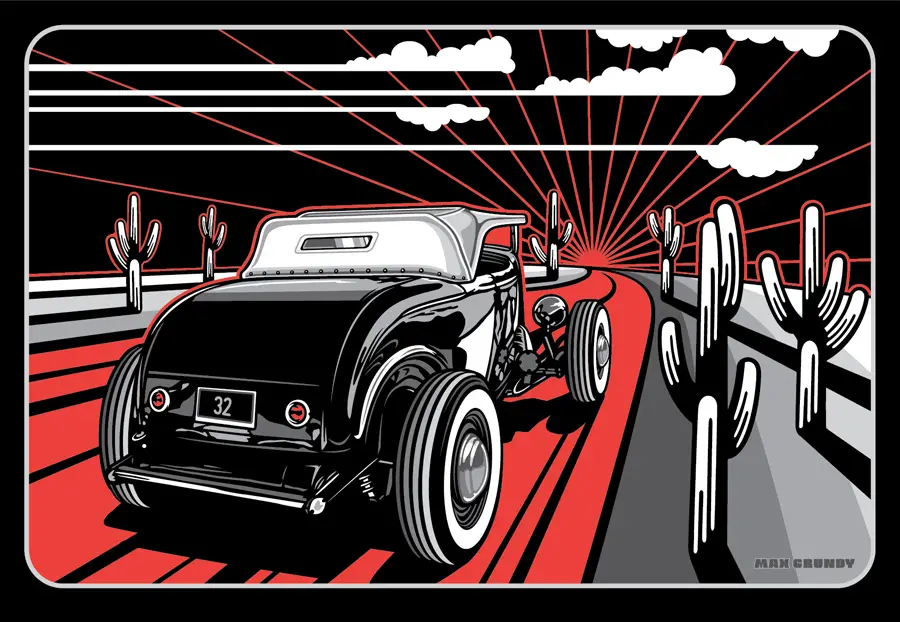 After doing all of the main branding for this years SEMA show, expect to see a lot more of Max's work in the future as it gains even more mainstream appeal.

Max Grundy's work is avail bile at: maxgrundy.com