It's been three years since I've been to a professional drifting event, so when SYLVANIYA zXe (available at Canadian Tire) offered up the opportunity to attend the world round of Formula Drift at Autodrome St-Eustache I jumped at the opportunity.
I still carry a bit of regret about missing last years round, and with this year being a full points event the Formula Drift/Formula Drift Canada organizers pulled out all the stops.
In addition to some of the best drifting in North American on track, off track there was a large vendor alley, an open paddock, a live DJ playing good music, the Offset Kings car show and yes even a person flying around with a jet pack strapped to their back.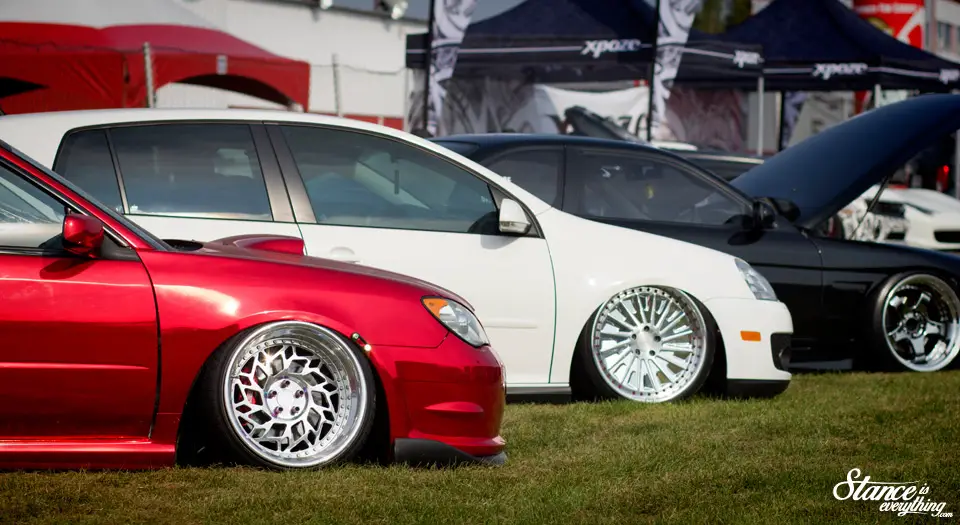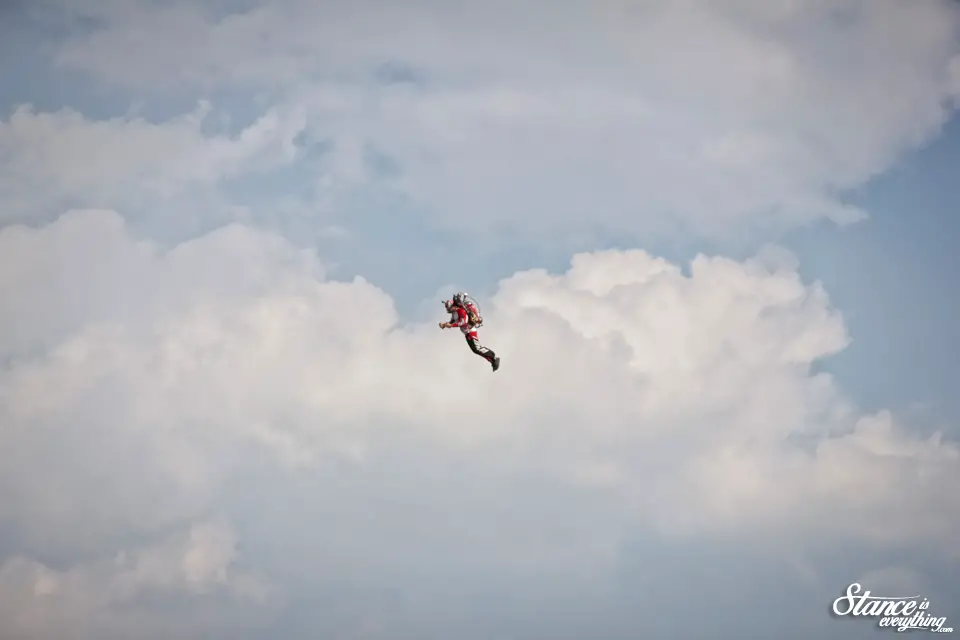 The off track portion of the event can wait until next week though because today I'm going to cut straight to the chase and showcase the main attraction, the drifting.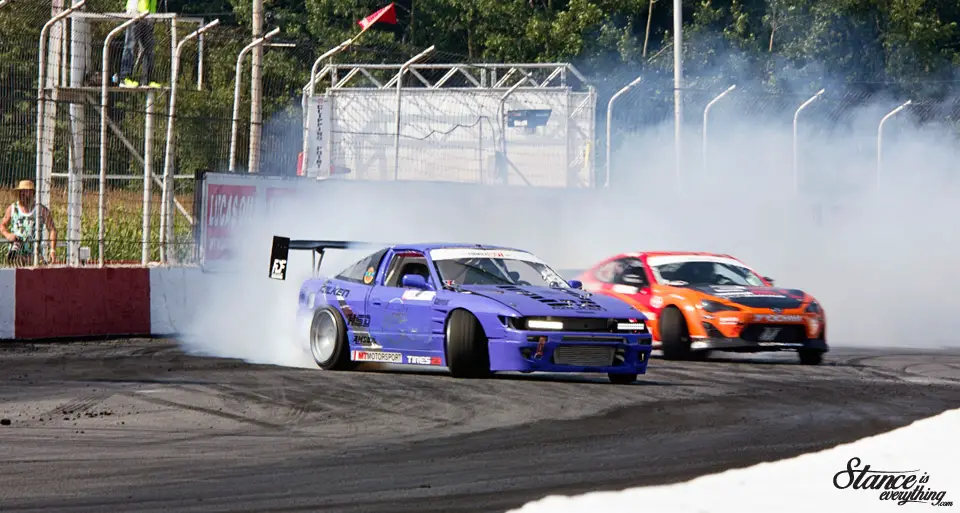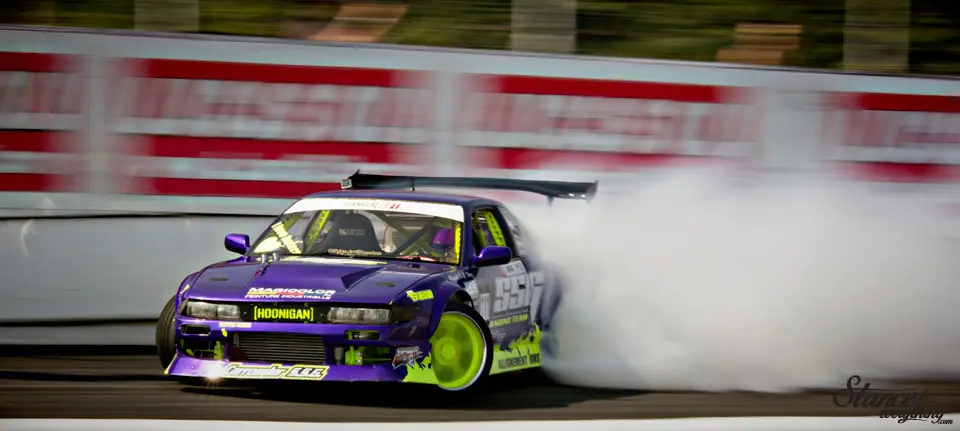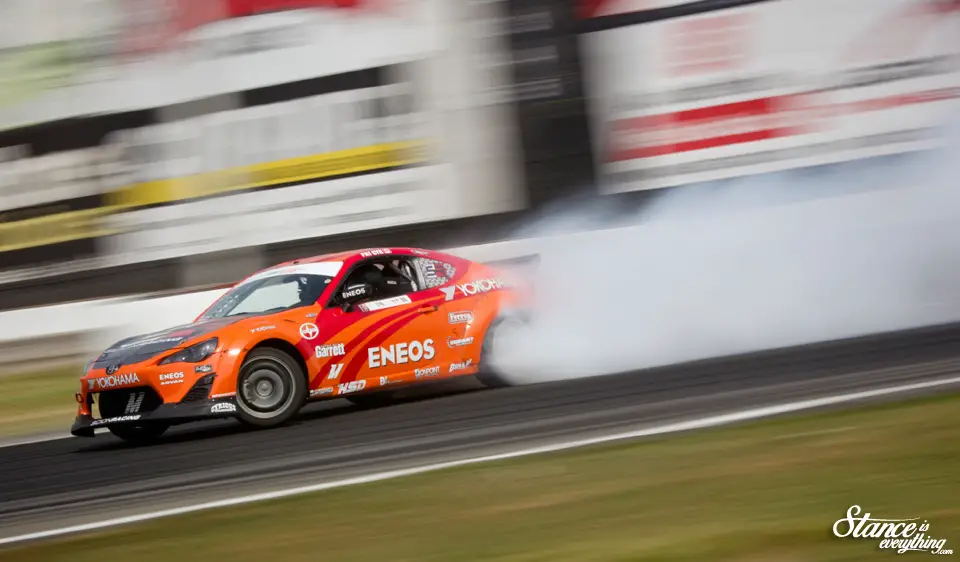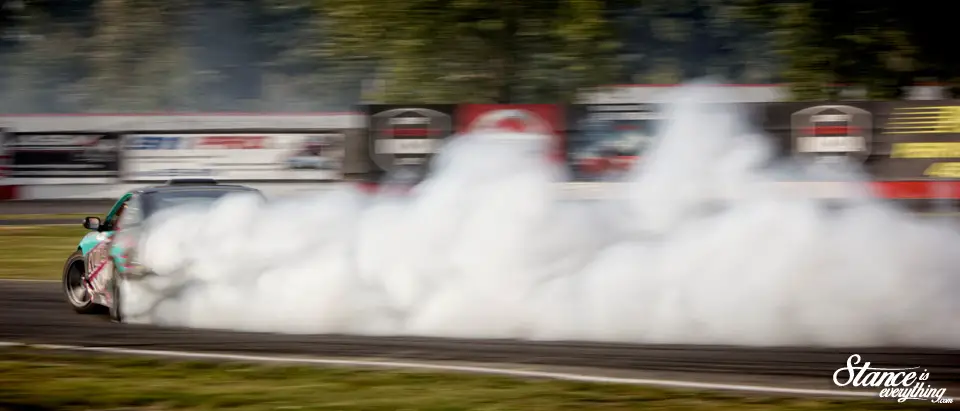 For this round 40 drivers showed up from the United States, Asia and Europe to burn rubber along side Canadians under the scorching Quebec sun.
The home-town advantage was huge at this track and the large French-Canadian segment of the crowd was pulling hard for their own. Marc Landerville and Jeff Laflamme, Danny Bernier, and Tommy Boisvert-Bellemare were particular crowd favourites and running hard all day long.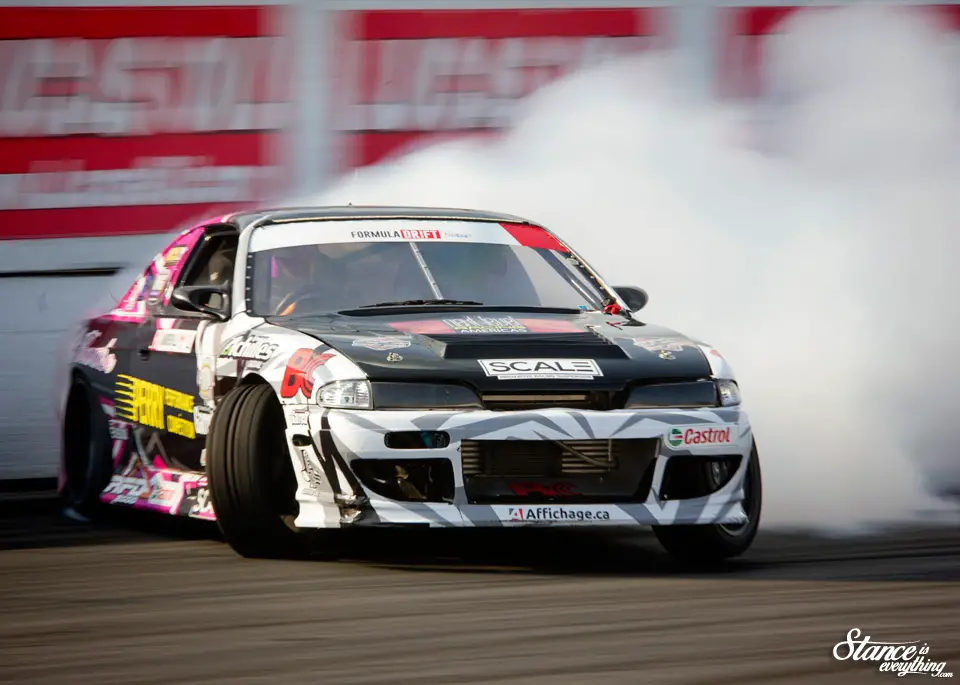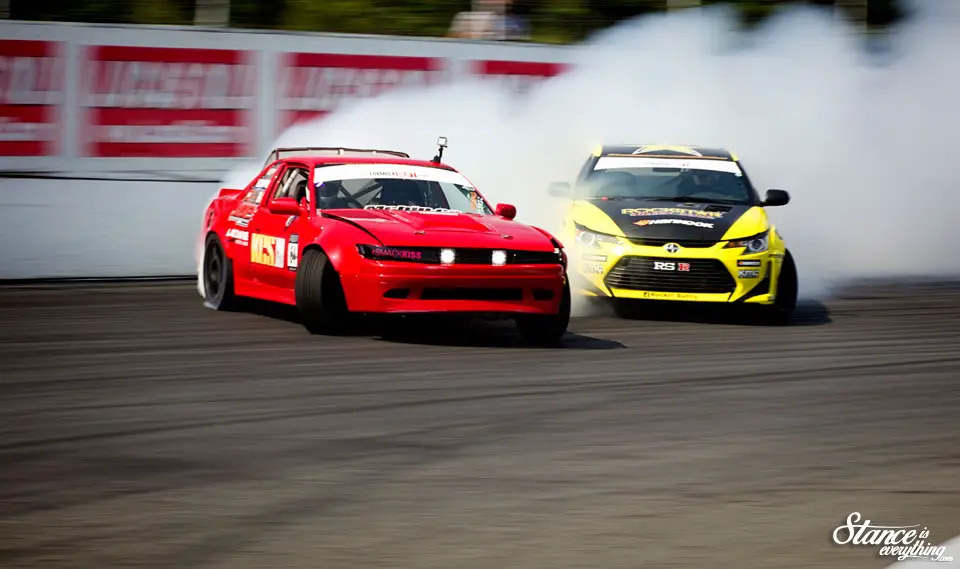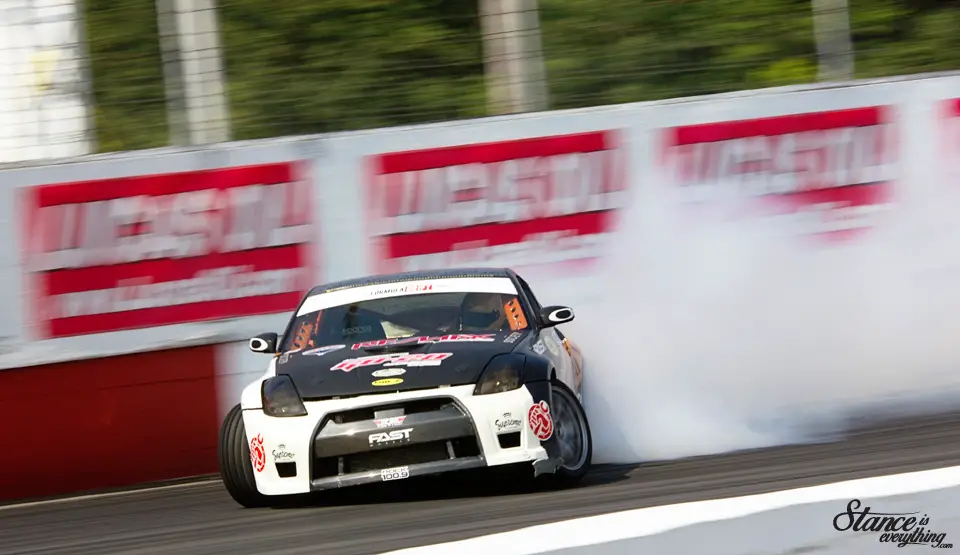 Ontario had a great showing too, Mats Baribeau, and honorary Canadian Bob Patinka were also out slaying tires and banging doors.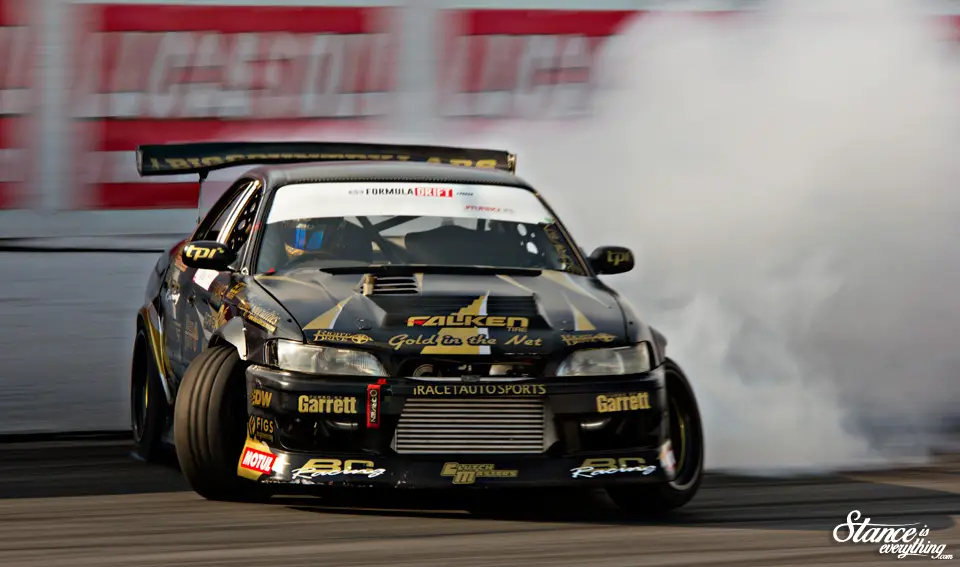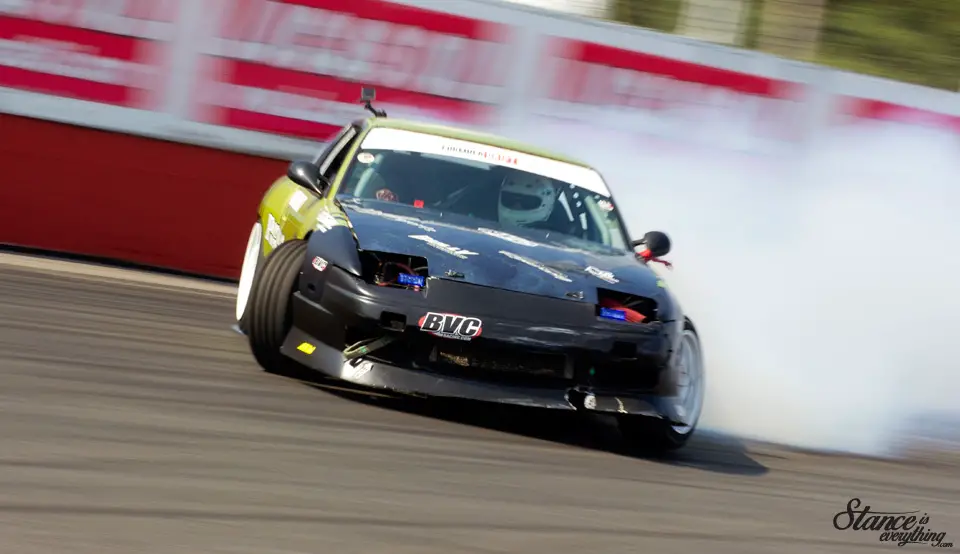 Last but not certainly not least GTA(ish) residents Marin Guilbault, Riley Sexsmith, Steve Van Sleuwen, and Pat Cyr were driving at this round. Pat's been driving great this year and was recently awarded Canadian Drifter of the Year while Marin, Riley and Steve have been doing great their first year in the series.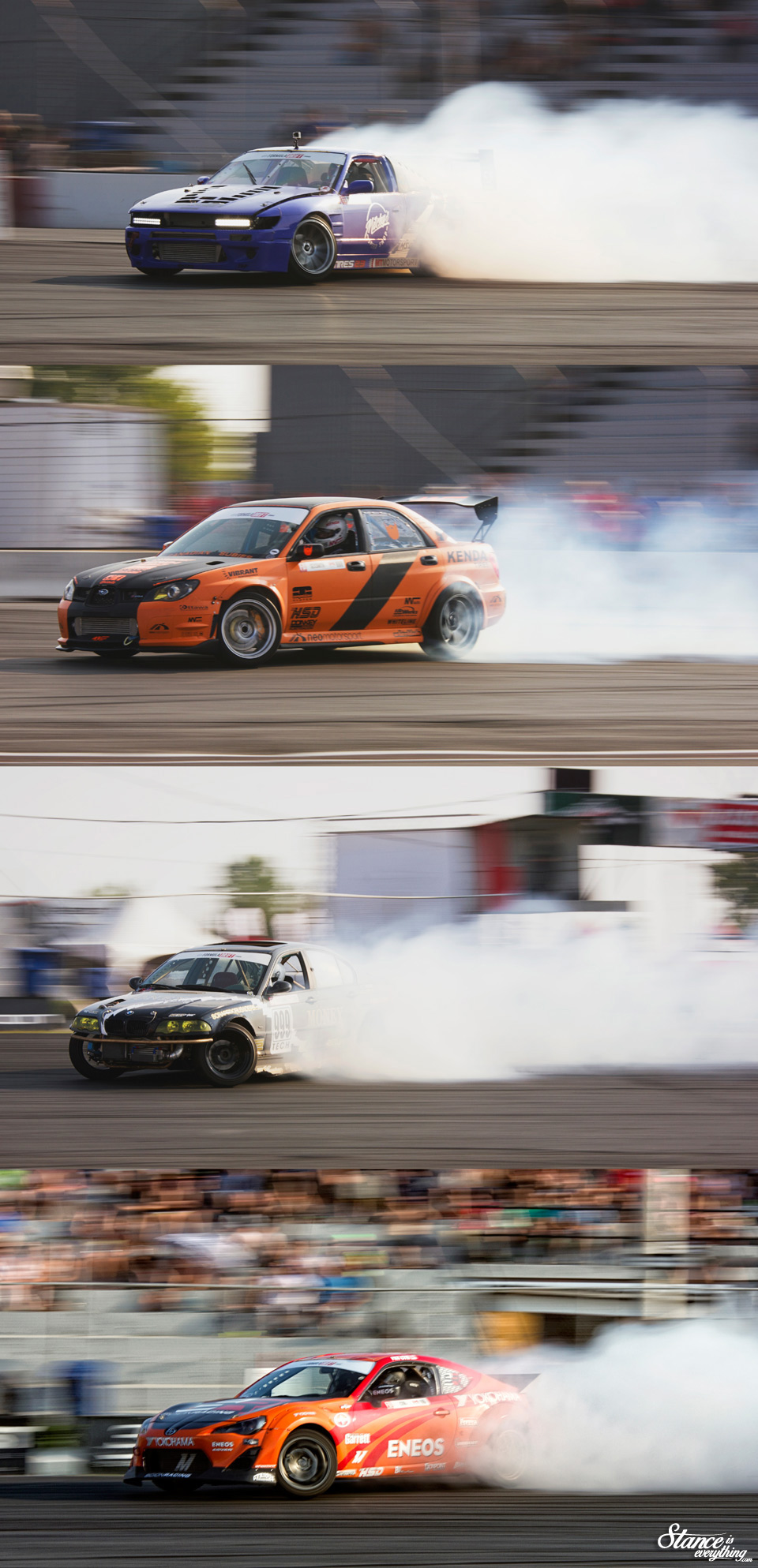 On the international level there were a number of drivers who stood out both in practice and qualifying. Charles NG had very consistent practice and qualifying laps.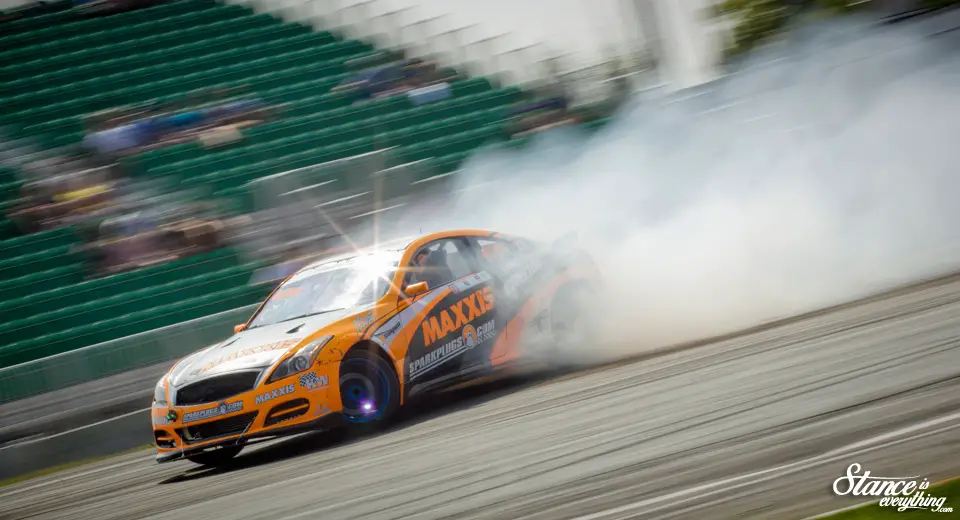 The Get Nuts Lab duo of Forrest Wang and Alec Hohnadell lived up to their name and got nuts every time they were on the track. They were two of my favourite drivers to shoot all weekend because every lap there was tons of smoke and lots of angle.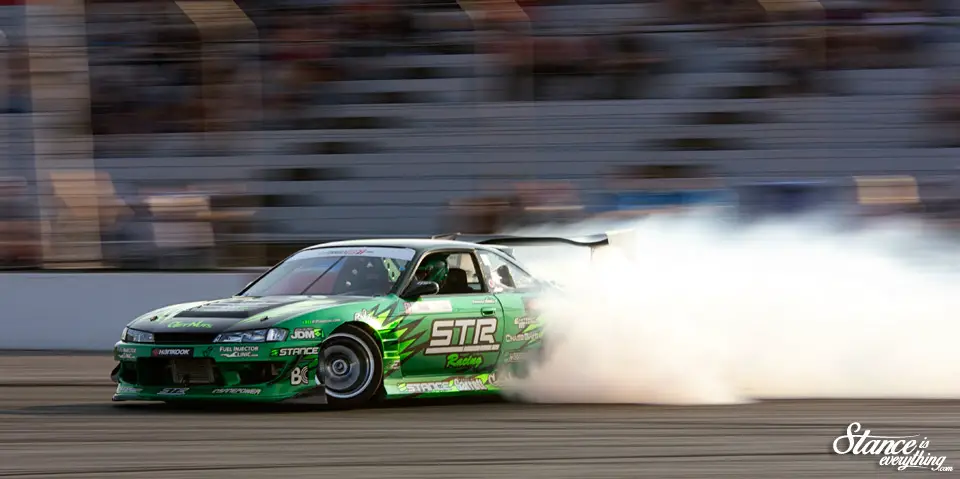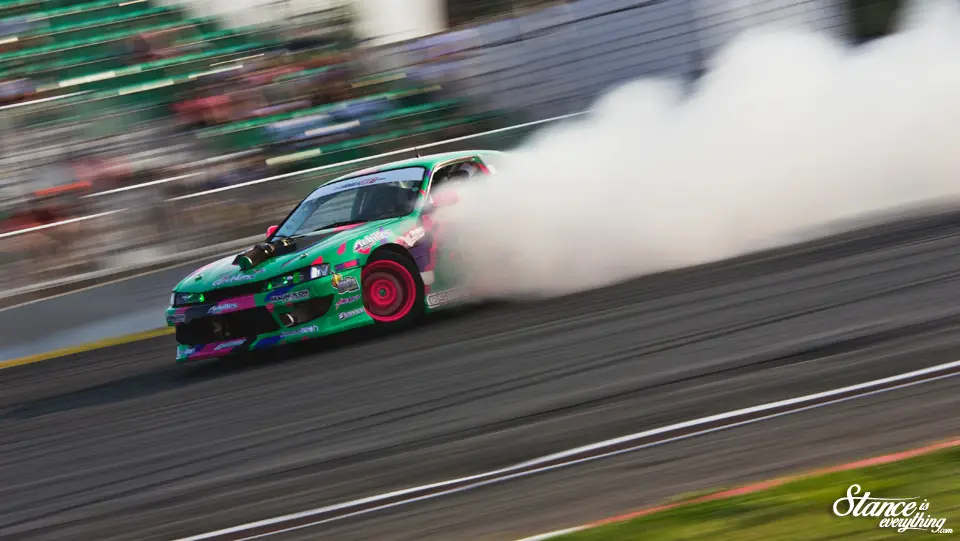 Dean 'Karnage' Kearney also lived up to his moniker absolutely murdering his Viper at every opportunity. I'm pretty sure the rear body work was smashed off and replaced at least three times throughout the weekend.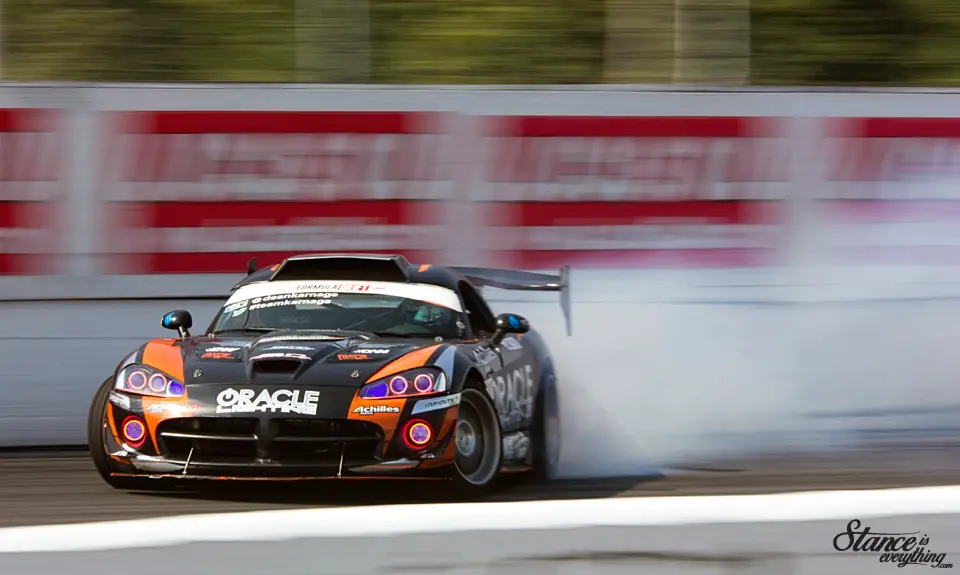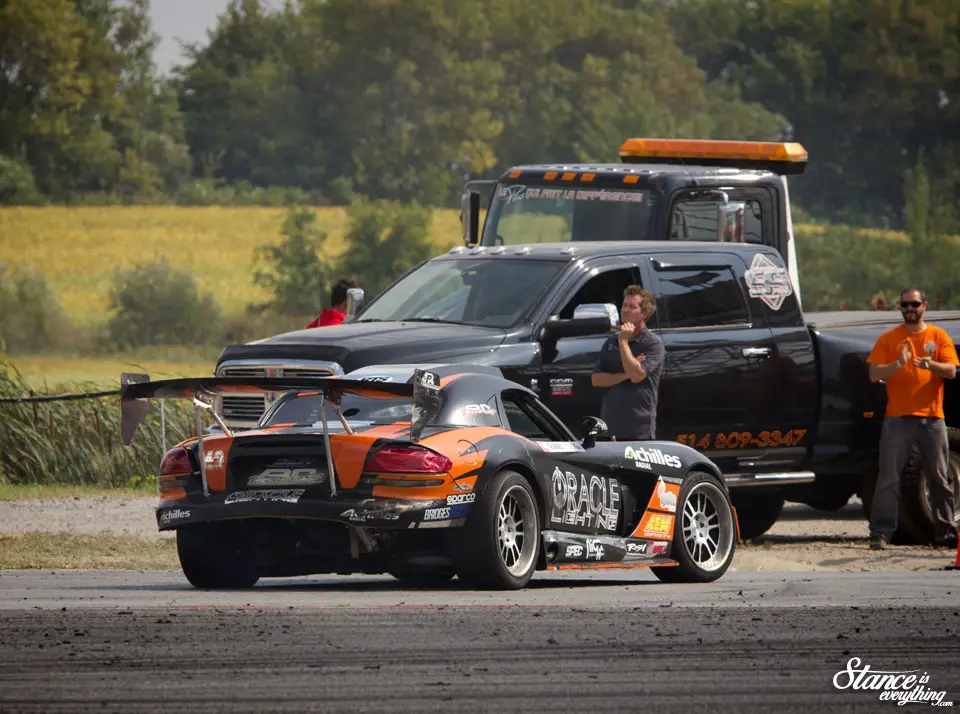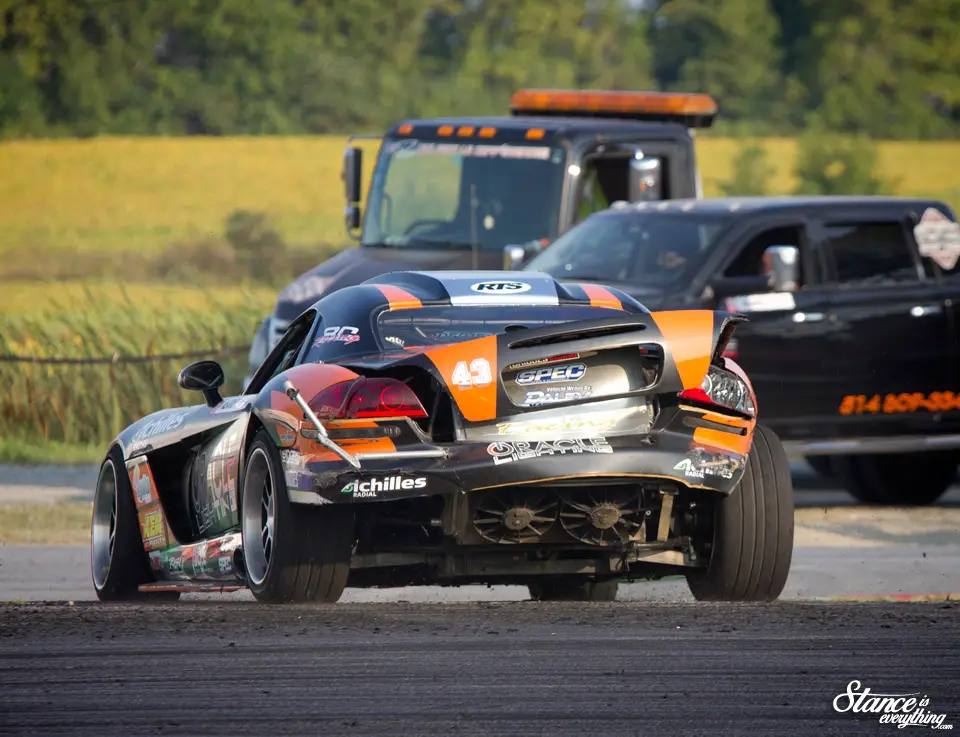 Also keeping their pit crew busy was Robbie Nishida who, while leading Steve Van Sleuwen in practice, found himself into the wall quite hard. His team managed to get him back out though like nothing had ever happened.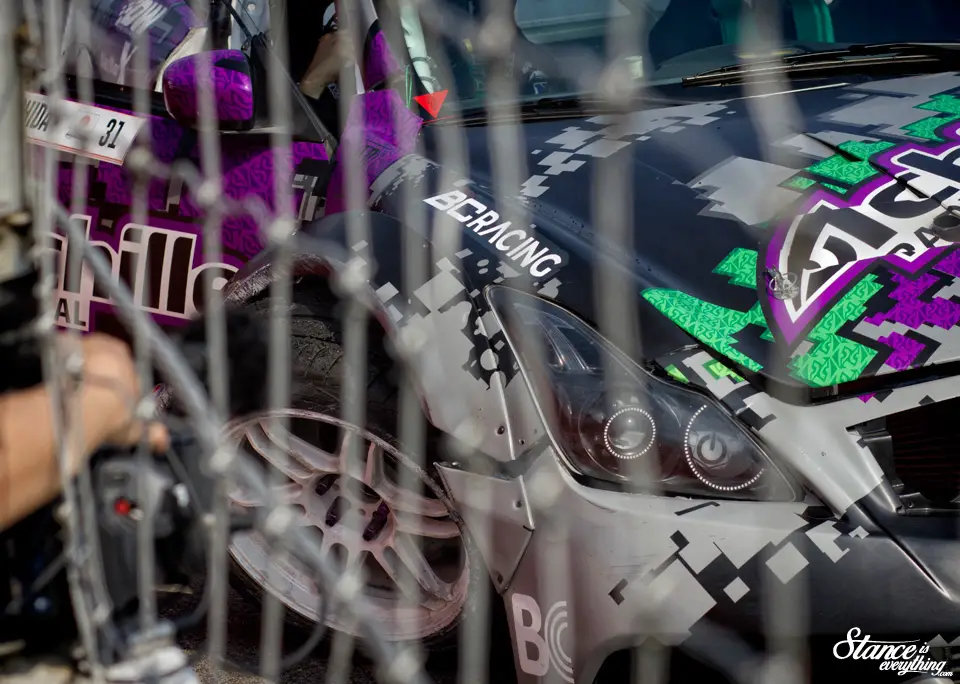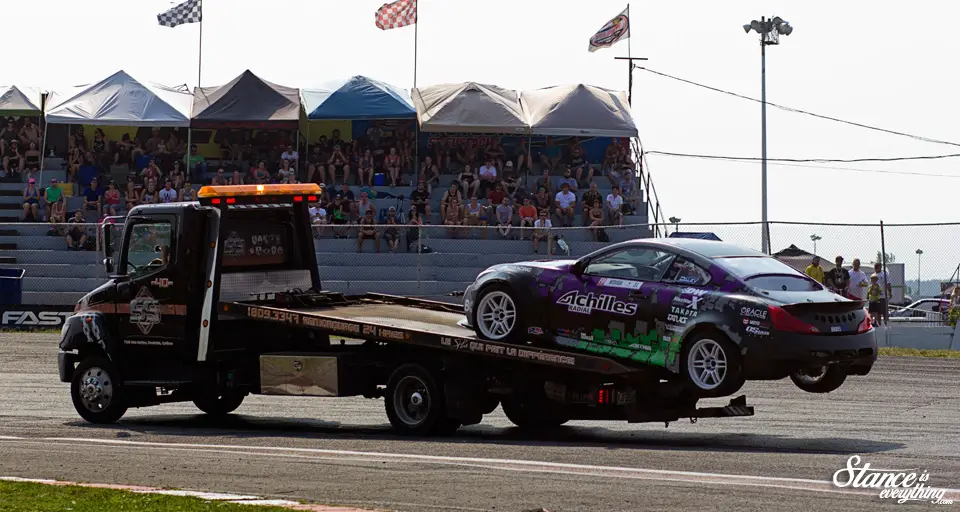 The out-of-town crowd favourite, and the one many pegged to win before the event even started, was Fredric Aasbø. Watching him drive it's really no surprise he's sitting atop the Formula Drift points standings.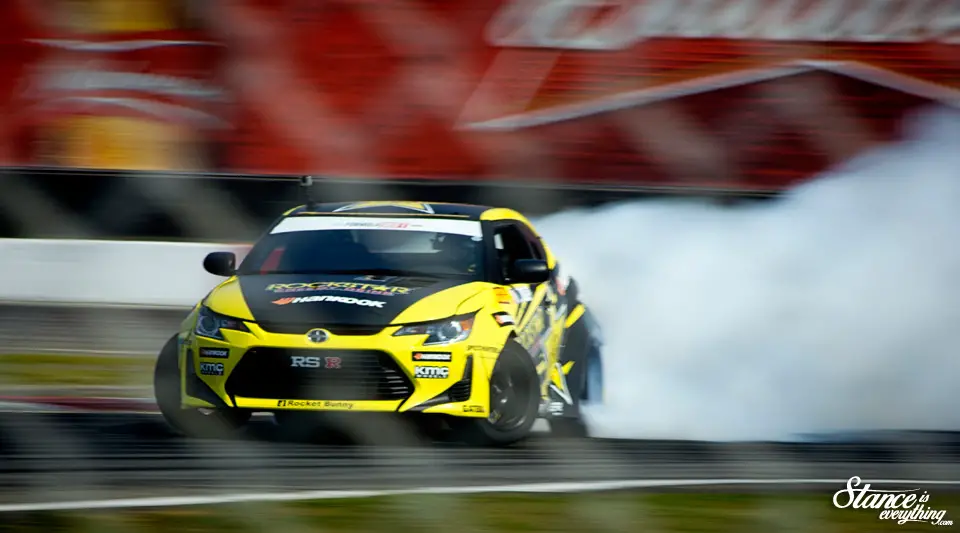 When the dust settled Sunday and everyone returned for the top 32 on Monday most of Ontario had made it through, and in the first of the Ontario battles Mats Baribeau squared off against Francis Doyon.
Mats won that tandem but was defeated shortly after by Charles NG.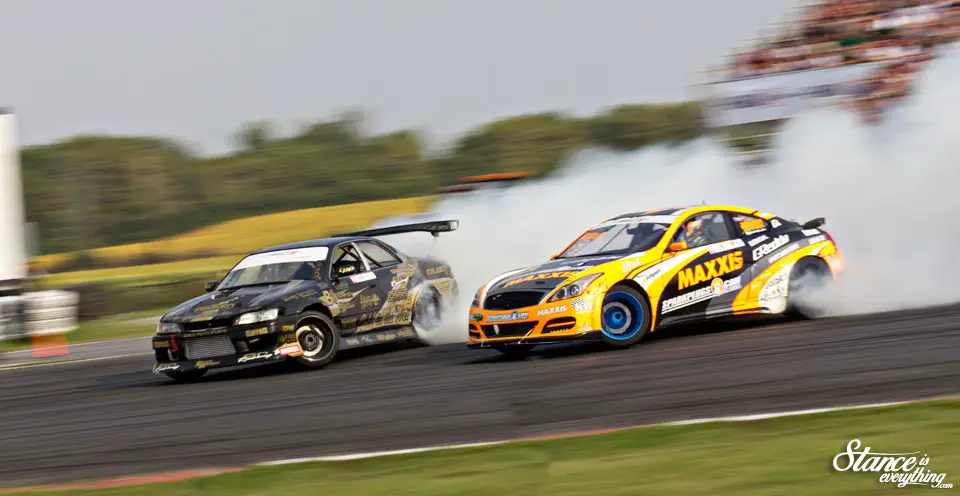 Steve drove as hard as he could against Marc Landerville but was eventually beaten by the veteran. Still he can't be disappointed in what has been a great rookie year.
Landerville went up against Bob Patinka, and then eventually met Tom Boisvert-Bellemarre who retired him for the day.
Riley and Pat squared off in the battle of orange and it was Pat who took the win over his fellow Ontario resident.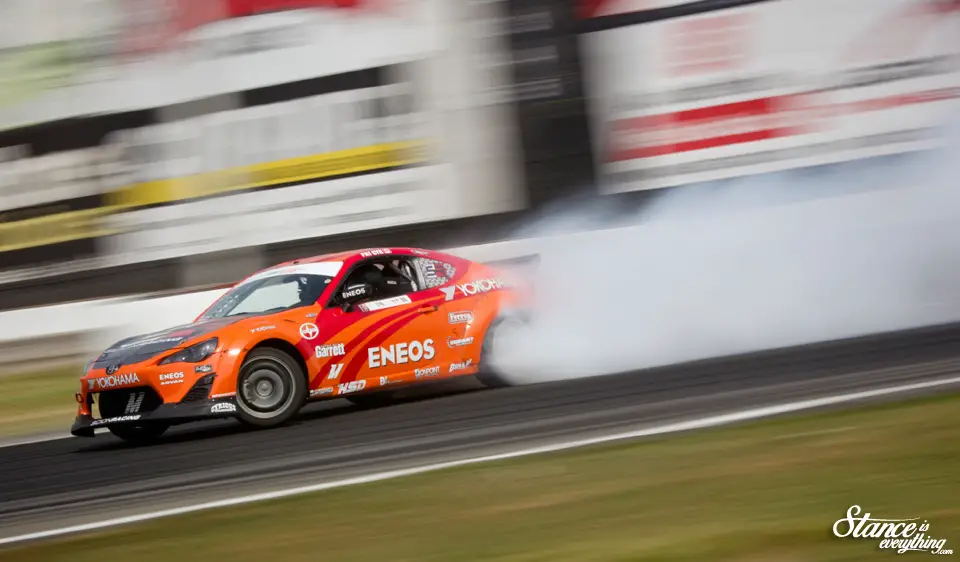 Dean Kearney and Kevin Morin went against each other in a battle that went three rounds, in what could be considered a controversial decision Kearney moved on.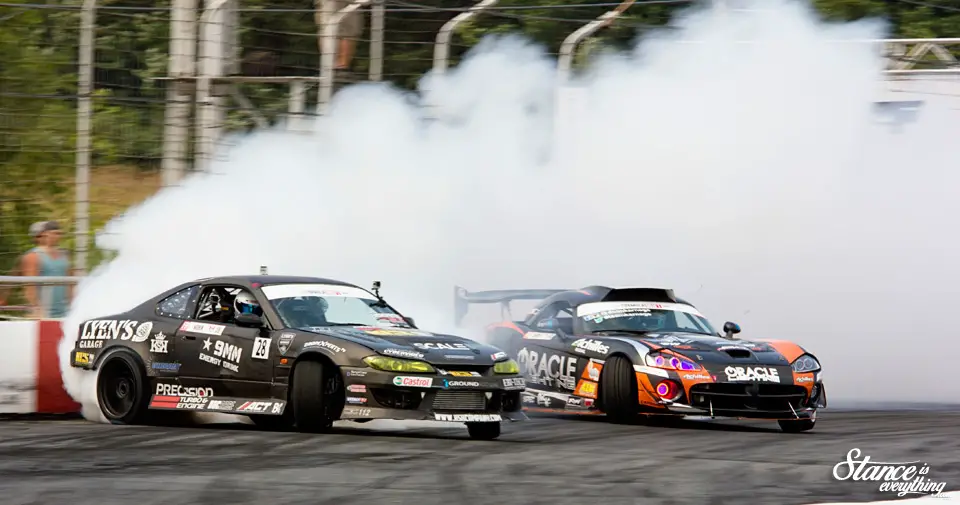 Jeff LaFlamme and Miro Ovcharik faced off after Miro beat Alec Hohnadell and Jeff beat Eric Belanger respectively.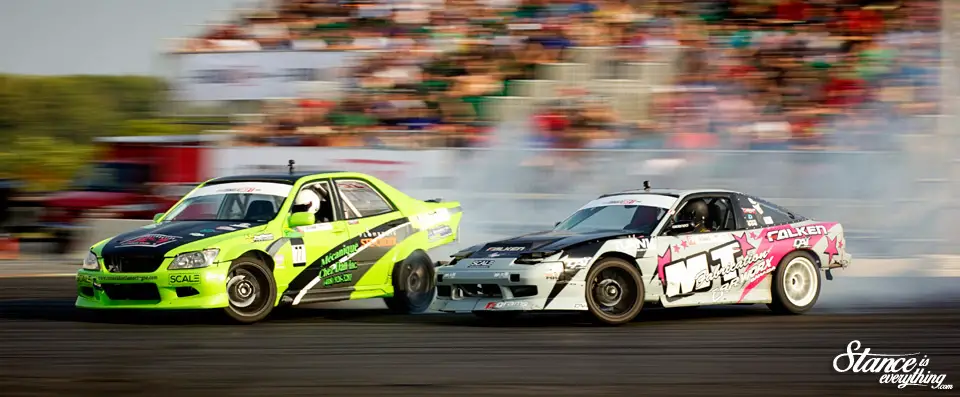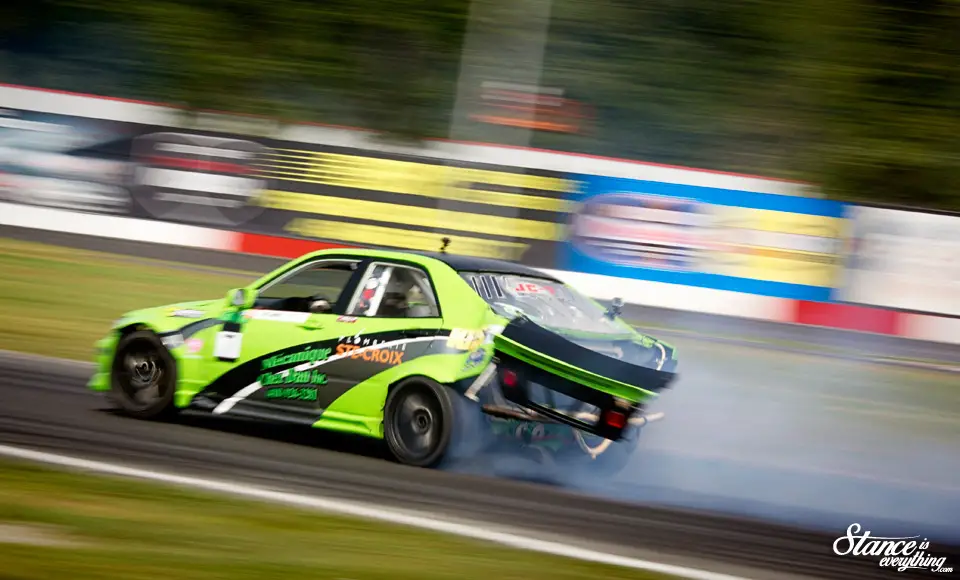 Jeff's car wore its damage from that battle but he wasn't alone. As the field whittled themselves down contact became higher and higher as drivers pushed hard to make the top 16.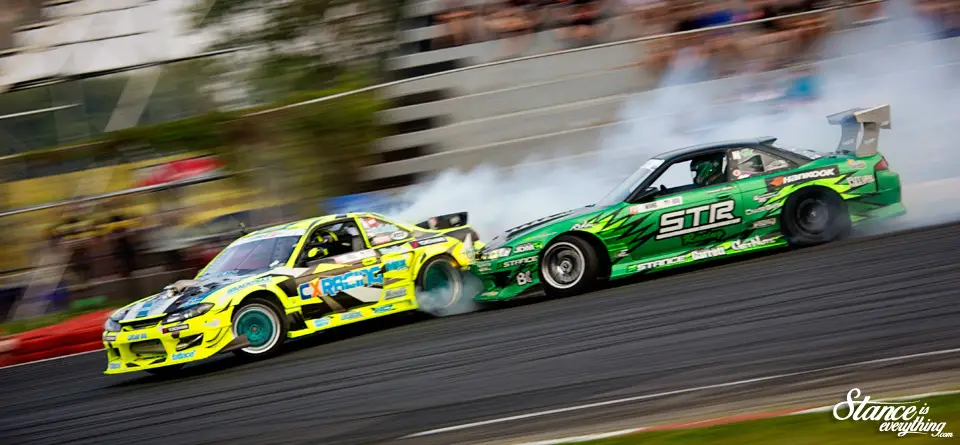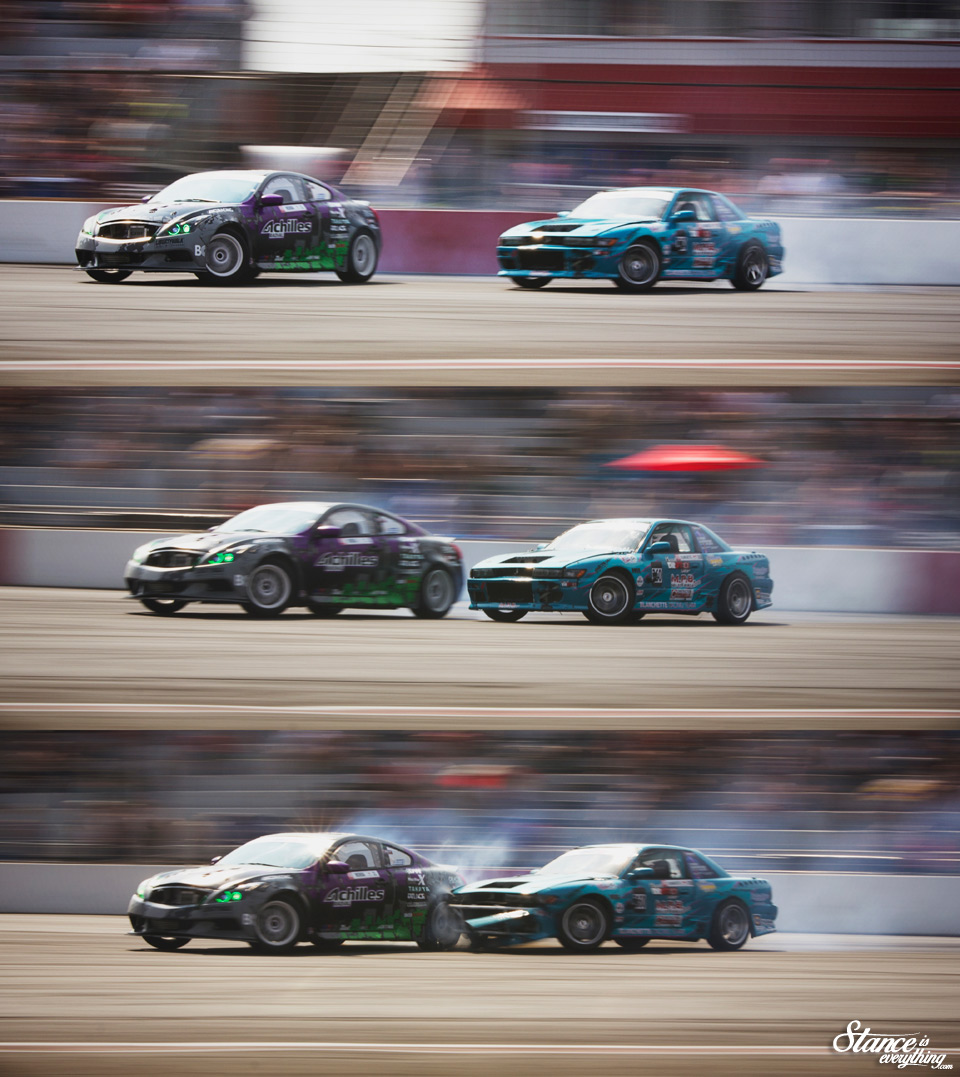 Picking up the pieces and placing them in the makeshift in-field graveyard were the Formula Drift staff who happily hustled despite the heat.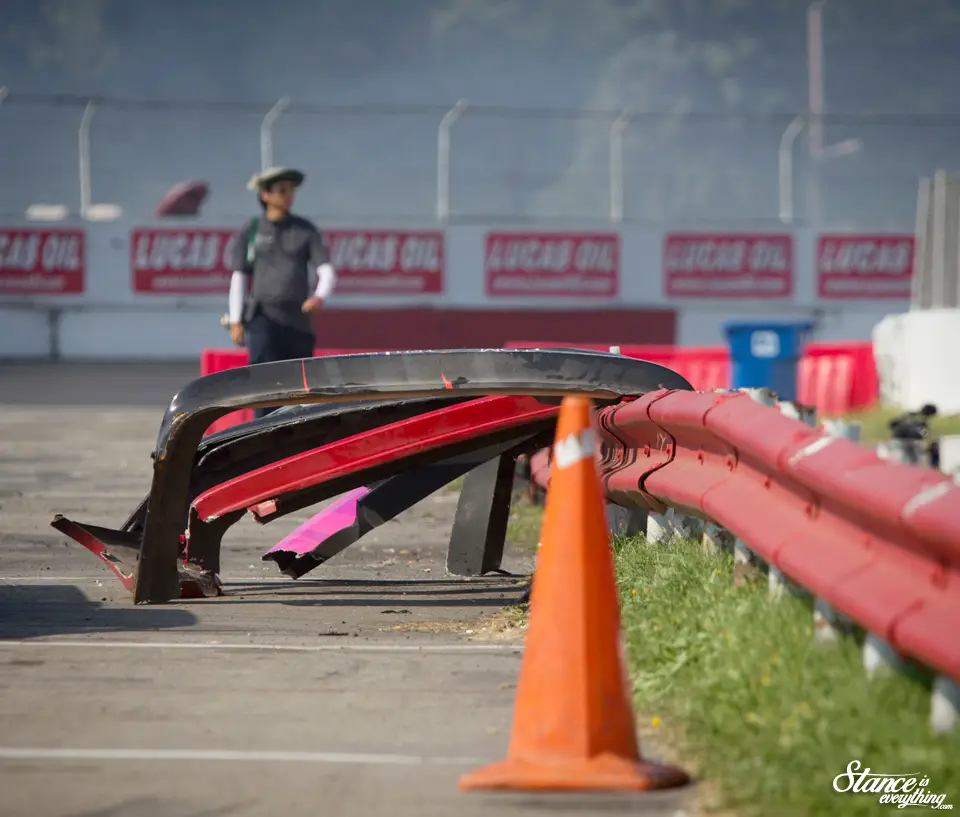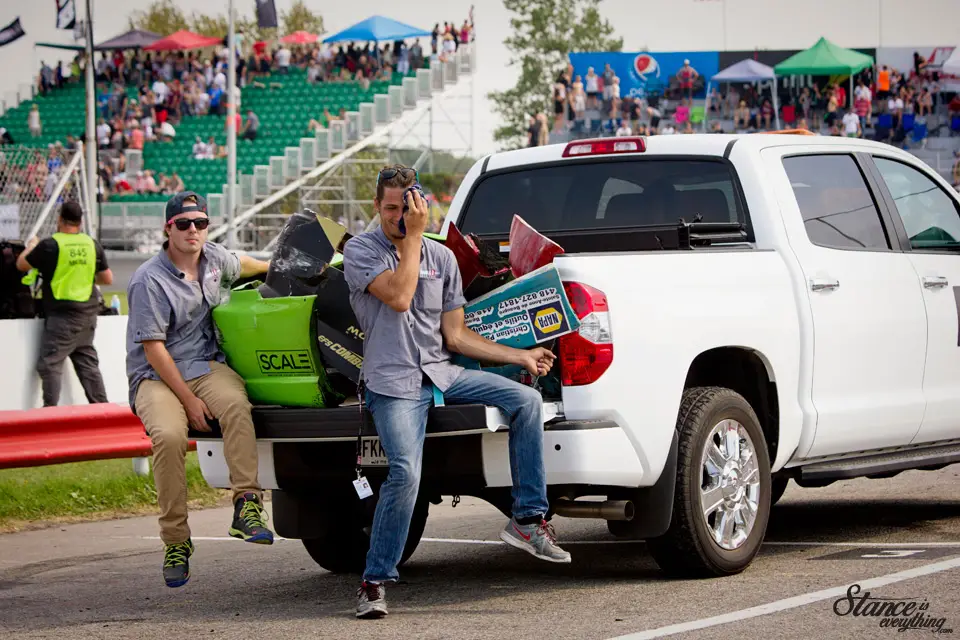 When the tire smoke and fibreglass debris settled the top 16 drivers were announced as follows: Fredric Aasbø, Alex Grosselin, Chales NG, Mats Baribeau, Matt Field, Jonathan Guitard, Odi Bakhis, Forrest Wang on the left side and Jeff Laflamme, Miro Ovcharik, Marc Landerville, Bob Patinka, Pat Cyr, Dean Kearney, Robbie Nishida, and Tommy Bellmare.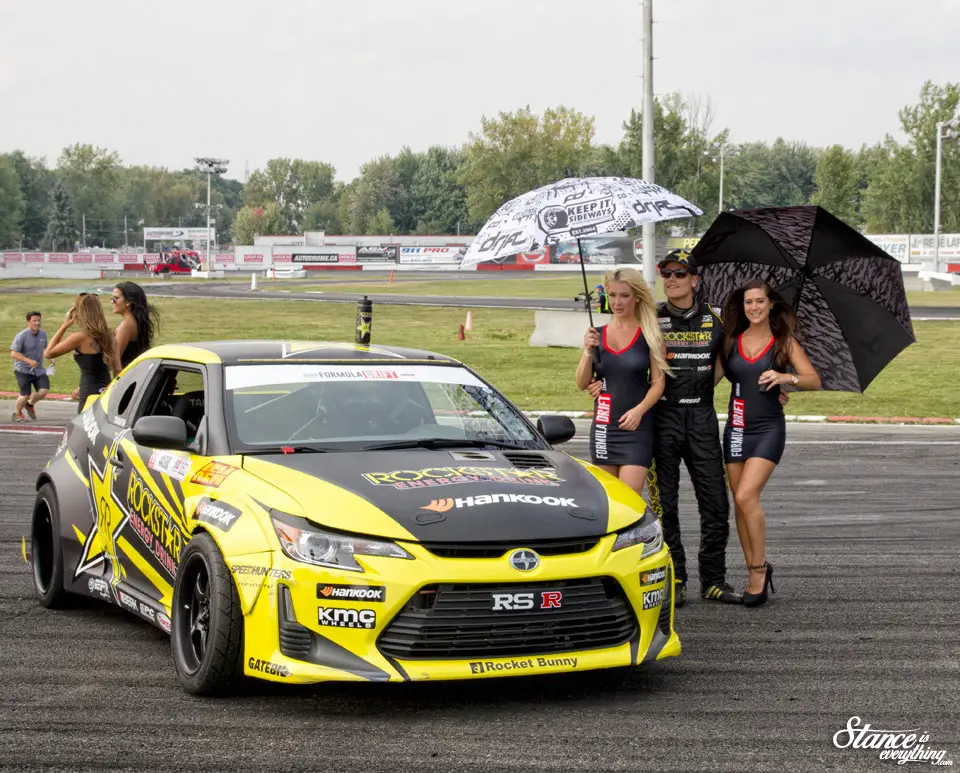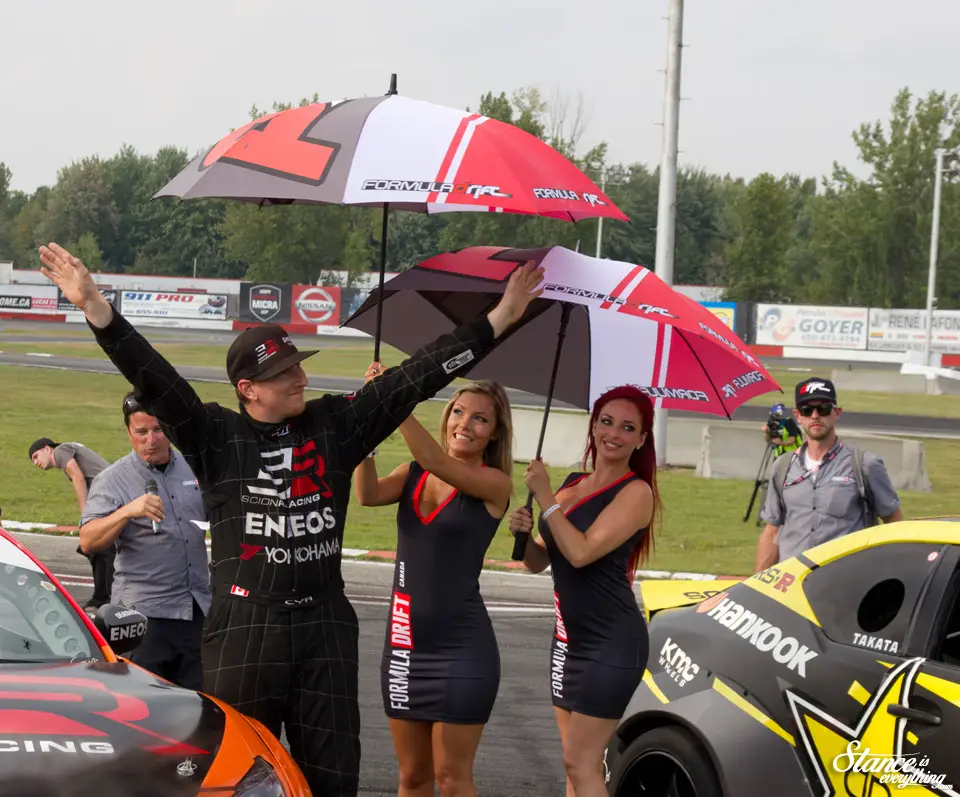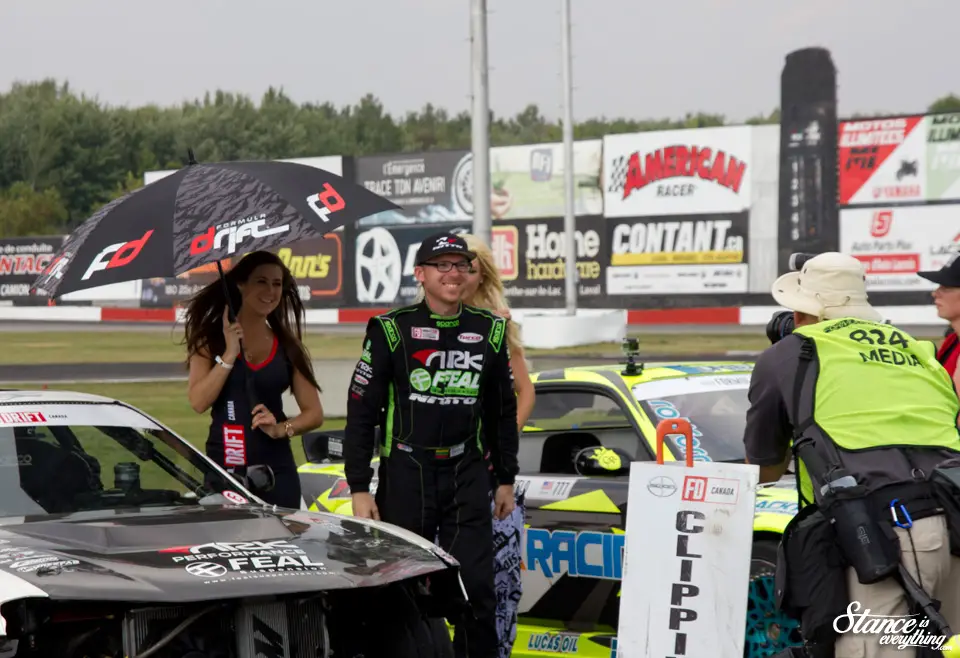 After a short driver introduction (which was a media frenzy hence the few photos), the national anthem, and another visit from Mr. Jet-pack finals were under way.
Pat faced off against Dean Kearney and while Pat absolutely killed it his clutch cried 'uncle' allowing Kearney to move on.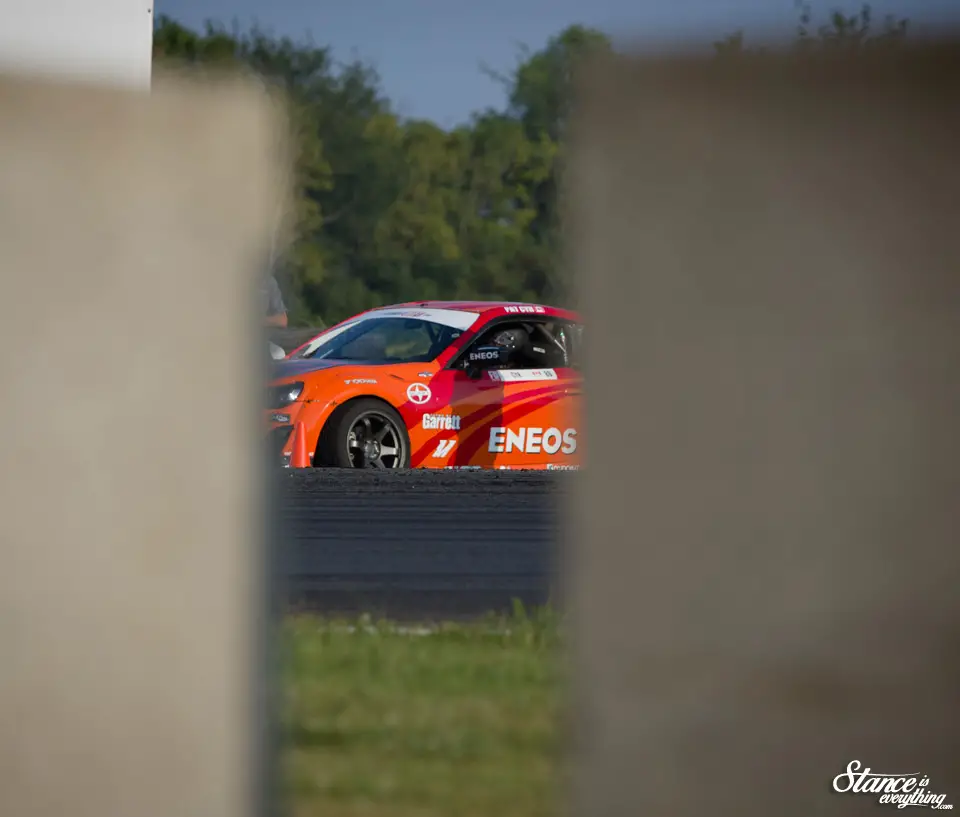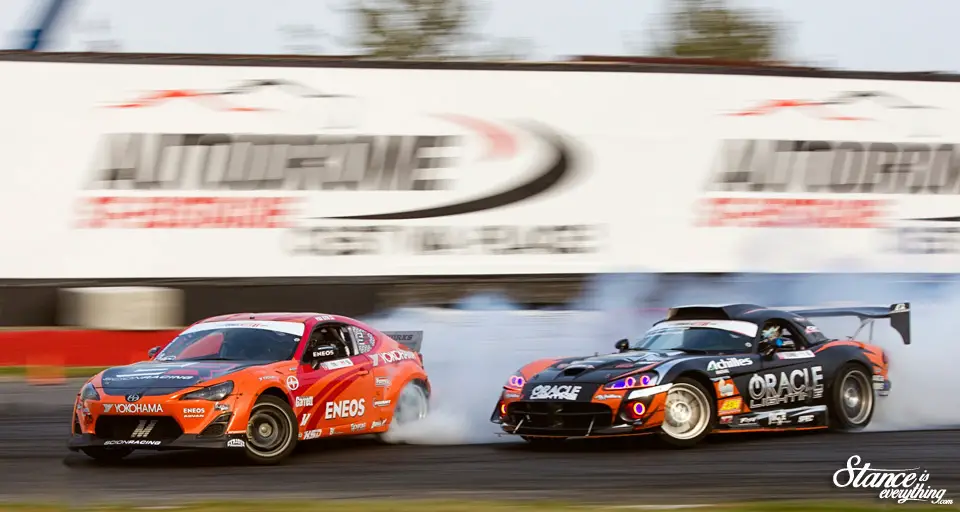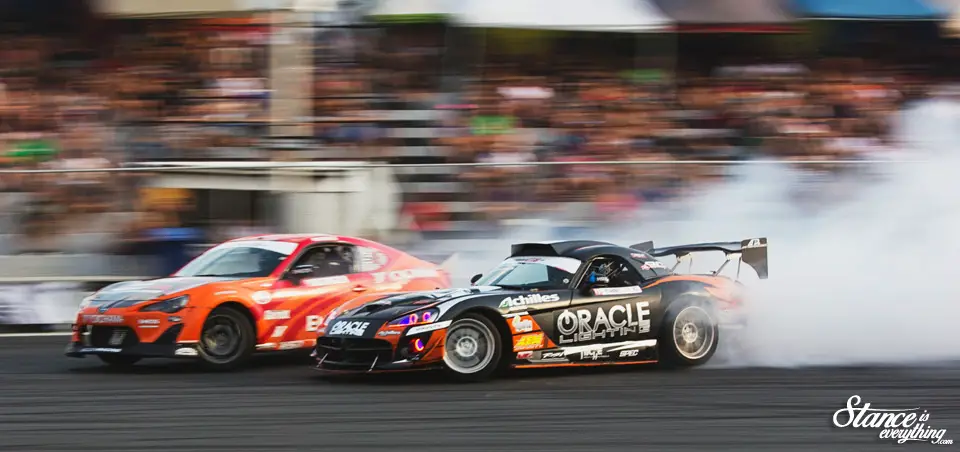 In one of the most exciting battles of the day Tommy Boisvert-Bellemare went up against Robbie Nishida. While following Boisvert-Bellemare Nishida spun which evoked a very loud cheer from the St-Eustache Autodrome crowd.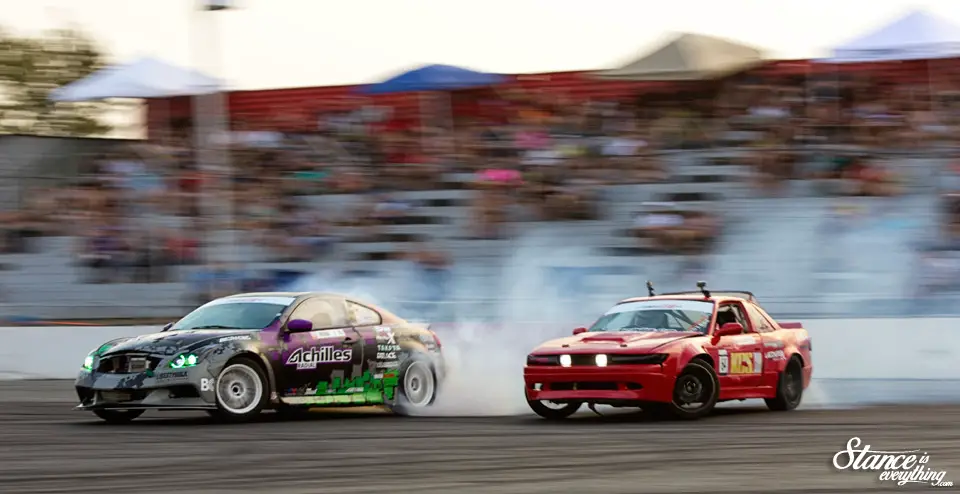 Tommy then went on to face and beat Kearney (again much to the crowd's delight) on his way to the final battle.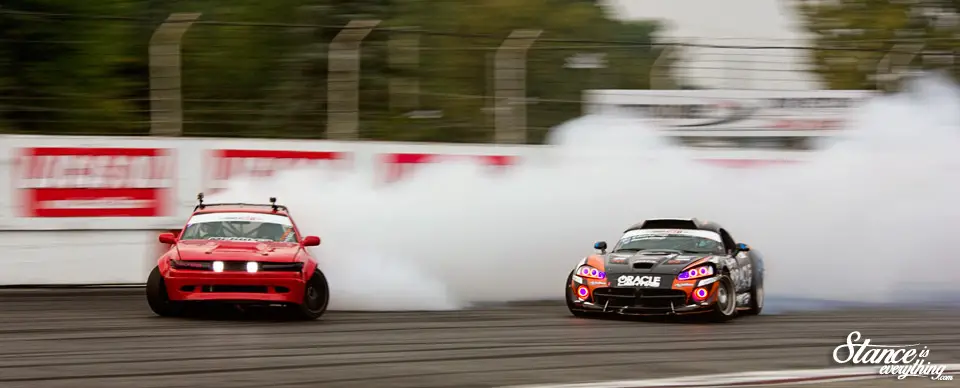 On the other side of the bracket Fredric Aasbø had been slaying all comers leading to a quick, yet exciting final battle with Tommy Boisvert-Bellemare.
In the end Fredrick wound up in the #1 spot followed by Tommy in 2nd and Matt in 3rd.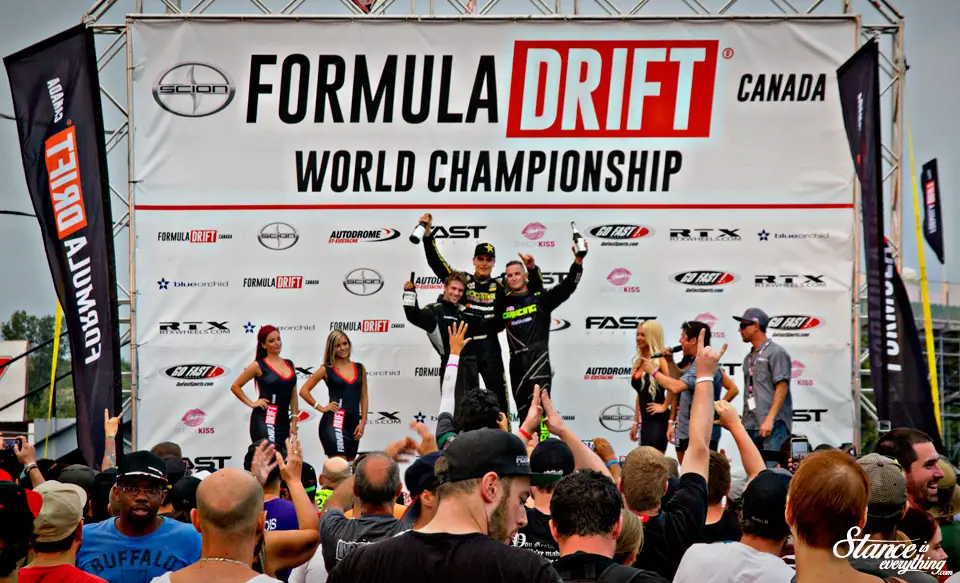 With the event over and the crowd at the podium I took a moment to take a solitary photo of the hard-working vehicles of the day before heading back to the hotel for some much welcomed air conditioning.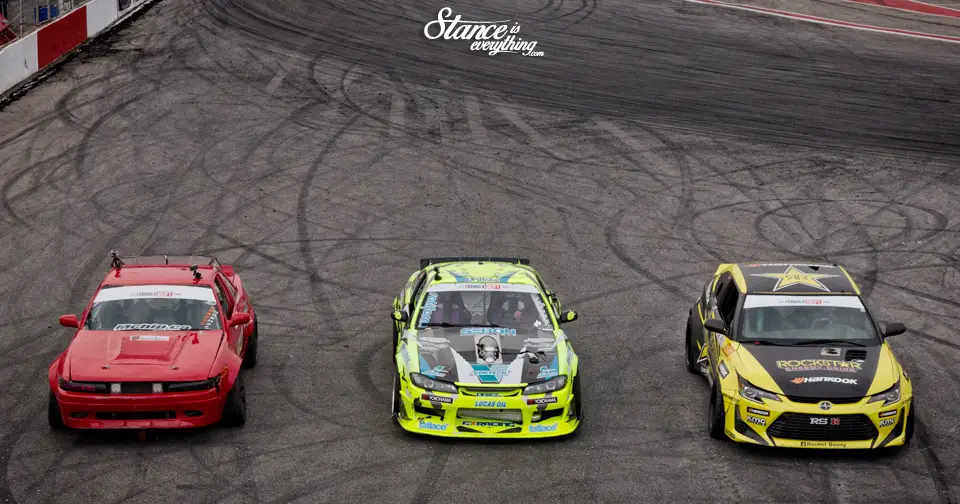 A great event all around you can bet I'm going to do everything in my power to make sure there isn't a three-year gap between this and my next professional drift event.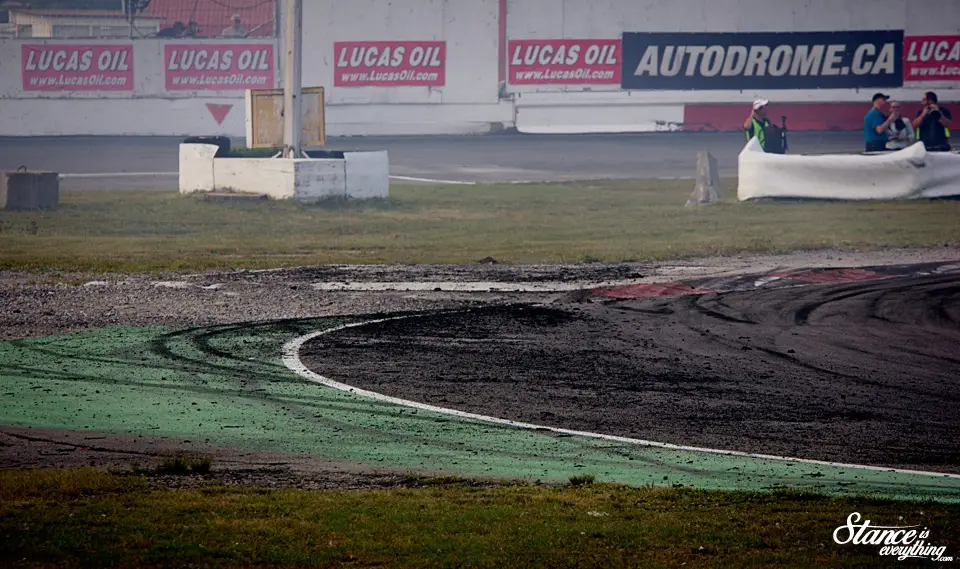 Thanks once again SYLVANIYA zXe (available at Canadian Tire) for the opportunity and all the support this year with Stance Is Everything!