The idea behind the autmotive swap meet, or sometimes called flea market, is pretty simple; bring a large group of people together who have an excessive amount of automotive related wares to sell. I had never been to one before because parts for my previous cars vehicles were fairly easy to find and quite frankly not the target demographic of most swap meets.
With the acquisition of Project 'Why Wait?' that all changed. Now I have a vehicle that is exactly the target market of most of the automotive swap meets in the area.
Late last year I caught wind of a swap meet held by Oshawa's Motor City Car Club at the International Centre in Mississauga and decided to make my first swap meet experience a father son event.
The plan was simple, my wallet was in pretty rough shape from buying a house and purchasing a chassis so my main goal was to find a new hood emblem. A small not very exciting part of the overall puzzle but important none the less.
Ash is currently at the age where anything with wheels interests him, and in hindsight I should have considered this because almost as soon as we arrived he started motioning enthusiastically at all of the toys and model cars.
Now usually when myself or my wife take Ash out we don't buy him toys simply because he demands them but since this was a special occasion, or perhaps because it was just he and I, I decided to let him get a little something namely a slightly used Gravedigger pullback toy.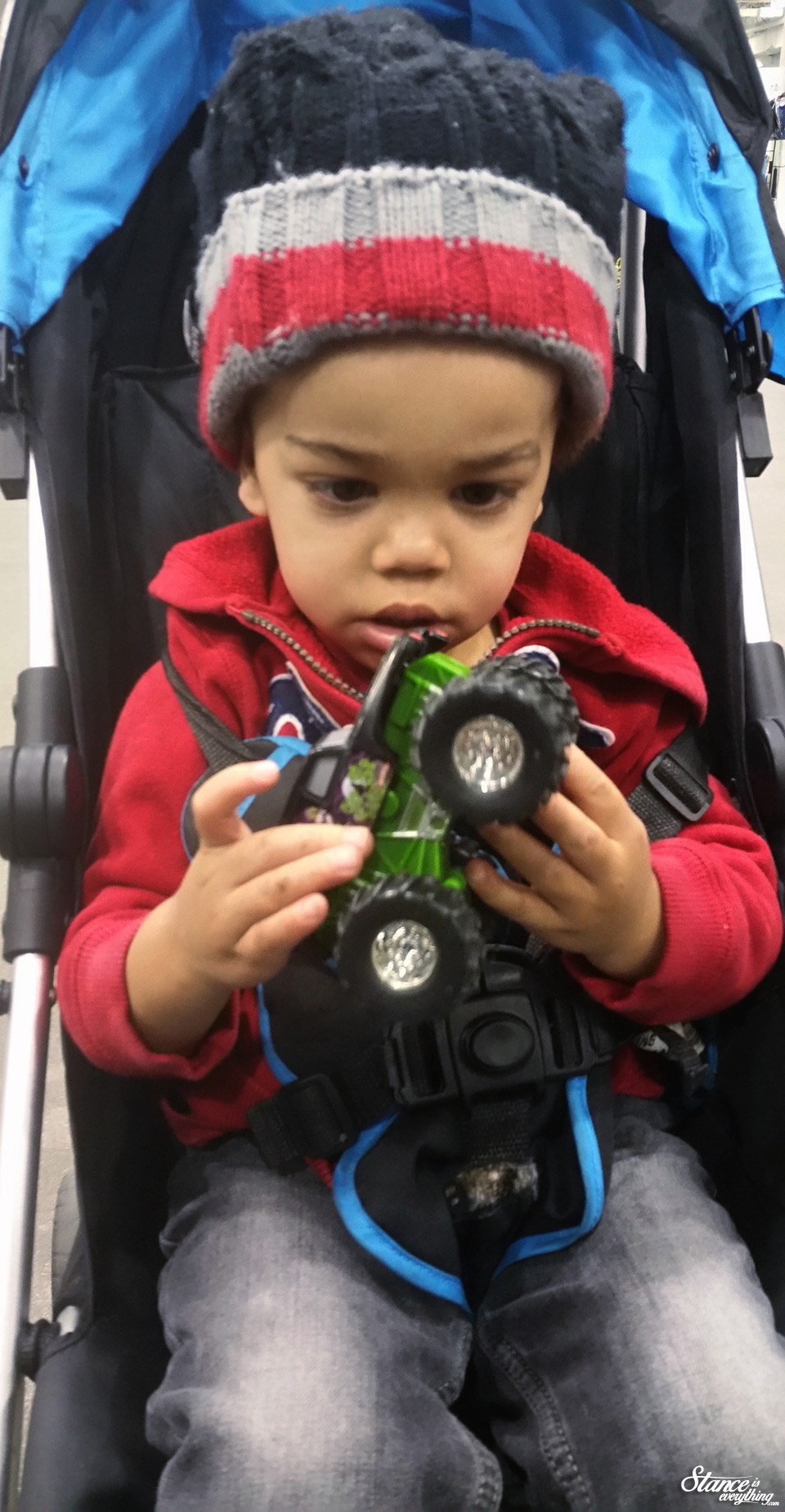 He was immediately captivated by its awesomeness and spent the next half hour or so making engine noises and jumping the truck from one side of the stroller to the other while I looked at toys for myself.
I had wrongly assumed this show would strictly 1:1 cars and car parts, in reality it was a bit of everything from vintage tools to quite a variety of toys and memorabilia. I never really grew out of toys (just out of the money for toys) so the urge to drop significant amounts of money on things I didn't really need was pretty high.
Thankfully I thought ahead and only brought a fixed amount of cash into the venue with me and left my cards in the car. This turned out to be a rare example of great forethought because almost instantly something completely unexpected caught my eye. Can you see it?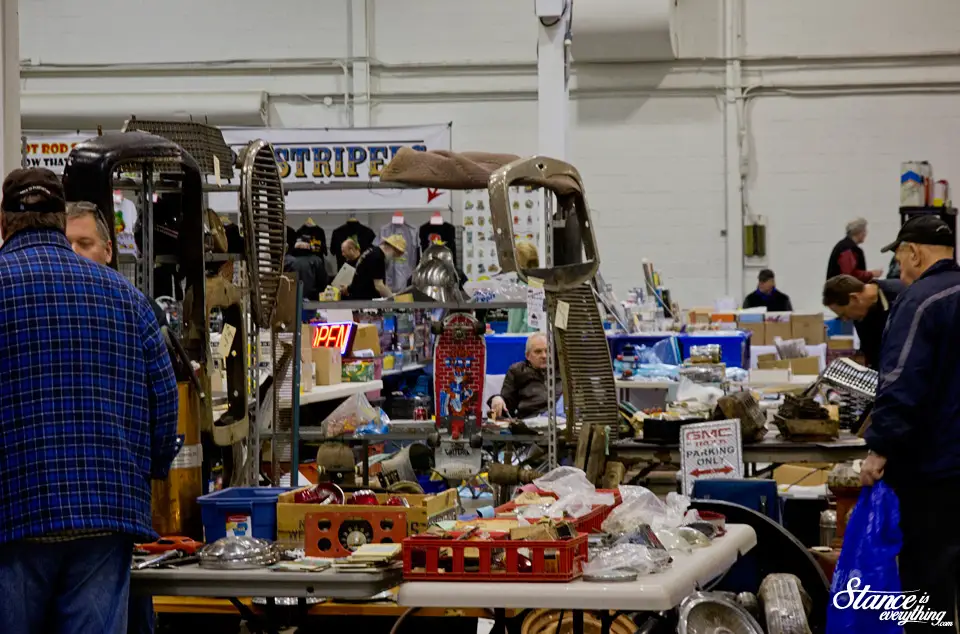 No it's not the grill shell, hub caps, tail lights, or GMC only parking sign.
What stopped me in my tracks was this Valterra Alley Cat Skateboard. My first board was a hand me down Jinn Demon model from the same company but my best friend at the time had an Alley Cat and this took me way back to when we were both rolling down my parents driveway with not a clue how to turn or stop.
Considering its age the board was in great condition and not overly expensive. I spent more time than I should probably admit contemplating purchase but ultimately I passed.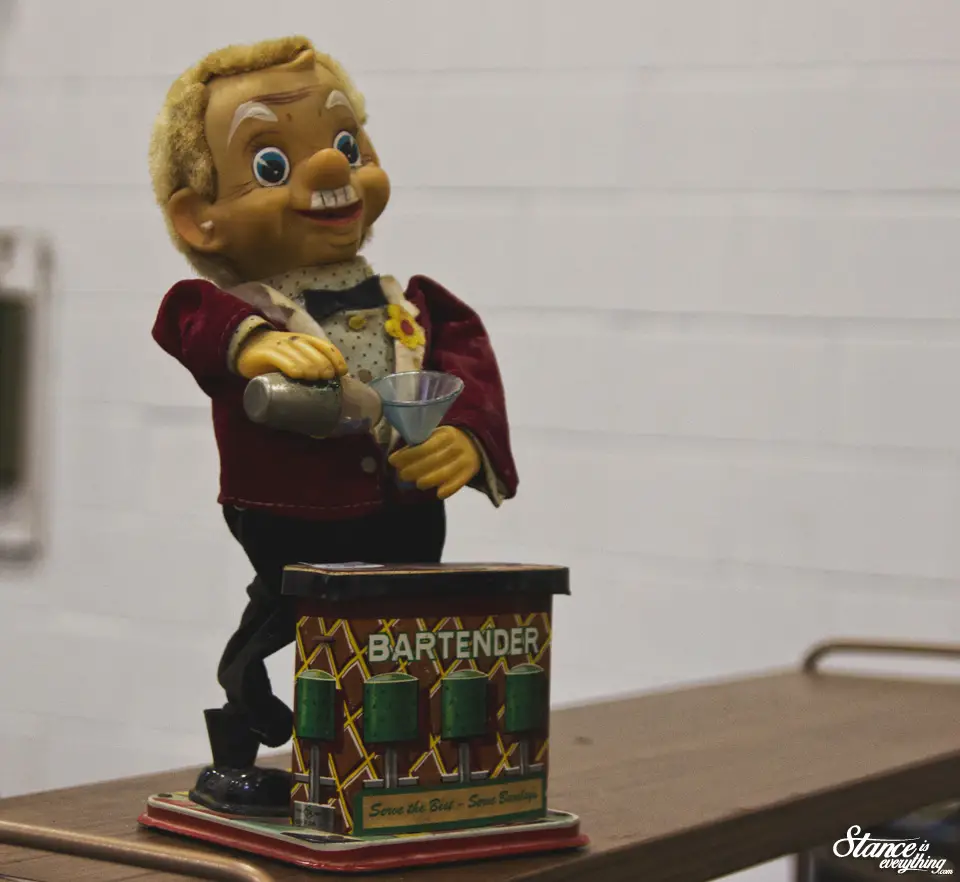 Proud of myself for resisting the temptation of nostalgia I made my way through the rest of the show snapping a few photos here and there while telling Ash details of a few of the more interesting items on some of the sellers tables.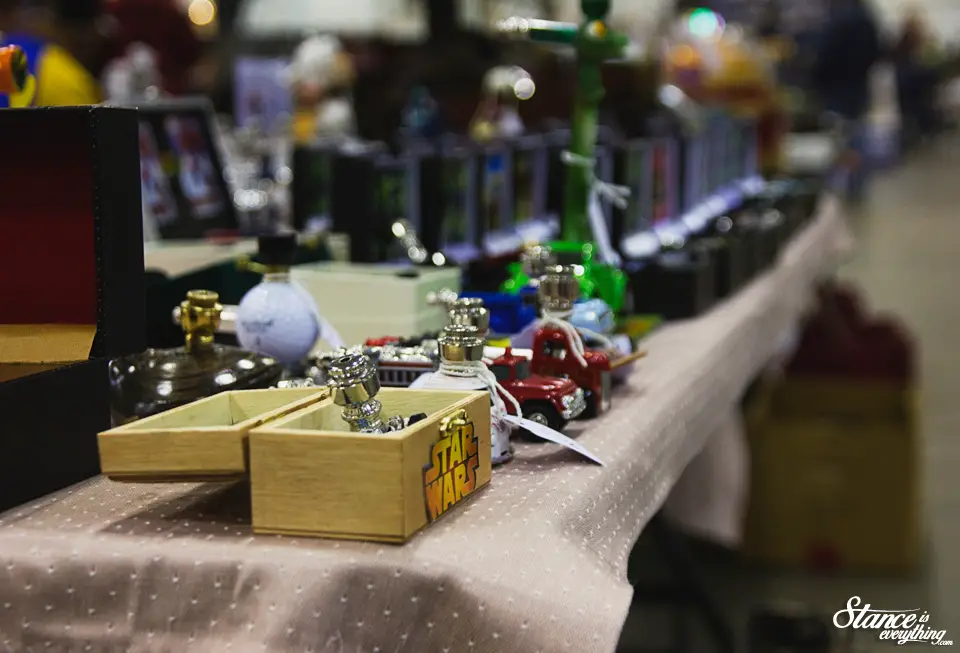 The Holly Super charger belowseemed to be in pretty good shape and was priced low enough for me to mentally calculate if I had enough time to go home and come back to buy it.
Sure I don't have a motor to bolt it to but a good deal is a good deal right?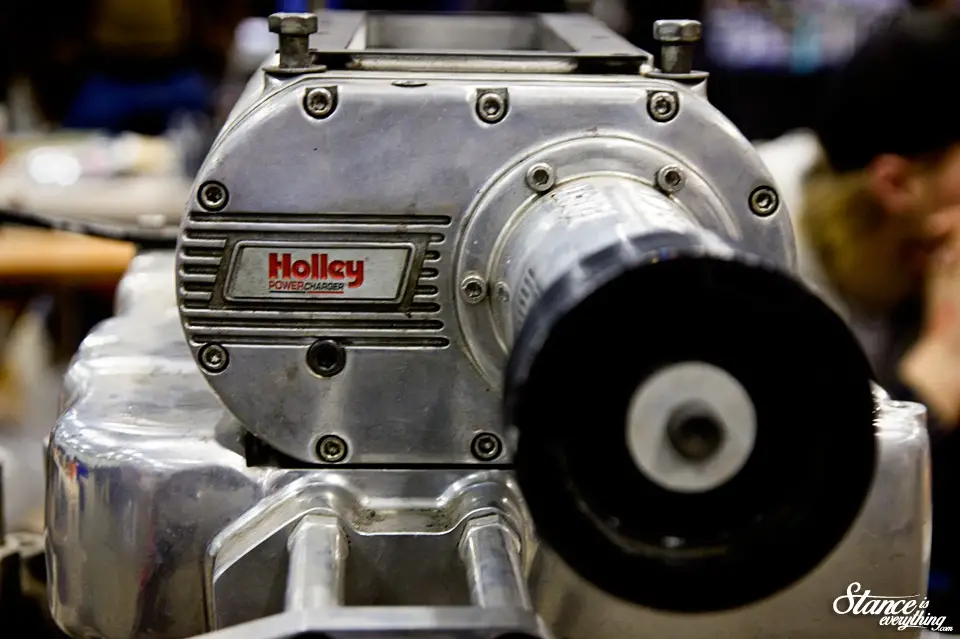 These vintage oil cans would probably look great on a shelf for decoration but I doubted my wife would have been thrilled when I put them on the mantle over the fireplace.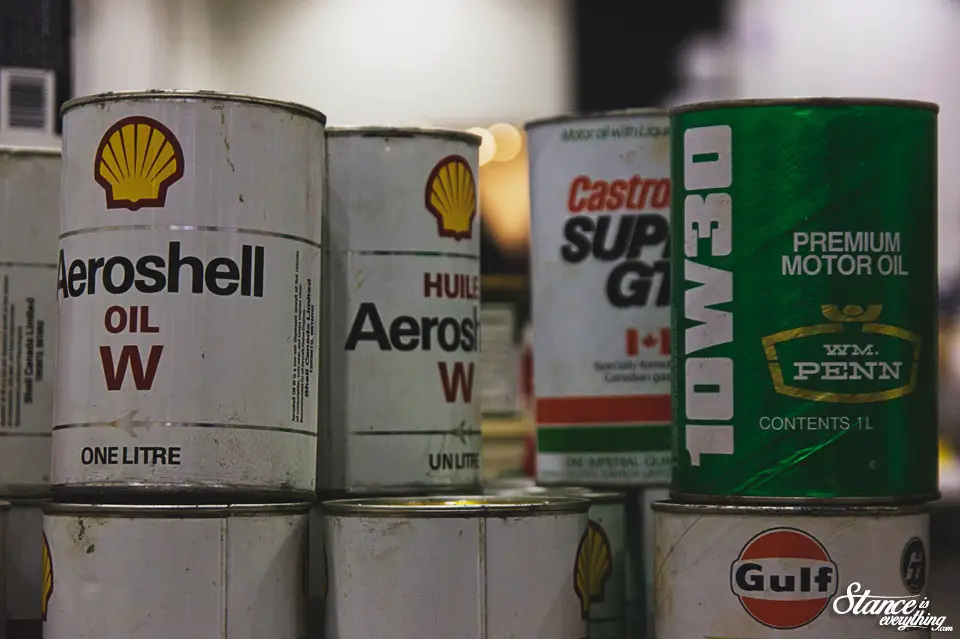 While taking the picture above the two gentleman struck up conversation and once I started talking about Project Why Wait we became instant friends.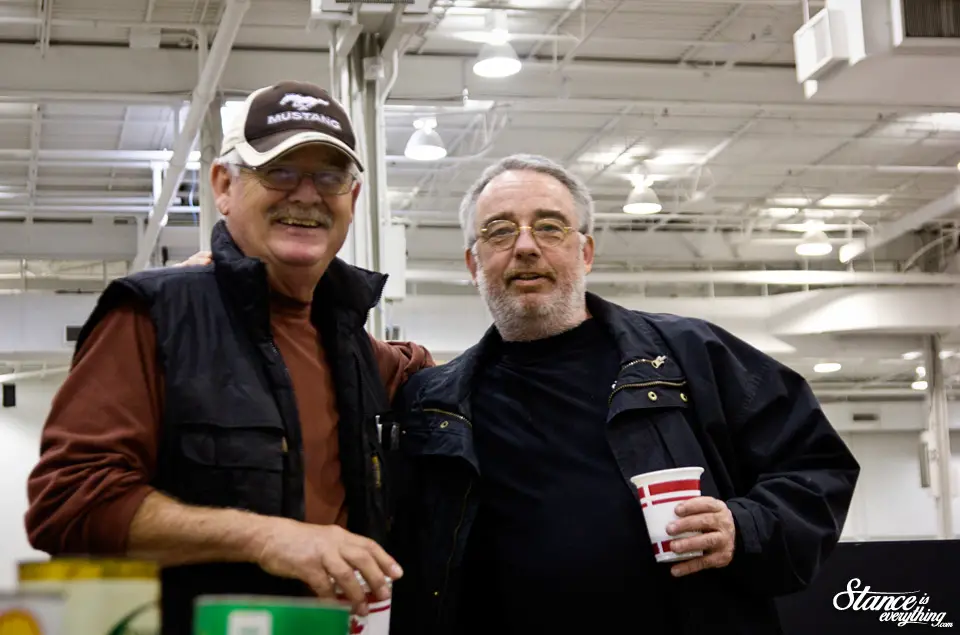 As true to pretty much anyone I've met in the classic car community they were intently interested in a younger person taking interest in the car hobby, and more importantly classic vehicles, because they realize if the passion doesn't get passed down it will simply die.
After chatting at length about suspension and power plant options Ash got a little antsy and we moved on, but we only moved on about ten feet or so before a collection of Tamiya models again had me regretting only bringing such a small amount of money in with me.
All of the cars looked appealing but I've never assembled a rally car model before so the Fiat was calling my name. However my inner nanny reminded me that I have five unopened models sitting in the closet so I pushed on and kept looking for the emblem I came for.
Amidst a pretty random table three isles away from the Tamiya collection was a near perfect condition Advance design GMC emblem, sure it's painted and the one on my truck should be chrome but for the $25 I paid beggars can't be choosers and I can deal with that later.
Despite lots of temptation I managed to get exactly what I needed from the swap meet and not end up with say six more models,  a supercharger and skateboard from the 80s.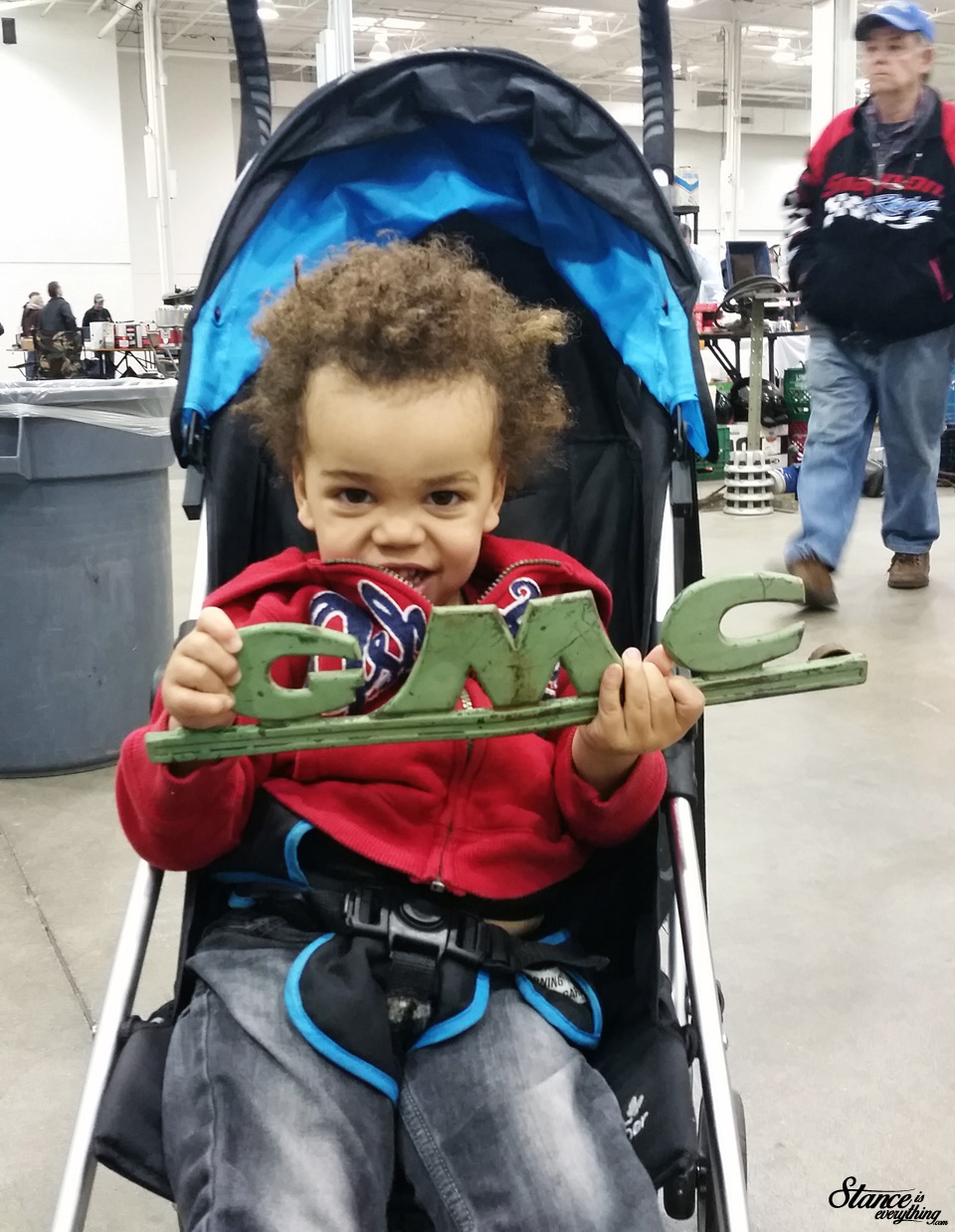 I'd consider that a trip well worth it and considering how much Ash enjoyed it its safe to say this swap meet won't be my last. I hear the outdoor ones are even better as well so next time I might have to loosen the reins on my wallet just a little bit more.