About a year ago I received an email from then stranger Bob Ward, asking if I would be interested in shooting his project '52 GMC 9700. Inside the email Bob included a few images along with a link to his build thread on 67-72trucks.com.
After giving the thread a quick skim –I've since read it several times in its entirety– I let Bob know I'd love to shoot the truck as soon as he deemed it 'ready'.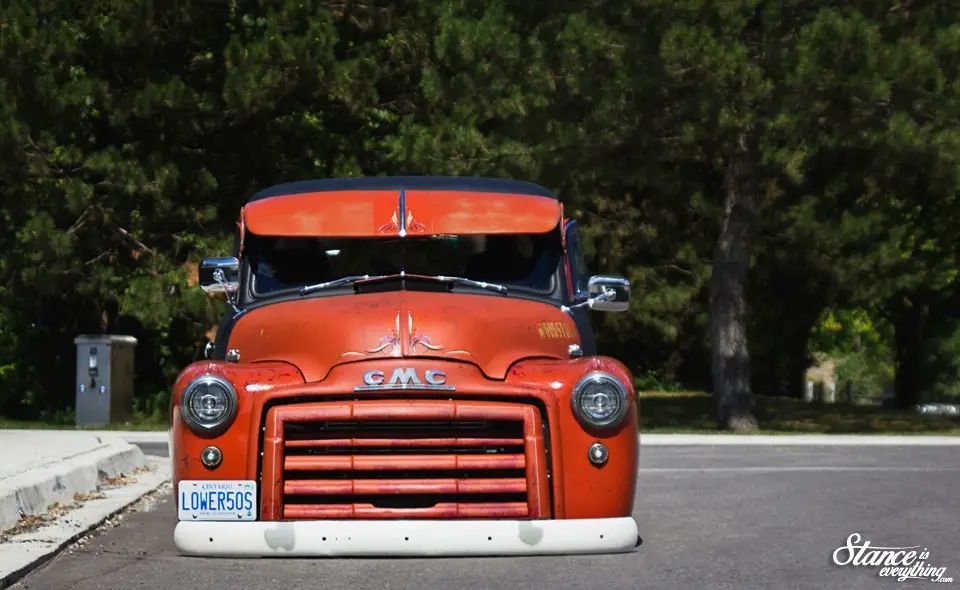 About a year later the truck was ready for the road, and on the day of the shoot I could hear Bob approach long before his truck pulled into view, once it did it was hard to ignore the presence this truck has on the road.
A former City of Woodstock Pumper #1 fire truck, Bob's GMC was originally a 3 ton which means it has a larger front end than it's smaller counterparts, but more typical proportions than a cab over of the same year.
This larger front end, combined with the visor give the truck a really intimidating look head on.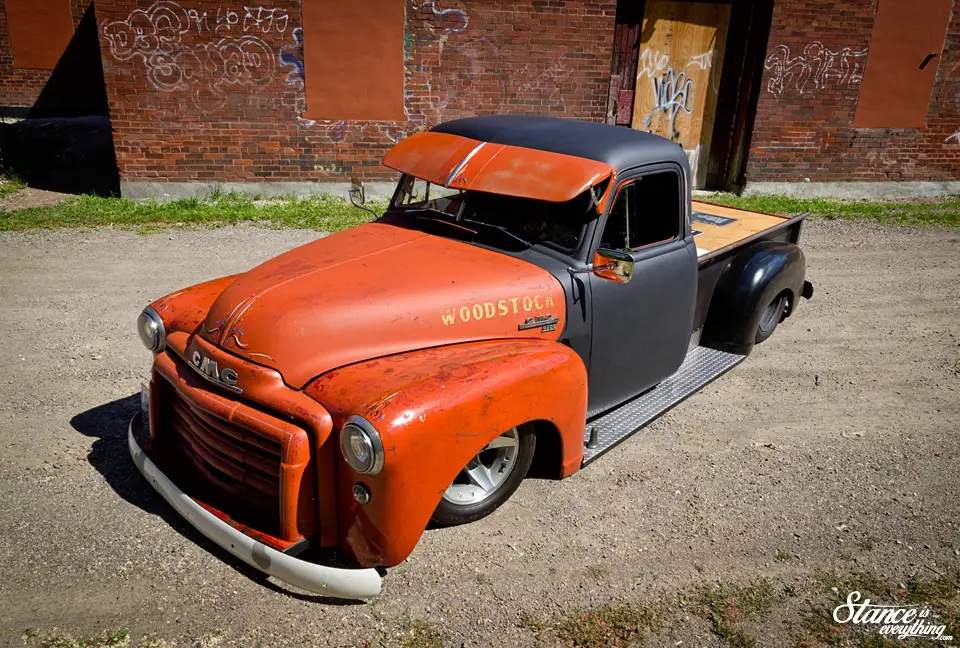 Before coming to a complete stop, Bob gave the loud pedal a few quick stabs causing diesel smoke to roll out of the exhaust tip just fore of passenger side rear wheels.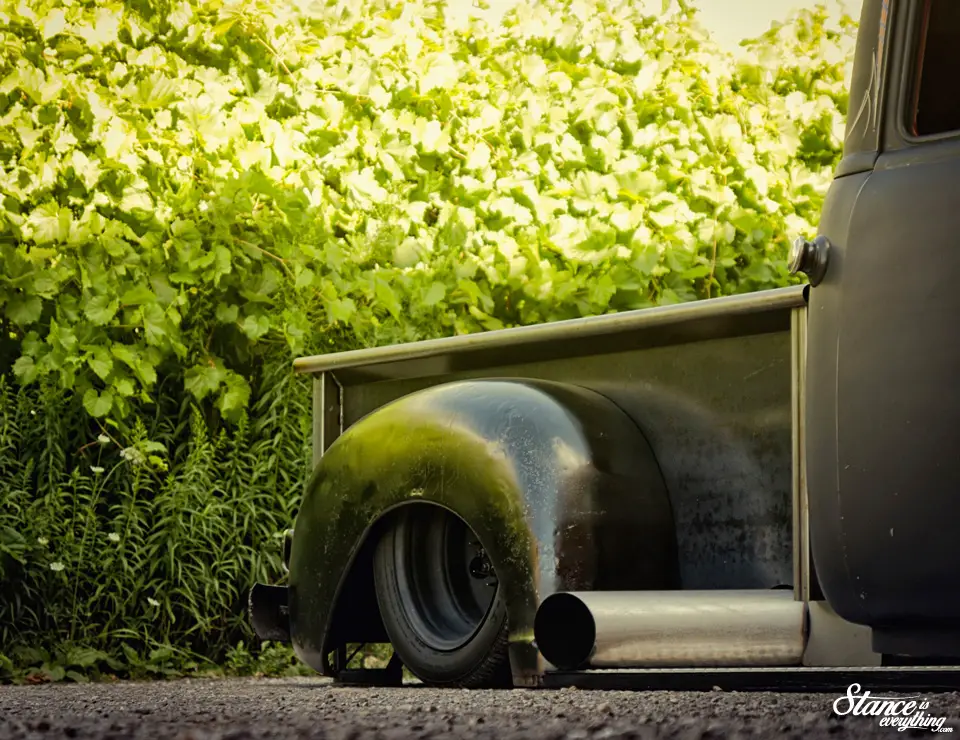 Yeah, the 6″ exhaust tip isn't big just to be big, but rather the only visual cue that this truck is powered but diesel not gas.
The story of how an International 7.3 liter diesel motor ended up under the hood of this truck is one of coincidence and a generous neighbor.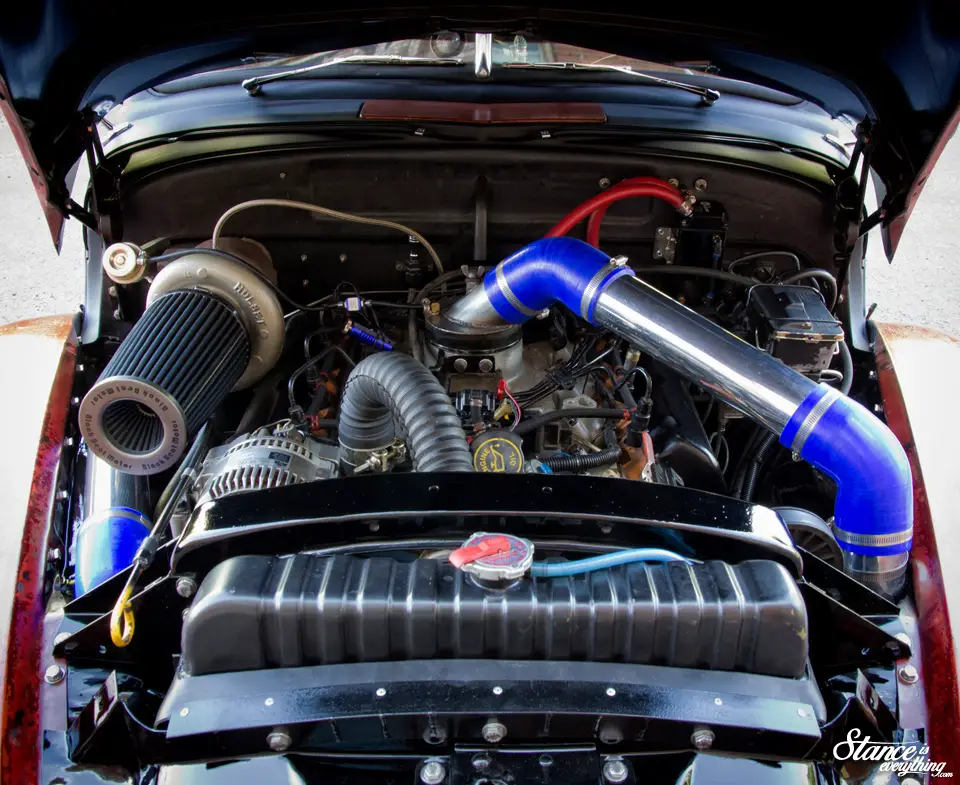 Bob purchased and stripped the truck about six and a half years before he really got into it, and in that time he had built the truck in the garage of his mind several times over. Every time the truck ran through his dreams it did so with diesel power so the real truck had to be diesel powered as well.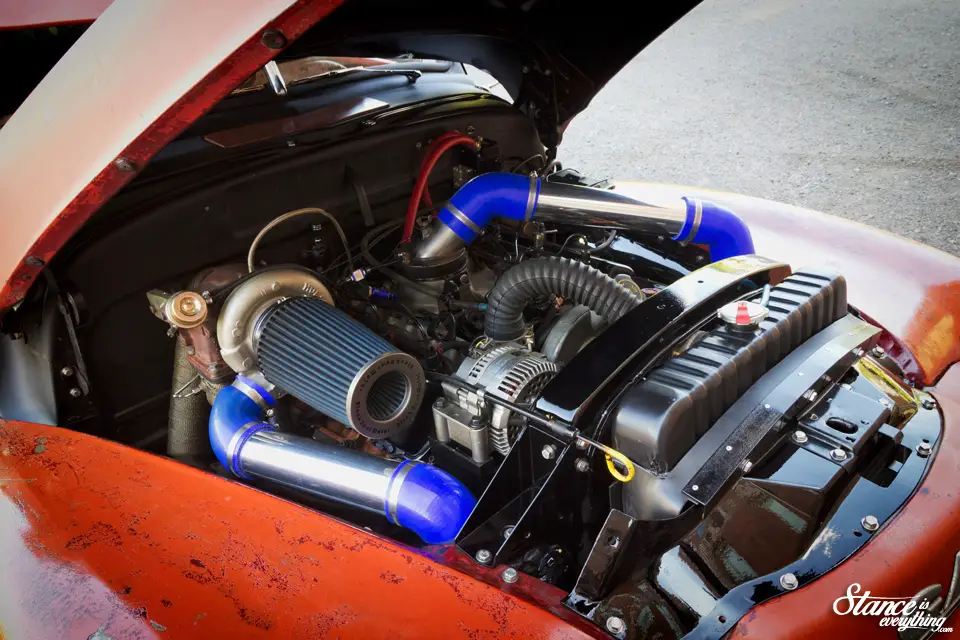 As luck would have it when time came to build the truck for real his neighbor popped his head into the garage and asked if Bob could find use for the motor, transmission and rear end of the Ford E series van he kept in his driveway for storage.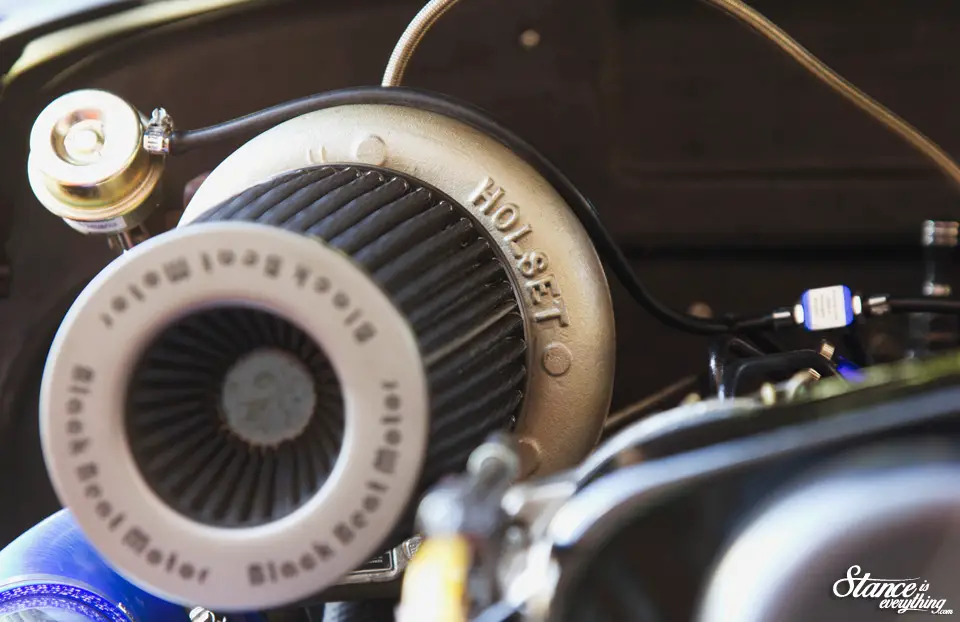 Since a free, complete, operational, power plant is hard to turn down Bob rolled with the less than typical hot rod motor choice. Because he now no longer had to budget for buying a motor he decided to throw a little boost into the mix to keep things interesting.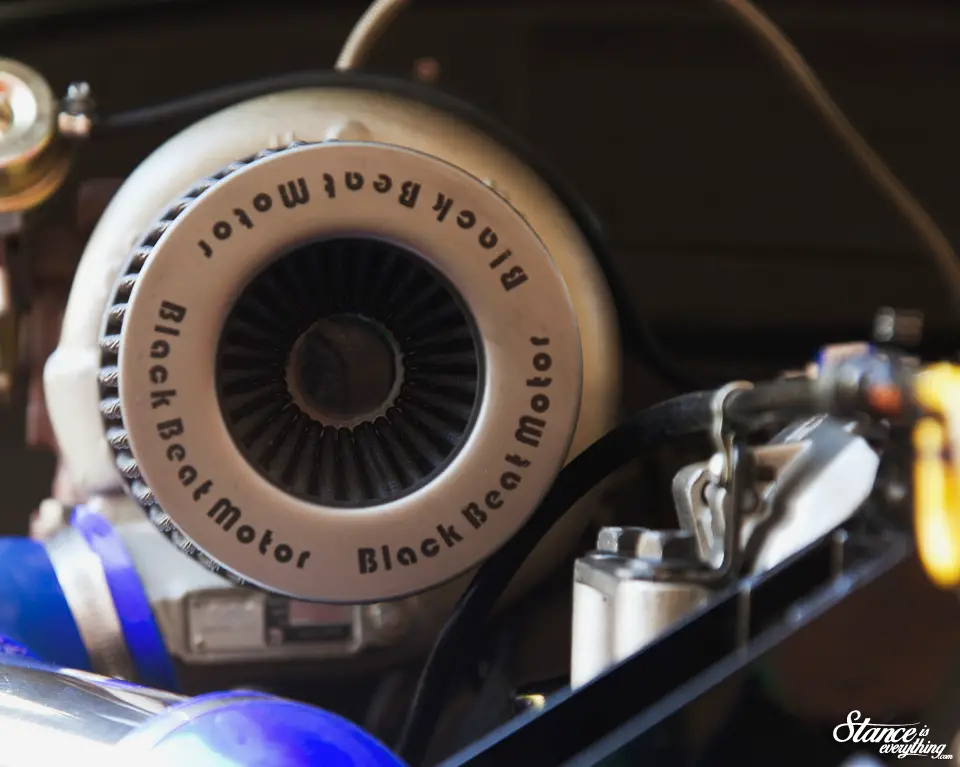 The International motor has since seen a few upgrades to accommodate the Holset HX35 turbo including; arp head studs and Fel-Pro gaskets.
He also gave the motor a good scrub down and a lick of paint while he was at it.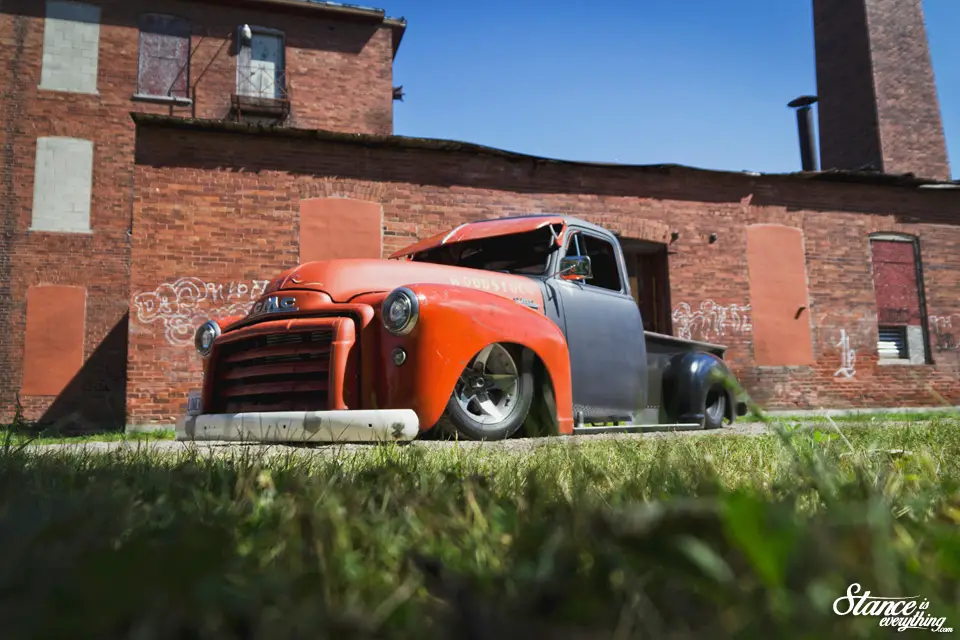 For underpinnings Bob's truck is similar to many bagged Advanced Desgins in that it rests on a S10 chassis. This is proven approach to quickly update the front suspension of the truck and bring it to the ground.
Out back Bob designed the double triangulated four link back half himself. The size of the dually rear wheels made things a bit of a challenge but not one Bob couldn't overcome with what he calls "Seat Of Your Pants Engineering".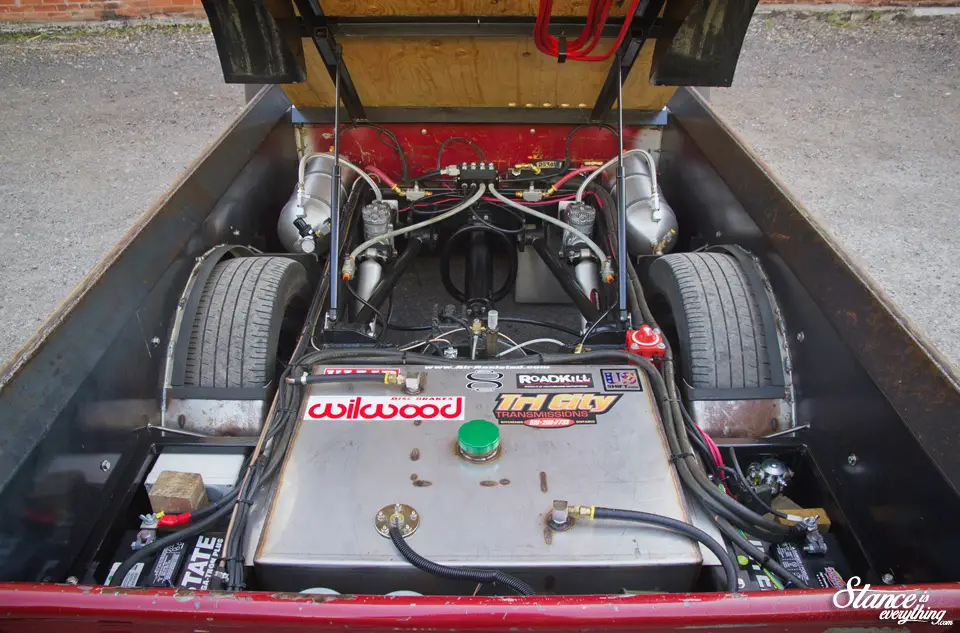 The chassis is actually somewhere between a long box and a short box in length, which necessitated custom bed sides so that the truck looked visually correct from the side.
Bob of course built those bedsides himself.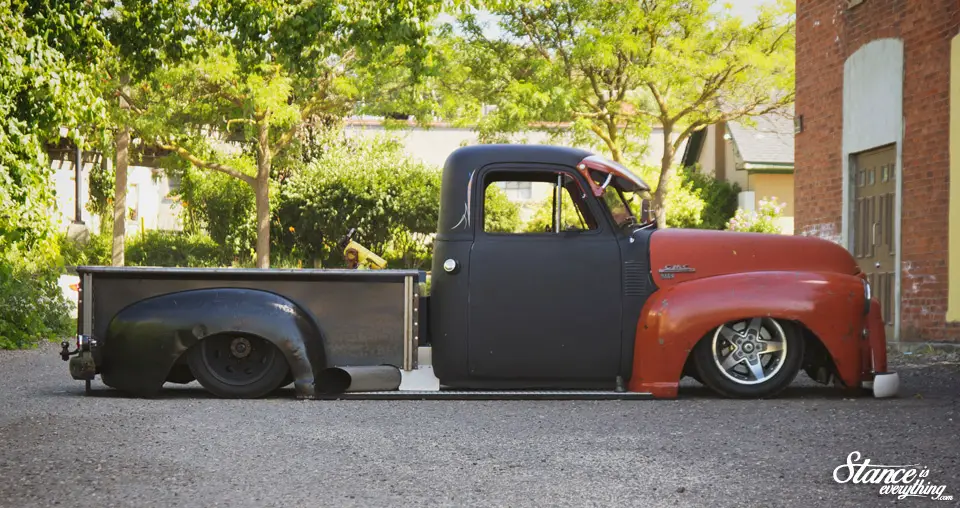 The 300(!!) pound Dana 70 rear end was fit with a 4:10 locker and Moser axles before being narrowed so Bob could retain the dually wheels without radically modifying the rear fenders.
That said he did end up modifying the rear fenders somewhat, taking 3 inches off the bottom to get the truck air out just right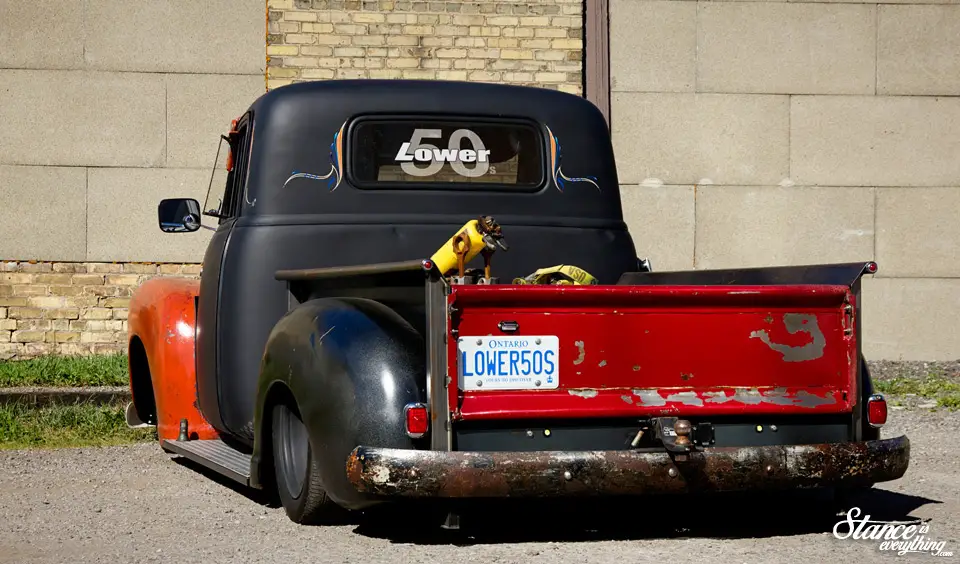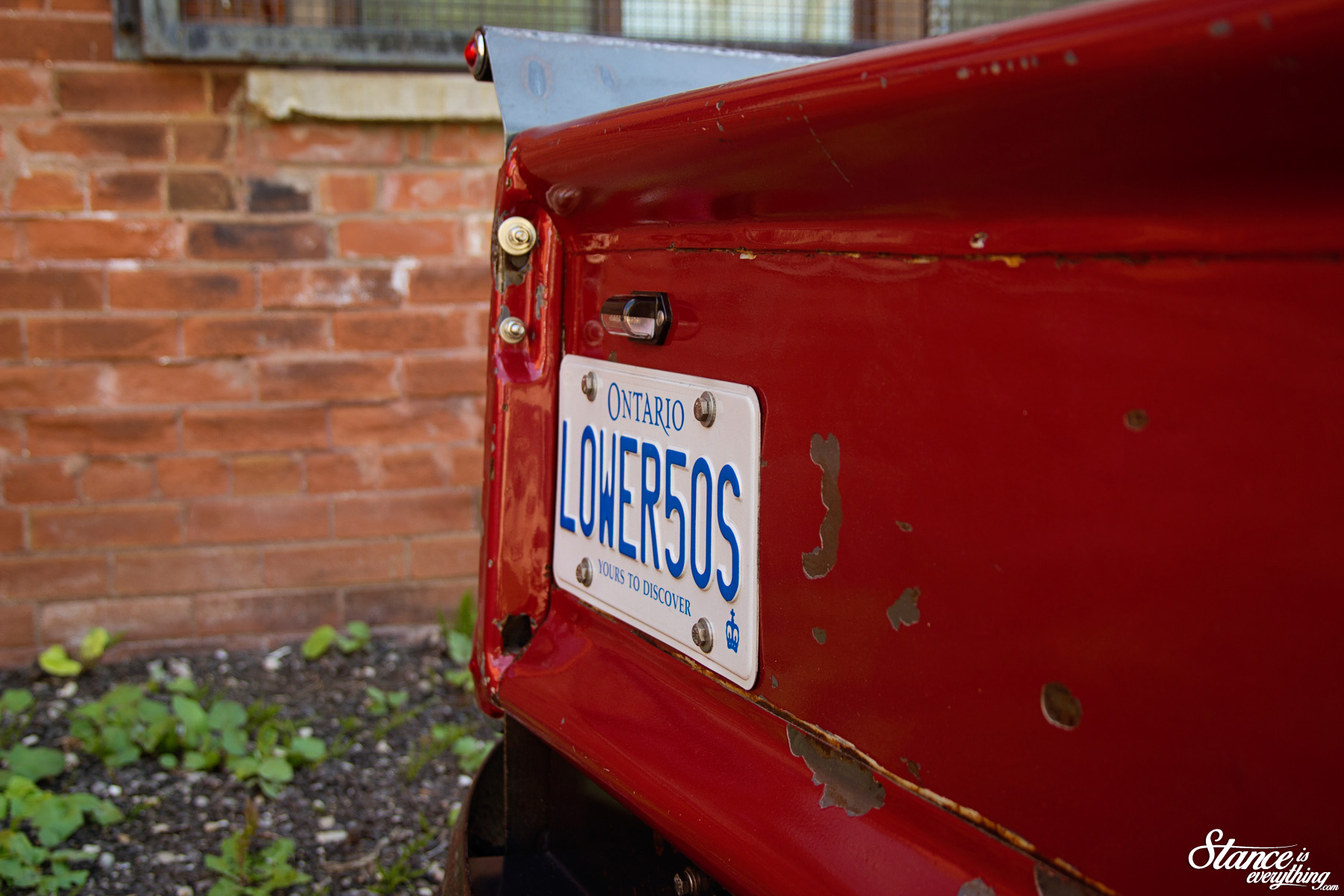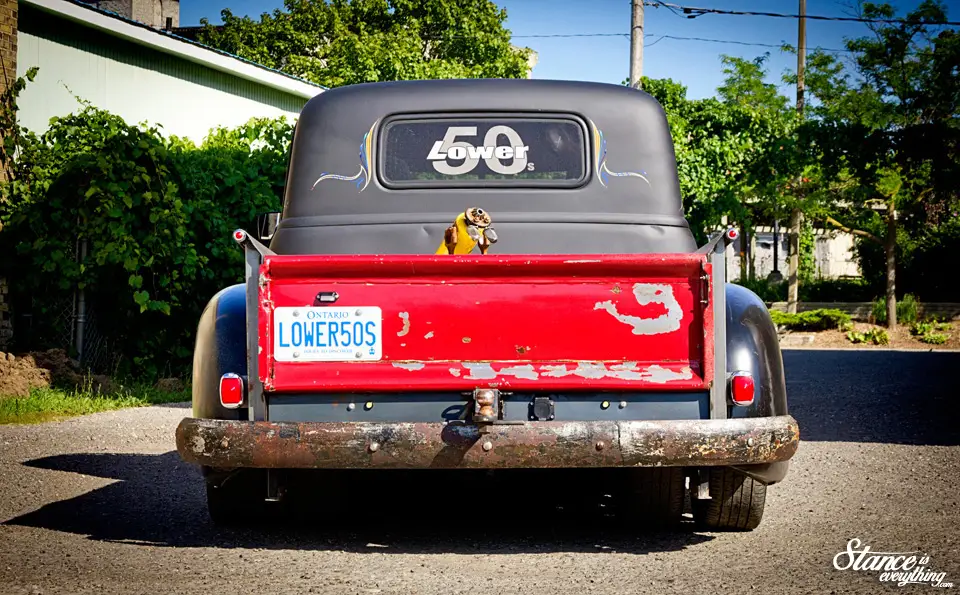 For the exterior Bob wanted the cab tight and weather proof so he had it sand blasted. After fixing a few rust outs, and shaving the door handles the cab was primed black and sprayed in matte clear.
The hood, fenders, and visor however were all in good enough shape to leave untouched. To preserve the natural patina Bob had the various shades of red, and hand painted lettering covered in matte clear as well.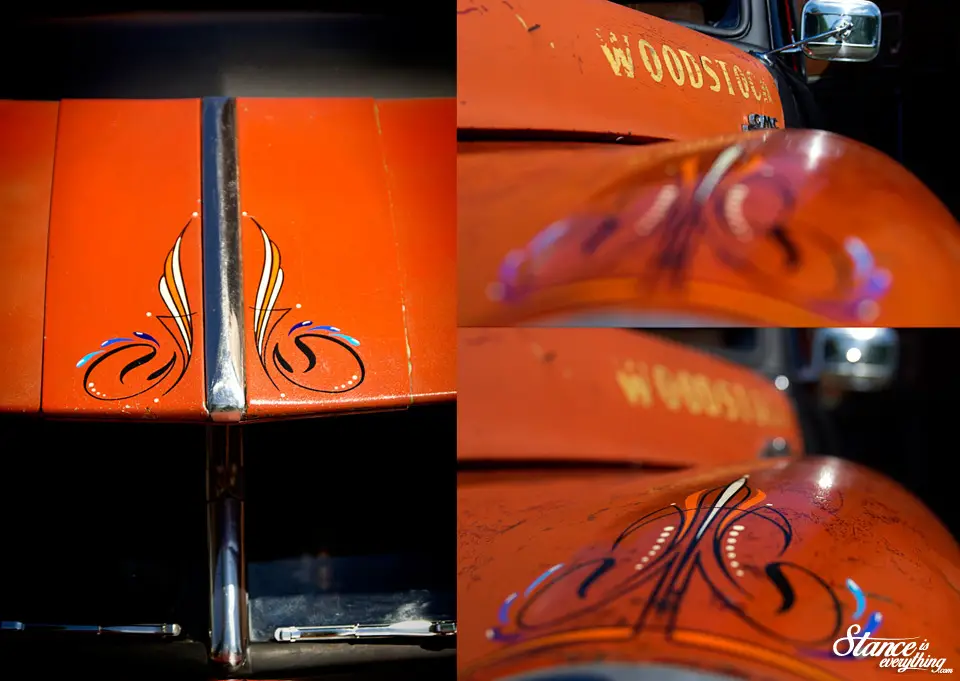 Too add a little personality to the truck Bob let his friend Adam, of Pett's pinstriping, have his way with the visor fenders, and cab.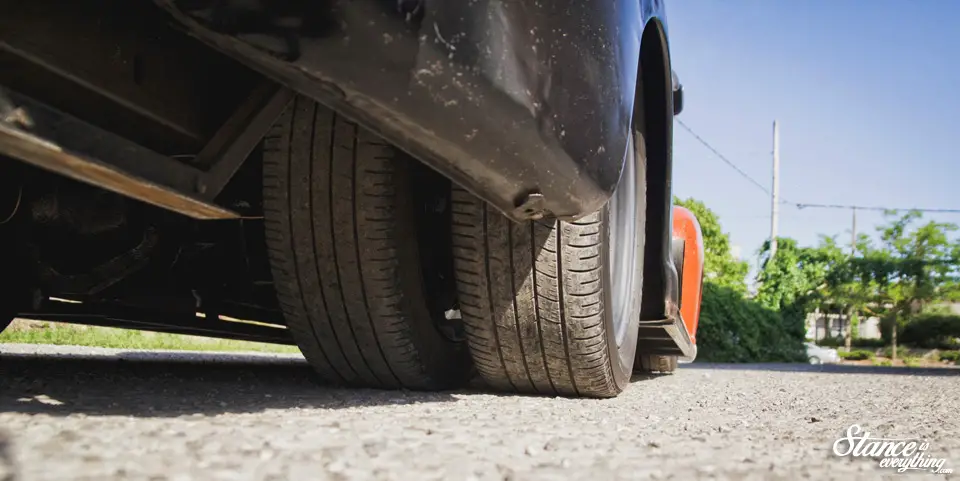 The wheel tire set up is standard dually out back, and s10 zq8 package wheels up front. Because the truck isn't light by any stretch — clocking in at around 5000lbs– Bob upgraded the factory s10 front brakes to Wilwood units so they could bring the truck to a halt in a reasonable amount of time.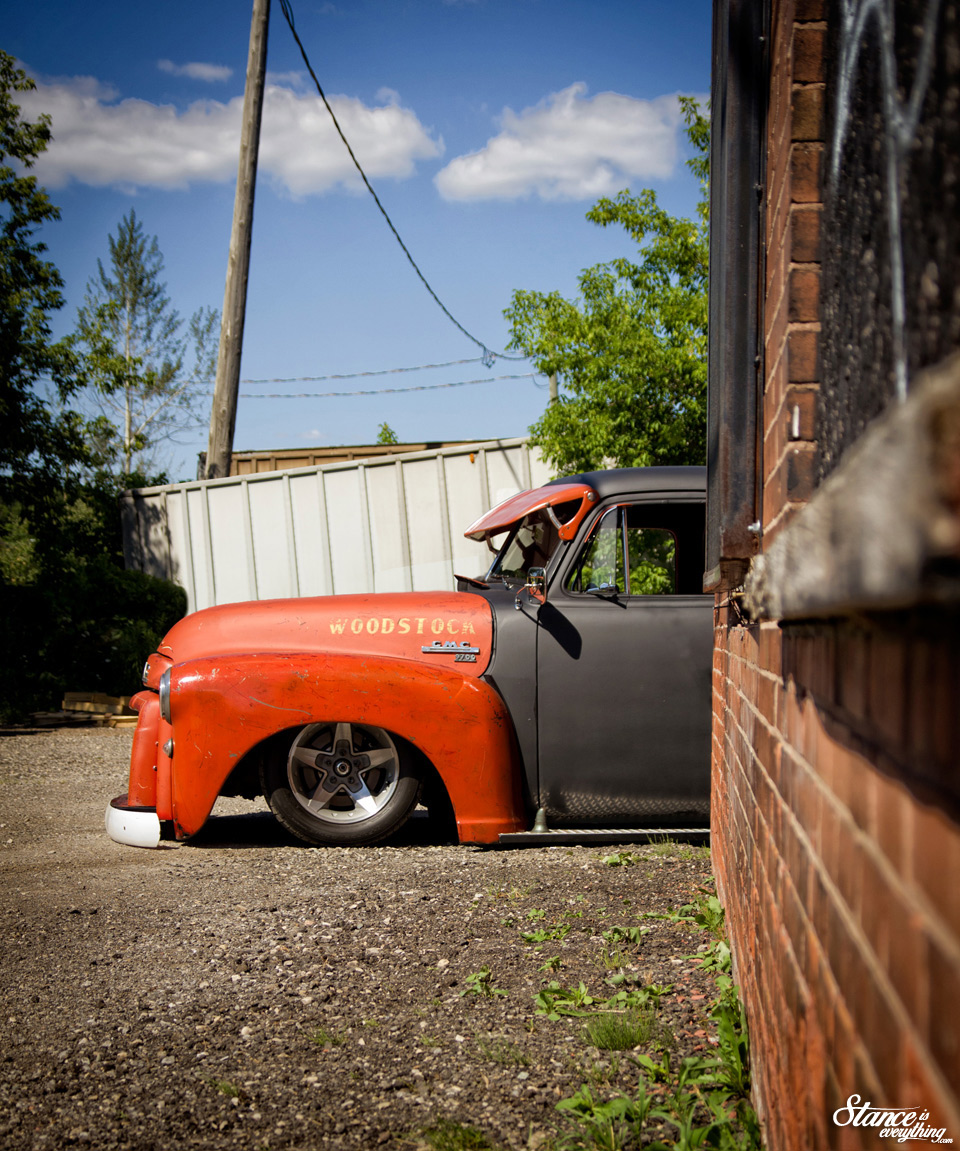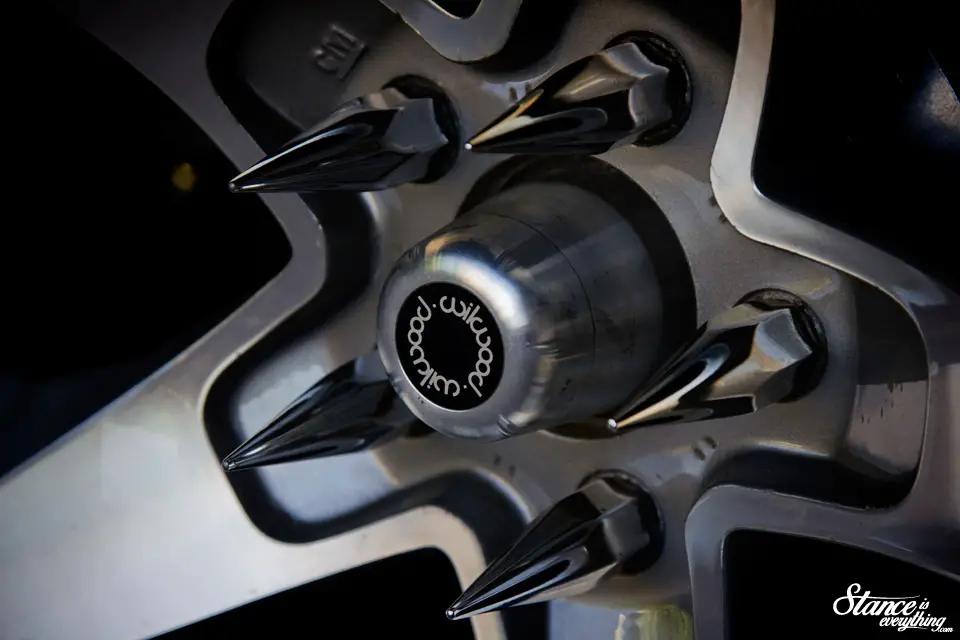 After all was said and done Bob wasn't left with a lot of bed space so he crafted a one piece raised wood bed floor, and decorated it with various road signs and a metal representation of his french bulldog Tiger.
Inside, Bob modified the floor to fit the giant automatic transmission before spraying it in Lizard Skin.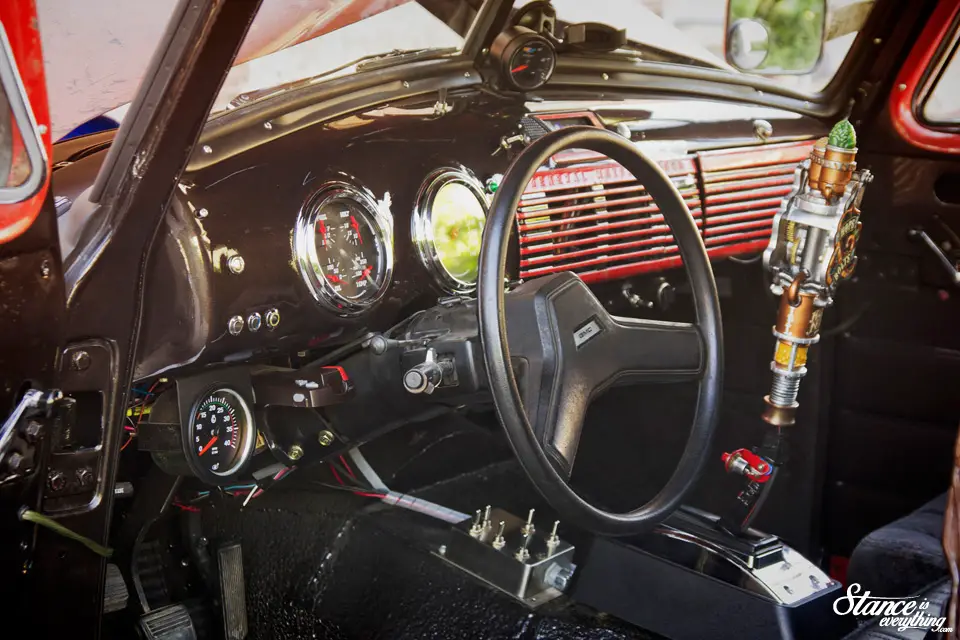 The dash and door jambs were originally meant to be a metallic grey but to his surprise a metallic brown came out of the paint gun. Bob quickly became fond of the color, particularly in the sun, and dubbed it 'burnt root beer'.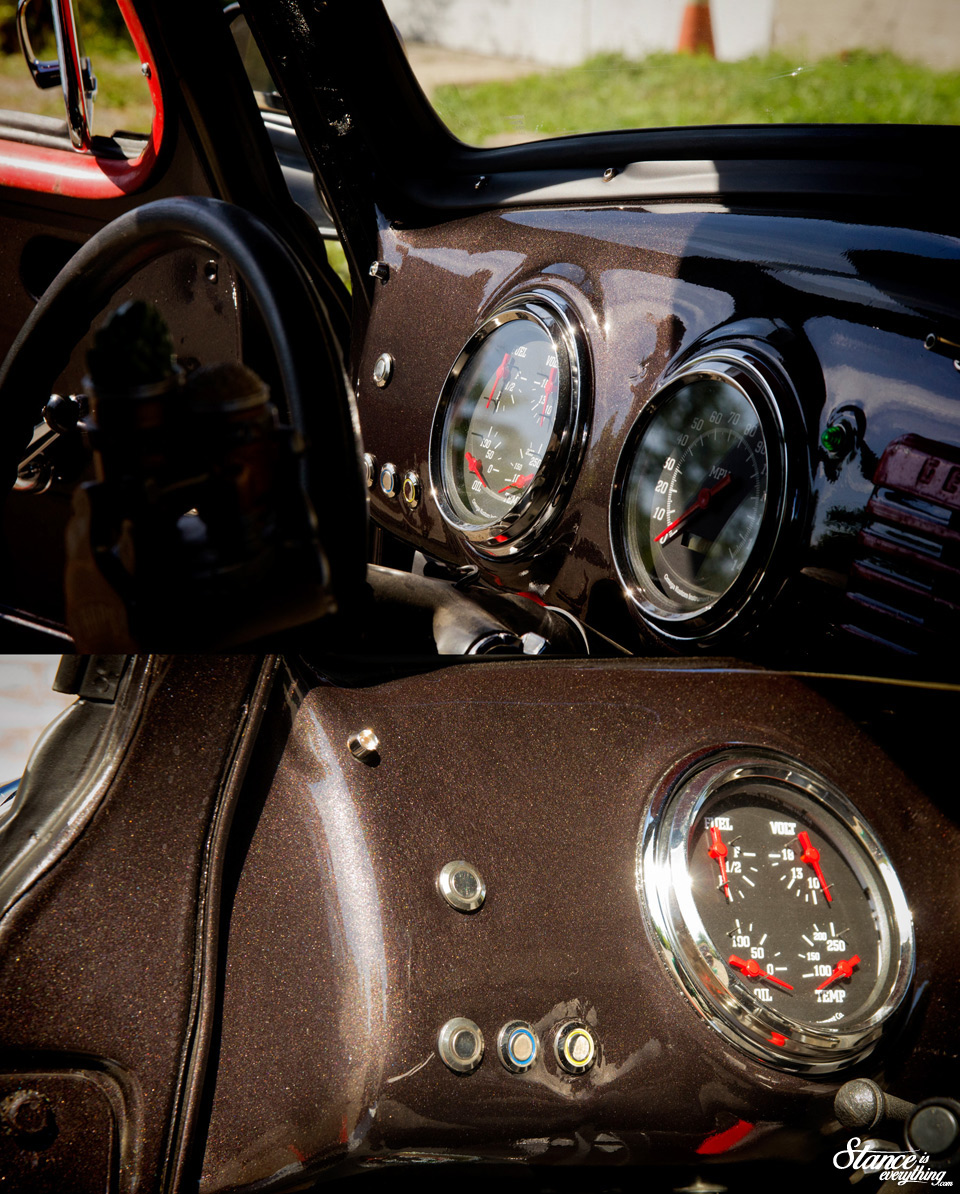 Capping off his interior are gauges to monitor his air pressure, rpms and boost. A Quick 1 shift controller allows Bob to shift the auto transmission manually which he does through a shifter topped off with an ornate beer tap handle.
Since getting the truck on the road Bob's proclivity for towing and burnouts necessitated a transmission rebuild. Tri City transmissions handled the rebuild replacing all the soft parts with new ones, as well as throwing some additional automatic transmission voodoo into the mix.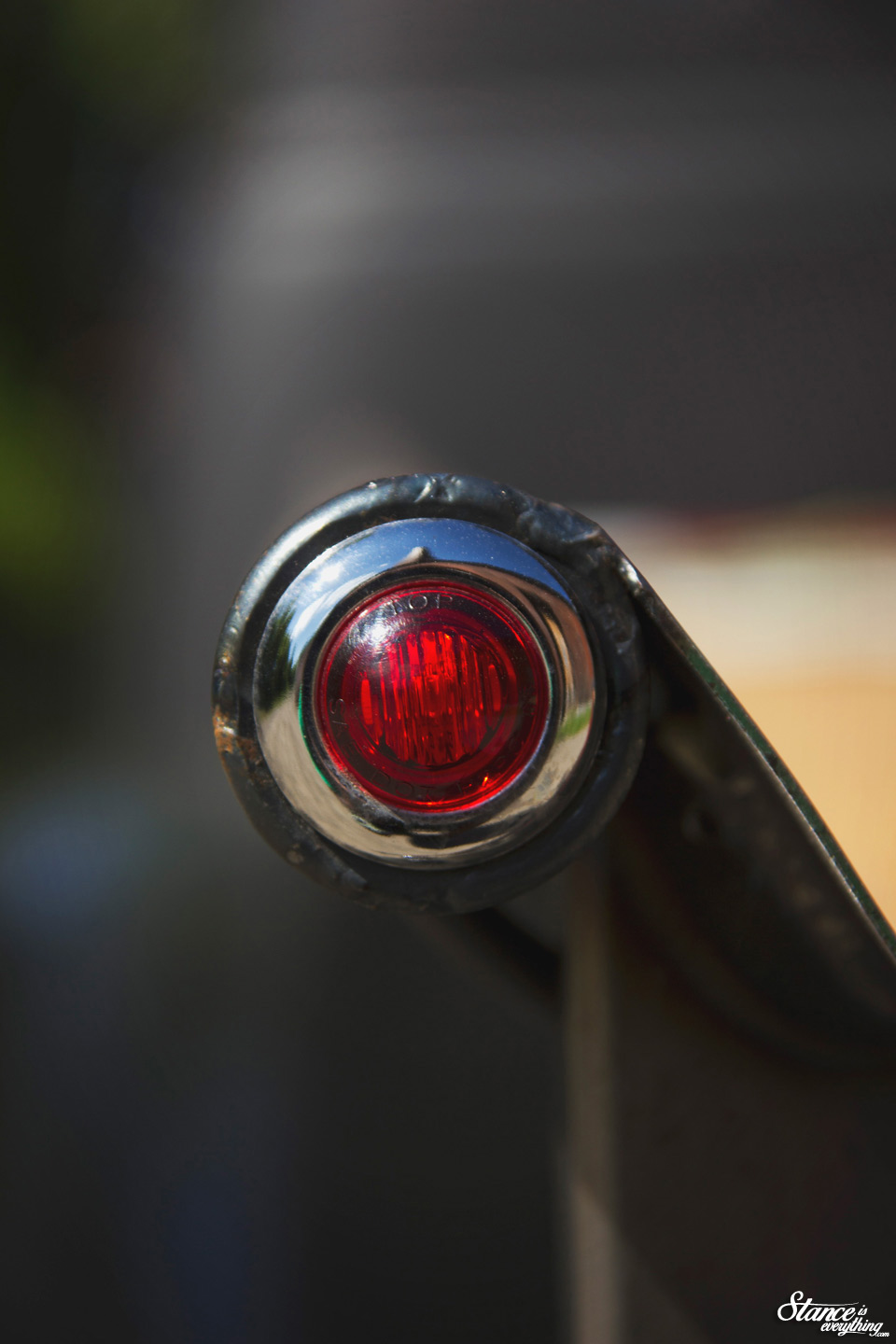 Bob thanks his wife, and boys for supporting him through the build process along with his painter Joe, and of course neighbor who gave him the motor.
He's promised them all a chance to drive the truck at some point, but for this year it's Bob's turn to put some miles on the truck. I'd say he's earned it!