With so many new shows popping up in Ontario there's a lot of pressure on Importfest to live up to their 'Biggest and Baddest Slogan'. With over 15 years of events behind them the Importfest staff is of course used to this pressure and manages to rise to the task every time.
Putting on an indoor event, in the middle of summer, in downtown Toronto, is not an easy task. In fact it is a very large production with logistic considerations and overhead that I don't even want to imagine.
With this comes a higher than average entry fee of $30, at that price anything but an A-list selection of cars simply wouldn't do.
Importfest uses their screening processes, combined with a network they've grown through the years of running the show, to put together a competitive field of the best show cars currently active in the community as well as a few heavy hitters from eras gone by.
I have not been able to attend the past two events personally, but from what I've been told the quality has seriously been ramped up both years.
For 2017 all of the usual suspects were well represented; Nextmod, Next Level, Alpha Motorsports, BMW True North, Elevated, Grounded Conceptz, Team Mayzn, Royalty Auto spa and more were joined by groups from the United States that came to join the party.
Stateside entrants also drove from Boston, New York and Buffalo to see what the Canadian hype was about.
If Instagram and Facebook are to tell the story, it sounds like these out-of-town folks enjoyed their stay in the city.
Like any show of this size there were plenty of cars with bolt on wide bodies and fender flares.
To many this look is getting a bit long in the tooth, but it's really hard to argue with its popularity given the sheer number of cars that use it.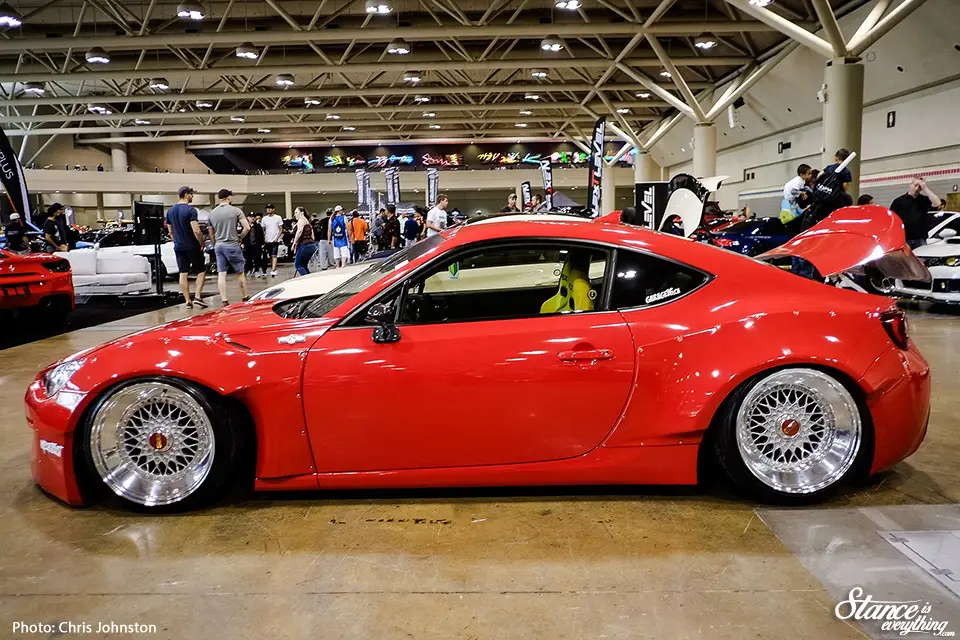 That said while there are plenty of poor examples floating around Imporftest showcased some of the more tasteful applications of Liberty Walk, Rocket Bunny, and Clinched body parts.
M-tech Auto and Nextmod collaborated on this Pandem e46.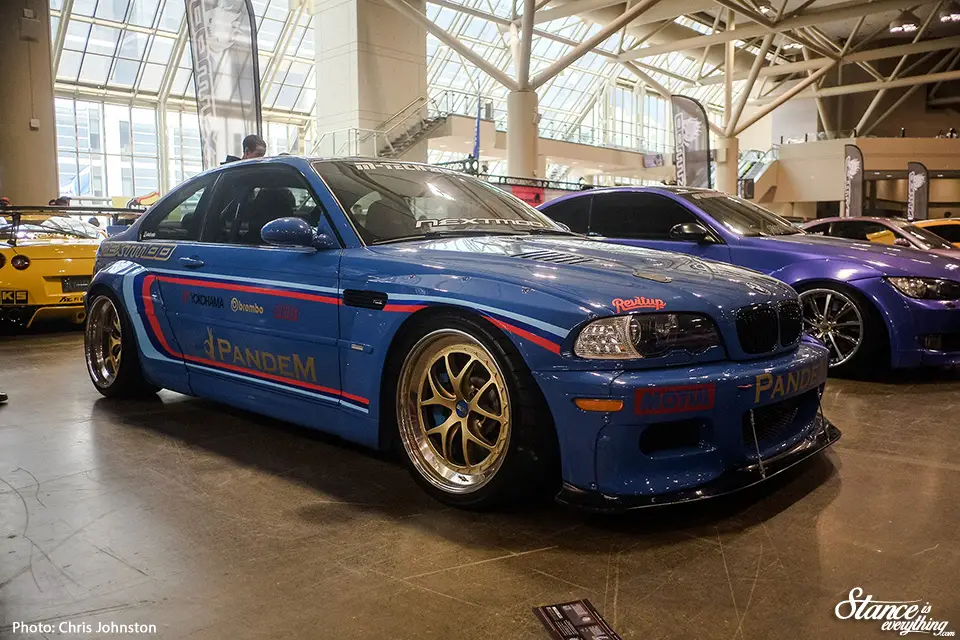 The gold BBS wheels and livery are reminiscent of "classic" BMW builds which is something that I can really appreciate. I'd be curious to see how many of those stickers remain on the car for day-to-day use.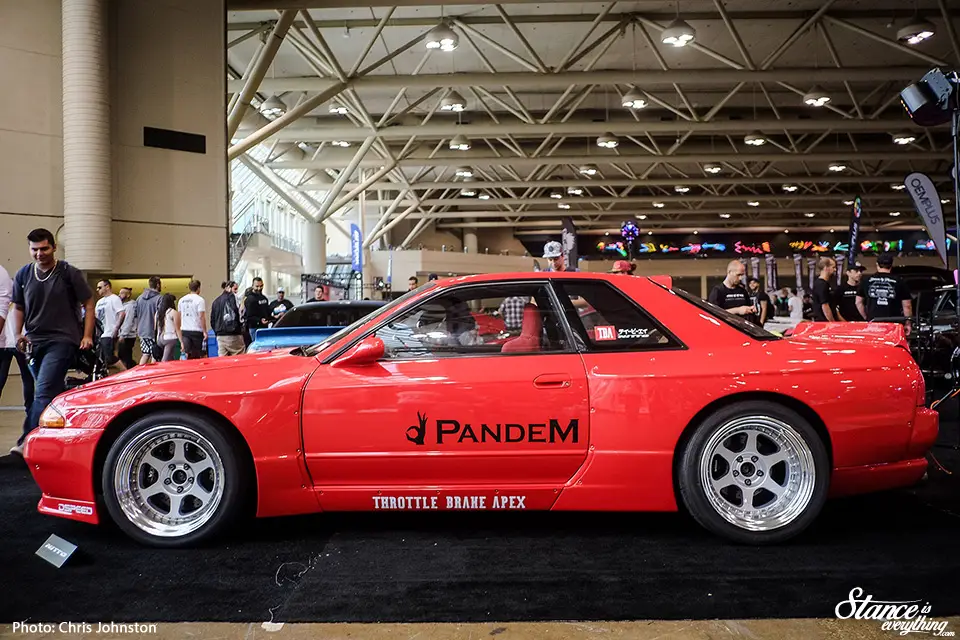 Throttle Brake Apex revealed their Pandem R32 which is the first of its kind in Canada. Previously fuchsia and known as "Pinky" the car looks great in its new more contemporary styling.
The kit and wheels on the car look great. But –sorry Neal– I'm eagerly waiting for those coils to be wound down a bit.
That said the car is part of the Performance Auto And Sound Tuner Battlegrounds competition. The grand prize for that includes a trip to SEMA and Airlift Performance Suspension so maybe if we all throw him a few votes we can bring the car closer to the ground.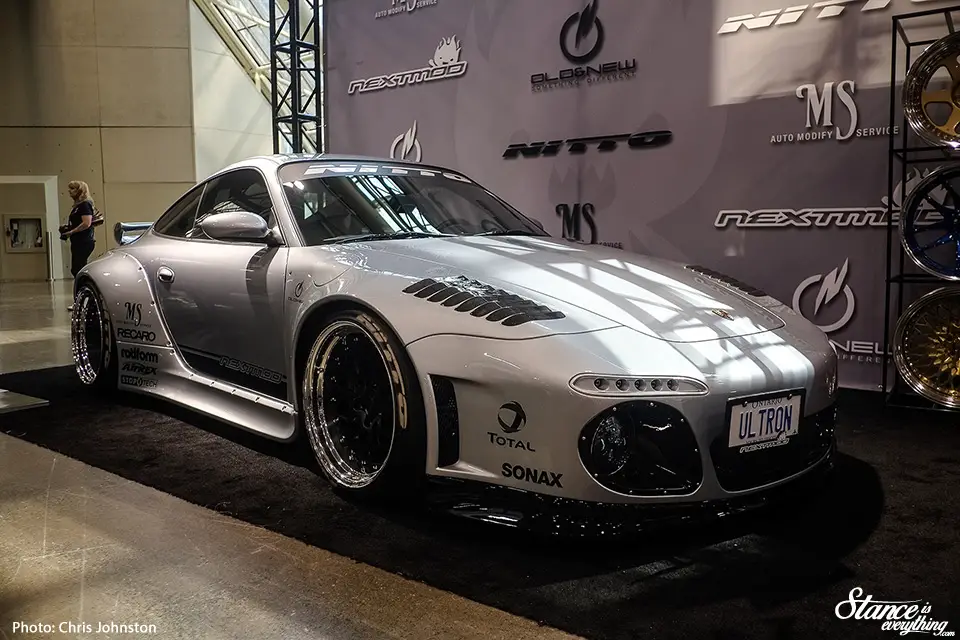 When the Old & New Japan kits were released I knew it would only be a matter of time before they ended up in Toronto, but I really didn't expect their to be two cars fit with the kit so fast.
The first car, dubbed Ultron, was part of an elaborate Nextmod/Nitto tires display. It's one of the best looking displays I've seen out of Nextmod and that's really saying something considering their previous displays.
Vossen Wheels and Importfest collaborated on the second car, that sat right down on the red carpet thanks to an air ride installation done by ChopShop.
The Florida based crew at Vossen loves Importfest so it wasn't surprising to see that they pulled out all the stops for this show.
Vossen doubled down on thier Porsche offerings with a bagged Rocket Bunny Cayman.
The car was fit with one of the first sets of USA made Vossen three-piece wheels. Vossen's catalog gets deeper and deeper year after year, and their marketing machine just doesn't quit.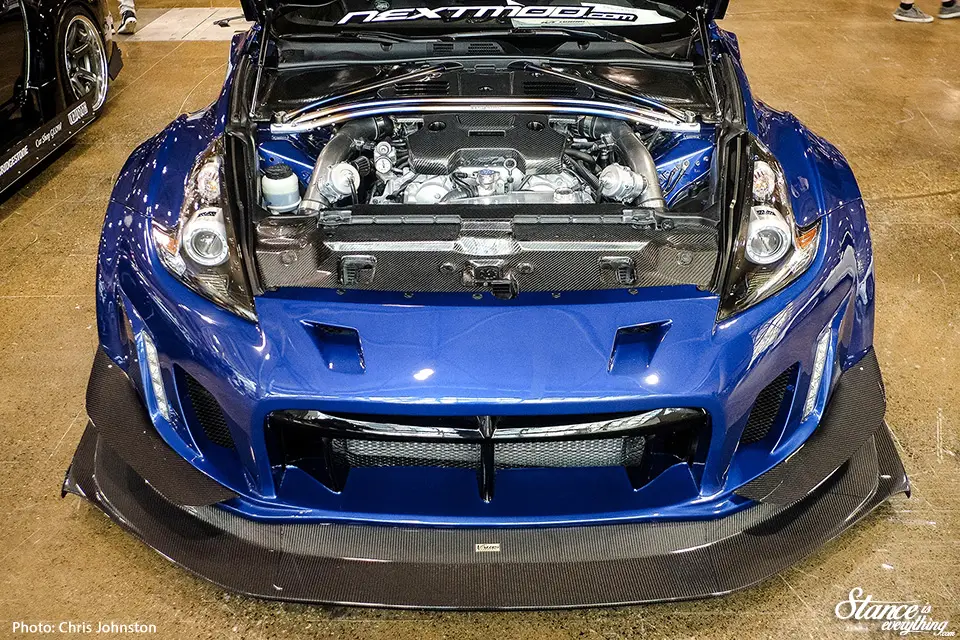 Jason Gale's, Galeforce 370z, is currently the only car in North Maeirca with the Varis Kamikaze 370z kit. To kick things up another notch the kit has been molded to the car making it a true 1 of 1.
One of the most complete show cars in the area, it took home a well deserved best of show at Importfest 2017.
The amount of carbon fiber on this car is mind-boggling and while I liked the Volk Wheels it wore last time I saw it, the HREs are a better fit for the new aggressive aero.
Eschewing the wide bodies for a minute, this Toyota Celsior is an excellent example of restraint. In comparison to many of the other cars in the venue it is fairly understated. Less is more here for sure.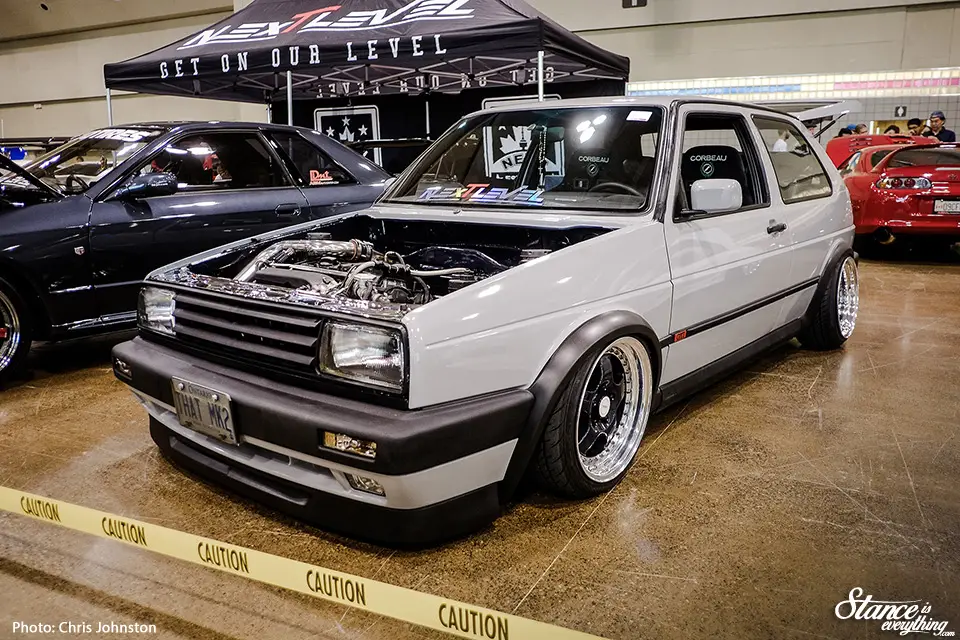 MKII Gollfs are seldom seen outside of Volkswagen specific shows these days so I wasn't expecting to see this car in Chris' coverage.
The grey paint and Simmons wheels on this car are a great match for one another.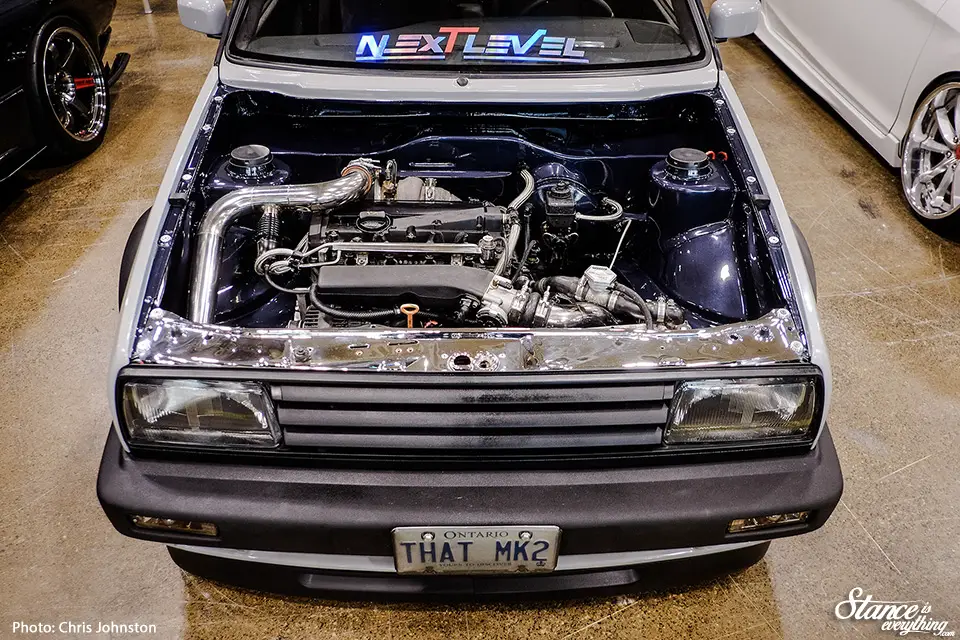 Under the hood (if there were a hood) is a shaved, contrasting color, engine bay that draws your eye to the 1.8 T motor swap.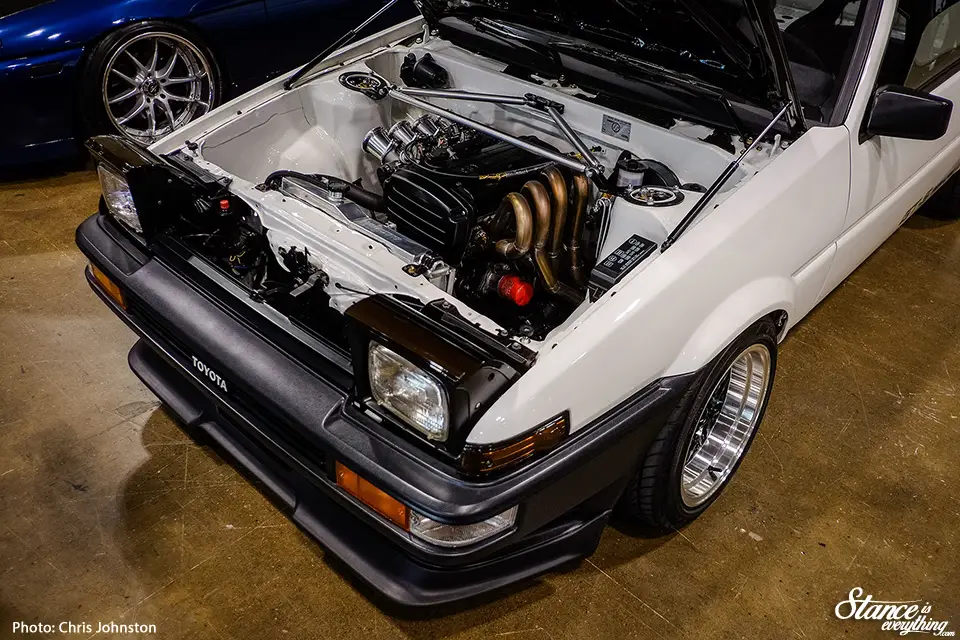 For another dose of stock body perfection one needs look no further than the Cyrious Garage 'Project 86'. In conjunction with Toyota Canada Pat and the guys at Cyrious Garageworks put this car together in 86 short days as a project for Toyota Canada.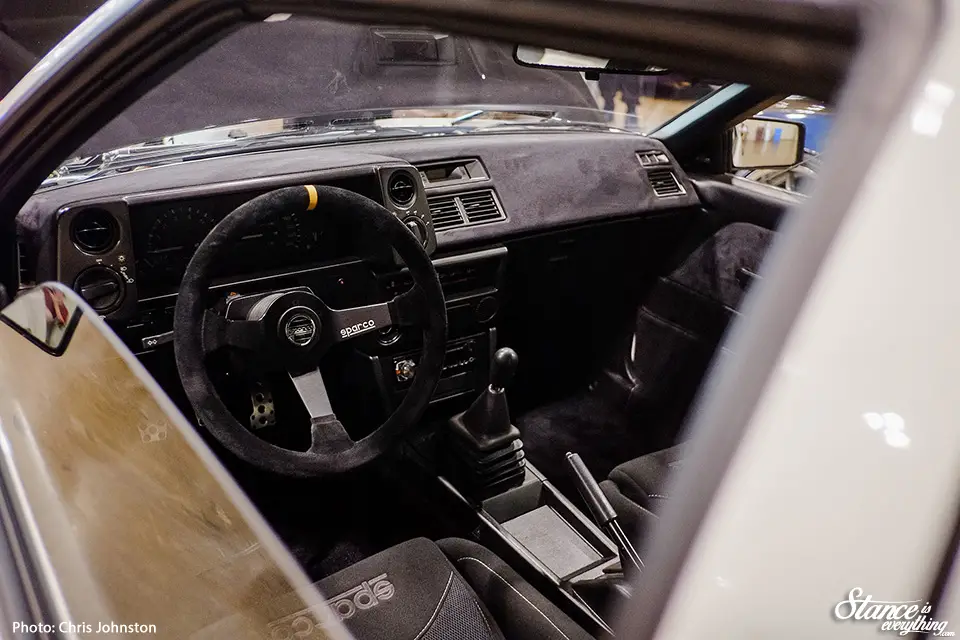 Unlike some of the other project's he's built for Toyota Pat gets to keep this car at the end of the day, so really he built his dream ae86.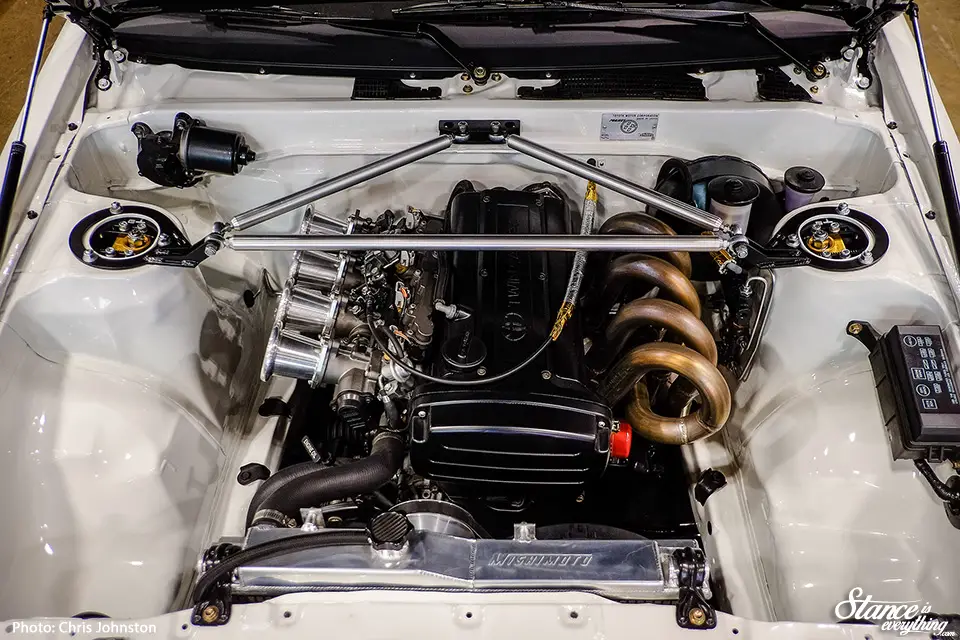 A black top 4AG sits under the hood and it's been fit with ITBS on the intake side and a pretty wild-looking Cyrious built header on the exhaust side.
On the extreme end of the ae86 spectrum Dyna Motorsports turbo F20 powered ae86 is always worth a second look.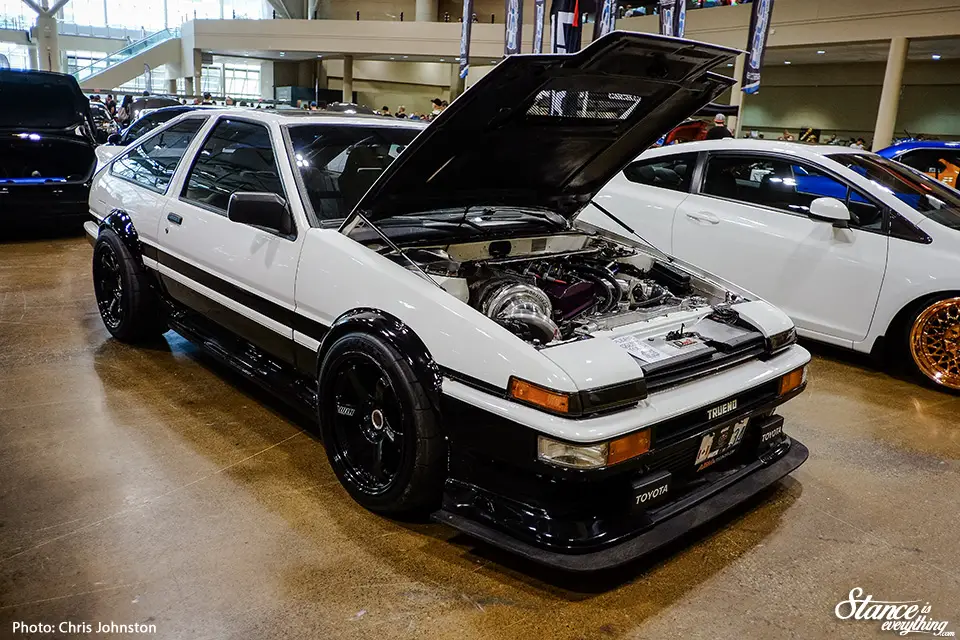 At this angle the snail on this car almost looks larger than the motor itself, but that's always been the Dyna Motorsports way.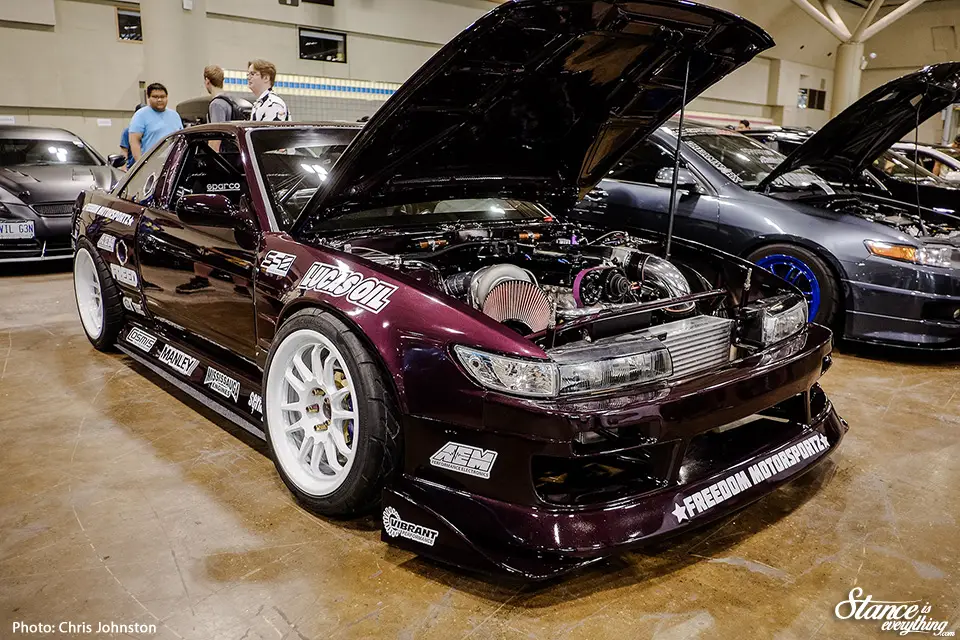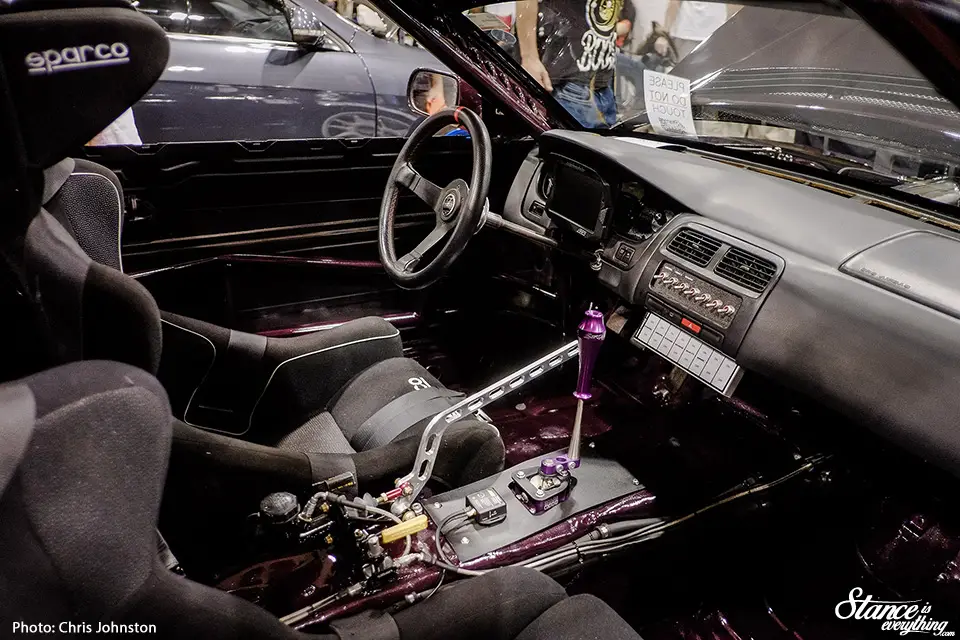 With Cyrious bringing a street car, the drift contingent had to be represented by someone else and for that the job went to Peter Chrisikopoulos who brought out his 2JZ swapped S13.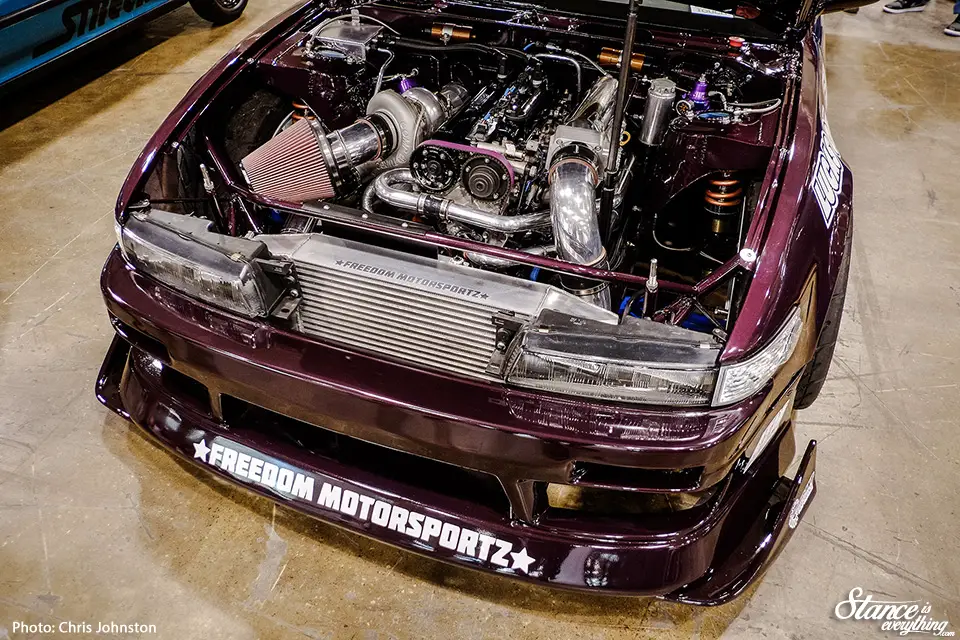 This car was completed a few years ago, and participated in a few events, but I don't think it ever ran quite as well as Peter hoped.
So he did the only logical thing to an enthusiast, he tore it apart and rebuilt it. The car is now in running condition but I think there's a few more things yet before he takes it back out into competition.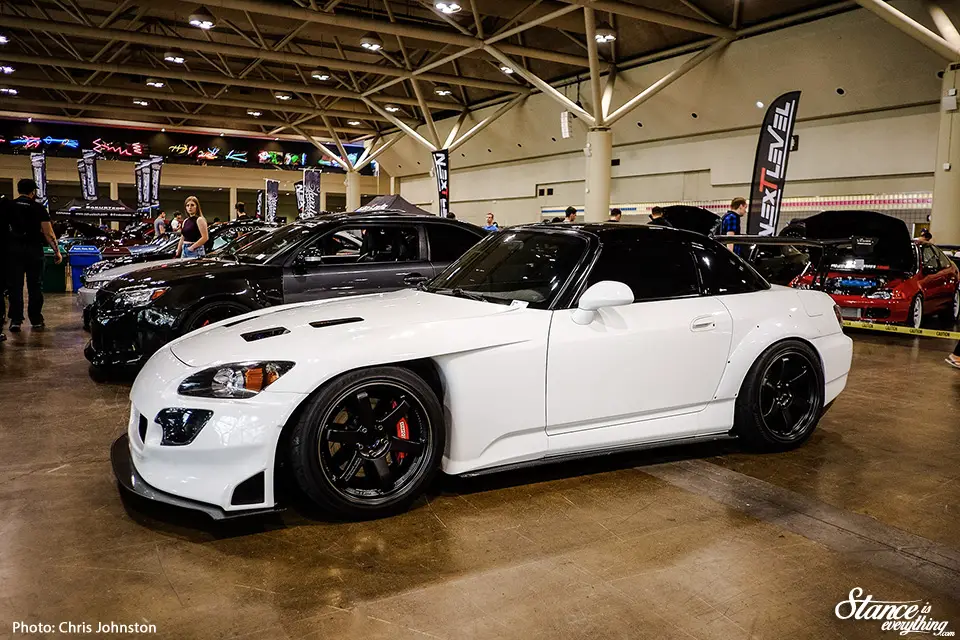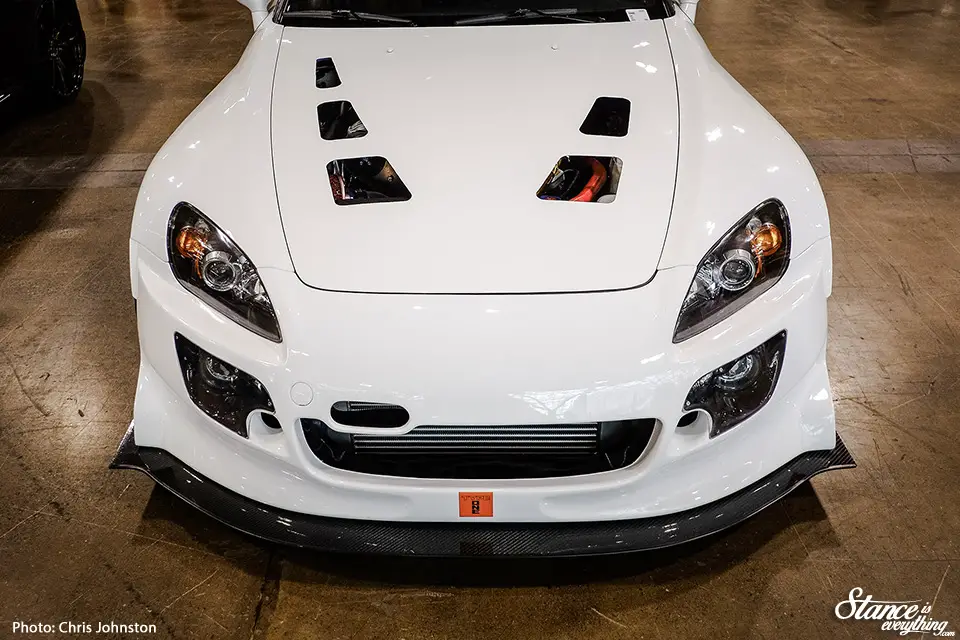 Clearly the owner of this S2000 has a brand loyalty to Spoon, rocking both the front bumper and fenders. It's a really great combo when paired with an aggressive CF lip, Volk Racing wheels and a black hard top. A very tasteful car overall.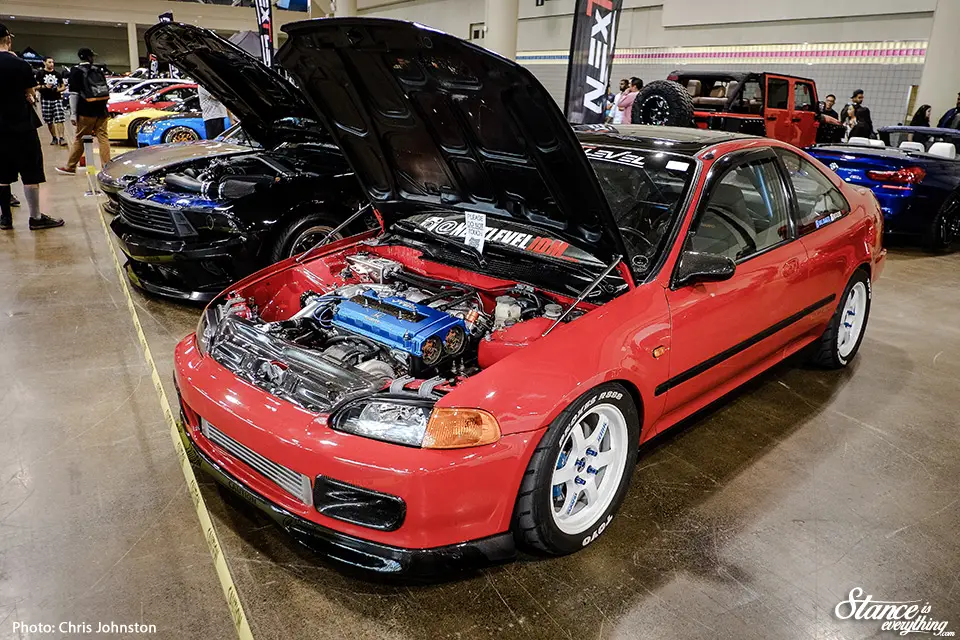 Actually if pictures tell the story, most of the Hondas at Importfest 2017 were done quite tastefully. Which is always nice to see considering how much flack the Honda community still receives online based on stereotypes from days gone by.
I thought all the Del Sols had more or less vanished but Elevated added this one to their 2017 Importfest line up. Much like the header on Pat's ae86 the one on this car is a work of art.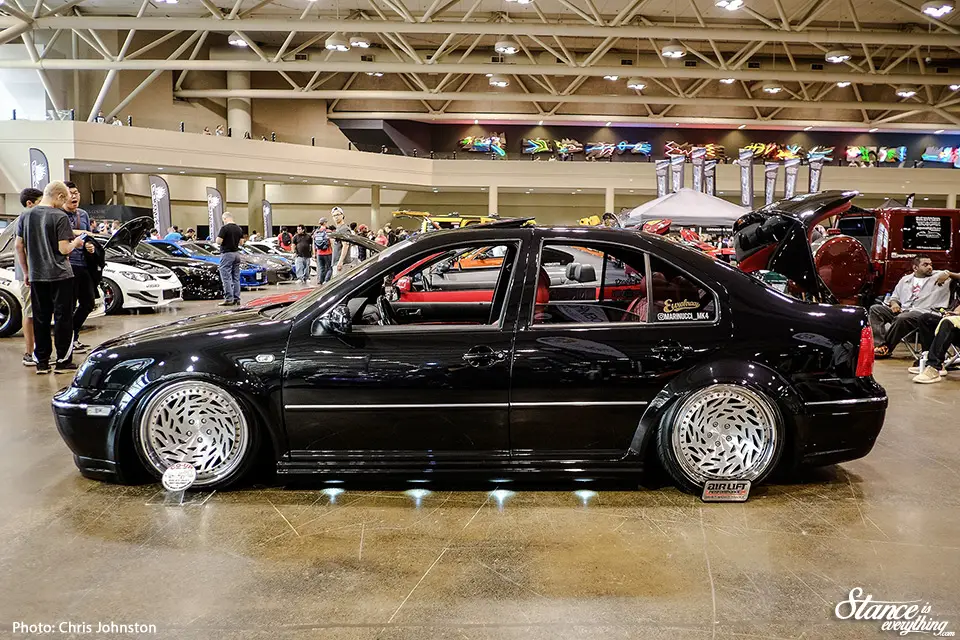 This MK4 Jetta is a car that I've posted a few times on the site, mostly because I can't get enough of the air set up.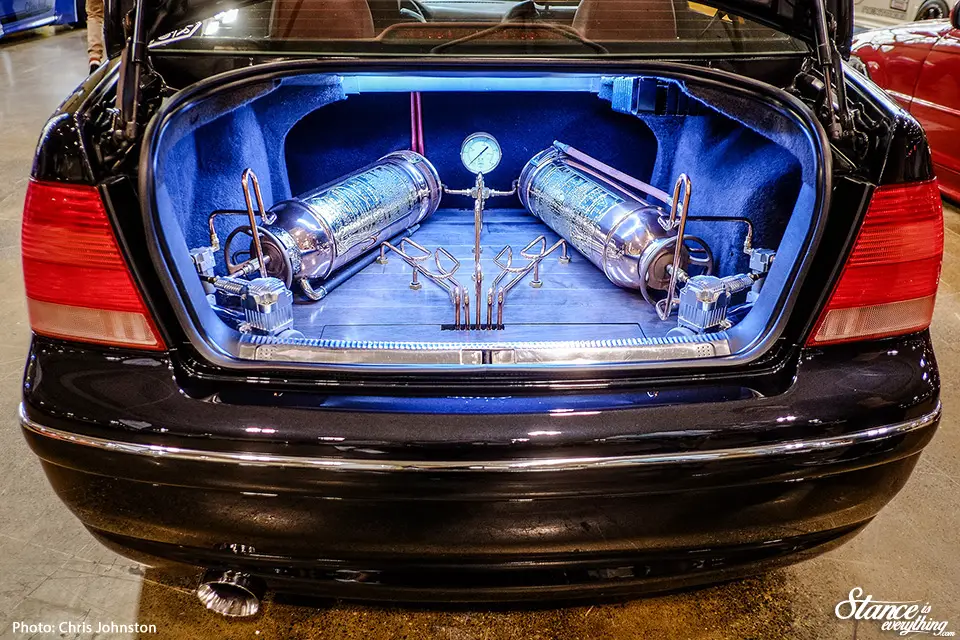 The vintage extingishers and polished hardlines just look so good in the trunk. Especially under the led lighting.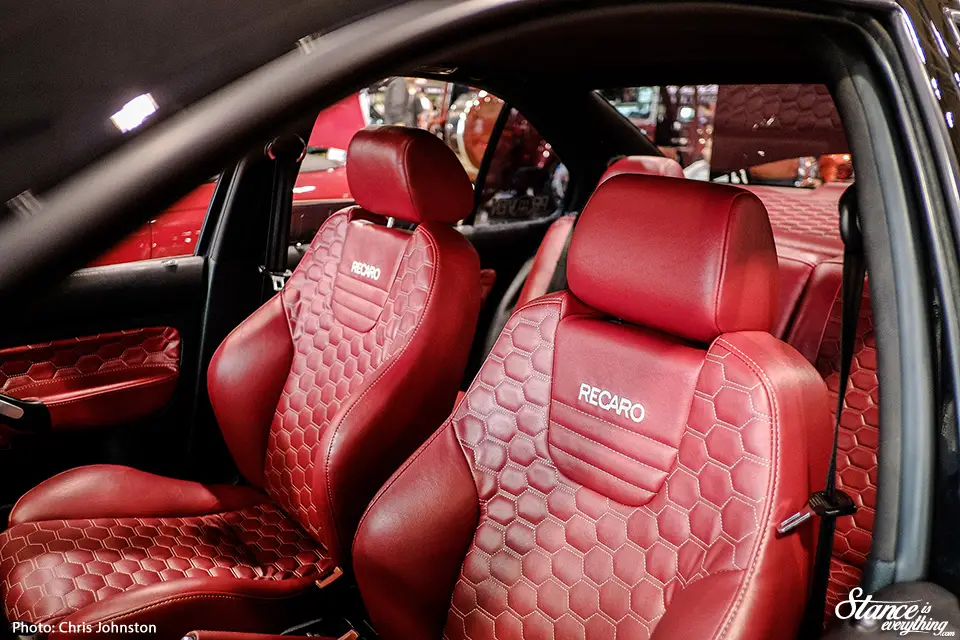 Inside the interior is absolutely crazy. JM Upholstery is responsible for this one as well as a few other, similarly impressive, interiors at the show.
Two completely unexpected 'star cars's made their way out to Importfest. It's pretty funny to look back at these cars now. I imagine sixteen years from now the cars that look popular currently will look about as strange.
Going to close out this year's coverage with some more photos from Chris Johnston.
It looks like it was a great show this year and hopefully I can return next year as I'm sure 2018 will be just as good if not better.