Normally the features on this site are written in more of a magazine style tone and not the same personal  tone the rest of the posts are written in, however in regards to this car and it's owner I felt a more personal approach was justified.
In the short time I have known Tim (the owner and builder of today's Subaru) I have come to learn a few things about him.
He's a talented do it yourself mechanic, a Batman fanatic, a proud father, and one heck of a nice guy.
The first time I saw Tim's car was at the 2009 Tuners Against Street Racing Charity Show and Shine where it's unique finish made it stand out instantly from the rest of the cars at the show.
While I had seen a few cars with similar paint applications prior to Tim's none of them looked quite like his, it's actually smoother than you would expect and applied so well that I was shocked to learn it came from a spray can.
It also shimmers ever so slightly in the right light and isn't being used to hide atrocious body work, Tim painted the car this way because he wanted the car to have a sinister look reminiscent of The Tumbler and not because he was looking to cut corners.
In 2009 the car was plated  'BRCE WANE' and it was actually the custom plates that helped me identify him because he was close by the car wearing a Batman shirt. As I was clearly gawking at this point I took a second  to introduce myself and let him know how much I liked his car.
During that first conversation I could instantly tell he was the kind of car guy everyone likes to meet: humble, knowledgeable, down to earth, and most important of all, friendly.
Tim isn't overly concerned with any of the politics behind car shows, awards, or internet fame, he simply has a passion for automobiles that he likes to share with other enthusiasts. This passion is  immediately apparent if you have ever read one of his build threads on NASIOC.
You see Tim isn't the type of person to outsource a single thing on his car without knowing exactly what needs to be done and how it is supposed to be done and he isn't afraid to learn by doing and document his experiences for others to learn from.
In fact before installing the 9-piece WRC wide body kit from Fourstar Motorsports that is currently on the car Tim came  incredibly close to completing the daunting task of designing and fabricating a wide body kit in his garage from scratch.
While that feat is incredible in it's own right it isn't anywhere near the end of custom modification Tim  has done to his Subaru.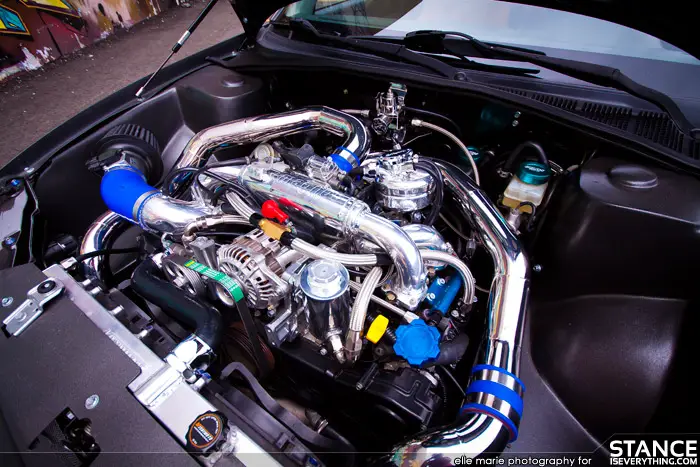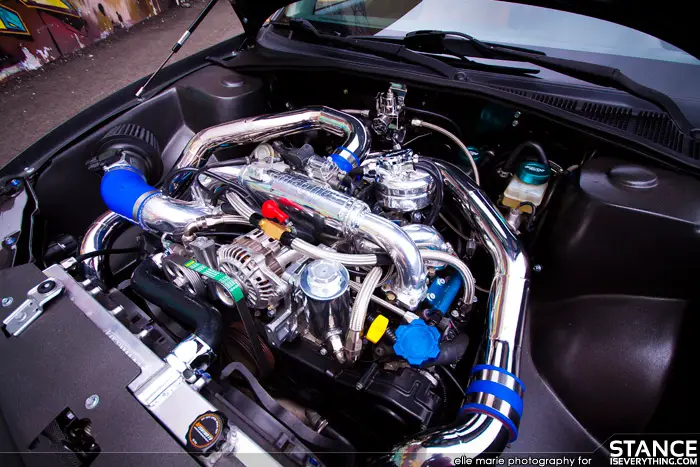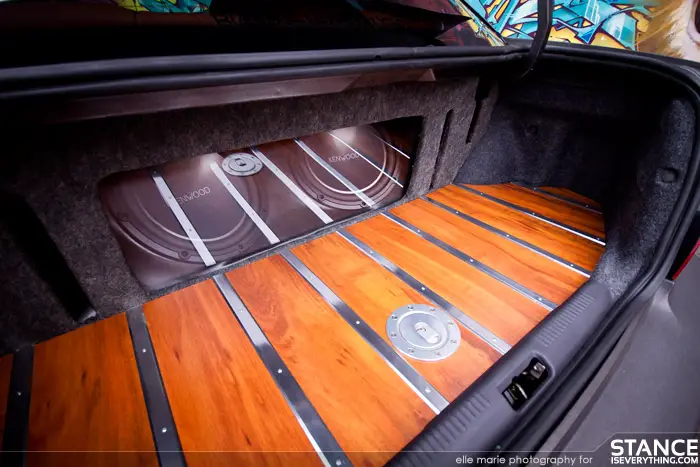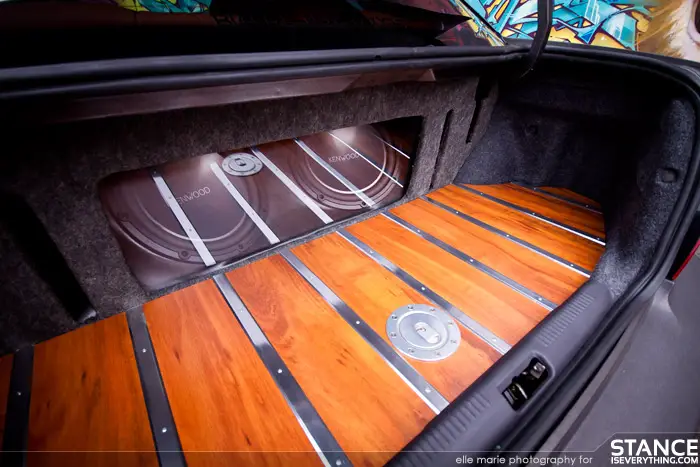 Under the hood of this car is further example his fabrication skills. You may have already noticed from the photo above that the engine bay looks incredibly clean and uncluttered.
This is because in addition to removing components deemed unnecessary and performing a wire tuck Tim fabricated completely removable fiberglass covers for both sides of the engine bay.
The end result of what was essentially a winter long project is simply stunning engine compartment.
The only way to truly compliment the unique exterior of this car was with an equally unique interior and for that Tim chose to wrap his seats in 'autumn' colored Katzkin leather.
This burnt orange color is hard to accurately capture in  photographs but in my opinion (and obviously Tims) it's the perfect color to contrast the  dark exterior and also does  an excellent job of tying in his recently finished classic truck bed inspired  trunk setup.
While I could easily continue to go on and on about how much I love this car and respect the amount of work the owner has put into it I feel the best way to really  appreciate this car without seeing it in person isn't  by reading a modification list but by reading through any of his extremely detailed build threads.
This first one I recommend reading would be this thread which chronicles the modifications done to the exterior of this car, and the second would be this more recent one detailing the modifications both visually and mechanically under the hood.
Both threads are interesting, captivating, and inspiring and if by the time you are done reading them you still don't feel like working on your car then perhaps maybe a trip over to  BatBerryBlog.com where Tim is documenting his build of a Tim Burton Batmobile will do the trick.
Don't worry I full intend to feature on that when it's complete.