There's something about American vehicles from the 50's and 60's that is universally appealing. Pristine examples of this vintage can be found in a variety of locales in which they were never sold, imported by those drawn to the style they convey and period they represent.
Cars and trucks from this era capture a time when vehicles were built simple and to the point, not over burdened with driving aids, or designed with pedestrian safety in mind. They were constructed to look good, drive reliably, and withstand the tests of time.
When it comes to ride height these classics can be approached several different ways, but a tried and true method has always been get the rear low and the front lower.
The classic 'muscle car rake' was the first thing to catch my eye when Mike McConnell sent in his beautiful photos of Chuck's equally gorgeous 56 F-100.
The double staggered Schott wheel set-up, a lowered torsion bar front clip, and No-limit four link rear, give this truck a significant forward lean that would be just as at home on a '57 Chevy Bel-Air as it is here.
The red paint, chrome grill, and stainless bumpers further emphasize this Ford's classic street truck styling while the twin turbo 5.4L motor under hood gives it enough get up and go to cruise with vehicles half it's age.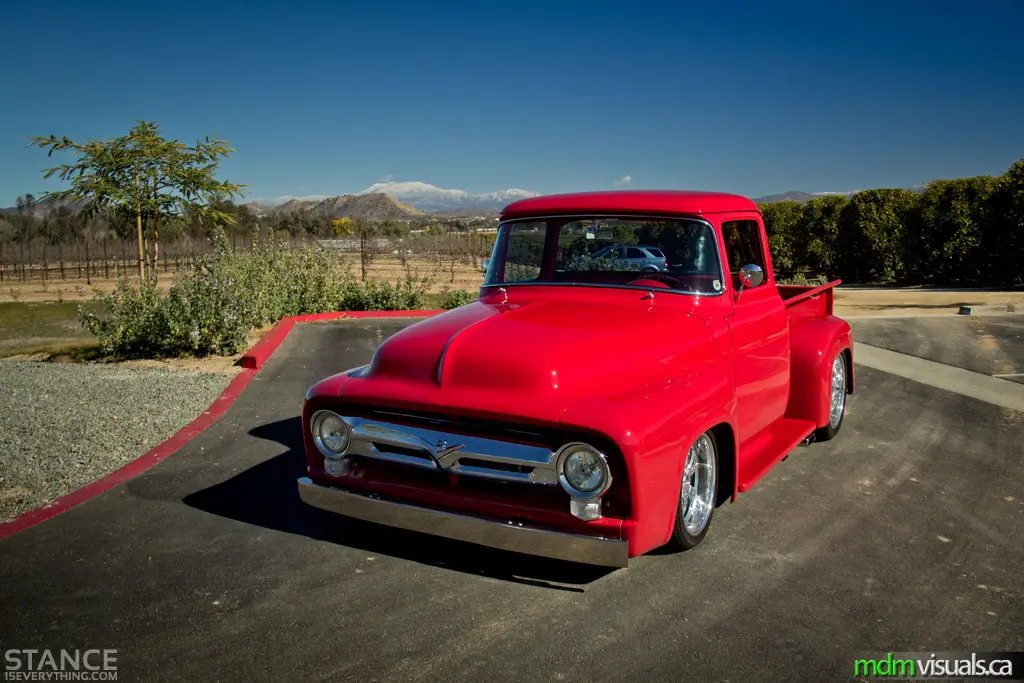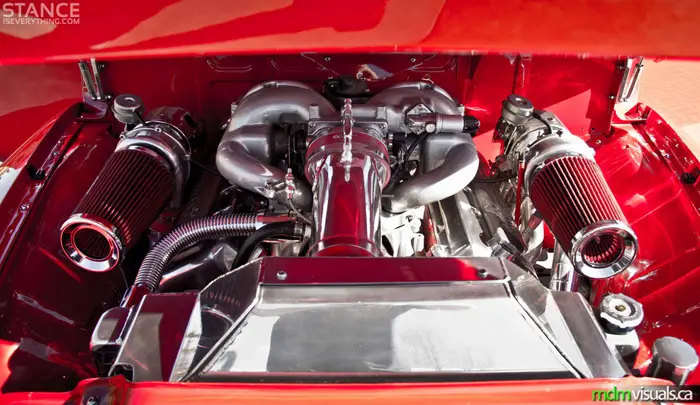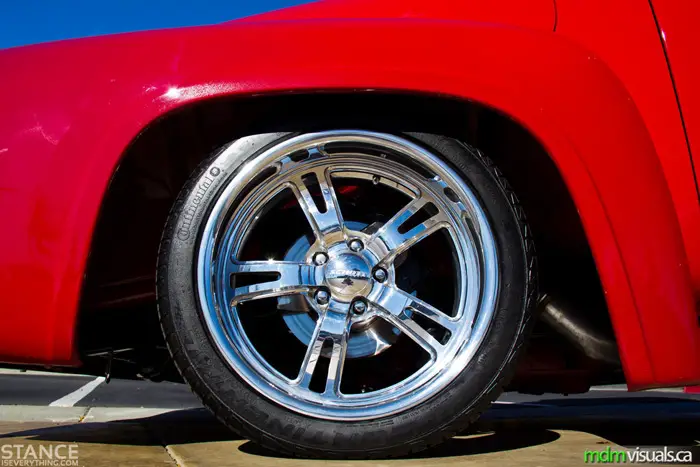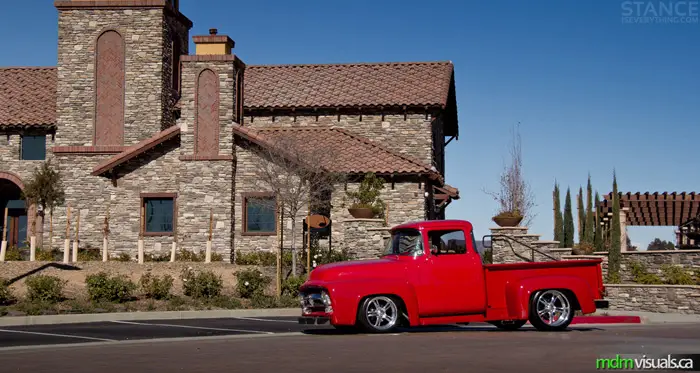 That 5.4L big block power plant is actually the main reason Chuck bought the truck, seeing the value in the heart past the blemishes that existed in the body.
The solid mill under hood made committing to restoring the body an easy choice and after blemishes were fixed the truck had it's handles and some unnecessary trim shaved before it was painted PPG bright red and fitted with a matching –and equally bright– red leather interior.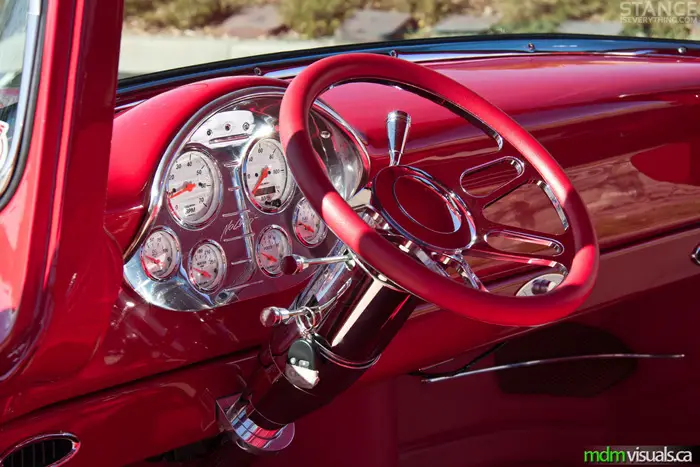 The combination of clean exterior, immaculate interior, and potent motor have earned this truck several trophies in the time Chuck has owned it in addition to a feature in Classic Trucks Magazine.
However as they say all good things must come to and end and Chuck currently has this beauty up for sale.
What will happen to the truck in the future, and what Chuck's next project will be, remains to be seen but I am very glad that Mike catch up with the truck before it drove off into the sunset for good.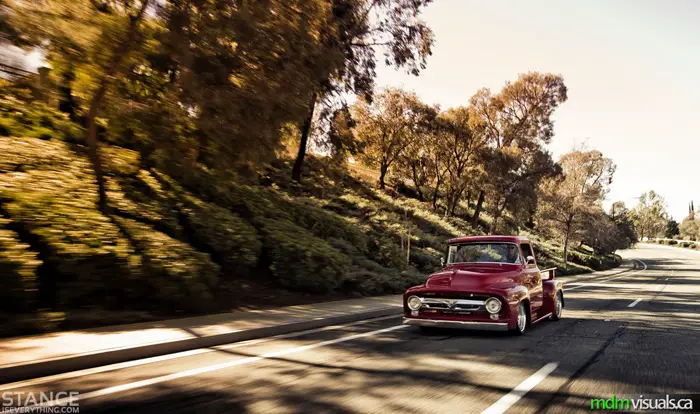 Modification List
Suspension/Chassis
Torsion bar front clip
No Limit 4-link
Rack and Pinion Steering conversion
Disk Brake conversion
Wheels/Tires
Schott 18×8 / Continental Extreme DWS 245/40
Schott 20×10 / Continental Extreme DWS 295/40
Motor
Twin Turbocharged 5.4L 32V Ford
Custom exhaust with 3-inch/Flowmaster 40 series
4R100 Transmission with Shift Kit
Body
Shaved Handles
Custom Oak Bed
Stainless steel bumpers
Interior
Smoothed Dashboard
Auto Meter gauges
Vintage Air air conditioning
Alpine stereo
Billet Specialties wheel
Red leather interior
Photo Credit: Mike McConnell/MDMvisuals.ca