Addiction is a funny thing, it drains wallets, consumes time, and changes lives immensely. While most addictions are negative this is not always the case, some addictions are nothing put positive. Chris Savard is an addict, but his vice of choice isn't snorted, injected, or swallowed, no, the only way his addiction can be quenched is via long nights, hard work, and dedication. Chris Savard is addicted to the build.
Originally from Peterborough Ontario, but currently living in Australia attaining his masters, Chris has been building cars since he got his first fox body Mustang at the age young age of 15. Since then he has owned and worked on over 30 foxes.
Having owned 30 of the same car in such a short period of time is impressive alone, but when you factor in the fact that he has also bought, built, and sold 10 e36s BMWs and 3  Ford SVT Lightnings in that same time period one begins to wonder if Chris ever sleeps and if his projects are fueled by profit gained from other peoples addictions. Chris used this mystery to his advantage and took on the 'Infamous' nick name that was eventually bestowed to him. Chris is now getting ready to show the car world just what a true car nut can achieve with his own two hands.
Chris' currently daily driver of three years (a near record for him) is a Silver 2000 Ford SVT Lighting which he purchased in Chicago after the owner moved there from Arizona. This clean southern platform came with a JDM (this JDM not Japanese Domestic Market) stage 1 performance package already installed.
While the stage 1 package consists of a 4lb lower pulley, upgrade valve body, CAI, and a 90mm maf Chris knew right away that more modifications were in order.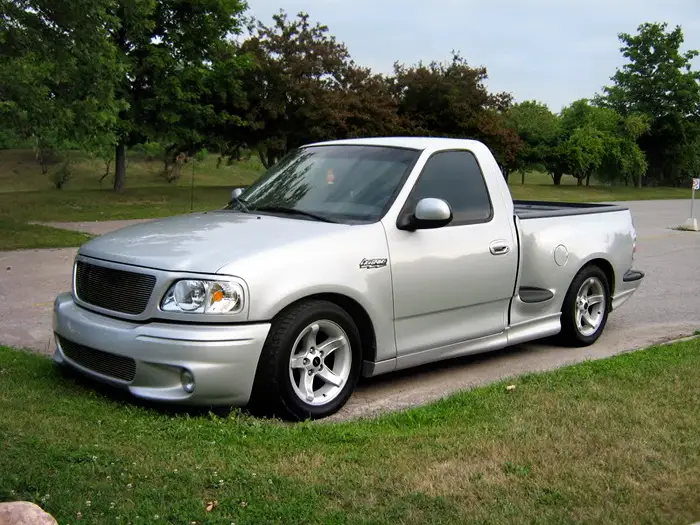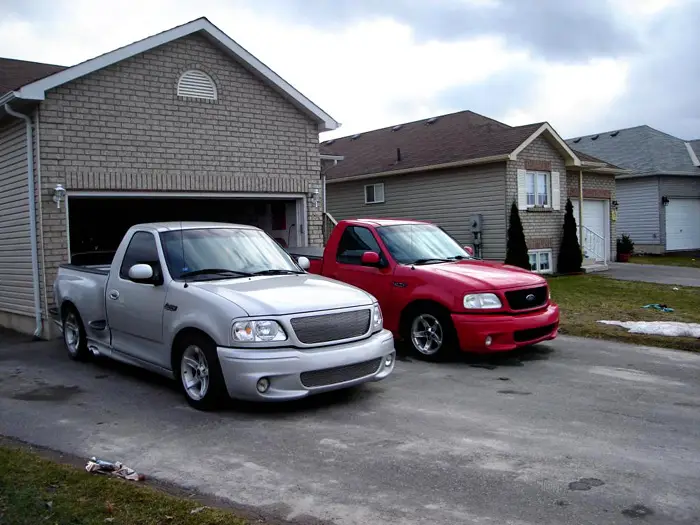 Chris originally dropped the truck down four inches in the front with two inch drop tubular control arms and matching two inch drop springs, and four inches in the rear via a DJM flip kit and C notch.
However after taking a step back and looking at his freshly dropped ride he realized that he could, and needed to, go lower. He had a set of custom three inch drop springs made and added a two inch drop shackle to the rear to give the truck its final 5/7 drop.
To help make the new ride height livable Chris installed drop shocks on all four corners.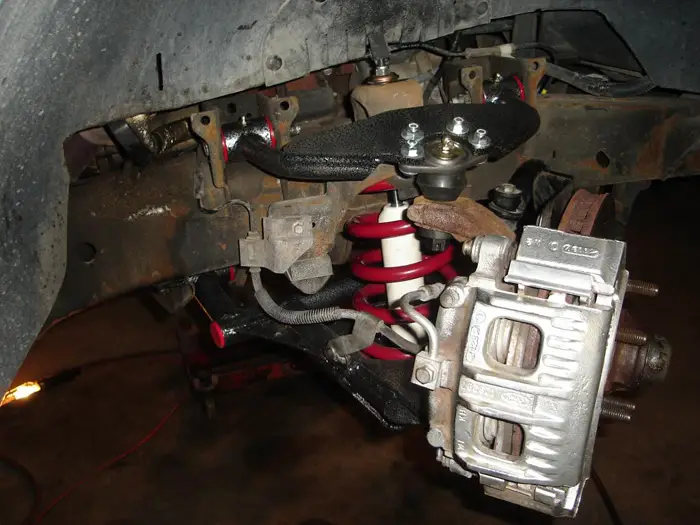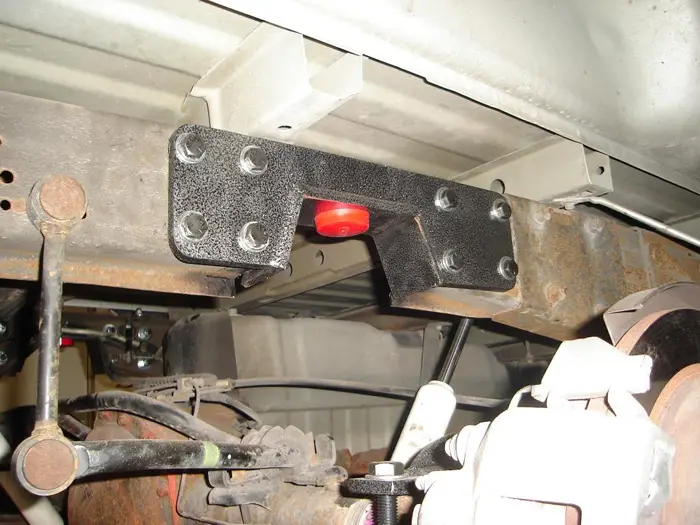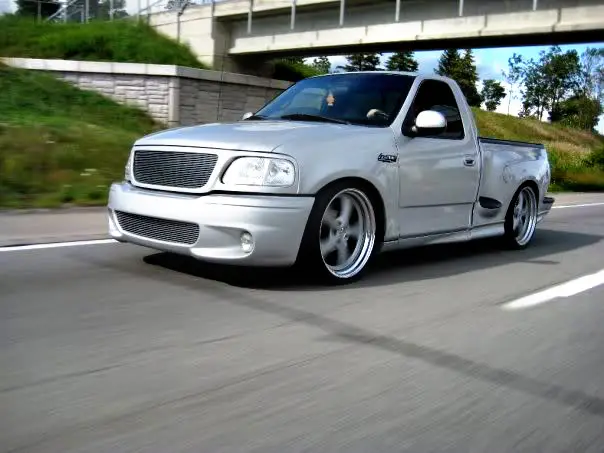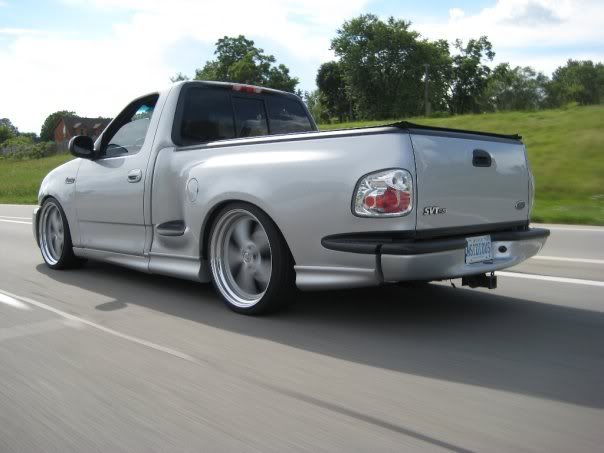 To set off the new drop Chris added custom painted 23″ 3 piece OZ vela rims with 295/30/23 Nitto tires. With such a drastic drop and large wheels some would say that Chris took a perfectly functional truck and made it impractical, however this Lightning is still capable of helping you move and towing water crafts to the lake.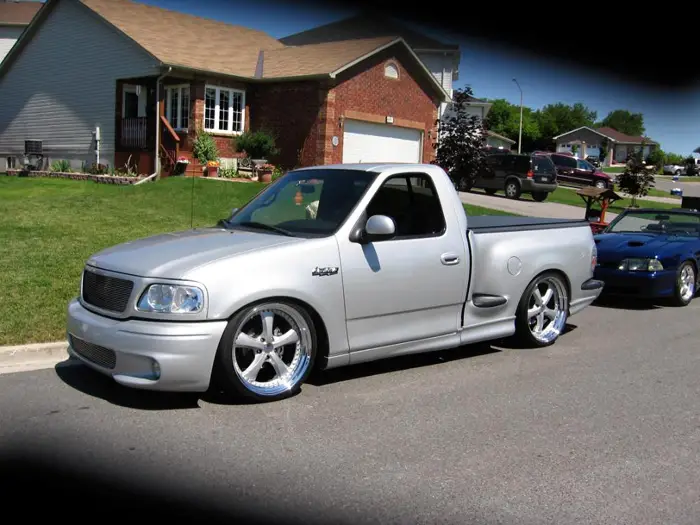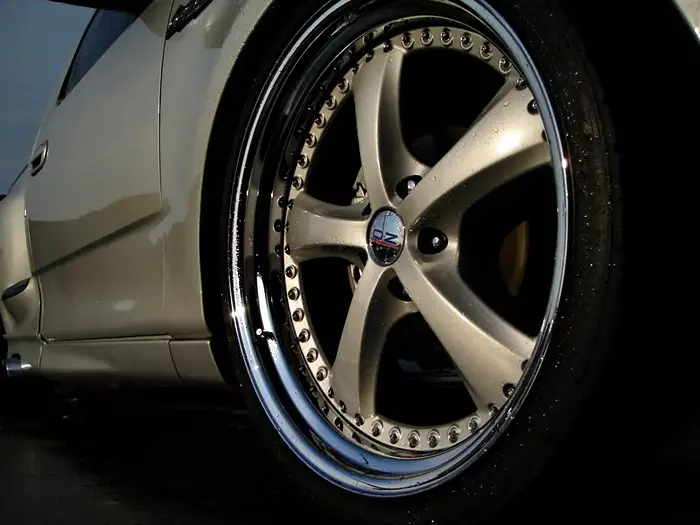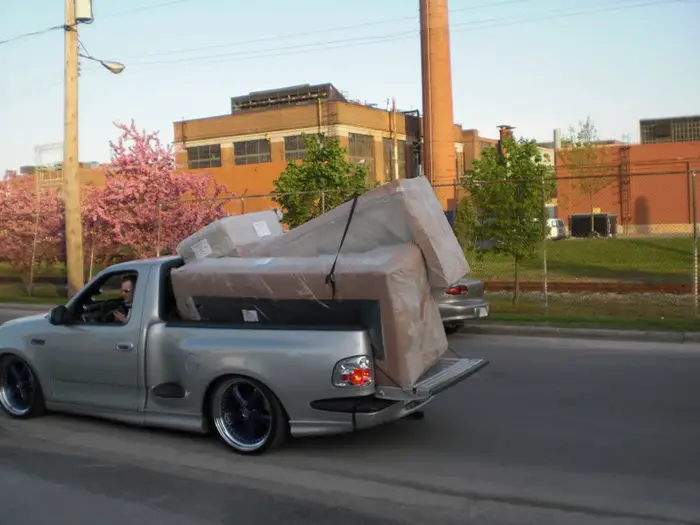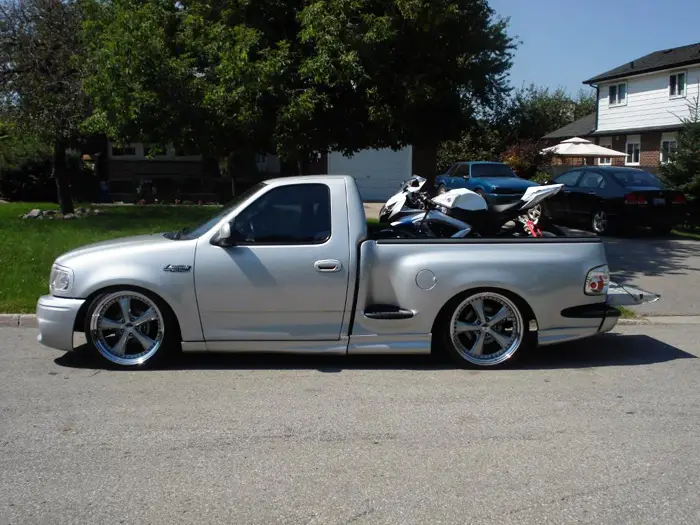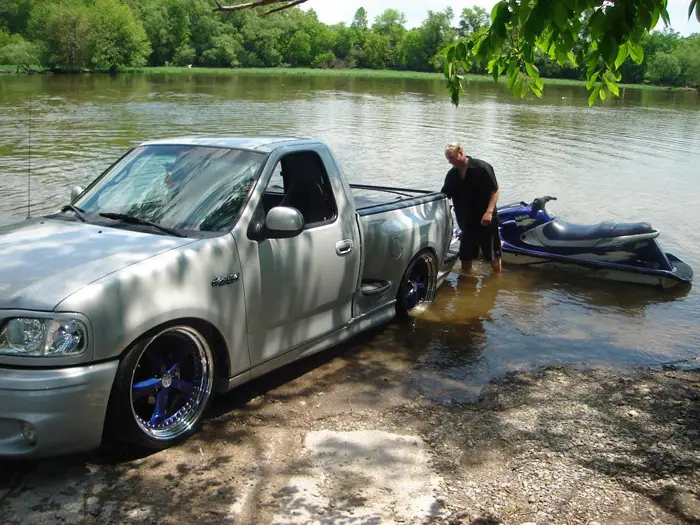 With the suspension and wheel set up squared away Chris decided that the already fast truck needed some more 'umph' when the loud pedal was smashed. This lead to the stock exhaust being ditched in favor of a MAC catback system, and the silencer holes in the blower being filled. Once that was all done the truck received a Royal Purple blood transfusion.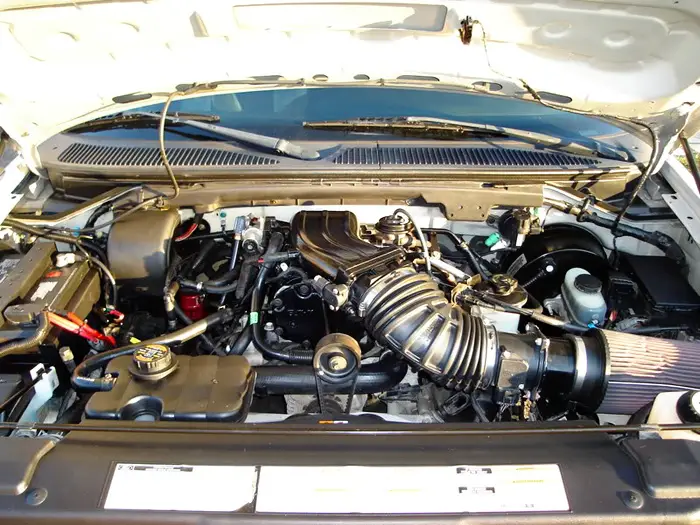 With the wheels, suspension, exterior (via billet grill, tails and 2pc headlights), and motor all being addressed Chris set forth to add his 'Infamous' touch to the interior.
Chris made his own suede black head liner in addition to dyeing the rest of interior black. He also swapped out the factory passenger bench seat in exchange for a bucket seat, finally the center console from a Ford Expedition was added along with a triple gauge pod and full stereo system.
Future plans for the truck include a Cervinis tailgate wing, smooth side steps and eventually a whipple blower once the current motor pops.
These future plans may have to wait at least three months as Chris is about to dive head first into The Infamous Project which will see him build a 1992 BMW AC Schnitzer and a 1989 Mustang GT Convertible for this years Performance World Car Show in Toronto.
The Infamous project will set a new standard for internet builds since not only will it be largely privately funded it will also be one of the only builds, to my knowledge, that will contain a live video feed of garage while Chris works on both cars.
If this double build is anything like his past builds it will be interesting, detailed, and clean, just what we all need to help us get through another long Canadian winter.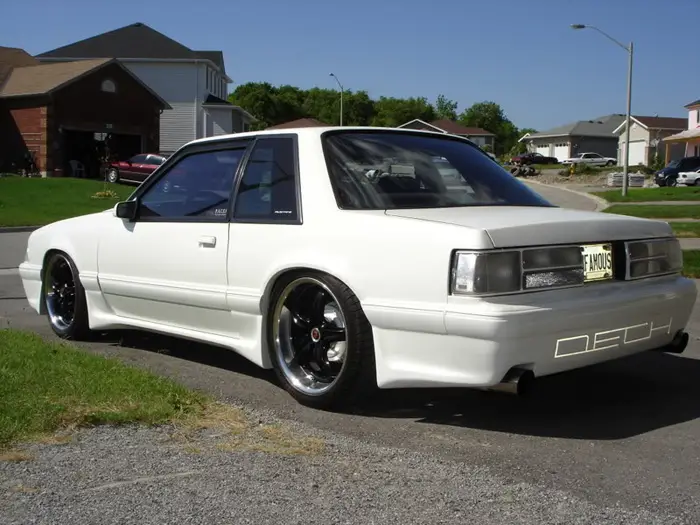 Thanks to Chris for sending his ride in for the feature and good luck goes out to him for both of his builds. I'm eager to see how the turn out.