It's no secret that I am a big fan of the caliber of cars California produces. I would guess that a good 80% of the cars I see from California I like, and, today's two featured e36s are no different.
Bryan's ti and his friend Marc's coupe are perfect examples of my favorite type of automotive styling.
Clean and slammed, with just enough of a personal touch to make them unique.
Bryan's Ti
Before getting his e36ti Bryan was just about to leave the BMW scene for good and go back to his first love, Honda's.
However when a too good to be true craigslist e36 ti popped up nearby Bryan felt compelled to go take a look.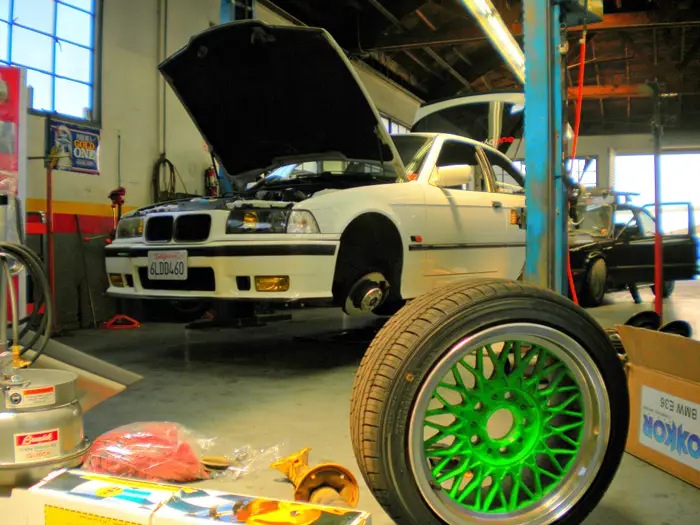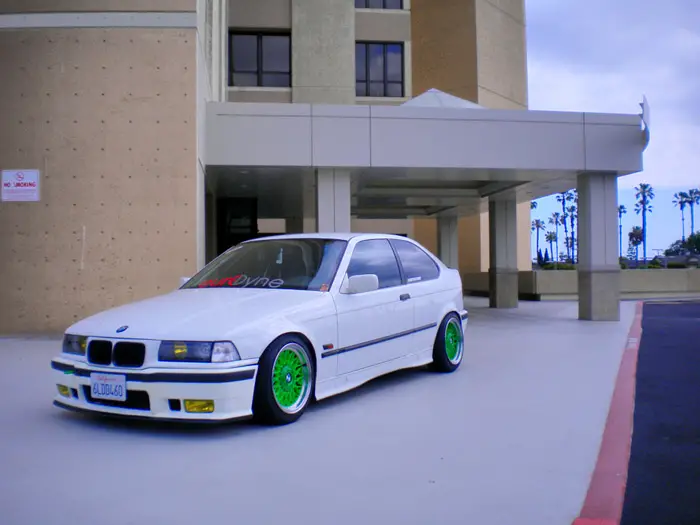 Things started to look grim for this cars future when it overheated 3 times on the way to his mechanics for an inspection.
After learning the extent of the work that needed to be done to this car Bryan talked the owner into dropping the price from $1200 to $700 and the rest, as they say, was history.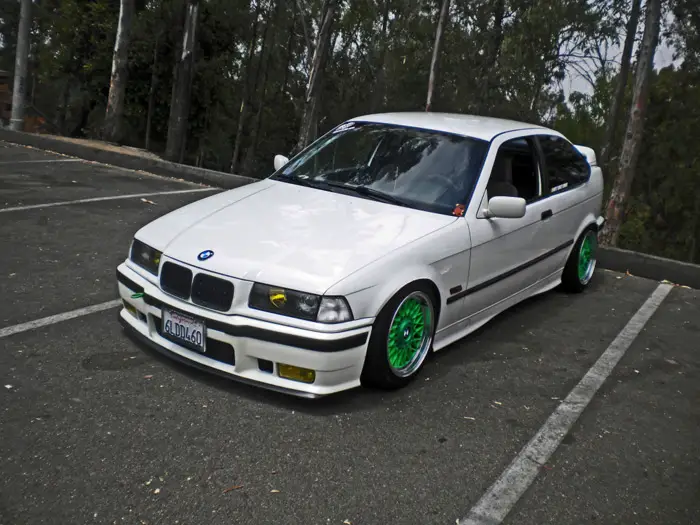 After getting the pesky maintenance work (brake and cooling system over hauls) out of the way Bryan corrected his ti's laughable stock stance with Rokkor coil overs which brought his car down so that it's stance complemented his bright green BBS wheels.
Wheels which he finally settled on after an astonishing 10 sets previous.
After the suspension was dropped Bryan ditched the bland e36 factory bumper in favor of  the M3 version, and  in a final effort to drop as many jaws as possible both coming and going Bryan added an LTW spoiler to the rear.
Performance wise Bryan's hatch has a Dinan short ram intake and n1style exhaust.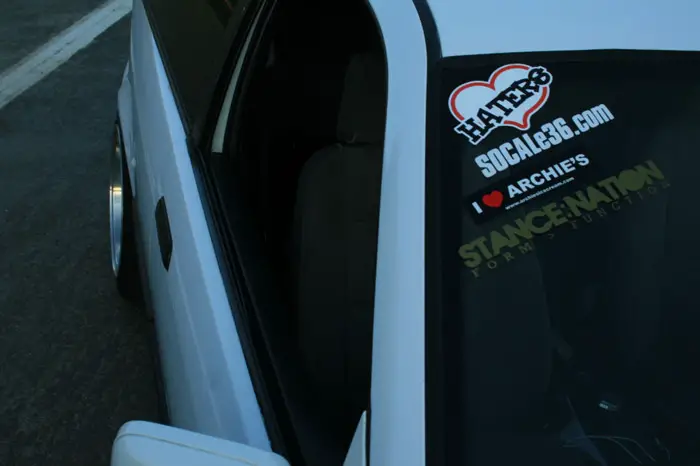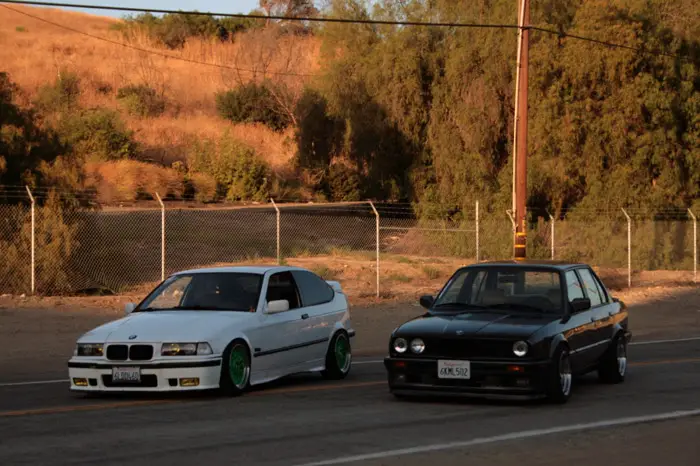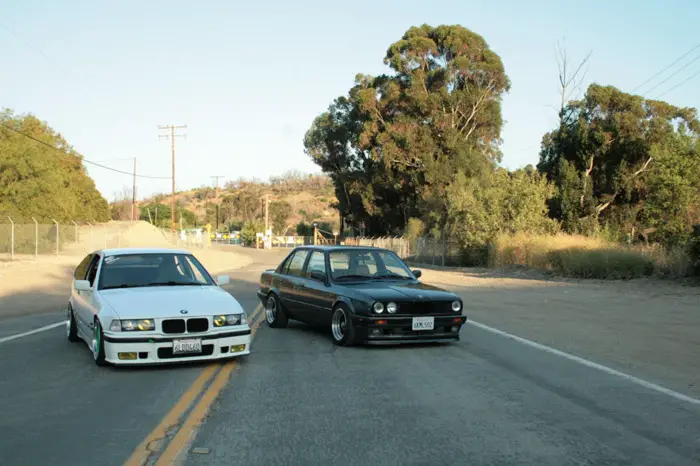 Bryan was going for a final look that reflected his unique personality and the pride he takes in his vehicles, judging by the finished product it looks like he succeeded on all counts.
The car looks great and it's sure not to be one that many people are soon to forget.
Bryan didn't do this all alone however and would like to thank: Terry Keith at Star Tech Foreign auto repair in Rowland Heights, Ted at Turbo Teds in Costa Mesa, Ayed at H&H Valley Autobody, Joe at Euro Dyne, The West Coast Euro's crew and his girlfriend Lorena for making this all possible and pushing him to succeed.
Marc's 328i
Like girls hot cars roll in packs and the other half of today's e36 double feature showcases what Bryan's friend Marc has been able accomplish with his e36 coupe in just 7 months.
Obtaining a solid base chassis to work with Marc quickly got to work making the car both look and perform far better than how it came from the factory.
Like many e36 owners Marc knew that BMW hit the mark with the design of the m3 and styled his 328i after it by adding a DDM M3 front bumper, an m3 styled rear diffuser, and finally M3 side skirts and mirrors.
Marc also added DDM Motorsport door moldings, DJ auto euro ellipsoids (with 6000k HIDs), euro side markers, clear fogs and corners and French style fog lights.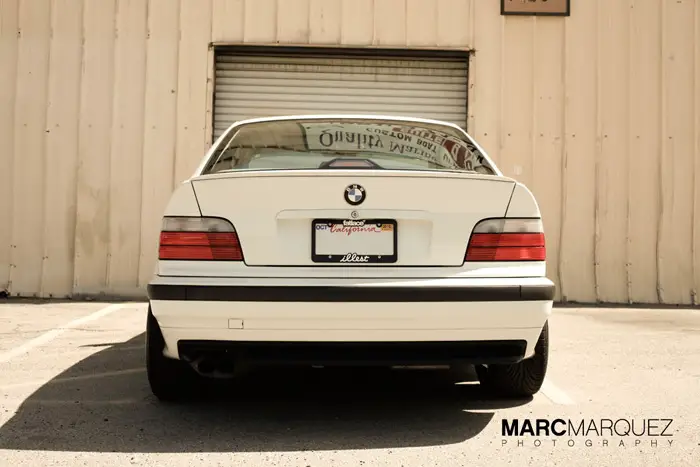 Once all that wrenching was complete on the outside Marc turned inside replacing his factory headliner with the m3 version, adding carbon fiber trim and last but not least replacing his factory seats with a set dove gray vaders.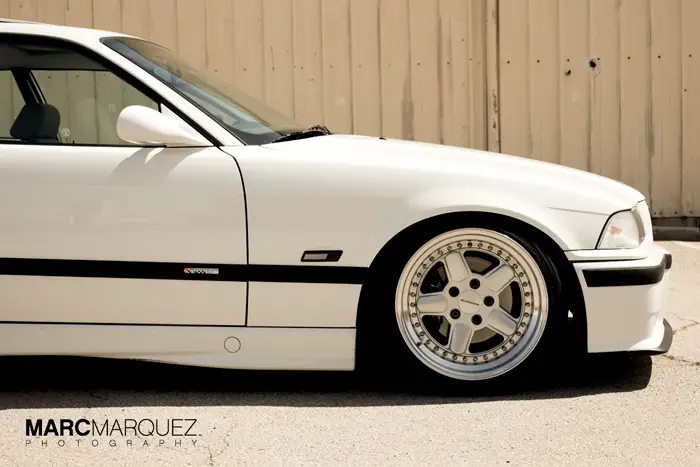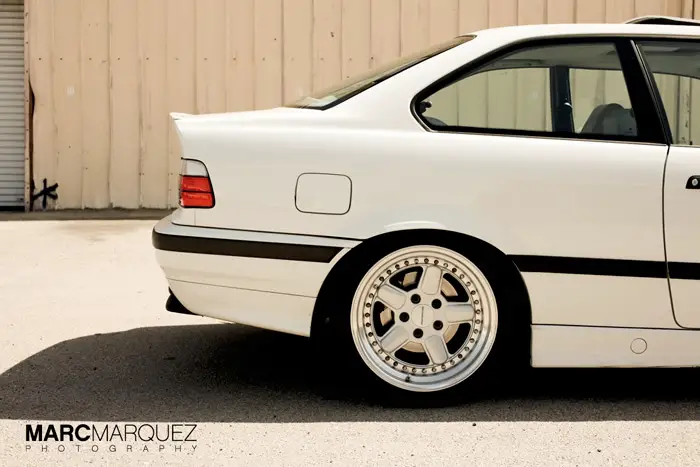 In the performance department Mark added a Dinan front strut brace and cold air intake, m3 x brace, DTM exhaust, and UCC stainless steel brake lines.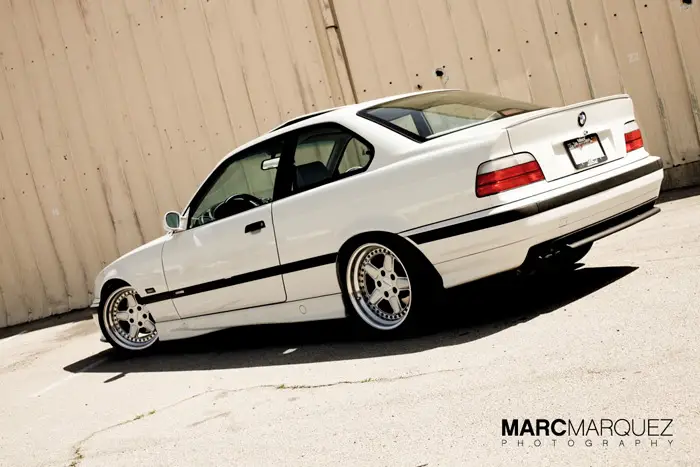 Once everything else was complete Mark threw the icing on the cake by adding a set of BC Racing BR Type coil overs alongside a set of immaculate looking German imported 17×8.5 (et13) and 17×9.5 (et21) AC Schnitzer type 1 wheels.
Both of these cars look amazing and you won't see my picking a favorite anytime soon but I do want to thank both of them for sending in the photos and information which allowed me to feature their cars here on Stance Is Everything.
Thanks guys.