I told myself I wasn't going to write about the latest version of this car. Not because I don't like it, but because Speedhunters did it, Fatlace did it, and even Jalopnik did it. This  post has sat as a draft for about two weeks while I tried to decide if my input was at all necessary.
After reading a comment calling this car 'nothing more than a POS' in a thread titled 'How much time did this guy waste' I  found myself coming back because while a lot of people love the car, a vast number of people hate it and while everyone is entitled to their own opinion many are missing the point.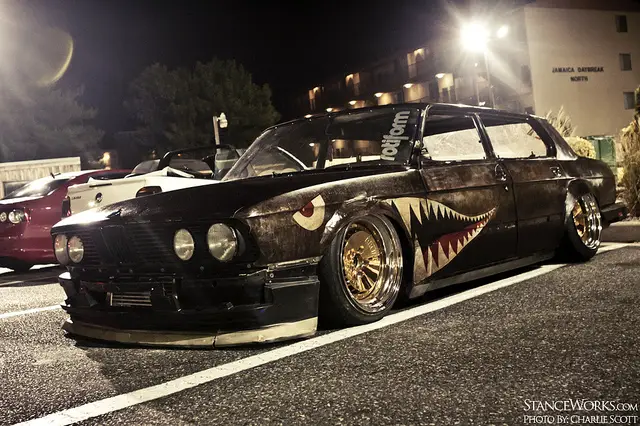 To think of this car as a BMW is wrong, what started as a simple daily driver has evolved into the ever changing piece of automotive art you see today. What the purists, who are ready to set fire to Mike, are quick to forget is that this car was for all practical sense written off a long time ago and just happens to be exceptionally good at dodging the grips of the crusher.
M. B(f)urroughs has created a car which embodies nearly every type of automotive modification, Rusty has an eclectic combination of modifications that very few people are used to seeing in one car.
This brave and radical combination is what is causing many to take to their keyboards in blind rage.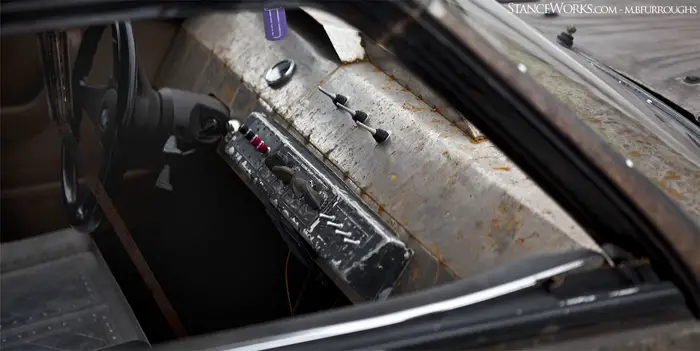 I'll admit first looking at the car you might see the signs of someone who didn't know when to say when, however the more you look at it the more you can see the work of an enthusiast who pays attention to all parts of the automotive hobby.
Not sure what I mean? Here is a quick break down of the way I see the modifications:
Euro: The arches, the Ronals, the camber, and the stretch
Hot Rod: The boosted 1jz motor swap, which is no different than a chevy powered 32 Ford
Tuner: Again the boosted Toyota power plant checks this off
'Rat' Rod: The paint, or lack there of
Minitruck: The air ride, the need to lay frame, and the ability to throw sparks
Custom/Vintage: The interior, which in my opinion is a work of art.
Lead sled: The roof!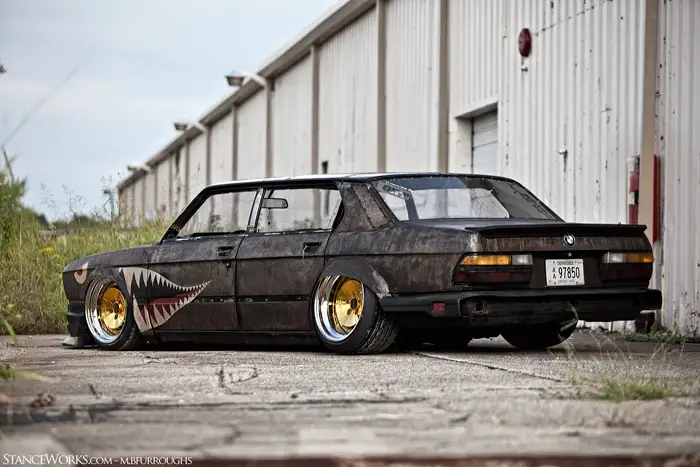 Like many the first time I saw the 'God Father' iteration of rusty I was a little conflicted as I really liked the previous version but as time passed, and the roof began to grown on me, I've come to understand that while there are still things about the car I may not like personally Mike has created the perfect contrast to his clean e36.
Now he has the best of both worlds: a clean functional car, and a radical impractical fun as hell car.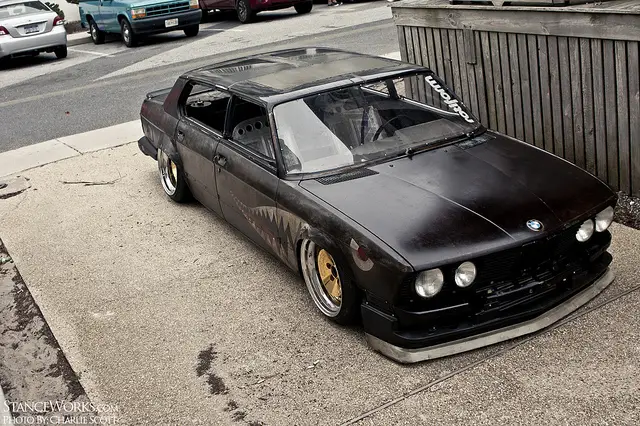 If you still have your doubts about the car as a whole I suggest taking the time to read through the build thread on stanceworks, it's the best way to understand what this car is and how much work Mike has put into it the past few years.