While walking through the 'Dub Show Tour Live' at SEMA two cars caught my eye amongst the sky jacked 4×4's and boxes on 24″ wheels. Even an  s-chassis noob like myself could tell that the two cars Mastermind brought to the show were something special.
Never before had I seen two cars that compliment each other so well,while at the same time represent the very different tuning styles of the United States and Japan.
The first thing you probably noticed about each car is the unique Sprit Rei Odyvia body kit, but really the exterior just the tip of the iceberg in terms of the modifications done to these cars.
The first car, brought over from Japan, is courtesy of Restored.jpand has a lot of unique, traditional JDM modifications done to it.
Under (and creatively airbrushed on) the hood is an L28 motor which has received some aftermarket love including, but not limited, to Kameari adjustable sliding cam sprockets, Kameari twin idler gears, and a stainless steel header mated to a modified S13 exhaust.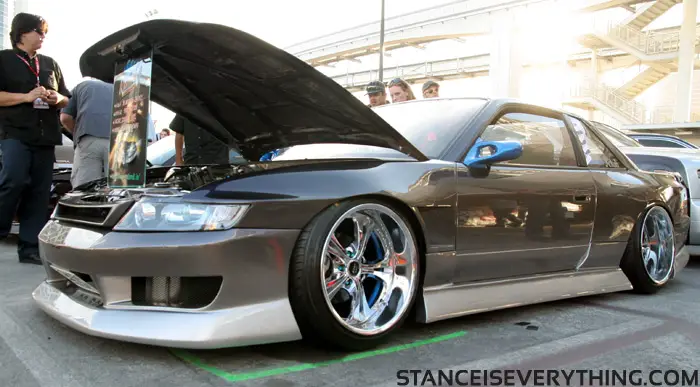 Between the doors some of the modifications include the dash and aluminum gauge panel from a Ken & Marry Skyline, Datsun type bucket seats, and a Vertex steering wheel.
The engine's vital internals are monitored by a combination of Oomori gauges and an Autometer tach, while aural pleasures are provided by a Carrozzeria high end audio system.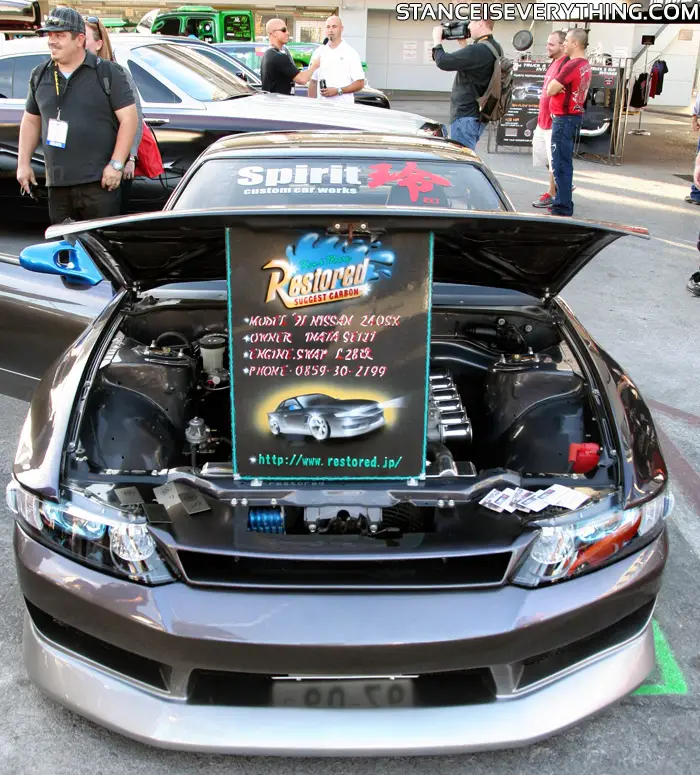 The wheels tucked up under that clean two tone paint job are Kranze Cerberus II which are 18×10.5 in the front (-22 offset) and 18×10.5 (-31) out back.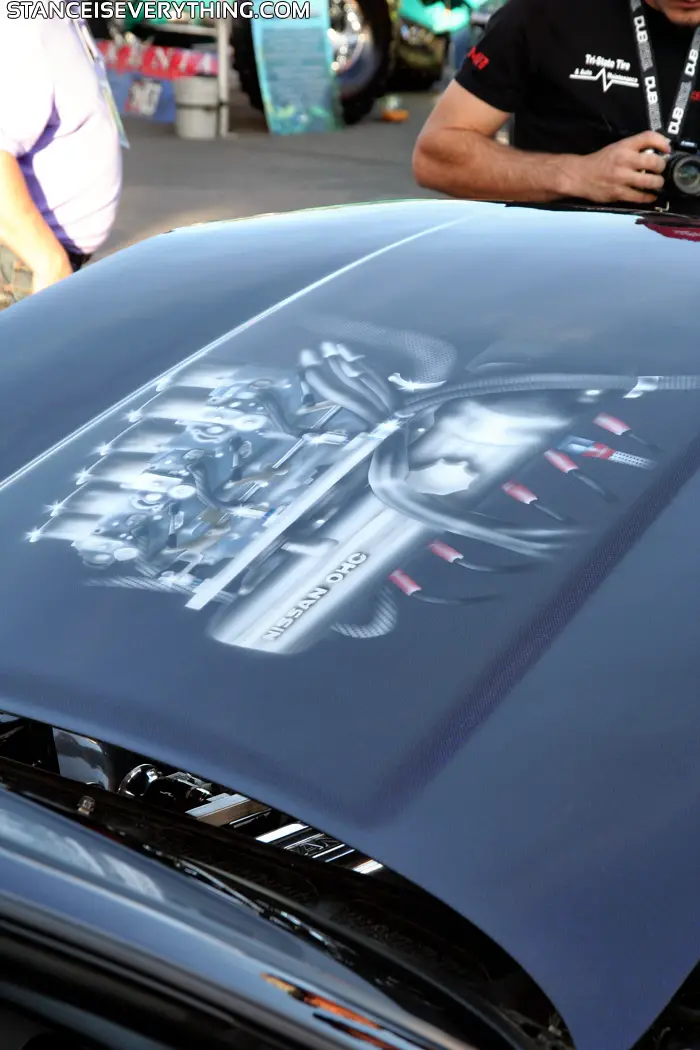 At first glance The Mastermind Odyvia below might not look too different from the restored.jp one above.
Yes this car does also has the Sprit Rei Odyvia body kit installed but in addition to that it's also had Spirt Rei wide front fenders and quarter panels mounted to increase the cars wheel stuffing ability by 55mm up front and 85mm out back.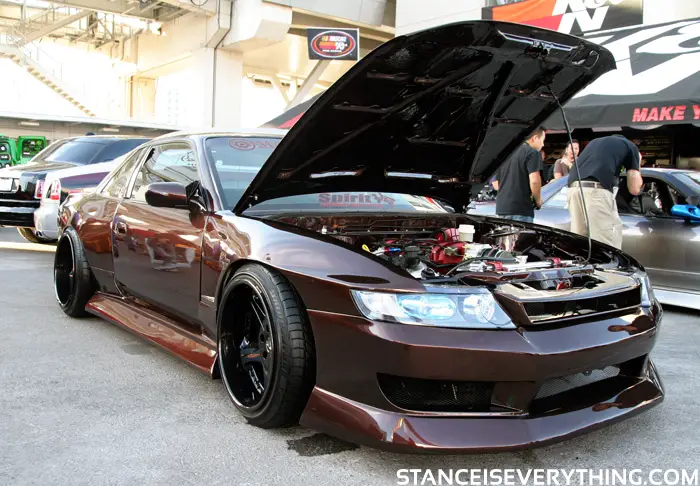 The result is a wider, custom PPG Radiance II Candy Brown colored, body which is suspended inches from the ground, and millimeters above the black face/solar rain lip custom widened 18×10 (-25) and 18×12 (-32) Leon Hardiritt Orden wheels by Buddy Club D1 spec suspension.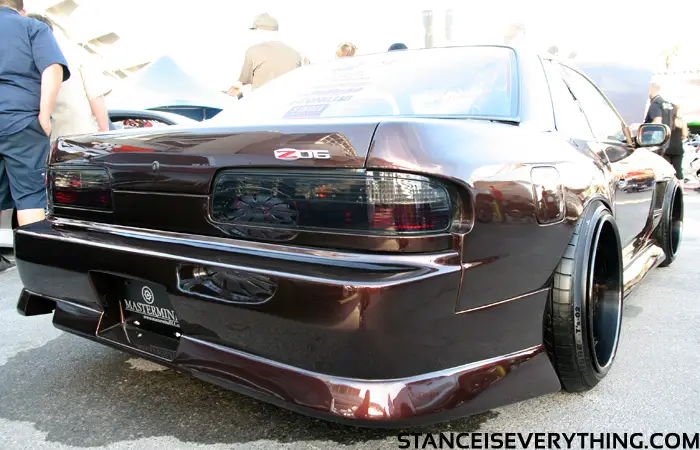 The stance of this car is on point, the exterior is flawless, and the interior has been treated to a healthy dose of suede (front & rear seats, dash, a-pillar trim, b-pillar trim, headliner, and door panels), but what really sets this car apart from it's JDM counterpart is the power plant.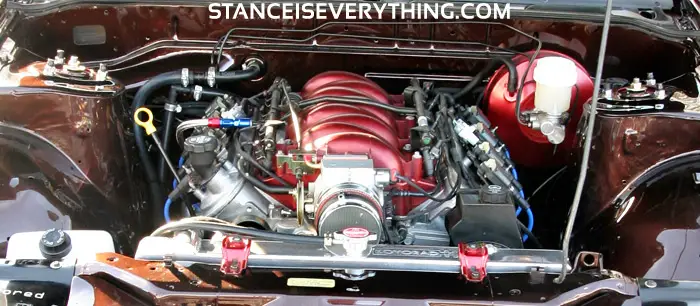 This car has an LS6 crate motor which the Mastermind was able to make live and breathe (scroll down for video) between the strut towers thanks to custom one off items like the wiring harness, drive shaft, and header.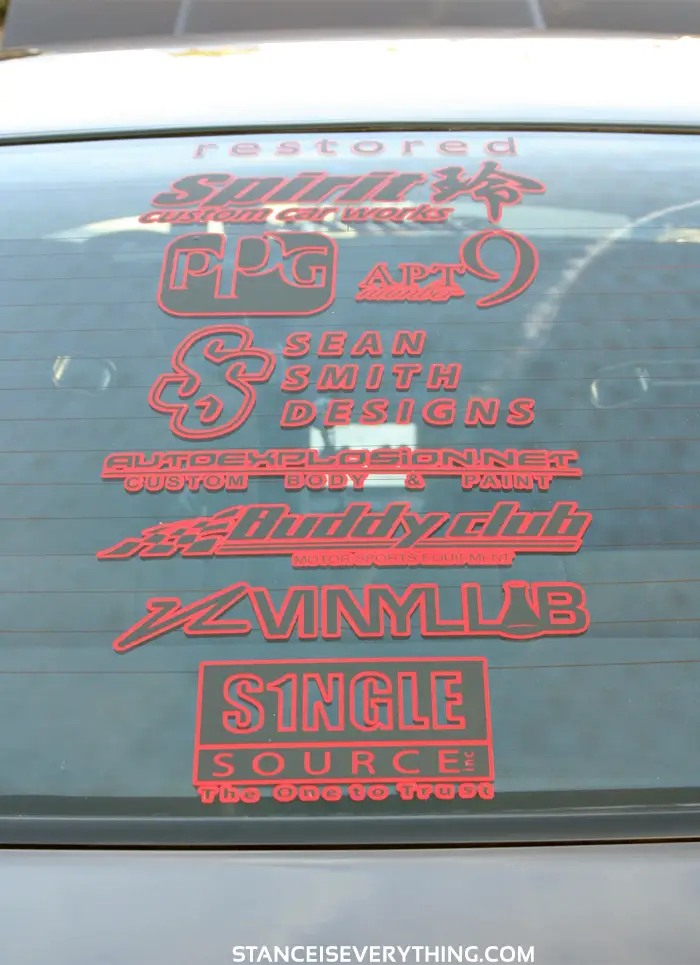 The Mastermind team really pulled out all the stops for their SEMA build and were very great at providing me with lots of information for this SEMA Show Stopper feature, be sure to check them out at MasterMindNa.com, Facebook, and on YouTube.
You can keep in touch with their japenese counter parts on restored.jp
With all the power their s13 has on tap I can't wait until they take this car out on the track for a shakedown, let's hope they record it!