The 2017 SEMA Show coverage so far has bounced back and forth between both function and form, but in this post the scales tip more significantly towards function.
Don't worry however, though there won't be any cars laying bumper, frame, or door, in this post –more of those to come– these performance minded builds still look great. This is SEMA we're talking about after all.
Now, usually saying a post is going to be dedicated to function, and leading off with a Prius would make no darn sense at all, but this is no ordinary Prius.
If the big eagle/American flag livery didn't tip you off, then hopefully the badging did in regards to what's under the hood of this form fuel sipper.
Showing up in the unlikeliest of places, is a Dodge Hellcat motor and Whipple charger.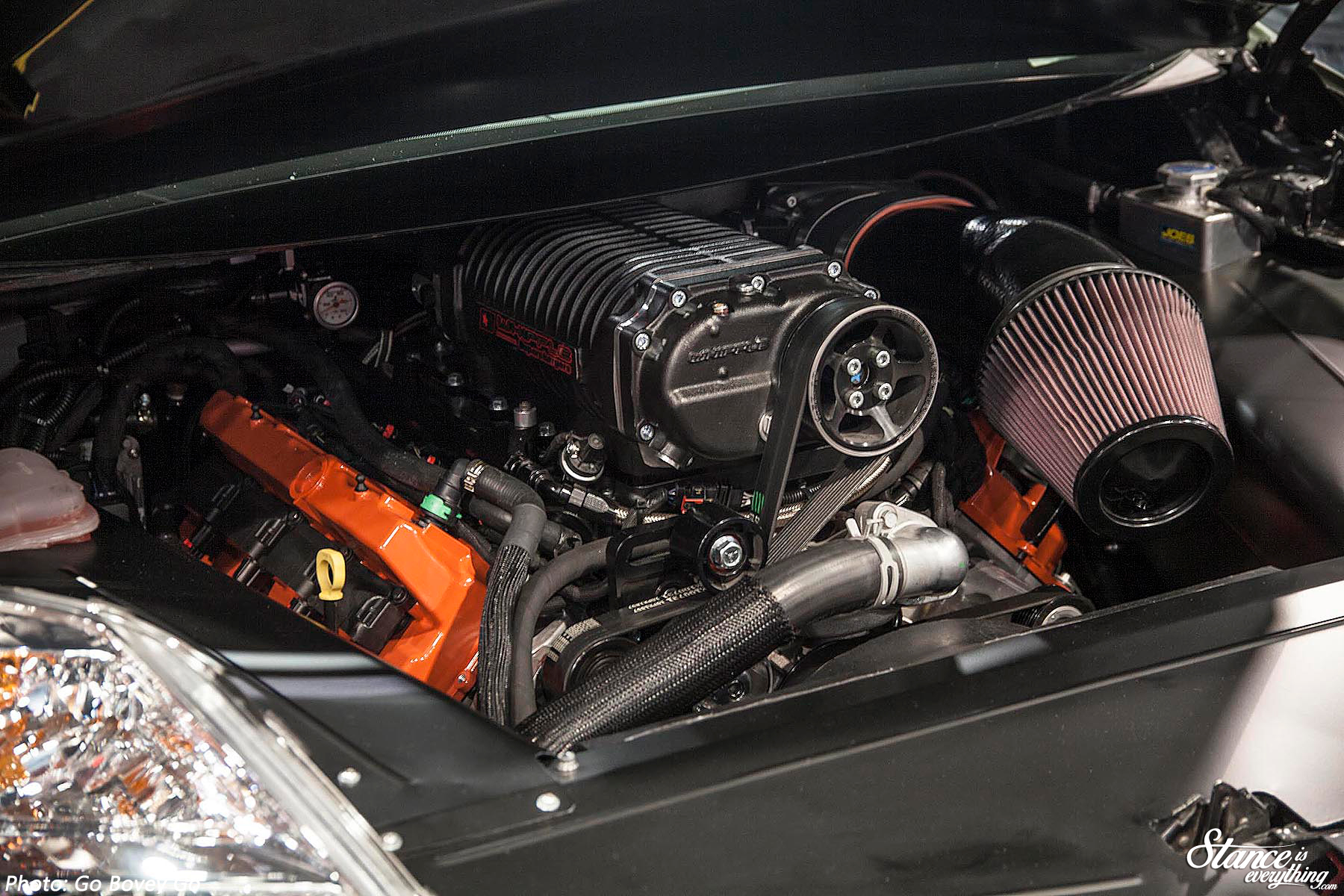 She's a tight fit no doubt, and it's really a Prius shell over a custom tube chassis, but, with proper headlights, tail lights, and opening doors this car is still, enough Prius to call it a Prius.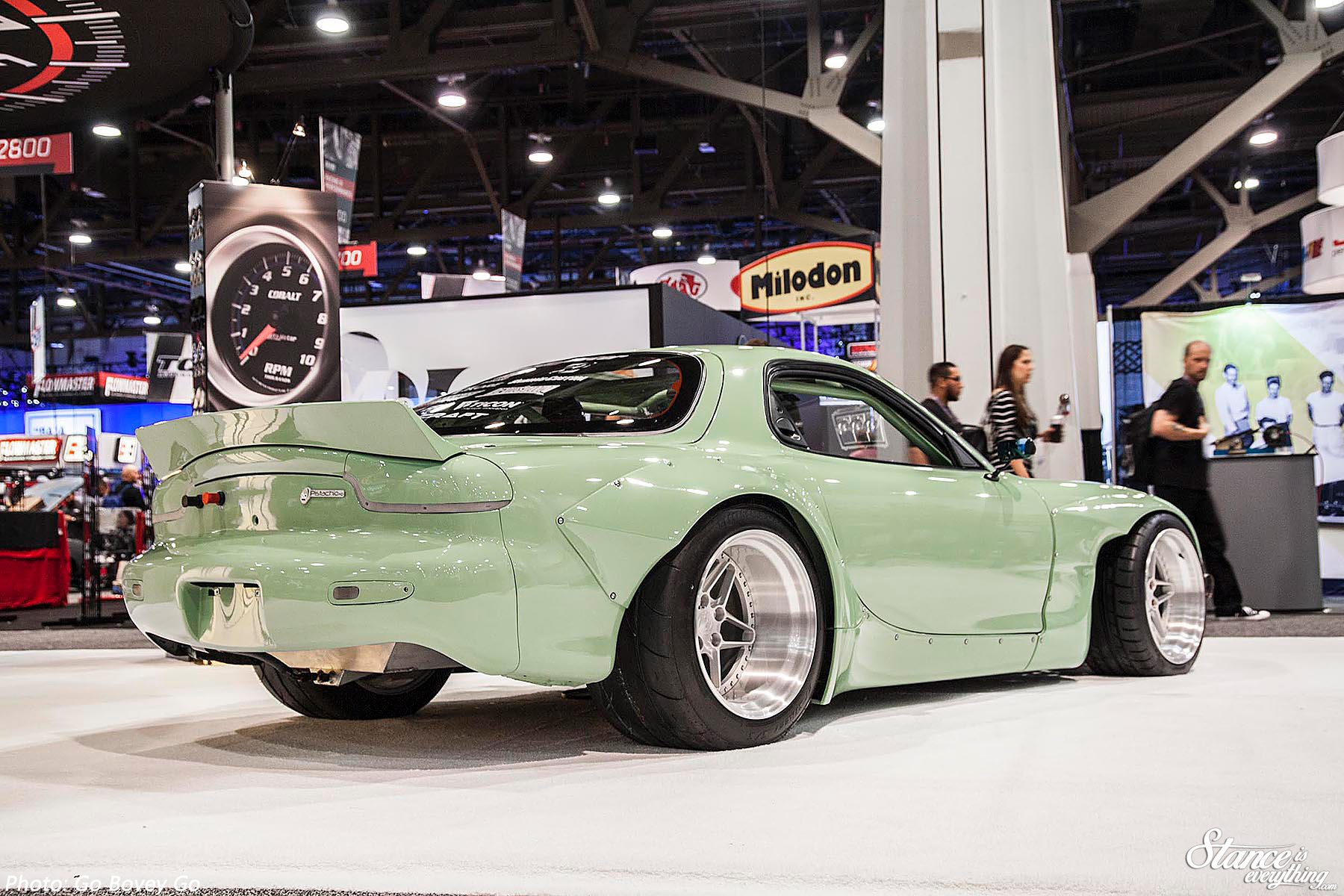 Sam Morris' RX-7 has, for good reason, received a great deal of publicity from the 2017 SEMA show. Painted a unique pistachio color, sitting on Fifteen 52 wheels mounted under Rocker Bunny fenders the car looks the business, but what's under the hood is what has most people talking.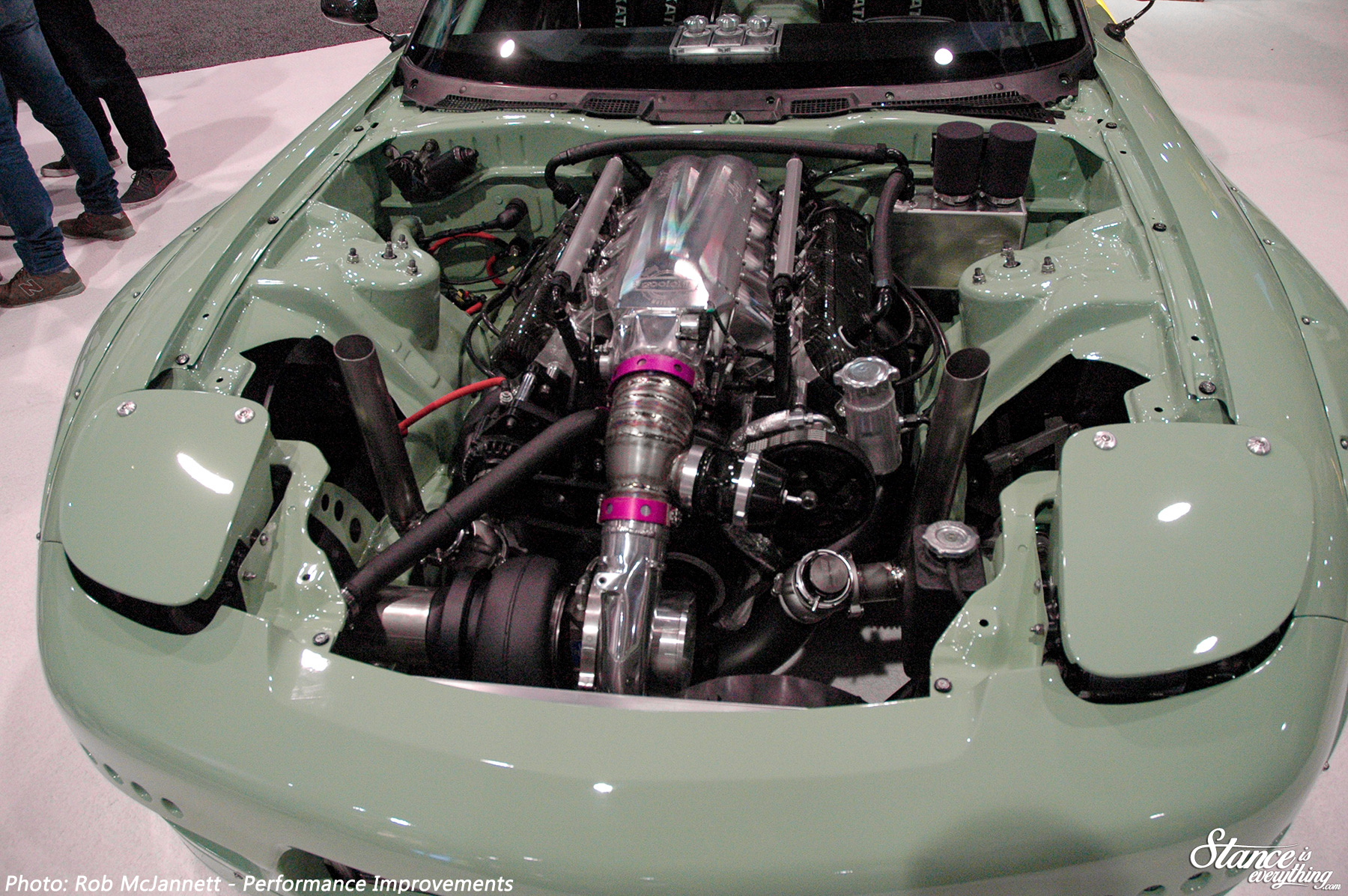 To the chagrin of Rotary fans everywhere the rotary power plant has been evicted in favor of a twin turbo LS.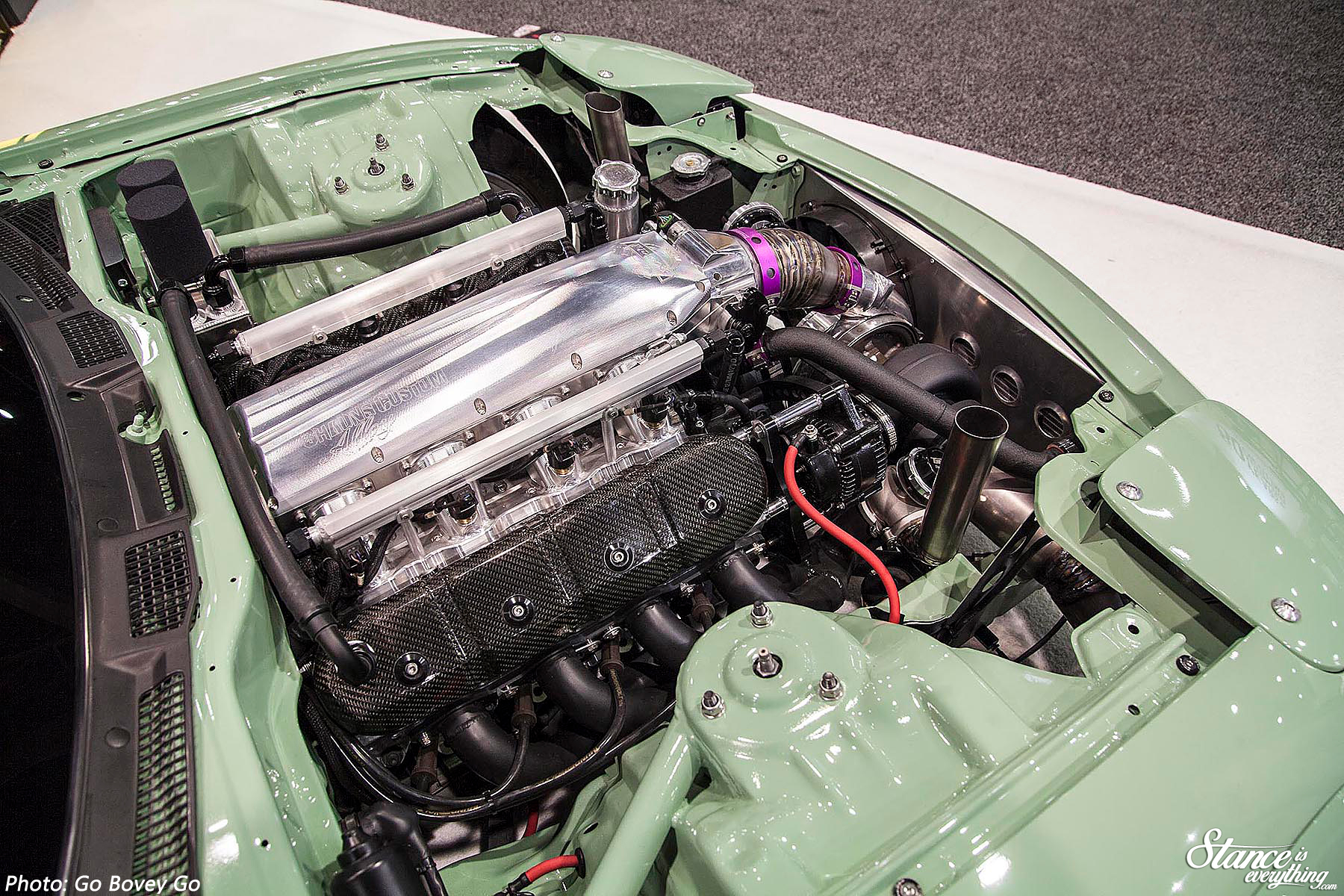 The swap looks very well done, with lots of attention paid to the minute details. Carbon fiber valve covers, a polished intake manifold, tidy plumbing, and a nicely tig welded intake sit nicely in a painted and smoothed engine bay.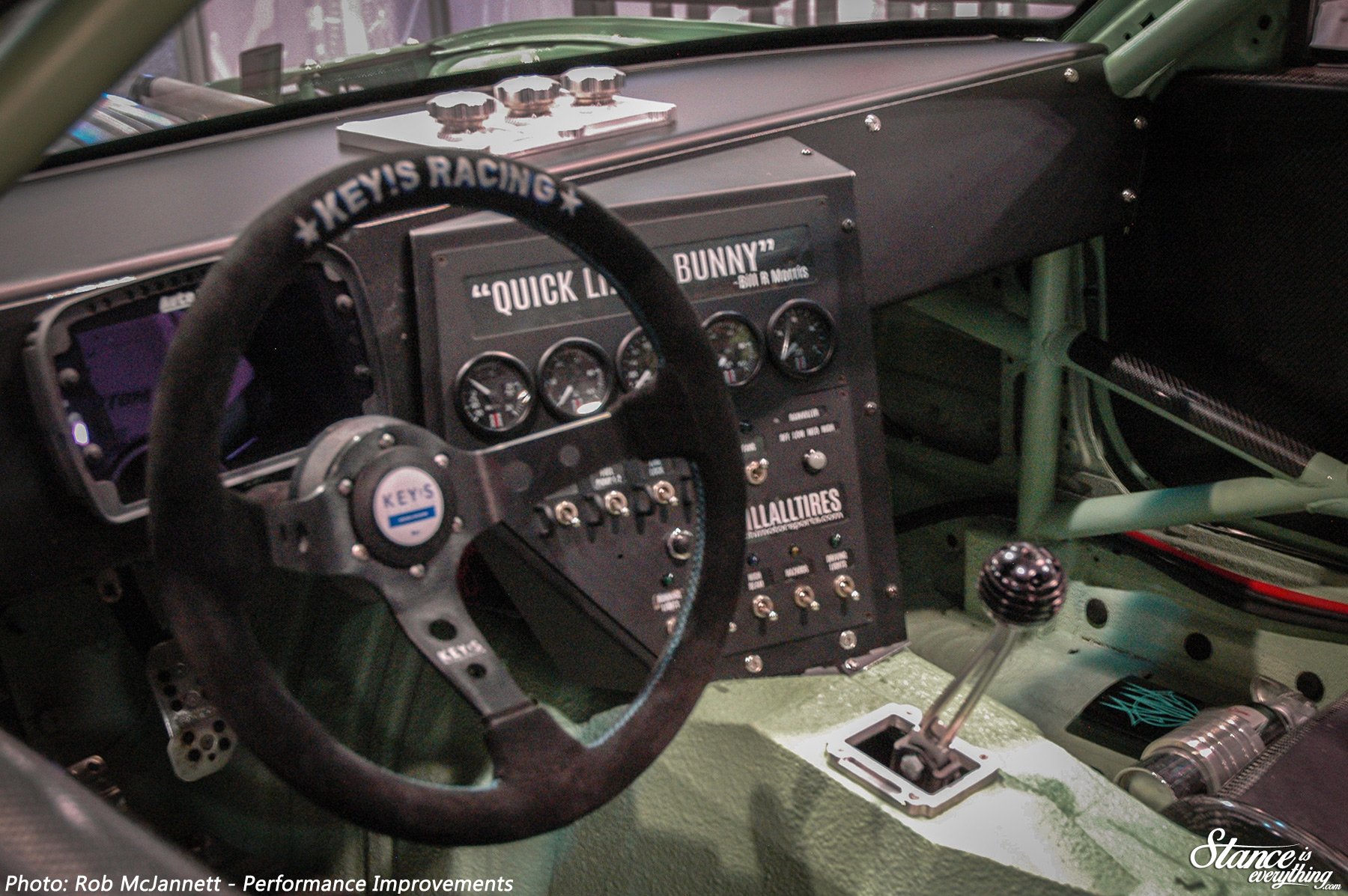 The car isn't running yet, but, a little sleuthing reveals that it should be up and running shortly. The owner doesn't plan to baby the thing so hopefully we see a little track action pop up on his Sam's Instagram account when all is said and done.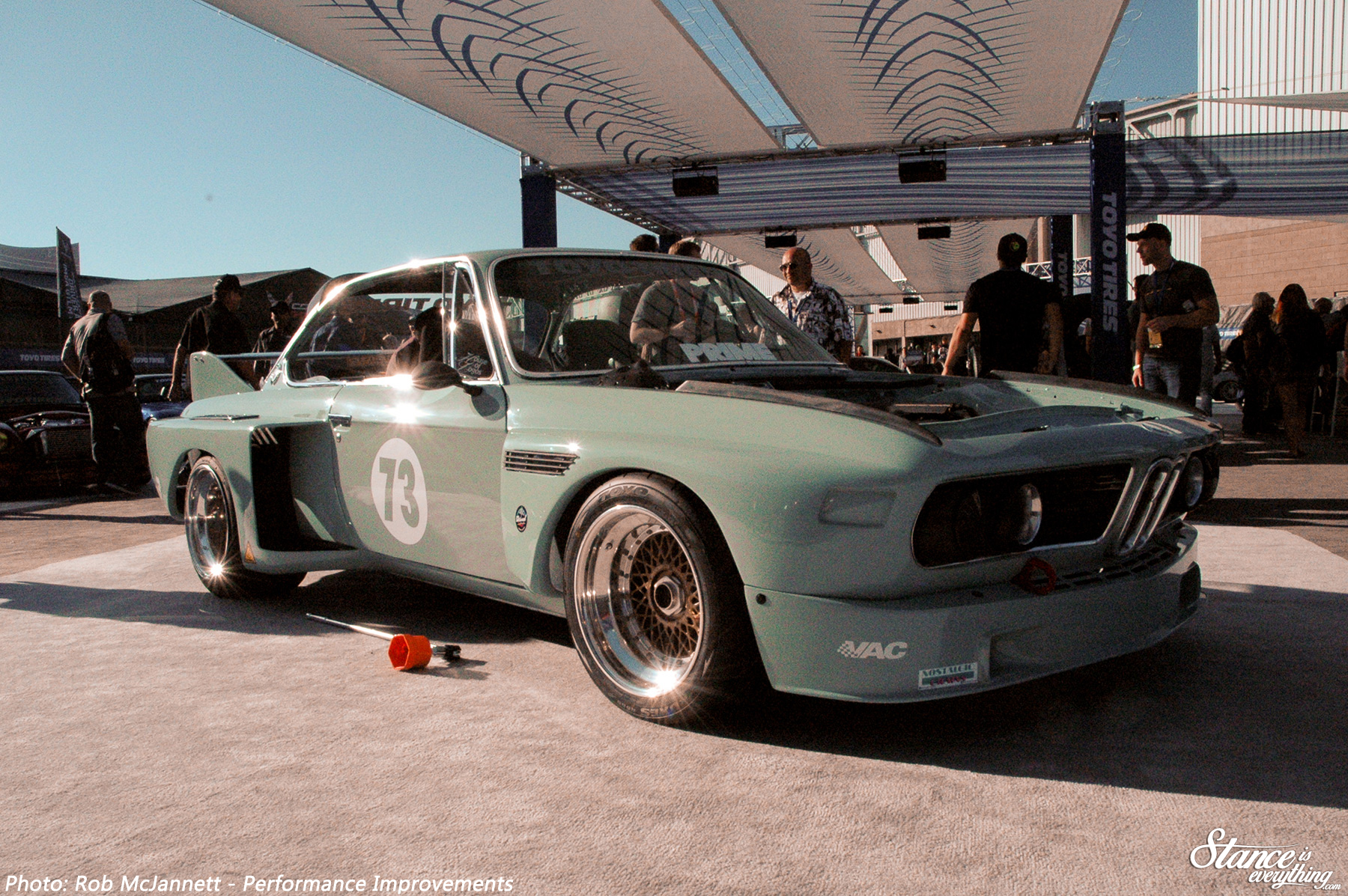 Taking a trip outside, @old_dtm/@old_jdm had his Group 4 tribute race car sitting in the Toyo Tread Pass area.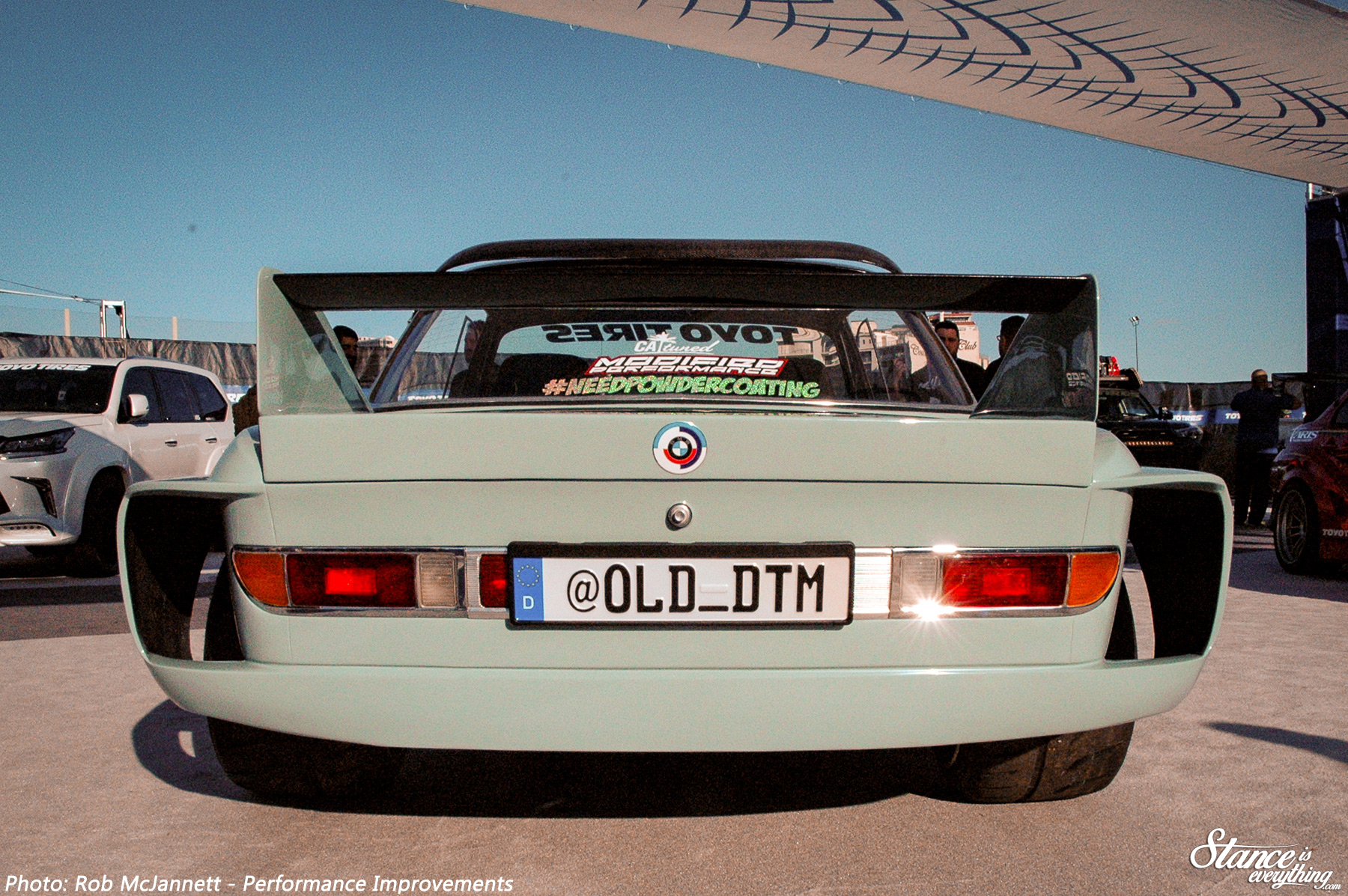 The car certainly does look the part, fit with center lock wheels, proper wide fenders, and a CSL wing. A turbo S52 motor under the hood gives the car the power to back up its look as well.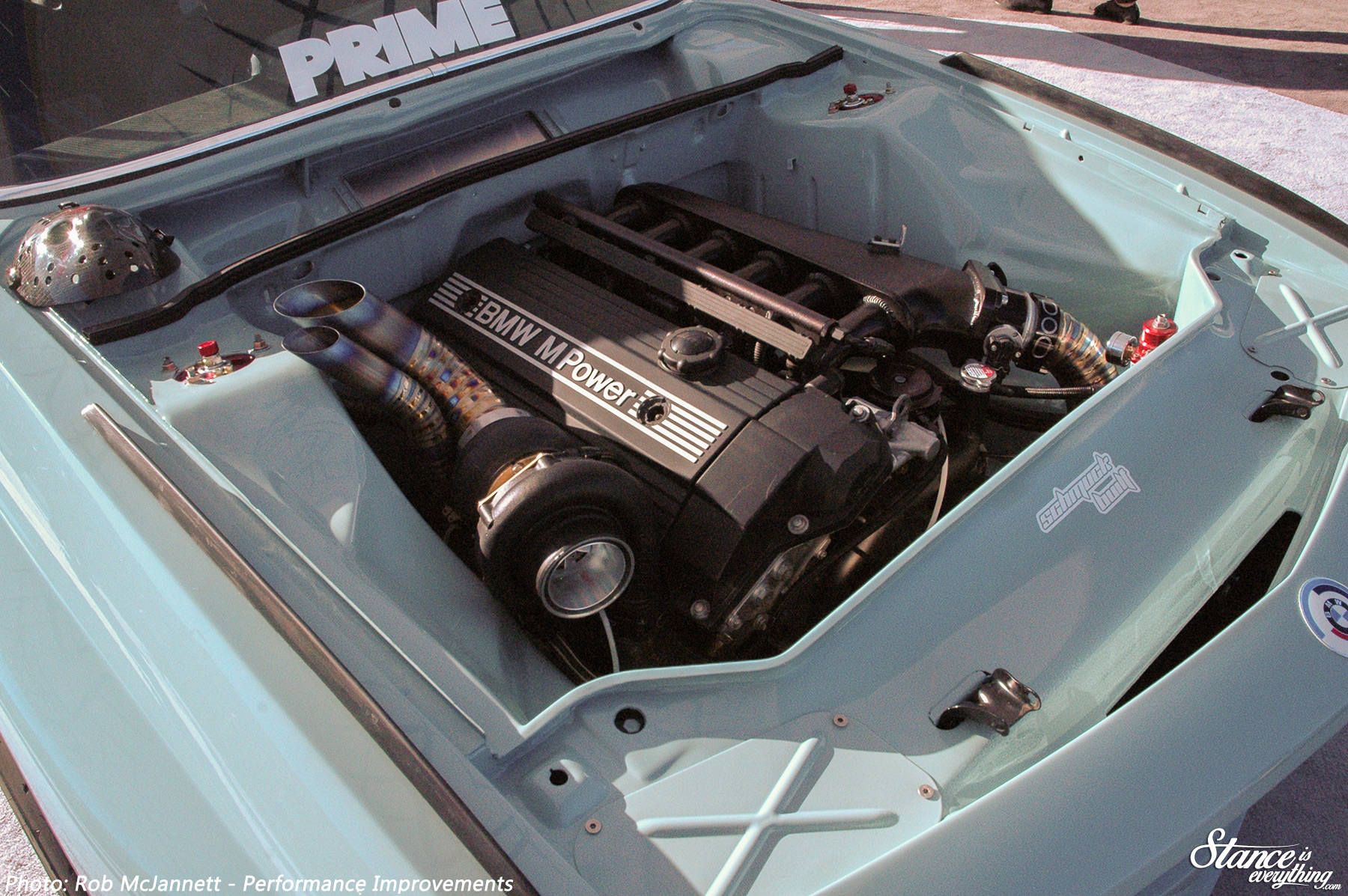 Larry Chen recently shot the car, so I imagine it's going to end up on SpeedHunters sooner rather than later.
Painted a classy red with gold equips this Datsun 240z ticks all the same boxes Tim's recently featured 240 does.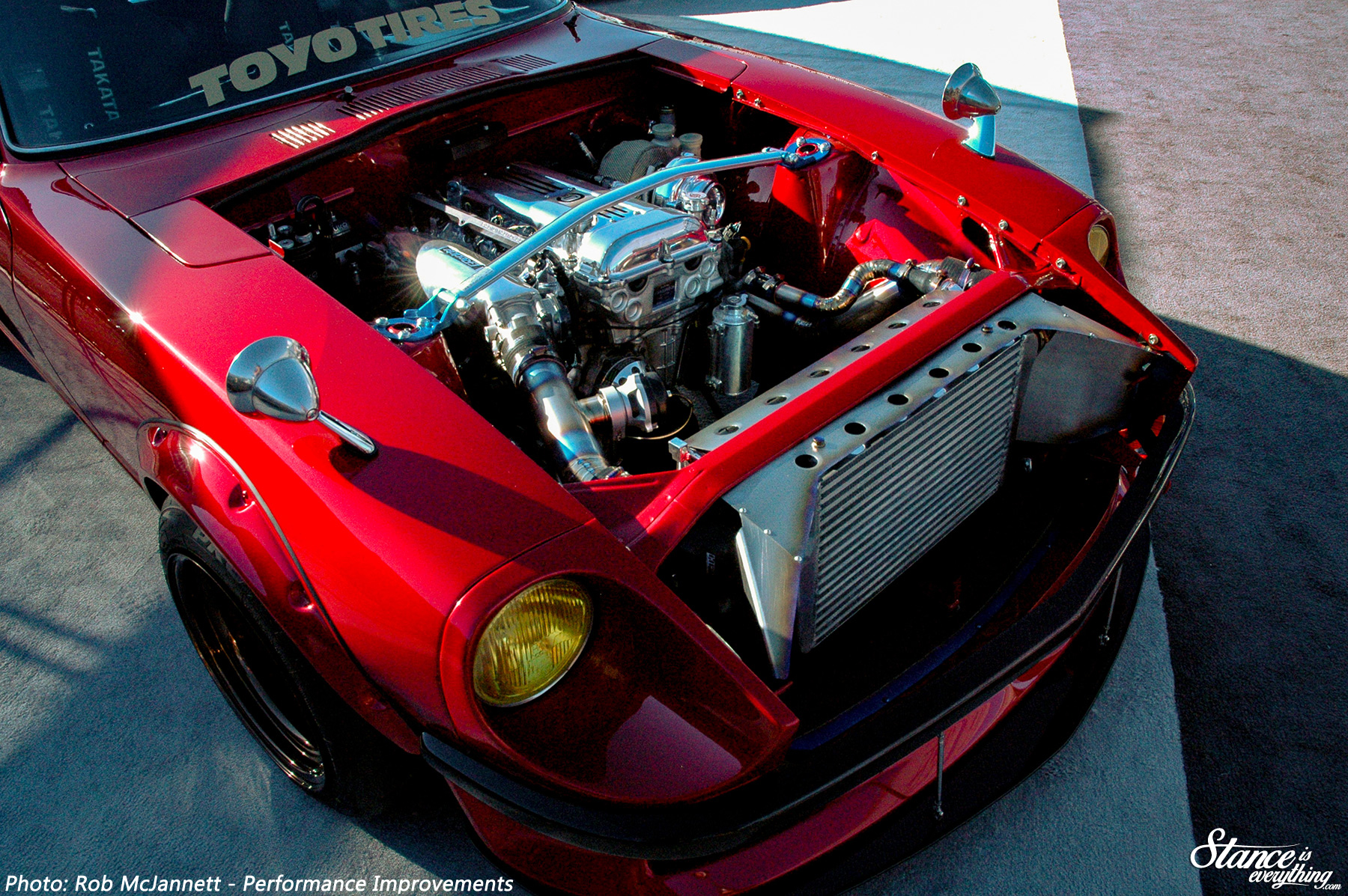 Between the fenders on this car is an SR20. Unlike most SR20 swaps this one is drive by wire.
It just might be the only DBW SR20 powered 240 in the world. Don't quote me though.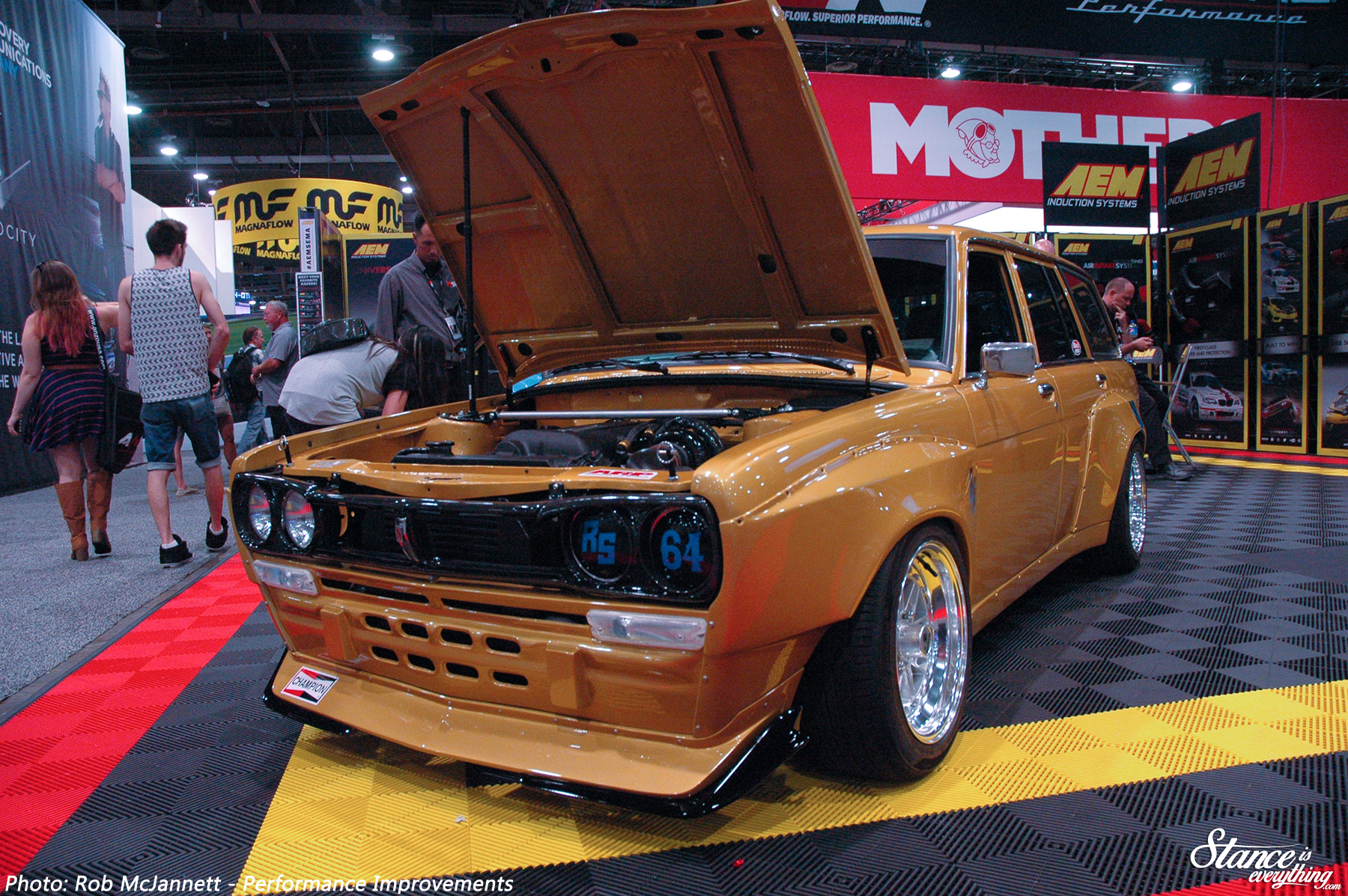 The 240z wasn't the only sr20 powered Datsun at the show. Chris Forsberg's 510 wagon, known as the "Battle Wagon" sat proudly in the AEM booth.
This car is a project that was done for his wife.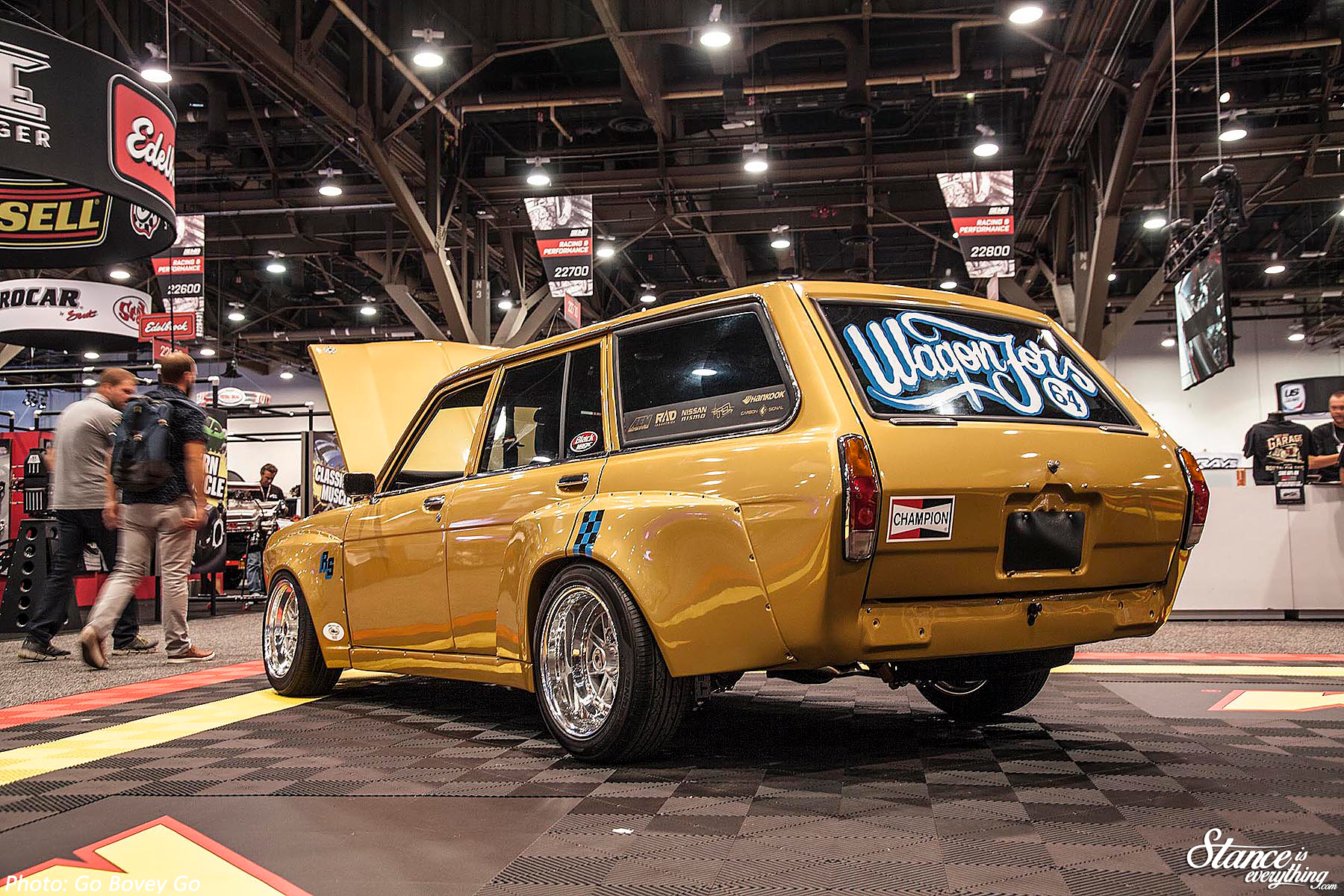 Time will tell if his wife actually drives the thing, but it does look to be super practical, though not the most discreet thing to drive around.
Black Magic cleaning products has a few videos on the build if you want to see how it went from Craigslist find to SEMA floor.
Going outside once more, the Optima Street Car Alley always has cars worth a look. One of these years I will stay in Vegas long enough to see this event go down in person. I assure you.
In the meantime I will just have to enjoy them sitting still.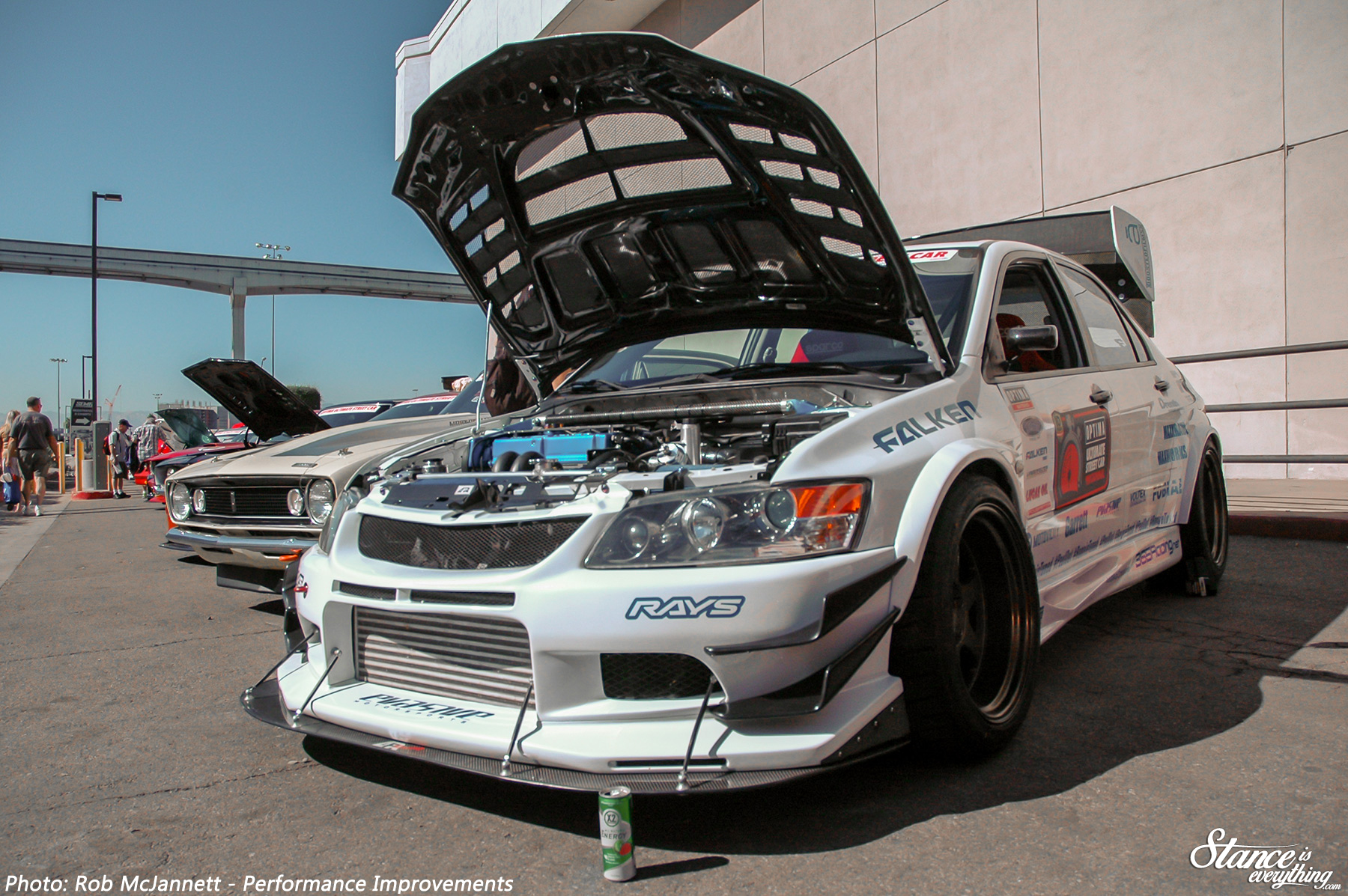 This Evo caught Rob's eye and I can't honestly blame him. It's a well put together car that has been running the Optima Ultimate Street Car Challenge since 2014.
The car was put on the rollers prior to SEMA and makes an impressive 625 horsepower to the wheels, and 556 foot pounds of torque.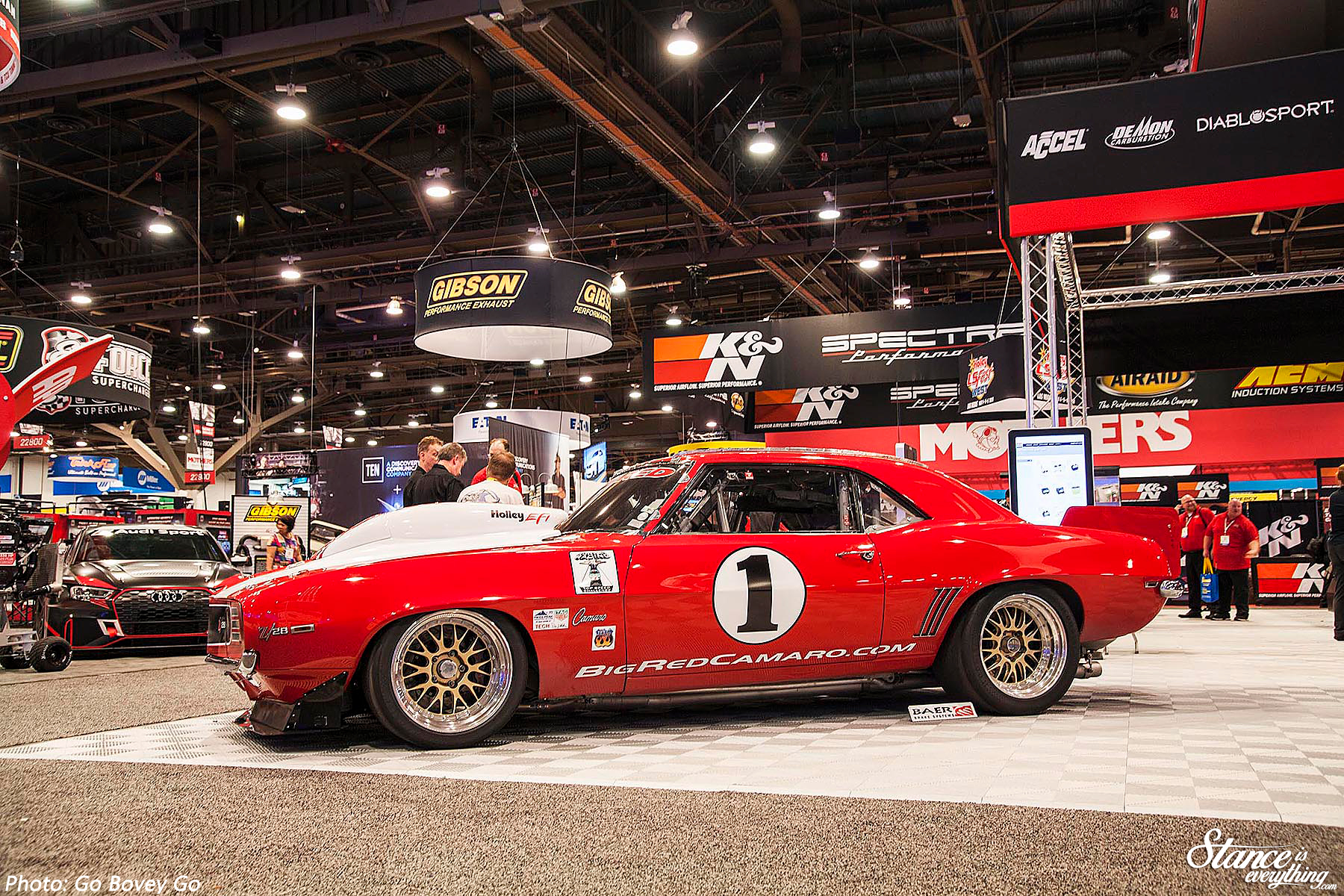 The Big Red Camaro  has had quite a life, being a race car since pretty much day one, and even catching fire at one point. As it sits now it is a vehicle capable of over 250 miles per hour at the Texas Mile.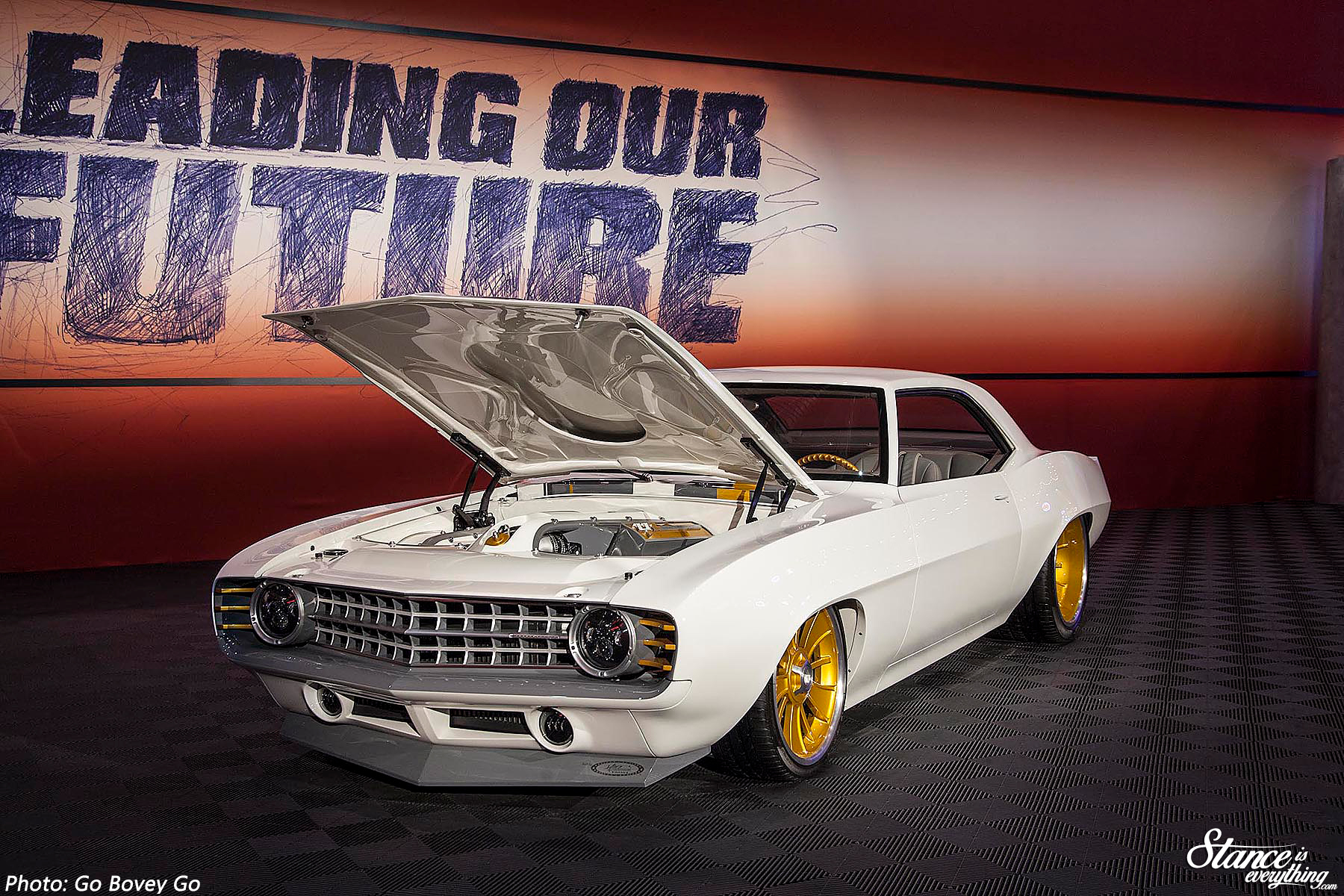 Stepping just a hair away from completely brutal straight line power is the HS Customs '69 Camaro known as Under Pressure. This 1,225 horsepower 427 LS powered car won the battle of the builders in 2016.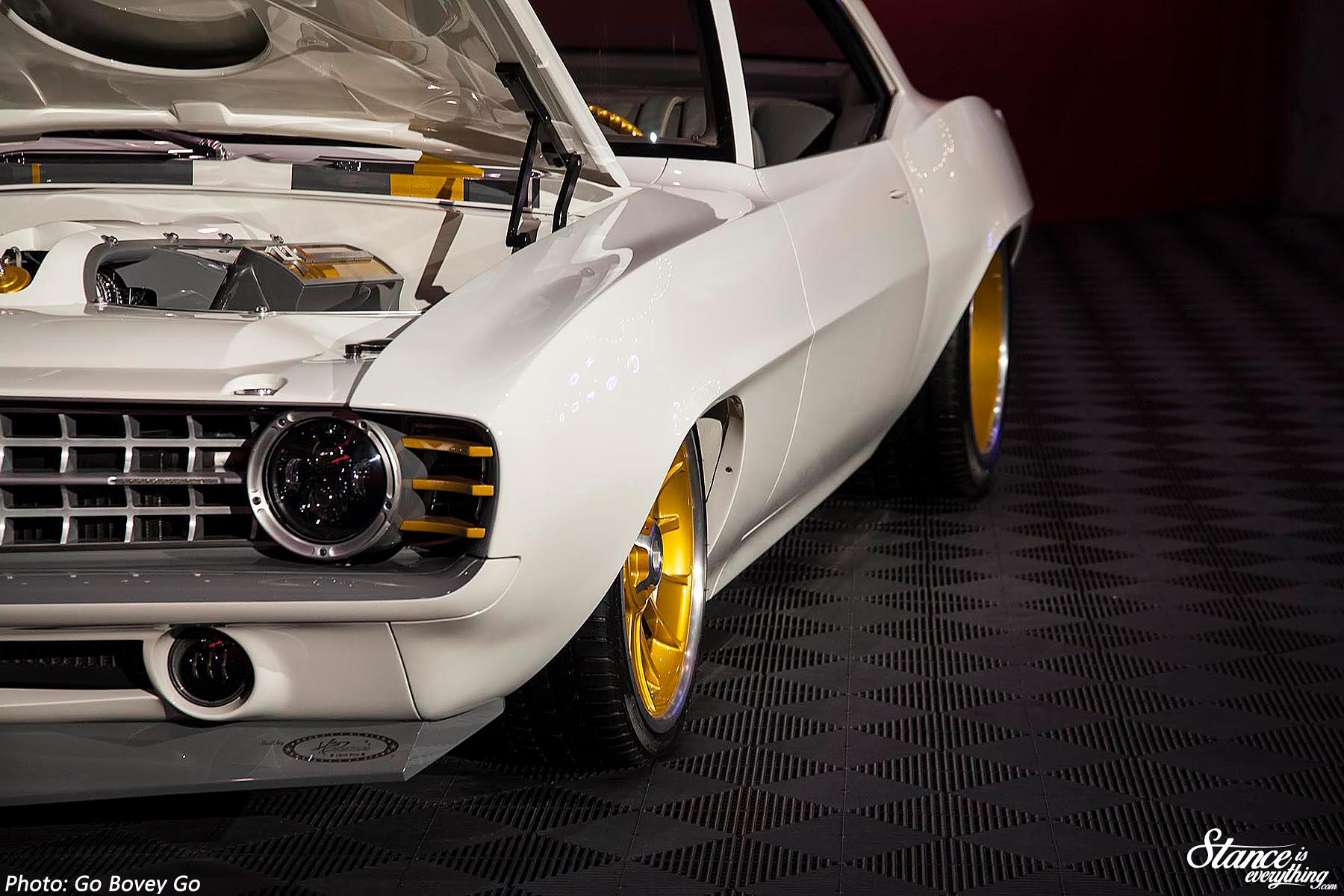 The chassis of the car is quite the work of art (check it out here) and uses a Total Cost Involved Mustang II style rack and pinon set up. In the rear there's a custom torque arm configuration hung between custom rails.
Custom rails were necessary to fit the 335-section rear rubber that's wrapped around HS Customs designed 20×12 wheels.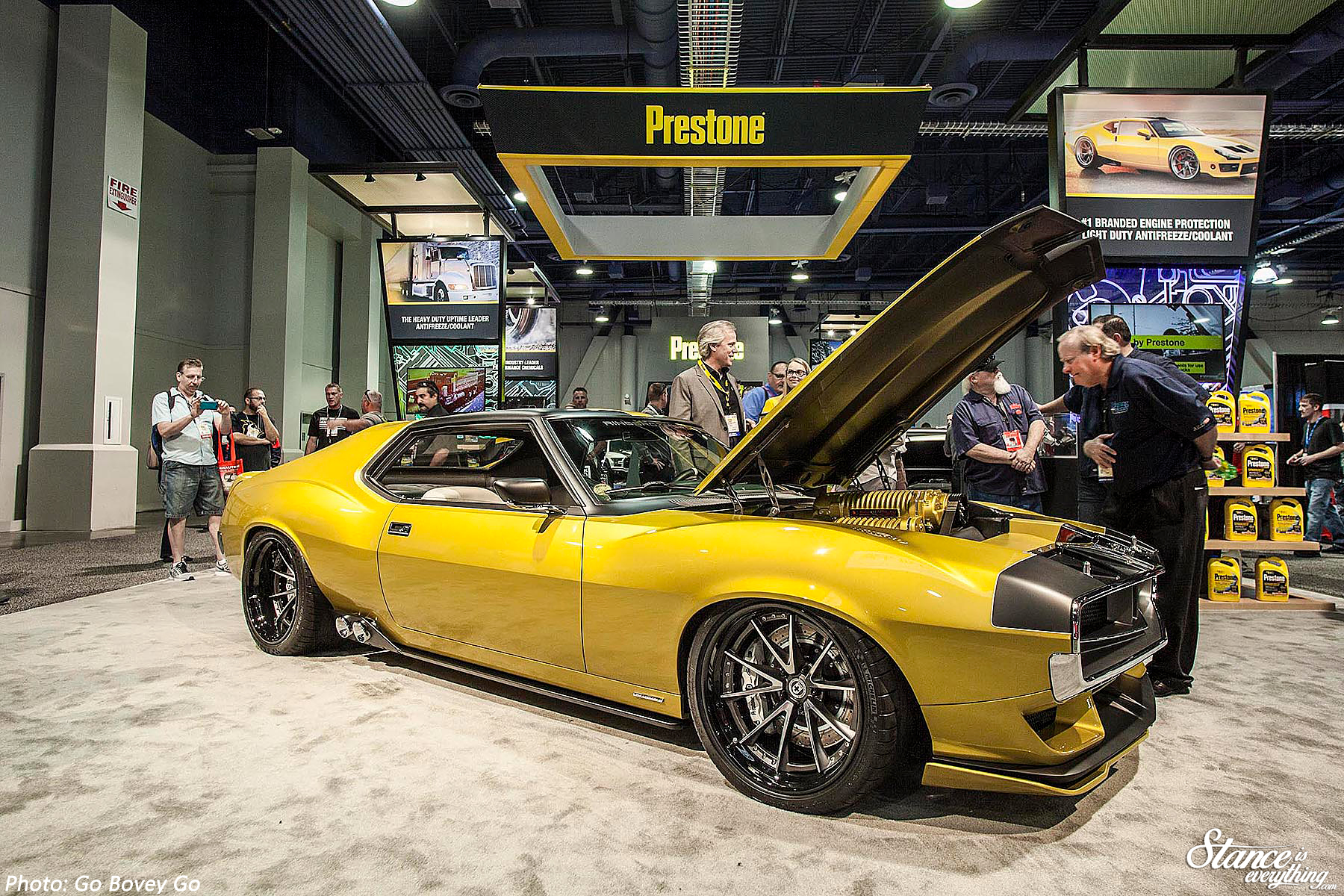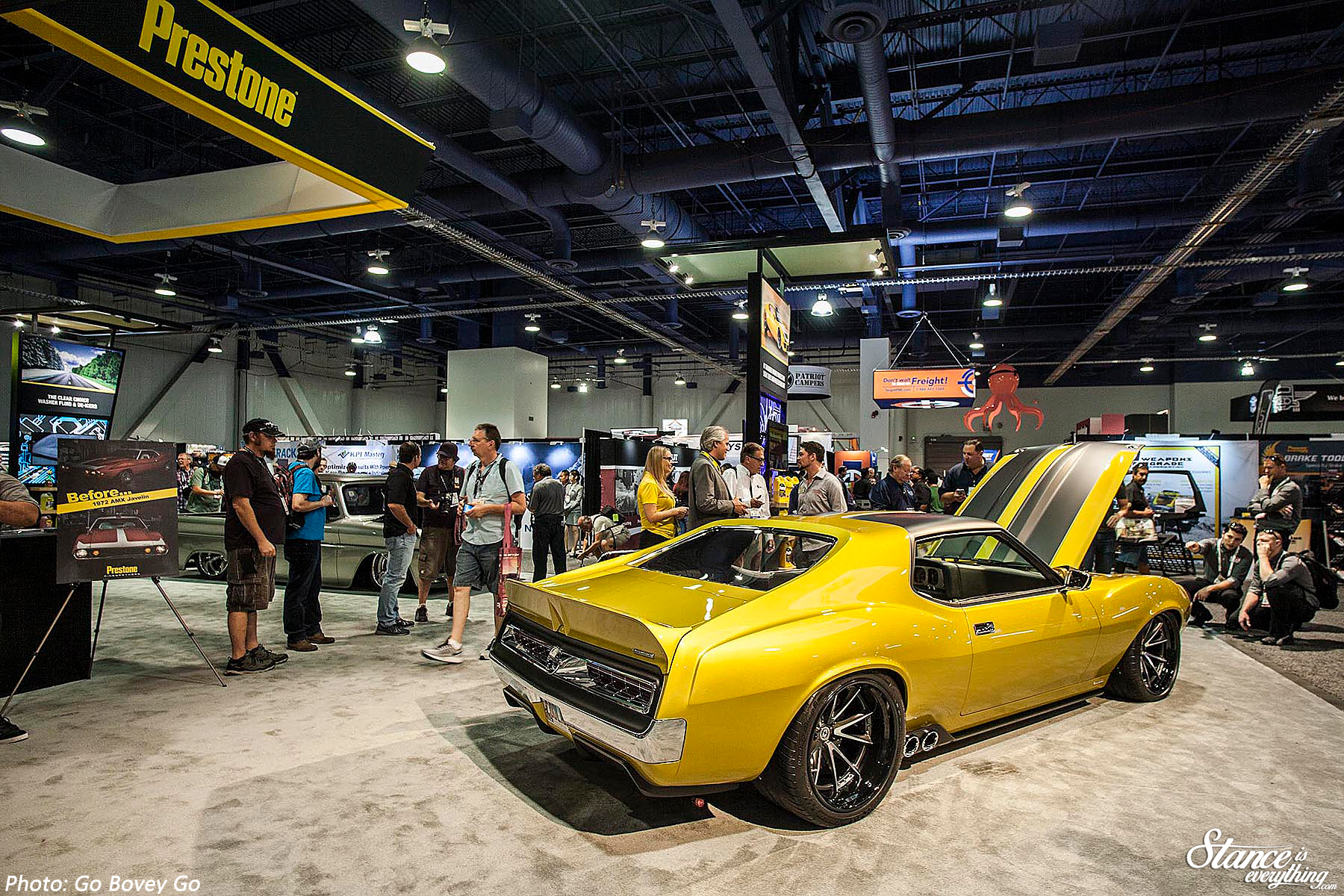 Closing this SEMA post with a Ring Brothers creation just feels right. The Ring Brothers always pull out all the stops for SEMA and for 2017 they debuted what's probably the meanest '72 Javelin ever created.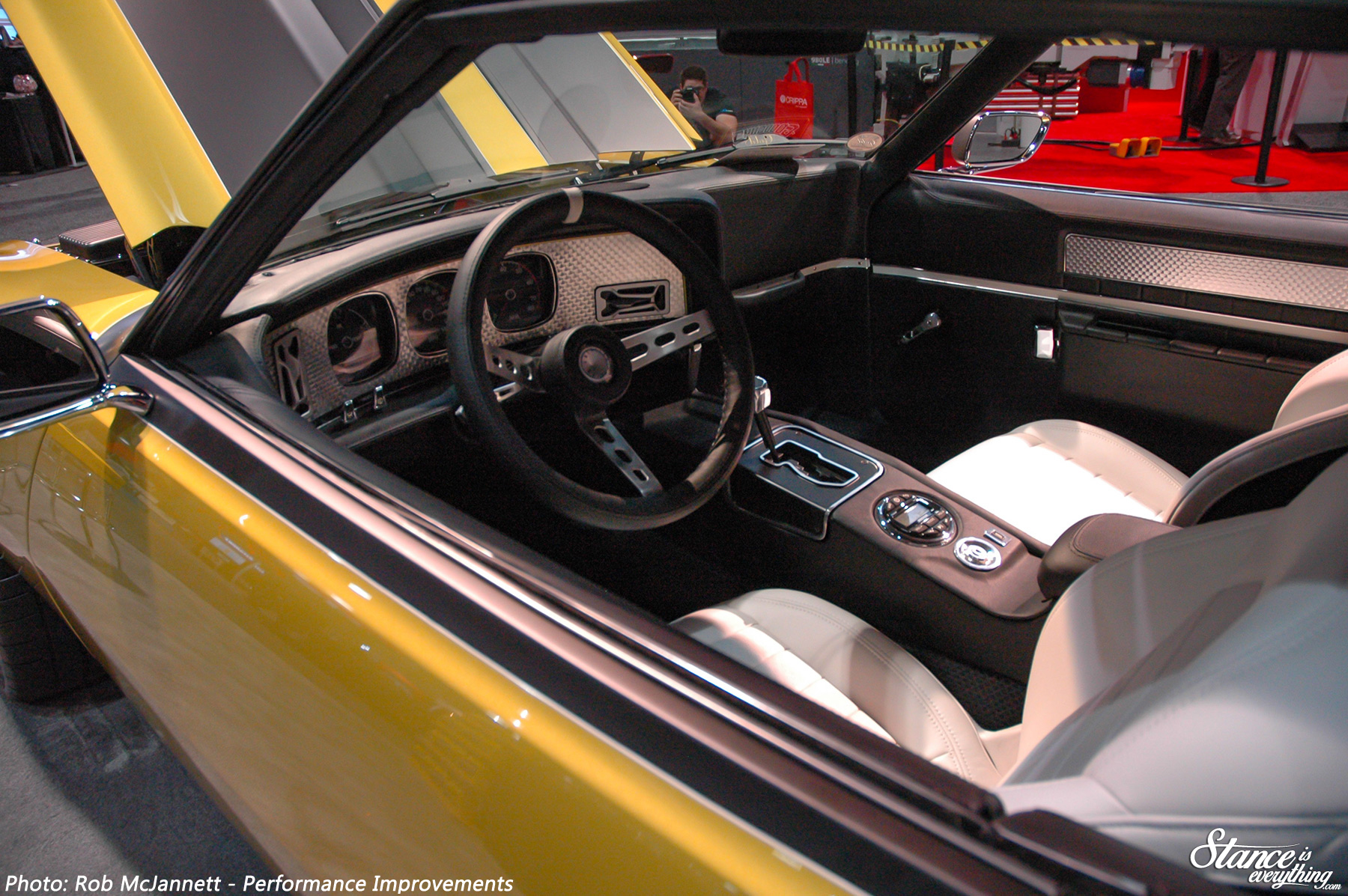 I've always been a fan of their work, but this car is something else. Javelin's are not the most common platform to get the Pro Touring treatment so it's nice to see one done do the nines.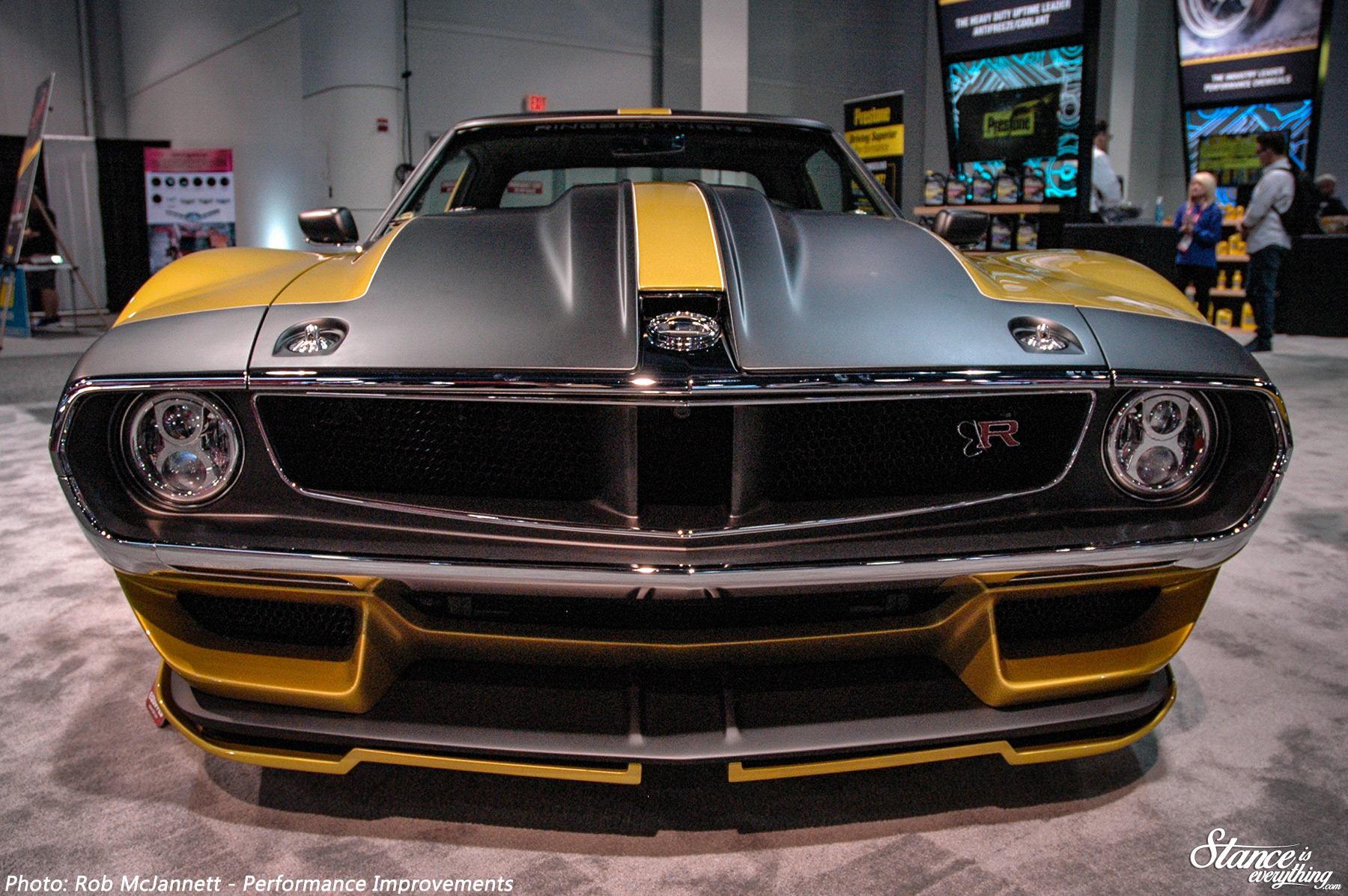 The exterior has been given that Ring Brothers touch, with some nipping and tucking here and there to give the car body lines that are easier for a broader audience to appreciate.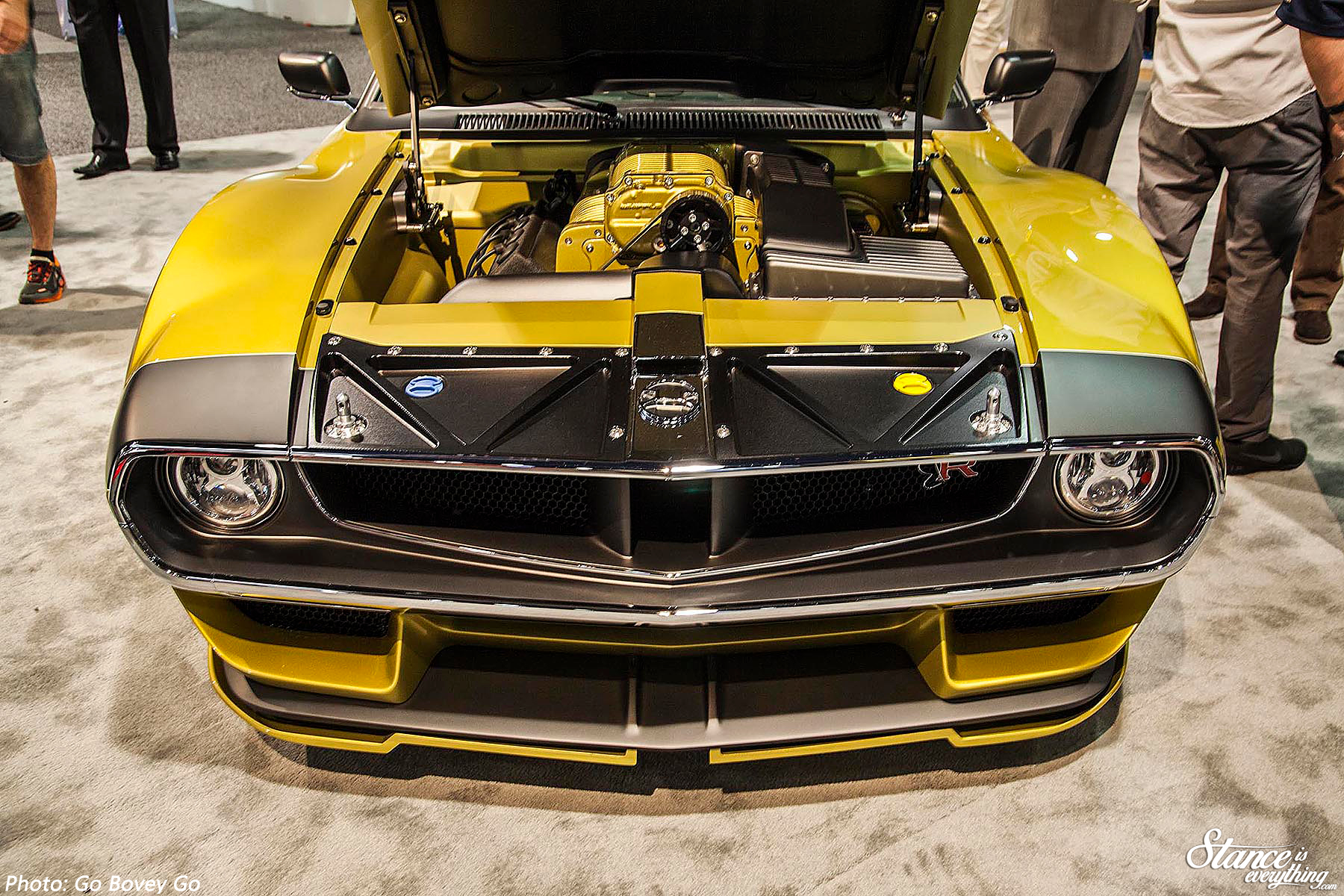 Like the opening car this one is AMX is Hellcat powered, apparently even with the boost turned all the way down the car is a straight monster.
That bring us to the end of another SEMA 2017 post but trust me there's still way more to come and personally I can't wait to share it.