I'm an early gen S-10(/Blazer/Jimmy/Sonoma) fan, and have been for as long as I can remember, even before I knew that they came in potent Sy/Ty versions.
I'm actually still convinced Sy/Ty's are two of the best production trucks ever made. One big problem with my love for these trucks is that few survive our winters. I can think of a handful of clean s10s/blazers in the area and one Typhoon, and that's one of the reasons why seeing this once Sonoma GT at SEMA was such a treat.
Another reason seeing this truck was so awesome is because I've been following the build for years perhaps even the second one I started following, the first I remember was Project Vixen (Twin Turbo Delorean), it's still probably one of the most engaging builds I have ever read on line.
After initially spotting the truck on our way out the day before, the next day I walked around the truck and let all of the details of the build sink in.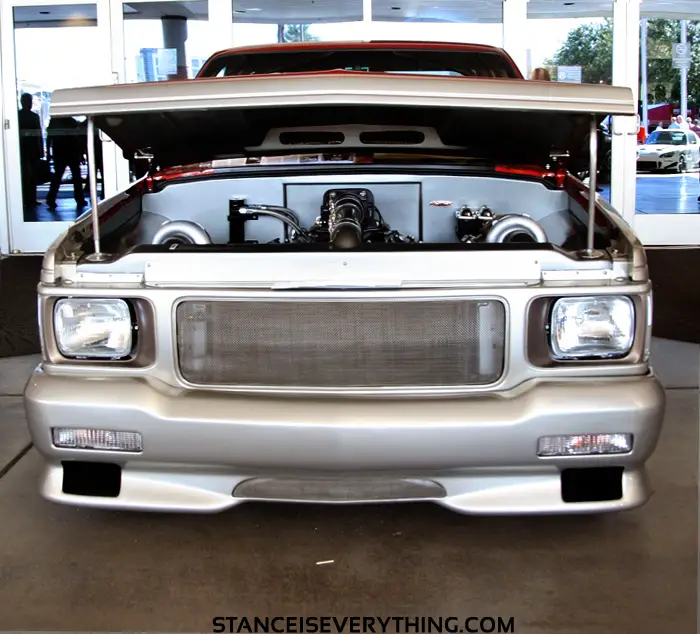 First I looked under the hood at all of the work done therein.
At this point clean engine bays were nothing new to me having seen a number of exceptional ones already. However I could appreciate this one just a little bit more having spent a decent amount of time under the hood of my own Blazer.
I saw absolutely no resemblance between this bay and the one in my accursed truck, a lot of work had been done to clean it up and smooth it out so that it showcased the crown jewel under the hood: a twin turbo 4.7L v6 that replaced the "I make a lot of noise but not a whole lot of power" 4.3L v6 Vortec lump that laid there previously.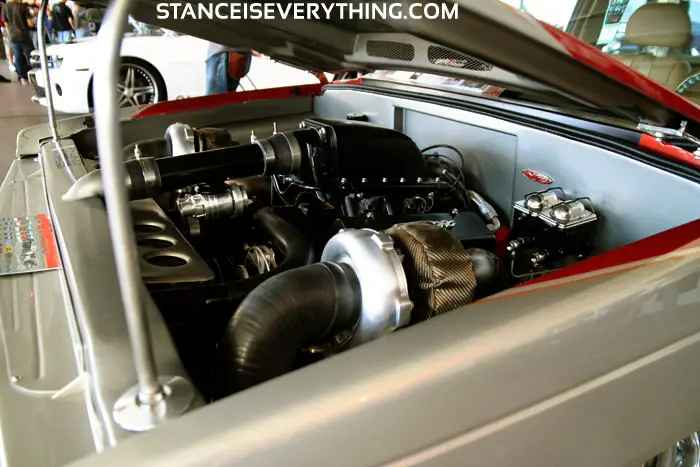 The interior of this truck was also a work of art that hardly resembled the factory s10 living quarters.
Redone in all  suede and leather the interior was so well put together that if I didn't know from reading the build I would have never known an 8 point roll cage was somewhere inside.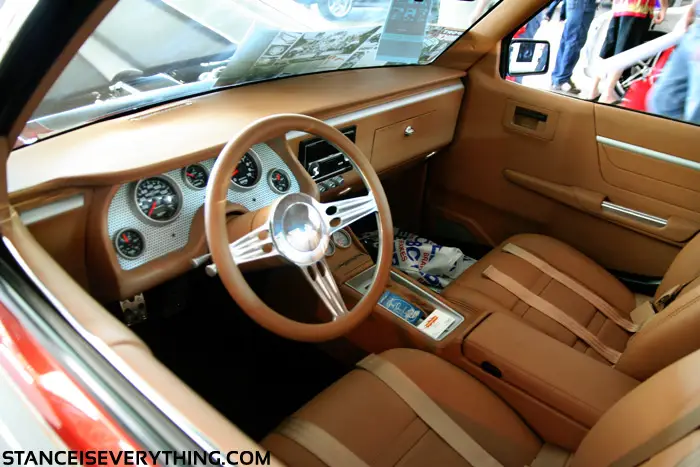 After spending so much time on the interior, under hood, and body of this car the owner new that it needed a serious suspension setup to keep things rolling and looking good so it sits on an Air Ride Technologies setup which is configured so this truck looks great aired out but can also air up and put the power down at any time.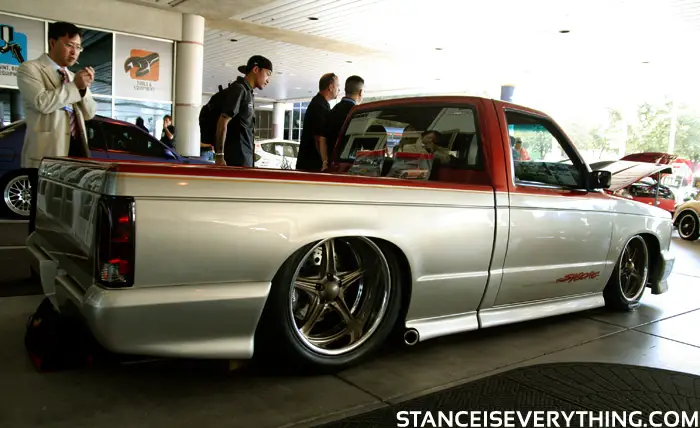 To help keep all that power from going up entirely in tire smoke this truck has huge rubber on all four corners (225/245) along with 14″ Willwood binders behind the 18 and 20″ wheels for when the fun needs to stop.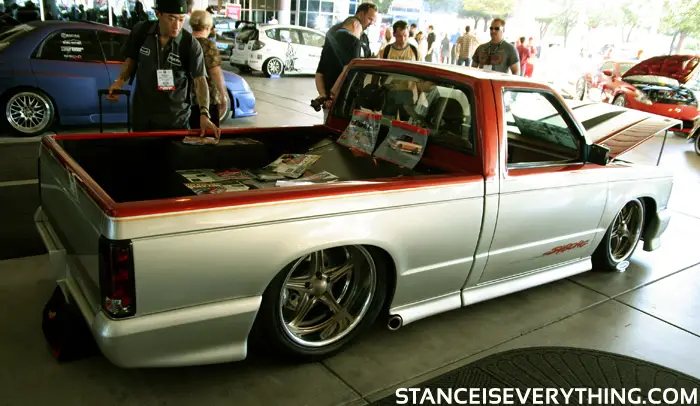 Finished this truck is one of the  cleanest Sonoma's ever built and it's hard to believe it started as what was essentially a Syclone with all of it's go fast parts stripped out.
But that's not even the craziest part of the build, the craziest thing about this all is that after building the truck since around 2003 the owner sold it basically right as it was finished to a private collector.
Unless Jay Leno was that collector chances are pretty good that we will never see this truck again.
Damn.
More info can be found at syborgtwinturbo.com.