One of the best parts about being a car enthusiasts in this internet age is that it's incredibly easy to connect with other scenes around the globe. With less than an hour and a few clicks you can see what's going on in Europe, North America, and Japan. This means that tuning styles are no longer regionally based.
Andre, who is from Brazil, got hooked on clean, low, cars fast thanks to international forums like NASOIC and blogs like this one. Once the bug bit it wasn't long until Impreza was on sitting much closer to the earth.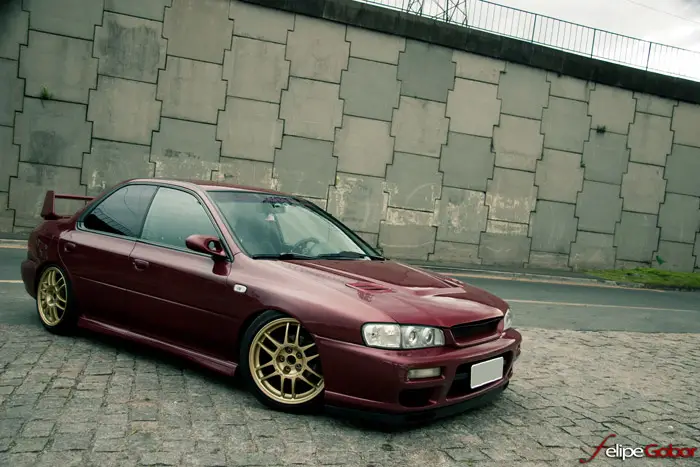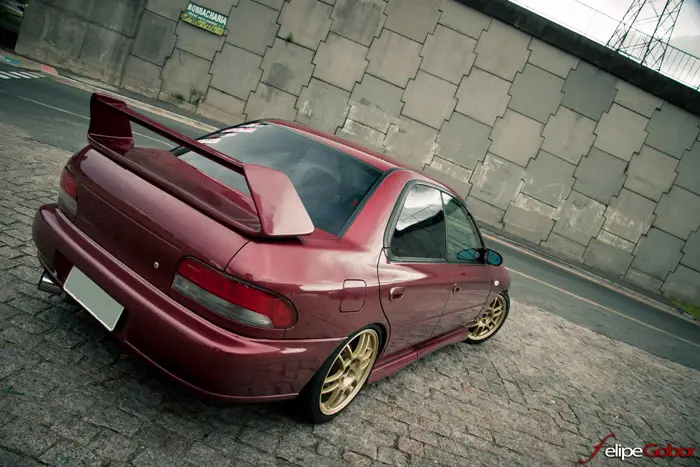 Andre started things off with a great canvas, the deep burgundy paint on his Impreza isn't a color you see often which meant it was just a few quick modifications away from being a real head turner.
Andre switched up the front end of his Subaru with a Trial style hood (equipped with 22b vents), an HTAuto grill, and retro fitted headlights alongside clear corners and turn signals.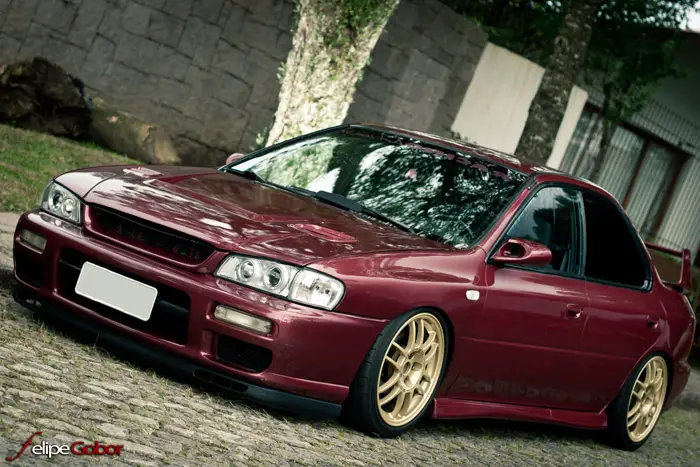 He also bolted up a custom lip under the bumper to help emphasize the healthy static drop on the car that was achieved not by coil overs but instead with via custom rated springs and dampers.
In Brazil this type of suspension is called 'fixa' and is done by those who love to ride low 24/7 and 365 days of the year.
With the car nice and low Andre put on a set of STI side skirts to bring the car even closer to hover craft status and since his attention was already focused on the sides of the car he installed Gandor style mirrors.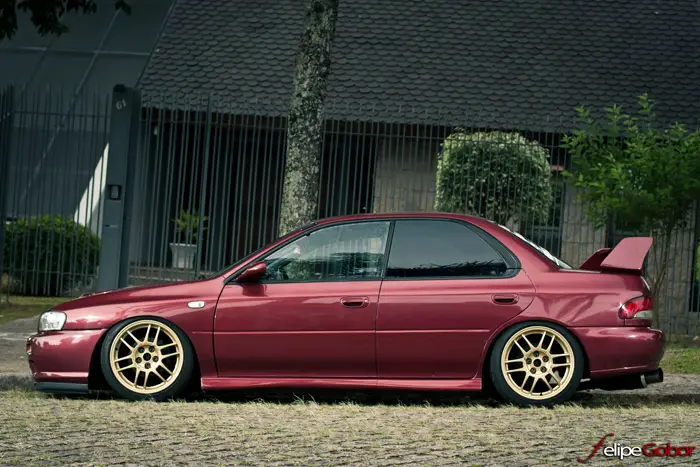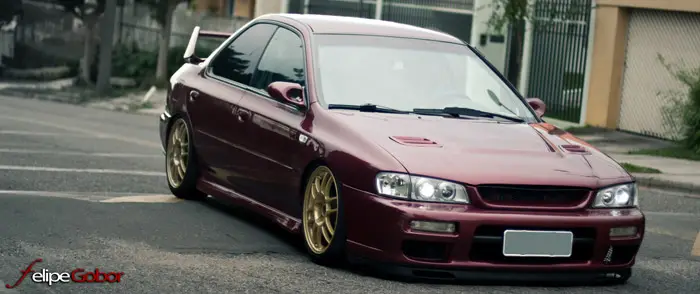 In the rear of the car a custom wing sits above a de-baged trunk, STI tails, and a custom rear bumper and by now you have probably already noticed that pointing out from below that bumper is a Zelo muffler which gives the stock 1.8 motor an opportunity to expel it's gasses a little faster and louder.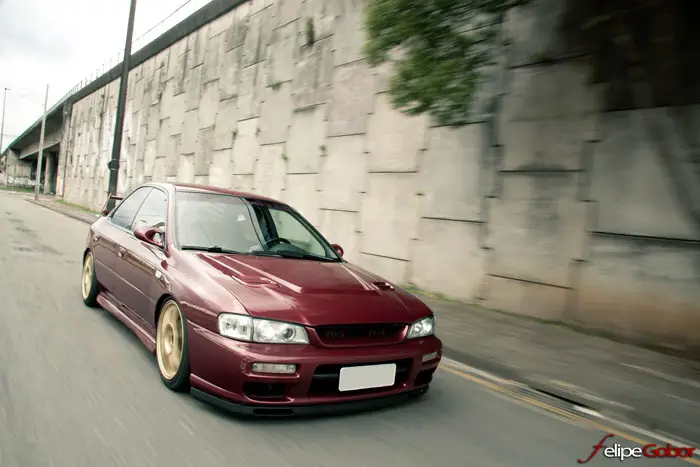 For wheels Andre chose to re-drill a set of oem Evo 5 OZ Racing F1 wheels (17×7.5 et 38), which finished in gold really look like they should have been on this car from the factory.
The wheels also really bring together all of the tasteful mods Andre has done to the car.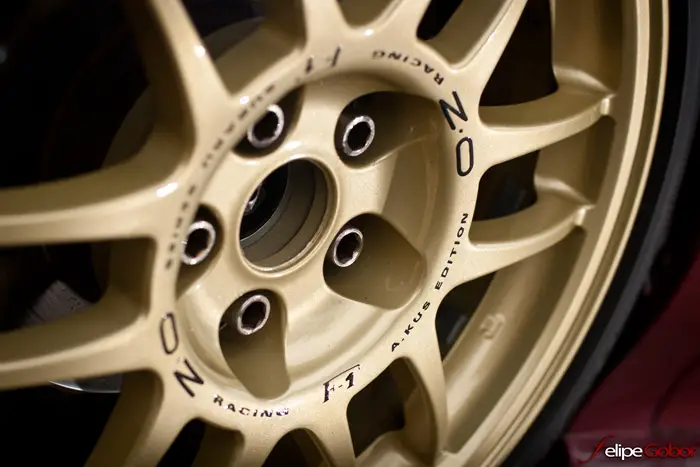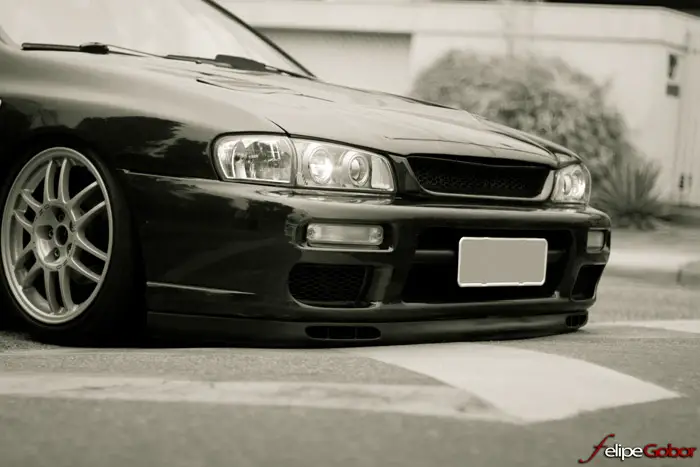 Andre's car is incredibly well thought out and and put together and I'm very happy to have it as an international feature here on Stance Is Everything.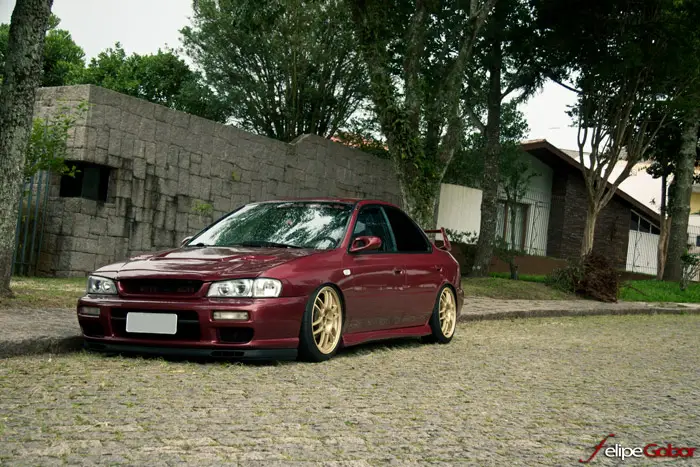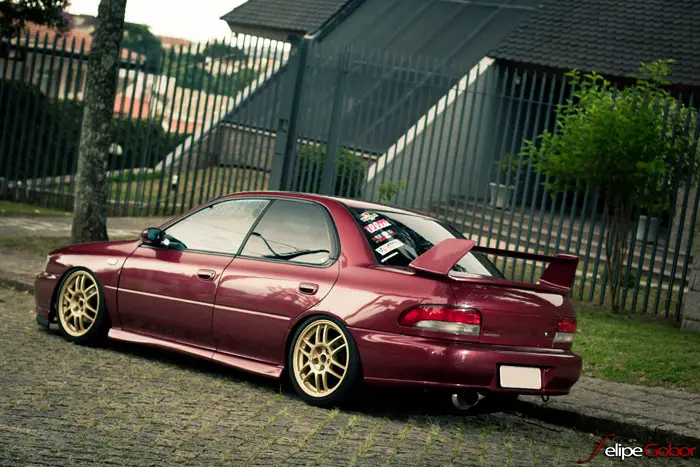 Big thanks to Andre for sending it in and his friend Felipe Gobor for shooting the photos.