The first time I saw this truck it was surrounded by rows and rows of low riders and mini trucks but the second I laid eyes on it tunnel vision took hold and everything else instantly became a blur.
I must have circled this truck at least a dozen times and stood by it for at good ten minutes and still had no idea just how much work the owner Rob put into transforming this 1977 International Loadstar from a standard work vehicle into the pavement scraper you see today.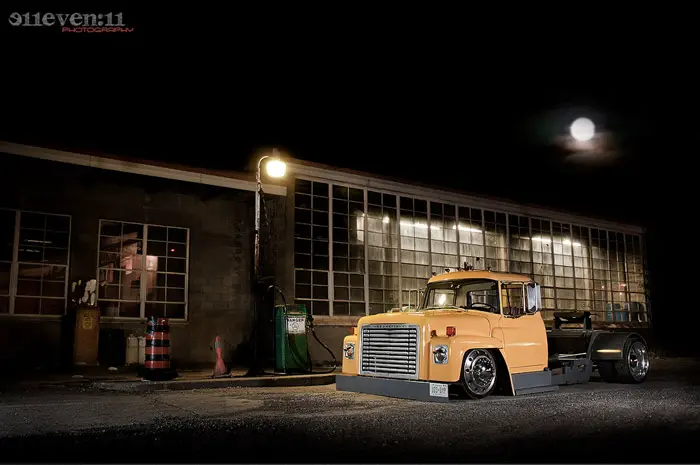 From the front bumper back everything on this truck is the work of extremely talented fabricators and builders. The floor and firewall are completely scratch built as are the suicide door hinges, and all of the front body seams have been welded and smoothed shut to give the body cab a clean refined look.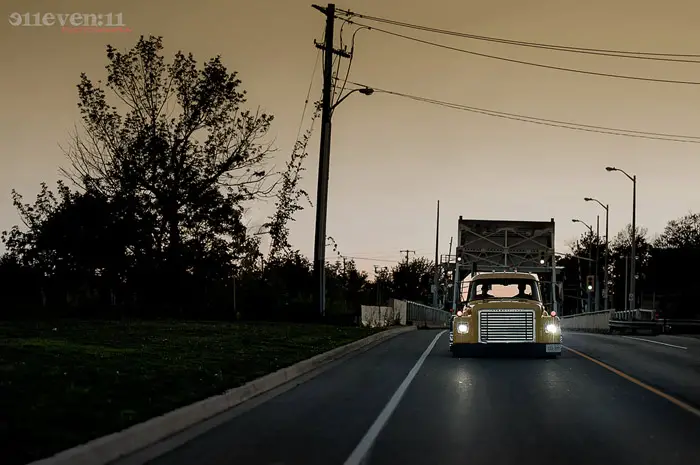 In addition to all of the unnecessary bits being shaved from the exterior the factory 1977 lighting has been addressed all around the vehicle. On the roof pedestal mounted lights have been added and on the sides and rear the accessory lights have been swapped to LED units, last but not least HIDs now sit in the headlight position under the chrome visors replacing the factory equipped sealed beams that lived their previously.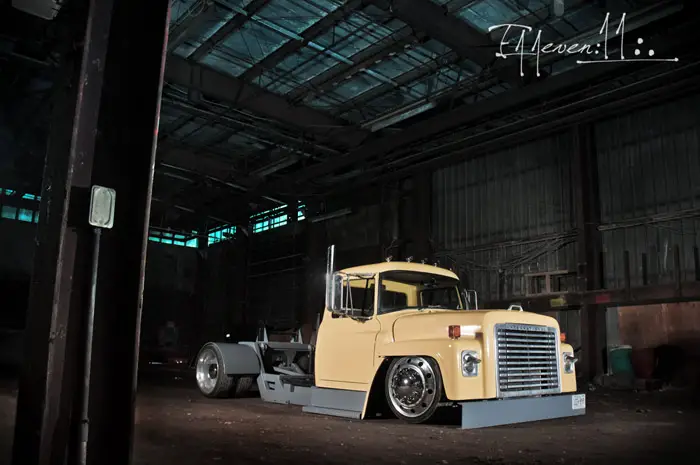 Beneath the cab the frame is a work of art now serving double duty as the trucks 25 gallon air tank in addition to its backbone. The 3 x 1/4″ wall frame has been completely sealed shut allowing air to travel through it to the 10, 000lb transport truck air bags via 3/8″ steel half lines and 3/4″ valves.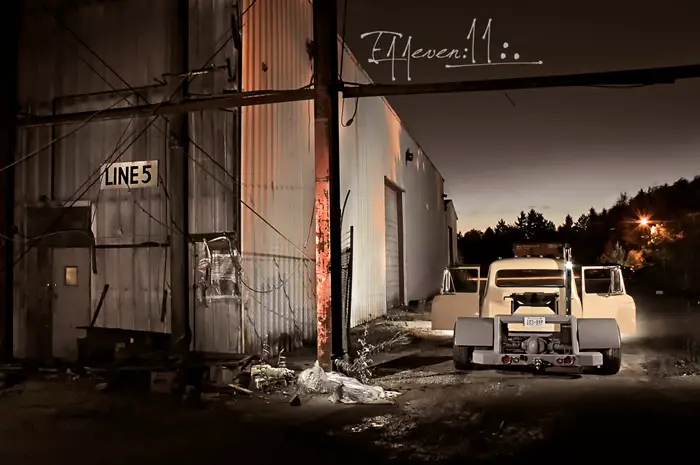 The suspension that parks this truck in the weeds is a custom solid beam/3 link setup and the semi truck wheels have been milled down to 22″ and 24″ (from 22.5″ and 24.5″ inches) giving Rob the ability to run Falken FK452 255/35zr22m, and 255/30zr24 tires.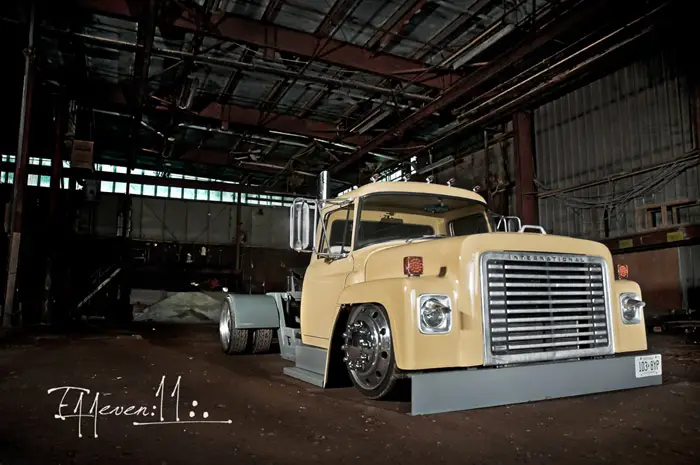 Under the hood of this Chrysler Yellow behemoth lives a 7.3L Ford IDI diesel motor pulled from 1991 E350 (which also donated its front hubs and brakes) that's been given a power upgrade via a Ford Power stroke turbo and and Dodge intercooler.
The motor now up on power the motor has no problem moving the truck down the road while powering the York engine driven compressor.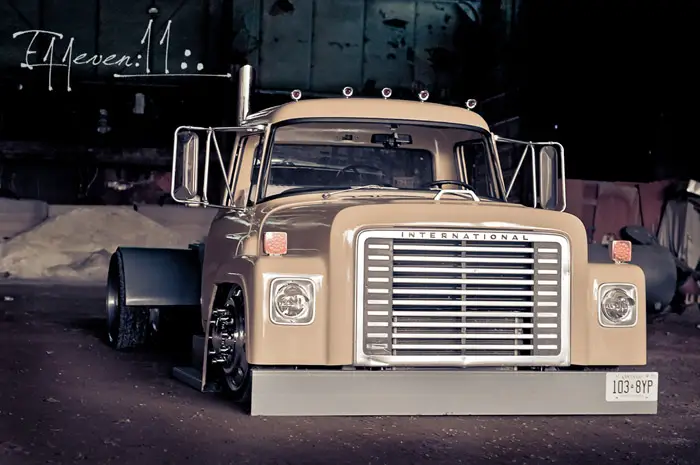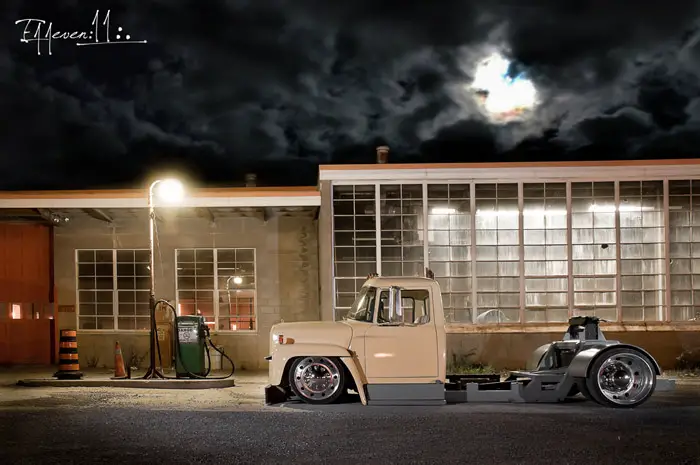 While it's fairly easy for me to describe the modifications done to this vehicle I can't really find the words to convey the presence that it has in person. Its size alone demands a certain type of respect.
Thankfully talented St. Catherines based photographer Steve Wharton (the man behind E11even:11: Photography) has been able to capture almost all of this trucks essence in these fantastic photos.
Steve and I have been waiting to work together for awhile now and 2011 should see a lot of collaboration between Stance Is Everything and E11even:11: Photography. If these photos are an example of the type of work he produces then we should all be in for a treat.
I am stoked to have a photographer like Steve on board and have no doubt that the kind of work he submits for this year will be second to none.
I hope you are as excited as I am.
Photo Credit: Steve Wharton – E11even:11: Photography
1977 International Loadstar 1600 – Complete Mods List
Chassis/suspension
-Full frame custom built
-3X6 ¼" wall, fully sealed and used as air tank (25 gallons)
-3 link front with custom solid beam suspension
-front hubs and brakes from 1991E350
-3 link rear with Sterling 10.25 differential
-10,000lb transport truck bags at all 4 corners
-3/8" air valves, ½" hard line
-digital air gauge
-york engine driven compressor
-5th wheel hitch
-dual fuel tanks custom built
Drivetrain
-7.3L Ford IDI diesel from 1991E350
-Ford E4OD transmission
-2001 Dodge intercooler
-2002Ford powerstroke turbo on custom manifolds
-massive transmission cooler
-turbo code injectors
-injection pump turned up and timing advanced
-5" exhaust to 5" slant cut stack
-3" intercooler piping powdercoated cream
-holley red electric fuel pump
Exterior
-floor and firewall from scratch
-suicide doors with fabricated hinges
-shaved door handles
-welded and smooth front body seams
-pedestal mount cab lights
-LED front and rear lighting
-HID headlights
-chrome visors over all lights
-cargo basket
-painted Chrysler classic yellow
Interior
-smoothed and painted dash
-seat from 1993 Chevy truck recovered by owners wife
-autometer gauges for- speedometer, tachometer, boost, egt, trans temp, oil pressure, coolant temp, volts, fuel level
-alpine stereo in glovebox
-soundstream 5 channel amp
-RE Audio 6.5" speakers
– 2 12" RE Audio subs
-triple trumpet air horns
Wheels and tires
Front wheels- 22.5" semi wheels milled to 22"
Front tires- 255/35zr22 Falken FK452
Rear wheels- 24.5" semi wheels milled to 24"
Rear tires- 255/30zr24 Falken FK452
Custom adapters