A few months ago in the dead of winter I got to participate in a Sweetie Girl Racing Advance Driver Training event at Toronto Motorsports Park – Cayuga. The event gave me the opportunity to knock driving on a road course off my bucket list.
In addition to popping my track virginity the course also served as a way for me to learn a few valuable tips for daily driving as its main focus is to make everyone involved a better overall driver, and not turn everyone into race car drivers.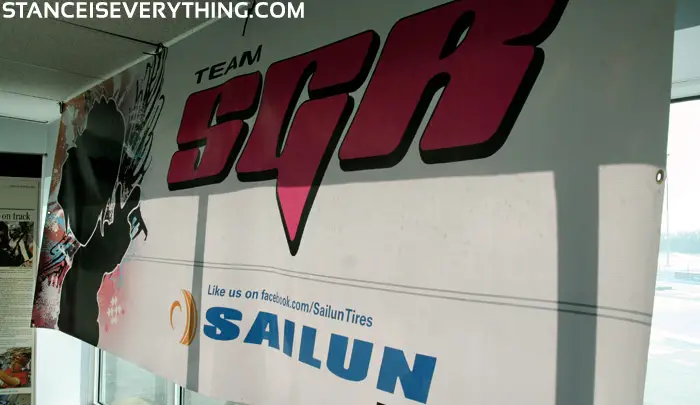 Prior to participating in this event I had considered signing up to a couple local dedicated track days without any instructional portion, but I thought it would be a tad foolish to jump in both feet first with no experience behind the wheel of the car I use to get to work everyday.
This made the program that SGR put together perfect the format of their event entails about three hours of in class instruction followed by an afternoon of hands on, on track exercises and lapping with a driving instructor as your co pilot.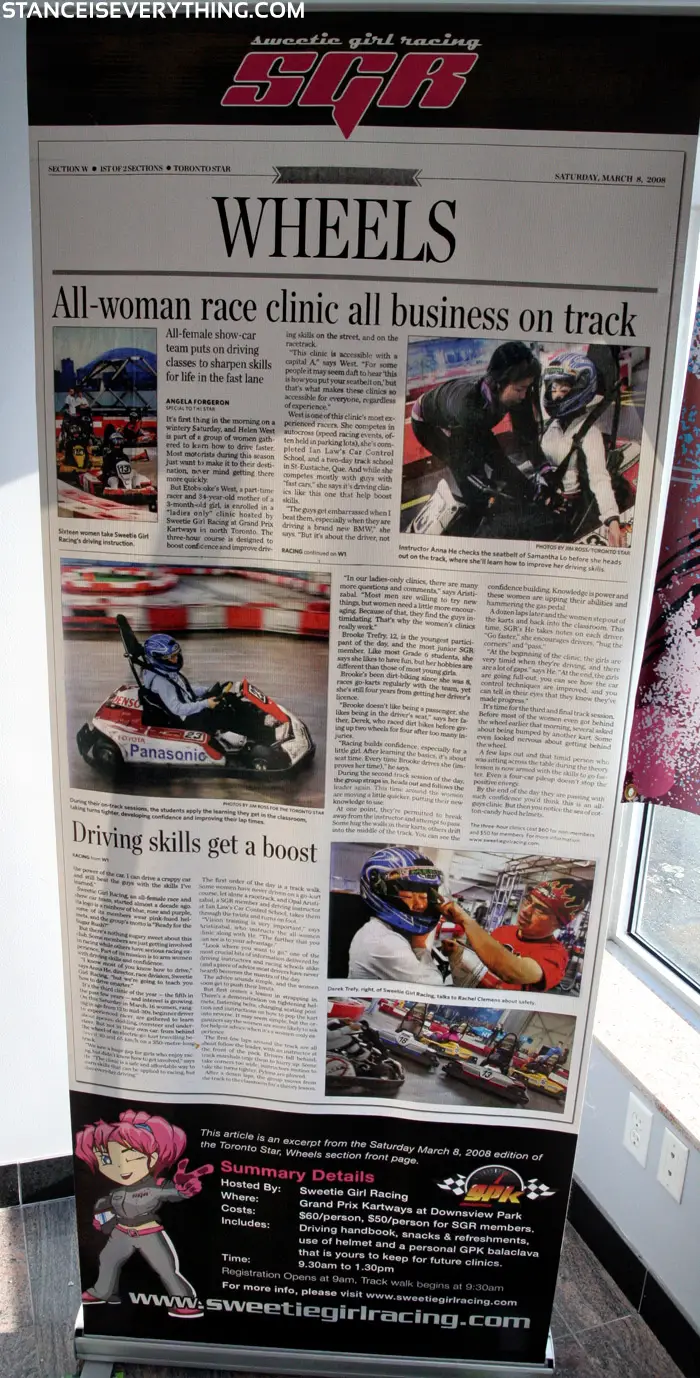 The in class portion of the class starts out with the basics. Ideal seat and hand positioning are discussed along with where you should focus your eyes on the horizon while driving and then instruction moves into more advanced topics including proper weight transfer via acceleration and braking and finally how to enter and exit a turn as smoothly as possible.
Finally once the above is thoroughly explained basic rules of the track are gone over to avoid any accidents.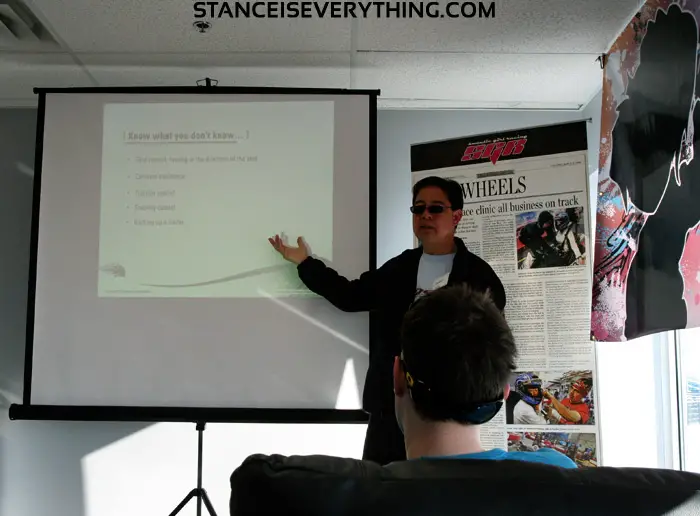 Gerry, the lead instructor, did an excellent job of making the in class portion engaging enough to keep everyone informed, involved, and most importantly, awake.
Once that portion was complete the students were paired up with instructors and lead out to the track to go through a number of driving exercises designed to get you thinking and performing in a way that will ensure your first lap of the full track is safe and in control.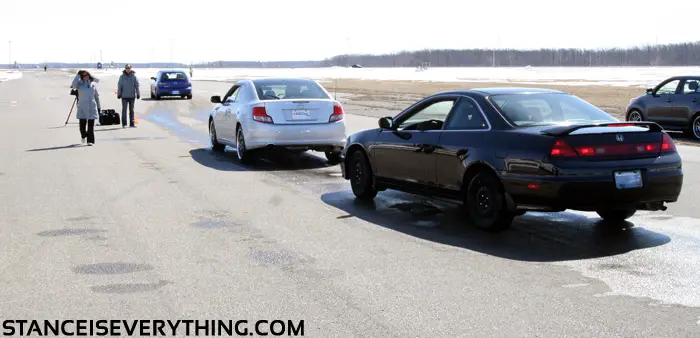 Of the initial exercises we did I had the most fun with the slalom and it was easily the one I performed at the best. On the flip side the exercise I performed the worst was the swerve avoidance test only because I tried to anticipate which way the instructor was going to tell me to turn and brake.
Not being a mind reader the pylons often learned the error or my ways.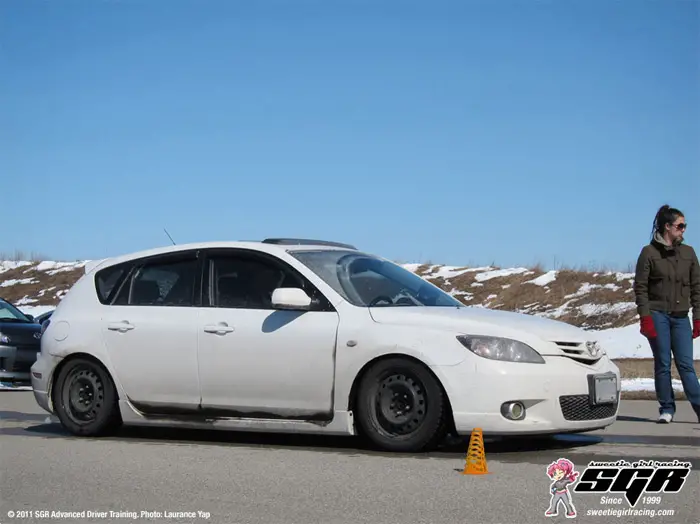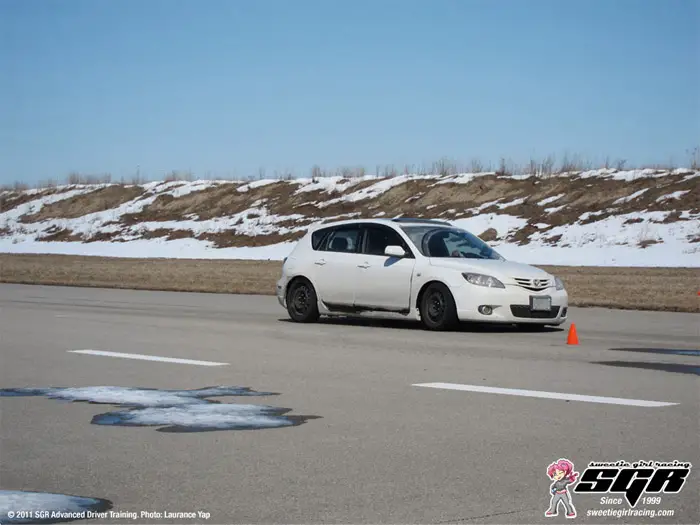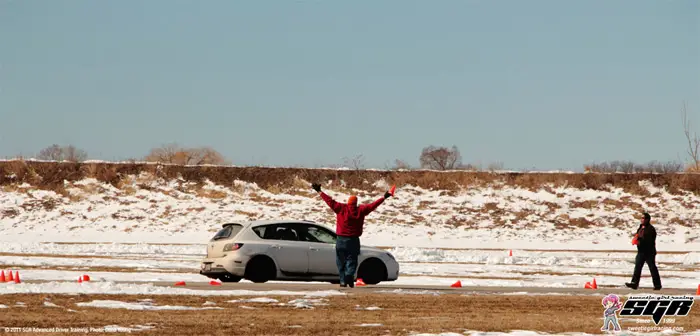 I did these exercises with the aid of my instructor Malcolm both in my car and a Scion TC which was brought out by Scion Canada.
After these exercises it was time for the complimentary lunch that consisted of a pulled pork sandwich, salad, cookies, and brownies.
Once lunch was over the instructors took us through the track showing us the cones that marked when and where we should brake, turn in, apex, and exit the corners.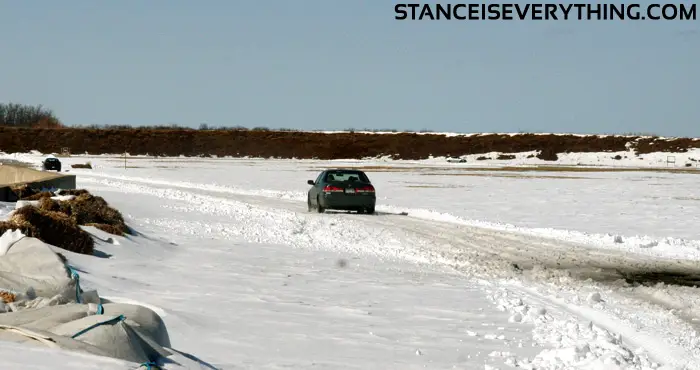 From the passenger seat watching Malcolm made driving my car around the track quickly look easy but once I got behind the wheel I learned that it's not nearly as easy as it looks.
Even though we started off quite slowly I found it fairly hard to make the transition from what I thought was the correct way to corner to the actual right way to navigate a corner. Smooth is fast, but smooth also takes time.
Little by little I did manage to make improvements to my technique as the day went on.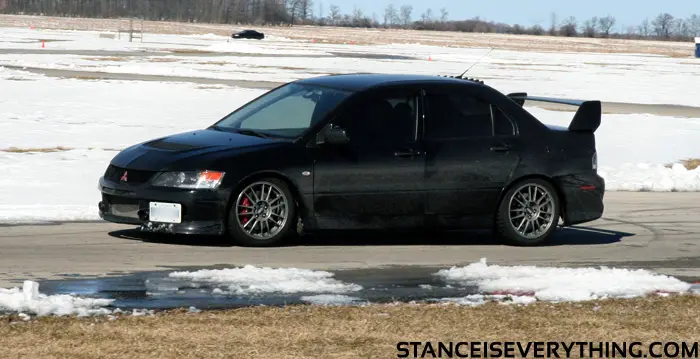 As I felt myself getting more comfortable on the track I was allowed to go a little faster into the turns which was good and easily addicting however as you would expect I soon got a little ahead of myself and almost spun out which caught me completely by surprise as under normal conditions my car is more prone to under steering rather than over steering.
Thankfully quick reaction time to the instructions my instructor gave me kept me from taking my car out into the infield where I would have no doubt become very wedged in the half frozen snow.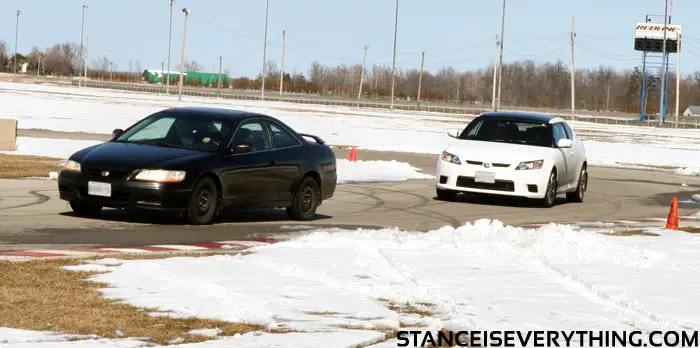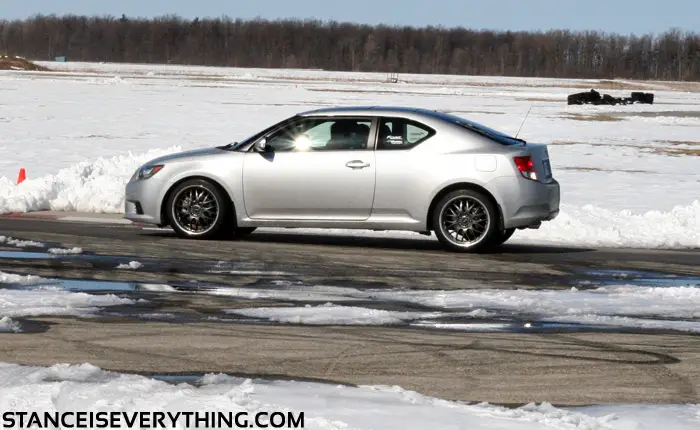 While this experience (and the one that followed shortly there after) was quite nerve racking and a definite blow to my ego I feel what I learned from it made me quite a bit smoother in the following laps.
Once my nerves settled further I was out lapping as much as my car would manage before a misfire put an end to my day. With my car sidelined I decided to take some pictures of others until the session was over.
Once the lapping portion was over for the entire group we went back inside and were presented with gift certificates and complimentary goodies.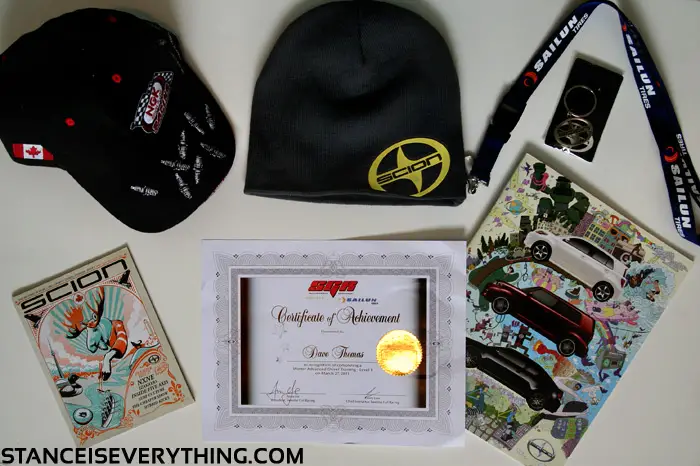 All said and done I had an excellent time at the event and would recommend it to anyone of any skill level who is looking to become a better driver. It's absolutely worth the value and if you have never been on a track before I think it's one of the safest ways to do so.
If budget permits I plan on attending another soon in much milder weather.
More photos can be found on the Sweetie Girl Racking flickr, and info on the next available courses through Sweetie Girl Racing can be found on their homepage.