Being a car enthusiast and working at a tuning shop is akin to being a kid at a candy store, all of the resources you could possibly want to put together an incredible car is right at your fingertips waiting for you every day.
Kevin, an employee at Nextmod, put all of these resources to work when he decided it was time to take his 2010 STI from mild to absolutely wild.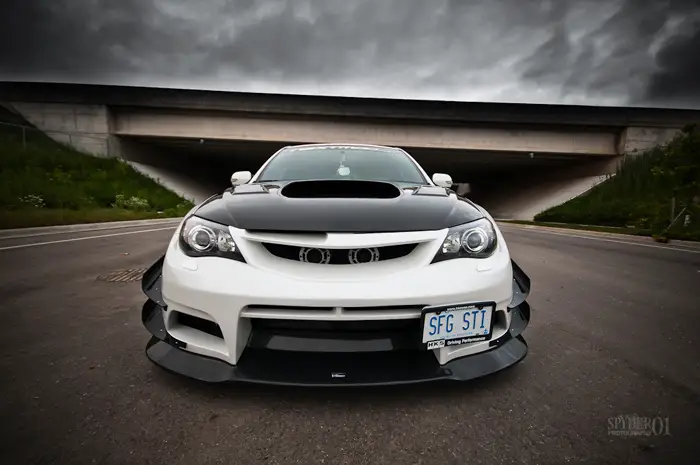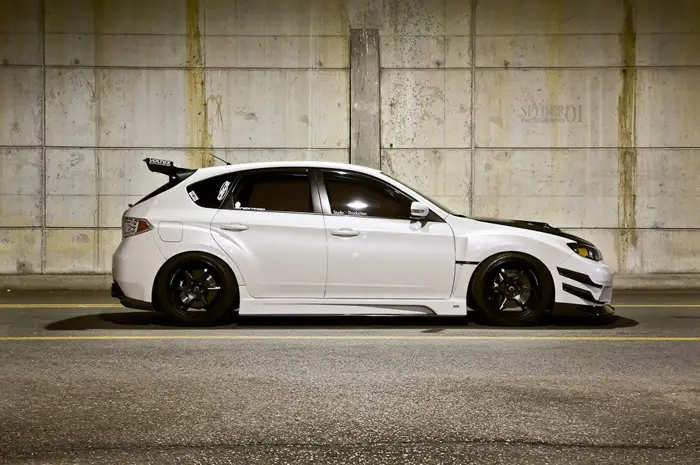 Kevin wanted version 2 of his Subaru to be a drastic departure from it's previous incarnation and stand out among the increasing number of high caliber Subaru builds roaming the Toronto streets.
To do that he went with the very aggressive, and very extensive, Varis body kit consisting of a front bumper, carbon fiber lip, carbon fiber hood, dual canards, side skirts, carbon fiber side skirt extensions, diffuser, and carbon fiber diffuser extension.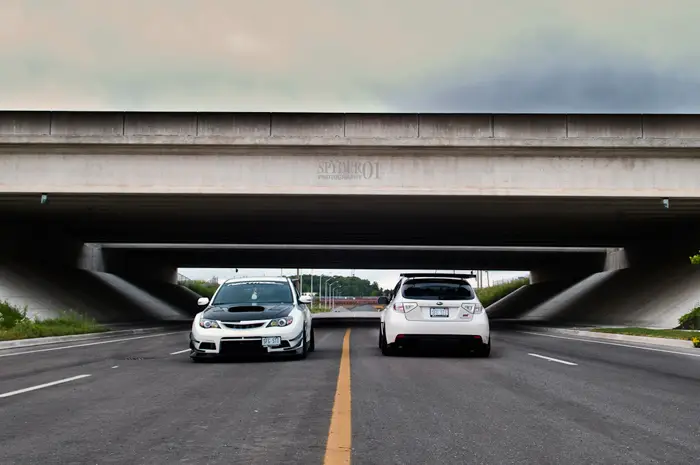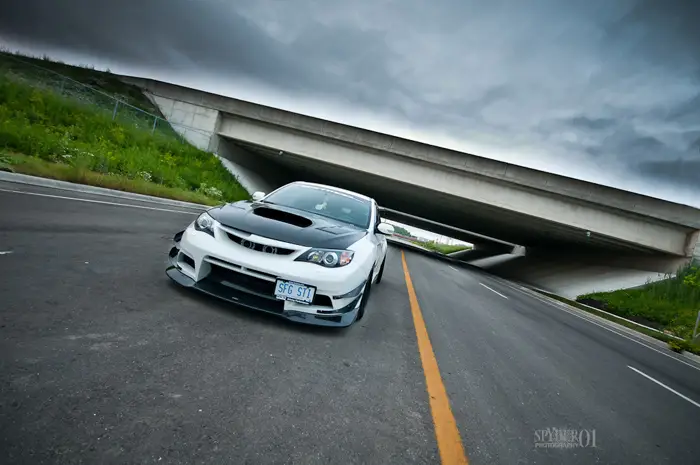 Very few of these body parts where ever destined for North America so wait times for these parts wasn't your typical couple of weeks, instead Kevin was forced to wait about six months for all of the pieces that make up the kit to arrive.
Idle hands proved to be the devil's workshop because while he was waiting for his shipment  from Varis to arrive he wrapped his STI spoiler in carbon fiber and then picked a hatch back spoiler from the Voltex catalog to finish off the rear end.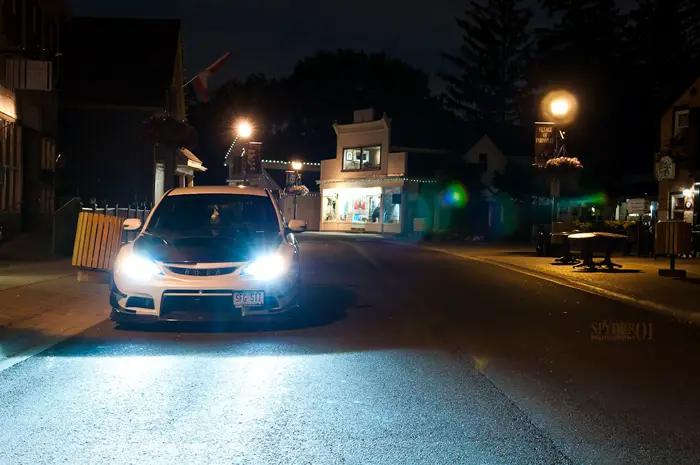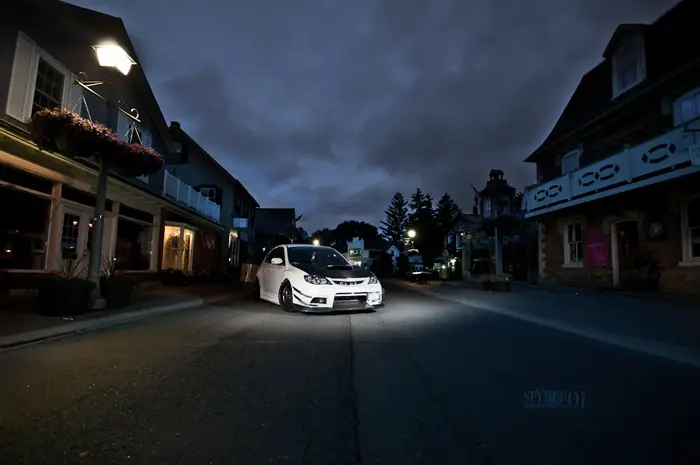 Once tracking numbers confirmed the mix of fiberglass reinforced plastic and carbon fiber body parts were nearly at his door Kevin focused his attention to the cars connection with the road opting to further upgrade his suspension with HKS Hipermax 3 sport coil overs, Cusco rear control arms, and a progress rear sway bar.
The rolling stock on the car was also swapped from the previous Takata green Volks to more aggressive and downright stunning flat black 18×9 +25 Advan RG-Ds inside of 245/40 Dunlop tires.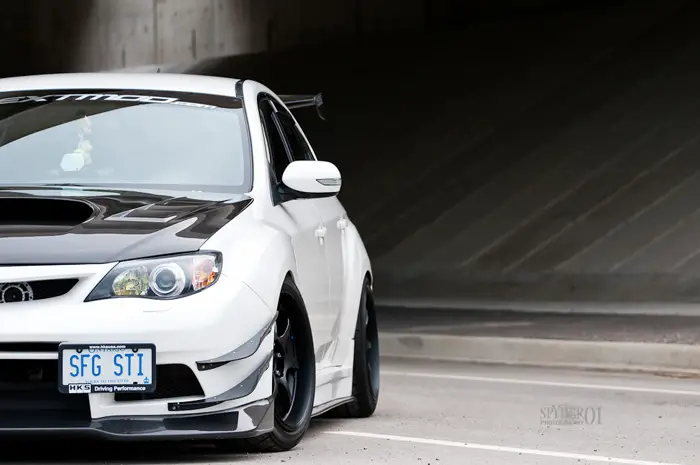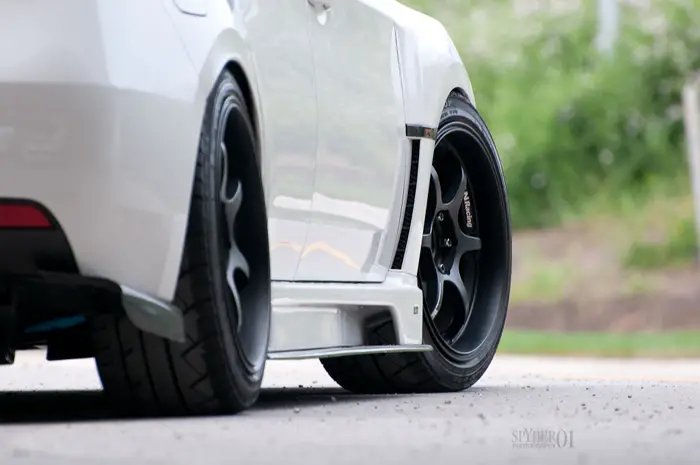 With the intimidating exterior now starting to take shape Kevin put a little bit more work under the hood so the bite matched the bark. While he was on the phone with HKS ordering his coil overs he also ordered a suction racing intake, grounding kit, and turbo back exhaust complete with titanium tips.
All of this, including the Cobb access port and pro tune, was in preparation for the turbo XS external waste gate up pipe, Tial wastegate, Tomei EL headers, and Perrin front mount inter cooler that are all currently sitting in the shop waiting to be installed.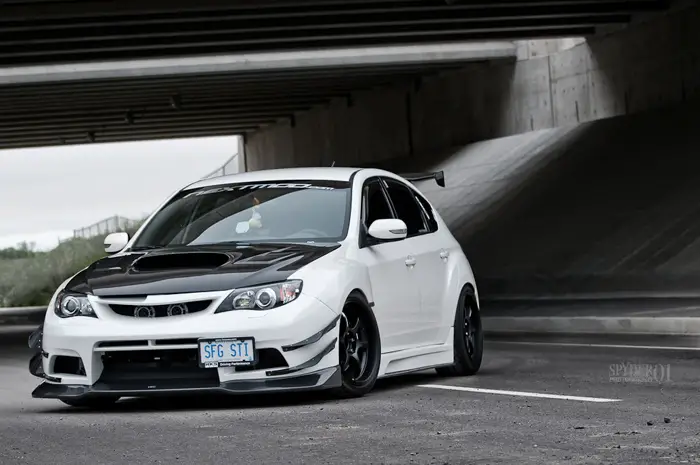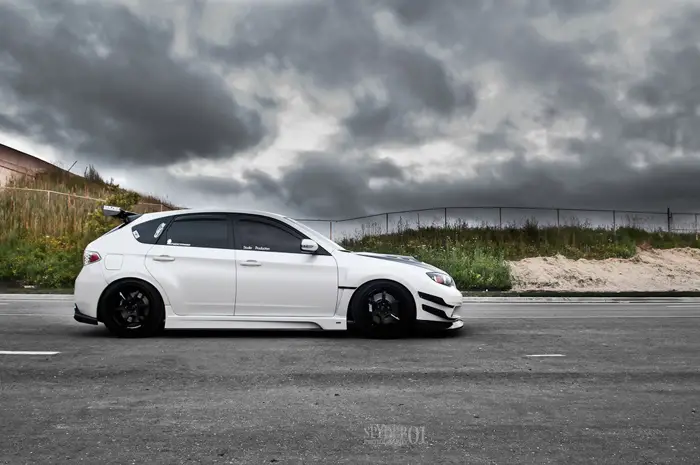 On the inside Kevin kept things fairly simple, he added a trio of defi gauges (boost, oil pressure, and oil temperature) to monitor the motors vitals along with a VSH heads up display.
Underneath the illuminated gauges he added an Alpine W205 double din deck which is the brain for his in car entertainment system made up of Pioneer amps, Morel components, and MTX sub woofer.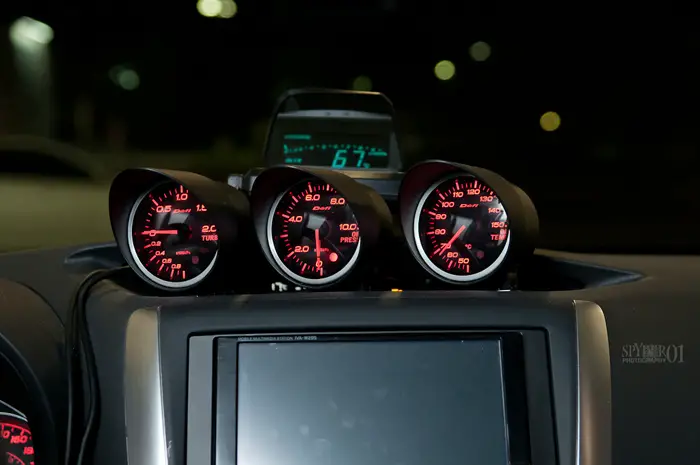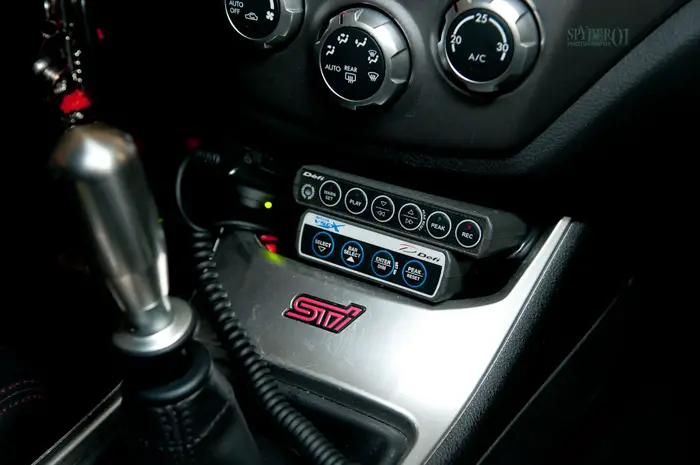 With another head turning version of his car complete Kevin is looking forward to spending the rest of his summer enjoying his latest creation, however there is really no telling whether or not this car will ever truly be because all of the same resources that where behind the last build are still available to him every day.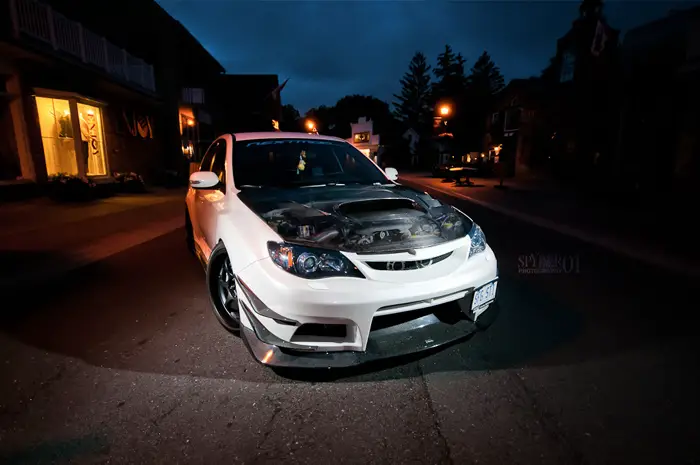 Photo credit: Eric Choi – Spyder 01
Complete Modification List
Exterior
Varis CF body kit includes:
Front bumper + cf bumper lip
Varis CF hood
2 sets of cf canards
Side skirts + cf side skirt lip
Rear cf diffuser + cf diffuser extension
CF wrapped WRX spoiler
Voltex hatch back spoiler
ARC titanium shift knob
18×9 +25 Advan RG-Ds in flat black + special order Advan flat black center caps
Volk Racing Formula chrome lug nuts extended
Prova SI drive knob
White interior LEDs
Rolled rear fenders
Suspension/Tires
HKS Hipermax 3 sport coil overs
Cusco Rear control arms
Progress rear 22mm sway bar
Progress Endlinks
Underhood
HKS racing suction intake
HKS oil cap
HKS rad cap
HKS full turbo back w/titanium tip
HKS grounding kit
Denso IKH27 iridium spark plugs
DEI titanium full turbo back wrap
Cobb Acccess port with pro tune
Cusco oil catch can
Interior
Defi BF boost
Defi BF oil pressure
Defi BF oil temp
Defi VSD Heads up display
Kartboy Front and rear shifter bushing
Hawk HP+ front and rear brake pads
Goodridge brake lines
Motul RBF600 brake fluid
Motul engine oil
Motul transmission fluid
I.C.E.
Alpine W205 double din deck
Pioneer PRS-D2200T 2 channel
Pioneer PRS-D1200M 4 channel
Morel 2x 6.5″ components
MTX 10inch sub with bassworx box
Upcoming
Turbo XS external waste gate uppipe with dump tube
44mm Tial external wastegate
Perrin front mount inter cooler
Tomei EL headers
Thanks to Kevin for submitting his ride for the feature and once again thanks to Eric Choi for letting me use the photos.