It's interesting to consider whether or not Honda knew just how popular the s2000 would become when they released it in 1999. Since it's birth the the car has been modified 1000 times over with literally no end in sight. It's really remarkable what people are doing to these cars around the globe and right here in Toronto.
Matt, a long time Honda enthusiast and show veteran, has been working on his s2000 ever since he sold his Civic and the current revision of this constantly changing project is simply stunning.
The ARK N2 Titanium exhaust fitted to this s2000  does a great job of playing hype man to the main attraction because you hear this s2000 before you see it, and once you turn your head to see where that sweet exhaust note is coming from you are rewarded with a virtually flawless example of how a street prepped s2000 should be modified.
The brand new factory direct Work Miester SP1 wheels are the focal point of the exterior but hardly all that is going on. Matt has updated the look of his s2k by converting all relevant exterior pieces to AP2 units, adding a Honda Club Racer lip and side marker lights and completing the list of short but sweet exterior modifications are  J's racing side skirts.
The suspension on this car clearly isn't stock and the beautiful lack of ground clearance is thanks to HSD coils, these coil overs are complimented by additional suspension modifications that include a trio of Spoon components (cross member, center beam, and differential bars) along with a GTspec front strut bar, and new bushings all around provided by Mugen and Powerflex.
Matt's s2000 sees lots of different uses, throughout the week it is a daily driver while on the weekend it is either a track car or a show car.
With that mix of uses in mind Matt decided the best way to strike his perfect balance of performance, looks, and reliability was to add components from the ARC (air induction box, spark plug cover, air diversion plate), Spoon (oil Cap, temperature Switch, thermostat), and DC sports (headers) catalogs in addition to a rad from Koyo to help keep things cool wherever the car may find itself.
In the braking department Matt stuck with the rotors the Honda engineers installed from the factory but turned to StopTech for friction material.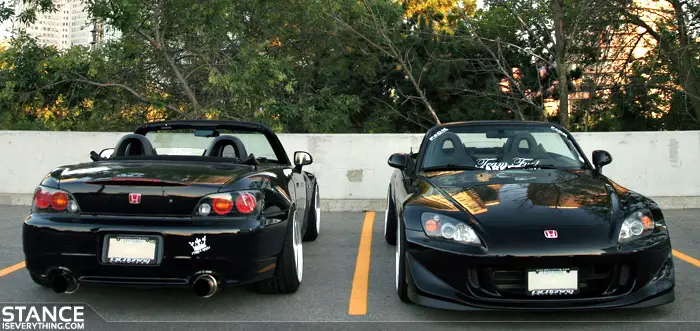 Inside Matt kept things clean, to keep track of the cars vitals he has installed Defi BF series gauges, and to keep track of possible rear enders he added a Spoon mirror. Like the outside the center console has been switched out for the AP2 version and an ARC shift knob now sits atop the shifter.
A Sony in car entertainment system consisting of a 12″ Xplode sub and two Xplode GTR 800 amps has been installed to help the tunes keep audible when the top is down and the wind noise is high.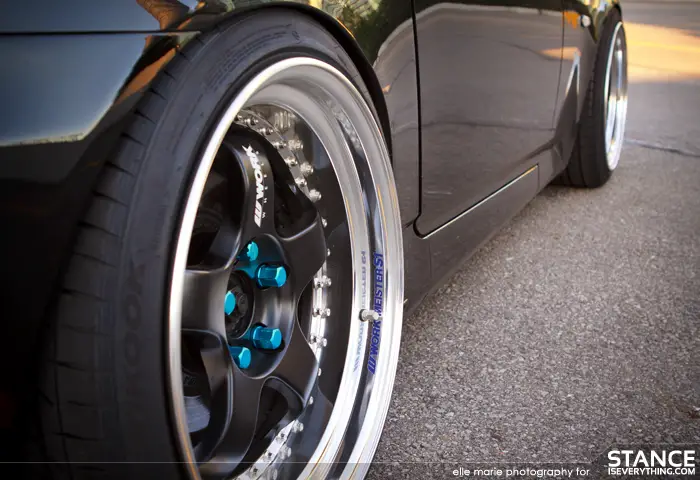 With the summer season at it's peak Matt is looking to enjoy his new look for as long as the weather allows and if you want to check out this car in person one event you are guaranteed to see it at is Matt's own charity show Tuners Against Street Racing which takes place August 28th 2011 at Mosport park.
Complete Mod's list is below.
Modifications
Engine
– ARC Air Induction Box
– ARC Radiator air diversion plate
– ARC Spark Plug Cover
– DC Sports Polished Headers
– MEGAN Racing silicone hose kit
– ARK N2 Titanium Exhaust
– INVIDIA resonated Test Pipe with cel fix
– Innovative Engine Mount and Transmission Mount kit
– SPOON Fluid Reservoir Covers
– SPOON Radiator Catchies
– SPOON Oil Cap
– SPOON Temperature Switch
– SPOON Thermostat
– KOYO Aluminum Radiator with KOYO rad cap
– Skunk2 Battery tie down
– Skunk2 Racing VTEC solenoid cover
Suspension
– HSD Coilover Suspension
– GTSPEC front strut bar
– HASPORT Differential Mounts
– SPOON front cross member bar
– SPOON Center beam bar
– SPOON rear differential bar
– Powerflex Poly Bushing Set, all arms
– MUGEN lower control arm strut bushings
Wheels
1. WORK Meister S1 3P custom offsets (Show)
2. FAST wheels Version 5 (Track)
Stopping power
– Spoon Mono block Calipers
– Goodridge SS lines
– HONDA OEM rotors and StopTech Pads
Exterior
– Full AP2 Front and Rear conversion
– Honda Club Racer front Lip
– Honda Club Racer side marker lights
– J's Racing side skirts
– J's Racing shorty antenna
Interior
– Defi BF series Oil Pressure, Oil Temperature gauges with control link unit
– SPOON Rearview Mirror
– Honda Club Racer Radio door cover
– AP2 center console cover
– ARC titanium shift knob
– Works Bell hub
– NRG short Quick release
– Personal suede with red stiching steering wheel
ICE
– Sony Xplode 12 inch sub
– Sony Xplode GTR 800 Watt amps x2
– Pioneer deck
Additional photography provided by: Elle Marie Photography
I plan to make wall papers of a few of the photos from this shoot so let me know which you would like to see.