It's always been true that the right accessories, especially wheels, make or break the over all look of a vehicle and now more than ever people are focusing on the quality of their wheels in addition to the look, diameter, width, and offset.
This increased desire for a quality product has created a market that can sustain several made to order custom wheel manufacturers. The latest of this new breed of wheel manufacturer is Luxury Abstract who is poised to make a huge impact in luxury aftermarket accessories for 2011.
A New York based company Luxury Abstract is focused on becoming an industry leader in it's field and thanks to their Canadian representative Aidan Borges I was able to correspond with the product designer and founder Agim Jones via email to get the low down on this new brand.
Are your wheels completely customizable when it comes to barrel size, face size, bolt pattern, width, and offset?
Yes, all Luxury Abstract wheels can be ordered in 18-22″ and in widths of 7-15″ (reverse) flat lips are available on all models while step lips are available in 19-21″.
Our wheels can be made in just about any pcd as well as offset and we work with the customer to determine the biggest lip size they can achieve while getting just enough brake clearance.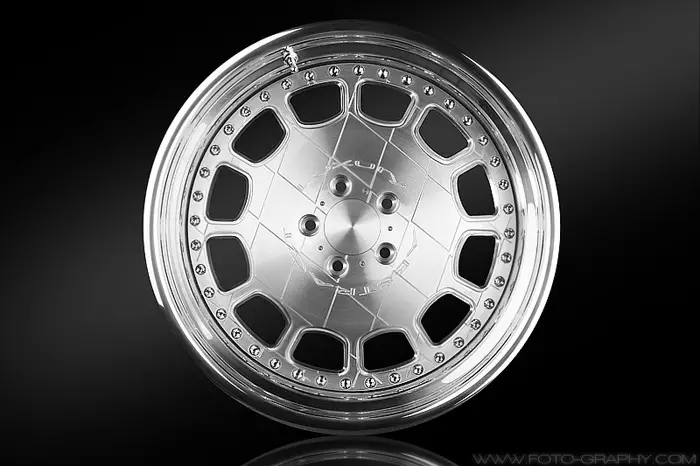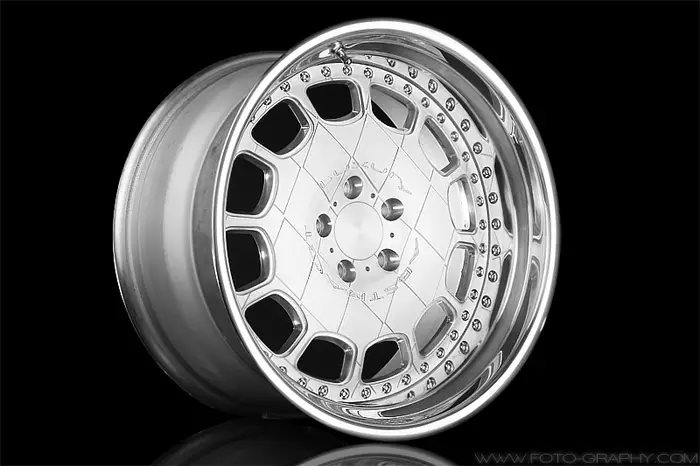 Are all of your wheels going to be in limited runs or do you intend to have a few mass produced models?
All of our wheels will be made to order and each design will be available for a limited time before they are discontinued.
We will also have short run variations of specific models, and these short run variations will be more "love it or hate it" type of style.
If you hate a certain wheel initially but eventually change your mind, it may no longer be available. This is our way of rewarding enthusiasts who want something unique and were not scared to take the risk on it.
In the future, these wheels may become sought after and considered "cult classic's" which is what we are aiming for.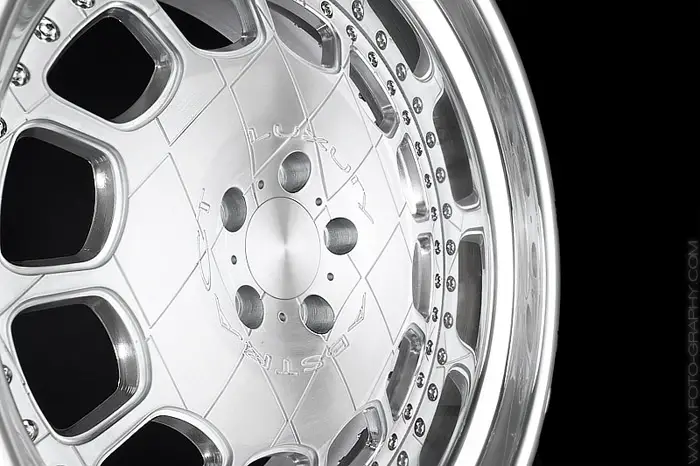 What manufacturing process do you use on your wheels, and what finishes are available?
Our wheels are three piece forged t-6061 aircraft grade aluminum which is lighter and stronger than typical cast wheels.
Each wheel face starts off as a rod of aluminum and then it is hit with millions of pounds of pressure to make it into a round disk.
This process pushes the crystal structure of the metal so compact and tight that it becomes much stronger than other manufacturing processes.
The faces, bolts, center caps, inner barrels, and lips can be painted, polished, machined, powder coated or chromed.
We will offer a few suggestions per wheel to make it easier on the buyer but if they have a recommendation, we can do it.
We use only the finest paints and can color match any factory color.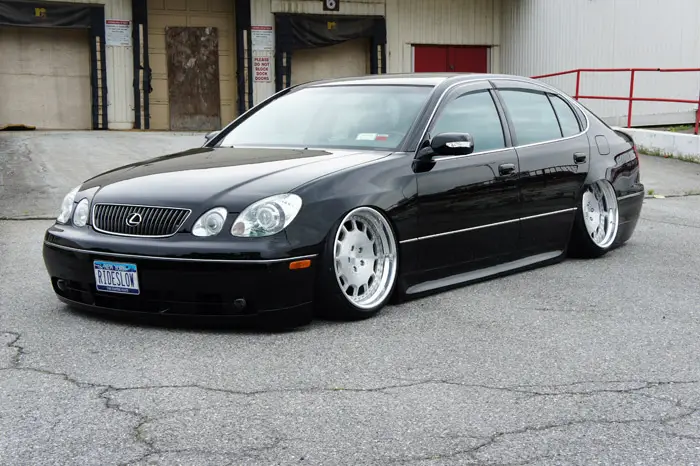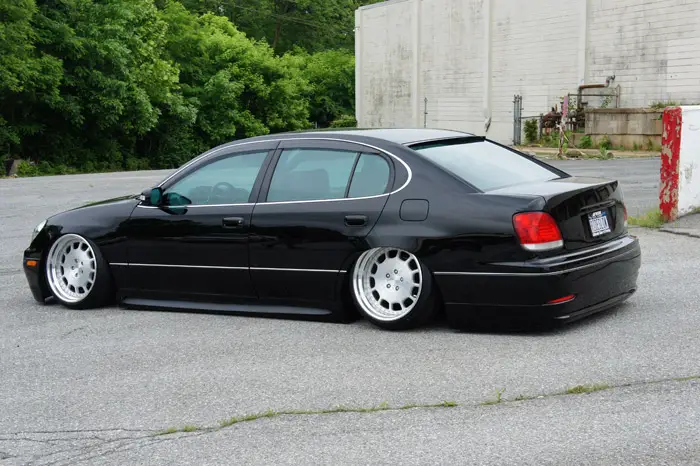 What brands would you consider Luxury Abstract comparable to?
True luxury is not comparable since it is unique in its own way. It doesn't look to directly copy what anyone else is doing.
Even though the prices and engine sizes may be be comparable between a Ferrari and a Lamborghini, you would never confuse one for the other since they both do their own thing in terms of styling.
That is the concept we have chosen to follow.
It is not our focus to compete directly with another brand or react to what another company does. Every move we make must make sense to our own identity. In doing so, we stay true to what we are about. By not jumping on certain trends, we may hurt ourselves in the short term but strengthen our following for the long term.
The presentation of our products, brand concept, culture, marketing, styling, patent pending engraving, products we offer other than wheels, particular scene we cater to (vip style/high end luxury), and the fact we only offer forged wheels means you can't look at a single company and say we are copying their business model.
We highly respect those companies who have made it past a year as it is a really tough industry.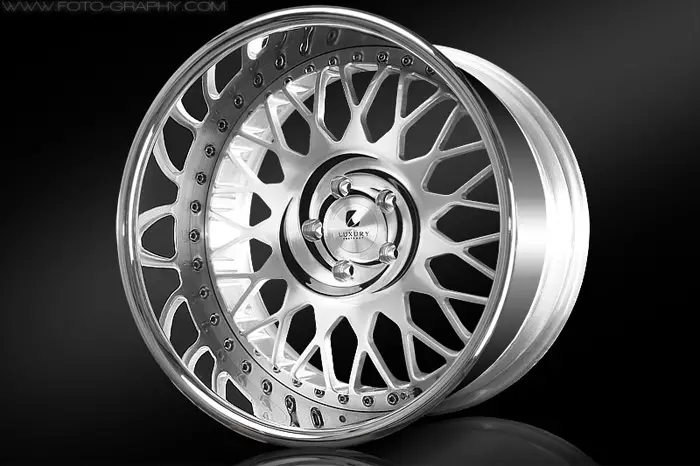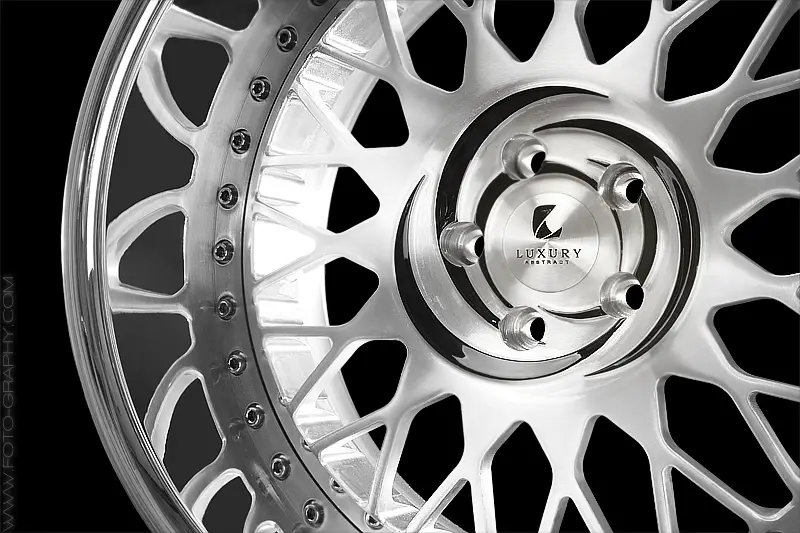 What is the price point of Luxury Abstract Wheels
A set of 18's in silver finish will run around about $1100 per wheel, 19s $1200, 20's $1300, 21's $1400, 22's $1500 per. The options chosen for finish and engraving will also effect the final price.
For a three piece forged wheel, some consider that under priced but we are enthusiasts who want to get the brand out there.
Limited edition runs as well as some of the thicker faced wheels we offer, are higher in price due to the added shop time and costs of materials used.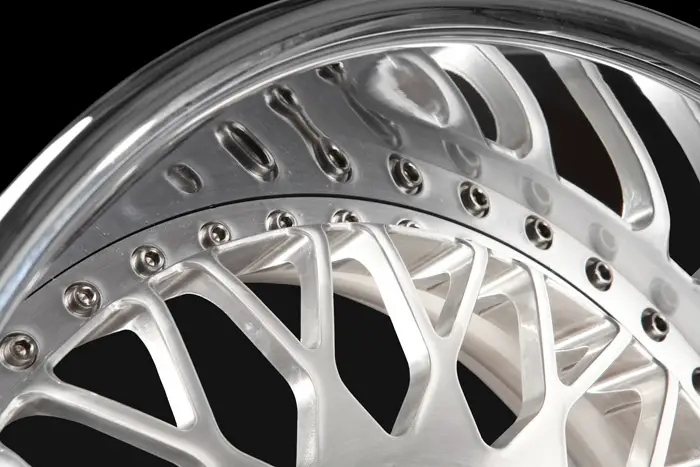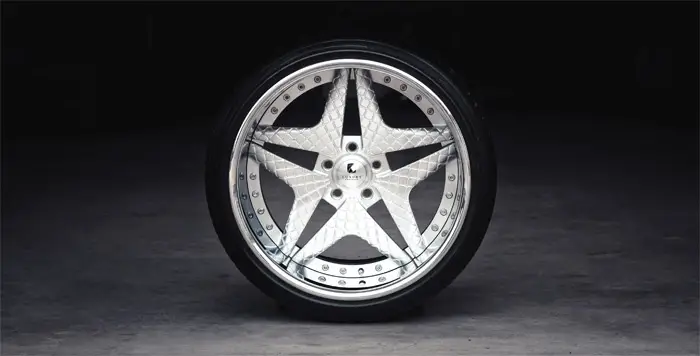 I've noticed a lot of the designs have etching and styling cues not commonly applied to wheels, where did you draw inspiration from for these touches?
Thanks.
My love for artwork and luxury were the concept behind the brand. Living in NYC, I am fortunate to have both all around me. Just roaming the streets of Manhattan gives me a ton of inspiration and ideas. From architecture to fashion, concepts of my designs come from the least likely sources. Sometimes, its a combination of a few ideas lumped together and tweaked a dozen times.
Engraving is something you would find on high end, personalized jewelry, wood furniture and watches. It is a detail that gives a refined look and commonly found in luxury products. In the VIP car scene, anything found on a super high end car will be embraced in the style.
Quilted stitched seats or "Diamond stitch" is extremely popular but that is not the sole reason for using that pattern as one of our trademarks. The quilted pattern, has been around luxury for centuries.
You can find it on statues, gates, luggage, fashion and in high end car interiors such as Bentley. If you really pay attention, the pattern is everywhere from your shoe laces to the support beam in the building.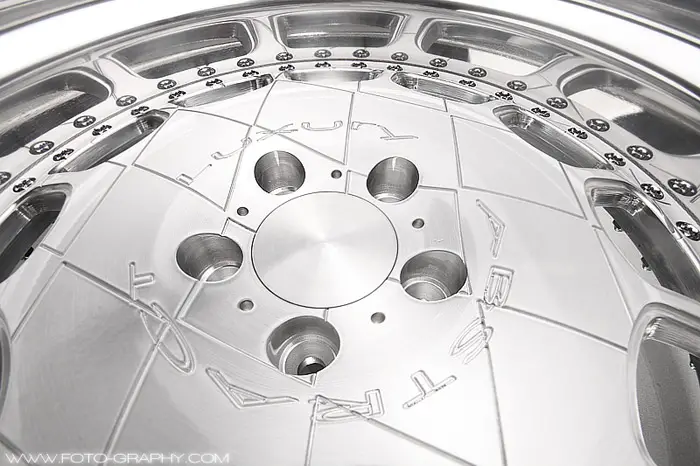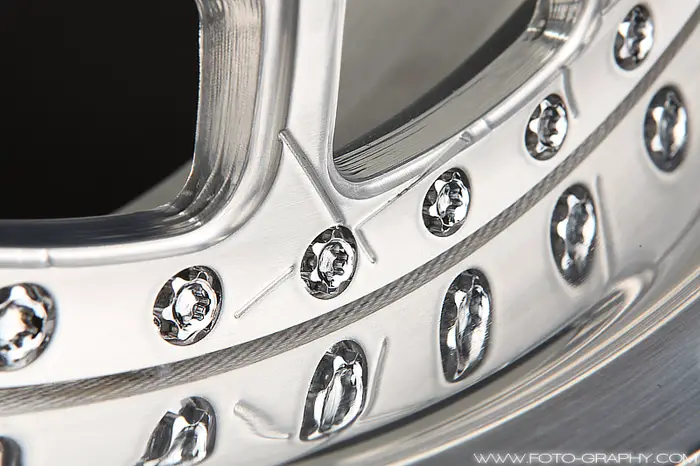 With the amount of replica wheel manufacturers around today are you at all worried about others replicating your product?
With the engraving and details in our products, you should be able to tell an impostor from the real. Our wheels require longer shop time and on certain models, a thicker face. Both cost more money to create than a typical wheel.
A replica company will not go through all the trouble of getting all the details correct and would use inferior materials (as well as finishes) which can potentially put the buyer in danger if a wheel were to fail on them.
At the end of the day, if you are replicated, you are putting out something attractive enough to be copied. Although it would be horrible to have Luxury Abstract products replicated, I look forward to working hard to achieve that type of success to have people consider doing so.
It is a shame to the originators who spend the time and money to design and test their products. We do not support companies who are notorious for creating replicas.
One way to protect yourself would be in court. To do so, you need get patents on unique concepts or designs which we are in the process of doing with our quilted engraving on our wheels.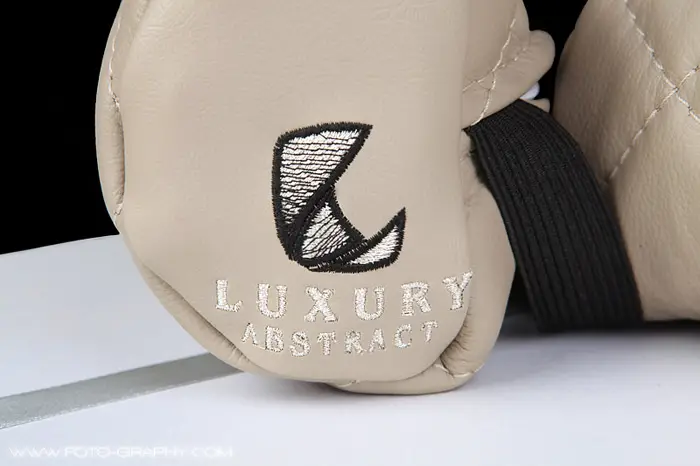 I've noticed Luxury Abstract is planning to expand past just wheels, what other products can we expect down the line?
We look to create parts that accentuate the look of our wheels. You can have the nicest shoes on the rack but if you don't have the outfit to match, they just won't look good.
You can expect exterior parts such as leather stitched door pillars, license plate frames as well as interior pieces, done in high quality stitching which exceeds OEM standards.
We offer real leather neck pads matched to any color and material leather and should be releasing a multiple lines of interior products which go with the theme of a particular wheel. Our upholstery guy Ben is a true artisan.
He's been teaching interior classes for over a decade and has the straightest stitches that I ever seen. Offering the highest quality is what you can expect from an authentic Luxury Abstract item.
Down the road, we will offer body kits, custom fenders, grills, etc. for different luxury makes and models.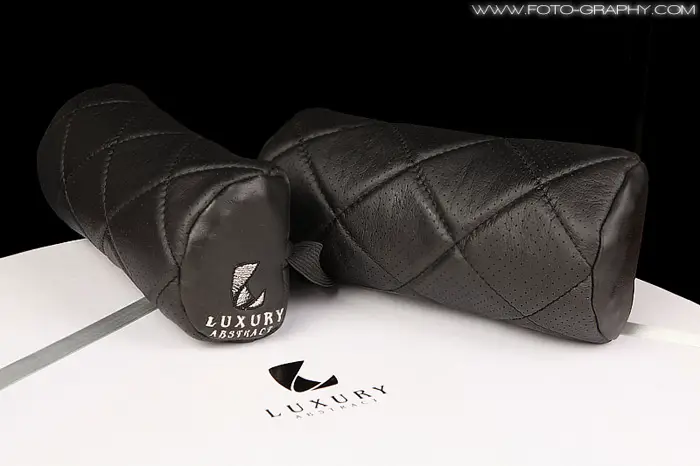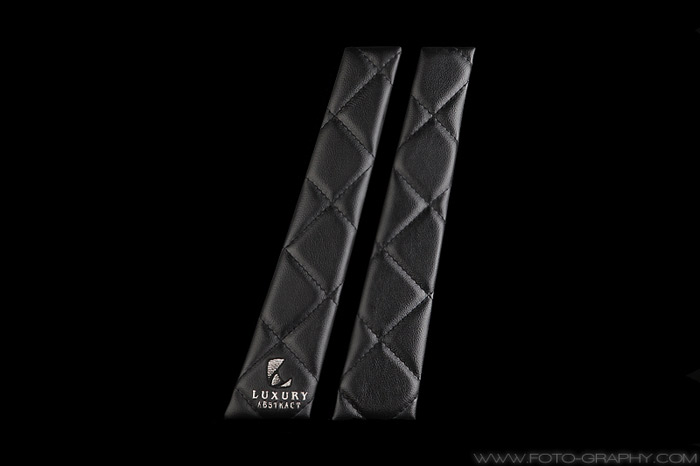 For more information on Luxury Abstract where should we go?
Our website is luxuryabstract.com and should be up and running shortly our blog Luxuryabstractblog.com is up and updated frequently.
You can also find us on Facebook at Facebook.com/luxuryabstract we can be emailed at [email protected].
Canadian inquiries can be done through [email protected]
I would like to thank all my early supporters which include friends family and the bloggers.

Thanks Stance Is Everything for the opportunity to show case my brand.
Thank you Agim and all the best with the new venture!