It's funny, non enthusiasts would view a car theft as a reason to drive a stock car forever more but those of us who are truly passionate about modifying automobiles refuse to let the actions of one low life ever take away the hobby we love.
Josh, who is  a web developer and graphic designer by trade, is now an avid VW enthusiast thanks to a local car thief who took it upon himself to steal his Civic SI from a local movie theater parking lot.
Once the red mist of rage that follows a car theft passed Josh picked up his first Volkswagen (a MK3 GTI VR) and the rest as they say was history because ever since he has only wanted to drive dubs.
Of course it also didn't hurt that in addition to having an incredibly supportive wife since becoming a dubnut Josh has also aligned with one of the top euro centric customizing shops in the area, CHOPSHOP.
Anything that has ever left the CHOPSHOP garage has been a head turner and his platinum grey Jetta is no exception.
This car is actually Josh's second MKV Jetta because while he instantly fell in love with the body style (and colour) of his first he felt he could accomplish more with the gas motor so he picked up a 2.0t to replace the TDI he had previously.
Once he acquired the new car he wasted no time taking advantage of the new power plant and quickly installed a barrage of parts from the Eurojet catalog including an S3 front mount inter-cooler, aluminum valve cover, and catch can.
APR then came through with more performance goods by contributing a 3″ turbo back exhaust and stage 2+ tuning software while Nuespeed provided the car with a better way to breathe via a p-flow cold air intake.
Exterior wise the Votex lip and side skirt are now familiar with the ground thanks to an Airlift suspension set-up managed by an Autopilot Digital Management system.
This  system is also responsible for tucking the 18×8 and 18×9 Work VS MS wheels as far up inside those fenders as possible giving the car a very clean final stance.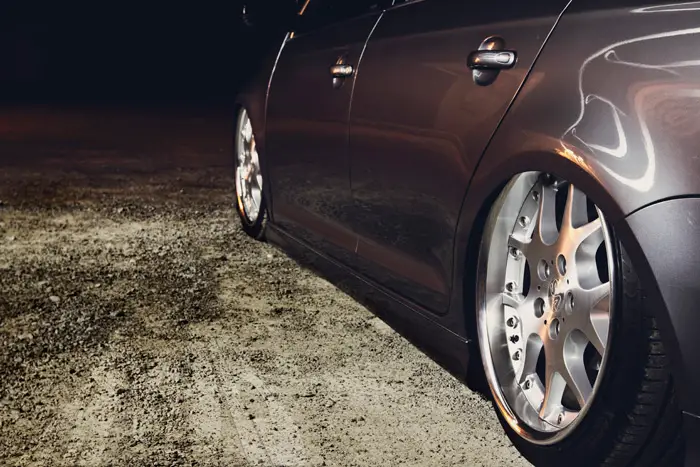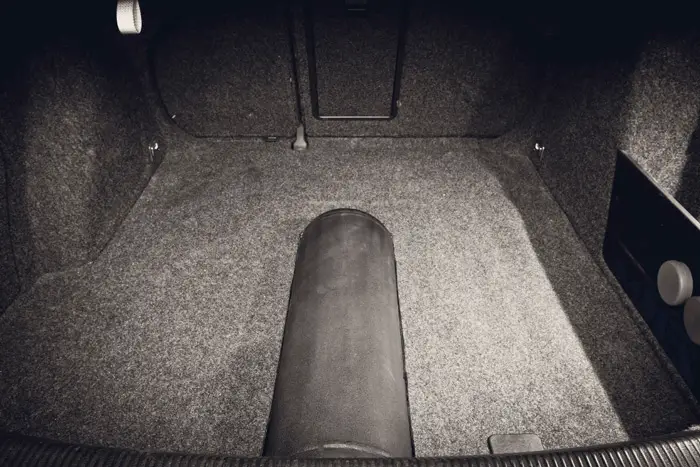 While it might seem a little silly to thank a car thief for anything it's not hard to see why Josh does every time he drives this Jetta, it's simply beautiful.
Of course Josh would also like to thanks all of the people who helped him with this build inclduing CHOPSHOP and Euroline Performance.
Modification List
Performance
APR Stage 2+ full program software
APR 3" turboback exhaust
Eurojet S3 FMIC
Eurojet aluminum valve cover
Eurojet VTA catch can
Nuespeed P-Flow CAI
Forge DV
Cosmetic
Custom painted FK badgless grill
InPro smoked mirror lights
Votex front lip
Votex side skirts
Smoothed GLI rear skirt
Shaved headlight washers and sidemarkerts
Painted mirror covers
Painted battery box, fuse box, washer, and coolant lids
Suspension and wheels
Notched frame
Custom finsished Work VS MS – 18×8 / 18×9 wheels
Nankang AS-1 – 205/40 & 215/40 with custom finish
5mm spacers
Airlift XL slam series bags
Digital autopilot management
Custom 5 port aluminum tank
Dual viair 400c compressors
Photo Credits: Mark Mark Luciani and Josh Horvath – faduchigroup.com and Matthew Berenz (Deathlens).