This morning at about 7am I walked to the corner store and could ever so slightly see my breath, which means only one thing around here: our days are numbered and soon old man winter will begin to grab the GTA with his cold bony hands to squeeze the life out of the 2011 season.
However with events going on basically every weekend of September 2011 isn't going out without a fight.
This coming Sunday there are two events to look forward to: the Battle Ground Performance Show & Shine, and the final Stretch and Poke meet of the year both of which I will be attending.
The Battle Ground show is being put on with the help of Division R Performance and will run from 10am – 5pm at the Battleground store which is located at 80 Carlauren Road Woodbridge Ontario (Weston/7).
There are tons of classes including specialty awards for: Best of show, Largest Car Club, Best Stance, Best Wheels, Best Engine Swap, Lowest Ride and Best Female ride.
Check out the flier below for more additional details: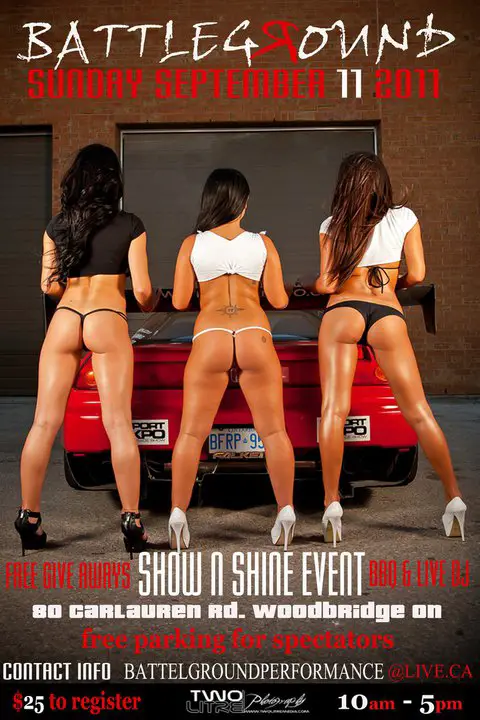 The final Stretch and Poke event will be at the usual location (Downsview Park) with all the usual suspects (Cool Kids, StreetClass, The Scraped Crusaders, Stance Is Everything, and ProperSpecs) and this event starts at 1pm and goes until the final car rolls out.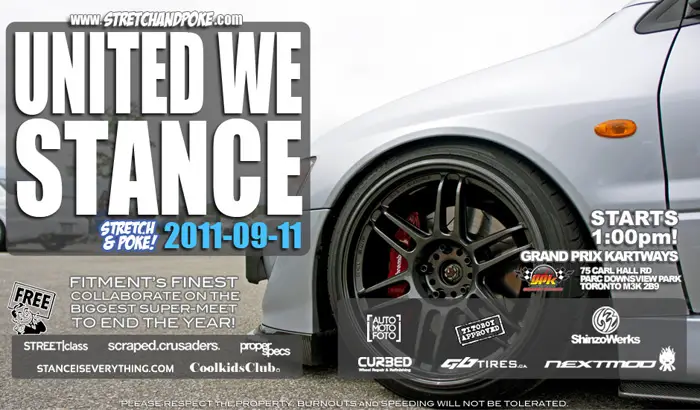 If the weather is good you have no reason to be sitting around at home this Sunday. My personal plan of attack is BGP show from 10-12isn, Stretch and Poke from 1-3 then back to BGP in time for awards and wrap up.
Also if you ever want to know whats going on in the GTA (with more than my typical one week lead time) my friend Trevor started an event calendar site for the GTA over at tdott.me – Toronto's Auto Blog