I've never met Mike but based on the picture he paints of himself on twitter he is one hard working SOB.
When these pictures of his car arrived in my inbox it was easy to see where all those late nights nights and early mornings have gone over the past several years.
His GTI is the perfect balance of function and form and there simply won't be anything like it again for long time.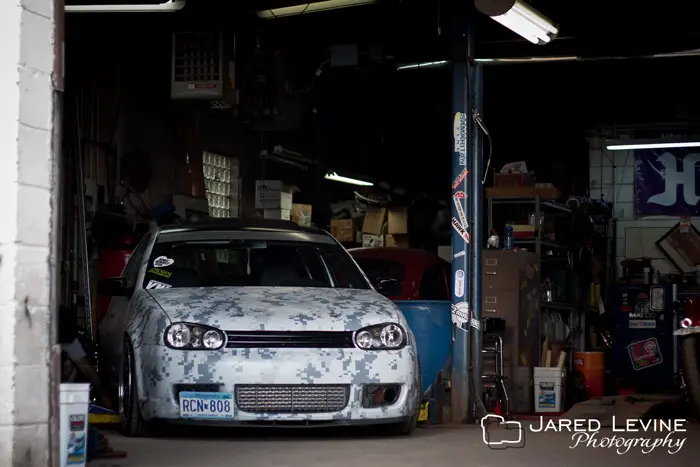 View 1500px version in new window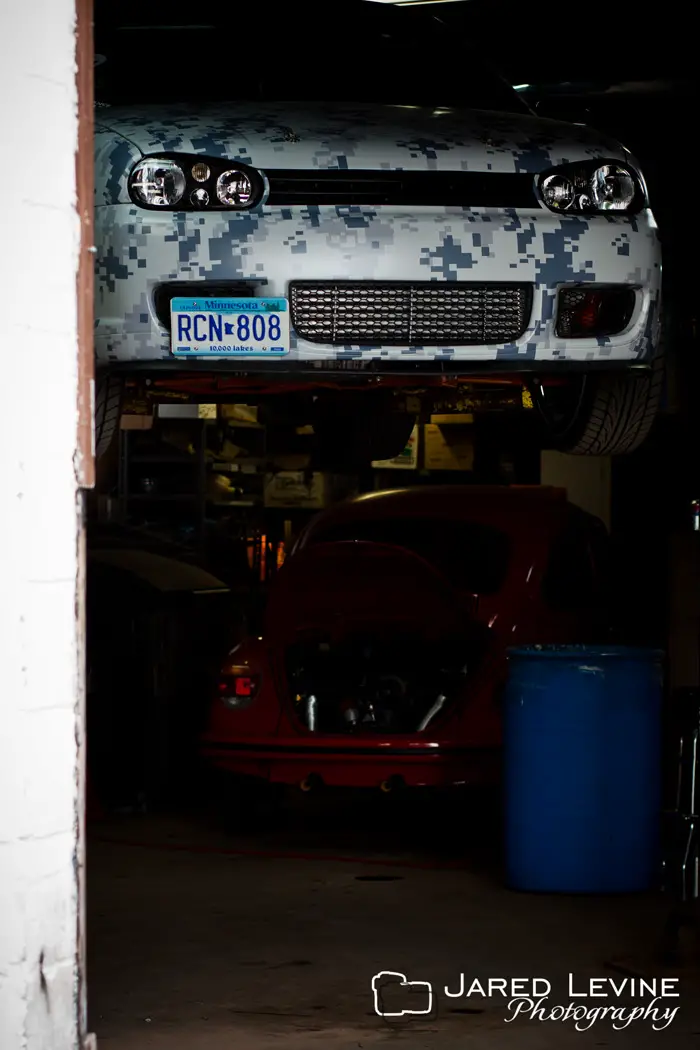 View 1500px version in new window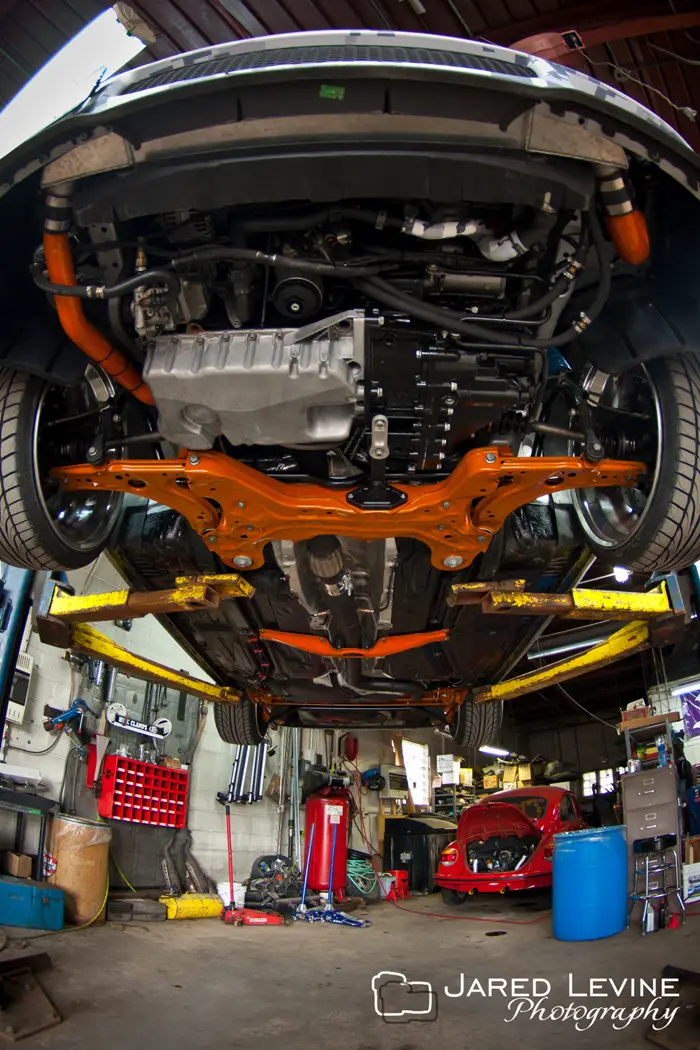 View 1500px version in new window
Condensing a build like this down into a few words is no easy task but the best place to start would probably be the motor.
It is a 3.2L VR6 Mk4 R32 mill that was been bored 0.5 over to 3.3 liters and had a huge laundry list of modifications thrown at it including JE 8.5-1 compression 0.5 over bore pistons, Integrated Engineering forged connecting rods, ARP Fasteners, and Racewear head studs.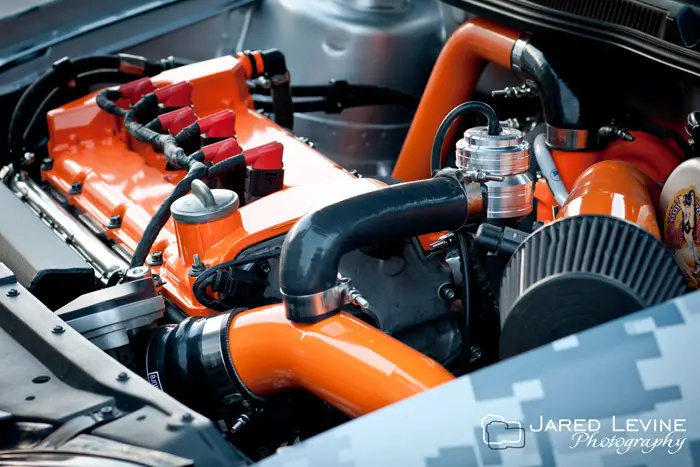 View 1500px version in new window
Once fully built and ready to accept more power a C2Motorsports Stage 3 R32 turbo kit was added before a United Motor sport tune was done to really get things moving.
Now when the gas pedal becomes one with the floor the car puts out a whooping 507hp and 400lbs of torque transmitted to the ground via an OEM six speed R32 transmission that has been fully cryo treated and filled with Motul synthetic lube.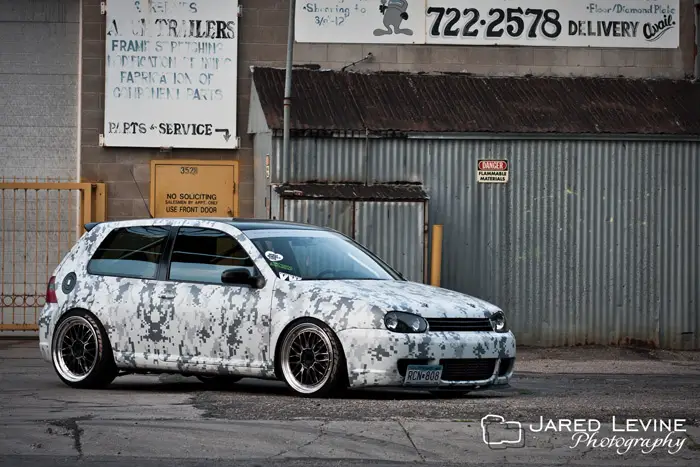 View 1500px version in new window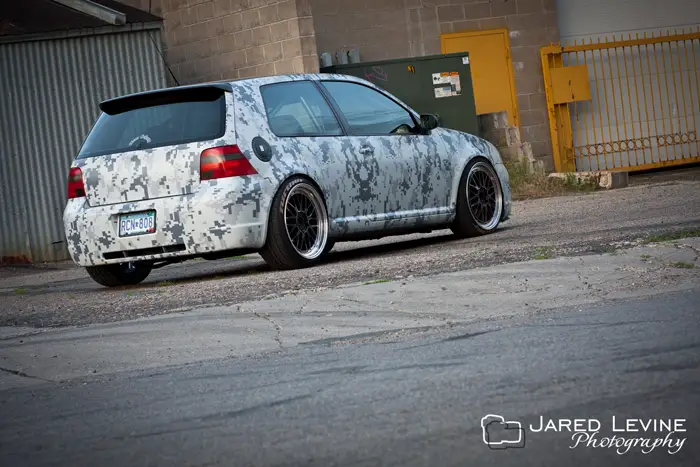 View 1500px version in new window
Screaming along with the tires at WOT is a custom, silicone coated and heat wrapped, 3" exhaust that is tucked up between orange powder coated components and surrounded by a completely sealed and repainted underbody.
Sending 500hp through a Quaffie limited slip differential to undersized overstretched rubber would be completely asinine so in front of the Tar*OX BBK (13.62″ Rotors up front and 11″ vented and drilled discs out back) are timeless 19×8.5 and 19×10 BBS LMs wrapped in Falken RT615K rubber.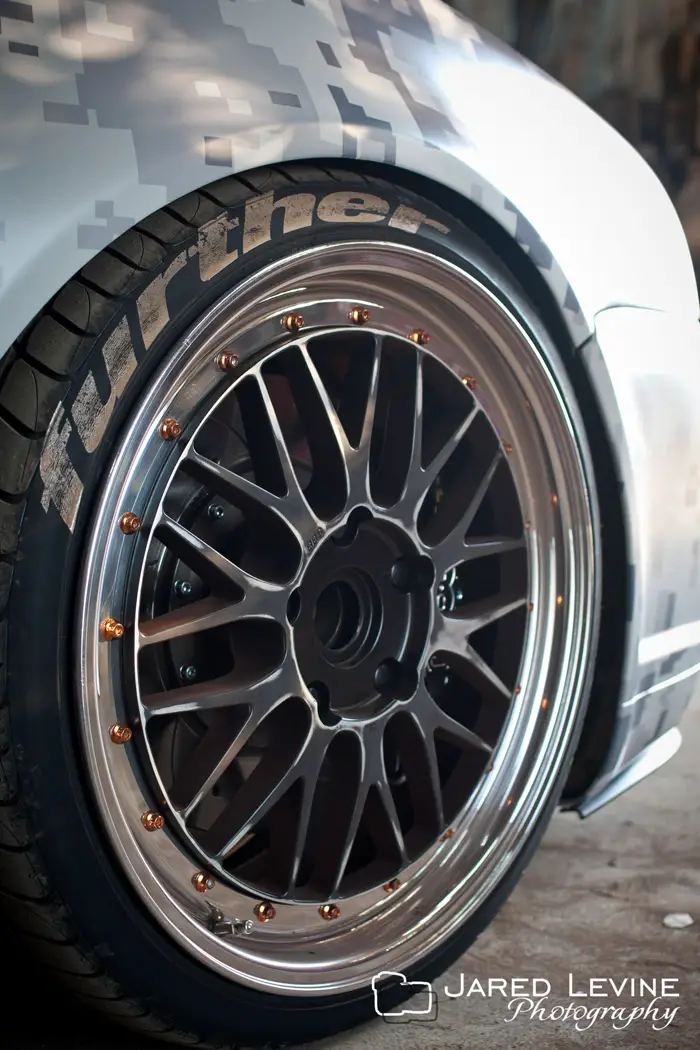 View 1500px version in new window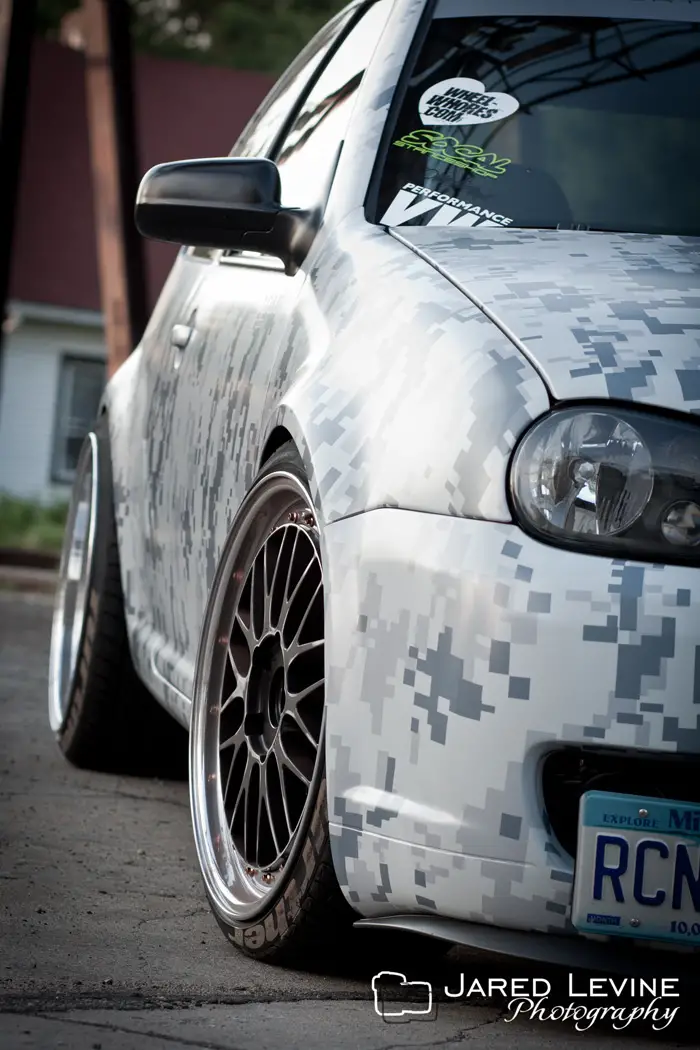 View 1500px version in new window
Aesthetically this car has many of the Mk4 Golf aftermarket norms done including a complete shave of OEM adornments (save for the handles) and OEM R32 bumpers, but what really separates this vehicle's exterior from the rest are the minute details.
Hiding under the white and various shades of gray is one of the cars most unique modifications, a custom Pro-fit fuel door that swivels on its own axis and points away from the filler using an aftermarket popping fuel mechanism originally made for the GMC Denali.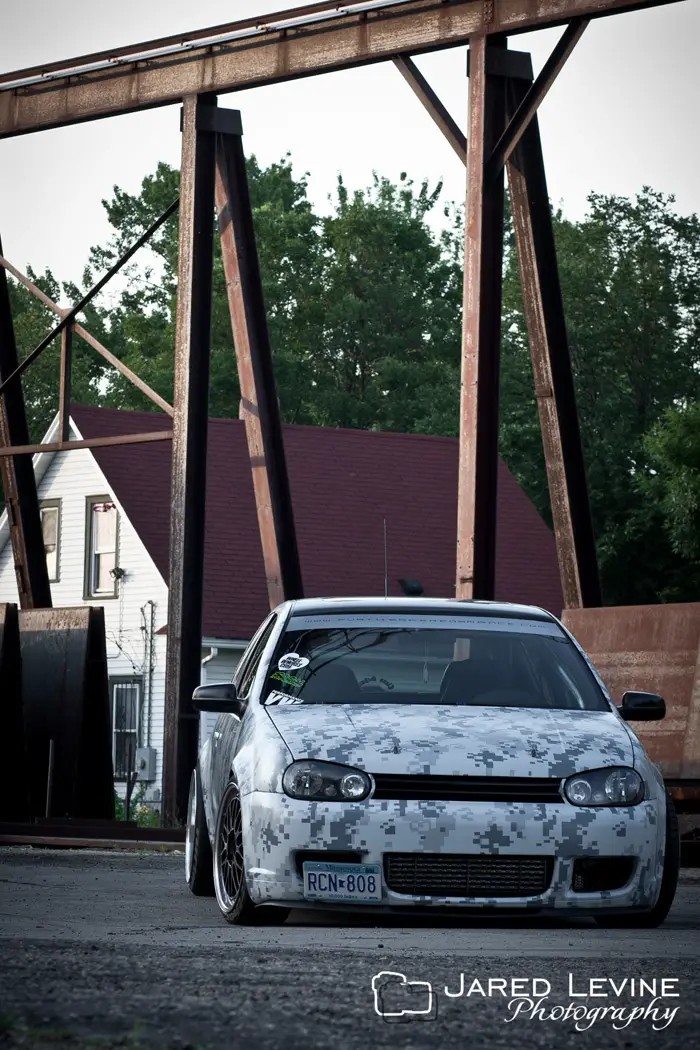 View 1500px version in new window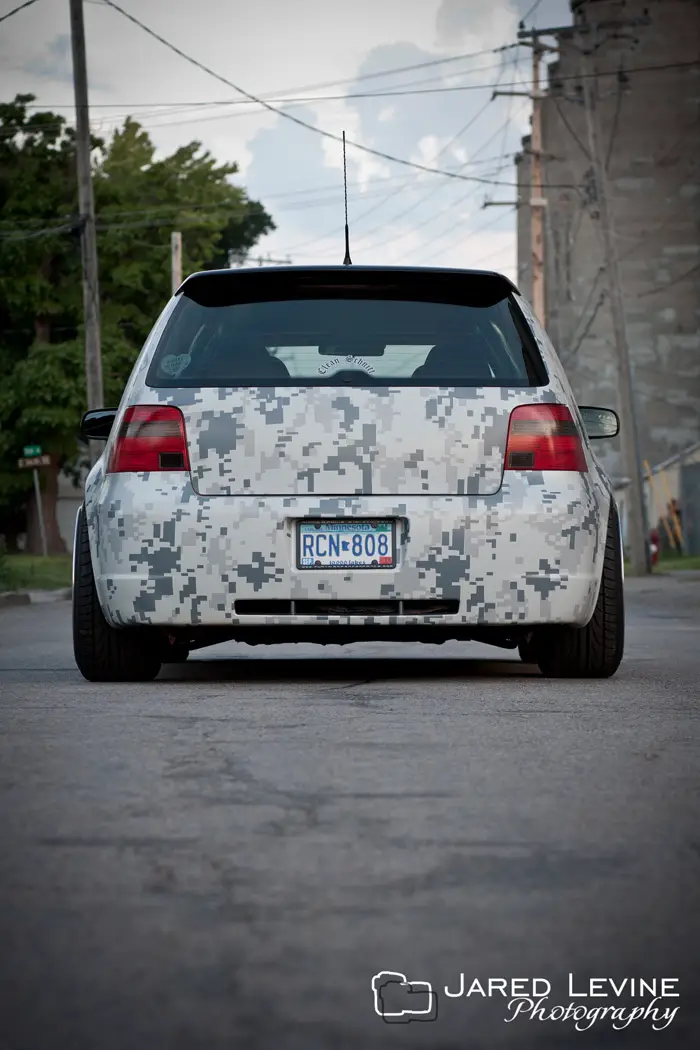 View 1500px version in new window
Going to the trouble to graft on an OEM Denali rear quarter panel for something most people will never notice may seem a bit crazy but it is a guaranteed way to have a modification that no one is going to copy anytime soon.
On the subject of bodywork do not for a second think that anything is unfinished under the vinyl.
The roof, center section of hood, grille/grille surround, hatch spoiler, mirrors, and sections between door and quarter panel glass, have been re-painted in a base flat black DP90 sealant while the rest of the exterior has been painted OEM Reflex Silver.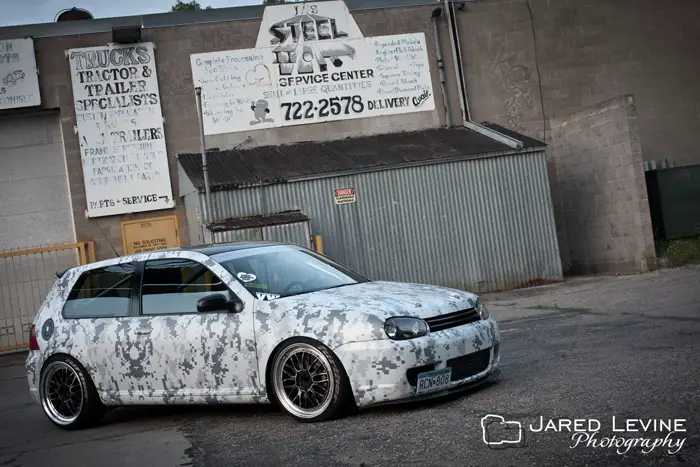 View 1500px version in new window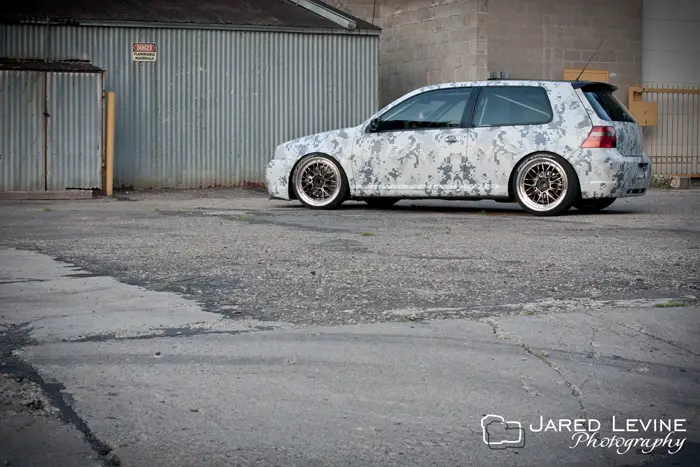 View 1500px version in new window
To match the built motor and uniquely modified exterior is an equally tastefully done interior, seating is handled by OEM R32 seats that have been wrapped in black suede to match the OMP race steering wheel and perfectly complement the raw brushed metal 6 point cage.
Incredible is simply the only way to describe this build and to really appreciate it without seeing it I suggest you scroll down to the modification list below.
It easily rivals the amount of modifications people put into several cars over a lifetime.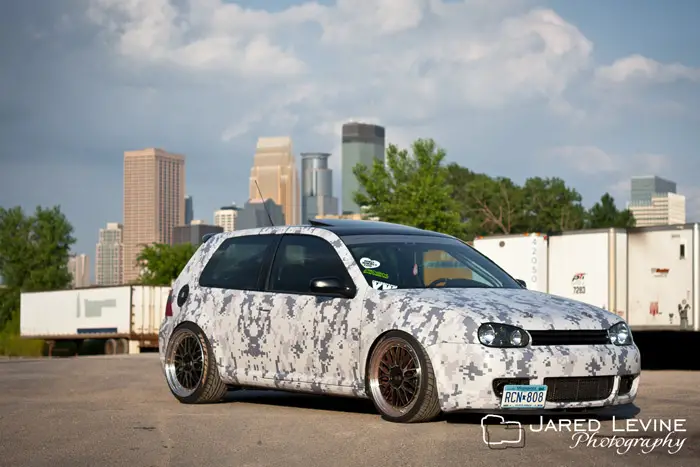 View 1500px version in new window
Modification List
Exterior
OEM .:R32 front bumper.emblem notch, corner markers, and upper swag/body line in lower bumper cover all shaved/smoothed
OEM R32 rear bumper. both exhaust openings removed and smoothed
All body side moldings removed/smoothed through out
fender marker lights removed/smoothed
rear hatch emblem, handle, and wiper removed/smoothed. Wiper delete from a 1983 Honda civic base model car, NOS part direct from Honda
gas door, replaced with "Pro Fit Fuel Doors", billet fuel door. aftermarket popping fuel door made for 99-04GMC Denali/ Cadillac Escalade. pops out, then pivots on its own axis point/turns away from the filler. hadto buy, and then mold a Denali quarter to make it fit properly, and still works off the OEM switch
VIS carbon OEM Gti hood w/notch originally. Notch filled in and smoothed, filled with a carbon/ Kevlar material used for race car repair
Roof, center section of hood between the body lines, grille, grille surrounding section of front bumper, hatch spoiler, mirrors, and sections between door and quarter panel glass, re-painted in a base flat black DP90 sealant, then cleared with a clear made from 60/40 flex and flat additive.
Remainder of car based in OEM reflex silver, and clear coated in the same 60/40 flex and flat mixture
OEM taillights and rear license plate, scuffed down, and cleared in the same mix, so as to match the overall hue of the rest of the cars finish.
Headlights, and housings broken down. Inner bezels, and assembly painted matte black, and headlights re-assembled.
Full digital camo vnyl wrap
Interior
OEM .:R32 headliner, fully recovered in suede, and having deleted all seat belt mounting points in the rear
OMP Race steering wheel, black leather finish. w/ Sparco hub adapter, and quick release steering hub
.:R32 front and rear seats, and matching black .:R seat belts in front
New South column pod, w/ autometer phantom 30 psi boost gauge, clocked to put max boost at eye level/ straight up and down
fully custom fabricated 6 point roll cage. Boxed, plated, and through the floor, fully welded in. even so far as to be welded into the dashboard support beam behind dash. Prepped, smoothed, and finished in a raw metal brushed look, and treated from time to time to keep it rust free
OEM TT 225 6 speed shift knob
OEM beetle "turbo S" pedal set
OEM .:R32 brushed door pull/ window controls, and door opener pull handles
OEM .:R32 center console, w/o center arm rest
Wheels/ tires/ brakes/ suspension
Tar*Ox B34 10 Piston front calipers, with 13.6 2 piece front rotors, and S/S lines
Performance Café 11 inch rear vented and drilled rear brake upgrade, w/ stainless braided lines, and calipers also stripped and powder coated clear.
19×8.5 and 19×10 BBS LM
Bilstein PSS9 fully adjustable coilovers
Autotech lower rear sway bar
TT solid rubber control arm bushings
all bushings, and mounts, front and rear were replaced 6k miles ago (upper front, control arm, and sway bar, rear beam, rear upper mounts) lower front subframe, control arms, center support beam, and rear torsion beam axle powder coated orange. as well, entire under body re painted with matte black rock gaurd sealant.
Engine
3.2l VR6 mk4 R32 motor, bored .5 over to a 3.3
JE 8.5-1 compression, .5 over bore pistons, with True Seal rings.
Integrated Engineering forged connecting rods
ARP rod and lower end fasteners
Racewear head studs
Mishimoto Aluminum radiator, and modified electric fans and shroud from a 2G DSM car
Samco "urban camo" coolant hoses
Precision Turbo PTB300.6267E turbo w/custom billet impeller wheel (C2Motorsports Stg3 R32 Turbo kit)
C2Motorsports Turbo Inlet (The "Bat")
GrimmSpeed Manual boost controller
TIAL 38mm external wastegate
550 cc injectors
Bosch 044 255lph motosport inline fuel pump
3 inch custom turbo back exhaust, wrapped in heat wrap and silicon coated all the way back to the bumper
deleted SAI, and Evap systems
C2Motorsports turbo manifold
C2Motorsports 3 inch V-band Down Pipe and high flow cat
C2Motorsports "QuickFlow" Short Runner Intake manifold
C2Motorsports Front mount inter-cooler
Forge Motorsport Diverter Valve
VF Engineering motor, transmission, and dogbone mounts
Moroso drag car style coolant res
BSH MK5 2.0t race catch can.
United Motorsport (Jeff Atwood) ECM tuning
(507 horsepower, 400 lb feet of torque @ the front wheels at psi of boost, 92 octane "plain ole' pump" gas)
Transmission
OEM 24v O2M 6 Speed
fully cryo-treated gear set, all internal gears and parts
Quaiffe limited slip differential
strengthened synchros throughout
ClutchMasters 725 dual disc clutch
Motul Synthetic Gear lube
If anything on that list jumps out at you as something you would want on your own ride don't be afraid to get in contact with Mike (low ballers need not apply) because he's already moved onto another project and is parting this one out.
Audi 80 fans rejoice because Mike's next project will be right up your alley.
Special thanks to Jared Levine for cutting me in on the exclusive list of websites he has given the opportunity to run these photos.