One of the best things about blogging is networking and 'meeting' people and one of the people I've met along the way is Jay from JDM EGO.
Before I started this blog I spent a lot of time reading  SpeedHunters, Motormavens, The Chronicles, and Fatlace/Hella Flush, shortly after I started filing my RSS reader with blogs mentioned on those sites.
JDM ego came up pretty often on the last two so I subscribed to his RSS and was hooked instantly.
In addition to posting a plethora of awesome AWD builds (like his own) he also posts artwork, die casts, and occasionally BMX related memorabilia, furthermore he is a nice guy who's always responded to any email I sent.
Recently I expressed an interest in the "Hella Bored Of Stance" license plate frame (the humor is not lost on me) and as luck would have it even though they are sold out he managed to dig one up for me along with some stickers.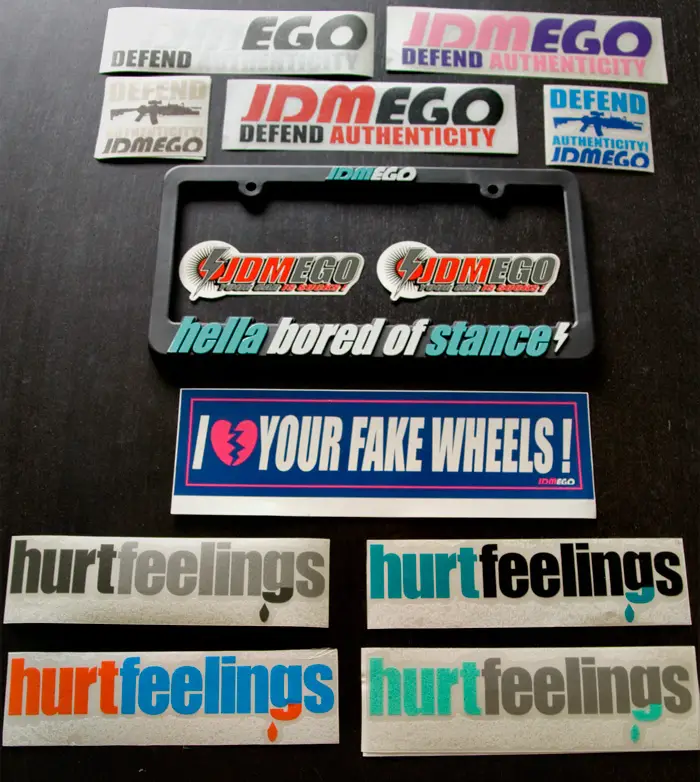 A couple of these stickers are going to make it on my toolbox, laptop, and car but the rest might be waking their way into the next giveaway so if you see something you like stay tuned for that.
If you can't wait and want something right away (and I don't blame you) head over to the official JDM EGO store.
I had intentions of running the plate cover next season but I think my GF might have claimed it so perhaps I will just keep my 'I Get Rad' plate frame on a little bit longer… I do have two after all.