For long time readers today's car may look a little familiar and that's because it was first posted in July of 2010 alongside an equally stunning white 328i.
At that time Bryan had just saved the car from an early death at the hands of a neglectful previous owner and done a little bit of work to it.
Since then Bryan has realized that his project 318ti is so much more to him than just a nice looking way to get from here to there.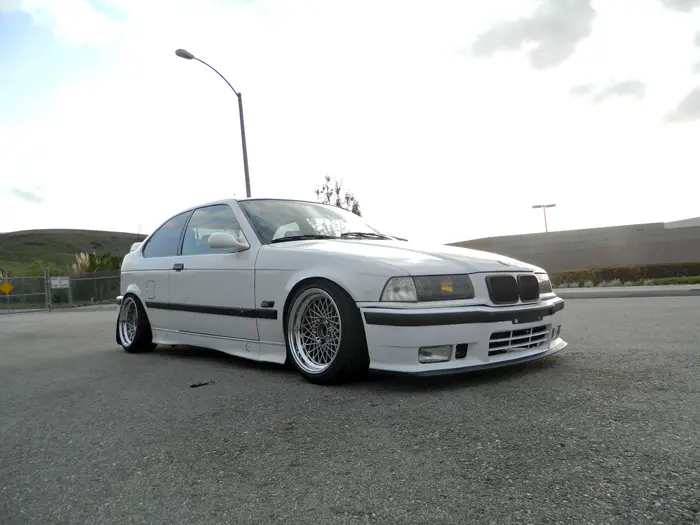 His ti, affectionately known as "Tessa", has been one of the few stable things in his life after a series of ups and downs and the friends he has met through his passion for automobiles are ones he wouldn't trade for the world.
These friends (who are the type to spend hours with him in the garage wrenching or just sharing laughs) along with a very active local enthusiast community have inspired Bryan to continue to pushing forward with his car.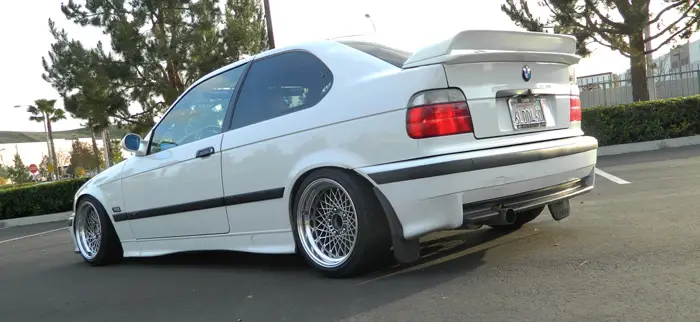 While Bryan is quick to mention that he isn't anywhere near finished with his ti this current iteration is the best the car has ever looked.
The exterior modifications present in the first feature (M3 front bumper, M-tech ti rear bumper,  luxury package grille, M-tech side moldings, M3 mirrors, and LTW low rise spoiler) remain and seem to flow together much better now that the car is rolling on 16×8 Hayshi mesh wheels.
Going against the notion that 16s are too small for the e36 these unique wheels, with a hint of patina, give this car a bit of a vintage feel which works exceptionally well with the unique lines of the ti.
A Nardi woodgrain wheel helps bring some of that vintage feel on the inside and to add a little bit of personal flair back to the car after the antifreeze green BBS wheels were removed Bryan added a clear pink bubble swirl shift knob.
With arguably one of the largest after market automotive communities in the world fueling his passion there is no telling where that motivation will take him in the future and I'm sure it won't be long until we're going back to Cali for another update on Bryan's ti.
Modification List
Exterior
M3 front bumper with luxury package grill
M-tech ti rear bumper
M-tech side moldings
M3 mirrors
DJ auto euro ellipsoids w/ city lights. 55w Low beams, 35w High beam
LTW low rise spoiler
Depo Euro tails
Depo Clear side markers
Interior
Clear w/Pink swirl bubble shifter
Sony Head unit with upgraded Pioneer Internals & sub woofer
Performance
Custom twin loop exhaust
3.5 inch Cold Air intake
Suspension
Wheels/Tires
Hayashi Mesh 16×8 ET -4 ET -5
205/40/16
Photo Credit: Media Junkies