We read his words and see the pictures he puts up every day and it's not hard to figure out that Dave Thomas has a keen eye for what looks good when it comes to cars and trucks. After all, that's what keeps readers coming back to Stance Is Everything.
What we don't often see is Dave's personal car. Not because it's not worth showing, but because there simply isn't enough room for self-indulgence with the ever-growing list of cool cars he can't wait to show us.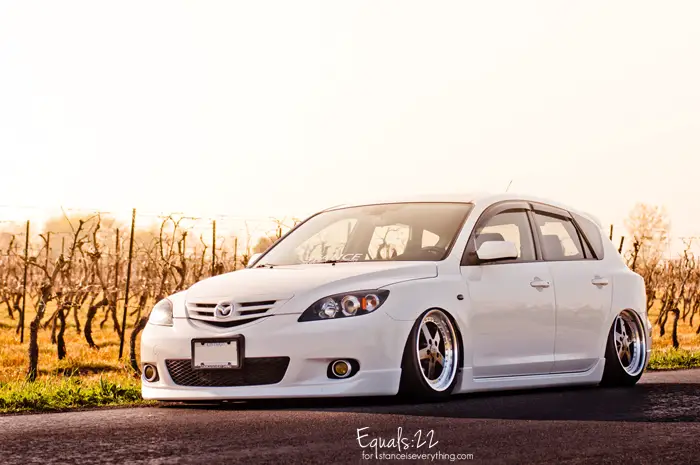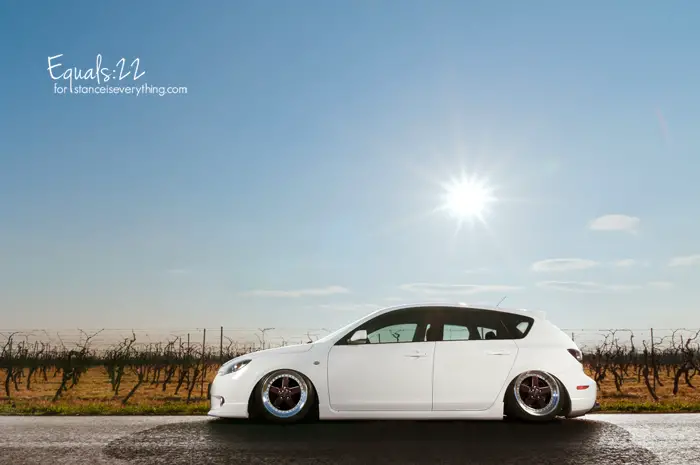 With a 9 to 5 desk job, a one-man-show website, mortgage payments and a passion for BMX, Dave's Mazda 3 was slow to progress to its current state of being. Let's not forget he's also got a wife, two cats, and a dog that doubles as a site mascot keeping him occupied.
His passion for modified lowered cars and trucks started at a young age and along the way he has had an e30, and a Blazer before eventually finding his way into the import camp.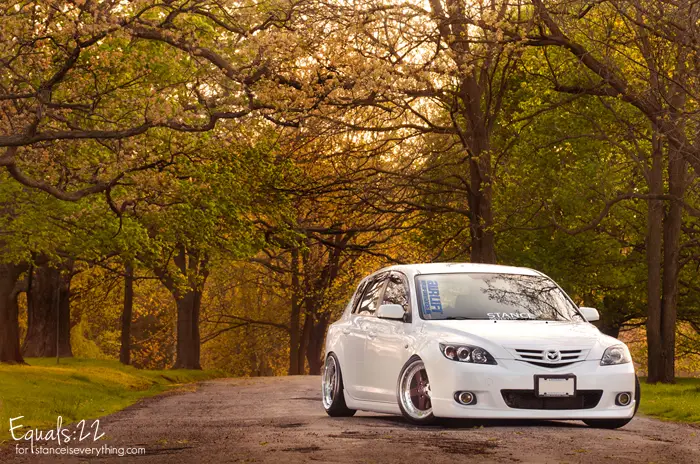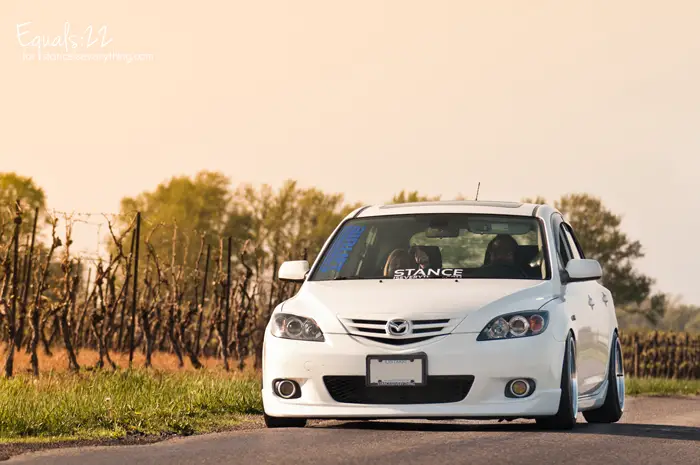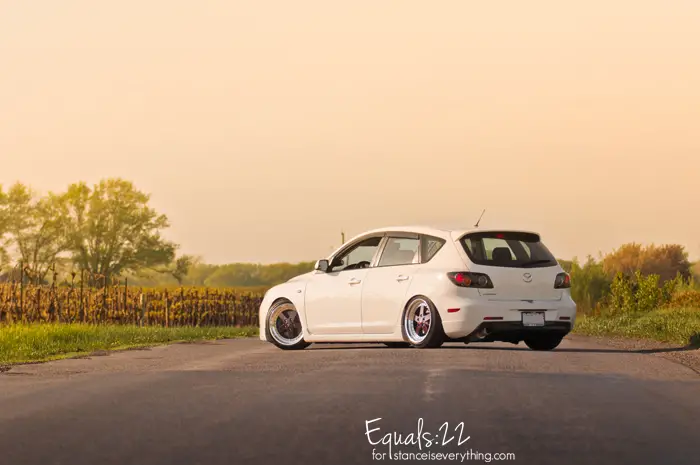 Things started off innocently enough with the Mazda 3: A white hatchback with lowering springs and a loud exhaust sitting on a local used car lot, dime a dozen in the GTA.
Dave watched it sit for a few weeks and snatched it up when it became clear to the dealer that its "upgrades" weren't going to net top dollar from Joe Average.
At first, the little 3 was the perfect commuter for getting to work and the skate park, but once Dave started this blog he knew that eventually he'd have to step up his game.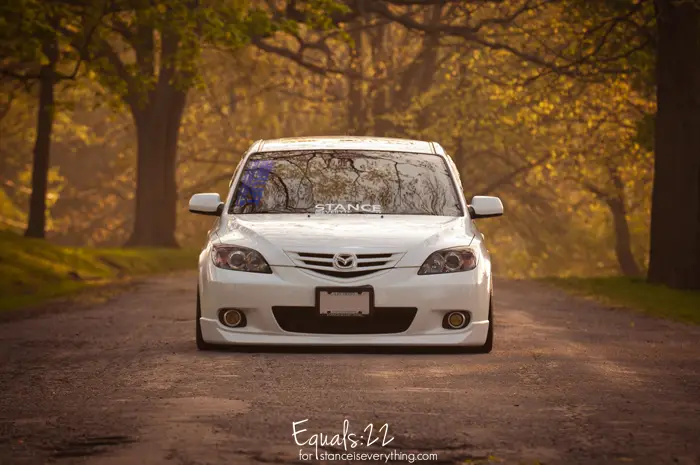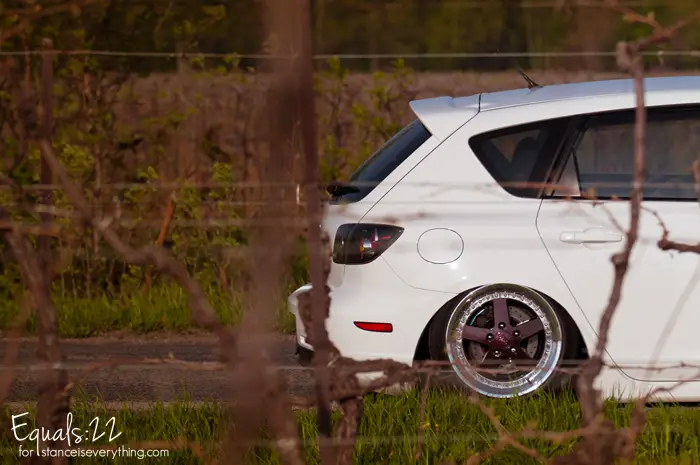 Many long hours searching classified websites netted him the first set of aftermarket wheels for the 3. But Dave had his hand too deep in the cookie jar to stop at just a set of wheels.
When you operate a website called Stance Is Everything, you can't leave well enough alone, and springs don't cut it so coils were next on the agenda.
After being extremely disappointed with the fact his coils sat higher than his previous springs Dave collaborated with BC Racing  to help create a set of coilovers for the Mazda3 chassis that was lower than anything  else on the market at the time. This combination of shorter dampers, springs, and lock rings became the precursor to the now standard BC coilover setup for the Mazda 3.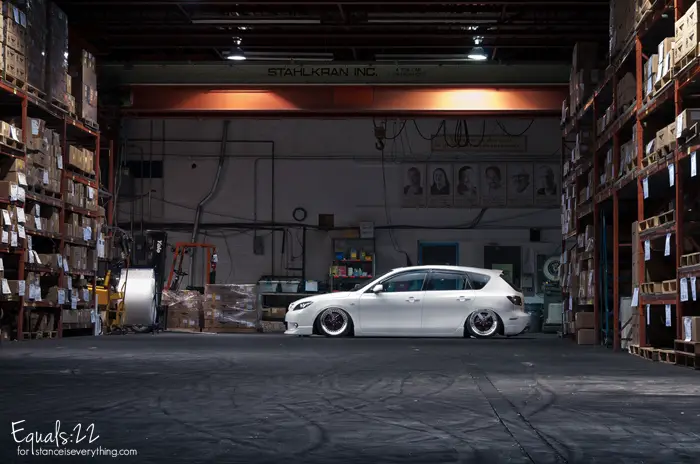 A year later, after more searching, another set of wheels came into Dave's possession thanks a snowstorm discouraging a potential buyer from making the trek to pick them up. Initially they were not in the best of shape but the price was right.
Since, the 17×8 and 17×9 Work Equips have been fully restored, receiving high polished lips, fresh custom paint on the faces, and clear powder on the bolts, making them better than new.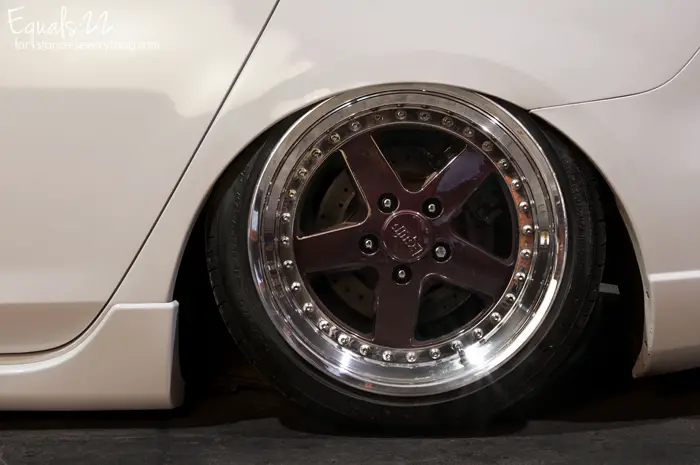 What people generally don't tell you is that riding low will cost you and Dave like many others has made a few sacrifices along the way. Weeks after purchasing and installing an aftermarket aluminum skid plate on the car it was destroyed.
Then not too long after the streets of the Toronto took a bite out of his wheels. While all the while, Dave was sacrificing ride comfort for looks. There had to be a better way.
Running a website does have the occasional perks and over the winter season of 2013, Dave got in touch with Air Lift Performance in hopes of reviving their previously shelved Mazda 3 application.
After a little convincing Dave's car was on it's way to the Air Lift Performance laboratory in Michigan to aid in developing the final prototype of the bolt on kit for the Mazda 3. A few weeks later it came back across the border riding on air.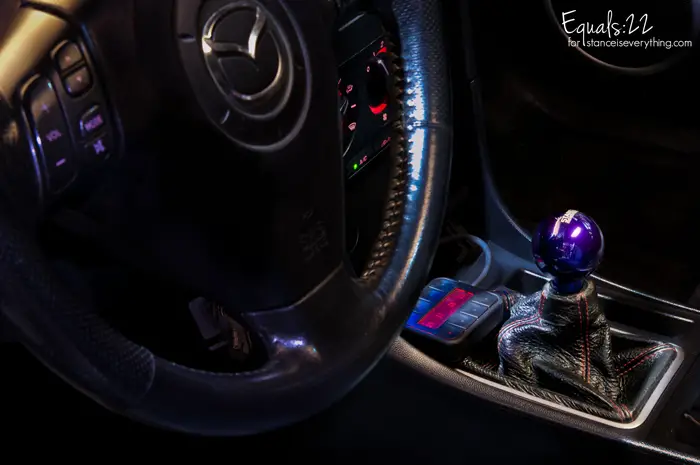 The war of words between static and air suspension fans will rage on forever, and now that Dave has been on both sides of the fence, he'll tell you that once you go to air, you don't want to go back.
No more worrying about whether you'll make it up that driveway or over that speed bump, and no more myriad of wood and ramps to jack the car up for simple maintenance.
The final nail in the coffin is the fact that air has allowed Dave to ride exactly how he wanted to from day one and what need not be mentioned is that when he parks, he can drop it lower still.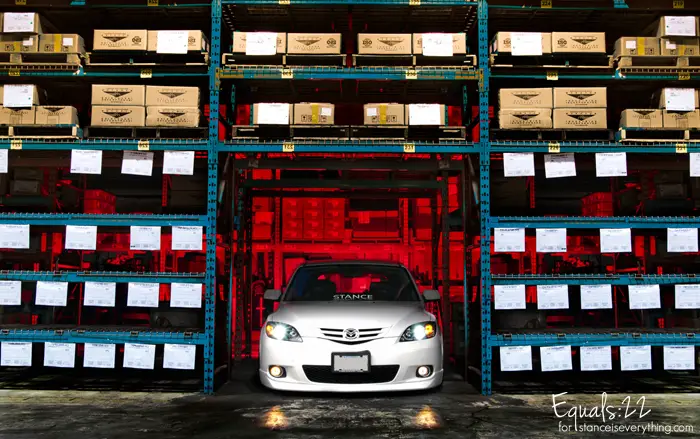 Now that Dave's personal car is sorted out to his liking, he'll be showing it with more pride than ever. When you see him pulling in to a meet, just remember one thing: Dave isn't there to have you ogling his ride. He's there to photograph yours.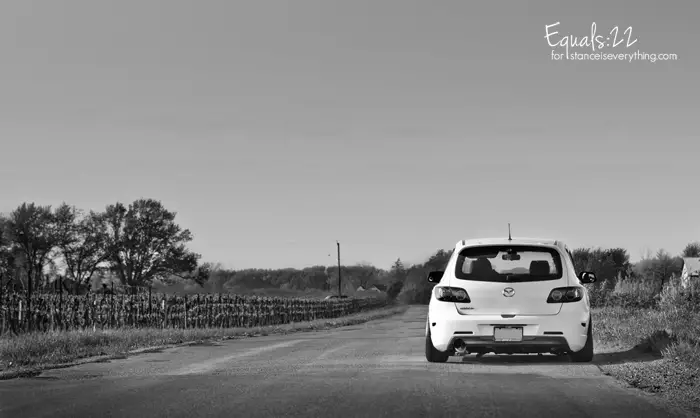 Text by: Philip Law
Photo Credit: Equals: 22 Photography and Design.