Rob from Performance Improvements shot me a message yesterday that he was wrapping up his photos from SEMA 2013 and to let him know if there was anything specific I wanted photos of.
Without a moments hesitation I said I need (not want) more photos of the all wheel drive '32 Ford I've seen kicking around.
A few hours later into my drop box arrived an awesome collection of shots of the Fuller Hot Rods "Double Down" and I knew I had 2013's first Stance Is Everything SEMA Showstopper.
Currently a work in progress this project has all the makings of an insane hot rod capable of doing it all.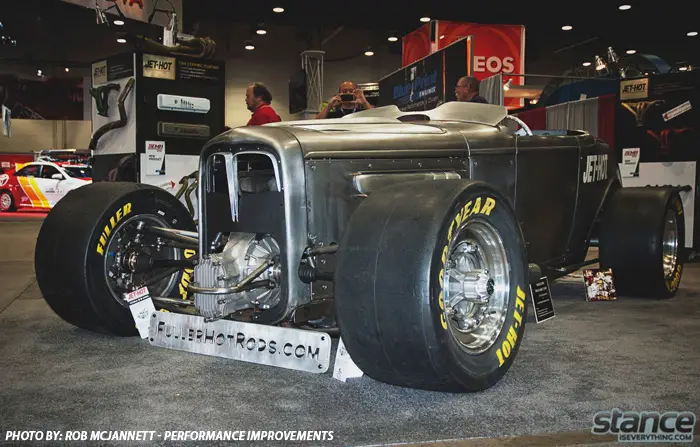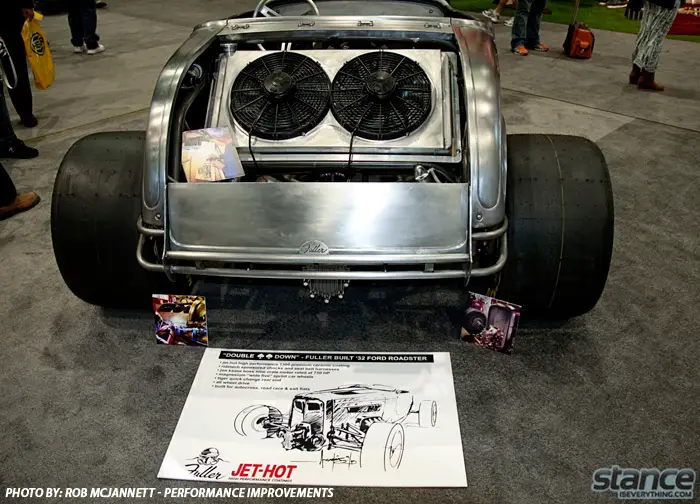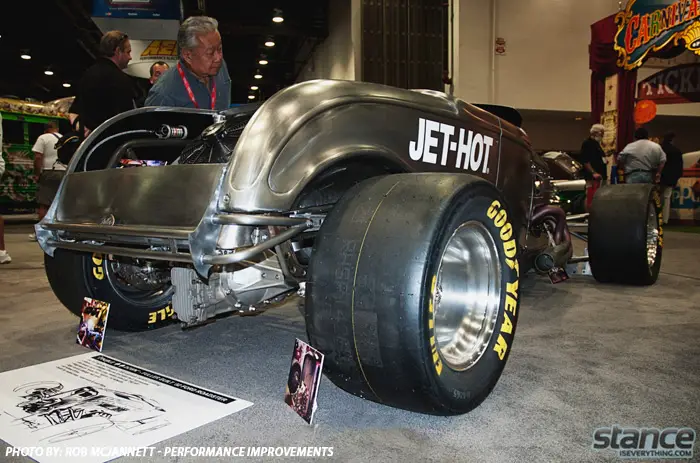 What you see poking out where the rad should be –had it not been moved to the rear– is a quick change housing for the front differential and providing the awesome stance is the 28.5×14.50 Goodyear Eagle slicks mounted to magnesium racing wheels.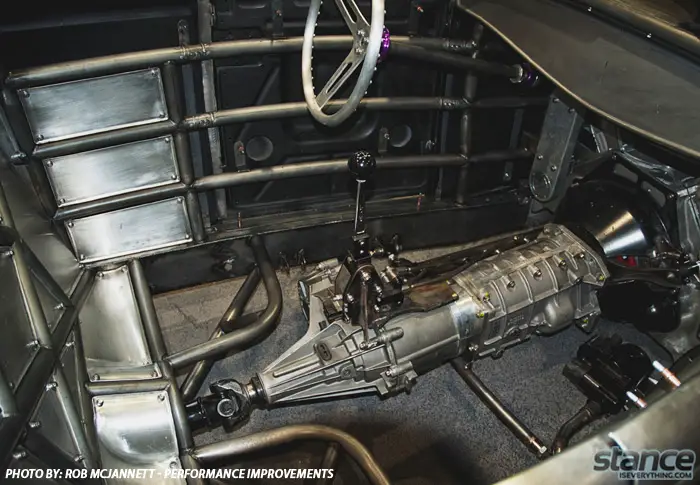 Inside the interior is no where to be found, leaving all the beautiful mechanics and craftsmanship visible.
The transfer case is reportedly lifted from a GMC Denali and is mated to a G-Force clutch-less five speed transmission.
Sending power to all of this is a Jon Kasse based 600ci, 900 horse power Boss 429 motor (insert Tim Allen appropriate Tim Allen grunt).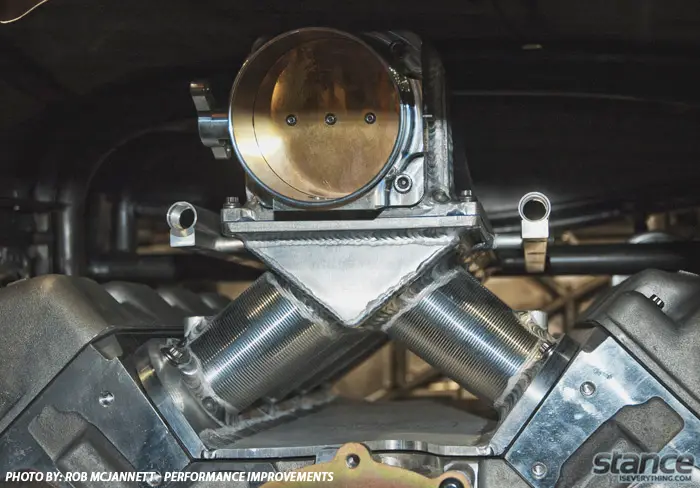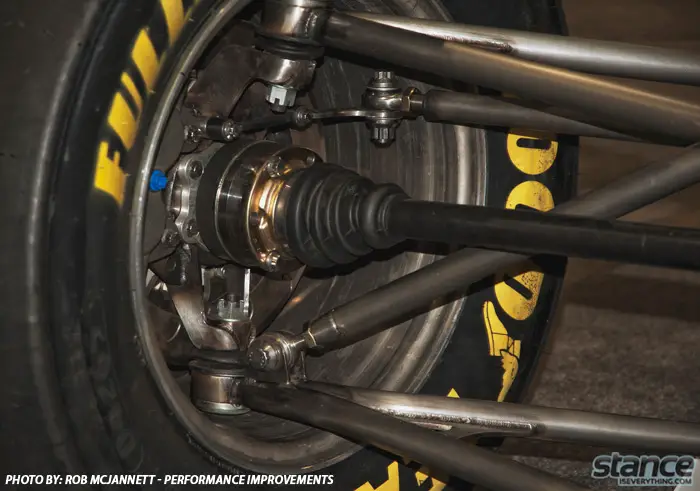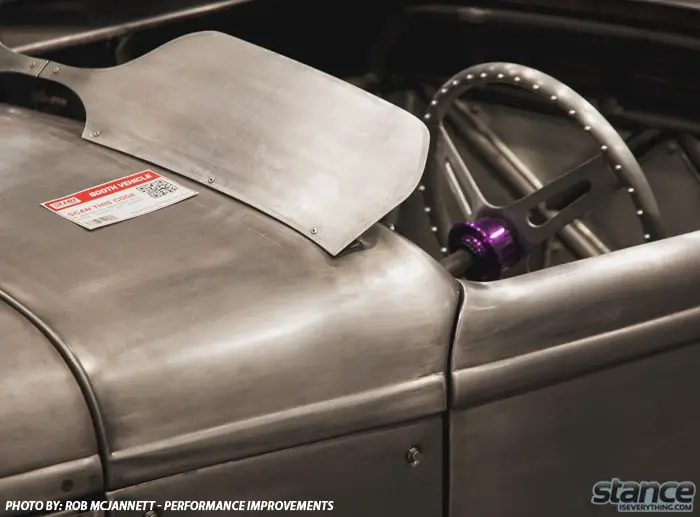 Perhaps the most interesting aspect of this entire build is that this car is the fact that it was inspired by a similar car that has not been touched in 40 years.
Ryan Fuller randomly met Emmett Burton at Cars and Coffee one Saturday. He went to his house to see his collection of 30 vehicles of all different stages of construction.

There sat this really cool 32 Ford Roadster! Burton started the project to compete in the "Cannonball Run" before the movie came out.

Magnesium Wide 5 Sprint Car wheels, Mag Quick-Change rear end…All Untouched for almost 40 Years!! Emmett Started this car in 1971 and quit working on it in 1973. He literally left the tools where they lay and didn't touch them for 4 Decades!

Bryan was so moved by this car he decided to build a cannonball tribute to this vehicle and began collecting parts.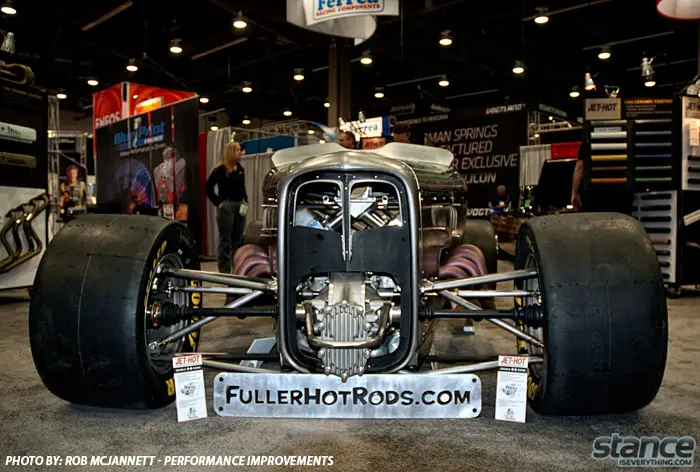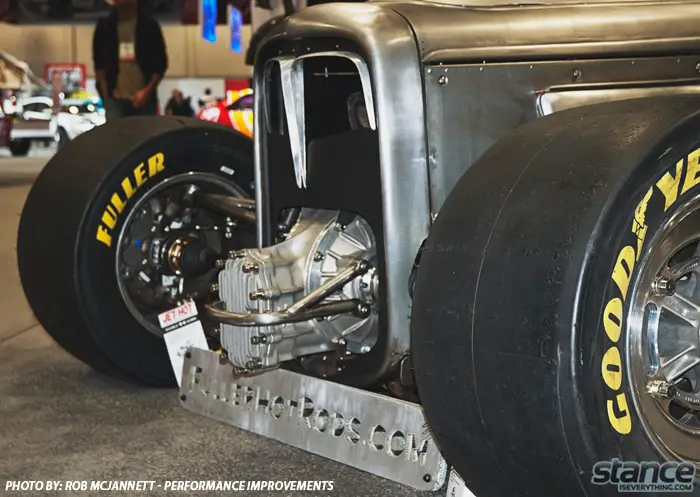 I think it goes without saying that I can't wait to see this thing completed and out ripping the strip, road course, and salt flats.
You can follow the build here on FullerHotRods.com blog
---
Follow Performance Improvements on their way back from SEMA:
Facebook: facebook.com/pispeedshops
Instagram: @piSpeedShops
Twitter: @pispeedshops