Mini Moto Lab's latest build, Ms. Fat Booty, started out as a small side project for co-owner Anthony's girlfriend to cruise around on and was nearly completed four years ago before life got in the way and the build was torn apart and shoved in a box.
Brought back out years later as a much needed distraction from the now ex-girlfriend this once shelved build is now one of the most unique looking 'Rucks' on the streets of Toronto.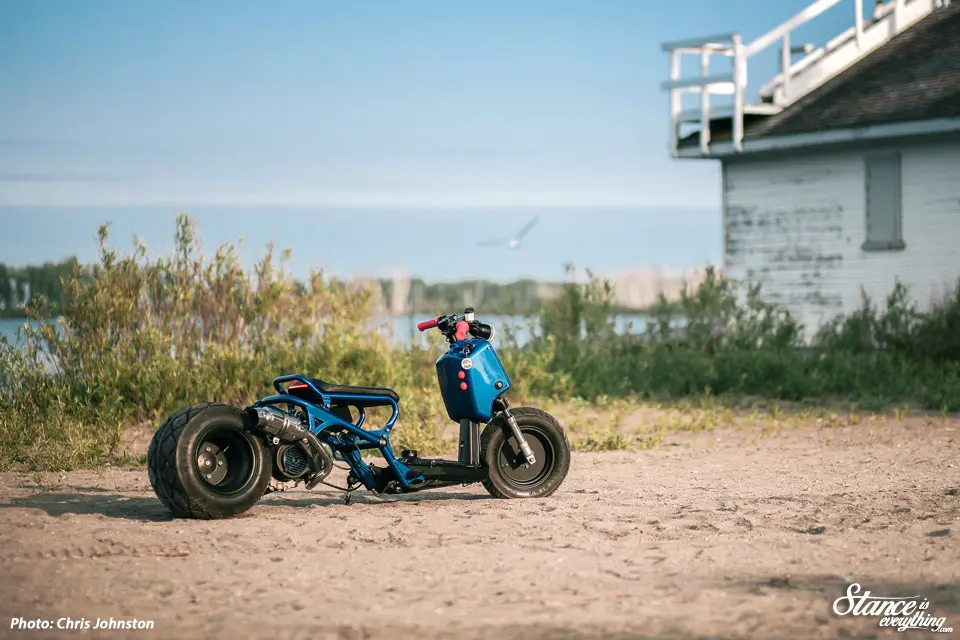 The focal point of this build, and how it earned its moniker, is of course the Douglas 10×10 rear wheel wrapped in a Duro Top Fighter rear tire.
This combo gives the bike a unique look only possible with a wheel that is as wide as it is tall.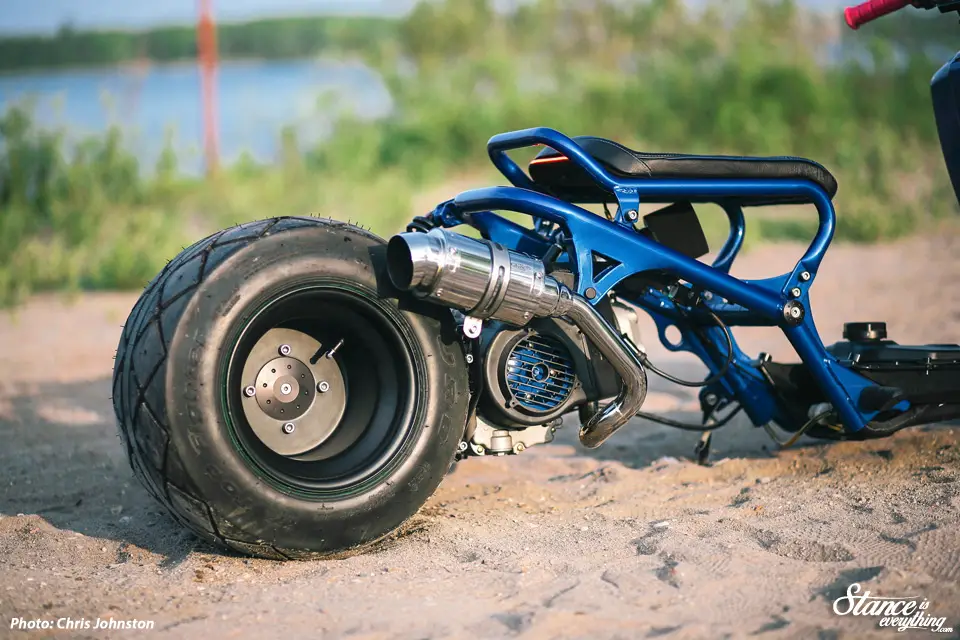 Housing that massive roller is a custom one-off Rucksters rear mount and behind the steam roller is a custom foot actuated rear drum brake.
Up front is a Kitaco 10×3 solid disc wheel wrapped in Pirelli rubber.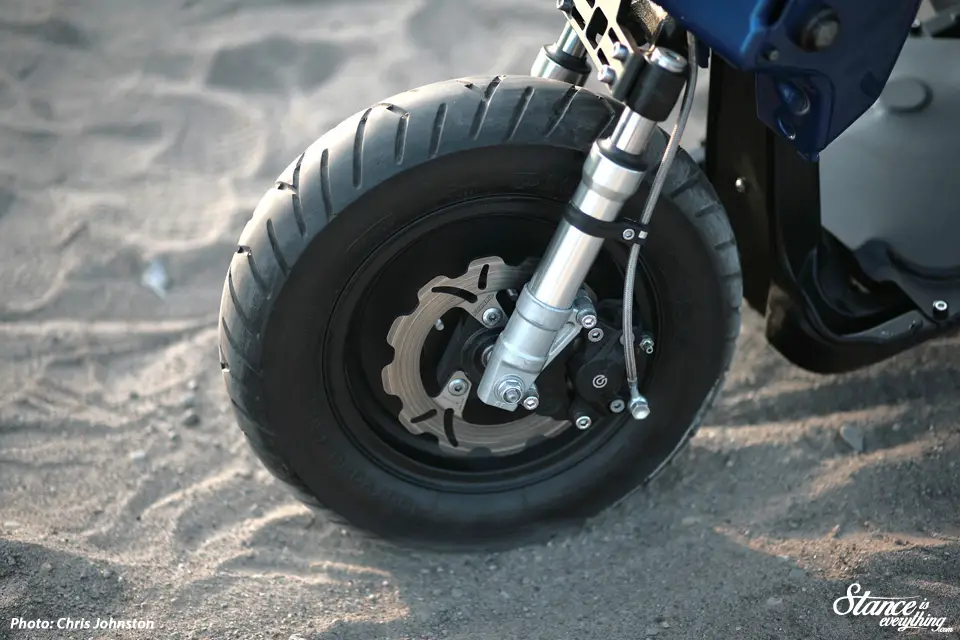 A Brembro p32 Front calliper clamps down on a Braking wave 190mm front disc via a Willwood Short Lever and Master combo.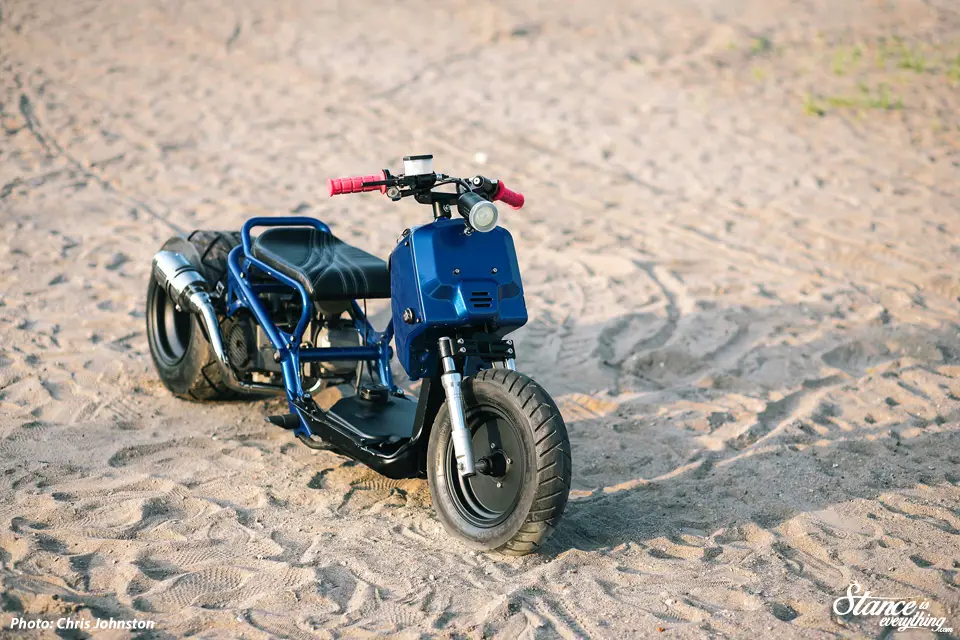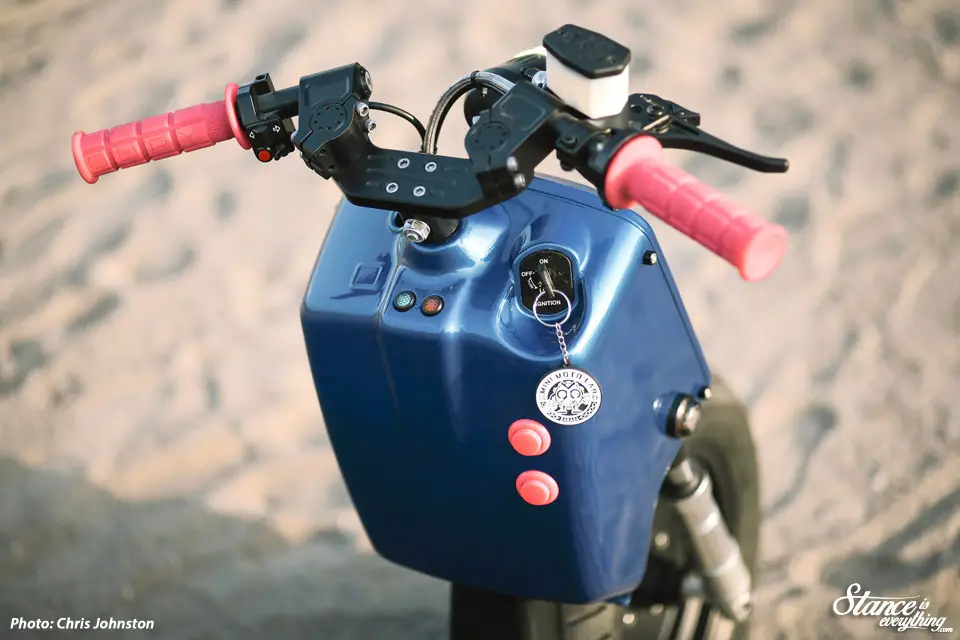 The GY6 motor has been given a little help thanks to a OKO 30mm slide cab, NCY Intake manifold and custom WirusWin exhaust.
The Ruscksters GY6 harness cleans everything up essentially giving the bike a Ruckus version of a wire tuck.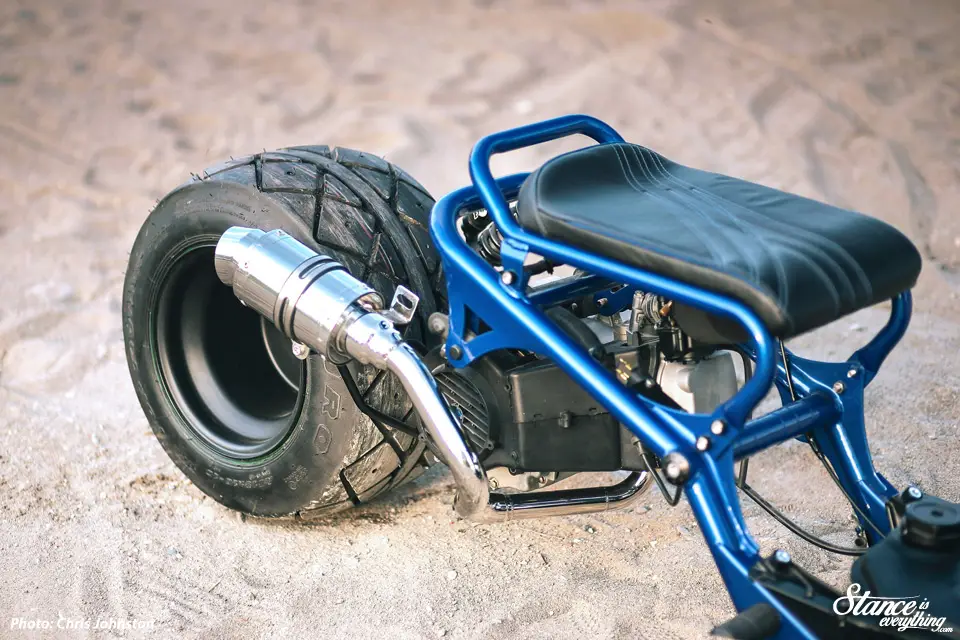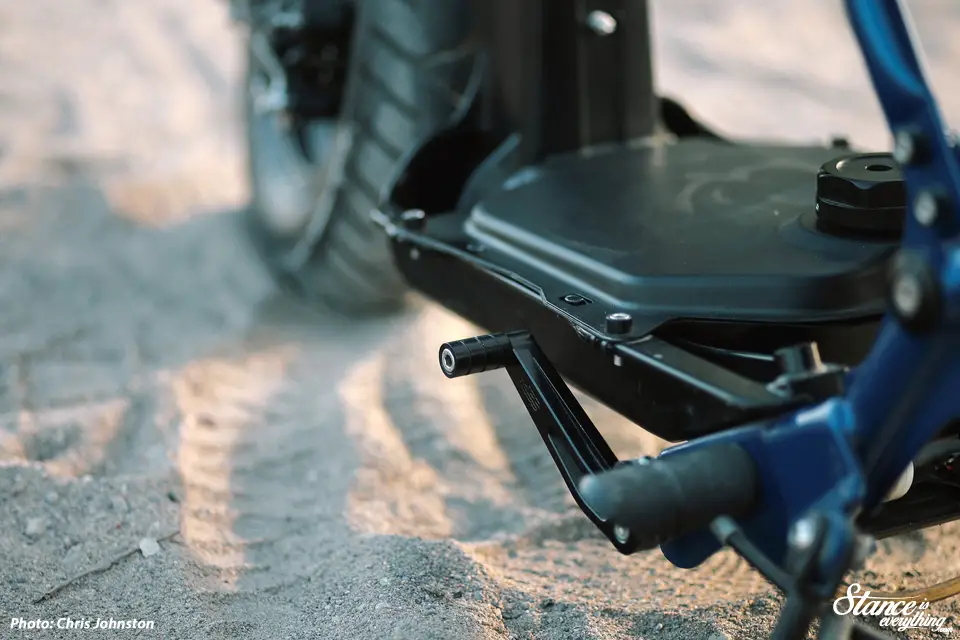 A custom seat, deep blue paint, and a laundry list of black and polished accessories outlined below round out the rest of the build and Anthony says she rides like a tank and is a whole lot of fun.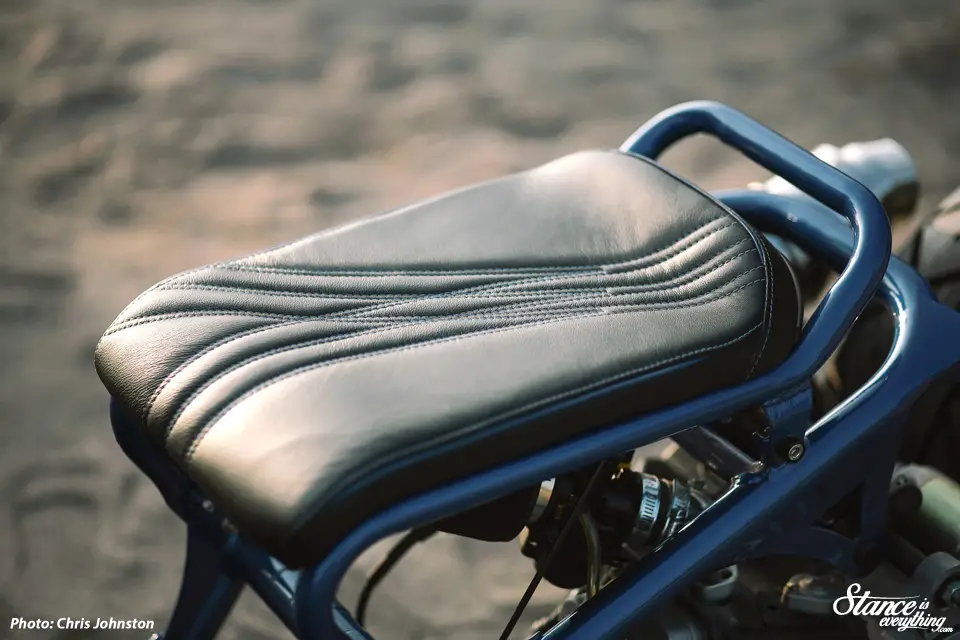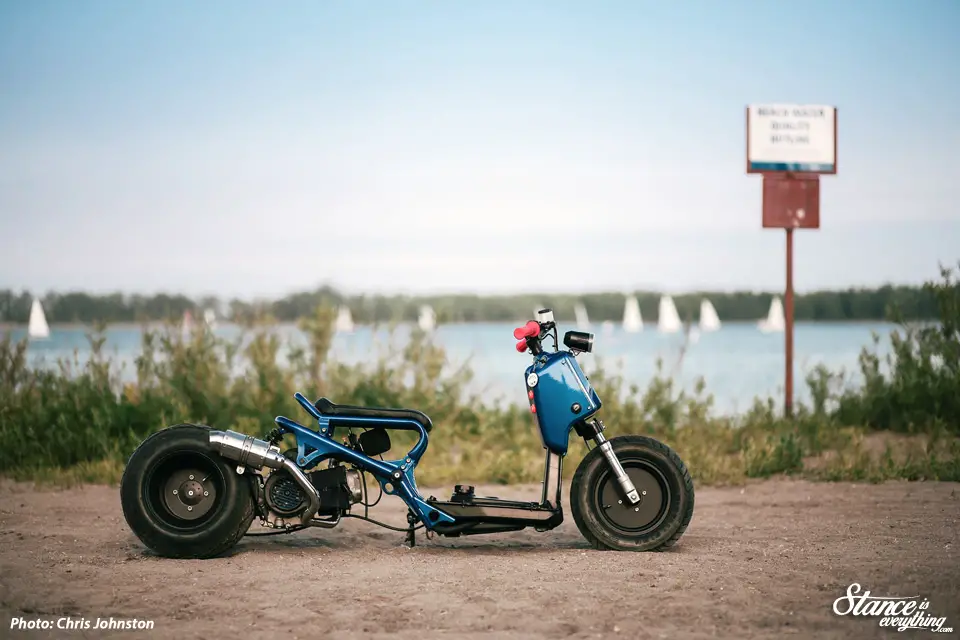 Mini Moto Lab will be at Fitted Lifestyle this weekend at Ontario Place where you can check out Ms. Fat Booty in person.
If you have a Ruck of your own join their cruse to the show, starting at 9am August 15th at Honda Canada 180 Honda Blvd.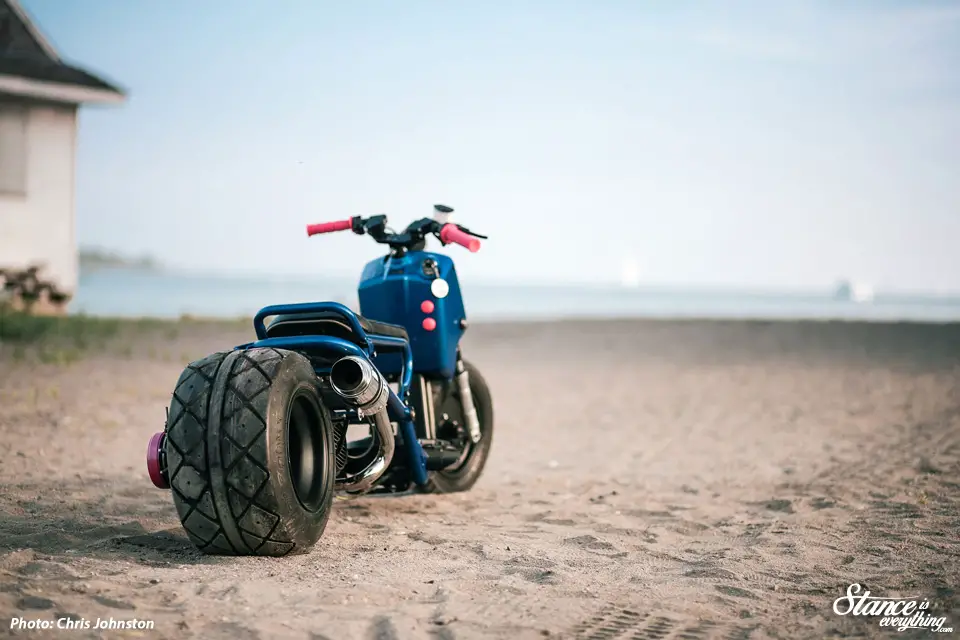 Modification List
Go Parts
Custom WirusWin Exhaust
NCY Intake Manifold
Rucksters GY6 Harness
GY6 Motor
GY6 Short Axle and Nut
OKO 30mm Slide Carb (Black)
ComposiMo Angled Clocking Flange
Foam Race Filter
Chassis/Custom Framework
Rucksters Custom Weld On Mount (10″ wide one-off)
Weld On Kickstand
PSWRD JDM KickStand
PSWRD JDM Seat Frame
MML Contour Seat Pan
rPro Triple Tree Cover
rPro Washer Kit
rPro Turn Signals
MML Frame Caps
CNC Gas Cap Cover
MML Front Frame Cover
Custom Cut CVT Cover
MML Licence Plate Mount
Metal Tank Cover
rPro Step Tone Pegs
Electrical
Full Harness tuck front and rear
TrailTech SCMR16 HID Light
Arcade Console Buttons
Electric Flasher Relay
MML Contour LED Seat Pan Taillight
Controls
rPro Monster Drag Bars – v2 (Top Mount)
Oury Mountain Grips
Stage6 Throttle and Controls
Wheels, Brakes & Suspension
Douglas 10×10 Rear Rim (rear)
Top Fighter Rear Tire
rPro Rear Rim Center Cap
Kitaco Front 10×3 Solid Dish (front)
Front Pirelli – 90/90/10
Fox Shox Vanilla RC Shock
Eye to Eye Shock Adapter
700lb Fox Spring
GY6 Rear Drum Hub
Custom Hub Adapter
rPro Front Hub
KN Low Down Forks – Silver
Brembo P32 Front Caliper – Black
BOWLS P32 Caliper Adapter – 190mm – Black
Braking Wave 190mm Front Disk
WilWood Shorty Lever/Brake Master
Custom Drum Rear Foot Brake