Visiting Montreal for Eurokracy 2013 opened up several opportunities to share a meal, drink, or both, with people I had previously only had the pleasure of interacting with on-line and today's feature comes by way of one of those chance encounters.
Gabe, and Kevin, –who I met over dinner after Eurokracy– are part of the production team at French Canadian VDO; a Quebec based media outlet that has been making an impact on the minitrucking world for the past few years.
After our initial meeting Gabe and I realized that our brands were not all that different and a collaboration was in order so we began to think of who and what. Eventually we realized that there was no better place to start than with this beautiful TL owned by Quebec resident Alex.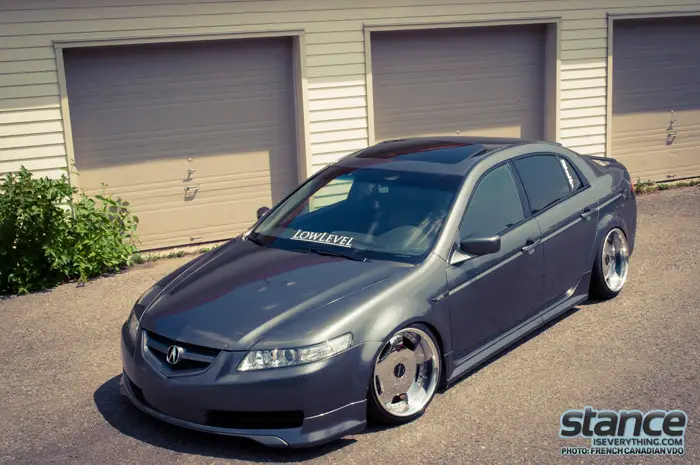 Being on the larger side of the Acura catalogue Alex knew that the most fitting style of wheel for this car would be composed of equal parts dish and face so with that vision in mind so he snatched up a set of 18×10 Work Eurolines.
Wrapped in 225/35/18 Yokohama S-drive tires these +2, +16, wheels leave just enough space for the suspension to articulate without peeling paint off the carefully rolled fenders.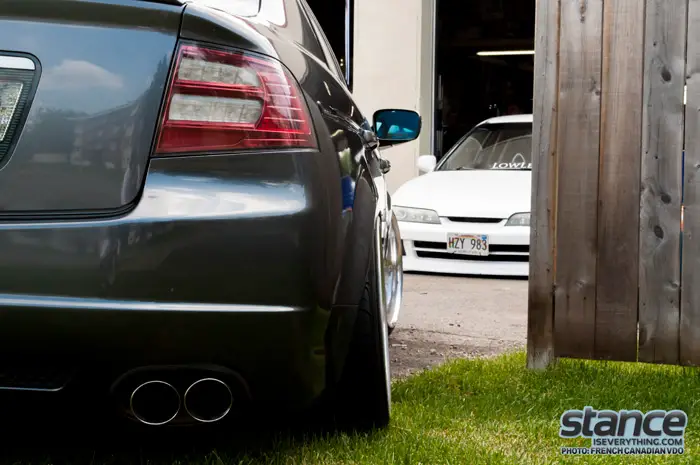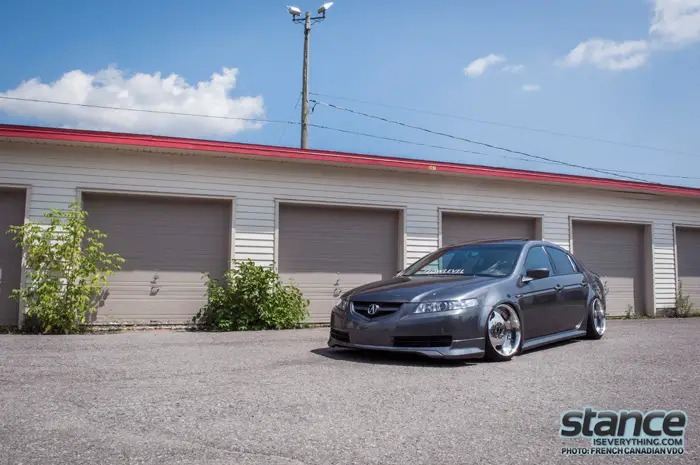 Though their roads are abysmal many hailing from Quebec are proud to roll static and Alex is among their ranks. He drives it like he parks it thanks to 12k and 10k Eibach springs paired with Function and Form Type 2.5 coilovers.
While these stiff rates do little to combat the terrible crowning Montreal roads are notorious for they do keep his tires free from contact with his fenders.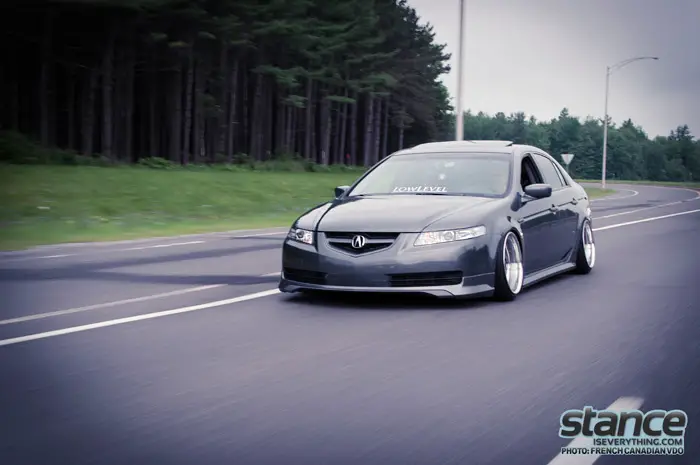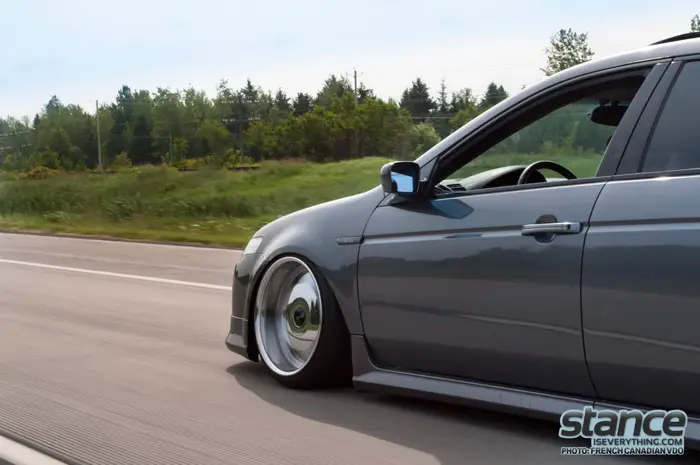 Body wise Alex kept things low key by applying a few touches from the higher trimmed Type-S (side markers and rear bumper) before adding an a-spec front lip, and a-spec side skirts. Rounding out the exterior mods is a colour matched front grill and back glass spoiler.
Under the hood an Injen cold air intake allows the car to breath a little better while a Type-S muffler and 3rd cat, resonator, and pre-muffler delete, help the 3.2L v6 to sound a little less restrained.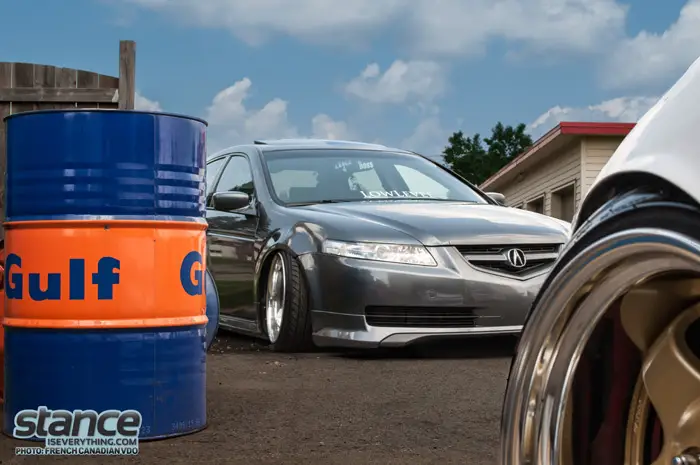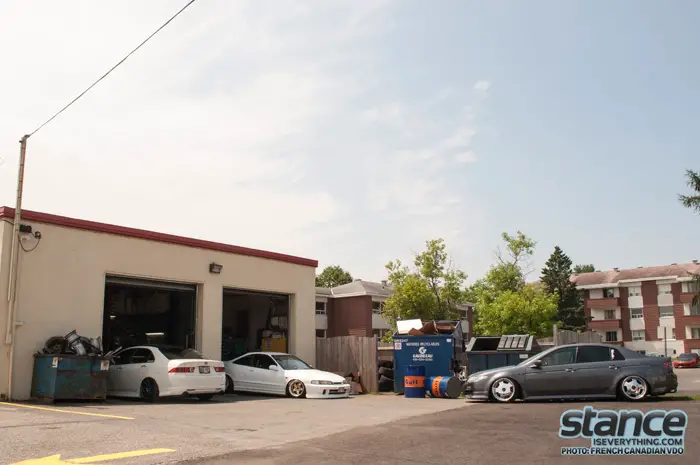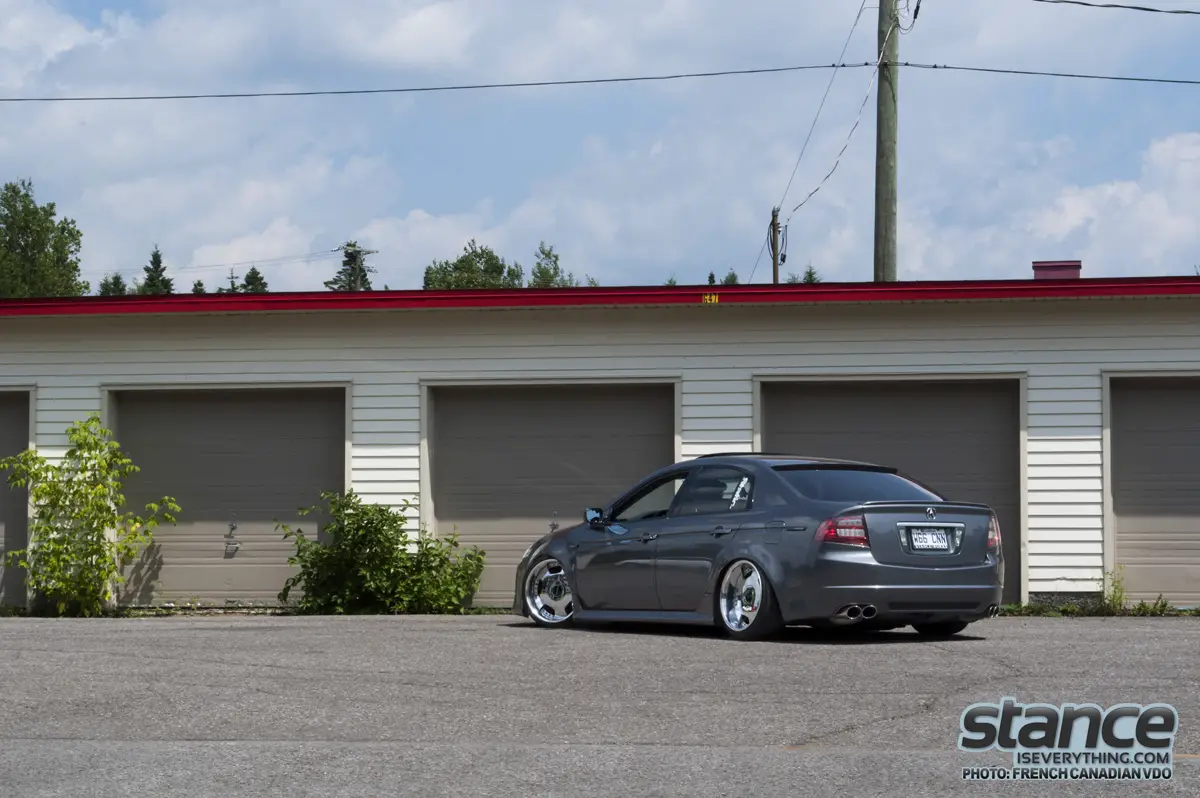 A head turner anywhere it goes Alex's TL continues the trend set by Phil, and followed up by Moneesh, of clean well executed cars hailing from Quebec appearing here on Stance Is Everything.
Check out the exclusive video feature below of Alex's car provided by FCVDO.
Photo Credit: French Canadian VDO