Founded in 2010 Canibeat's First Class Fitment has become of the most highly anticipated shows among the aggressive fitment community. Some events use "Quality over quantity" as almost a cliché excuse for a small turnout, at a small venue, but at First Class Fitment quality is indeed priority number one.
Weeks leading up to the event social media is flooded with the #fcfprep hash tag as people ready their cars for the show after making it past the stringent acceptance processes.
While the show car field is limited, and curated, First Class Fitment is by no means a small show.
Looking at the aerial shot above you have to wonder if that many people made it in, how many people applied in total?
I by no means to I envy those who are tasked with whittling down the field.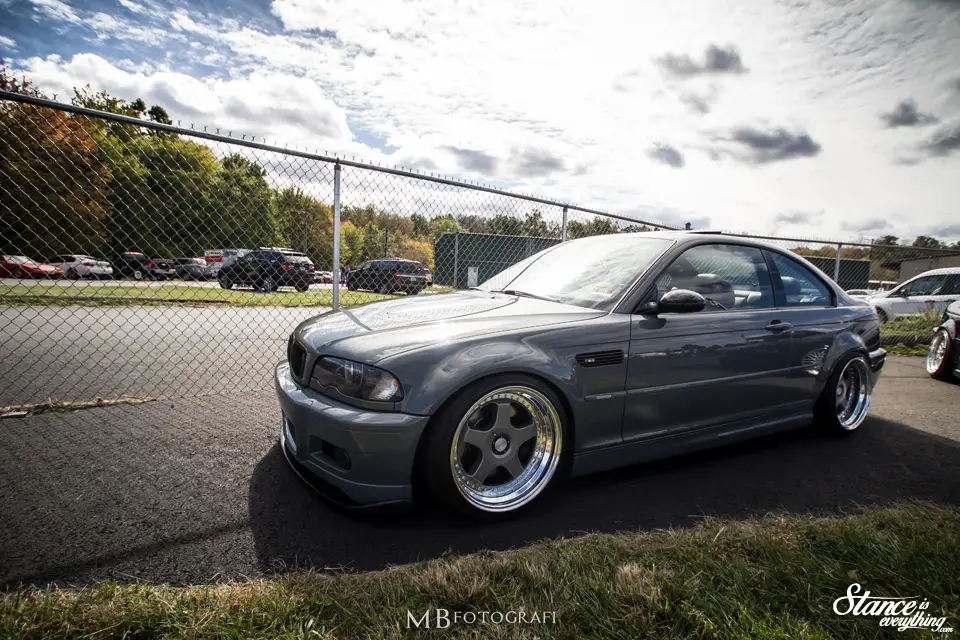 Even the parking lot surrounding the show could be considered an event in and of itself.
The journey to FCF is a bit of a haul for Greater Toronto Area residents but those who have gone once typically return year after year and Michael Branco of MB Fotografi –aka the man behind the lens of today's post– is one such example. He has been going to the show the last few years without fail.
He wasn't the only Canadian in attendance fellow Canadians from Quebec joined along with Stance Is Everything familiar faces Mathew Barrada and Steve Luangpakdy.
The crew from StillSteezy.com also ventured forth along with the Fitted Lifestyle staff and local Ruckus shop Mini Moto Lab.
Not being there myself, during the weekend of October 17th I found myself creeping the #fcf2015 hashtag throughout the day and I was seriously impressed by a number of builds at the show.
Especially those that were less than common platforms, luckily Mike has an eye for those as well.
Like any other event the last few years FCF was full of widebody equipped cars in several different flavors.
Some with off the shelf kits and others with custom one-off renditions.
This BMW had to be one of the widest and wildest at the show. I highly suspect barrels as lips here!
Those who like their camber in excess need not look far at FCF because there was camber in abundance.
While this look isn't for everyone, there's something to be said for those dedicated enough to pull it off. Also I feel that it looks infinitely better when the front and rear camber match and the camber flows with the body lines.
The RX-8 on VIP Modular wheels below is a great example of what I'm talking about.
For wheel aficionados FCF was the place to be. Classic and refinished or brand spankin' new there were plenty of high quality wheels at the show, often sitting in front of equal quality big brake kits.
Despite the cold weather a few models (or at least one model) braved the cold and swirling winds throughout the air field.
The European crowd was very well represented at FCF, first with a variety of Porsche models both new and old.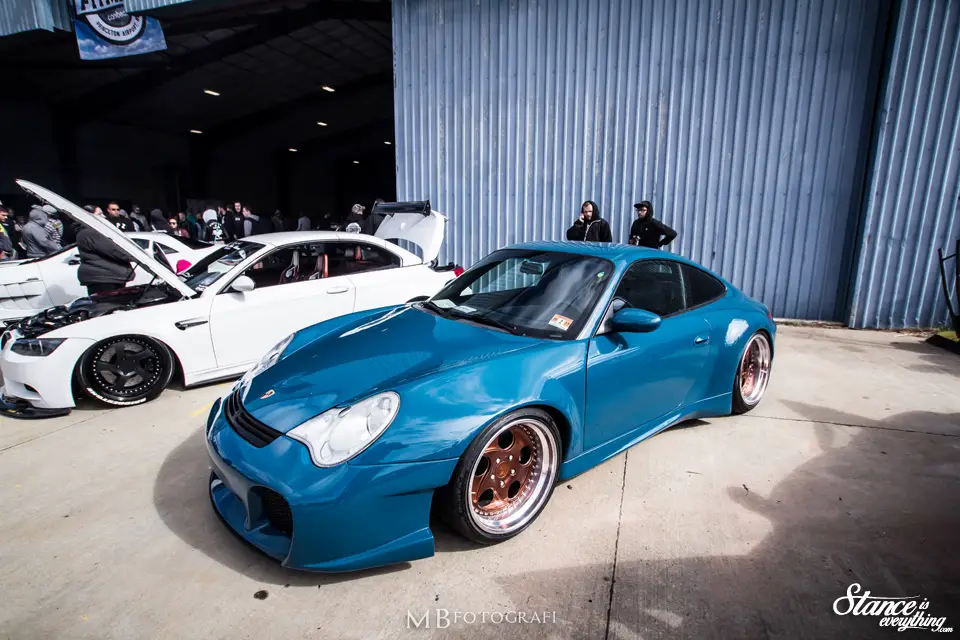 As well as a BMW offerings too.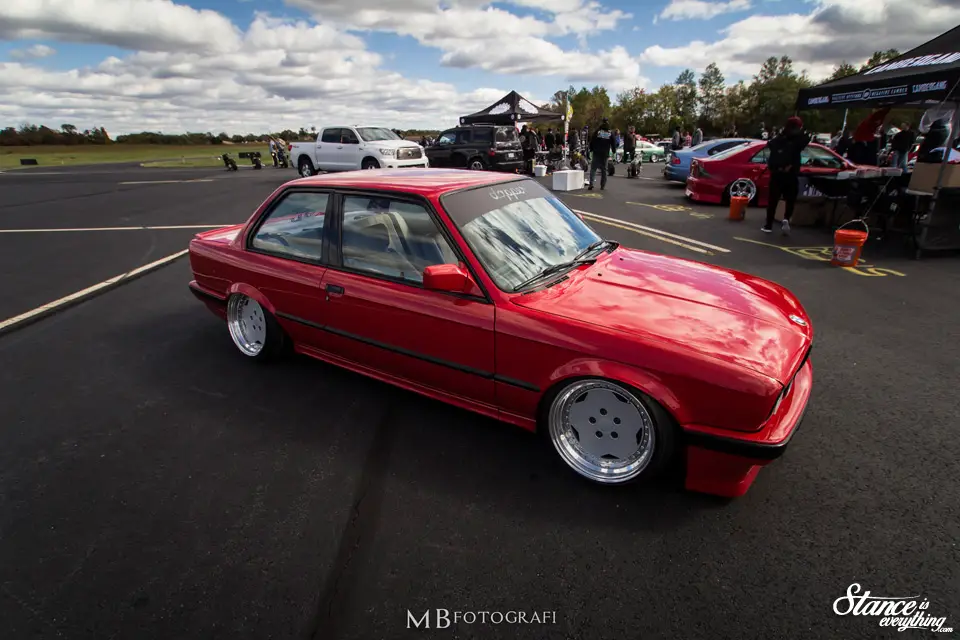 And of course their were plenty of cars bearing the four Audi rings or Volkswagen badge.
The Audi TT below particularly caught my eye in Mike's photos, the exterior is fairly simply executed, slammed on gorgeous BBS RS wheels.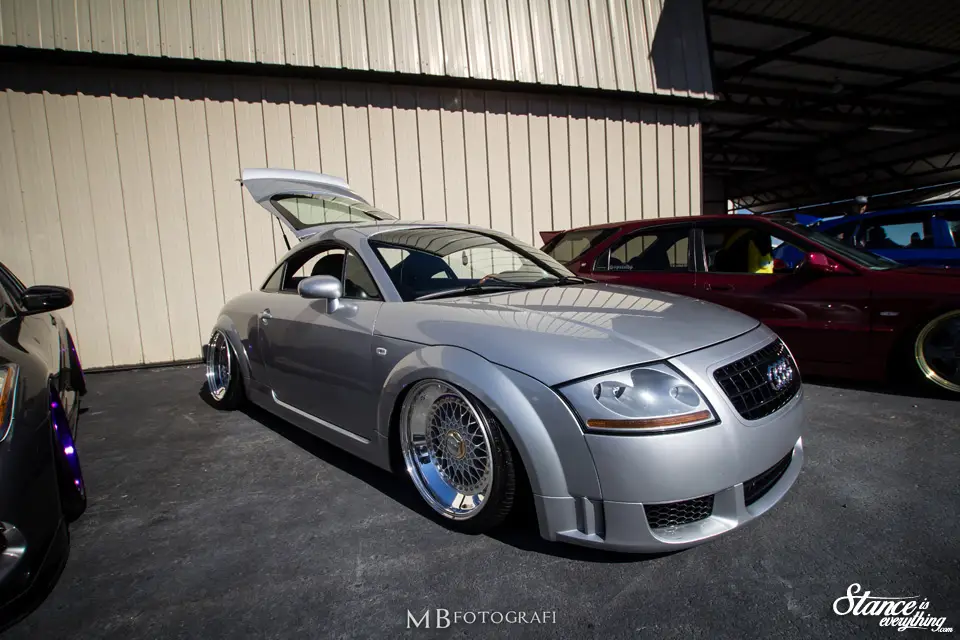 The interor was also stand out with the unique green leather, wood grain nardi, and dialed air management set-up.
My personal favorite euro of the show however had to be the Sinisbuilt MKI Rabbit.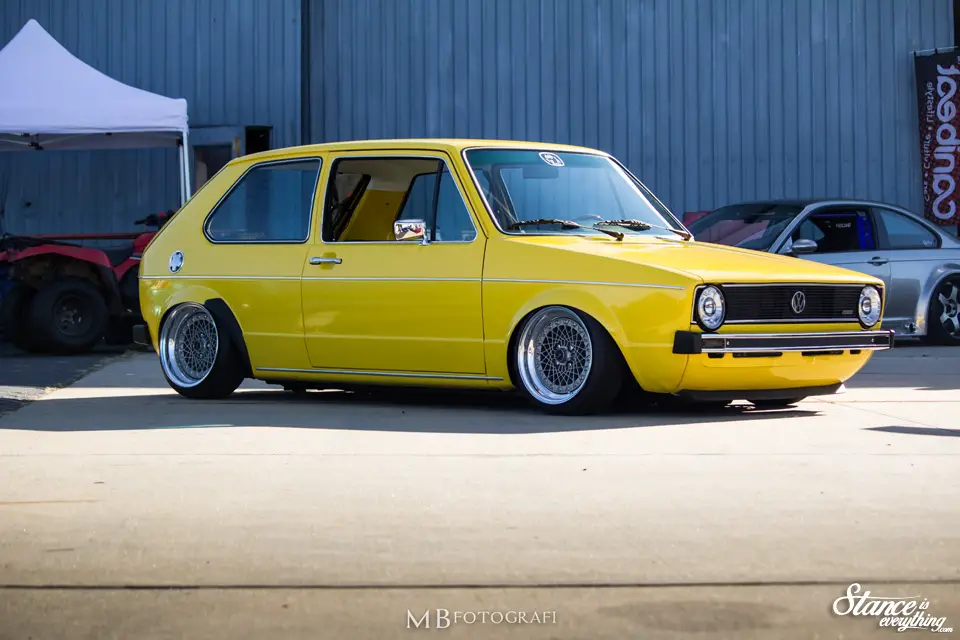 I've been following Tom Clark (@Sinisbuilt) for sometime now –his bagged Foxbody Mustang Pacecar is one of favorite Mustangs of all time– and watching his MKI Rabbit build come together the last year has been a real treat.
Similar to his Mustang the car is incredibly clean bumper to bumper, and has an engine bay you could eat from.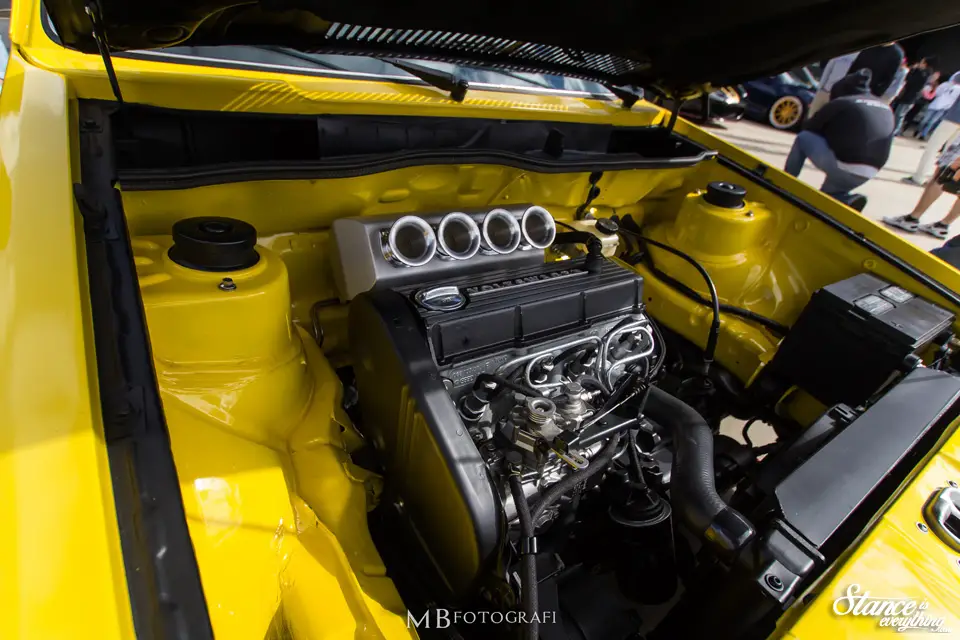 He also expertly refinished these 15″ Elipson wheels, and made custom center caps for them since his were missing and they are long out of production.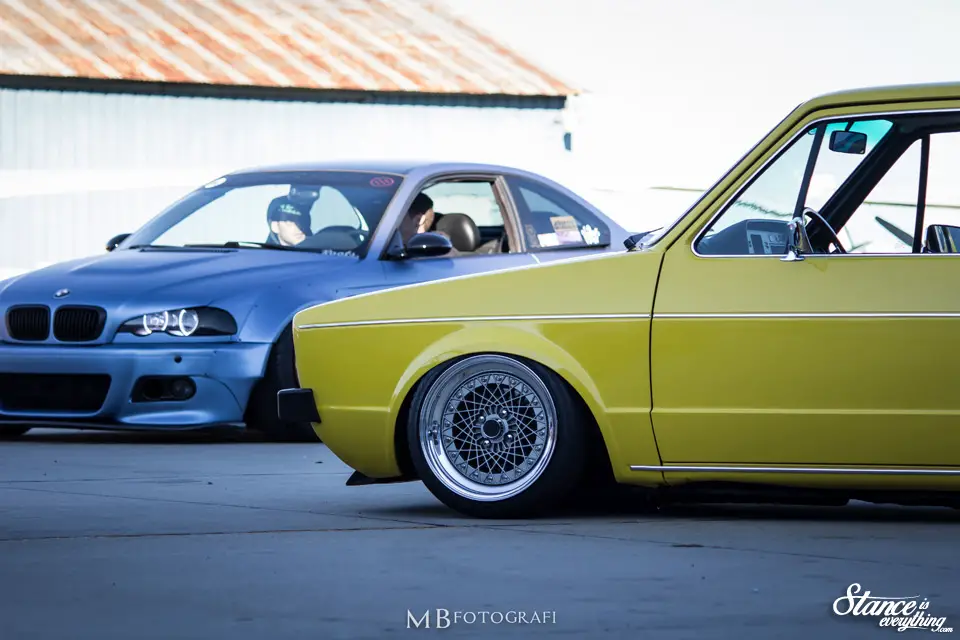 Switching away from euro cars another one of my favorite builds at the show, and one extremely popular non social media, was Matt Begley (@__SQUUAAD__)'s turbo LSX C10.
This truck doesn't just look good, it makes over 1000 horsepower and works very, very well.
While I'm going to wind down the text here you can find more of Mike's First Class Fitment coverage below and on his Facebook page.
Maybe next year I'll be more kind to my wallet and save some money near the end of the season to make the trip out!